Yesterday we cleaned up with a 4-0 sweep of our written player props. Today, we have an 11-game MLB slate that is sure to be as exciting as they always are. Can we match it again today? Let's look at the Best MLB Player Props for Thursday, April 27th.
Best MLB Player Props Today
Kyle Gibson Over 4.5 Strikeouts -150 (BetRivers)
Gibson's last start was against these same Tigers at home, and he rang up 11 of them in 6.1 innings on 96 pitches. Was this a fluke? Gibson's percentile rankings this season will not blow you away. He is in the 35th percentile in K rate, the 46th in whiff%, and the 53rd in chase rate. However, it seems that Gibson simply just owns the Tigers. In 119 plate appearances against Gibson, Detroit has a 29.4% K rate. The Tigers have a 25.3% K rate against righties this season and a 22.6% K rate at home.
Joey Lucchesi Under 5.5 Strikeouts -138 (FanDuel)
Lucchesi made his first start since 2021 last week, and he racked up nine strikeouts against the Giants in seven innings of work. With just one start under his belt since 2021, we cannot make assumptions about him. However, what we do know is the Giants have one of the highest K rates against lefties, and the Nationals have one of the lowest. Lucchesi got a decent amount of whiffs against the Giants, but the Nationals have the lowest whiff rate in all of baseball. I am glad to see Lucchesi back on the rubber, but asking him to rack up six Ks today seems like a tall order.
Shane McClanahan Over 6.5 Strikeouts -135 (DraftKings)
McClanahan's last start was against this same White Sox team, and he had an amazing start, ringing up 10 White Sox in six innings of work. I absolutely think Shane has another electric performance again today. McClanahan is in the 90th percentile for K rate, the 97th for whiff rate, and the 95th in chase rate. The White Sox lead all of baseball with a 28.9% whiff percentage and a 33.8% chase percentage. While I don't love backing a pitcher to repeat numbers against a team that just saw him, McClanahan has the stuff to mow down 10 White Sox again.
MLB Stat Sheet
Have you taken a look at GoldSheet's new MLB stat sheet? For just $15 a week, you get daily breakdowns of pitching matchups, batters vs pitcher reports, advanced analytics, and two free betting picks a day. At just $2 a day for the week, what are you waiting for?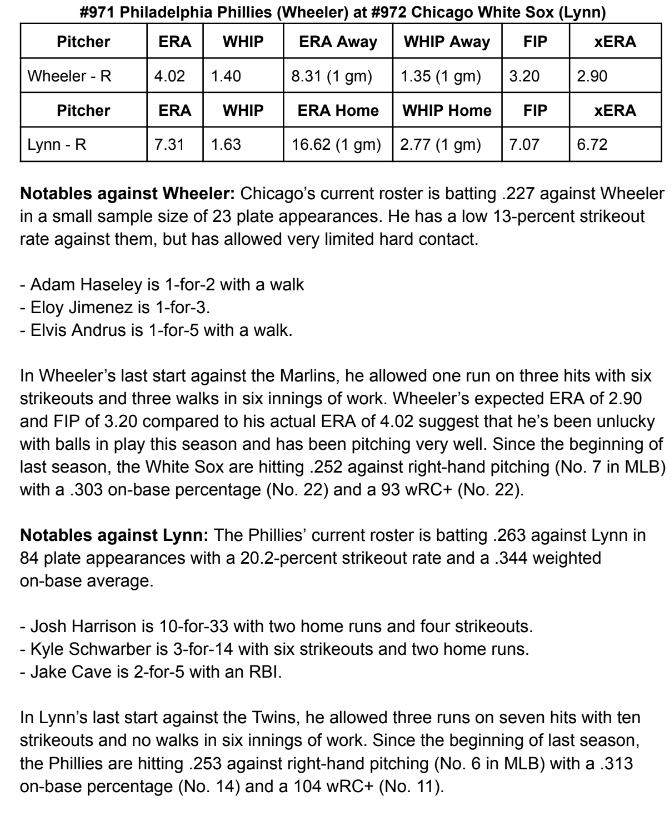 MLB Transactions
Have you seen the new GoldSheet MLB stat pages? Bookmark goldsheet.com/mlb-player-news for the latest MLB scores, stats, standing, and injury news.
2023 MLB Season Previews