Yesterday was a smaller MLB slate, and today, we are back with a 14-game slate of action. What are the best prop bets for today? Let's dive into the best player prop bets for Friday, 4/28.
MLB Player Props – Best Prop Bets
Pablo Lopez Over 5.5 Strikeouts -160 (BetMGM)
Pablo Lopez is in the midst of a career renaissance. He was always a good pitcher, but his strikeout numbers are exceptional this season. Lopez is in the 89th percentile in K rate, the 85th in whiff%, and the 97th in chase rate. Today, he takes on a divisional rival that he already faced, and he racked up eight Ks in that matchup on the road. The Royals come into this game with a league-leading 26.3% K rate against right-handed pitching and a 25.9% K rate on the road. To make matters worse for the Royals, they are 5th in the league in whiff% and 2nd in the MLB in chase%. Considering Lopez has a 37.5% K rate against this Royals team in 24 plate appearances, I like Lopez to get six or more strikeouts.
Dustin May Under 5.5 Strikeouts -120 (BetMGM)
Dustin May racked up six Ks in his last outing, but I do not expect this to become a theme for May. It is great to see him healthy and pitching well, but he is not racking up strikeouts whatsoever. May is in the 17th percentile in K rate, the 6th in whiff%, and the 31st in chase rate. The Cardinals strike out just 21.2% of the time against right-handed pitching and 22.7% of the time on the road. St. Louis is below the league average in whiff%, and they are right at the league average in chase rate. I do not see May getting six or more strikeouts tonight against a disciplined Cardinals lineup.
Tyler Anderson Under 5.5 Strikeouts -154 (FanDuel)
This is an interesting one. The Brewers have, far and away, the highest K rate against left-handed pitching here, but Anderson is not a strikeout pitcher at all. He has not sniffed this number in four starts this season. Anderson is in the 4th percentile for K rate, the 32nd for whiff%, and the 38th for chase rate. Also, despite the Brewers' high strikeout numbers, they strike out much less when playing at home. Not to mention the Angels are coming off a home stand with no rest – I can see the Brewers chasing Anderson early and stopping him from going over this number.
Jeff McNeil 2+ hits +250 (FanDuel)
In his career against Max Fried, McNeil is 10-27 with three doubles and 10 singles. Taking a flyer on McNeil to get not just one but two hits seems like a worthwhile play. McNeil is batting .301 on the season with 28 hits, and he has eight multi-hit games this season, including in 3 of the last four games. With such an advantageous matchup, I like the plus money here for McNeil.
MLB Stat Sheet
Have you taken a look at GoldSheet's new MLB stat sheet? For just $15 a week, you get daily breakdowns of pitching matchups, batters vs pitcher reports, advanced analytics, and two free betting picks a day. At just $2 a day for the week, what are you waiting for?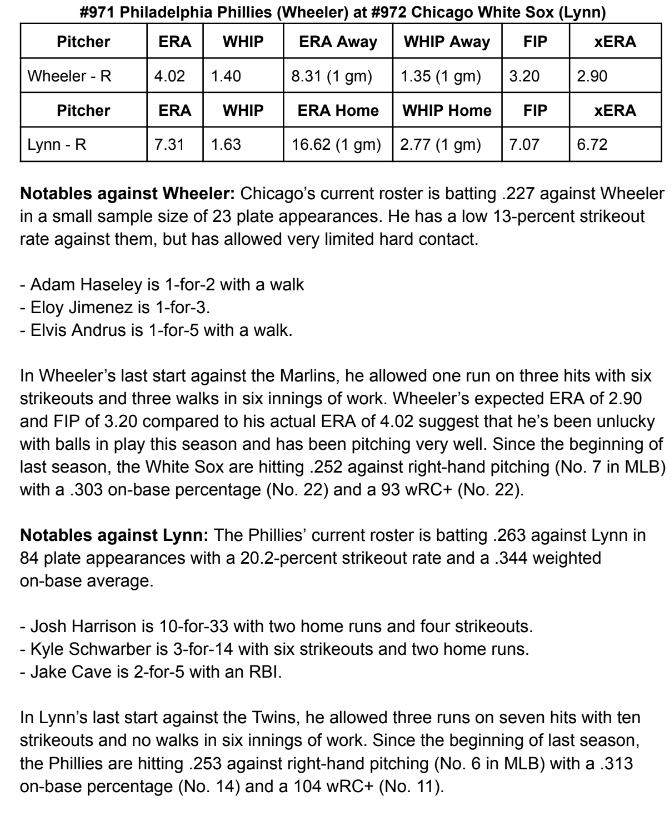 MLB Transactions
Have you seen the new GoldSheet MLB stat pages? Bookmark goldsheet.com/mlb-player-news for the latest MLB scores, stats, standing, and injury news.
2023 MLB Season Previews