All 30 MLB teams are in action today, and there are a bunch of great matchups to take a look at. What are our best bets for today? Let's take a look at some player props that stick out and have a ton of value.
MLB Player Props – Best Bets for Today, 5/9
Shane Bieber Under 6.5 Strikeouts +106 (FanDuel)
Shane Bieber has gone over this number just one time this season, and I find it hard to see him doing it again today. Bieber faced Detroit four times last year, and he struck out 10, 8, 6, and 5 batters in those four starts. However, this is not the same Shane Bieber. He is in the 17th percentile for K rate, the 19th for whiff%, and the 35th for chase rate. He is getting fewer strikeouts, his FIP is going up, he is getting hit harder, his SIERA is going up, and his stuff+ is going down. Unless a vintage Bieber game is coming today against an opponent he knows well, all the metrics are pointing to Bieber going under this number.
Charlie Morton Under 5.5. Strikeouts +104 (FanDuel)
Despite being 39 years old, Charlie Morton has put together a fine start to the season. He is throwing his curveball more and is in the 96th percentile for curve spin rate, while his fastball velocity is also up from last year. He has gone over this number three times this season so far. However, despite Morton being better this year, asking him to ring up six Red Sox is a lot to ask for. Morton is in just the 38th percentile for K rate, the 50th for whiff%, and the 45th for chase rate. Boston chases and whiffs below the league average, and they have the lowest K rate against righties in the MLB. Considering how Boston mashes when they are hot, I do not anticipate Morton easily running through the Red Sox, and I expect him to finish with five or fewer strikeouts.
Jack Flaherty Under 5.5 Strikeouts +124 (FanDuel)
Flaherty was a strikeout pitcher before the injuries, and while he shows flashes once in a while, he is struggling this year. Flaherty has gone over this number three times, but all three of the teams he went over against are known for striking out frequently. The Cubs only strike out 21.6% of the time against right-handed pitching. Flaherty induces more whiffs than chases, and the Cubs are below the league average in whiff rate. I'll gladly take the plus money for Flaherty to go under this number today.
MLB Stat Sheet
Have you taken a look at GoldSheet's new MLB stat sheet? For just $15 a week, you get daily breakdowns of pitching matchups, batters vs pitcher reports, advanced analytics, and two free betting picks a day. At just $2 a day for the week, what are you waiting for?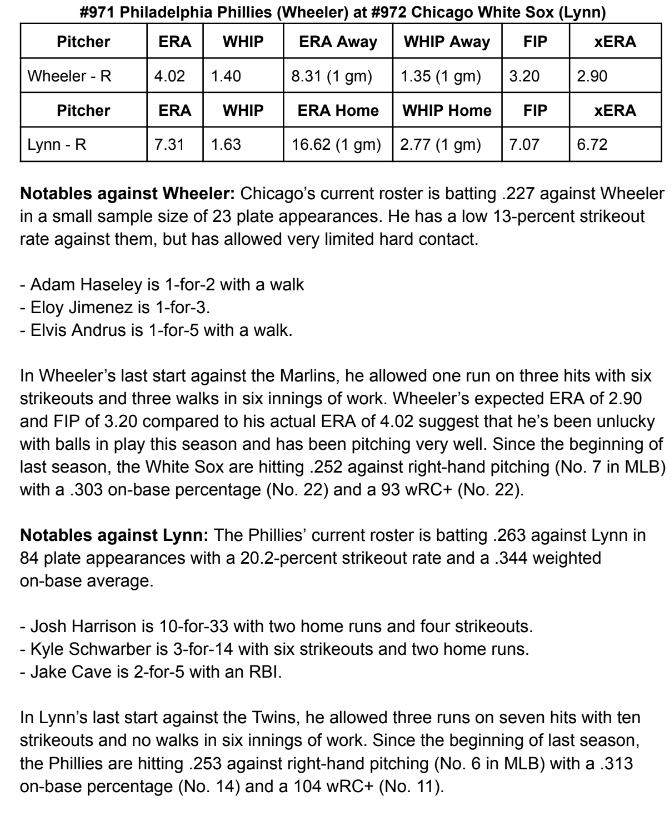 MLB Transactions
Have you seen the new GoldSheet MLB stat pages? Bookmark goldsheet.com/mlb-player-news for the latest MLB scores, stats, standings, and injury news.
2023 MLB Season Previews