8471...
TGS SPECIAL REPORT...COLLEGE FB HISTORY RE-SET

by Bruce Marshall, Goldsheet.com Editor

Once in a while, we at TGS are motivated to set the record straight. Often, it's because the modern sports media will peddle a narrative that while not altogether inaccurate, can be somewhat misleading. And as we have just passed an important anniversary of one of the most-memorable days in college football history, we are reminded once again how it helps to have been around to experience events that are being reviewed decades later.


So it goes for the much-discussed USC-Alabama season opener from back on September 12, 1970, a landmark game from 50 years ago that we have discussed in length on these pages before (Edition 60, Issue 1, 2016). As the golden anniversary of that clash just passed on September 12, it has once again been thrust into prominence, partly due to a recent story on the ESPN website in its "Then and Now" feature ("Amid a racial reckoning, a 50-year-old USC-Alabama football game carries new meaning.").


We are not here to downplay the significance of that game as an important marker in the desegregation of college sport, football in particular. But we do not want to diminish many other schools, games, and players that were similarly instrumental in the changes that began to accelerate in the 60s and were indeed well underway when John McKay's Trojans trekked to Birmingham to battle the Crimson Tide that night.


Jumping ahead of ourselves a bit, we don't think SC's eventual 42-21 romp past Bama fifty years ago accelerated desegregation in college football any more than the Tide's win in the 1971 rematch could have decelerated any progress. The wheels of change were already whirring, and what eventually happened was going to happen no matter the result of USC-Alabama 1970.


What continues to amaze is how the mythology surrounding this Trojans-Crimson Tide game, which effectively took more than 30 years to resonate within the sports media, has grown to the point where ESPN and others in the modern day now regard the clash as one of the most important in college history. At best, maybe half true, because in fact it wasn't even the main storyline of that opening day in college football fifty years ago, taking a back seat to another clash that had at least equal significance in the road to desegregation of college sport and, in a football sense, was a bigger attraction. More on that game in a moment.


Again, those writing about events in 1970 that weren't around like we were at TGS are not going to be able to as accurately recall what actually transpired.


There was a bit of an extra buzz about opening weekend 1970 as it marked the first year of expanded college football schedules to 11 games. There had been a frenzy of activity in January of that year when the NCAA approved the extra game; college fans were thrilled at the unexpected extra week of forthcoming action that would include several newly-scheduled, tasty intersectionals. While a handful of schools, mostly in the Big Ten, remained holdouts (indeed, Ohio State had not progressed beyond nine-game slates to that point), plenty of powerhouses moved quickly to schedule money-making showdowns. For college fans, it was as if Christmas would arrive more than three months early come September.


Among those taking advantage of the 11th game were traditional powers Southern Cal and Alabama, with coaches, ADs, and friends John McKay and Bear Bryant agreeing to a home-and-home series that would commence with a game that September 12 at Birmingham's Legion Field (where the Tide played most of its big games in those days), and conclude the following season at the LA Coliseum.


For all of its landmark implications, however, SC-Bama 1970 did not receive an inordinate amount of national coverage, which has the modern-day historians a bit stupefied. (We'll expand upon that a bit more later in this piece.) Perhaps because many of them were not alive in 1970 and can't relate to that year, when the Vietnam war, and not racial tensions, dominated the headlines. Though the '60s were a particularly turbulent period, by 1970 the nation was temporarily beyond the various major race riots in preceding years, with both the Civil Rights Act and Voting Rights Act becoming law in the middle of the preceding decade. Much had changed for the better on the civil rights front from the early '60s. Yet Vietnam was the major news story in '70, along with the related Kent State massacre in May.


Of course, it has never been lost upon us the significance of that game in 1970, when the Trojans would be the first fully-integrated team to face the Crimson Tide in Alabama. It was not, however, the first integrated team ever to face Bama, which had been facing integrated teams in bowl games for much of the previous decade. In the 1968 and '69 seasons, the Tide had been whipped by a pair of integrated Big 8 teams (Missouri in the 1968 Gator and Colorado in the 1969 Liberty) after twice slamming another integrated Big 8 side, Nebraska, in bowl games after the 1965 & '66 seasons. A handful of Black players had also already faced the Tide in Birmingham or Tuscaloosa, including Miami-Fla. and its first Black player, WR Ray Bellamy, in 1969, and a couple of Tennessee players the same year (more on them in a moment).


Football-wise, the Tide was also in a relative downturn at that stage, barely able to become bowl eligible the previous 1969 season, and finishing 6-5 after the 47-33 Liberty loss to Colorado. The SC-Bama 1970 game was not much of a contest, either, with McKay's Trojans, off a 10-0-1 Rose Bowl-winning season the year before, and ranked 3rd entering the new campaign, rolling by the aforementioned 42-21 count, as soph FB Sam Cunningham made quite an SC debut, gaining 135 YR and scoring a pair of TDs. Bama would trudge forward to an unremarkable 6-5-1 season, while the Trojans would eventually disappoint and finish only 6-4-1.


That neither team was particularly remarkable in 1970 probably had something to do with this landmark game losing much of its immediate luster until subsequent generations would pick up the baton and recall its significance. Moreover, hints of a hostile atmosphere that night at Legion Field as suggested in the recent ESPN story and other modern reviews of the game, are sensationalized; several sources, including then-USC QB Jimmy Jones, have told us that while there was undeniable tension surrounding the contest, the atmosphere at the game that night was instead rather docile, hardly as menacing as has been suggested in related subsequent storylines.


By that point, the Bama fan base, and the entire SEC, had realized that change was underway. Years ago, we interviewed longtime Mississippi State play-by-play man Jack Cristil in his hometown of Tupelo, a few years before he passed. Cristil, whose career spanned the Civil Rights era into the new millennium, confirmed as much when we spoke in 2009. "Change was coming, and everyone down here knew it," said Cristil. "People down here in Mississippi and Alabama had TVs. They knew what was happening, and integrating the SEC was on the way."


It might also surprise modern observers that while SC's 1970 team included 18 Black athletes, only five of them started in the game, though Cunningham, QB Jimmy Jones, and RB Clarence Davis were featured performers that night. Defensive ends Charlie Weaver and Tody Smith were among the Trojans' handful of other Black starters that night. And, had some of the modern-day biographers bothered to drill a bit deeper into USC's 1970 (and '71) seasons, instead of forwarding their intended narrative, they might have discovered that those Trojan teams, at least according to some well-placed insiders and many close to the SC program that we have interviewed for our upcoming book, McKay vs. Prothro 1965-70: When the USC-UCLA Rivalry Raged, eventually underachieved in large part to internal discords...among them, ironically, racial tensions.


Of course, one of the much-peddled narratives about SC-Bama 1970 was that Bear Bryant brought in SC RB Cunningham to his locker room after the game and announced to his players, "Gentlemen, this is a football player." Except that no one ever confirmed that tall-tale, even Cunningham, and it has been refuted by others, including Bama QB Scott Hunter. Another whopper about SC-Bama 1970 was that the Bear actually desired McKay's integrated team to deliver a beating to the Tide that would prove to the Bama fan base that it was time to move on from the days of segregation and begin integration. That angle, however, has long been roundly dismissed by many Bama historians, including Keith Dunnavant, a Bryant biographer and author of The Missing Ring, a chapter of which was a focus of a past SEC Retrospective on our TGS website.


"This whole notion of Bryant losing to SC to make a statement? I'm sorry, there is no way he would want to go into a game believing he was going to lose," said Dunnavant in an LA Daily News story in 2013. "Did he know USC coming to Birmingham might have some transcendent effect? Did it have powerful symbolic overtones. Absolutely. But the story is just so much more complicated."


We have long acknowledged SC-Bama 1970 as a significant marker on a variety of fronts,
both in society and sport. But having written in the past about several other developments in the eventual breaking of the color line in college sport, we know that SC-Bama is an important, but certainly not the only, chapter in the story. Check out our TGS website archives for past features about SMU's Jerry LeVias, the first Black scholarship football player in the old Southwest Conference, and various hoop recollections from the early '60s, including detailed pieces about Cincinnati and the old Missouri Valley, Loyola-Chicago's 1963 title team, and Mississippi State from the same 1963 and the most unforgettable story of the era regarding its brave entry, in the face of heavy state-wide political pressure, into the NCAA Tournament. Which is a story of significantly more intrigue, and legitimate drama, than SC-Bama 1970.


The fact is that before SC trekked to Legion Field in 1970, Bama had already broken its color line when Bryant signed RB Wilbur Jackson, who was a freshman (who were then ineligible for varsity play) and had just enrolled in September of 1970. As AD, Bryant had already helped break the Bama color line on the hoops side by allowing HC C.M. Newton to sign future star Wendell Hudson in 1969. The winds of change were also blowing elsewhere in the SEC, where Kentucky's Nate Northington broke the league's football color line in 1967 along with Vanderbilt's Perry Wallace on the hoops side. And before SC and Bama agreed to meet, Bryant had already scheduled a home-and-home with a very integrated Houston, which had crushed Auburn in the preceding '69 Astro-Bluebonnet Bowl and would host the Tide in 1970 at the Astrodome before a return match at Tuscaloosa in '71.


Bryant's Bama varsity would finally integrate in 1971 with Jackson and juco DE/LB John Mitchell (eventually a longtime NFL assistant coach, and currently with the Pittsburgh Steelers), who actually became the first Black player to step on the field for the Tide in the 1971 opener at SC. Which, by the way, would be a Bryant masterpiece, as he unleashed a new Wishbone offense on an unsuspecting McKay, who had not properly prepared for it. Bama jumped to a 17-0 lead and would win 17-10 (also Bryant's landmark 200th win as a college coach) en route to an unbeaten regular season with one of the last almost completely-white Tide teams, which themselves would be fully integrated within a few years.


We have long believed that the overlooked game of the era, and perhaps a more-important marker regarding the color line at Alabama, and the SEC, came in the 1969 season, when Doug Dickey's strong Tennessee side would pummel the Tide, 41-14, in Birmingham. The Volunteer program had already broken the color barrier with HB Lester McClain in 1968, and LB Jackie Walker, who would eventually become the first black captain of an SEC team, the following year. Longtime Bama fans will say that Walker's dancing 27-yard TD return of an errant pitch by Tide QB Neb Hayden in that '69 game stung more than anything USC did the following year, and began to get Bama fans to realize that change was inevitable.


As for that change, the truth is that it was already afoot at Bama and the SEC before Trojans-Crimson Tide in 1970. The color barriers had been broken, and while SC-Bama might have accelerated the process, the game was hardly the sole cause of integration in the SEC. It was already happening. But it's a nice story!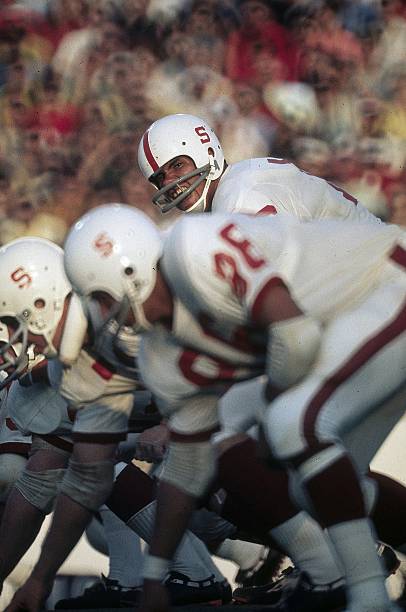 Yet if gridiron historians want to be factual and point out a game played the very same day with every bit the social significance of SC-Bama, then the Stanford-Arkansas classic at Little Rock has to be mentioned. It might surprise the ESPN generation that during those years, the Razorbacks were much more of a national contender than the Crimson Tide. And the Southwest Conference to which Arkansas belonged in those days was every bit as slow to break the color line as the SEC and ACC of that era.


It is also worth noting that Stanford's 1970 squad was fully integrated as was USC's, the types of teams that almost never trekked to SEC or SWC locales in those days. Moreover, Stanford-Arkansas marked the game in which the Razorbacks finally broke their own color barrier with soph HB Jon Richardson, who made an immediate impact in the opener. The modern historians might not realize that significance, either; right there in Little Rock, where Gov. Orval Faubus had once made the city ground zero for the landmark Brown vs. Board of Education decision by ordering Arkansas National Guard troops to block entrance of Black students to Little Rock Central High in 1957. (Indeed, Faubus, looking to re-enter politics, had lost a Democratic primary run-off for Governor to Dale Bumpers the same week as Stanford-Arkansas.)


Further, that was the first Arkansas season, and game, when the playing of "Dixie" was disallowed. As recently as the previous Jan. 1 Sugar Bowl game vs. Ole Miss, many Razorback fans had also routinely sported Confederate flags, which had been banned for 1970 as well. But it was the debut of Richardson for the Porkers, perhaps more than SC's trail-blazing excursion to Birmingham, that would be the main national sports talking point of that opening college weekend.


Stanford-Arkansas was another of the "11th games" in 1970 and also a more-significant gridiron battle than SC-Bama, as anticipation for the Indians (Stanford's nickname at the time)-Razorbacks matchup was higher than that for the Trojans-Tide. ABC, recognizing as much, chose Stanford-Arkansas as its featured national TV game. Though not without a concession to the times; reluctant to butt heads with the Miss America pageant (in those days a TV ratings bonanza) that night on NBC, ABC's Roone Arledge wisely decided on a later-afternoon kickoff in Little Rock so the nation's TV watchers could get their college football fix before switching to Bert Parks and the festivities in Atlantic City. (TGS went into extensive detail on Stanford-Arkansas in our kickoff issue for the 2018 season.)


The football storyline was tasty enough in Little Rock. The Razorbacks were anxious to make another national title run after falling 15-14 in the previous December's "Game of the Century" vs. Texas, and with QB Bill Montgomery and much of his supporting cast returning for decorated HC Frank Broyles, the Hogs were rated No. 4 in preseason polls. Meanwhile, Stanford, ranked 10th in preseason, featured a legit Heisman contender in QB Jim Plunkett, and was regarded as a definite team to watch in the Pac-8 after being literally three plays from a 10-0 mark in the preceding '69 season (when maybe HC John Ralston's best team instead finished a grating 7-2-1).


Unlike SC-Bama, the game was an instant classic, with Stanford jumping to an early 27-0 lead, but forced to hold on late for a pulsating 34-28 triumph. Plunkett's Heisman-winning campaign got off to a winging start, but on the Palo Alto side was also a Black athlete who made headlines that night in Little Rock, just as Sam Cunningham did 372 miles to the east in Birmingham. Heretofore obscure jr. RB Hillary Shockley enjoyed a 3-TD afternoon/early evening and became instantly recognizable to college fans, as would Razorback soph Richardson, whose 37-yard TD reception from QB Montgomery was the first scored by a Black player in an Arkansas uniform.


Not only was Stanford-Arkansas the ABC preference for its national TV game that September 12, but it was also the featured story (with color pictures!) in the following week's Sports Illustrated, in those days the ultimate validator of impactful sports stories and events. SC-Bama, meanwhile, was a secondary featured piece in the weekly College Football round-up.

(Note that the Razorbacks would get their revenge on the Pac-8 in their 11th game the following 1971, when blasting Cal at Little Rock, 51-20.)


The point being that Arkansas was every bit as much in the eye of the Civil Rights storm in those days as Alabama and, in a football-sense, the Razorbacks were much more highly-regarded into the '70 campaign than Bear Bryant's Tide. That Stanford team would also beat USC a few weeks later in Palo Alto, 24-14, and go on to represent the Pac-8 in the Rose Bowl, where it would upset a then-undefeated Ohio State, effectively denying the Buckeyes the national title. At worst, Stanford-Arkansas '70 deserves equal billing to SC-Bama on all fronts, and in truth was the real buzz game of opening weekend, 1970. Though as far as we know, we're the only outlet that has made special mention of this historic Indians-Razorbacks clash in recent years.


The fact is that many of the southern schools (including Georgia Tech, Duke, Florida State, Miami, Vanderbilt, Tulane, Rice, North Carolina, Virginia, Virginia Tech) of the same era were competing against schools with Black athletes at least a time or two per season well before SC traveled to Birmingham to face Alabama. UCLA, an integrated team, had traveled to Memphis to face Tennessee at the end of the 1965 season (a classic game we might be recalling one of these days in a future TGS Retrospective), and Bruin players on that team have told us that a couple members of RB Mel Farr's family were the only Black spectators at the new Memphis Memorial Stadium (later renamed the Liberty Bowl) that day. That game, five years before SC-Bama, would seem a significant social marker as well. The Bruins also made a trip deep into the Southwest Conference and Houston to face Rice in 1966. During the 1968 season, two years before SC-Bama, an aforementioned and very integrated Houston team played intersectional games at SEC champ and Sugar Bowl-bound Georgia, and Liberty Bowl-bound Ole Miss (in Jackson), and didn't lose either, drawing 10-10 at Athens and romping past the Rebels 29-7 in the only game Archie Manning lost as a starter in his career at Mississippi Memorial Stadium.


We believe those Houston teams were, in fact, perhaps the most important in the eventual break of the color line not only in the Southwest Conference (which the Cougars would subsequently join in the mid 70s), but the entire region, and perhaps the nation. That's a story that needs to be told, too.


As the national discussion has included more sensitive topics in recent months, we at TGS are in a unique position to clarify some of the historical sporting events without bias and with more clarity than many of the modern media outlets. To do some of the storylines justice, and to set the record straight, we'll be revisiting some of these throughout the course of the autumn, including a more in-depth look at the impact of aforementioned Houston, as well as tales of important players that modern college historians seem to have forgotten, such as Toledo QB Chuck Ealey, who will be recalled in an upcoming feature. Stay tuned.
Return To Home Page