8255...
TGS 2019 COLLEGE FB PREVIEW
...A LOOK AT THE INDEPENDENTS
by P. Carl Giordano, Managing Editor

We take a look at the Independent entries for 2019, with teams ranked in order of power projections. Last season's s straight-up, spread, and "over/Under" (O/U) projections are included...
Notre Dame (SUR 12-2; PSR 6-6-1; O/U 6-7)...Coming off a 12-1 season, and with seven offensive and six defensive starters returning, HC Brian Kelly must've felt pretty good about his team's chances of collecting double-digit wins for the third straight fall in 2019. No Irish team had won 10 or more in consecutive seasons since the legendary Lou Holtz piloted the team to a 31-5-1 mark in 1991-1993.


However, the Irish are already stumbling a bit out of the gate this season, and they don't play until Monday, September 2. Among the graduated players were three offensive and three defensive starters drafted into the NFL, including leading rusher Dexter Williams, top receiver Miles Boykin and starting TE Alize Mack. Compounding those losses, o.c. Chip Long has to figure out how to live without new top TE Cole Kmet, whose broken collarbone will keep him out until October, soph WR Kevin Austin, who might be suspended for violating team rules, top G Aaron Banks (foot surgery; out indefinitely) and 6-7 true frosh backup left tackle Quinn Carroll (a highly-touted prep who made the depth chart when he enrolled early). Austin's backup, jr. Javon McKinley, is also very iffy for the opener with a groin injury suffered in early drills. Not exactly a dream camp for the 'Domers!


The upside is that jr. QB Ian Book is back after making a solid leap last season, when he completed 68% of his throws for 2628 yds. with a 19-7 TD-int. ratio. Book has his second and third receivers back in 6-5 sr. Chase Claypool and sr. Chris Finke, who combined for 99 catches and 1210 yards. The last five seasons, Kelly's ND attack has been very consistent, averaging 32.7 ppg and 443 ypg. It will be a challenge to approach those numbers this season. The early injuries will mean a slow start. New soph RB Jafar Armstrong and 227-lb. jr. Tony Jones combined for 775 YR and 10 TDs, but with the dings in the offensive line, Notre Dame's visit to Louisville for the opener might be a bit tougher than expected.


Notre Dame's defense last season was its best in the last six years, allowing just 18.2 ppg and holding opposing attacks to 347 ypg. However, this unit lost its top sackman (DT Jerry Tillery, its best CB (Julian Love) and top two LBs (Drue Tranquill and leading tackler Te'von Coney. All went to the NFL. The good news is that seven players return who recorded at least 31 tackles, including sr. DE Julian Okwara, who had eight sacks and 21 QB hurries. Defensive coordinator Clark Lea made a splash in his first season in the position last year, but to play Devil's advocate, he had the benefit of nine returning starters coming back from a 2017 group that allowed just 21.5 ppg and 369 ypg, the team's best numbers in a five-year span prior to 2018. Now he must replace key players on all three levels of the defense, not an impossible task, but it won't be easy, either. This unit will rely on pressuring opposing QBs with Okwara and DE Khalid Kareem and hope the run defense can continue to slow down opposing RBs (allowed less than 4.0 ypc over the last three seasons.


The Irish have a manageable yet challenging schedule, with six games spread over the first eight weeks, including a few "cupcakes" sprinkled in as ND hosts New Mexico and Bowling Green. However, games at Georgia, Michigan and Stanford could all be losses. Potentially rejuvenated Southern Cal, improving Virginia and always tough Virginia Tech will test ND. If the Irish achieve double-digit wins for a third straight season, it will be a major accomplishment.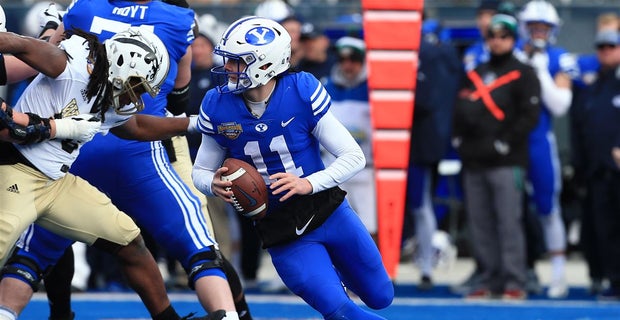 BYU (SUR 7-6; PSR 9-4; O/U 4-9)...BYU Kalani Sitake threw the pack of alumni hounds nipping at his heels off the scent with last season's rebound from a 4-8 2017 to a 7-6 mark which included an impressive 49-18 victory over Western Michigan in the Idaho Potato Bowl in 2018. The pressure is still on in Provo, and a brutally tough early schedule could "release the hounds" on Sitake. The Cougars play Utah, at Tennessee, Southern Cal, and Washington, making them the only team in the country to open the season with four straight Power Five foes, and an 0-4 start will be tough to swallow. Sitake's contract is up after the 2020 season, so a slow start will be blood in the water for the circling sharks.


Sitake has 17 returning starters including soph QB Zach Wilson leading nine offensive regulars who made a significant improvement in 2018, scoring 27 ppg, 10 ppg more than in 2017. It's likely no coincidence that upswing corresponds with the addition of ex-LSU assistant Jeff Grimes as the offensive coordinator prior to last season. The offense improved in 2018 after Grimes and Sitake decided to bench sr. Tanner Morgan and insert Wilson in midseason last year. Wilson finished with 1578 YP on 66% completions with a 12-3 TD-int. ratio and showed some mobility as well, rushing for 221 yds. and three scores. Still, the attack ranked 100th in total offense a year ago, and the running game will benefit from the presence of South Carolina graduate transfer Ty'Son Williams and a veteran and deep offensive line. Williams rushed for 799 yds. with a 4.8 ypc mark and made five starts for the Gamecocks over the last few seasons. The hope is he can prop up the RB-by-committee that averaged just 142 ypg rushing over the past two seasons.


Eight starters return from a Cougar defense that ranked 18th in yardage allowed last season, although one of the departed players was LB Sione Takitaki, who led the squad with 118 tackles, more than twice as many as the next leading BYU defender. The "D" also lost top pass rusher Corbin Kaufusi (2nd on team with 56 stops; 8½ sacks). Corbin's brother, DE Devin Kaufusi, is 6-7, 255 and should fit in nicely after backing up Corbin in 2018. LB Isaiah Kaufusi (not a sibling!), will also play a large part in the defense and is the top returning tackler with 50. The defense was very balanced ranking, 27th against the run (3.7 ypc) and 22nd in pass efficiency defense.


Six wins will put the Cougars in a bowl, but getting there won't be a walk on the beach, more like a forced hike through the Moab Desert. After the tough start the Cougars go to always offensively-potent Toledo and athletic South Florida, they host Boise State before visiting Utah State (11-2 LY). If they can find two wins in the first two-thirds of the schedule, sweeping the last four is very doable (Liberty, Idaho State, then finishing at UMass and San Diego State). Take a look at the Cougars at Tennessee early...they are 11-3 as a road dog over the past four seasons.



Army (SUR 11-2; PSR 7-4-2; O/U 7-6)...Must give due credit to Army HC Jeff Monken, who has turned a team that was 8-28 in the three years prior to his appointment into a team that is 29-10 the last three seasons and has won back-to-back Commander-in-Chief's Trophies for the first time since the award was created in 1972. The 11 wins in 2018, capped by a 70-14 demolition of the Houston Cougars in the Armed Forces Bowl, was the most in school history as well. The generals are pleased.


Part of the success has been the Black Knights being realistic and downgrading their schedule a bit. This year they have just one Power Five opponent (at Michigan Sept. 7), and every other game is winnable. Monken lost d.c. Jay Bateman to North Carolina, as Bateman moved on after engineering the eighth-ranked defense in the country (10th vs. both the rush and points allowed at 17.7). Army gave up 33 ppg in the two seasons before Bateman took over in 2014 and improved to 19.8 ppg in the past three years. The defensive unit loses seven starters, unfortunately, including star LB James Nachtigal, who led the team in tackles (97; 20 more than any other defender) and sacks (8½). The "D" will be run by John Loose, who has previously coached at West Point for 13 seasons in two stints. Loose has previous coordinator experience (14 seasons at Lafayette), and did a great job assisting Bateman and guiding the safeties during Monken's tenure. The top returning tackler is sr. LB Cole Christiansen (77 and 11 TFL), while the vet 2ndary has CB Elijah Riley (55 Ts; team-high 10 passes broken up) back along with sr. S Jaylon McClinton (54 Ts) and jr. CB Javhari Bordeau. The defensive line will be rebuilt with upper classmen, most of whom have at least some starting experience. Given the continuity provided by Loose and Monken, the defense might not be a top 10 unit again in 2019, but could remain in the top 25.


Offensively, the Black Knight triple option is once again an effective equalizer for a team that doesn't have the speed and athleticism of many schools. Army ranked 2nd in the country in gaining 312.5 ypg on the ground and ate up the clock accordingly, possessing the ball for an average of 38½ minutes per game. The Black Knights of West Point were also first nationally in 3rd and 4th-down conversions. The offensive triggerman is sr. QB Kelvin Hopkins, who ran for 1017 yds. and 17 TDs in 2018 and also threw for 1026 YP with a 6-3 TD-int. count. The key replacements for this attack will be at FB, where star Darnell Woolfolk and backup Andy Davidson combined for 1286 YR (Woolfolk had a whopping 14 TDs) both graduated. Sr. Connor Slomka has gained 550 yards on 125 carries in his career, a 4.4 ypc mark that matches Woolfolk's from last season. Jr. HB Artice Hobbs has gained 8.0 ypc in moderate use the last few seasons and sr. HB Kell Walker has rushed for 1327 yds. (6.3 ypc) with 8 TDs the past three seasons. Three offensive line starters return, and the new C, sr. Jack Sides, has played in 21 games in the last two seasons and made a start last year.


If the defense can learn on the job, Monken might well have another double-digit win total and a third straight C-in-C trophy for the case at West Point.



Liberty

(SUR 6-6; PSR 5-7; O/U 7-5)...

Liberty has several major changes this season, starting with a new head coach with big-time experience in the person of Hugh Freeze. Freeze hasn't been available for camp workouts in August, as he's been hospitalized first for back issues and then a serious staph infection, possibly a result of back surgery. Freeze replaces Turner Gill, who coached the Flames for the past seven seasons before he stepped down to spend more time with his ailing wife, then taking a gig away from the coachign grind (director of athlete and staff development) at Arkansas. Freeze has previously been in charge at Arkansas State and Ole Miss, where he had success in rescuing the Rebels from the depths of the ill-fated Houston Nutt era. However, to compete in the SEC he and his staff provided "illegal benefits" which may or may not have included "escort services" (if you know what we mean). At any rate, his 2014 and 2015 teams were ranked as high as No. 3 and both finished in the top 16, with the 2015 team finishing 12th in the CFP rankings and beating Oklahoma State 48-20 in the Sugar Bowl. Is Freeze a big fish in a little pond? Freeze surely is looking for a bit of redemption after not having a coaching job during the 2017 and 2018 seasons. Liberty is eligible to participate in a bowl, and, with 15 returning starters plus both kickers, the "Fightin' Fallwells" are looking for a bid.


Liberty's top player is sr. QB Stephen Calvert, who threw for 3068 yds. and 21 TDs, but needs to cut down on his interceptions (18 LY), possibly by improving on his mobility. Calvert was very sackable and had a negative rushing average of -4.9 ypc. RB Frankie Hickson ran for 1032 yds. and combined with backup Peytton Pickett combined for 20 rushing TDs. Jr Joshua Mack was listed in front of Hickson and Pickett after spring, but Hickson has the track record, with 2307 career rushing yards. Calvert's top receiver returns, as 6-4 sr. WR Antonio Gandy-Golden is coming off a 71 catch, 1037-yd., 10-TD season YR the last two seasons. The OL is in good shape with three starters returning, and the two new players are quality behemoths.


Liberty's schedule is watered down to the point that even a mediocre Power Five Conference team would be favored in every game. Freeze is a top-notch coach and brings something to the table, although it's a bit ironic that, after being accused of essentially procuring hookers (allegedly), for 18-year-old recruits, he was hired by a solidly Christian-based school such as Liberty. In football as in politics, if a candidate can achieve the base demands of followers, those supporters hold their noses and look the other way.



New Mexico State (SUR 3-9; PSR 3-9; O/U 7-5)...HC Doug Martin enters his 7th season in Las Cruces, and if you've witnessed any significant portion of his total of 13 seasons as a head coach at Kent State and New Mexico State, you don't expect him to win. Martin's teams have produced exactly one winning record in those 13 years, here at NM State in 2017. And that was a bit of a miracle, as the Aggies had to rally from a 4-6 SU mark late in the season, closing with wins over Idaho and South Alabama to become bowl-eligible, and then manage an OT win over Utah State in the Arizona Bowl to finish 7-6. In his other five seasons at NMS, the team won only two or three games each year. The bar is low in Las Cruces, as that Arizona Bowl appearance was the team's first in 57 years and was the key factor in the New Mexico State administration giving him an extension with a nice fat raise through 2022. That's fine, but Aggie fans better prepare themselves for another 3-9 season.


Know that Martin's new contract was part of a debt restructuring shell game, and it has to be paid for. So the Aggies will go to Alabama, Washington State and Mississippi to pick up paychecks this season, along with visits to New Mexico, Central Michigan, Georgia Southern and Liberty...seven road games. Among the five home games on the schedule, NMS will likely be underdogs in four of them. The Aggies play seven straight weeks to open the season, beginning with those trips to Pullman and Tuscaloosa, so they very well could be 0-5 and banged up by the time they host Liberty on Oct. 5, and 1-6 before they get a bye week to lick their wounds Oct. 19. NMSU has little alternative other than the body-bag route as it no longer has a conference home, and until it can find a landing place ina league soemtime soon, the football program's long-term viability as an independnt is going to be under annual review.


The offense was mediocre last season, ranking 96th in total offense and 94th in scoring, as soph QB Josh Adkins was cast into the fire as a true frosh and threw for 2563 yds. in just nine games. Although his 56.5% completion rate and 13-9 TD-int. ratio leave something to be desired, he managed to average 298 ypg passing in his eight starts to finish the season, consequently the Aggies finished the season ranked 30th in passing yards in the nation. NMS has eight returning starters, including a pair of sr. RBs in Jason Huntley and Christian Gibson, who combined for a very respectable 1095 yds. and 13 rushing TDs. Before getting too excited about the offensive line which returns three senior starters, know that the Aggies managed just 3.6 ypc overall and allowed a whopping 40 sacks (125th). Lack of protection shouldn't be news to past or present NMS QBs, who've been dumped 144 times in the past four seasons. Five of the top seven receivers are back, led by sr. WR O.J. Clark, who had 52 catches, and WR Drew Dan (37 recs.) will have to fight for time on the field thanks to the transfer of ex-Baylor wideout Tony Nicholson.


After the Aggie defense showed marked improvement under respected d.c. and former Boston College HC Frank Spaziani in his first two seasons, the stop unit fell flat on its collective faces in 2018. The NMS gave up 41.3 ppg (125th), ranked 124th against the run, yielded 5.1 ypc and finished 120th in total defense. This unit has six returning starters, but counts three of its top four tacklers as gone and will be inexperienced up and down its spine with the exception of sr. MLB Javahn Fergurson, who led the team with 132 tackles. Sure, DE Cedric Wilcots (7 sacks) is decent, and a pair of senior corners should provide some coverage, but foes will find the going easy on the ground. And if Fergurson gets a concussion (who wouldn't making that many tackles), or Wilcots sprains a knee, it's open season on the Aggies.


Martin's buyout is just $120,000 now and drops to half that on July 1 of next year. Hot seat, anyone?



Massachusetts (SUR 4-8; PSR 5-7; O/U 8-4)...Did incoming HC Walt Bell know that UMass coming up to the FBS level was never really about winning a whole bunch of games or competing for the title or even slots in bowl games? Ex-HC Mark Whipple knew that and said as much to whoever would listen over the last few seasons. Just score some points, keep things entertaining and cash the checks. The Minutemen, are 18-66 SU since leaving the FCS in 2012, and after a few years campaigning in the MAC, are now in it as an independent for the payday. In Whipple's five-year tenure, UMass played 13 Power Five foes, plus Notre Dame, BYU three times and Temple twice. Against that group the Minutemen were 1-18 SU (beat BYU late in the 2017 season). The role of cupcake pays pretty well when you visit schools like Penn State, Florida, Tennessee, Mississippi State or Georgia. Big stadiums, big paydays capable of funding not only the UMass football program, but a lot of other sports as well. Now the school faces a total football rebuild with just eight starters returning.


Whipple (who has landed as the o.c. at Pitt) editions at Amherst generally had some offensive pop, scoring 27 ppg over the past five seasons, including a 32.8 ppg mark LY, the highest figure in since the squad went 12-3 and won the NCAA FCS Championship in 1998. Last year the Minutemen ranked 14th in passing offense and 16th in pass efficiency with Andrew Ford and Ross Comis essentially splitting the season due to injury. Those two combined for 3165 YP and 23 TDs, but both have graduated, leaving the job to either juco Andrew Brito or sr. Michael Curtis, who threw for 412 yds. (65%) with 4 TDP and 2 ints. in spot duty (one start) a year ago. The attack also loses its top two RBs, who combined for 1147 YR and 10 TDs. Comis was the third leading rusher and had six scores on the ground. The offensive line is solid on the left side, where sr. G Ray Thomas-Ishman has made 45 starts the last three seasons and jr. LT Larnel Coleman moves in after making 12 starts at right tackle in 2018. The biggest offensive loss might be WR Andy Isabella, who led major college football in receiving yards with 1698, scored 13 TDs (including 15 recs. for an impressive 219 yds. against then No. 5-ranked Georgia in the season finale. Oh, yes, and he was first-team All-American and was drafted by the Arizona Cardinals on the second round, only the second Minuteman taken that high since QB Greg Landry was taken on the first round in pre-merger 1968.

Okay, so the offense is looking at a serious drop-off in production. Don't ask about the defense. UMass gave up 42.9 ppg, ranking 126th in scoring "D" (gave up most total points in school history), 123rd in total defense, 125th against the run...and they lost MLB Bryton Barr, who was tied for 4th in the nation in tackles per game. Barr's total of 147 was virtually double that of S Brice McAllister (74)...who also graduated. So an historically bad defense loses eight starters including its top two tacklers (and seven of the best 11). Do we really have to discuss this?


The 35-year-old Bell is trying the usual route in such situations. Mostly youth (frosh and sophs) and jucos will fill in the open jobs as the new staff tries to stop the bleeding. That always works, right?
Return To Home Page