8251...
TGS 2019 COLLEGE FB PREVIEW
...PRESEASON TOP 40!

by Bruce Marshall, Goldsheet.com Editor

We conclude our 2019 College Football previews with our annual look at the TGS Preseason Top 40...
1-CLEMSON...Preseason rankings are overrated–there, we said it! Stereotyping is prevalent, such as the "of course we have to rank Alabama number one" crowd. We suspect there would have been those who would have picked the Tide to beat Clemson even after the Tigers' 44-16 blowout win in the national title game last January. In the aftermath, Bama probably would have again been supported as the betting favorite, too. But what matters on the field is what counts, and Clemson was indeed the best team last season, by a good margin. A new year, of course, but Dabo Swinney's program has become a Cadillac assembly line, and soph QB Trevor Lawrence is so good he probably would have been the top pick in last April's draft, though he'll have to wait until the 2021 draft before he's even eligible. With few serious challenges in the ACC, it's full-speed ahead for Dabo once more.


2-ALABAMA...A little bit of an edge to this offseason in Tuscaloosa, with Nick Saban in a bad mood since the title game drubbing at the hands of Clemson, and taking turns throwing various sorts under the bus, including his assistant coaches who he believed were too preoccupied with other things (like other jobs) in the bowl prep. Though the usual NFL pipeline looks like it might have robbed Bama of some depth, Saban has been simply reloading for the past decade, and plenty of marquee players remain, led by QB Tua Tagovailoa, who was at less than 100% for the title game but still rates 1-2 (in either order) with Clemson's Trevor Lawrence at the Heisman favorite. Moreover, this is one of the easiest-looking schedules we've seen at Bama in a long time. It will be a big surprise if the Tide isn't back in the Final Four and running into Clemson once again either in the title game or semifinals.


3-GEORGIA...We apologize for following suit of practically every other major poll in the country that has Georgia also in the 3-spot. About all Kirby Smart hasn't been able to do the past two seasons is beat mentor Nick Saban and Bama, but boy, has he come close. Now Smart is looking for his offense to find another gear, even after scoring nearly 38 ppg a year ago, and has authorized new o.c. James Coley to go more uptempo, which should suit jr. QB Jake Fromm just fine. There is talent (14 five-star recruits), plenty of depth, and ample experience. Plus serious motivation to finally get over the hump in Athens.


4-TEXAS...Here's our curveball among our playoff projections. But before dismissing the Longhorns, consider their 2-1 mark last season vs. Oklahoma and Georgia, and beating the Bulldogs more handily in the Sugar Bowl than that 28-21 scoreline suggests. Sure, Tom Herman has some reloading to do on a defense that lost nine starters, but blue chippers abound on the roster, and some rotation pieces from last season simply need a chance to play. And rough-hewn QB Sam Ehlinger remains the ultimate competitor. Here's also where we get the first real indicator of Herman's upgraded recruiting efforts, too.


5-LSU...For the Tigers to land in the top five and have a chance at making the Final Four, they're probably going to have to do no worse than split their highest-profile road games at Texas and Bama, the latter looking a particularly tall order after the Tide bossed the Tigers 29-0 in Baton Rouge last November. But this might be the year they've been waiting for at LSU, with eight starters back on both sides of the line of scrimmage, an offense promising to get more creative, and former transfer QB Joe Burrow having improved considerably over the course of last season. If the Tigers are ever going to threaten for a national title udner Ed Orgeron, this might be the year.


6-OKLAHOMA...Not bad thus far for HC Lincoln Riley, who is 2-for-2 in Final Four appearances and 2-for-2 in Heisman winners at OU. The best chance for the latter this year is the new transfer QB, Jalen Hurts from Bama, who was only 26-2 as a starter for the Tide. What has them more excited in Norman is the addition of well-regarded d.c Alex Grinch, who has molded aggressive and opportunistic stop units in stints at Washington State and Ohio State, and might solve what has bena dilemma on the stop end for Riley since he had to hit the eject button on holdover d.c. Mike Stoops halfway into his first Sooner season of 2017. Though the Heisman remains a longshot for Hurts, it will be a success for him and OU if the Sooners can reach the Final Four for a third straight year, which might again come down to beating Texas in the Big 12 title.


7-FLORIDA... The hire of Dan Mullen has quickly restored order in Gainesville, where Mullen had earlier served as Urban Meyer's o.c. for a pair of Gator national title winners in 2006 & '08. That "Mullen magic" began to work a year ago for jr. Gator QB Feleipe Franks, who had disappointed for Jim McElvain as a frosh but had the look of a real SEC signal-caller last year under Mullen, whose bold play-calling helped beat Mississippi State and LSU and triggered avalanche wins over Florida State and Michigan to close the season. If the Gators pick up where they left off a season ago no surprise if they offer a real challenge to Georgia in the SEC South.


8-UTAH...The pieces look in place for a Utah repeat in the Pac-12 South...and maybe much more. Especially on the offensive side, where almost all of the key cogs return. Including slashing RB Zack Moss (1096 YR and 6.1 ypc a year ago), who bypassed a chance to enter the NFL Draft a year early to come back for another go in Salt Lake City. Indeed, all of last year's stat leaders are back in the fold, including QB Tyler Huntley, on his way to a superb 2018 before breaking a collarbone and missing the last five games. It's on the defense, however, where the Utes might really shine in the fall, especially with thick tackles Leki Fotu and Bradlee Anae deciding to stick around for another year rather than test the NFL Draft waters. The schedule is favorable, though if the Utes want to make a stealth run at the Final Four, they must avoid any slips, including Nov. 2 at Washington (which beat Utah twice last year).


9-TEXAS A&M...Will the Ags finish in the top ten? Because of their schedule, not likely (South Carolina is the only other team with the consensus preseason top three teams—Bama, Clemson, and Georgia) on the schedule. The Ags also have to go to LSU and face a dangerous Auburn. So there will be some slips. But A&M is capable of upsets, as Jimbo Fisher has molded Kellen Mond into a dangerous QB, and shrewd d.c. Mike Elko has the talent to navigate around some graduation losses on the stop unit. Thanks to the schedule, however, the Ags are a top ten-caliber team that likely finishes outside of the top ten. But they're dangerous!


10-WASHINGTON...The last class of Huskies seemed to peak as sophomores in 2016, not displaying the same edge the past two seasons, and that especially includes graduated QB Jake Browning, whose career seemed to plateau. But Chris Petersen kept on winning, and now might have an upgrade at QB with Georgia transfer Jacob Eason, a local product who fared well in SEC wars until Jake Fromm bumped him out of a job in Athens. The D has been strafed gy graduation, but regional sources don't expect a drop-off, mostly because of Petersen, and a very favorable slate that makes an unbeaten regular season look possible.


11-MICHIGAN...No, we are not obligated to put Jim Harbaugh in the top five or top ten because, well, he's Jim Harbaugh. Being Jim Harbaugh in recent years means being overrated; his Wolverines keep losing big games, yet to beat Ohio State in four tries, and dropping three bowls in a row. Urban Meyer has finally left Columbus, so that might be the breakthrough needed in the Big Ten East, but is Harbaugh really ready to embrace the spread concepts of new o.c. Josh Gattis? Or will Harbaugh let QB Shea Patterson embrace them? 12-OHIO STATE...Because of heavy personnel losses to the NFL, and Urban Meyer's latest decision to retire from coaching, the Buckeyes are a bit downgraded from recent editions. Before dismissing OSU, however, note that new HC Ryan Day got a test run when Meyer was suspended at the outset of 2018 and won all of his games impressively, and the pipeline of talent is still full at the big horseshoe. Now, we'll see if Day can continue the mastery Urban had over Michigan, a team he beat seven straight times. 13-NOTRE DAME...Partly because the Irish have to play at Georgia on Sept. 21, we think a return to the Final Four is unlikely for the Domers, whose schedule a year ago ended uo breaking much better than could have been imagined (Brian Kelly caught the likes of Wake Forest, Stanford, VPI, and Syracuse at the right time , while Florida State and USC were sub-.500 a year ago). Still, Ian Book is a smart man's QB, and his knack for making plays cannot be discounted, while the roster has become more athletic in recent years. A New Year's Six bowl invitation is certainly within expectation. 14-AUBURN...Our SEC sources tell us this is just the sort of situation Gus Malzahn relishes, with his team being overlooked (at least compared to recent years), and the schedule breaking well in the odd-umbered years when Georgia and Bama both must visit Jordan-Hare. Malzahn is back to calling plays, and f either RS frosh Joey Gatewood or true frosh Bo Nix prove they can handle QB chores in the Malzahn offense, we'd keep an eye on the Tigers. 15-ARMY...We're still a bit in awe of the savage 70-14 dismemberment the Black Knights inflicted upon Houston in the Armed Forced Bowl. Pure, ball-control option football professed by HC Jeff Monken and executed by QB Kelvin Hopkins keeps foes off balance perhaps better than any miliary academy option team over the past 40 years. The defense, while rebuilding in the front seven, remains gnarly. West Point almost scored a stunner at Oklahoma last year and gets its next chance at a big boy on September 7 at Michigan. Win that and a 12-0 regular season beckons...and who knows from there?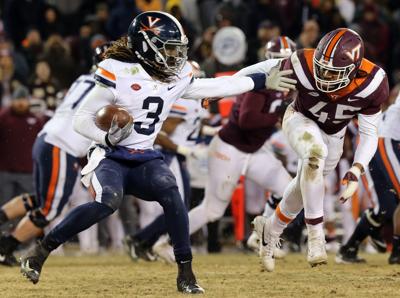 16-VIRGINIA...Bronco Mendenhall has been patiently putting the pieces together in Charlottesville, illustrated when the Cavs fired a warning shot to the country in their 28-0 romp past South Carolina in the Belk Bowl. Now might be the year for the big breakthrough, with livewire, dual-threat QB Bryce Perkins a peripheral Heisman threat, and Bronco's Rocky Long-inspired defense improving every year. Now, if the 'Hoos can just beat Virginia Tech (hasn't happened since 2003!). 17-IOWA STATE...Sometimes buyouts in coach's contracts are there for the benefit of the employer. In ISU's case, it has so far kept suitors from stealing away HC Matt Campbell, though we suspect annual drama for the Cyclones to continue keeping their in-demand coach in Ames. Soph QB Brock Purdy went 7-1 down the stretch in the regular season when Campbell made the switch of pilots last November. A clear number three in the Big 12, which is rarified air for the Cyclones. 18-WASHINGTON STATE...Underestimate HC Mike Leach at your own risk. And fear not a transfer QB in the Palouse; at this time last year, few recalled Garndner Minshew from any exploits at East Carolina. Now he's going to make the Jacksonville Jaguars roster. Replacing him in Pullman is Gage Gubrud, a grad transfer from nearby FCS Eastern Washington, who put up huge numbers when healthy in the Big Sky. But mostly this is a vote on Leach, who has figured out how to beat Oregon, though is still looking for the secret to win the Apple Cup vs. Chris Petersen's U-Dub. 19-OREGON...Though acknowledging sr. QB Justin Herbert and his potential exploits this fall, we are nonetheless pumping the brakes on the Ducks, who went only 5-4 in a watered-down Pac-12 last fall after skating through an embarrassingly soft non-league slate, then survived a 7-6 snoozer in the Redbox Bowl vs. punchless Michigan State. We're also not yet convinced about HC Mario Cristobal, whose in-game management cost a win vs. Stanford last September. Also no excuse for getting boat-raced by Arizona last year. We're not drinking the green and yellow Kool-Aid, with the Donald Duck face on the glass, just yet. 20-UCF...After just one loss in two seasons, perhaps we're downgrading the Golden Knights a bit much. There was a seamless transition between the regimes of Scott Frost and Josh Heupel, and while QB McKenzie Milton continues to rehab a gruesome leg injury, ex-Notre Dame pilot Brandon Wimbush has arrived to take over the pilot's chair. If UCF can beat Stanford and Pitt in non-AAC action, this ranking might be way too low, and another New Year's Six bid comes into focus.


21-WISCONSIN...We don't think the transfer of QB Alex Horniborook, he of the Madison Bumgardner-like windup and slow delivery, to Florida State is much of a concern after the Badgers ranked a lowly 119th in passing a year ago. Junior Jack Coan might be a better alternative and should be able to balance the offense a bit better, though the attack still flows thru Heisman candidate RB Jonathan Taylor after his better-even-than-Ron Dayne 2194 YR in 2018. Now, can the Badger defense recover for Paul Chryst and get Wiscy back to the Big Ten title game? 22-STANFORD...This is a vote for program consistency and HC David Shaw, who has kept the Cardinal relevant since the days of Andrew Luck. Senior KJ Costello might be the best Cardinal QB since Luck (he'd only have to be better than Kevin Hogan, but you get the drift...he's good), though the mystery on the Farm is what happened to the always-physical Stanford ground assault last year that fell to a paltry, San Jose State-like 123rd rank in rushing offense. Injuries had something to do with the drop-off in 2018, bur even so, a 9-4 SU mark was considered undershooting by recent Palo Alto standards. The Tree will still be competitive for Shaw. 23-IOWA...Now the dean of FBS coaches after Bill Snyder's retirement (Ferentz had already been the longest continual-serving HC in the FBS ranks) and only coach who dates to the previous century (1999), this looks lke another typical Kirk Ferentz Hawkeye team. Rugged, functional, and tough on defense. The latter has soem reloading to do on the front 7, but Nate Stanley is a playmaker at QB similar to C.J. Beathard, who took the Hawks to Pasadena four years ago and has been with the NFL 49ers since. 24-NEBRASKA... Upon inspection, maybe the hype for the Huskers is a bit overboard if based mostly upon their rally down the stretch last season, when the schedule broke favorably. But others believe the slow start last season had to do with injuries and adjustment to the new regime of Scott Frost, who if nothing else did get things straightened out down the stretch and whose credentials are still pristine after his success at UCF. Livewire QB Adrian Martinez is already considered a serious Heisman candidate...for 2020, but should do damage this season.

25-UTAH STATE..

.This "Back to the Future" experiment in Logan has a bit different feel than, say, Johnny Majors back to Pitt in the '90s, or even Mack Brown back to North Carolina this season. In a way it seems as if Gary Andersen never left the Utags after 2012, as disciple Matt Wells carried on with similar systems and schemes and has turned over the program to his predecessor, with things looking much as they did six years ago when Andersen moved to Wisconsin. Now he's back, the Utags are off of an 11-2 year, and do-it-all QB Jordan Love might be the MVP of the Mountain West.


26-MICHIGAN STATE...We have learned to never downgrade a Mark Dantonio-coached team too much. But we can say for certain that the Spartans will remain an afterthought in the Big Ten East if they can't toggle an offense that ranked a ghastly '126th in scoring (mere 18.7 pgp) a year ago, rendering some great work by another robust Spartan defense almost moot. Nine starters do return on the attack end, but it will be up to vet QB Brian Lewerke (11 ints and just 8 TDP in 2018) to perform with more consistency to give MSU a chance to contend in the East. 27--BOISE STATE... For the first time in what seems a decade, Brett Rypien is not going to be at QB on the blue carpet (that was him we saw playing for the other Broncos, the NFL kind from Denver, in the Canton HOF game on Aug. 1), but Boise has been winning so big for so long that we are reluctant to ever downgrade the Broncos. Who, if they can find a new QB (as they've done for 20 years), should be neck-and-neck with Utah State in the MW Mountain and perhaps get involved in the New Year's Six bowl discussion from the "Group of Five" conferences, a distinction the Broncos have won for HC Bryan Harsin before. 28-VIRGINIA TECH... That wasn't a normal VPI a year ago, as the Hokies barely kept their nation's best 26-season bowl streak in tact (Florida State relinquishing that honor a year ago) as Bud Foster's usually stifling defense collapsed. Now, almost everyone returns on the stop end, and we have to give the sage Foster a mulligan and benefit of the doubt. There are suddenly a few questions about HC Justin Fuente, too, at a locale where Frank Beamer got them used to winning...sometimes winning big. 29-MISSOURI... The situation in Columbia that bears watching is Mizzou's appeal of NCAA penalties that included a bowl ban the next two seasons. Win that, as some at SEC Media Days in Hoover suspect might happen, and suddenly the SEC East could turn into a lively three-team race. Partly because the Tiger schedule breaks so nicely. Also because Clemson transfer QB Kelly Bryant and his considerable swagger could create a nice soft landing for the offense after Drew Lock graduated to the Denver Broncos and the NFL. And HC Barry Odom has a glistening defensive background. Watch these guys. 30-CINCINNATI...Luke Fickell is conducting a nice audition for a higher-profile job (though those in Cincy will swear the Bearcat assignment is a big-time position) after last year's 11-2 breakthrough. Cincy played a physical style, able to run and stop the run., punishing many foes. Most all of the skill people return, including underrated QB Desmond Ridder and slashing RB Michael Warren II, and the defense was ornery last year, ranking 8th nationally in scoring. We'd advise fans at Nippert Stadium to enjoy Fickell while they can, and, if needed, even offer him a lifetime of free meals at Skyline Chili to keep him in town.


31-KENTUCKY...No, we don't think the Cats are going to win another 10 games this season. Not with workhorse RB Benny Small off to the NFL and the Steelers, and big-play DE-LB Josh Allen a first-round pick of the Jaguars. But lots of SEC sources at Media Days in Hoover insist that Mark Stoops has built the program the right way and there won't be a significant drop-off despite the graduation losses. Summer transfer QB Sawyer Smith (via Troy) should give the offense another dimension (i.e., a QB who can throw) and an alternative to run-first Terry Wilson. 32-PENN STATE...We get the feeling a) that the Nittany Lions peaked for James Franklin a couple of years ago when Saquon Barkley was still in tow and b) Franklin might have already done his best work at Happy Valley and could land elsewhere soon. (Just a hunch on the latter, btu keep an eye on potential openings elsewhere...like USC). In the meantime Franklin has to replace longtime starting QB Trace McSorley, but heir apparent Tommy Stevens transferred to Mississippi State after spring practice. Penn State is down from its perch of a few years ago. 33-HOUSTON... After the Cougs wisely realized that Major Applewhite was in over his head at HC, they opened up the saddlebags for the biggest coaching contract in Group of 5 history, committing a cool $20 mill over five years to steal Dana Holgorsen from West Virginia. The Coug cupboard is not bare, either, and prospects are tantalizing with what Holgorsen might be able to do with holdover QB D'Eriq King (accounted for 50 TDs despite missing the last few games in 2018), a darkhorse Heisman candidate. 34-MINNESOTA... We still think they can plant several rows of corn with P.J. Fleck's gimmicky "Row the Boat" stuff in Minneapolis, but the Big Ten West is wide open, and the Gophers made improvement in Fleck's second year, capped by dominating Georgia Tech in the Quick Lane Bowl. Almost everyone is back offensively, the schedule is favorable, and any improvement on the defensive side (where seven starters return) could get Fleck to a nice bowl. 35-MISSISSIPPI STATE...The Bulldogs disappointed slightly in Joe Moorhead's debut season as the new offense just didn't seem to fit holdover QB Nick Fitzgerald. But expect Moorhead to do a bit better this season with former pupil Tommy Stevens, a transfer from Penn State, where Moorhead was o.c. prior to last season. Three NFL first-round picks have left the defense, but SEC sources say not to feel too bad for the Maroon, still with plenty of big-time athletes on the roster.


36-USC...This all feels a lot like Nebraska a couple of years ago, as the program looks like it is being rearranged in pieces. With a new school president, and several scandals in the mix, most expect AD Lynn Swann to soon walk the plank, with HC Clay Helton likely to follow. Sagging below .500 a year ago for the first time since Paul Hackett went 5-7 in 2000, Helton has decided to go full Texas Tech with his offense, but soph QB J.T. Daniels proved a disappointment in his debut a year ago. The schedule is tough, too, though SC does catch its first two foes (Fresno and Stanford) in semi-rebuild modes. At least Helton wasn't fingered in the Lori Laughlin scandal! 37-MEMPHIS...

L

ike Matt Campbell at Iowa State, Memphis knows it has a hot coaching candidate in Mike Norvell, and the Tigers are trying to build a moat around their coach. In the meantime Memphis is scoring a lot of points and should do so again this fall with QB Brady White back in tow from what was the nation's 4th-ranked offense in 2018. 38-BAYLOR...Was that a turnaround we saw at Baylor last fall, especially in the wild 45-38 Texas Bowl win over Vanderbilt? For sure, HC Matt Rhule has a lot of fans after previous work at Temple, and while some were wondering why he wanted to walk into what seemed a deteriorating, post-Art Briles situation at Baylor remains a mystery, the Bears were much improved a year ago, and QB Charlie Brewer is an acknowledged gamer. Expect the ascent to continue. 39-PURDUE...Though the last time we saw Purdue, it was getting pole-axed by Auburn in the Music City Bowl, it is apparent that HC Jeff Brohm knows what he is doing, and should absorb the loss of multi-year QB David Blough as Elijah Sindelar has starting experience behind center as well. Sindelar also has electric soph WR Rondale Moore, who likely would have been an NFL first-round pick had he been eligible for last April's draft. 40-FRESNO STATE...Big rebuild in the Central Valley with practically everyone gone from last year's offense. But HC Jeff Tedford dealt with a worse situation when inheriting this job two years agao when the Bulldogs were off of a 1-11 campaign. Two seasons of double-digit wins and bowl successes have confirmed Tedford as a legendary quick-fix artist (as he did at Cal almost 20 years ago), and the stealth quality of the Bulldogs the past two years has been a vastly underrated and opportunistic defense, which should stay robust in the fall. The MW West is also a forgiving loop.
Return To Home Page