8124...
TGS SPECIAL REPORT
...2019 NFL DRAFT PREVIEW!

by Bruce Marshall, Goldsheet.com Editor



One

of the enjoyable rights of passage for us at TGS is closing each publishing season with a look forward to football, more specifically the upcoming NFL Draft. Indeed, it's sort of a commencement of 2019 gridiron coverage that will pause again after the draft and resume once more as we get into the summer months.
Following are our team updates, revolved around offseason developments and first-round draft projections, and our predicted selections, noted in bold italics. As always, trades can alter draft order, but for the moment this is how we believe things might proceed as of Monday, April 8. Remember, this year's festivities will be held in Nashville and commence Thursday, April 25 thru Saturday, April 27.
1-ARIZONA CARDINALS... It's an understatement to say the Big Red is rolling the dice in 2019. The hire of HC Kliff Kingsbury off the USC staff, where he had landed after being dumped as Texas Tech HC, rates as one of the curious coaching moves in memory. (Can't win enough at Texas Tech directly to an NFL job?) Of course, Kingsbury's progressive offensive schemes in Lubbock, and mentoring of Patrick Mahomes in his college days, were the main (only?) reasons for his hire that also has GM Steve Keim's job on the line. Speculation has run rampant in the desert that Kingsbury is not sold on holdover QB Josh Rosen and will instead gamble on Oklahoma's Heisman winner Kyler Murray, all the while looking for a trade partner to offload Rosen, whose maturity has never matched his upside. Keim has already been busy in the first wave of free agency, inking LB Terrell Suggs (Ravens), LB Jordan Hicks (Eagles), and CB Robert Alford (Falcons) to bolster a D that sagged to 20th a year ago after a succession of top five finishes in the Bruce Arians era. New d.c. Vance Joseph is expected to switch back to the 3-4 looks that dismissed HC Steve Wilks abandoned a year ago. A needed re-shuffle along the OL began with inking RT Marcus Gilbert (Steelers), so the re-boot is already well underway in Glendale. Kyler Murray, QB, Oklahoma
2-SAN FRANCISCO 49ERS... There is a belief that a payoff for GM John Lynch's aggressive posture the past couple of offseasons is soon due to manifest for the Niners, though none of Lynch's most-recent transactions are likely to impact the W-L record nearly as much as the healthy return of QB Jimmy Garoppolo after last year's devastating knee injury. It's wait-and-see until summer, at the earliest, for a report card on Jimmy G-Q. In the meantime Lynch has made what look to be more useful moves, with LB Dee Ford signed from the Chiefs and promising to be San Francisco's best edge-rusher in years, while inking RB Tevin Coleman from the Falcons is another stab at the sort of dual-purpose back that Lynch thought he added last season before Jerick McKinnon's injury. Speculation is that Lynch might add yet another first-rounder to his collection of those sorts along his the DL, though don't be surprised if Lynch is busy fielding calls from teams that might be in love with one of the QBs that will be remaining on the board (Kyler Murray, if available; Dwayne Haskins; Drew Lock). Nick Bosa, DE, Ohio State
3-NEW YORK JETS... It's already been a hectic offseason for the J-Men, who were so desirous of an offensive mind to lead the troops after the operation cratered for Todd Bowles that they moved quickly to enlist Adam Gase as the new boss...even after Gase's dismissal from the Dolphins. But GM Mike Maccagnan, himself on the hot seat, believes he has the right man in place. Moreover, the Jets, flush with plenty of cap room, made one of the biggest splashes of free agency when signing disgruntled ex-Steeler RB Le'Veon Bell, who sat out all of last season. With more cash to spend, Maccagnan threw a lot more $ (or was it overpaying?) at LB C.J. Mosley (Ravens). Better values could be G Kelechi Osemele (trade w/Raiders) and WR Jamison Crowder (FA via Redskins) as 2nd-year QB Sam Darnold's supporting cast seems to be upgraded. On top of all of that, the Jets have made their latest every-20-or-so-years uniform switch, now back to a look that recalls the days of Mark Gastineau and the "Sack Exchange" with green helmets and a style reminiscent of the 1978-97 outfits. Adding a pass rusher and further bolstering the OL continue as priorities. Josh Allen, OLB, Kentucky
4-OAKLAND RAIDERS... First things first, as owner Mark Davis, tempted to move to locales as far-flung as San Antonio and London for 2019, will indeed play one more season at the venerable Coliseum in Oakland before next year's scheduled move to Las Vegas. In the meantime there is still speculation that HC Jon Gruden (now working with a new GM, former TV analyst Mike Mayock) might deal away QB Derek Carr, with whom Gruden apparently clashed in a desultory 2018. Carr, however, might want to stick around to aim his throws at WR Antonio Brown, added in a trade from the Steelers; would Gruden really want to opt for a rookie QB (Kyler Murray? Dwayne Haskins? Drew Lock?) to get the ball to Brown? But for 3rd and 5th-round picks, adding what might be the best WR in the NFL seems, for once, a good bit of business by Gruden. Still, there are plenty of other holes, namely a pass rush that generated a paltry 13 sacks after the trade of Khalil Mack...no other team recorded fewer than 30. Sheesh! And no telling if there is any substance to rumors of a trade up for a shot at Oklahoma's Murray. With Gruden, who knows? Rashan Gary, DE, Michigan
5-TAMPA BAY BUCS... Going old-school after hitting the eject button on the Dirk Koetter era, the Lerners opted for salty veteran HC Bruce Arians to pull the franchise out of its decade-long lurch. Arians' main directive is to get QB Jameis Winston, entering the final year of his rookie deal, up to proper NFL speed (no sure thing), and perhaps provide some clarity on the future of the QB situation for Tampa Bay. The biggest FA move has probably been keeping OT Donovan Smith in house, while bargain-buy LBs Shaq Barrett & Deone Bucannon are reinforcements for a bottom-tier Bucs defense. Moving WR DeSean Jackson to the Eagles, however, might not be a plus for Winston, likely in a make-or-break year, and is Blaine Gabbert a good enough insurance policy in case Winston falters again? Elsewhere, new d.c. Todd Bowles, reunited with Arians from their Arizona days, could use a true pass rusher on the edge as a start to replicating his swarming defenses with the Big Red a few years ago. Montez Sweat, DE-OLB, Mississippi State
6-NEW YORK GIANTS... What's going on at MetLife Stadium? Even Hoda and Al Roker know this has been a curious offseason for the G-Men, who decided to eat $16 mill in dead money to deal away generational WR Odell Beckham, Jr. (whose injuries and especially diva act had worn a bit thin) to the Brownies. More curious is staying the course with 38-year-old QB Eli Manning, who has looked well beyond his sell-by date the past couple of years, and now minus his main target to boot. What should be noted is that GM Dave Gettleman didn't deal away OBJ for nothing; G Kevin Zeitler and DB Jabril Peppers came in return along with Cleveland's first-round pick (17th). More curious might have been rebuffing past trade offers for S Landon Collins and then letting him walk in the offseason. There is speculation that another move might be coming at QB in the draft or trade (Derek Carr, perhaps?), as even if the offense pivots to RB Saquon Barkley in the second year of the Pat Shurmur era, Eli is appearing dangerously close to becoming an albatross. Dwayne Haskins, QB, Ohio State
7-JACKSONVILLE JAGUARS... We'll never know how close the exasperated owner Shad Khan might have been to making team prexy Tom Coughlin and HC Doug Marrone walk the plank a year after the Jags shocked the NFL and came a couple of minutes from reaching the Super Bowl in 2017. Sticking with QB Blake Bortles was only one of the mistakes made last year by the brain trust, which also had a divided clubhouse to worry about by the end of the season. Needing to move on from Bortles (now with the Rams), Coughlin might have overpaid (no, he did overpay) for Philly QB Nick Foles, who looks a clear upgrade from Bortles...but maybe not $50 mill guaranteed worth of an upgrade. Spending all of that money on Foles forced Coughlin to let DT Malik Jackson, S Tashaun Gipson, and OT Jeremy Parnell walk, but the core of a potentially-elite defense remains, and the likely upgrade from Bortles to Foles could re-open the window at TIAA Bank Field (several names ago, it was once called the Gator Bowl...why not TIAA Bank Gator Bowl? Just asking!). Jawann Taylor, OT, Florida
8-DETROIT LIONS... We wonder if anything really is going to change for the Lions, with 2nd-year Matt Patricia looking to be the latest Bill Belichick disciple to fail out on his own as a head coach after barely missing the axe following a 6-10 disappointment in 2018. And Patricia reportedly has made few friends in the Motor City, either. GM Bob Quinn, however, has made what seem to be some handy moves thus far in the offseason, adding impact DE Trey Flowers, who is familiar to Patricia from their days together with the Patriots and might prove an upgrade from the departed Ziggy Ansah. We also suspect that RB C.J. Anderson could be a bargain FA signing as he was last December when proving invaluable for the Rams (Kerryon Johnson's injury issues make Anderson even more valued). We're not sure, however, if another old connection to Patricia and one-time Patriot, Danny Amendola (now the NFL's second-oldest WR), provides the sort of potential impact as could Anderson. Quinnen Williams, DT, Alabama
9-BUFFALO BILLS... Can't blame GM Brandon Beane for not trying to improve the Bills' WR corps, a major area of concern at Orchard Park. Beane swung and missed on attempts to land Antonio Brown and Odell Beckham, Jr. as prime targets for 2nd-year QB Josh Allen, who instead gets lower-priced additions John Brown (Ravens) and Cole Beasley (Cowboys). Both should be upgrades, but they're not AB or OBJ. There are needs elsewhere for an offense that ranked 30th a year ago and could use as much help as possible; Beane is not likely to stop at ex-Redskins FA OT Ty Neskhe with fortifications along a shallow OL. An interesting addition is vet RB Frank Gore, a future HOFer and good depth in case Shady McCoy gets into any more off-field trouble. Jonah Williams, G-OT, Alabama
10-DENVER BRONCOS... At least John Elway isn't sitting on his hands this offseason, but we're not sure he's making progress, either. Finally admitting error on his hire of HC Vance Joseph in 2017 probably came a year too late; we'll see if career defensive assistant, well-respected Vic Fangio, over from the Bears and one of the NFL's oldest-ever first-time HCs at 60, is an upgrade. The biggest personnel move was another switch at QB, with former Super Bowl winner Joe Flacco added from the Ravens and hoping to become the best immobile Bronco QB since Craig Morton in the late '70s. We're not convinced, at least at this stage, he's an improvement from Case Keenum, brought in amid much fanfare a year ago but considered surplus after the Flacco deal, and dealt to the Redskins. Several mid-level FA moves appear to merely be players changing uniforms, while the OL, which adjusted fairly well after a myriad of 2018 injuries, is in need of attention after high-end C Matt Paradis was allowed to walk to the Panthers. Drew Lock, QB, Missouri
11-CINCINNATI BENGALS... For the first time in 16 years, someone other than Marvin Lewis will patrol the sidelines at Paul Brown Stadium. Looking to replicate the Sean McVay hire by the Rams two years ago, Mike Brown hired McVay's QB coach, 35-year old Zac Taylor, to his first HC gig, but to say the jury is out on this move is an understatement. About the best thing that could be said about the Cincy offseason was that Brown limited the annual outflow, with one of the few departures, controversial LB Vontaze Burfict (now a Raider...how fitting!), perhaps amounting to addition by subtraction. But there have been few upgrades, and there are questions about how long the franchise might stick with QB Andy Dalton after the offense sunk to 26th a year ago in the latest playoff miss. That result, however, was better than the bottom ranking on defense, where upgrades are needed everywhere. Ed Oliver, DT, Houston
12-GREEN BAY PACKERS... All eyes remain on QB Aaron Rodgers, whose inability to co-exist with HC Mike McCarthy prompted the latter's dismissal (telegraphed worse than one of George Foreman's roundhouse rights aimed at Ali during the Rumble in the Jungle back in 1974) before last season concluded and helped sabotage the past few campaigns at Lambeau Field. We guess that Rodgers eventually "won" that struggle, and new HC Matt LaFleur, hoped to be the next clone of Sean McVay (under whom LaFleur worked in 2017 before moving to the Titans as o.c. a year ago), has to know that getting on the same page as Rodgers is paramount in Green Bay. At least young GM Brian Gutekunst seems more willing to navigate the FA waters than predecessor Ted Thompson. Most of the Packer additions were second-tier types, but OLBs Za'Darius Smith (ex-Ravens) and Preston Smith (ex-Redskins) are going to be plugged in immediately to the Pack's 3-4, and this offseason alone, Gutekunst has already made five year's worth of FA moves compared to Thompson. Still, the news we're all watching at Lambeau is how Rodgers does (or doesn't) respond to LaFleur. T.J. Hockenson, TE, Iowa
13-MIAMI DOLPHINS... Is this the team on the clock for the 2020 draft? Could be for the Dolphins, who after cutting ties with Adam Gase were apparently not phased by the many past head coaching failures of Bill Belichick disciples, jumping right into the Patriot coaching pool to pull Brian Flores, most recently Belichick's d.c., from Foxborough. We wonder if Flores knew that GM Chris Grier would embark upon what looks like an NFL version of Mark Cuban tanking with the Dallas Mavericks, perhaps with hopes of landing the top pick next year (and maybe a shot at Bama QB Tua Tagovailoa?). Grier has thus far spent minimally in the offseason, with "The Beard" (Ryan Fitzpatrick) the headline addition and apparently a one-year stop-gap at QB (before Tua or perhaps Oregon's Justin Herbert become available next April) after moving on from Ryan Tannehill and Brock Osweiler. Not sure a projected $100 mill of cap space in 2020 is going to appease the Dolphins fan base, likely to soon become mutinous. Christian Wilkins, DT, Clemson
14-ATLANTA FALCONS... Three wins to close what was a desultory 2018 have given some hope that the Falcons might not be far from a return to contention. Sixth-year HC Dan Quinn, perhaps with his job on the line, discarded both of his 2018 coordinators (Steve Sarkisian and Marquand Manuel), reuniting with the former o.c. from his debut 2014 season in Atlanta, Dirk Koetter, who is probably glad to be beyond babysitting Jameis Winston the past couple of years with the Bucs. Meanwhile, Quinn has enlisted himself to reprise his d.c. role with the Seahawks before his move to Georgia. Offseason additions have been modest and mostly limited to the OL as the thought persists that pieces are in place for a quick rebound. They'd better be for Quinn if he wants to last into 2020. Devin White, ILB, LSU
15-WASHINGTON REDSKINS... By us, Jay Gruden might have been due some Coach of the Year votes for keeping the Skins on the periphery of the playoff mix well into December despite a rash of injuries that at one point forced four different QBs into the lineup in a four-week span late in the season. Unfortunately, Alex Smith's status for not only 2019, but the rest of his career, is on hold after a severe broken leg last November. Not content with Colt McCoy as the other QB option, Bruce Allen dealt with John Elway in Denver for Case Keenum, a likely useful component just two seasons removed from taking the Vikings to the NFC title game. But suddenly the Skins have what looks to be only some very short-term options at QB and a murky offensive outlook for the fall. The headline offseason addition to date has been stealing S Landon Collins away from the G-Men. Daniel Jones, QB, Duke
16-CAROLINA PANTHERS... With new ownership in the saddle, the thought in Charlotte is that HC Ron Rivera does not have the rope he had when Jerry Richardson was calling the shots, and another playoff miss such as last year's 7-9 will have Rivera on the hot seat. To that end, how close Cam Newton gets back to near 100% after last year's recurring shoulder injury is by far the most important development to watch with the Panthers. Not seeing GM Marty Hurney adding much insurance from the annual backup QB carousel in free agency was a bit puzzling, though perhaps they believe Cam will be A-OK in the fall. Hurney did bolster Cam's protection by adding C Matt Paradis (Broncos) while making sure to re-ink OT Daryl Williams. Still, will Hurney consider looking for a QB in the early or middle rounds as possible insurance in case Cam doesn't make it all of the way back? Andre Dillard, OT, Washington State
17-NEW YORK GIANTS (from Cleveland)... Part of the payoff from the OBJ trade comes from this second first-rounder via the Browns. If the G-Men don't go QB with their first pick at number six, we suspect they'll address that in this spot. Could GM Dave Gettleman push one of the available wideouts up the board after OBJ's departure? D.K. Metcalf, WR, Ole Miss
18-MINNESOTA VIKINGS... There is considerable unease in the Twin Cities with the realization that Case Keenum might have been a better fit at QB than Kirk Cousins, which prompted some curious offseason chatter that GM Rick Spielman might be interested in bringing back Keenum (eventually traded by Denver to Washington instead). Whatever, we can't envision the relationship between the high-priced Cousins and crusty HC Mike Zimmer (so dissatisfied with the offense that he forced first-year o.c. John DeFilippo to walk the plank before 2018 concluded) as being very cheery these days. Indeed, Zimmer's fate (and Spielman's) might be on the line this fall. There have yet to be many offseason moves as the Vikes had little wiggle room with the cap, having spent big the past couple of years not only on Cousins, but to keep most of their defensive core. Expect the OL to be addressed early in Nashville. Cody Ford, G, Oklahoma
19-TENNESSEE TITANS... Overshadowing all other developments this fall in Music City will be the progress of QB Marcus Mariota, who, perhaps because he's been injury-prone, has not progressed to the upper-tier as many envisioned. Into the final year of his rookie contract, the ex-Heisman winner might be running out of time with the Titans. Given Mariota's history of hurts, upgrading the depth at QB was a priority for GM Jon Robinson, and ex-Dolphin Ryan Tannehill appears a step up from last year's reliever, Blaine Gabbert. Many of the FA additions appear to be useful, with WR Adam Humphries (Bucs) a potential target upgrade for Mariota, not to mention a punt return option, while ex-Rams G Rodger Saffold has been penciled into the lineup. But it's about Mariota a) staying healthy and b) proving he's worth a longer commitment that will be storylines to watch in the fall at Nissan Stadium. Finding some pressure from the edge and another receiver for Mariota are likely to be early target areas for Robinson, as the locals get ready to hoot-and-holler on Broadway when it comes time for the hometown team to make its pick. Noah Fant, TE, Iowa
20-PITTSBURGH STEELERS... Big Ben has always been a prickly sort and can't imagine he's too thrilled by developments the past 12 months at Heinz Field that include Le'Veon Bell's 2018 holdout and eventual signing with the Jets, and the trade of WR Antonio Brown to the Raiders. Though James Conner filled in well for Bell last season, the Steelers didn't make the playoffs for the first time since 2012, either. And the return for Brown (only 3rd and 5th-round picks) and his considerable "dead money" left over are hardly legacy-enhancements for GM Kevin Colbert. Adding CB Steven Nelson (Chiefs) and LB Mark Barron (Rams) with some off the money freed up by Bell's departure might help the defense, but we haven't seen this many holes in the Pittsburgh dike in a long time. Greedy Williams, CB, LSU
21-SEATTLE SEAHAWKS... Looming ominously on the horizon is Russell Wilson's status in the Emerald City as he seems in no hurry to sign an extension. The Hawks could franchise Wilson in 2020 and perhaps a bit beyond but there are some in the league who believe Wilson wants a bigger stage than the Pacific Northwest and might be looking to finish his career in a bigger market. (Projecting forward, there could be openings in L.A. with the Chargers and New York with the G-Men in the near future...stay tuned). In the meantime, GM John Schneider has at least kept the second level of Pete Carroll's defense in tact (K.J. Wright and Mychal Kendricks re-signed to go along at the LB spots with Bobby Wagner, who re-upped a year ago) after the DL and Legion of Boom 2ndary have been disbanded since the not-long-ago glory years. Kendricks' possible sentencing due to a bizarre insider trading scandal could be decided soon and needs to be monitored Brian Burns, DE-OLB, Florida State
22-BALTIMORE RAVENS... Things are changing by Fort McHenry, with longtime GM Ozzie Newsome now only in an advisory role and Joe Flacco (traded to the Broncos) not penciled in at QB for the first time in more than a decade. In his first trip around the track, new GM Eric DeCosta had some tough decisions to make, and allowed established defensive pieces Terrell Suggs, C.J. Mosley, and Za'Darius Smith to walk, thinning the front seven, though adding S Earl Thomas from the Seahawks should cushion Eric Weddle's departure. Ex-Saint Mark Ingram provides a feature RB to complement 2nd-year QB Lamar Jackson, but the rest of the supporting cast for this offensive experiment looks iffy, giving DeCosta a couple of areas (WR and front seven in particular) to address early in the draft. N'Keal Harry, WR, Arizona State
23-HOUSTON TEXANS... Some key pieces have been in play this offseason for the Texans, who couldn't keep all of their pending FAs. Thus, S Tyrann Matthieu (Chiefs) and CB Kareem Jackson (Broncos) both walked, though DE-LB Jadeveon Clowney was retained via the franchise tag. Tashaun Gipson (via the Jags) and Bradley Roby (via the Broncos) appear slight downgrades from the Honey Badger and Jackson. A leaky OL that allowed an egregious 62 sacks and almost got QB Deshaun Watson maimed last fall is still looking for help after only adding ex-Panther T Matt Kalil, who had fallen out of favor in Charlotte. So far, this is close to a failing offseason grade for GM Brian Gaine, who might consider trading up for some much-needed OL help. Greg Little, OT, Ole Miss
24-OAKLAND RAIDERS (from Chicago)... Here's part of the payoff from the trade of Khalil Mack to the Bears late last summer. Okay, Jon Gruden, you wanted these extra draft pieces? Show us what you can do with them, as you're working from way behind in the Mack deal. Dexter Lawrence, DT, Clemson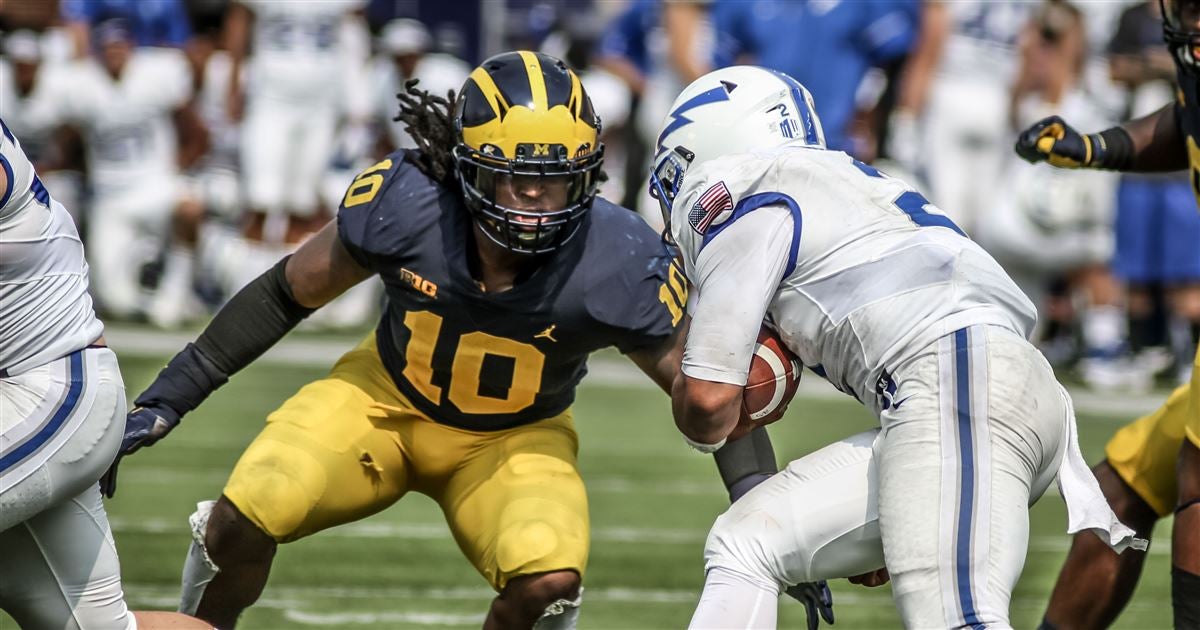 25-PHILADELPHIA EAGLES... Not quite all of the feel-good in Philly as a year ago after the win in Supe LII, as more than a few Birds backers were a bit sad to see QB Nick Foles leave for Jacksonville. Especially after Carson Wentz was forced into a mea culpa of sorts for some of his behavior in and around the clubhouse. But GM Howie Roseman has proven a smooth operator the past couple of years, keeping several key components in house, while FA DT Malik Jackson (Jags) has a Super Bowl ring and a TD to boot from SB 50 with the Broncos. And keep in mind that RB Jordan Howard (trade w/Bears) was being talked about as a cornerstone with Chicago not long ago. One potential hole that might need to be filled is behind Wentz, unless Roseman really believes Nate Sudfeld is ready in the bullpen. Devin Bush, ILB, Michigan
26-INDIANAPOLIS COLTS... Even flush with tons of cap room (above $100 mill) this offseason, GM Chris Ballard has played it close to the vest, which has been his style. Thought to be a player in the Le'Veon Bell sweepstakes, Ballard graciously allowed the Jets to step to the front of the queue. Indy didn't completely sit out free agency; Ballard, familiar with LB Justin Houston from his days in Kansas City, signed the ex-Chief, and WR Devin Funchess was added from the Panthers. We wonder, however, with all of that cap room, if Ballard should maybe have been a bit more active, especially with a team considered as a Super Bowl contender after a stirring charge down the stretch and all of the way into the Division Round this past season. DeAndre Baker, CB, Georgia
27-OAKLAND RAIDERS (from Dallas)... Here we go with Jon Gruden again, this time with the payoff from the Amari Cooper trade with the Cowboys, and a third shot in the first round. Given that the two players responsible for the extra first-round picks, Khalil Mack and Cooper, were instrumental in leading their teams to the playoffs, Gruden had better hit some home runs with these picks. Needs remain across the roster, though with three first-rounders, Gruden has a lot of maneuverability, especially if he wants to trade up. Byron Murphy, CB, Washington
28-LA CHARGERS... While there is an assumption that longtime QB Philip Rivers, in the last year of his contract, will re-up for 2 or 3 more years after 2019 so he gets a chance to play in the new Inglewood stadium with the Rams at the old Hollywood Park site, one has to wonder if the Bolts start looking soon to identify his successor. We're sure it's not Geno Smith, who was not retained, and pretty sure it's also not Tyrod Taylor, signed from the Browns as the new backup. A developmental project in the middle rounds (maybe Buffalo's Tyree Jackson?) would be no surprise. Taylor was one of the few moves in what has been a quiet offseason, with a roster mostly in place and few pressing concerns. Retaining Denzel Perryman (who has had injury issues) and inking longtime Panther Thomas Davis (a Pro Bowler as recently as 2017) should fortify the LB spots that became a bit depleted a year ago. The old "best player available" likely fits here. Clelin Ferrell, DE, Clemson
29-KANSAS CITY CHIEFS... We are assuming that the Chiefs are looking to add defense after the faltering of the stop unit kept KC out of the Super Bowl and forced HC Andy Reid to jettison longtime aide and d.c. Bob Sutton, who once upon a time was HC at Army. That's not all that was let go from the platoon, which also allowed LBs Dee Ford (49ers) and Justin Houston (Colts) to walk. Inconsistent supplementary rushers Alex Okafor and Emmanuel Ogbah might not be sufficient replacements, but we'll see. The addition of S Tyrann Mathieu from the Texans adds a big-play element to the 2ndary, but Reid and GM Brett Veach will still likely be looking defense at the draft. Looming on the horizon, however, are possible child abuse charges against WR-KR Tyreek Hill, whose 3-year-old son suffered a broken arm in March. The status of Hill, who earlier plead guilty to assault and battery against his fiancee in 2014, needs to be monitored after KC cut ties with RB Kareem Hunt last season following abuse allegations. Jachal Polite, OLB, Florida
30-GREEN BAY PACKERS (from New Orleans)... Packers GM Bran Gutekunst went pretty hard for defense in free agency, but could use some more quality reinforcements on the stop end, especially if he went offense to appease Aaron Rodgers and new HC Matt LaFleur with an earlier pick in the first round. The Pack gets this extra choice at the 30-spot from the Saints, who traded up a year ago to get UTSA DE Marcus Davenport with Green Bay's 14th pick in the first round of 2018. Vosean Joseph, OLB, Florida
31-LA RAMS... Not quite as active as last offseason when GM Les Snead added several defensive toys for sage coordinator Wade Phillips, LA suffered a few personnel cap casualties, including one of last year's additions, DT Ndamukong Suh, who was released (there's a chance Suh could still return, though unlikely). Snead did find a couple of vets that Phillips could use in LB Clay Matthews (Packers; now back at the Coliseum, where he played in college for USC) and S Eric Weddle (Ravens). Other offseason moves of note include an apparent upgrade behind QB Jared Goff, as Blake Bortles quietly left the Jags to resurface at the Coliseum. With late-season RB savior CJ Anderson allowed to walk, there is conjecture that Snead and Sean McVay might look at backfield depth in the early rounds as insurance for the mysterious Todd Gurley. Even this late in the first round, the Rams might have the pick of the litter with the available runners. Josh Jacobs, RB, Alabama
32-NEW ENGLAND PATRIOTS... Some of the most intriguing offseason chatter involved rumors that Bill Belichick might have interest in Arizona's Josh Rosen, apparently on the market, as a backup for Tom Brady, with a potential eye on the day Brady hangs 'em up (whenever...2023, 2024...who knows?). Still time for something to happen on that front; stay tuned. Eagles DE Michael Bennett has thus far been the only notable offseason addition, and he might be a downgrade from the departed Trey Flowers, but Belichick remains the great equalizer, and will likely be involved in some upcoming trades. Those could involve receiving help after the retirement of Gronk. Indeed, receivers are needed as Super Bowl MVP Julian Edelman was the only wideout under contract entering the offseason. JJ Arcega-Whiteside, WR, Stanford
Return To Home Page