8074...
TGS SPECIAL REPORT
...MORE NFL SEASON-END REVIEWS

by Bruce Marshall, Goldsheet.com Editor


Picking up where we left off in

TGS Football

20 when reviewing the seasons of the non-playoff qualifiers, we take a look at the playoff losers from the Wild Card, Division, and AFC-NFC title games below. We'll get to reviewing the Super Bowl entry Patriots and Rams a bit later. Next week we're back in this space with college hoops and an updated look at

TGS

Bracketology.
Remember, it's not too late to reserve your copy of the TGS Super Bowl issue, ready online (www.goldsheet.com) now!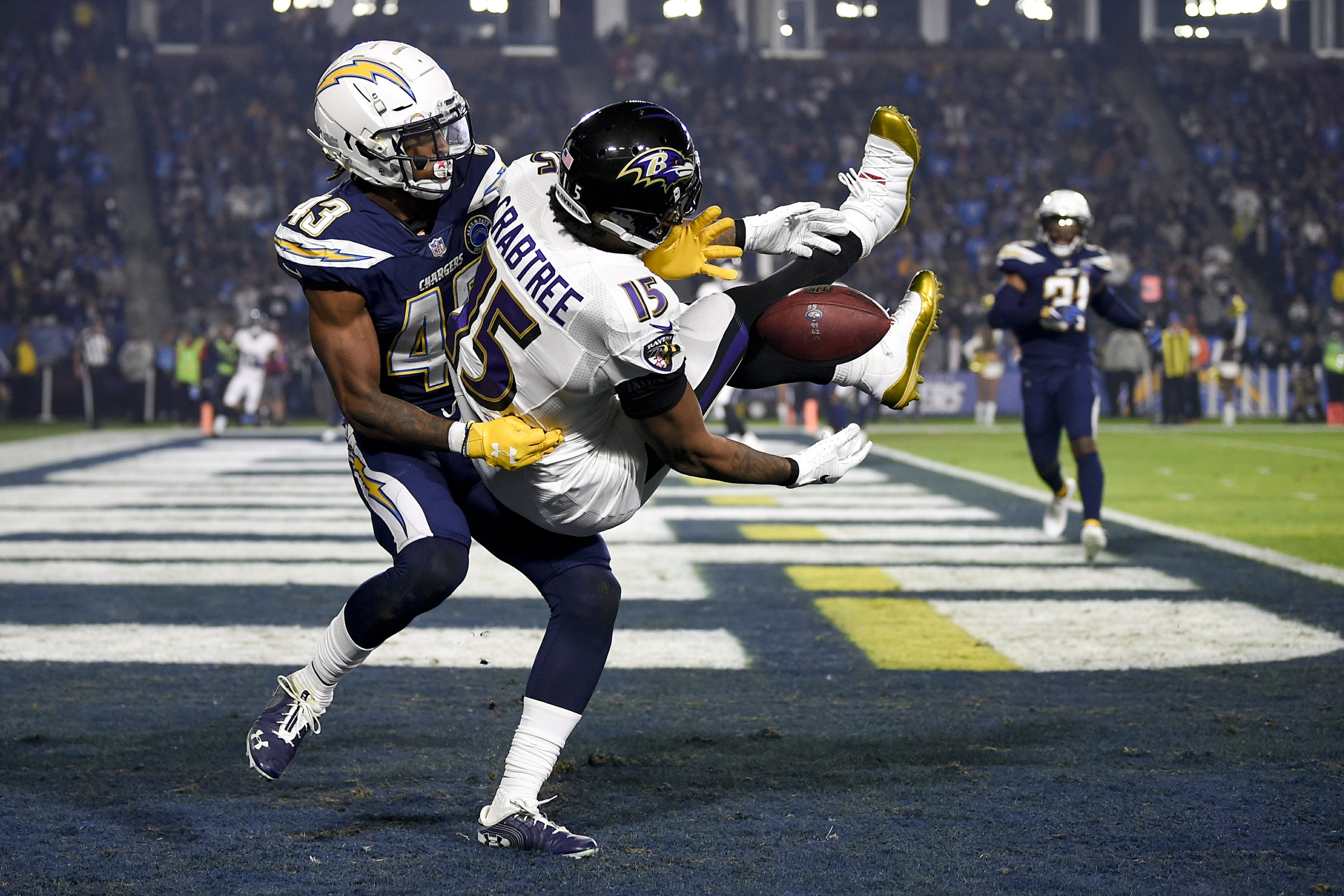 Baltimore (SUR 10-7)...An era passed during the second half of the season when Louisville's Heisman rookie Lamar Jackson supplanted Joe Flacco at QB and effectively ended the Delaware man's decade-long run at M&T Bank Stadium. Flacco is likely to be traded or released, while HC John Harbaugh has been inked to an extension by owner Steve Bisciotti after it seemed for a while as if Harbaugh could be in play for several other openings (Green Bay, Miami, and Denver were all mentioned). Harbaugh thus begins his 12th season with the Raves in 2019. Baltimore will go into free agency and/or the draft looking for skill-position weapons capable of making some chunk plays to take pressure off of Jackson, who showed some promise during his late-season stint but most definitely remains a work in progress. No surprise if RG III is kept around as an experienced backup, though the Ravens might look elsewhere for an upgraded safety blanket behind Jackson. GM Ozzie Newsome has semi-retired, handing the personnel reins to asst. GM Eric DeCosta, but remains in an advisory role.
Chicago (12-5)...In the end it was hard to envision a more bitter playoff exit (at least until the Saints and related controversies in the NFC title game) than endured by the Bears, who were eliminated at home in the Wild Card round by the Eagles when PK Cody Parkey's potential game-winning 43-yard field goal on the final play did the "double-doink" (off of the upright and crossbar, though to be fair to Parkey, it was tipped by Philly's Treyvon Hester) to seal a 16-15 upset for the Birds. It was still a wildly upbeat season at Soldier Field under first-year HC Matt Nagy, who proved an inspired hire off of Andy Reid's Chiefs staff and was handed a gift at the end of preseason when the Bears acquired All-Pro LB/DE Khalil Mack from the Raiders, who was the final piece for a defense that became dominant and paced a runaway to the NFC North crown. Nagy was also hired to fix the offense, and results were encouraging, with an upgraded supporting cast around 2nd-year QB Mitchell Trubisky, who advanced from his rookie year. Though the strike force didn't score more than 27 points in any game past midseason. Items to be addressed in the offseason probably start at PK, where the erratic Parkey's future is definitely up in the air, and on defense, where the departure of sage d.c. Vic Fangio (now Denver's HC), replaced by ex-Colts HC Chuck Pagano, will be a situation to watch closely. We'll also see if GM Ryan Pace is ready to make a longer-term commitment to RB Jordan Howard or look elsewhere for a feature RB.
Dallas (11-6)...Though we can never quite tell how thin the ice might be under HC Jason Garrett, he apparently did enough to earn a return engagement in 2019. The rumor mill was whirring as usual throughout the autumn, especially after the Cowboys were sitting at 3-5 at midseason, that Jerry Jones was finally going to pull the plug if Dallas a) didn't win the NFC East and/or b) didn't win a playoff game. Garrett at least cleared both of those hurdles, but one gets the feeling that every year is going to be the same at AT&T Stadium until Dallas makes a serious playoff push; since taking over midway in the 2010 season, Garrett has only won twice in the playoffs, both in the Wild Card round (2014 vs. Lions, this season vs. Seahawks). Also there does not seem to be any waver in a longer-term commitment to QB Dak Prescott (whose rookie deal will conclude after 2019), though he's yet to be signed to a longer-term extension. There is no urgency for Jones to make that move quite yet, even if all indicators are that Dak is the man, and will look forward to a full season of WR Amari Cooper (who midseason acquisition from the Raiders proved a good bit of business by Jones) along with Ezekiel Elliott that should make the offense hum. The defense also improved in 2018, with Boise State rookie LB Leighton Vander Esch proving an inspired first-round pick. Things are looking up, as the roster is fairly young, and Jones has plenty of cap room to address a couple of areas of need, though will first likely prioritize re-signing DE DeMarcus Lawrence, a pending FA and the only elite pass rusher on the stop unit.
Houston (11-6)...For a while it looked as if the Texans were about to enter the top tier of the AFC after a nine-game win streak (on the heels of nine straight losses from mid 2017, much of that when QB Deshaun Watson was sidelined) into December putting the Texans in the driver's seat in the AFC South. In the end, however, there was a bit of a bitter taste as Houston couldn't secure a first-round bye, and lost 3 of its last 5, including twice to the Colts at NRG Stadium, the latter in the Wild Card round, when the offense was stalled. Recurring problems on the attack end were alternately blamed on Watson not yet at 100% after last season's knee injury, and a leaky OL that put Watson under too much duress (as the Colts emphasized in the playoff win) with a whopping 62 sacks. Sheesh! Expect upgrades along the OL to be a point of emphasis in free agency and the draft, while perhaps addressing the RB spot, where there are questions if Lamar Miller is worth keeping (releasing him would count as only a $1 mill cap hit). The return to health of DE J.J. Watt was a big positive for a defense that boasts of lots of star power. Expect the Texans to re-sign S Tyrann Mathieu, who added some bite to the secondary and proved a good pairing in centerfield with Justin Reid.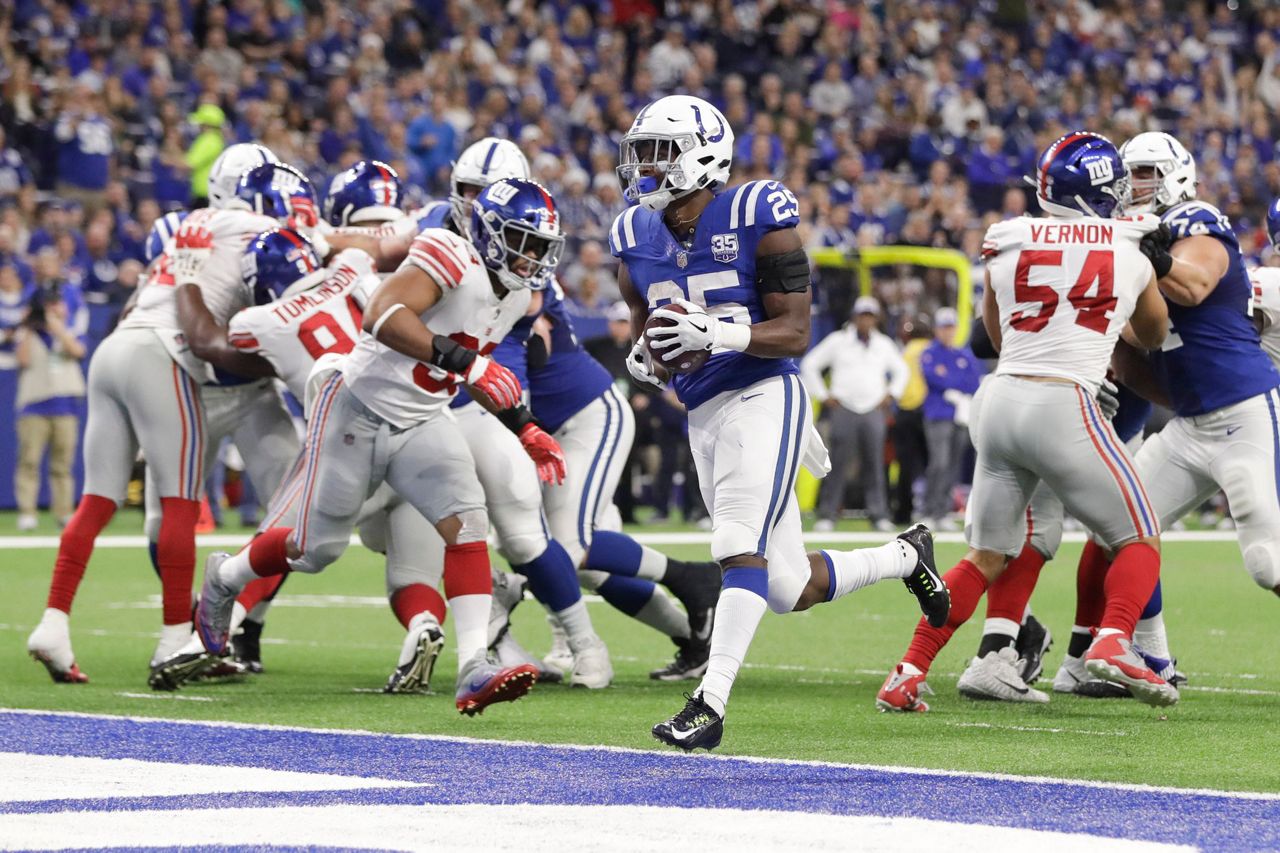 Indianapolis (11-7)...Not many were projecting an Indy playoff surge in mid-October when the Colts were sitting at 1-5. But a dramatic turnaround would commence and Indy didn't lose again until early December, riding a rejuvenated (and healthy) Andrew Luck and surprisingly feisty defense into playoff contention, finally securing a Wild Card on the final night of the regular season at Tennessee. All a feather in the cap of first-year HC Frank Reich, at best Indy's second choice to replace Chuck Pagano after Josh McDaniels backed out of an agreement to coach the team. Luck, who hasn't been healthy in three years, produced near career-best numbers (including 39 TDP) and appears beyond the myriad of injuries that were thought to be career-threatening as recently as last summer. Shrewd moves, mostly in the draft by GM Chris Ballard, have formed a solid nucleus, including a homegrown OL that would benefit from last April's first-round pick, Notre Dame G Quenton Nelson, who could be an anchor along the forward wall for the next decade. Indy is flush with $124 million in cap space, but we'll see how aggressive GM Ballard (who has thus far preferred to build through the draft) gets in free agency, where Le'Veon Bell could be on the radar. (Marlon Mack's late-season emergence at RB, however, might cool Ballard from getting into a bidding war for Bell). A more likely target area is finding a WR complement to T.Y. Hilton, which has been a priority in Indy for a couple of years. As long as Luck stays healthy, however, things should continue to look upward for the Colts.
Kansas City (13-5)... What can we add to everything that has already been discussed about the Chiefs? Winning their third straight AFC West crown, this time in wire-to-wire fashion, seems almost a secondary storyline compared to the emergence of second-year QB Patrick Mahomes, who passed for 50 TDs and became a sensation, likely to be named MVP, and justifying the offseason trade of Alex Smith to the Redskins. Things look bright at Arrowhead due to the dramatic Mahomes emergence, but the bar has been set pretty high, and anything less than a trip to the Super Bowl (a drought now at 49 years after the bitter AFC title loss in OT vs. the Patriots) will be considered a failure next year. The Mahomes offense was on a record-breaking pace into midseason before the suspension and eventual release of RB Kareem Hunt threw the strike force for a bit of a loop. Multi-tasking WR Tyreek Hill, however, was always a more valued component than Hunt. Still, the Mahomes-led offense is the least of HC Andy Reid's concerns, which start and end on the defensive end. Longtime aide Bob Sutton was dismissed from his d.c. role after Kansas City couldn't stop the Patriots late in the 4th Q or in OT of the AFC title game, confirming season-long shortcomings on the stop end. Reid now looks for a new d.c. and some more playmakers for the platoon in free agency and the draft. An interesting contract situation to watch will be that of LB Dee Ford, off of his own breakout season (13 sacks), though with a bit of a bitter taste after his offside call would nullify what should have been a game-ending interception in the AFC title game. Ford could be franchise-tagged and make it easier to release the other OLB, Justin Houston, who would cost more to keep next season.
Los Angeles Chargers (13-5)...Resembling a bit like the barnstorming 1952 Dallas Texans, who played almost their entire season on the road before resurfacing as the Baltimore Colts the next year, the Chargers continued as NFL nomads, completing their second campaign in the compact, designed-for-MLS StubHub Center (now the "Dignity Health Sports Park") in Carson, waiting along with the Rams for the new football palace to be completed at the former Hollywood Park site in Inglewood by 2020. The Bolts even spent one six-week span away from StubHub this season, which included a bye week and a trip to London to "host" the Titans, and some of the players (including QB Philip Rivers) continue to commute from San Diego to the team's new headquarters in Costa Mesa (Orange County). Considering all of that, the first playoff trip for the franchise since 2013 should be something to celebrate. Credit 2nd-year HC Anthony Lynn for keeping internal distractions to a minimum, as the Bolts would win their first nine games outside of the L.A. area before finally exiting in the Division Round at New England. Short-term, expect the Chargers to add more depth at the LB spots after injuries thinned the second line of defense in coordinator Gus Bradley's Cover 3 schemes. At some point soon, the Chargers might want to identify an eventual successor to Rivers, who is signed only thru 2019, but has said he wants to play at least into 2020 and the new Inglewood stadium, when he'll be 39. With plenty of playmakers on defense, expectations are high for next season, though critics will point out that Rivers once again lost his poise during the critical first half of the playoff loss to the Patriots, reminiscent of other points during his career with meltdowns at inopportune times, a pattern that continues to keep the Chargers out of the Super Bowl.
New Orleans (14-4)...We're not sure where to begin with the Saints, who, for the second straight year, have finished their campaign in unbelievably grating fashion. Though the NFC title loss to the Rams, when the non-call of an obvious pass interference on L.A. DB Nickell Robey-Coleman against WR Tommylee Lewis inside of 2 minutes was egregious, and prevented the Saints from running down the clock to kick the winning field goal with seconds to play in regulation, was disheartening, we're not sure it was worse than the last-play 61-yard TD pass from Case Keenum to Stefon Diggs that allowed the Vikings to beat the Saints in the 2017 Division Round. Bad, bad beats!! For what it's worth, QB Drew Brees, now 40, is apparently all-in for one more season in 2019, and he looked as good as ever in 2018 with an NFL-record 74.4% completions, as New Orleans was on a record-setting offensive pace into late November before the attack slowed down the stretch. After a slowish start with the opening loss to Tampa Bay, the defense became forceful as the Saints didn't lose again until Nov. 29 at Dallas, and it's really hard to find too much fault with a season that earned the Saints the top seed in the NFC playoffs. Moving forward, New Orleans is minus first and third-round draft picks, and doesn't have much cap room, but the core of the team looks ready for one more run at the ring next fall. Roster questions likely center upon RB Mark Ingram, a UFA, but in whose absence the offense began to labor later in the season, and backup QB Teddy Bridgewater is slated to become a UFA as well. The title window should stay open in 2019, but with Brees in his last contract year, the likely last chance for Brees and HC Sean Payton to make it back to another Super Bowl together will be next season. Beyond 2019, it's hard to speculate at the Superdome.
Philadelphia (10-8)...For a good while it looked as if the Birds weren't even going to get a chance to defend their Super Bowl LII title in the playoffs, as they were sitting off of the pace in the NFC East and postseason picture for much of the campaign. After QB Carson Wentz went down (again), this time with back problems, in early December, and Philly sitting at 6-7, hope seemed lost. Until, that is, QB Nick Foles rode to the rescue as he had done down the stretch in the Super Bowl ride, rallying the Eagles to three straight wins (including a rousing 30-23 upset of the 13-point favorite Rams) and a Wild Card berth when the Vikings lost on the final day of the regular season to the Bears. All of this a bit remarkable after injuries had strafed Jim Schwartz's defense and thinned the RB corps, not to mention the Wentz injury. Regarding the latter, there is a bit of concern that Wentz has gone down for the count in two straight seasons due to physical ailments, and in truth he never seemed quite 100% in 2018 (when he didn't play the first few weeks) as he recovered from last season's knee injury. Though some wonder if perhaps Foles would be a more-reliable component moving forward, HC Doug Pederson and the organization have not wavered in their commitment to Wentz, and Foles, likely to be in demand in the marketplace, is expected to move on, though that could take several forms (among those, Foles could buy out of his $20 mill option to opt for free agency in the offseason, or could be franchise-tagged and traded, among various other options). The Birds can also ill afford to lose a key pass rusher, which makes negotiations for FA-to-be DE Brandon Graham more than a bit interesting.
Seattle (10-7)...In the end, we're not sure that HC Pete Carroll has ever done a better job with his Seahawks, though the season would conclude bitterly with a 24-22 Wild Card round loss in Dallas, when Seattle would end the game without a PK after Sebastian Janikowski injured himself on a FG attempt just before halftime. Still, most had written off the Seahawks after their 0-2 break from the gate, many familiar names from the Super Bowl having departed and the "Legion of Boom" secondary having mostly disbanded, and QB Russell Wilson looking a bit overwhelmed by carrying too much of the burden. The defense, however, continued to scrap, infused by the familiar Carroll-instilled esprit de corps and overcoming some serious shortcomings against the run (where the Hawks ranked 30th at almost 5 ypc) to help qualify for the playoffs with a week to spare. Wilson would eventually be aided by the re-emergence of an infantry complement that had been absent since the departure of Marshawn Lynch; Chris Carson became the first Seattle 1000-yard rusher since Lynch in 2014, helping Wilson to a career-high 35 TDP. Wilson, though, could prove an interesting offseason watch, as he should be in line for a contract extension, but might not push it as he looks beyond 2019 (sticking around on the franchise tag for a couple of years as did Kirk Cousins with the Skins isn't the worst option). Seattle is likely to move on from S Earl Thomas, the last remaining "Boom" member who had a controversial 2018. Offseason personnel moves likely focus on defense, where finding a run-stuffer is a top priority. The recent contract extension given to Carroll, however, provides some stability for the organization after the passing of owner Paul Allen.
Return To Home Page