7999...
TGS SPECIAL REPORT
...IT'S COLLEGE FB HOT SEAT SEASON

by Bruce Marshall, Goldsheet.com Editor
We're into "hot seat season" in college football, folks. That's simply another gridiron name for November, when the walls begin to close in around the most-embattled of coaches. And, if recent history is any indicator, several will probably be getting their pink slips before the end of the regular season in a few weeks, a rather recent occurrence in "hot seat" history that used to be reserved for only the most severe of transgressions (read: losing too much) before a season would conclude. To this point in 2018, Maryland's D.J. Durkin (who was suspended before the season began, and finally terminated last week), Bowling Green's Mike Jinks, and Kansas' David Beaty (announced Sunday) have already walked the plank as we enter the second week of November. Stay on the lookout for similar developments at other locales in the next couple of weeks (we'll get to the list of embattled mentors in just a moment).


Another reason why we like to keep an eye on coaches in trouble down the stretch is that such situations do not exist in a vacuum, and squads knowing that their coach is on the way out have often hit the skids in November. We've asked various players about this at conference media days in the past and most who could relate have confirmed how a pending change has been a serious distraction. Indeed, it can be hard for a team to pull out of a nosedive if it is in the midst of a splintering situation; not only do the returning players realize that they will be playing for a different coach the following year, but,r elating to what was noted just above, many of those might begin the back-channel process of looking for future landing spots. Not to mention assistant coaches, especially the well-traveled ones who are used to reading such tea leaves. In such situations, they're also start their networking in hopes of landing their next gig. And when all of this starts to happen as a campaign is still ongoing, it's easy to see how the distractions (and losses) can mount.


Having said all of that, it doesn't appear, at least at this stage, as if this season's college coaching carousel is going to be spinning quite as wildly as it has in past years, especially last season, which even by recent standards was a bloody one for coaches. In the SEC alone, there were six coaching changes after the 2017 campaign, but it has appeared for quite a while that there might not be quite as much turnover this offseason. That, however, can change, especially if dominoes begin to fall and coaches are hired away from other locales. We've seen one job opening often created a chain-reaction of two, three, or four others down the line in many past offseasons. So what seems like what might be a more-calm "carousel" entering November often does not turn out to be the case in December and January. As always, keep an eye on related developments.


Caution, however, about reading too much into the "buyout" dynamics which can also come into focus at this time of year. The entire "buyout" game can be significantly misunderstood by the masses who don't have all of the pertinent info at their fingertips. Which, admittedly, is a bit difficult because no two contracts are drawn exactly alike. Especially in "buyout" terms.


Generally speaking, contract buyouts only include base salaries, and not the added perks such as compensation for radio and TV shows, shoe company kick-ins, performance bonuses, and any general sweetening of the pot that might be offered by alumni. Still, "buyout" provisions can differ wildly from contract to contract. Remember, any buyout, effectively, tries to protect both parties, including an employer that will try hard to keep a coach it likes in the fold and use the buyout to hopefully dissuade a suitor from poaching their in-demand mentor (read Iowa State's rising star Matt Campbell, whose hefty buyout did reportedly spook some potential suitors, including Tennessee, last winter).

Mostly, however, the buyout is financial protection for a coach who is at risk of being terminated before a contract is completed. (It's worth noting that almost every coaching dismissal these days involves a buyout of sorts; the days of an entry such as Notre Dame seeing out a contract like Gerry Faust's until it concludes, and not providing extensions along the way, is rare nowadays.)


This past summer, we spent some extra time talking to various college football insiders, many of whom either boosters themselves or with booster/administrator contacts, regarding buyouts. Their observations were as enlightening as they were informative.


A particular situation, one with a not-insignificant buyout, involves Illinois and Lovie Smith, who has made little headway in three years at Champaign-Urbana (though things might be temporarily looking up after a romp past a wobbling Minnesota last week), has had staff turnover and defections, and has proven a wildly unpopular hire with the support base, which began to get mutinous a year ago. Generally speaking, most Power 5 schools these days can absorb a buyout in the $10-12 million range without too much trouble. Especially entities like Illinois from the Big Ten, which are further enriched to the tune of up to $50 million simply by TV contracts and the expanding reach of their proprietary Big Ten Network. Well-heeled boosters and, more recently, shoe company sponsors are also often glad to chip in to help with (or even fund) the buyout of an underperforming/unpopular coach.

Last year, using UCLA as an example, its HC Jim Mora was also thought by some to be "un-fire-able" because of a hefty buyout. But Mora got the boot anyway; if sources are to be believed, much of the Mora buyout was taken care of by new shoe partner Under Armour as well as mega-booster Casey Wasserman (though Bruin AD Dan Guerrero, when announcing Mora's dismissal, claimed that it was "athletic department funds" taking care of any buyout. While perhaps technically true, much was from dollars that were only shortly before in the accounts of Under Armour and boosters like Wasserman).


Moreover, there are other factors to consider when weighing a buyout, specifically how much the current coach might be costing the school. In the case of Illinois, which has often been playing in front of 20-25,000 empty seats at Memorial Stadium for much of the Lovie regime (as well as for predecessors Bill Cubit and Tim Beckman), the yearly loss in attendance revenue due to an underperforming coach reaches into the low seven-figures (if assuming near-capacity attendance should the football team perform better with a more-capable coach). Donations also drop, as do related revenues such as merchandising. According to our Big Ten sources, Illinois keeping Lovie (or another major school keeping an underperforming coach) is probably costing the program and atheltic department at least an extra couple of million dollars a year, not much (if any) more than the annual terms of a buyout.


Finally, there are the all-important "offsets" which are fairly standard in coaching contracts. Again, the specifics can differ, but our research indicates that there are only a handful of college head coaching contracts minus the "offset" provision, which simply reduces the amount of the eventual buyout (almost always prorated, usually for the duration of the terminated contract) by whatever amount of money a coach might earn in his next job. Thus, again using Lovie Smith as an example, should Illinois decide to part ways, and Lovie hooks on as an assistant with an NFL team, Lovie's buyout would be further lessened, and offset by earnings from his next gig. (Assuming he would rather get back to work than play golf or fish for a couple of years.)


The bottom line? Buyouts do not usually end up costing what the public believes, and money owed is not often an impediment if a big school really wants to get rid of a coach. Though there are limits; Gus Malzahn's buyout at Auburn is reportedly $32 million, and Willie Taggart, proving intensely unpopular in just his first year at Florida State, would cost the Noles roughly $20 mill if they pulled the plug now. As for Lovie, his buyout drops from roughly $12.6 mill to a more-palatable $8 mill on February 1. Money won't stop Illinois from getting rid of him...if it wants to, that is, as AD Josh Whitman, the man whose first move on the job was to hire Lovie at top dollar against no competition and gave Smith a Charlie Weis-like contract to boot, likely remains in Lovie's corner, at least for now. But if enough boosters and money people at Illinois voice displeasure (and they are rumbling), the dynamics can change quickly.


Following is a list of coaches (other than Lovie Smith, and interim hires Matt Canada at Maryland and Carl Pelini at Bowling Green) that look in the most trouble as we move deeper into November.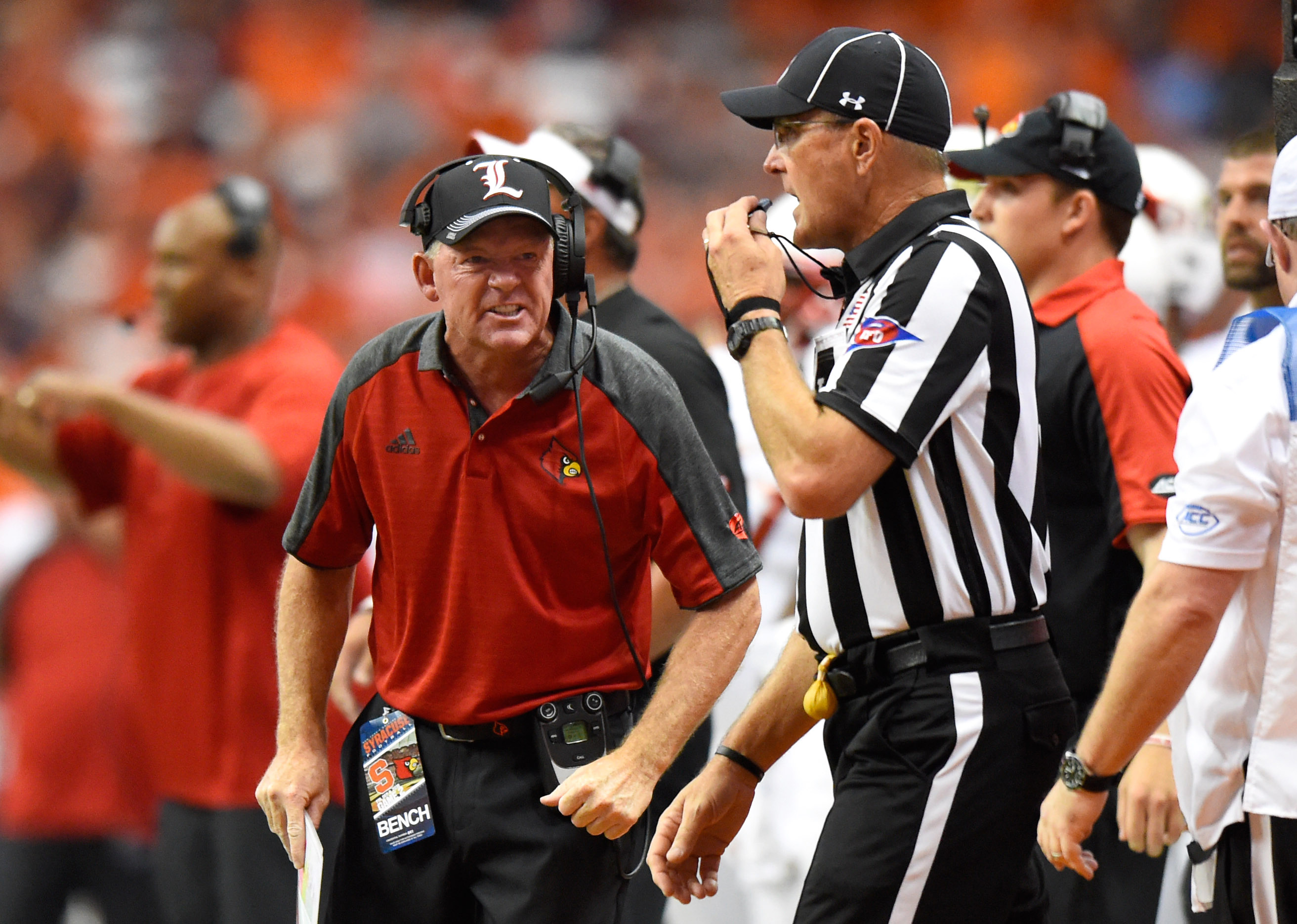 Bobby Petrino, Louisville...The "hot seat watch" has become preoccupied with the 'Ville, where the drop under Petrino has been breathtaking, bottoming out in last Saturday's 77-16 loss at Clemson. Petrino, who has never lasted more than four seasons in a previous HC gig, is now into his fifth with the Cards, and has usually found an escape hatch by now. But maybe not this time; where would he land? Buyout dynamics are in play here, with jettisoning Petrino likely to cost the school roughly $14 mill. (Former AD Tom Jurich was thinking the peripatetic Petrino could be poached or tempted to move, which is why the 'Ville added such a hefty buyout in the first place.) But lots of moving pieces with the Cards, with turmoil in the athletic department, shoe partner Adidas embroiled in the recruiting scandal (with the 'Ville involved), and a new AD (Vince Tyra) on board since Jurich's ouster. Petrino has also come under fire for playing Kemari Averett in a game four days after Averett was accused of rape; whether that could become an issue for a justifiable termination (hence avoiding or reducing a buyout) is something the 'Ville is likely exploring right now. Stay tuned.


Clay Helton, Southern Cal...SC is an impatient place, and sources tell us that many of the money people at Troy have seen enough of Helton and could force a change. Though AD Lynn Swann came out with a vote of confidence for his coach last week, those familiar with SC history know better (Pete Carroll is the only coach the past 35 years not to be fired, and he might have been had he not bailed for the NFL as the penalties from the Reggie Bush fiasco were about to be announced). Sources tell us Helton could be in the soup with losses to old, nasty rivals UCLA and Notre Dame at the end of the season (with a loss to this year's Bruins being particularly inexcusable and likely the last straw).

David Beaty, Kansas... On Sunday, KU hit the eject button on Beaty, who was acknowledged at the head of this hot seat class, especially with a new AD (Jeff Long, formerly at Arkansas) now on board. Beaty will be allowed to coach the remainder of 2018, creating some interesting dynamics for the Jayhawks, who reportedly like their coach and get a chance at rival K-State this Saturday.

Others to watch: Chris Ash, Rutgers; Scottie Montgomery, East Carolina; Randy Edsall, UConn; Larry Fedora, North Carolina; Kalani Sitake, BYU; Paul Johnson, Georgia Tech; Mike Neu, Ball State; Mike Sanford, Western Kentucky; Mike Gundy, Oklahoma State; Bob Davie, New Mexico; Doug Martin, New Mexico State; Everett Withers, Texas State; Mark Whipple, UMass; Bobby Wilder, Old Dominion; Mike MacIntyre, Colorado; Tony Sanchez, UNLV; Derek Mason, Vanderbilt.
Return To Home Page