7995...
NEW TGS COVER STORY
..."AURA OF ARA" & ND-NORTHWESTERN

by Bruce Marshall, Goldsheet.com Editor
We're now into November in college football and the first truly "Big Game Week" of the campaign is upon us. Multiple upcoming clashes will impact the top ten and help shape the next playoff rankings the following Tuesday, not to mention providing some of the best indicators yet of what the eventual "Final Four" might look like when announced on December 2. Among those battles this week are a couple of showcase games in the SEC, Georgia at surprising Kentucky in the East and the biggie on Saturday night in the West at Baton Rouge between Alabama and LSU. There's also a crucial Big Ten East collision at Ann Arbor when Penn State invades to face surging Michigan. Big games all; check out our College Analysis in this issue to find out what we think about these games and all of the others on what to date will also be the biggest gridiron card of the season (a whopping 61 games...sheesh!).


But if there's a matchup that stirs us at TGS a bit more than the others this week, it's the other "crucial" on tap Saturday between Notre Dame and Northwestern. The stakes are significant; still unbeaten, the Fighting Irish are in position to claim a spot in the Final Four if they can navigate a tricky November, while the Wildcats all of a sudden find themselves atop the Big Ten West after last week's upset of Wisconsin.


But it's the history between these schools, and the connection between them that is the great coach Ara Parseghian, that causes us to pause and reminisce a bit more than any of the other games this week. All of this should be no surprise to readers who might enjoy our summertime conference "Retrospective" pieces on our website and recall how our Big Ten look-back a few months ago spotlighted the somewhat-forgottenParseghian era at... Northwestern, before Ara made his storied move to Notre Dame.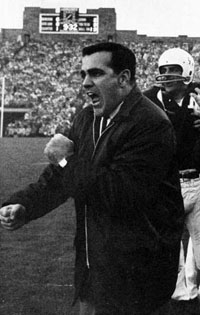 The Fighting Irish and Wildcats used to be rather regular foes in the first two decades we published TGS, with confrontations almost annually between 1959-76. (Interestingly, this week's battle will be the first between the schools at Evanston since the '76 clash, won by Dan Devine's Domers, 48-0; five subsequent games have either been played at South Bend or Chicago's Soldier Field.) It was in the earlier part of that span that Parseghian really gained the attention of Notre Dame when beating the Irish four straight times thru '62 with his Northwestern teams. Mind you, this was not a glorious era for the Domers, who struggled under Joe Kuharich and, for one season (1963) Hugh Devore, before Parseghian rode to the rescue in 1964. Upon Parseghian's departure from Evanston, however, fortunes of the two programs immediately began to change. Though Ara bore no malice to the Wildcats or his NU successor, Alex Agase, he made sure his Fighting Irish teams took care of his old employer, beating NU mercilessly on nine straight occasions without a loss before retiring after the 1974 season.


The Wildcats certainly did themselves no favors in their post-Ara era as they continued to schedule tough outside of the Big Ten. Such as in 1969, when NU played a succession of games vs. the Irish, Southern Cal, and UCLA on consecutive weeks, all top ten teams that season, and all bludgeoning the outmanned Cats before Big Ten play would commence. After getting blasted by perhaps Tommy Prothro's best UCLA team, 36-0, in early October of '69, and on the heels of losses to the Irish and Trojans by a combined 83-16 the preceding two weeks, Agase lamented his thankless task through a forced smile. "Who plays Notre Dame, USC, and UCLA in a row?" Agase wondered aloud at the near-impossible challenge. "Could anyone else but us do that? Would anyone else do it?"

But it was in the late '50s and early '60s that Agase's predecessor Parseghian was indeed doing what seemed the impossible at Northwestern and creating a national contender out of a program that had no designs on such lofty goals and had even been urged by a faction of its student body to leave the Big Ten and find more suitable competition, a cry from Wildcat backers that reverberated before and long after Parseghian left, at least until Gary Barnett's "Miracle Cats" made it to the Rose Bowl in 1995.


Barnett, however, had nothing on Parseghian; in fact, we believe a case can be made for Parseghian's greatest work being done at Northwestern, which we at TGS still rate as one of the top coaching achievements of our 62 seasons in business.


The circumstances of Parseghian's hire, and the stakes involved, can only be understood though the context of that era. And it was that aforementioned movement to de-emphasize football at the school that Ara would inherit. In the midst of a winless 0-9 campaign in 1955 under none other than HC Lou Saban in his lone season at the school, the Daily Northwestern ran a front page editorial recommending that NU withdraw from the Big Ten. "We have nothing to look forward to but continual defeat in the Big Ten," the editorial declared. "Would there be any shame in playing schools such as Stanford, Vanderbilt, Princeton, Marquette, Rice, Holy Cross, Penn, Southern Methodist — all privately endowed institutions such as ourselves?" It was not idle chatter, either; NU sports was having trouble keeping up with the larger state schools that had no scholarship limits. In an era decades before lucrative TV contracts, revenue, for private schools in particular, was almost solely dependent upon attendance and alumni donations.


Moreover, the 1950s were a dangerous time for many college football programs. The growth of pro football made the colleges seem like a farm system for the burgeoning NFL. The college game began to increasingly favor large state institutions with better funding and less restrictive admissions requirements. The NFL was especially dangerous for private colleges in urban areas; within roughly a decade, programs such as San Francisco, Santa Clara, NYU, Detroit and Fordham all dropped the sport, in part due to competition from nearby pro football franchises. No surprise, then, that many around Northwestern in the mid '50s believed that it was time for NU to leave the Big Ten, if not drop football altogether.


After the winless 1955 debacle, Saban was relieved of his duties by newly-hired AD Stu Holcomb, a former head coach at Purdue, who would eventually become the GM of the Chicago White Sox in the early '70s. With star alum Otto Graham, recently retired from th Cleveland Browns, having voluntarily withdrawn as a potential coaching candidate, Holcomb effectively had to make a life-and-death hire for the future of the football program in the Big Ten.


Holcomb's answer was a young, 32-year-old coach at Miami-Ohio named...Ara Parseghian.


We chronicled Parseghian's accomplishments at "The Cradle of Coaches" in our summer Retrospective piece, and while the upgrade at NU was immediate, Ara was still building from scratch. The earliest flowers of the Parseghian era at NU finally began to bloom in 1958, when the Cats shocked the Big Ten with a 4-0 break from the gate that included a 56-24 demolition of Michigan at Evanston in mid-October. The Wolverines had been ranked for the preceding two weeks but got their doors blown off in the first half when Parseghian's Cats roared to a 43-0 (!) lead, causing many p.a. announcers at other stadiums and radio announcers across the country to do double-takes and have to repeat the shock scoreline. In the end, it would be the first time a Michigan team had allowed 50+ points since Cornell turned the trick way back in 1891.


The dream of a return to the Rose Bowl for the first time in a decade effectively ended the next week in a showdown game vs. Forest Evashevski's 7th-ranked Iowa, which won 26-20 at Iowa City. (The Hawkeyes would end up in Pasadena, where they would throttle Cal 38-12 in the Rose Bowl.) Yet Parseghian was far from discouraged ("They fought, they scrapped...you can't ask any more than that," he said of his troops in defeat), and his team rewarded that faith with another big effort the next week when blanking Ara mentor Woody Hayes and fifth-ranked Ohio State, 21-0, moving back up to fourth in the polls.


Parseghian's greatest accomplishment at NU, however, might have come a few years later, in the 1962 season. And as we look back at 61 years of publishing TGS, we still believe those two weeks late in that campaign when Ara and his Wildcats ascended to the top spot in the polls might be the most startling feat of the past six-plus decades of college football.


Ara's '62 masterpiece at Evanston was a true Picasso because, Parseghian, as he was apt to do throughout his career, was not afraid to think outside of the box and get creative, in this case to compensate for the manpower shortages his Wildcat teams were generally forced to overcome vs. Big Ten opposition. Parseghian, who became especially renown for position switches of players early in his subsequent tenure at Notre Dame, was doing many of the same things at Northwestern. And there was no better example than his decision in '62 to move Paul Flatley, a FB and HB previously for the Cats, to the flanker spot for his senior season of '62. Mind you, this was an era where one wideout receiver at most would be deployed; flankers of the day often lined up in the backfield or "slot" and were more like third running backs. It was Parseghian, however, who foreshadowed many of the passing game gurus of subsequent decades by opening up the '62 attack and lining up Flatley wide...effectively as a second wide receiver. That might seem like pretty mundane stuff today with four and five-wideout formations not uncommon, but circa 1962, it was radical ideology. And, for a while, it worked better than Parseghian or anyone at NU could have dreamed as Flatley teamed with soph QB Tommy Myers for the nation's scariest pass combo. (Flatley would go on to become an NFL receiver of some repute with the Vikings and Falcons.) The stay atop the polls, which began after a 35-6 drubbing of Kuharich's Notre Dame, lasted two weeks into November until Rose Bowl-bound Wisconsin ended the dream.


Following the 1963 season, Parseghian and his staff had become increasingly frustrated with the limited budgets at NU. According to the Chicago Tribune's Teddy Greenstein, the staff, among other things, was forced to pay out of their own pockets to repaint the locker room. "We knew as a team that he and his staff were big time," recalled NU alum Mike Buckner, one of Parseghian's players, in 2014. The news that Wildcat fans were dreading finally came on December 3, 1963—Parseghian took the job at Notre Dame, and began to write the more publicized chapters of his career. By us, however, we're not sure Ara, or any coach, could top the work he did at Northwestern.


(Our Big Ten Retrospective from this past summer "Northwestern and Ara at No. 1!" can still be accessed on our website homepage.)
Return To Home Page