7948...
TGS SPECIAL REPORT
...2018 NFL SEASON WINS TO WATCH

by Bruce Marshall, Goldsheet.com Editor and Gary Olshan, Chief Analyst
AFC BEST BET...ACC, AFC, it didn't seem to make much difference to QB Deshaun Watson, who was tearing apart the opposition last fall for the Houston Texans (8 ½) just as he did in college until a fluke knee injury suffered on the practice field on November 2 prematurely ended his season. At that point, Houston was just 3-4, but after entering the starting lineup following an opening loss to the Jaguars, Watson had put the fear of God into both New England and Seattle on the road, barely missing upset wins vs. each when the defense couldn't hold a late lead in the final minutes, and a 42-34 shootout loss vs. Kansas City when the Chiefs were hottest team in the league. But Watson was en route to what would have been a staggering 43 TDP (which would have shattered an NFL record for a rookie) and had the Texans looking like a dangerous playoff threat, along the way treating the Titans like they were Duke when dropping a 57-point bomb on Tennessee in early October. Without Watson, Houston more resembled Rice in the second half of last season, but now Deshaun is back and healthy, and so for the moment are some of his key defensive teammates who also went down for the count last season, including disruptive forces J.J. Watt and Whitney Merclius. With all hands on deck, mostly meaning Watson, this is a playoff, if not a Super Bowl, contender. Do you think Bill Belichick (who faces Watson again opening week) wants to see Deshaun and a healthy group of Texans in the playoffs? It's an "over" for us at NRG Stadium.



FOOTBALL IS HERE...TGS 2018 EARLY DEALS NOW! ...

Click here to order



NEXT BEST BETS...Sticking in the South, we have to wonder what is going on with the

Tennessee Titans (8).

Hiring a new coach, a new staff, changing the offensive and defensive systems, and for good measure changing uniforms (though the new outfits look pretty good to us) are things one might expect from a team being on the clock in front of the draft. Not for a playoff qualifier, and while we had issues at times with HC Mike Mullarkey, he did forge a ground-and-pound identity with his team, and not only got the Titans to the postseason a year ago, but beat the Chiefs at Arrowhead in the Wild Card Round in the process. But Mullarkey walked the plank anyway in favor of Texans assistant Mike Vrabel. Early returns, however, have not been encouraging, as the Titans looked disorganized in August when losing all of their preseason games by double-digit margins. That usually doesn't matter when you get to September...unless it does and the problems continue. After QB Marcus Mariota's progress seemed to stall, it will also be up to new o.c. Matt LaFleur (over from the Rams) to get the former Heisman winner back on an upward trajectory. The "D" should be formidable as ex-Ravens d.c. Dean Pees takes over from the sage Dick LeBeau, who was out with the rest of the Mullarkey regime. But the vibe isn't good for what should not have set up as an adjustment season in Music City. It's an "under" for us at Nissan Stadium.

There is a lot of public love out there for the Cleveland Browns (5 ½). And the masses aren't just wishfully adopting the Brownies and their lovable losers image; apparently they're backing them with a wave of "over" action at Las Vegas sports books! While we expect some improvement in Cleveland from last year's 0-16 (it's hard to get worse), jumping six wins to cash an "over" ticket looks more than a bit optimistic. Down the road, Heisman winner Baker Mayfield from Oklahoma might be the answer at QB, but until further notice it will be ex-Bill Tyrod Taylor. That's an improvement from a year ago, when Notre Dame rookie DeShone Kizer was thrown to the wolves and started most of the season, but hardly suggests a bold move up the ladder in the AFC North, where the other division members have been beating up Cleveland for years. Admittedly, the "D" has a potentially menacing look, with another first-rounder, Ohio State CB Denzel Ward, could emerge as a stop unit anchor along with last year's top choice DE Myles Garrett. But depth is a question all over the roster, and let's not forget that HC Hue Jackson (remarkably spared thus far by normally itchy-fingered owner Jimmy Haslam) is only 1-31 SU with Lake Erie's team the past two seasons. We'll concede to the many Browns fans that their team will be better; just not 6 wins better. It's an "under" for us in Cleveland, where they at least have the Indians to look forward to in the playoffs this fall.


OTHERS...It's "Back to the Future" with the Oakland Raiders (8) as HC Jon Gruden makes a triumphant return after a decade-long absence from coaching while working in the ESPN Monday Night Football broadcast booth. But we wonder what sort of immediate message Gruden and GM Reggie McKenzie are sending to the troops by dealing away holdout Pro Bowl DE/LB Khalil Mack to the Bears. Isn't a team supposed to find a way to pay its best players? We're hearing the trade has gone over like a lead balloon in the Raider clubhouse, especially with the draft-pick payoff still down the road. In other words, no help for 2018. Moreover, the Raiders have ranked low in sack totals the past few years anyway, and now this could become even more of a crying need sans Mack. Even if QB Derek Carr returns to his pre-injury 2016 form, that doesn't altogether compensate for the lack of playmakers on defense, which will make it hard for Gruden to climb above .500. It's an "under" for us at the Coliseum... While the Raiders might continue to flounder, the Chiefs go through an adjustment phase to a new QB, and the Broncos search for answers after last season's collapse, the Los Angeles Chargers (9 ½) seem to have a golden opportunity to take advantage of the apparent power vacuum in the West. Remember, after that slow start last season amid the various distractions of the move from San Diego, the Bolts won 9 of their last 12, with only an ongoing inability to beat the Chiefs preventing a trip to the playoffs. Philip Rivers remains the top QB in the division, the supporting cast is sturdy, and the secondary might be one of the best in the league with first-round Florida State S Derwin James filling the last gap in the defensive backfield. Look "over" at StubHub Center...imagine playoff games in that compact, 27,000-seat MLS Stadium!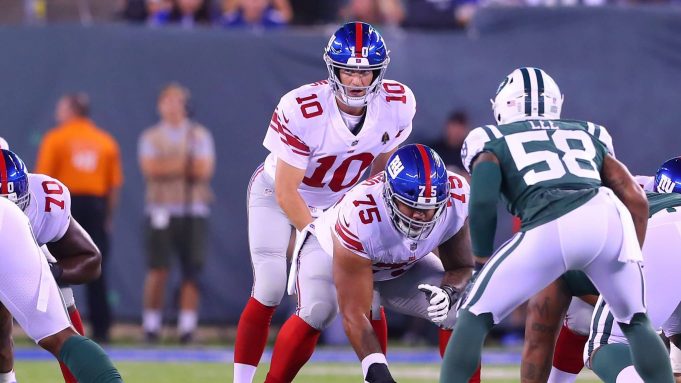 NFC BEST BET...So much for the recent days of New York Giants (7) being a pin cushion for the local late-night comics like Jimmy Fallon, who were given an endless stream of material by HC Ben McAdoo (McAdon't?) and a cascade of losses by the G-Men last season. But many NFL insiders believe that's a thing of the past with new HC Pat Shurmur, whose first order of business was to re-tool the offense and take some of the burden off of aging QB Eli Manning with Penn State rookie RB Saquon Barkley. By looking to pound the rock like they haven't since Ottis Anderson thundered in Super Bowl XXV vs. the Bills, Eli's career might be extended by a year or two, and now with a happy Odell Beckham Jr. in the fold with his big new contract, the clubhouse is a happier place, too. Meanwhile, new d.c. James Bettcher is off of a good run with the Cardinals, and if Bettcher can get Janoris Jenkins and Eli Apple to play back to previous levels, NY will have the corners who can play one-on-one that opens up so many of the blitz packages Bettcher loves. Last year's 3-13 was unnatural; if the breaks fall their way, the G-Men might even make a playoff push in their new and apparently much-improved regime. "Over" for us at MetLife.


NEXT BEST BETS...There is a long line of Bill Belichick disciples who haven't cut it as head coaches (Romeo Crennel, Charlie Weis, Eric Mangini, Josh McDaniels; even Nick Saban didn't win in his NFL adventure with Miami). The next in line might by Matt Patricia, who has more the look of a beer-truck driver but instead moves from d.c. of the Patriots to new HC of the Detroit Lions (8). Who, some are saying, might miss the fired Jim Caldwell (who made the playoffs twice the past four years) more than they might imagine in Motown. Early returns are not positive on Patricia, who apparently alienated many of the players in training camp and, according to sources, didn't help matters with poor communication. Having players dislike a coach is nothing new (Belichick is anything but universally-loved, but he keeps winning), though the performance in preseason matched the reports...if nothing else a disturbing connection. If the Lions fail, it won't be the first time it has happened by a Belichick protégé. Look "under" at Ford Field.


They live in the same division as the defending Super Bowl champs. But even with the myriad of distractions surrounding Ezekiel Elliott's on-again, off-again, then on-again suspension last fall, the Dallas Cowboys (8 ½) still managed to get to 9-7. Matching that record might be a bare minimum for HC Jason Garrett to keep his job (we've heard that rumor before, but sources tell us Jerry Jones will tolerate nothing less than the playoffs this fall, or changes to be forthcoming). And while the Cowboys didn't win in August, for the brief moments when QB Dak Prescott and the first-teamers were on the field, the offense moved effectively. Injuries and the normal Big D drama associated with Jones are the familiar trip wires, but we're thinking "over" in Arlington.

OTHERS...Pump the brakes a bit with the Arizona Cardinals (5 ½), who, like the Broncos a year ago with then-new HC Vance Joseph, were going all-out to win most of their preseason games for first-year HC Steve Wilks (Panther d.c. LY). Though many insiders believe salty but now retired HC Bruce Arians squeezed all he could out of the Big Red the past few seasons, and QB Carson Palmer, who keyed much of the resurgence in recent years, has also called it quits. The return of healthy RB David Johnson is a plus, but a brittle Sam Bradford or UCLA rookie Josh Rosen could be short-term downgrades at QB, and the Cards might also miss shrewd d.c. James Bettcher, now with the Giants. It's an "under" for us in Glendale...Much like we expect Pat Shurmur to perhaps forge a turnaround with the G-Men, new HC Matt Nagy could do the same with the Chicago Bears (6 ½). Already this August we have seen a lot of what looks like the old, explosive Chiefs offense that Nagy has imported from his o.c. stint in Kansas City. There are some questions about how far along 2nd-year QB Mitchell Trubisky is on the learning curve, but for once the atmosphere is optimistic at Halas Hall, even more with the addition of Oakland's Khalil Mack (which has made d.c. Vic Fangio very happy). Look "over" at Soldier Field.
Return To Home Page