7944...
TGS 2018 NFL PREVIEW

...A LOOK AT THE AFC WEST

by Bruce Marshall, Goldsheet.com Editor

We continue our 2018 NFL previews with a look at the AFC West. As always, teams are presented in order of predicted finish, with 2017 straight-up, spread, and "Over/Under" (O/U) records included.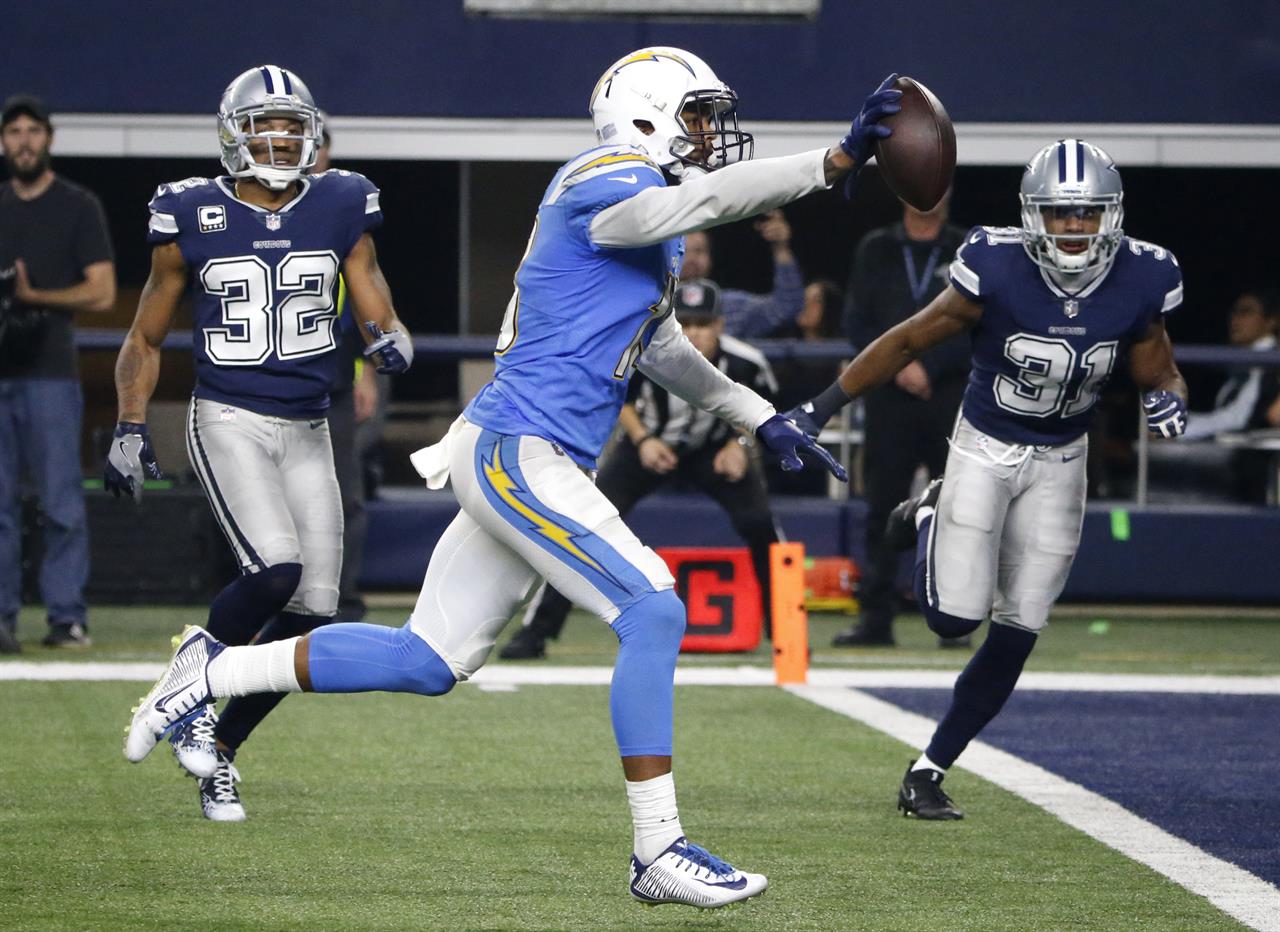 All things considered, the Los Angeles Chargers (2017 SUR 9-7; PSR 8-6-2: O/U 4-12) didn't do too badly last season when getting to 9-7. After all, it was hardly a distraction-free campaign, with the team relocating to the L.A. basin and industrialized Carson, near the intersection of a couple of busy freeways and close by where the Goodyear blimp has parked since the late '60s. All of that not what out-of-towners have in mind when they think of glamorous Southern Calfornia. But it was where the Bolts would play their home games in an undersized (for the NFL) stadium, StubHub Center, built for the MLS LA Galaxy, football-wise more suitable for events like the Frisco Bowl (which takes place in the Metroplex's very similar MLS stadium north of Dallas).



FOOTBALL IS HERE...TGS 2018 EARLY DEALS NOW! ...

Click here to order

Last year's franchise move, however, saw many players continue to live in the San Diego area and merely commute an hour or so, traffic permitting, to Orange County (Costa Mesa) for practice. And those "home" games in beautiful Carson were often more populated by fans of the visiting team. Losing four straight out of the chute also hardly endeared the Chargers to their new fans, as for a moment it seemed like new HC Anthony Lynn might have a tenure only slightly longer than Anthony Scaramucci's in the Trump White House. Moreover, there was disconcerting chatter that the NFL might abandon the whole LA idea and force the Bolts back to San Diego, a territory the league still covets. But things began to straighten out dramatically into October and the Chargers were playing playoff-quality football the rest of the way. Only an ongoing inability to beat the Chiefs, who won an AFC West showdown 30-13 at Arrowhead on December 16, kept the Bolts out of the postseason.


We suspect the playoff drought that now extends back to 2013 might end this fall, especially with no sign that QB Philip Rivers, entering his 15th season, is about to slow down anytime soon. Though Rivers is now to the stage of his career where many are beginning to wonder about his credentials for Canton (we think he falls short unless he finds a bit more postseason success, but that's a subject for down the road), at 36 he still seems to have plenty left in the tank, so much so that the Bolts have yet to make a serious move to identify a successor. Journeyman Geno Smith was added in the offseason as a potential upgrade from Kellen Clemens at the backup spot, but this is still Rivers' team, as confirmed by another stellar effort (4515 YP; 28 TDP and only 10 picks) in 2017. So, rather than look for a future QB, Bolts GM Tom Telesco instead has chosen to continue investing around Rivers. To that end, ex-Dolphins C Mike Pouncey was signed in free agency to bolster the interior of the OL, though it's been rookie FA RB Detrez Newsome from Western Carolina who has opened the most eyes in August and could emerge alongside Austin Ekeler as effective change-of-pace options to frontliner Melvin Gordon (1105 YR LY). The Bolts have also moved on from longtime TE Antonio Gates, cut loose because of the emergence of Hunter Henry (45 catches LY). Those best laid plans of mice and men often go awry, however, and Hunter's summer knee injury has KO'd him for the season, with Telesco now hoping ex-Bronco Virgil Green can emerge as an underneath alternative for Rivers, who can always go over the top to WR Keenan Allen (another 102 catches last year) and hope that last year's first-round pick, Mike Williams, is beyond the injury bug that limited his contributions a season ago.


The most-important upgrade on offense, however, might have to come at the PK spot after FG woes cost the Chargers in their slow start and in the end might have been the difference between making and missing the playoffs. Vets Roberto Aguayo and Caleb Sturgis have been waging a spirited competition in summer, and one or the other needs to provide a better kicking option this fall.


Telesco might have lucked out in the draft when Florida State SS Derwin James fell to the middle of the first round and is ticketed to be immediately plugged into a top-shelf secondary that ranked 3rd in pass defense last season. James' size and swagger should be good fits for new d.c. Gus Bradley, who had success with big, athletic safeties (like Kam Chancellor) when he coordinated the Seattle defense. With Casey Hayward another Pro Bowl candidate at the corner, the Bolts can rightly make a claim to owning the AFC's best secondary. They also boast of one of the NFL's best pass rushes with Joey Bosa (who has an astounding 23 sacks in just 28 NFL games!) and Melvin Ingram attacking from the edge. Another impact performer could be 2nd-round pick LB Uchenna Nwosu from USC, who will push for playing time after recording 12.5 sacks and 19 TFL in his final two seasons with the Trojans. If the Bolts again miss the playoffs, we doubt it will be the fault of the stop unit.

With the best QB in the division (Rivers), high-profile DE Bosa, and rookie safety James looking like the next big thing on defense, the Bolts have plenty of star power. And with HC Lynn treating his players like adults and growing into the job, the pieces on the field and sdieline seem in place. It would help if the StubHub Center can becomes a fortress, but the Bolts did win the last five at their MLS venue to develop a bit of a home advantage, even if opposing fans still often create an atmospheric edge for the road team (we'lll see if this is as prevalent as last season). It's two years until the Chargers become the Rams' tenant in the new Inglewood stadium, though there are already whispers than the franchise could eventually relocate to Orange County. Something to worry about in 2025; for the moment we think the Chargers can win the West if they figure out a way to beat the nemesis Kansas City at least once. (Lastly, a fashion note; with all of the available blue-gold combos, for the Bolts to insist on an all-white outfit, even if reminiscent of early franchise days, seems a bit of a waste...but that's just our opinion.)


Spread-wise, last year's resurgence was mirrored by results vs. the number, when the Bolts were 8-3-1 their last 12. But can they crack the code vs. the Chiefs, who are 8-0 SU and 6-2 vs. the line the last 8 meetings?



Apparently there was more than meets the eye last December 31 in the regular-season finale for the Kansas City Chiefs (2017 SUR 10-7; PSR 10-7; O/U 7-9-1) in Denver than simply giving some starters, QB Alex Smith included, extra rest before the playoffs would commence the next week. It also turned out to be an audition for then-Texas Tech rookie QB Patrick Mahomes, who was given the start by HC Andy Reid. Everyone in Kansas City, including George Brett, would be impressed by Mahomes, more so after he was re-inserted back into the game by Reid and calmly led a last-minute drive to a winning FG by PK Harrison Butker, all after backup QB Tyler Bray had almost single-handedly allowed the Broncos back in the game after Mahomes turned over the keys with a 24-10 lead. That test run, however, apparently convinced Reid that he could safely move on from Smith, who seemed to have hit his ceiling in KC, confirmed by a subsequent bitter Wild Card Round loss at Arrowhead vs. underdog Tennessee. Soon thereafter Smith was shipped off to the Redskins and the Mahomes era had officially begun for the Chiefs.


The QB switch nonetheless represents a bit of a gamble for Reid and GM Brett Veach, as Smith had proven good enough to get the Chiefs to the playoffs on multiple occasions. Moreover, his ability to play mostly mistake-free football was the key to much of KC's recent successes; Smith only tossed 5 picks compared to 26 TD passes last fall. Mahomes and his rocket arm, however, represent considerable upside, though it's not lost upon AFC observers that Mahomes was ony 13-16 SU as a college starter at Texas Tech. And though he wowed on occasion this preseason (such as a 69-yard TD pass to Tyreek Hill on August 17 at Atlanta), he was not especially convincing or consistent in August. Still, the potential is there, and though the Chiefs made much personnel change in the offseason, they didn't tinker with most of their offensive weapons, as do-everything WR/KR Hill (75 catches last season) returns to the mix as one of the AFC's top gamebreakers, while ex-Toledo RB Kareem Hunt only led league rushers with 1327 yards in his maiden voyage. Adding ex-Bills and Rams wideout Sammy Watkins in free agency provides another deep-threat target for Mahomes, who is likely to stretch the field much more than Smith. The animated Travis Kelce (83 catches last year, though we sometimes wish he'd tone it down a bit for those over-orchestrated TD celebrations) remains as one of the league's best underneatrh threats. No shortage of weapons at Arrowhead, though the keys on the attack end will more likely be to keep a potentially-formidable OL healthy (which is wasn't last season), and for Mahomes to grasp the role of team leader that Smith has held the past few years. Not to mention new o.c. Eric Bienemy, in his first stab at that role in the NFL, taking the place of the respected Matt Nagy, hired away by the Bears to be their new head coach.


While the switch to Mahomes in the pilot's chair generated the most headlines in the offseason, there was actually more personnel movement on the stop unit. "Movement" might be putting it mildly; "overhaul" might be more accurate with as many as seven new starters potentially in the fold from the platoon that helped blow the playoff game vs. the Titans. Longtime defensive stalwarts CB Marcus Peters (traded to Rams), LB Tamba Hali (released), and LB Derrick Johnson (left as a FA to the Raiders) are among the familiar names who have departed. The move of noted ballhawk Peters, who picked off 19 passes the past three seasons but whose on-field antics were said to have soured Reid and vet d.c. Bob Sutton, and triggered a one-game suspension last fall, was maybe the surprise of the offseason. We'll see if Kendall Fuller, added from the Redskins in the Alex Smith deal, can adequately fill those shoes on the corner. Better news is the return of S Eric Berry, who has had a tough go with illness and injury in recent years and missed most of 2017 with an Achilles tendon tear. If he's back at 100%, it should be a big plus for the secondary, but the back end of the defense also has to deal with some new faces at LB after Derrick Johnson's aforementioned departure to Oakland. (Johnson's leadership could also be missed). Another of the injured from last season, OLB Dee Ford, is expected back in the fold, bookending disruptive Justin Houston and his team-best 9.5 sacks last year. ILB Anthony Hitchens will be part of the new look after moving as a FA from the Cowboys, as will NT Xavier Williams, over from the Cardinals. But whether or not Veach has added sufficient speed and power for a platoon that lacked both a year ago remains to be seen.


It was anything but a smooth ride last year for the Chiefs, who were the league's hottest team in the first month of the season before dropping 6 of 7, including a pair at MetLife Stadium vs. the subpar Giants and Jets. But after Oakland and Denver faded even worse, the Chiefs were able to rally in the last month against all of the AFC West foes, including the Chargers in a division-decider on December 16, to squeeze back into the postseason. Another early playoff exit set the stage for the offseason changes; now it's up to Mahomes to help the team take the next step. With HC Reid into the later stages of his career, the QB move was not necessariluy made with an eye to the future. Reid wants to win now, but is Mahomes up to it? We'll find out soon enough.


Spread-wise, the Chiefs have taken over what was once a problematic series vs. Denver, winning and covering five straight vs. the Broncos. In fact, KC is 16-1 SU and 14-3 vs. the line its last 17 against the AFC West, which is one way to make sure to reach the postseason!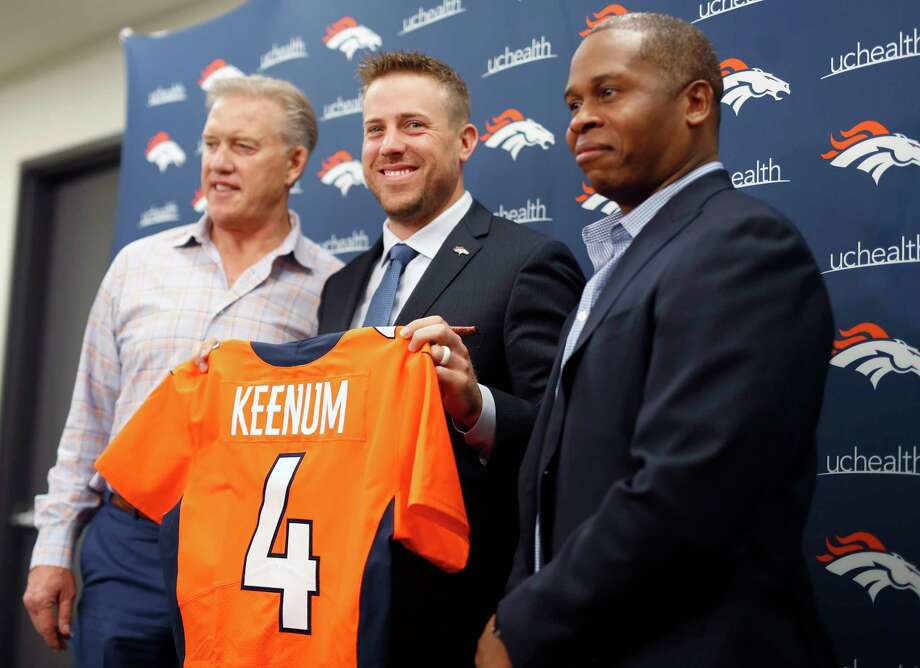 That wasn't a normal NFL crash-and-burn we saw last season with the

Denver Broncos (2017 SUR 5-11; PSR 4-11-1; O/U 8-8)

, who normally haven't had to worry aboutr such scenarios. After the bye week in early October, however, and an odorous home loss to the then-winless Giants, the system failure in Denver became almost Apollo 13 service-module like. Broncos fans had to go back 50 years to invite similar comparisons, all the way to Lou Saban's first season in 1967 for the last time Denver had lost as many as 8 in a row. Other oldtimers in the Rockies began to cite Mac Speedie's desultory 2-11-1 team in 1964 as the last time they had experienced such woe. All hardly good news for first-year HC Vance Joseph, John Elway's hand-picked successor to his old chum Gary Kubiak, who retired for health reasons following the previous season (only to later resurface as a right-hand man to Elway in the front office).


Indeed, Elway's once saint-like status in the Mile High City has since come under some review, as not only the Joseph hire backfired (at least initially), but various other personnel and staff moves orchestrated by Elway began to fizzle as well. A succession of barren drafts, keeping apparent bust QB Paxton Lynch on the roster, and some curious staff decisions, not the least of which was to keep Joseph for a do-over in 2018, have taken a lot of the shine off of the Elway star. As for Joseph, it was rumored that Elway might pull the plug after the collapse of 2017, but instead John has doubled down on his flyer-of-a-coaching-hire while deciding instead that an upheaval of Joseph's staff was in order. The latter began during the 2017 campaign when respected o.c. Mike McKoy was thrown under the bus as the season began to go sideways. McKoy's replacement Bill Musgrave, promoted from QB coach and a longtime NFL aide, and d.c. Joe Woods were basically the only staff members who survived the postseason purge. (Elway had come under some rare criticism from Broncos Country even before last season's unraveling when letting sage d.c. Wade Phillips walk to the Rams after 2016). Denver fans, however, are not used to such dreariness, and should Joseph author the first back-to-back losing seasons in Denver since 1971-72 (which spanned the end of the Saban and beginning of the John Ralston eras), it would reason that even a suddenly-stubborn Elway would have to admit Joseph was a blown hire. After all, the Broncos were just two years removed from a win in Super Bowl 50 when Joseph was inked. This was not supposed to be a rebuild situation.


Thus 2018 looms as a crossroads for a franchise that might soon have to adopt the dreaded "r" word (rebuild) if things continue to deteriorate. Elway's post-Peyton Manning gamble to go cut-rate at QB with the likes of Trevor Siemian, the aforementioned Lynch, and Brock Osweiler in a return engagement last fall boomeranged spectacularly. Widely expected to go QB in the first round of the draft, Elway instead opted for free agency to find his new pilot, committing $36 mill over the next two seasons on Case Keenum, who was the definition of a journeyman before flourishing last season with a powerhouse Minnesota side. This after much discussion about Elway pursuing Kirk Cousins in free agency before Cousins instead opted to become Keenum's successor with the Vikes, not interested in what looked to be a deteriorating, lame-duck situation in Denver. (The aforementioned Lynch appears only days from being cut and labeled an official bust after being surpassed by ex-Ole Miss Chad Kelly on the preseason depth chart behind Keenum.) Woes on the OL have been addressed to no avail the past couple of seasons, though Elway hopes that adding mean LT Jared Veldheer in trade from the Cardinals will provide a nice bookend with 2nd-year Garrett Bolles on the left side. Moving an acquisition from last year, Ron Leary, back to his preferred LG spot might also help to solidify the forward wall, but the Broncos were saying the same things last summer. There has been some encouragement in the preseason with the emergence of Oregon rookie Royce Freeman, looking a better option than holdover Devontae Booker, as a potential feature RB, though the departed C.J. Anderson (to the Panthers as an FA) was more than serviceable in that role when healthy. Another rookie like Freeman, SMU's 6'4 WR Courtland Sutton, has emerged as a promising target in the summer, an upgrade that might be needed as the production of Super Bowl holdovers Demaryius Thomas and Emmanuel Sanders has begun to decrease.

Even normally-reliable PK Brandon McManus struggled more than usual a year ago, missing eight FG tries. A special teams overhaul included inking ex-Raider P Marquette King, while vet NFL aide Tom McMahon now coordinates the ST units after a disastrous year under dismissed Brock Olivo.


The numbers weren't too bad on the stop unit last season, but drill a bit deeper and the decline from the two previous Phillips years was evident. Like the overall operation, defensive stats declined noticeably after the early-October bye week, as Denver rode some mostly-stifling work in the first four weeks to maintain decent overall rankings throughout the season. But anyone who saw the Woods defense picked apart by Carson Wentz and Tom Brady (who had almost annually struggled to solve the Phillips riddle) realized it wasn't business as usual, and the old "No Fly Zone" secondary began to disband with LY's departure of S T.J. Ward before CB Aqib Talib's offseason move to the Rams (and reuniting with Phillips) officially marked the end of that era. Bradley Roby, a former first-round pick in 2014 and utilized as the nickel-back since, will slide into Talib's role, but unless offseason pickup Tramaine Brock plays better than he did LY in Minnesota, Denver's old three-deep quality CB formula won't work (Chris Harris remaining an anchor across from Roby). The real hope for the "D" is that first-round pick DE/OLB Bradley Chubb from NC State can adapt seamlessly to an edge role (either at LB or DE) in Woods' 3-4 and bookend All-Pro Von Miller better than another recent draft bust, Shane Ray. Another of what might be a promising rookie crop, Iowa's Josey Jewell, looks like he will part of Woods' rotations at ILB. The line is still robust with vet wild man Domata Peko a nice anchor at NT, and Denver did improve rush "D" numbers (up to 5th) a year ago. But the platoon missed the all-knowing Phillips, as his protégé Woods did not sequence the scheming as effectively.


There's one other important issue looming over the horizon in Denver as certain heirs of owner Pat Bowlen (incapacitated by Alzheimer's) seem to be engaging in a tug-of-war for eventual control of the franchise. In the meantime, decisions are being made by a consortium including team prexy Joe Ellis and Elway, but already there are many Bronco fans badly missing the leadership and tenor long provided by "Mr. B" and worry about the franchise entering a floundering stage until the ownership situation is resolved. Would a sound-of-mind Mr. B have hit the eject button more quickly on the potentially-overmatched Joseph? Would he have green-lighted Elway to hire Joseph in the first place? And are any of Bowlen's heirs (seven children over two marriages) up to the task, or would the football operation be better served if the franchise sold for what would likely to be a record amount? (Though split seven or so ways, not sure the heirs are willing to go that route). Stay tuned for further developments.


On the field, Joseph gets one more chance to prove his many critics wrong this fall, and if Keenum stabilizes the offense and Joe Woods has learned a few lessons from his first year as d.c., a bounce-back is not out of the question. But Elway risks mutiny in Broncos Country if things don't demonstrably improve from a year ago.


Spread-wise, the breakdown under the watch of Joseph was also reflected vs. the number, where Denver was an awful 4-11-1 last season. The Broncos have hardly been road warriors lately, either, dropping 9 of their last 10 SU and vs. the line away from Denver dating to the last days of the preceding Kubiak regime (1-7 last season for Joseph).



Back-to-the-future scenarios in the NFL are something of a mixed bag. While some have worked in the past, most famously Dick Vermeil steering the Rams to the Super Bowl, many of them haven't. Those old enough to recall Bud Wilkinson returning after a 15-year coaching hiatus to steward the Cardinals in the late '70s know the other side of this equation. Somewhere in the middle was the return of Joe Gibbs to the Redskins, who managed one playoff appearance in four years before Gibbs wisely decide to concentrate more on his NASCAR operation. Even Vermeil's success with the Rams didn't come overnight, as little progress was evident the first two years. So within that hardly-encouraging backdrop resurfaces Jon Gruden with the Oakland Raiders (2017 SUR 6-10; PSR 5-9-2; O/U 5-11) after the past nine seasons working in the ESPN Monday Night Football booth. We'll say this: Gruden must have really wanted a return as he gave up one of the best and cushiest gigs in all of network TV. Such is Gruden's persona and appeal that he could likely land back in the broadcast booth sometime in the future whenever he wishes. Meanwhile his return to an organization he took to the brink of the Super Bowl before moving to Tampa Bay (and winning one of those with the Bucs in 2002) has caused Raider Nation to treat him as a returning, conquering hero, and something of a feather in the cap (for the moment, at least) of owner Mark Davis, looking for perhaps some way to come out of the shadow of his more-famous papa Al. The change theme even carried over to the radio booth, where longtime play-by-play man Greg Papa, a favorite of Al but apparently not Mark Davis, has been moved out in favor of none other than 79-year-old Brent Musburger.


Gruden supporters (and there are many) say that his return is less fraught with uncertainties than someone like Wilkinson (who ran for the US Senate and worked in GOP circles along with his gig as a college analyst on ABC before being hired by Bill Bidwill in 1978), as Gruden has stayed connected to the game from his extensive film work and varieties of roles with ESPN that kept him in contact with players and coaches. But it has been a full decade since Gruden last coached, and Raiders fans might need reminding that Gruden was actually dismissed by the Bucs after the 2008 season.


Gruden's first challenge is to fix an offense that regressed from the playoff season of 2016, one that ended prematurely with a whimper in the Wild Card round vs. Brock Osweiler and Houston following a late-season leg injury suffered by QB Derek Carr. Post-injury, the numbers for Carr were not as good a year ago (down to 22 TDP in 2017 after tossing a combined 60 scores in 2015-16), so to help things, Gruden and GM Reggie McKenzie (who, unlike previous HC Jack Del Rio, was spared after last season, but enters a fork-in-the-road fall) looked for some supporting-cast upgrades. The various distractions associated with WR Michael Crabtree are now Baltimore's problem, while McKenzie moved in the offseason for WRs Jordy Nelson (ex-Packers) and Martavis Bryant (ex-Steelers) to complement holdover Amari Coooper, as well as adding ex-Bucs RB Doug Martin as a possible change-of-pace to Marshawn Lynch (who remains in the fold). A preseason sleeper has been Texas FA rookie Chris Warren, who has run with good power in August and threatens to supplant Martin in the RB queue. The Raiders like to think their OL is one of the league's nastiest, but Oakland ranked only 25h (97 ypg) running the ball a year ago, and McKenzie spent his first-round draft pick on UCLA OT Kolton Miller. The Sebastian Janikowski era also ended at PK a year ago, though Giorgio Tavecchio was so unconvincing as a replacement that he was waived in favor of ex-Bengal Mike Nugent in August.


Much of the offseason/preseason buzz, however, has been focused on the defense, more specifically the contract status of Pro Bowl DE Khalil Mack, whose holdout has lingered into late August. While most outsiders believe Davis at some point is going to have to relent and pay Mack, there's no guarantee Davis does so, and the possibility remains that the Raiders might even deal Mack and his 36.5 sacks over the past three years, perhaps after the season begins. Thus what looked to be a mere offseason nuisance has blossomed into a full-blown distraction on the eve of the regular season. Even with Mack in tow, Oakland could use some upgrades in the pass-rush department after ranking just 24th in sacks a year ago (though that was an improvement from the bottom ranking of 2016). Without Mack, this becomes a crying weakness for the stop unit, and Bruce Irvin's move from OLB to DE might be one way to alleviate the problem. Draftees P.J. Hall (DT from Sam Houston; 2nd round), Arden Key (DE from LSU; 3rd round), and Maurice Hurst (DE from Michigan; 5th round) might provide other options up front for vet d.c. Paul Guenther. McKenzie also re-tooled the LB spots via free agency by adding MLB Derrick Johnson from the Chiefs and OLB Tamir Whitehead from the Lions. That wasn't the only area of offseason adjusting, as the secondary didn't escape unscathed when McKenzie got rid of oft-burned CBs David Amerson and Sean Smith, with Indy CB Rashaan Melvin another of the many free-agent additions. The Raider CBs have recorded just one pick over the last 18 games, a stat that needs to improve. But it's been a long time since the "D" was an Oakland strength.


One more thing...the pending move to Las Vegas in 2020. While that has yet to seem much of a distraction (indeed, Gruden won't talk about it, directing all Vegas-related questions to owner Davis), the closer to move date it could become one. More than likely that comes next season, as the Oakland fan base isn't even talking about it much now. Something tells us that changes next year, when the atmosphere at the Coliseum possibly turns acrimonoius. We haven't reached that point yet, but not far down the road this all could turn into a much-bigger talking point.


In the meantime, Gruden's reappearance looms as one of the more-intriguing storylines of the season, but we suspect there are some underlying roster issues that caused the demise of the Del Rio regime just when it looked ready to reach orbit, and that the brief re-emergence in 2016 might instead have been a false alarm. The roster still looks to have plenty of holes and question marks, and nothing looked smooth in the preseason, especially on offense, though Carr has played very little. Appearing somewhere between sloppy and disorganized (especially on offense) in August is not necessarily a good sign for the fall. We suspect Gruden is going to need at least a year to get this thing sorted out...if he can do it at all.


Spread-wise, last season was a big disappointment, too, as Oakland burned investors by covering only 5 times. After covering 7 of 10 as chalk in 2016, that also dropped to 2 of 7 last season, which might have been worth a trademark "Holy Toledo!" (exasperated version) from iconic, long-ago play-by-play man Bill King.
Return To Home Page