7940...
TGS SPECIAL REPORT
...FOR THE RECORD ON OPENING WEEK

by Bruce Marshall, Goldsheet.com Editor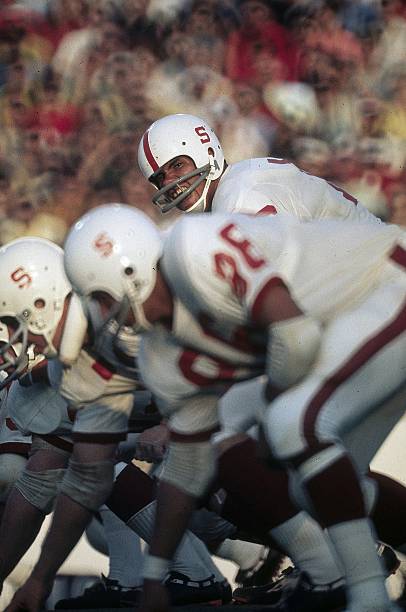 "Week Zero"

notwithstanding, another college football season kicks off later this week. As always, we are well-prepared for the new campaign (for some good reading, check out our homepage for all of our college conference previews as well as our annual Preseason Top 40). Yet, as is often the case at this time of the year, we at TGS are drawn into our vast memory banks that are swelled with 61 seasons worth of publishing recollections. Like birthdays, opening weeks tend to stick out to us a bit more, and we are often drawn back to 1970 and the most-electric day/night of college gridiron lid-lifters that we can remember.


There was a bit of an extra buzz about opening weekend 1970 as it marked the first year of expanded college football schedules to 11 games. There had been a frenzy of activity in January of that year when the NCAA approved the extra game; college fans were thrilled at the unexpected extra week of forthcoming action that would include several newly-scheduled, tasty intersectionals. While a handful of schools, mostly in the Big Ten, remained holdouts (indeed, Ohio State had not progressed beyond

nine-game slates

to that point), plenty of powerhouses moved quickly to schedule money-making showdowns. For college fans, it was as if Christmas arrived more than three months early.



FOOTBALL IS HERE...TGS 2018 EARLY DEALS NOW! ...

Click here to order


In retrospect, one game from that opening weekend 1970 has subsequently generated more conversation, much of it beginning three decades-plus hence, than any other opener. As the years have passed, the Southern Cal-Alabama clash that September 12 (reviewed on these pages before) has grown in mythology far beyond the normal bounds of sporting events, even if it took almost 30 years before the national media began to give that landmark game extraordinary attention. But, with so much time having passed between the actual event and the eventual analysis of proceedings, the narrative of SC-Bama 1970 became a bit distorted...something we at TGS, having been already publishing for over a decade at the time of that game from 48 years ago, are in a unique position to clarify.


The fact is there was a game just as or more significant taking place that very September 12 that has been mostly overlooked by modern-day historians. If our longevity in this business allows us some liberties, it's to occasionally set the record straight, especially for those not around in 1970 to remember. We'll get to this other landmark game in a moment.


Indeed, the significance of SC-Bama in 1970 has never been lost upon us, as the Trojans were the first fully-integrated team to face the Crimson Tide in Alabama. It was not, however, the first integrated team ever to face Bama, which had been facing such foes in bowl games for much of the previous decade. In the 1968 and '69 bowl seasons, the Tide had been whipped by a pair of integrated Big 8 entries (Missouri in the 1968 Gator and Colorado in the 1969 Liberty) after twice spanking another integrated Big 8 side, Nebraska, in bowls after the 1965 & '66 seasons. A handful of black players had also already faced the Tide in Birmingham or Tuscaloosa, including Miami-Fla. and its first black player, WR Ray Bellamy, in 1969, and a couple of Tennessee players that same year (more on them in a moment). Trojans-Tide, however, was noteworthy; the iconic Jim Murray, in his LA Times column the next morning, put the significance of SC-Bama '70 in historic context. It's a worthwhile read if you can find it.


For all of its landmark implications, however, SC-Bama 1970 did not receive an inordinate amount of national coverage, which has the modern-day historians a bit stupefied. Football-wise, the Tide, Bear Bryant and all, happened to be in a relative downturn at that stage, barely able to become bowl eligible the previous 1969 season and finishing 6-5 after the Liberty Bowl loss to Colorado. Trojans-Tide also turned out to be not much of a contest, with John McKay's SC, off a 10-0-1 Rose Bowl-winning season the year before, and ranked third entering '70, throttling Bama, 42-21, running for a whopping 485 yards in the process, with soph FB Sam Cunningham making quite an SC debut, gaining 135 YR and scoring a pair of TDs. It might disappoint some modern sorts that the atmosphere in Birmingham was not hostile; in fact it was downright docile that night at Legion Field. Bama would then limp to an undistinguished 6-5-1, while the Trojans would eventually disappoint and finish only 6-4-1. That neither team was particularly remarkable in 1970 probably had something to do with the landmark game losing much of its immediate luster until subsequent generations would recall its significance.


(The upcoming book, "McKay vs. Prothro 1965-70: When the USC-UCLA Rivalry Raged," due on bookshelves

next

September, will devote space to the 1970 Trojans and go a bit more in-depth on that SC-Bama match, including some interesting and ironic tidbits that might have the modern historians scratching their collective heads.)
The winds of change, however, were already blowing. By the time SC trekked to Legion Field in 1970, Bama had already broken its color line when Bryant signed RB Wilbur Jackson, who was a freshman (then ineligible for varsity play) in 1970. As AD, Bryant had already helped break the Tide color line on the hoops side by allowing HC C.M. Newton to sign future star Wendell Hudson in 1969. Moreover, Bama backers were more jarred the previous year against a Tennessee side that had not only broken its color barrier in 1968 with HB Lester McClain, but, in 1969 would elect the first black captain of an SEC team, LB Jackie Walker...the same Walker who danced into the Legion Field end zone with an errant pitch by Tide QB Neb Hayden on October 18 in a 41-14 Vol romp that shook the support base to its core.


But if gridiron historians want to be factual and point out a game played the very same day with every bit the social significance of SC-Bama, then the Stanford-Arkansas classic at Little Rock has to be mentioned. It might surprise the ESPN generation that during those years, the Razorbacks were much more of a national contender than the Crimson Tide. And the Southwest Conference to which Arkansas belonged in those days was every bit as slow to break the color line as the SEC and ACC of that era.


It is also worth noting that Stanford's 1970 squad was as integrated as SC's, the types of teams that almost never trekked to SEC or SWC locales. Moreover, Stanford-Arkansas marked the game in which the Razorbacks finally broke their own color barrier with soph HB Jon Richardson, who made an immediate impact in the opener. The modern historians might not realize that significance, either; right there in Little Rock, where Gov. Orval Faubus had once made the city ground zero for the landmark Brown vs. Board of Education decision by ordering Arkansas National guard troops to block entrance of black students to Little Rock Central High in 1957. (Indeed, Faubus, looking to re-enter politics, had lost a Democratic run-off for Governor to Dale Bumpers the same week as Stanford-Arkansas.) But it was the debut of Richardson for the Hogs, perhaps more than SC's trailblazing excursion to Birmingham, that would be the main national sports talking point of that opening college weekend.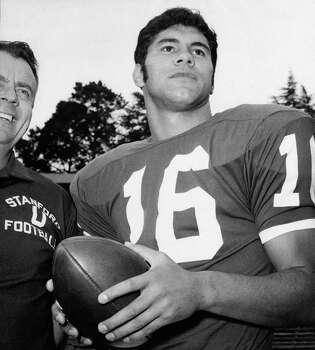 Stanford-Arkansas was also a more-significant gridiron battle than SC-Bama, as anticipation for the Indians (Stanford's nickname at the time)-Razorbacks matchup was higher than that for the Trojans-Tide. ABC, recognizing as much, chose Stanford-Arkansas as its featured national TV game. Though not without a concession to the times; reluctant to butt heads with the Miss America pageant (in those days a TV ratings bonanza) that night on NBC, ABC's Roone Arledge wisely decided on a later-afternoon kickoff in Little Rock so the nation's TV watchers could get their college football fix before switching to Bert Parks and the festivities in Atlantic City.


The football storyline was tasty enough in Little Rock. The Razorbacks were anxious to make another national title run after falling 15-14 in the previous December's "Game of the Century" vs. Texas, and with QB Bill Montgomery and much of his supporting cast returning for HC Frank Broyles, the Hogs were rated No. 4 in preseason polls. Meanwhile, Stanford, ranked 10th in preseason, featured a legit Heisman contender in QB Jim Plunkett, and was regarded as a definite team to watch in the Pac-8 after being literally three plays from a 10-0 mark in the preceding '69 (when maybe John Ralston's best team instead finished a grating 7-2-1).


The game did not start off well for Arkansas. The strong-armed Plunkett, fearlessly drilling the ball downfield, was using all of his weapons early, including heretofore obscure jr. RB Hillary Shockley, en route to a 3-TD afternoon/early evening. Shockley, doing to the Porkers what Sam Cunningham did to the Tide later that night, zipped to an early 43-yard TD run and scored again before the 1st Q ended. And when WR Eric Cross took back a punt 61 yards for a TD midway in the 2nd Q, Stanford was staked to what looked like an insurmountable 27-0 lead! The Hogs, however, would slowly crawl back into the game. Montgomery, pulled briefly for soph Joe Ferguson (who would go on to Razorback glories later in his career), scored on a 3-yard run, and Plunkett, suddenly having troubling gripping the ball as the humid air became more dense, tossed a couple of picks. The explosive Richardson would then become the first black player to score a TD for Arkansas, when hauling in a 37-yard strike from Montgomery to cut the gap to 27-14 at the break.


Stanford was still moving smartly into the 3rd Q, as Plunkett wisely continued to mix runs by Shockley and swing passes to RB Jackie Brown to navigate 86 yards before another Shockley TD pushed the lead to 34-14. Yet Montgomery had cracked the Indians' code; the Razorback "O" was now in gear, and a TD pass to WR Chuck Dicus before the end of the 3rd Q and another TD by RB Bill Burnett midway in the 4th Q cut the Stanford lead to 34-28. With a startled national TV audience gripped by the unfolding drama and possible 4-TD comeback by Arkansas, Montgomery fired up another drive late in the 4th Q that advanced all of the way to the Indians' 5. Here, however, Ralston's defense finally made a stand. On a 4th-and-2 from the 5, Montgomery was stopped by LB Mike Simone on a rollout with 22 seconds to play. After having blown double-digit leads the previous year vs. Purdue, USC, and UCLA, Stanford had finally held on to win a close one. "Our defense finally came of age," said Ralston, whose team would go on to enjoy a glorious campaign capped by Plunkett's Heisman and a Rose Bowl upset of Ohio State. As for Arkansas, it wouldn't lose again until the finale vs. Texas, but somehow got left out of the bowl mix despite a 9-2 record.


So, if you want to recall an opener that has plenty of social significance and was a thriller to boot, make sure to include 1970 Stanford-Arkansas on the list. We'll settle for a couple of similar white-knucklers in this upcoming weekend!
Return To Home Page