7935...
TGS 2018 NFL PREVIEW
...A LOOK AT THE NFC SOUTH

by P. Carl Giordano, Managing Editor

Following is our TGS preview of the NFC South. As always, teams are presented in order of predicted finish, with 2017 straight--up, spread, and "Over/Under" (O/U) records included.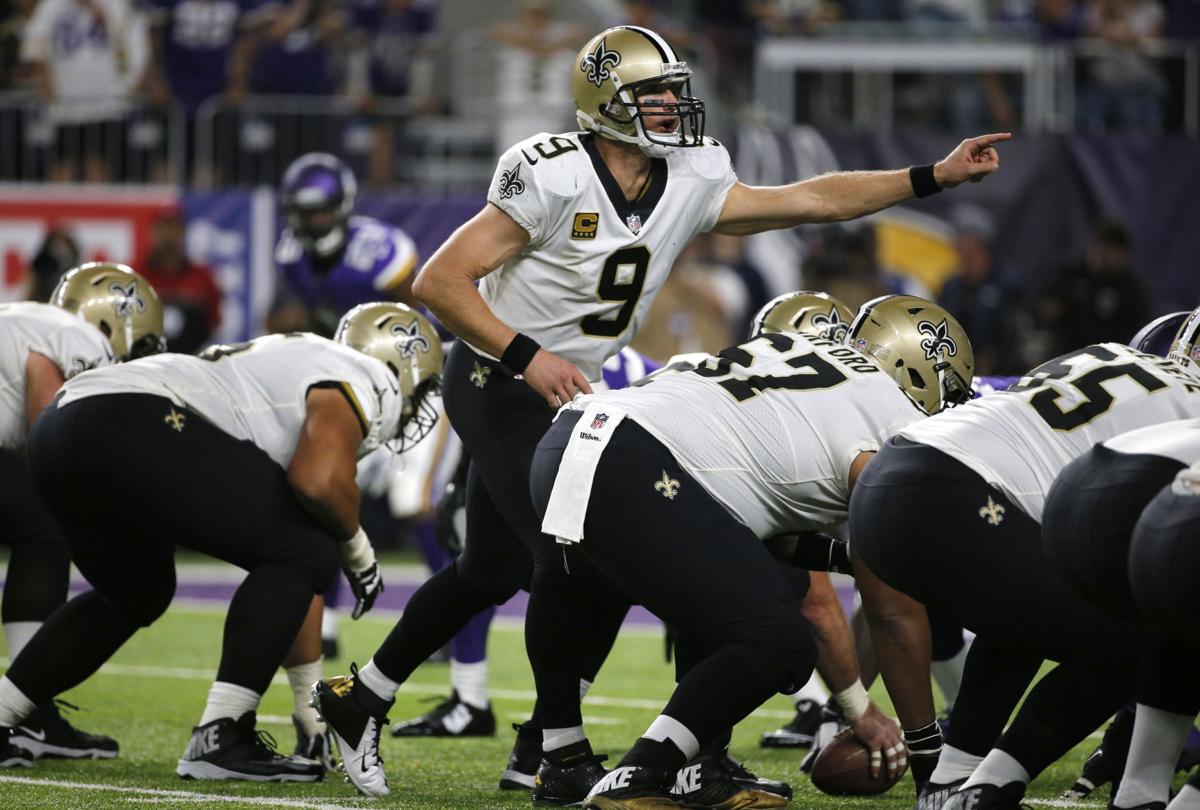 New Orleans (SUR: 12-6 PSR: 9-9 O-U 11-7)...The NFC South has been a virtual game of musical chairs over the last nine seasons, with New Orleans, Atlanta and Carolina winning the division three times each. Last season it was Drew Brees and the Saints' turn. New Orleans will be hungry again this year, after its playoff exit on a last-second miracle play at Minnesota prevented the Saints from a spot in the NFC Championship against Philadelphia.



FOOTBALL COMING SOON...TGS 2018 EARLY DEALS NOW! ...

Click here to order


Brees appears to have made a deal with the devil, as, entering his 18th season, he's coming off yet another productive performance. Although his total passing yardage was the lowest since he came to the team from San Diego in 2006, his interceptions were the lowest since 2004 and his completion percentage was the highest in his career. The passing yards were down because his attempts were down. His attempts were down because of the contributions of a couple of rookies, RB Alvin Kamara (6.1 ypc, 8 TDs; NFL Rookie-of-the-Year) and tackle Ryan Ramczyk from Wisconsin. Ramczyk had something to do with the Saints averaging 129 ypg rushing, the best ground production for the team since N.O. RB Mark Ingram II's rookie season of 2011. Ingram, who will sit out the first four games due to a league-imposed suspension, gained a career-high 1124 rushing yards and had 12 TDs on the ground (as many as he'd scored in the previous two seasons combined). Brees didn't seem to miss wideout Brandin Cooks, who left in free agency after averaging 81 catches and 1156 yards in 2015 and 2016. WR Michael Thomas, a big target at 6-3, blossomed into a real weapon, catching 119 passes for 1451 yards in his 18 2017 games including the postseason. Kamara was a weapon in the passing game as well, making 81 receptions for 826 yards, while WR Ted Ginn Jr.'s numbers (53 recs., 787 yds.) would've edged up to career-highs if he hadn't missed a game. Ginn was very efficient, as well, as his 70 targets were a three-year low.


Defensive coordinator Dennis Allen has improved the platoon since taking over for Rob Ryan in mid-November of 2015. The young Saint stop unit held foes to 20.4 ppg last season, good enough to rank 10th in the league. The Saints have put together some excellent defensive drafts the last few years, Adding starting CB Marshon Lattimore, S Marcus Williams and LB Alex Anzalone last season after hitting the jackpot with S Vonn Bell (team-high 78 stops LY) and DE/DT Sheldon Rankins in the 2016 draft. Vet DE Cameron Jordan is coming off career-highs with 13 sacks and 48 primary tackles. The defense had 42 total sacks, the most since 2013. The front seven could get even more push up front if 6-6 UTSA DE Marcus Davenport (14th pick in the draft) pans out. That pressure also allowed the Saints to hold foes below 60% completions for the first time since 2011. The secondary also added veteran Kurt Coleman, who was released before the draft by Carolina. Coleman had 258 tackles and 11 ints. in three seasons with the Panthers.

The NFC South is perhaps the most competitive and talented division in the NFL, but favor the Saints, who hold some slight edges. HC Sean Payton has consistently put together offenses that rank in the top five in the league, but the problem has been stopping the other side. Let's take a lead with the young, talented defense that's being put together by Allen and the Saint scouting department. No reason they can't continue to shave points and yards off foes production.

The Saints are 8-2 against the pointspread on grass the last two seasons, and, although it might not come up at all this season, 5-1 the last three seasons as a home dog.
Atlanta (SUR: 11-7 PSR: 6-10 O-U: 5-13)...Atlanta refused to fall victim to the "Super Bowl Loser" jinx last season, winning three of its last four games to snag a playoff spot the season after losing to New England in SB LI in what was an historic collapse. The Falcons then took out the NFC West champion Rams and nearly beat eventual SB LII victor Philadelphia in the NFC Division Round. Now the question is, can QB Matt Ryan and HC Dan Quinn take another step forward and leapfrog Carolina and New Orleans for the NFC South title in 2018?


The Falcon offense scored just 22 ppg last year. Not that great when all the stats are considered. Ryan topped the 4000-yard passing mark for the seventh straight season. The WR tandem of Julio Jones and Mohamed Sanu combined for 155 catches, while the RB combination of Devonta Freeman and Tevin Coleman ran for 1493 yards. Those stats were good enough for eighth in total offense, but Atlanta was a bit frustrated in the end zone and finished 14th in scoring. The team had trouble finishing drives, ranking 23rd in red zone TD conversion, settling for 39 FG attempts by Matt Bryant (7th-most in the league).


Atlanta's attack should put more points on the board this season, as offensive coordinator Steve Sarkisian and QB Ryan have now had a season to get on the same page after an adjustment phase following Sarkisian predecessor Kyle Shanhana's move to the 49ers. The only significant free agent loss, fifth-leading receiver Taylor Gabriel, should be more than adequately replaced by prized Alabama rookie Calvin Ridley. Third-year TE Austin Hooper appears ready to step up and follow in the footsteps of other successful Stanford TEs, and his progress made incumbent Levine Toilolo, who left in free agency, expendable. Freeman and Coleman combined for 4.2 ypc and 12 rushing TDs last year, which was a half-yard per carry less and seven fewer rushing TDs than 2016, so their contributions would figure to take a bit of an uptick. Freeman suffered a knee sprain late last season, limiting him to 14 games, but the team is anticipating his return to full strength by Week One.


The "D" tied for 10th in points allowed and 9th in total defense last season, it's first under d.c. Marquand Manuel. Manuel took over for Richard Smith, who was fired after the defensive collapse against New England in Super Bowl LI. Atlanta improved to 8th in scoring defense in the NFL, allowing just 19.7 ppg. That unit did what few teams were able to manage in 2017, throwing a blanket on the league-leading L.A. Ram attack. The Falcons held the Rams to just 13 points in the divisional round of the playoffs and then nearly upsetting the eventual Super Bowl Champion Philadelphia Eagles. But for a last-minute Philly goal line stand, it would've been the Falcons up against Minnesota in the NFC Championship. Third-year defenders LB Deion Jones (138 tackles; tied for fourth-most in the NFL in '17), S Keanu Neal (2nd on the team with 113 Ts), and LB De'Vondre Campbell are making the Falcon scouting department look like geniuses after their 2016 draft was criticized at the time. On the down side for 2018, the Falcons lost a couple of key performers from last season's two deep. The team's top pass rusher, Adrian Clayborn (9½ sacks) and DT Dontari Poe (16 starts, 39 Ts, 2½ sacks) left via free agency.


The Falcons will undoubtedly be in the mix at the top of the NFC South, a division that contributed three playoff teams last season. However, still give New Orleans a slight edge at the top.


The underdog is 45-24 vs. the points in Atlanta's games over the past five seasons



Carolina (SUR: 11-6 PSR: 10-7 O-U: 10-7)...Carolina, which won this division three straight seasons from 2013 to 2015,

is

coming off a bounceback season. The Panthers made a return to the playoffs in 2017 after tumbling to last in the South in 2016. A pair of losses to New Orleans prevented the Panthers from winning the division before those same Saints won again in the Wild Card Round. There is reason to believe that the Panthers will take a step back this season, as seven starters left in free agency and the team had the most injuries of any NFC South team midway through the preseason. The coaching staff underwent some changes, too, most notably with the team firing offensive coordinator Mike Shula and hiring Norv Turner to replace him. Former assistant Eric Washington was tabbed to coordinate the defense after Steve Wilks took the Arizona Cardinal job. Those aren't the only changes this season with the Panthers.


The Panther attack was average at best in 2017, gaining 323.7 ypg (19th in total offense) and scoring 22.7 ppg (12th). The offense ran the ball well (4th at 131 ypg), thanks to the mobility of QB Cam Newton, who led the team with 791 YR, RB Jonathan Stewart (731 YR), and a big, physical offensive line. On the other hand, Newton produced the second fewest passing yards in his seven-year career, while throwing the most interceptions since he was a rookie in 2011. Newton's QBR marks the last two seasons have been the lowest of his NFL tenure as well. Granted, the fact 6-5 WR Kelvin Benjamin was dealt to Buffalo didn't help the production, but not sure the receiving corps will be improved. In a plan to replace Benjamin, the Panthers made Maryland's D.J. Moore the first wideout taken in the draft. Moore didn't instill confidence with his 3:00 AM arrest during preseason camp, and his availability might be limited after his October court date. Moore missed the first two exhibition games, both played before the incident. Newton's favorite target last season was then-rookie RB Christian McCaffrey, who caught 86 passes in 17 games, including 101 yards receiving in the playoff loss at New Orleans. McCaffrey also rushed for 451 yds., scoring seven TDs. Still, not sure how many more touches McCaffrey can get (he had 117 rushing attempts and was targeted 113 times). Top Panther WR Devin Funchess will be facing a ton of double coverage, as he did after Benjamin went to Buffalo around midseason. Funchess only had 17 catches in the team's last six games and scored just three TDs in the team's last 10.


Offensive line problems emerged for Carolina in the offseason and preseason. Starting G Andrew Norwell signed with Jacksonville. The team lost RT Daryl Williams for at least the first half of the season with a knee injury, and was forced to sit LT Matt Kalil after he injured his knee and underwent arthroscopic surgery during preseason. Norwell was first-team all-Pro last season, Williams was second team, and Kalil is a former Pro Bowler and made the All-Rookie Team in 2012. Also a pair of top backups were working through injuries in August and iffy to start the year.


Carolina's "D" ranked seventh in total defense and 11th in points allowed last season (20.4), a sharp improvement over 2016 when the Panthers were 21st in total "D" and gave up 25 ppg. MLB Luke Kuechly has averaged 136 tackles a season in his first six years, but he's missed 10 regular season games the last three years after never missing an outing in his first three. Concussions might become and issue for him. CB James Bradberry and Kevon Seymour enter their third season, but the pass defense hasn't been great in their first two (249 ypg allowed, 64% completions). There will be a rebuild of sorts on this side of the ball, as starting CB Daryl Worley went to Oakland, S Kurt Coleman moved to NFC South rival New Orleans and DT Star Lotulelei is now with Buffalo. The team also parted ways with DE Charles Johnson, who was suspended by the NFL late last season for violating NFL PED rules, then cut by the Panthers a few months later. Johnson started 110 games for Carolina in the last eight years. The presence of 17-year vet DE Julius Peppers and DE Mario Addison insure a decent pass rush for the Panthers, as both turned in 11 sacks last season.


The outlook isn't rosy for the Panthers in 2018, especially if Newton continues to see his production eroded and d.c. Eric Washington can't mix in the new starters. When coupled with the fact that the offensive line, a clear team strength the past few seasons, might also be missing three starters at least for the beginning of the season, Ron Rivera enters the campaign on a slippery slope.


The Panthers are 20-8 vs. he points as a road dog the last six seasons, but just 5-13-1 as a road favorite over that period.



Tampa Bay (SUR: 5-11 PSR: 6-9-1 O-U: 8-8)...Tampa Bay hasn't had a winning record since 2010 and hasn't won a playoff game since Jon Gruden brought the team a Super Bowl Championship at the end of the 2002 campaign. So picking it to finish fourth in the NFC South isn't exactly a shocker. The offseason wasn't kind to the Bucs, as QB Jameis Winston was suspended for this season's first three games for violating the league personal conduct policy. Oh, boy! Longtime journeyman Ryan Fitzpatrick is the interim QB, and, all due respect, it looks line an 0-3 start for the Bucs with the Saints, Eagles and Steelers out of the blocks in September. Last season the team broke out 2-1 before a five-game losing streak landed them 2-6 after Week Eight. The passing game benefits from an array of good receivers. WRs Mike Evans (71 recs.), DeSean Jackson (50) and Adam Humphries (61) and TE Cameron Brate (48 catches, team-high 6 TDs) are a strong group and Winston posted his best marks in completing 64% of his passes and posting a 92.2 passer rating, but he was also responsible for 11 interceptions and fumbled 10 times. His 19 TD passes were also a sharp drop from 2016's total of 28.


Head coach Dirk Koetter and his staff let RB Doug Martin move on, installing Peyton Barber as the starter when Martin's injuries caught up with him the last two seasons. Barber led the team with 423 yds., but just 3.9 ypc last season, and caught 16 passes. This is a major area of concern, because Barber is no Walter Payton. That's probably why Koetter spend the team's second pick in the draft on Southern California RB Ronald Jones. Barber has the edge on the starting job if the preseason is any indication.


Tampa Bay's defense was the worst in the league, giving up 6,049 yards (378 ypg), and the "D" has gone from bad to worse in the first two seasons under d.c. Mike Smith, the former head coach of the Atlanta Falcons. Smith's unit loses several key contributors for 2018, including DT Chris Baker and CB Robert McClain. The obvious problem last season was the toughness up front. T.B. managed just 22 sacks (fewest in the NFL), gave up 4.3 ypc and 17 rushing TDs. The Bucs tried to shore the DL up by trading for DE Jason Pierre-Paul, signing Philadelphia free agents DT Beau Allen and DE Vinny Curry and Chicago FA DE Mitch Unrein, as well as using their top draft choice to take 347-lb. run stuffing DT Vita Vea from Washington as the No. 12 pick. However, in the middle of the preseason, Vea was in a walking boot and Unrein had missed weeks of work with an injury. Smith believes the root of the team's defensive problems were an inability to stop the run, perhaps an out-of-touch view in today's NFL, which has turned into something akin to summer 7-on-7 passing league in terms of offensive emphasis. The Bucs had placed five defenders on the injured reserve by mid-August and were searching the waiver wires for bodies. So much for Plan A.


Koetter and Smith are on their last legs with the Bucs unless there's a turnaround in Tampa's fortunes. Considering the talent on the other NFC South teams, it's hard to see the Bucs getting back to .500, and anything less likely spells doom for the coaching staff and possibly G.M. Jason Licht, who needs to connect the dots after showing few signs since taking the job in 2014.


Tampa Bay is just 3-12 as a favorite over the past four seasons but was a perfect 4-0 as a home dog last year.
Return To Home Page