7927...
TGS 2018 NFL PREVIEW
...A LOOK AT THE NFC NORTH

by P. Carl Giordano, Managing Editor

We continue our TGS NFL previews by taking a look at the NFC North. As always, teams are presented in order of predicted finish, with 2017 straight-up, spread, and "Over/Under" (O/U) records listed.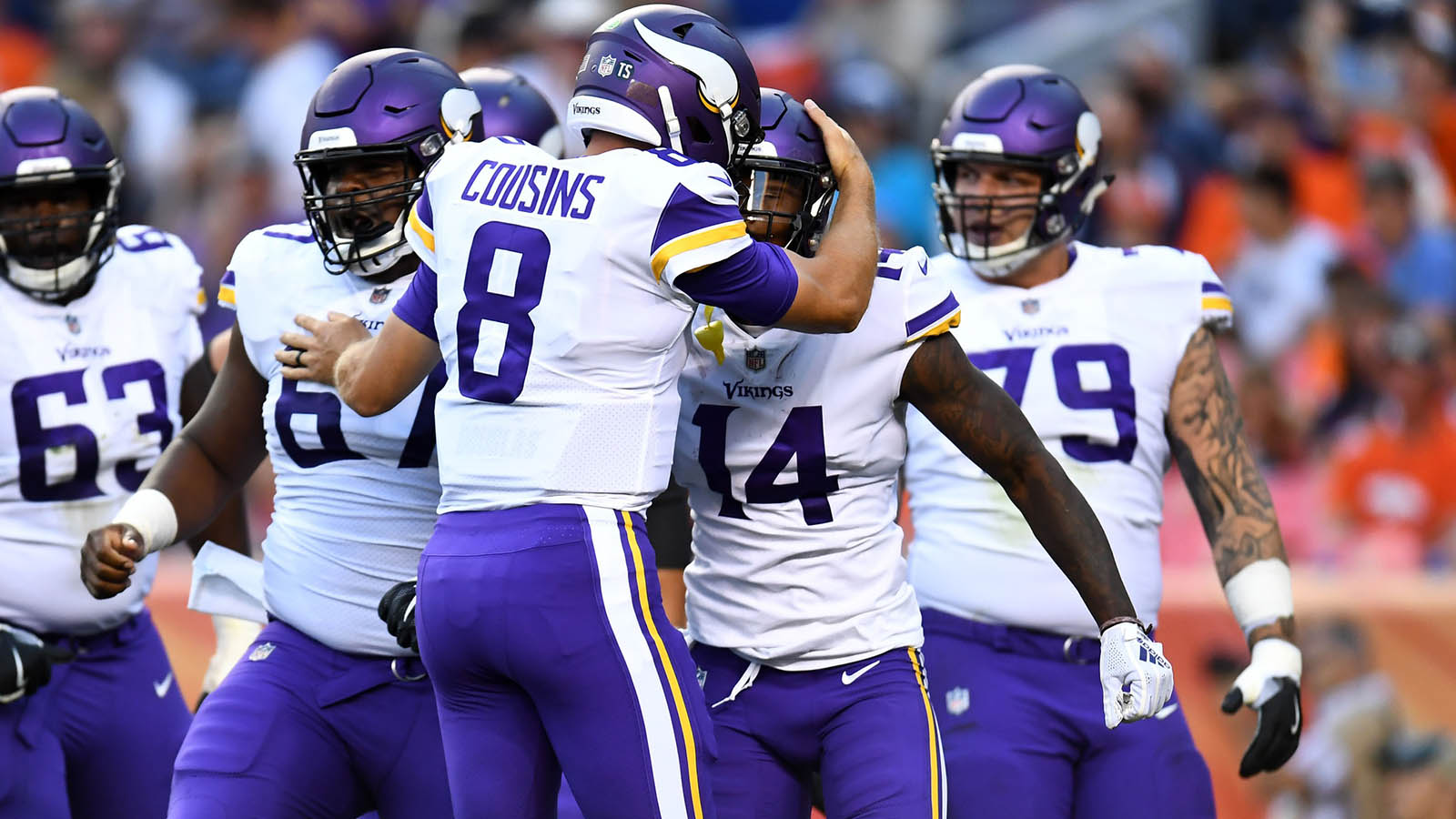 Minnesota (SUR: 14-4 PSR: 12-6 O-U: 9-9) might have won the free agent musical chairs game at QB with the signing of Kirk Cousins to replace Case Keenum. Cousins is a career 65.5% passer who has tossed 81 TDs vs. 36 interceptions in the last three seasons with Washington. Keenum's career stats are not as sharp as Cousins' across the board (completion percentage, QBR, TD-int. ratio and yards per attempt). Viking head coach Mike Zimmer has been around the block, and he and offensive coordinator John DeFilippo made a measured decision in going after Cousins. DeFilippo coached Philadelphia QBs Carson Wentz and Nick Foles in 2016 and 2017, winning the Super Bowl with backup Foles at the controls. DeFilippo observed Cousins work over NFC East defenses the last few seasons, and clearly saw something he liked.



FOOTBALL COMING SOON...TGS 2018 EARLY DEALS NOW! ...

Click here to order


The offense boasts a trio of the most productive receivers in the NFL. WRs Adam Thielen (100 recs., 1378 yds. LY), Division Round-hero Stefon Diggs (152 catches L2Ys) and TE Kyle Rudolph (140 receptions, 15 TDs L2Ys) form a very dangerous group. Additionally, news from camp is that RB Dalvin Cook is ready to go after a knee injury cut him down in Week Three a year ago against Detroit. Cook had 354 YR, a 4.8 ypc mark plus 11 catches before his rookie season reached a premature end. With the entire offensive line returning, likely with a chip on its shoulder after getting no invites to the Pro Bowl a year go, the attack side should do much better than its 24 ppg scoring output and 11th finish in total offense of 2017. Diggs and Cook could have breakout seasons, Thielen is one of the most productive undrafted free agents of the last five years. RB Latavius Murray provided solid cover for Cook last season, leading the team with 910 YR and nine TDs, and free agent WR Kendall Wright was Chicago's best WR in 2017, leading the team with 614 yds. and 59 catches. The offense is on the uptick. After ranking 27th, 29th and 28th in total offense in 2014, 2015 and 2016, the Minny attack made a jump to 11th last year and should explode this fall.


The Viking defense returns virtually intact from 2017. That group led the NFL in total and scoring defense, placing five players on the Pro Bowl roster. George Edwards returns for his fifth year in charge of a stop unit that ranked 31st in the NFL in total defense when he took over from Alan Williams in 2014. Minny's "D" has improved each season under Edwards, steadily cutting a total of 112 yds. per game off its 2013 allowance of 398 to last year's NFL-best 276 ypg, which was a full 10 ypg better than second-place Jacksonville's defense.


The defensive unit's only free agent loss was seven-year vet DT Tom Johnson, who went to Seattle. Johnson ranked 11th on the Vikings in tackles (32) and fifth in sacks (2), but the addition of five-year vet DT Sheldon Richardson via free agency from Seattle will fill that hole. Richardson is a former NFL Defensive Rookie of the Year and Pro Bowler who could blossom in Minnesota's system.


The Vikings have to be the odds-on favorite to repeat as NFC North winners. Minny is healthier than last season, returns every key player except Keenum, who was more than adequately replaced through free agency by Cousins. Aaron Rodgers' Packers and Matt Stafford's Lions don't appear to be significantly improved, and we really don't buy into the media's love affair with the Bears. Minny wins the NFC North with room to spare!


The Vikings have been a go-with team to bet on for years, logging a 35-16 spread mark over the past three seasons. Minny is also an impressive 22-7 vs. the number at home since late 2014.



Green Bay (SUR: 7-9 PSR: 7-9 O-U: 11-5) appears to be in a state of decay. In 2017, the Packers missed the playoffs for the first time since 2008, due in part to the injury to 34-year-old QB Aaron Rodgers. Rodgers was 4-2 in the games he started and finished last season, but his QBR ratings in each of the last three years were worse than in any of the previous four seasons. Last season the Packer offensive line gave up 51 sacks, the most since 2012. Some might point to OL injuries as a major reason, but only right tackle Bryan Bulaga missed more than four games, and the OL was 4/5ths healthy in the second half of the season. The offense picked up former all-pro TE Jimmy Graham, but he didn't produce over the last three seasons in Seattle as he did in his first five seasons in New Orleans. Graham's addition is negated by the loss through free agency of Jordy Nelson, who was one of Rodgers' most reliable and productive receivers, catching 550 passes and scoring 69 TDs in his nine-year career as a Packer. The attack still has a pair of solid wideouts remaining in Davante Adams and Randall Cobb, who combined for 140 catches in 2017. Still, the Packers need WR Geronimo Allison (39 recs.) to step up to Nelson's level, and they must get more production out of the RB position. Sure, RB Jamaal Williams, a rookie out of BYU last season, ran for 556 yds (3.6 ypc) and caught 25 passes, but lack of a proper threat from that position forced the Packers to shift Ty Montgomery to RB over the last two seasons. Montgomery has been effective when healthy, but he missed half the games last season with injuries. On the one hand, it makes sense to put as many good receivers on the field as possible with Rodgers pulling the trigger, but that can create some problems. The offensive line was inconsistent, allowing Rodgers and Hundley to be constantly harassed by opposing pass rushers, breaking out only against weak New Orleans, Chicago and Tampa Bay run defenses for an average of 180 ypg on the ground , but being held below 100 YR in nine other games.


The Green Bay defense has ranked a mediocre 22nd in yards allowed in each of the last two seasons and was 23rd and 31st against the pass in 2016 and 2017. That performance forced the Pack to let veteran d.c. Dom Capers go. McCarthy and the team's new defensive coordinator, ex-Cleveland HC Mike Pettine, addressed some of the problems by signing free agent DE Muhammad Wilkerson from the Jets and CB Traymon Williams from Arizona who are immediately expected to slide into starting spots. The first two draftees were cornerbacks, Jaire Alexander from Louisville and Josh Jackson of Iowa, both of whom will be forced to play extensively. The defense lost LB Jake Ryan in camp with a torn ACL, an injury that will likely force third-round draftee Oren Burks into the lineup. Ryan was tied for second in tackles for Green Bay last season with 79. There's no certainty the Packer "D" will crank up its pass rush, which generated just 37 sacks last season, and the additions might be negated by Ryan's injury and the possible reliance on rookies in high-pressure situations.


The Pack will bounce back to a certain extent as long as Rodgers is healthy. He's still among the best in the business and has a solid set of receivers. The OL must provide better protection or the season could run downhill as it did last year when he went was knocked out. Still, an improvement of two or three more wins just might leapfrog Green Bay to the NFC North crown.


The Packers have been pointspread dynamite as Lambeau Field chalk in this decade. Green Bay is 18-9-1 vs. the points as a home favorite since October of 2014, including a 3-1 mark in last year's down season.
Detroit (SUR: 9-7 PSR: 8-7-1 O-U: 10-6) and new HC Matt Patricia hope to give the Ford Field fans more to cheer than what was provided during Jim Caldwell's four years in charge. The Lions were 36-30 SU under Caldwell, qualifying for the playoffs and losing Wild Card games twice in that span. Certainly the Detroit offense has several pieces in place, mainly QB Matt Stafford, who has thrown for at least 4250 yards in each of the last seven seasons, averaging 28 TDP in that run. The offense might have a bit more balance and, therefore, effectiveness in 2018. The addition of Auburn rookie RB Kerryon Johnson will provide an explosive alternative to vets Ameer Abdullah and Theo Riddick, who combined for 838 YR and 7 TDs last year, but gained just 3.3 ypc. Free agents were signed to reinforce the OL, and rookie G/C Frank Ragnow was taken on the first round and sleeper G Tyrell Crosby in the 5th to help up front. The OL yielded 47 sacks a year ago, tied for 25th in the league, but, to be fair, that unit was in a state of flux all season, with injuries forcing a constant juggling of lineups.


The Lions have fleet of inviting WR targets keyed by possession WR Golden Tate (92 recs., 1003 yds.) and the explosive Marvin Jones (61 catches, 1101 yds., 18.0 ypc, 9 TDs). Kenny Golladay, Riddick and WR T.J. Jones combined for 111 catches and 1320 yards. Productive TEs Eric Ebron and Darren Fells, who had 70 catches between them in 2018, have moved on. However, there are free agent replacement candidates, most notably Luke Willson, who averaged 18 catches a season (13 ypc) in five years with the Seattle Seahawks, and former Atlanta TE Levine Toilolo, who had 74 receptions and seven TDs in five years with the Falcons.


Patricia was the d.c. in New England for the last six years before taking the top spot in Motown earlier after last season. The Pats gave up a lot of yards, ranking 32nd in passing yards allowed, but were 5th in the league in points allowed at just 18.5 ppg. His experience will hopefully help turn around Detroit's 27th-ranked defensive unit of 2017. The Lions gave up 356 ypg, overall and were also 27th against the pass, due at least in part to a front seven that has had problems pressuring opposing passers for the last two season, averaging just 30.5 sacks in 2016-17. Free agency claimed the team's top tackler LB Tahir Whitehead (110 stops), former all-Pro DT Haloti Ngata, nickel back D.J. Hayden (42 Ts), and DT Akeem Spence (39 Ts, 16 games, 11 starts), and Detroit must be hopeful that it pushed the right buttons in the draft and in free agency to help fill the gaps.


Don't expect much more from the Lions than they've shown the last few seasons. Detroit has one playoff win since Hall of Fame LB Joe Schmidt got his second championship ring in 1957 in a 59-14 win over Cleveland and then-rookie Jim Brown. The Lions have only occasionally dipped their toes into the playoffs over the past 27 seasons, losing in all eight appearances. Detroit is distinctly behind Minny, and can't be fooled by the Lions' pair of victories over Green Bay last season, as Aaron Rodgers missed both of those contests. Moreover, the record of Belichick disciples (such as Patricia) going out on their own in the NFL is not impressive. Even Nick Saban, who worked under Belichick in Cleveland, stumbled in his NFL sojourn with the Dolphins in 2005-06. Can Patricia change this curious narrative?


The Lions have been pussycats as an underdog in the 2010s. Detroit has covered just 17 of 49 chances getting points over the last seven seasons (3-9 last 12 as "short").



Chicago (SUR: 5-11 PSR: 8-7-1 O-U: 4-11-1) is definitely in a state of flux after firing veteran John Fox and hiring ex-Kansas City offensive coordinator and Andy Reid disciple Matt Nagy to his first head coaching job. Coupled with the appointment of Mark Helfrich as offensive coordinator, the Bear offense should make a move up from its No. 30 ranking of last season. Helfrich was the architect of explosive attacks at Boise State, Arizona State and Oregon. Nagy and Helfrich are charged with coaching up second-year Bear QB Mitchell Trubisky. Only time will tell if Chicago made the right decision by moving up in the 2017 draft to reach for Trubisky, but unless he can be molded into a top tier producer, Bear fans will again be left dreaming of the days of Mike Ditka, Walter Payton and Jim McMahon three decades ago. Trubisky wasn't horrible in his rookie season, completing 59.4% of his passes for 2193 yards while starting the last 12 games of the season (183 ypg passing). But his 7-7 TD-to-interception mark was mediocre at best, and his 4-8 SU mark had better not be a true indicator of his talent. Trubisky's best games came against Detroit (27th in pass defense) and an injury-hampered Green Bay (24th in YP allowed in 2017). The bottom line is that the Bears ranked last in passing yardage in the league a year ago, so it can't get worse.


The top threat for the Bear offense is RB Jordan Howard, who has gained 2435 yds. rushing (4.6 ypc) and scored 15 TDs in his first two seasons. Picking Howard on the fifth round in 2016 was a score, and it will look like a genius move if his pass-catching ability has improved as has been reported. As a receiver, Howard's drops have been a problem, and Trubisky needs Howard to become a reliable third-down back and improve his yards-after-catch as well (he averaged just 7.8 ypc LY). Diminutive RB Tarik Cohen (5-6, 179) from NC A&T caught 53 passes out of the backfield last season, but he couldn't break many tackles, gaining just 6.7 yds. per catch. The Bears lost their top receiver, Kendall Wright, to NFC North rival Minnesota, but gambled on 6-3 Jacksonville free agent WR Allen Robinson, who caught 153 passes in 2015-2016, gaining 2283 yards before having his season ended with an ACL tear in Week One last season. Ex-Atlanta WR Taylor Gabriel and Memphis State rookie Anthony Miller will be targeted as well. WR Josh Bellamy was 2nd on the squad with 24 catches LY, but he's running third-string until Gabriel or Miller stumbles.


Chicago's defense was a playoff-level unit last season, ranking 7th against the pass, 9th in points allowed (20 ppg) and 10th in total defense. The Bears retained defensive coordinator Vic Fangio from the Caldwell regime. Fangio took over Chicago's stop troops in 2015 and that unit has steadily improved. In the two seasons before Fangio arrived, the Bears yielded an average of 386 ypg and 29 ppg. Under Fangio, those numbers decreased to 337 ypg and 23 ppg. In 2017, the Bears turned in their best performance since 2005, giving up only 319 ypg. The Chicago defense is returning almost completely whole, including 10 of the top 11 tacklers, led by standout LB Danny Trevathan. Prize first-round draftee LB Roquan Smith from Georgia, is expected to step in as a starter for free agent Christian Jones, who went to Detroit. The defense has depth issues, but most defenses in the salary cap conscious NFL have depth issues somewhere.


Nagy has a young team, and undoubtedly he will suffer through some growing pains in his first turn at the head coaching table. Unless he can ignite a sudden explosion of offense from Trubisky and a somewhat rag tag group of receivers, the Bears will end up at the bottom of the NFC North standings for the fifth straight season.


Chicago has been an excellent home dog the past two seasons, posting an 8-2-1 spread mark in that role.
Return To Home Page