7897...
TGS 2018 COLLEGE FB PREVIEW
...A LOOK AT THE PAC-12--PART I
by Gary Olshan, Chief Analyst

We continue our TGS College FB previews with a look at the Niorth half of the Pac-12. As usual, teams are presented in order of predicted finish, with 2017 straight-up, spread, and "Over/Under" (O/U) records included.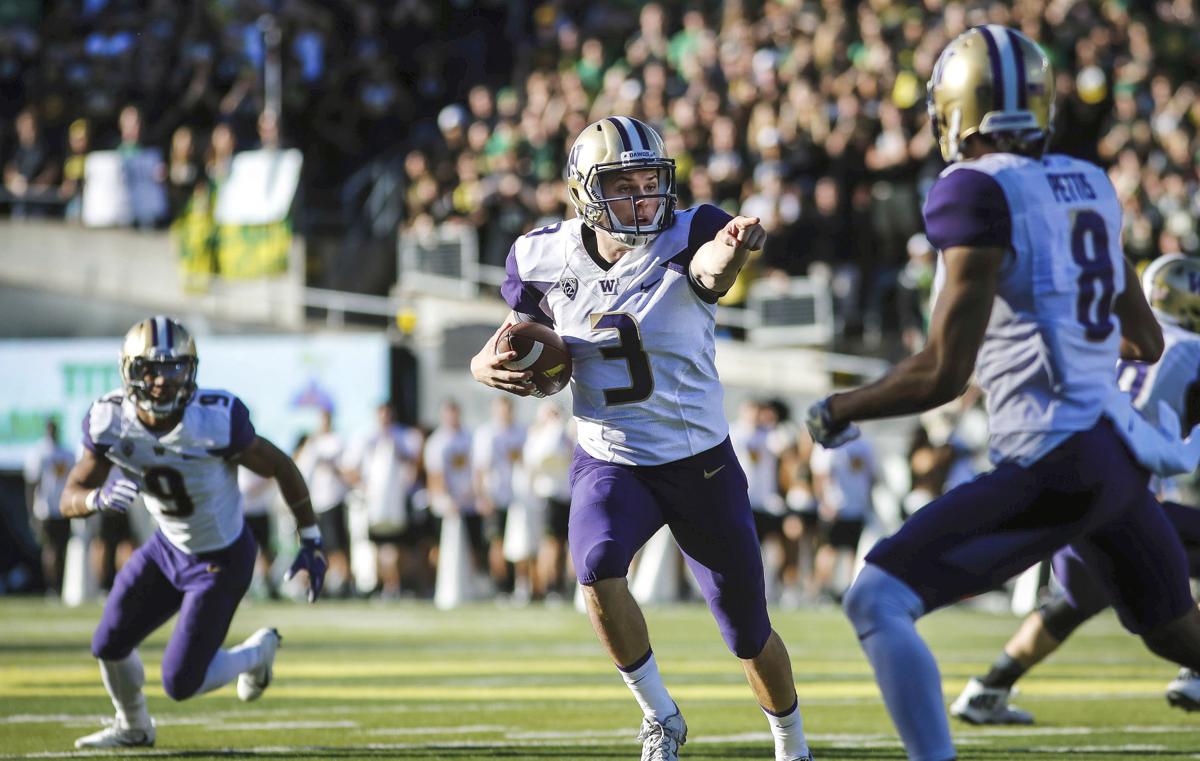 1. WASHINGTON (SUR 10-3, PSR 7-6, O-U 7-6)—In Year 5 of the Chris Petersen era, the meticulous Washington coach will trot out a confident group that boasts 16 starters from a team that won 10 games. So, won't hesitate to deem the Huskies as the clear-cut favorite in the North Division. U-Dub won the conference crown in 2016 and advanced to the College Football Playoff. But to solidify their place as a playoff contender again, the hustling Huskies will probably have to defeat SEC power Auburn in the season opener in Atlanta.



FOOTBALL COMING SOON...TGS 2018 EARLY DEALS NOW! ...

Click here to order


Six starters return to a powerful, balanced offense (36.2 ppg), expertly directed by prolific sr. QB Jake Browning (2,719 YP, 19 TDP, 5 ints. LY), who actually slipped some last season after being voted the Pac-12 Offensive Player of the Year in 2016. His TD passes dropped markedly from 43 to 19 as he lost one of his top receivers to injury. To stretch the field and bring Browning's numbers back up, U-Dub needs sr. Chico McClatcher to bounce back from a broken ankle or for prized frosh recruit Marquis Spiker to make an immediate impact, or both. Browning—who already holds the school record with 78 TD passes—is likely to resemble his 2016 campaign with the return of dynamic RB Myles Gaskin (4055 career rushing yards) and a huge, sturdy OL that returns four starters, including bookend tackles Trey Adams and Kaleb McGary, both of whom are NFL prospects. Browning, however, needs to stay upright, since there is no FBS experience behind him with the transfer of backup K.J. Carta-Samuels to Colorado State.


Though the stout defense (16.1 ppg; 2.9 ypc; 39 sacks) lost irreplaceable Vita Vea, the Pac-12 Defensive Player of the Year, the seasoned Husky stop unit should continue to perform at a championship level with nine starters back. U-Dub, which has had the league's best defense for the past three years could continue that trend, spearheaded by an excellent secondary that has no equal in the Pac-12 and is arguably No.1 in the nation. Jr. FS Taylor Rapp. a returning 1st-team All Pac-12 selection, lines up opposite senior SS Jo Jo McIntosh, a second-team all-conference choice and a hard hitter. And there is still plenty of studs on the DL, anchored by sr. DT Greg Gaines and former walk-on LB Ryan Bowman, who collected 5.5 sacks last year.


Placekicking is the only area of concern, unless soph Van Soderberg (one career FG) can settle in after suffering from a case of the jitter last term. Note that Huskies went 7-3 last 10 as DD chalk in 2017.



2. STANFORD (SUR 9-5, PSR 7-7, O-U 7-7)— The "Tree" figures to be in the hunt all the way under shrewd HC David Shaw, so no shock to see Stanford in a position for a fifth Pac-12 title game in the past seven seasons if the Cardinal can win at Washington on Nov. 3.. Recall, Stanford finished 9-5 last season, with four of those losses coming by 3, 3, 3 and 2 points, and beat the Huskies in Palo Alto on Nov. 10. The Cardinal won't have to wait long at all to avenge its worst loss the season (a 42-24 setback at USC), as the Trojans visit The Farm in an early Sept. 8 showdown. That's a double-payback for Shaw's troops, also on the short end of a bitter 31-28 verdict vs. Troy in the Pac-12 title game.


Nine starters are back on an attack (32.4 pgpg, 202 ypg rushing) paced by a powerful ground assault led by Heisman Trophy runnerup RB Bryce Love (19 TDs, 8.1 ypc). His 2,118 yards rushing in 2017 were the second-best total in Pac-12 history! In fact, this could be Stanford's best offense since Andrew Luck's reign in 2010 and 2011. Highly-effective 6-5 QB K.J. Costello (1573 YP, 14 TDP, 4 ints.) emerged late last season is surrounded by a boatload of playmakers, including the top five rushers from 2017 and the top four receivers as well. Plus, four of five OL return. Bruising backup TB Cameron Scarlett (403 YR, 8 TDs, 4.3 ypc) is a dependable backup. Costello took over for Keller Chryst (who transferred to Tennessee) and found his rhythm down the stretch in 2017, leading the Cardinal to to that win over Washington and another over Cal to clinch the North, plus a thumping of Notre Dame before the Pac-12 title clash. Costello, who quickly developed marvelous rapport with the reliable WR duo of JJ Arcega-Whiteside (48 grapbs, 9 TDs) and senior Trenton Irwin (43 catches), could also rapidly take advantage of speedy RS freshman Osiris St. Brown, a big-play threat.

Six starters return to the "D" (22.7 ppg), which lost its three best playmakers—S Justin Reid, CB Quenton Meeks, NT Harrison Phillips—all of whom opted to leave early for the NFL. Jr. Michael Williams will do his best to minimize the drop-off at the NT spot, where Phillips led the team in tackles, sacks and tackles for losses. The "Tree" will rely on LB Bobby Okereke (86 tackls, 4.0 sacks) to make game-changing plays and lead a pass rush that need to improve. The secondary (236.1 ypg allowed; 81st in pass defense), which slipped up more than usual in 2017, is not only in doubt because Meeks and Reid took off but also because CB Alijah Holder has been sidelined with a shoulder injury (2016) and leg (2107) injuries after a strong freshman campaign in 2015. On the plus side, mettle-tested senior safeties Frank Buncom and Ben Edwards (combined 81 tackles & 5 ints.) are set. Solid kicking game with PK. Jet Toner (nailed 21 of 26 FGs LY) and punter Jake Bailey, (45.4 yd. avg)., who was second-team All-Pac-12 selection in 2017.



3 OREGON (SUR 7-6, PSR 6-7, O-U 6-7)— Many Ducks are playing for their third coach in as many seasons after Mark Helfrich was fired following a 4-8 clunker in 2016 and Willie Taggert left for Florida State after a one-and-done 7-5 campaign in 2017. Mario Cristobal, a onetime HC at FIU and Nick Saban Bama aide before moving to Eugene to join Taggart's staff, was promoted from OL coach before the Las Vegas Bowl loss to Boise State, should get off to fast start, with U of O opening up with four consecutive home games. In fact, the non-league portion of the slate is a bit embarrassing...Bowling Green, Portland State, and San Jose State, all at Autzen Stadium...no Power 5 conference foes to be found! Sheesh! (Partial blame to Texas A&M for cancelling a contracted date.) So, yes, the schedule sets up for a return to a bowl and possible contention in the Pac-12 North. Cristobal wisely managed to keep second-year d.c. Jim Leavitt, who was given a new contract worth an average of $1.7 million, not much less than the $2.5 million Cristobal will be paid. Savvy Leavitt, who turned around Colorado's defense in 2016, started to work his magic in Eugene last season.

Seven starters return to the offense (36.0 ppg), deftly directed by 6-6 jr. QB Justin Herbert (67.5%, 1983 YP, 15 TDP, 5 ints.), who's a peripheral Heisman candidate entering 2018. In the seven reg.-season games he played in 2017, Oregon went 6-1 and averaged an eye-popping 52.1 ppg. In the five games he missed with a broken collarbone, the Ducks were 1-4 and mustered only 15 ppg. He'll set up behind an OL that returns three full-time starters and added a class of incoming freshmen that includes four mammoth newcomers weighing at least 330 pounds. U of 0 infantry must replace all-time leading rusher Royce Freeman (drafted by the Broncos). But the backfield is deep, headlined by sr. Tony Brooks-James (498 YR, 5.4 ypc), who has a national championship ring from his days as a sprinter on the track team, and smallish but powerful 5-9 RS freshman CJ Verdell. New RB coach Jim Mastro, a former Nevada and Washington State assistant, is implementing the Pistol formation to augment Oregon's spread offense. Offensive coordinator Marcus Arroyo is searching for depth at WR behind Dillon Mitchell (42 grabs, 4 TDs), Brenden Schooler (20, 3 TDs) and Johnny Johnson (21,1).

Seven starters are also back on Leavitt's progressing "D" (29.0 ppg; 41.4 ppg in 2017) that made big strides in 2017, especially vs. the run, finishing second in the league and permitting only 3.5 ypc. Two-time Defensive MVP Troy Dye (107 tackles, 9.5 TFL) is a budding star, while there are talented edge players in OLBs Justin Hollins and La'Mar Winston, plus DE Jalen Jelks, who flirted with the idea of the NFL Draft after recording 15 TFL as a junior. Coaches need to develope depth behind starting soph CB duo of Thomas Graham and Deommodore Lenoir. The Duck do have some depth at safety, paced by converted CB Ugochukwu Amadi. "He's the QB of our defense," Cristobal says.

Kicking game will greatly depend on soph Adam Stack, who will do double duty after punting as a freshman last year.



4. CALIFORNIA (SUR 5-7 PSR 8-4, O-U 5-7)—The Cal program appears headed in the right direction under astute 2nd-year HC Justin Wilcox, who led the combative Bears to a 5-7 campaign in his debut, with 3 of the last 4 close-call losses by a combined 7 points. Albeit, Cal went 5-7 the year before, but was smashed in its final four setbacks by a combined 109 points. But demanding Wilcox knows the Bears aren't where they need to be. "It's not good enough. We can say we have all these returnees, but were 5-7," he says. "Everyone of us has got to show improvement."

Ten starters return to an offense (27.8 ppg) that returns nearly intact from a year ago but is determined to improve this fall. Jr. QB Ross Bowers, who passed for 3,039 yards with 18 TDs last season (and scored a memorable TD via mid-air flip vs. Washington State, above right!), is expected to duel with more mobile South Carolina transfer Brandon McIlwain through fall camp for the starting job. Former walk-on RB Patrick Laird was a revelation LY, rushing for 1,127 yards and 8 TDs and catching 45 passes after replacing Tre Watson in Week 3. Though beyond Laird, the Bears have virtually no experience at the position after Watson transferred and two backups transferred in the offseason. Highly-regarded frosh duo of Johnny Adams and Christopher Brown Jr. will get a chance to contribute early. The WR corps took a hit when five-star Demetrius Robertson transfered to Georgia in June. But Roberston played in just two games LY before underoing a sports hernia surgery, and back in the fold are sure-handed targets Kanawai Noa and Vic Wharton, who combined for 123 catches and 9 TDs a year ago. All five OL starters return, but the Bears are seeking more consistency after yielding 35 sacks and averaging only 3.6 ypc.

Seven starters are back on a defense (28.4 ppg) that showed a huge improvement from 42.6 ppg the year before. Well-traveled d.c. Tim DeRuyter, who arrived from a stint at HC at Fresno State, has some holes to fill in the front seven, is counting on late-blooming sr. LB Jordan Kunaszyk (74 tackles) to be the vocal leader, while OLB Alex Funches, the team's best pass rusher, will to try to spark greater pressure on opposing QBs. The secondary should be the strength of the stop unit, led by fast-learning soph CBs Cam Bynum and Elijah Hicks, along with quick-rising speedster jr. S Ashtyn Davis. With 11 of the top 14 tacklers back, DeRuyters unit should continue to make strides, especially if he finds some productive big men along the front.

The Bears went 8-3 vs. the spread vs. FBS foes in 2017, covering 5 of their final 6 games.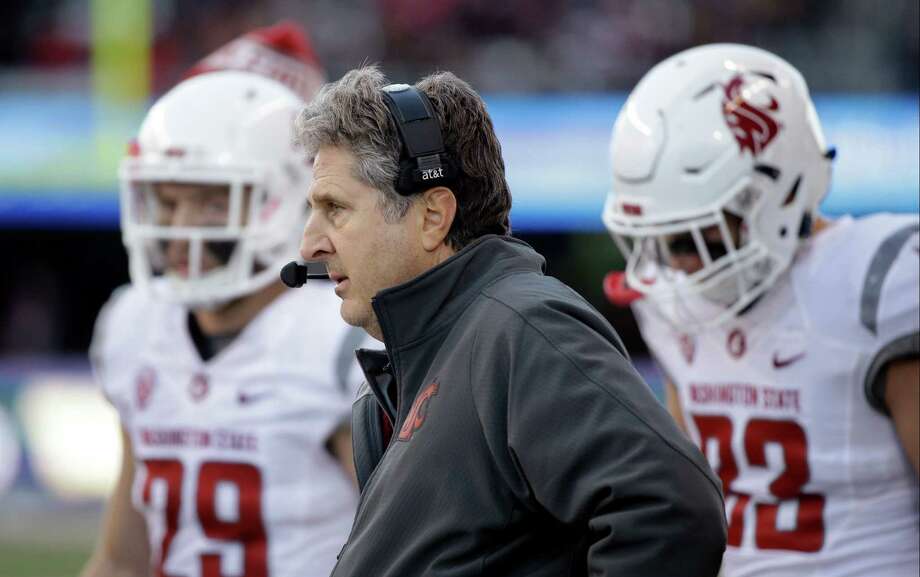 5. WASHINGTON STATE (SUR 9-4, PSR 7-6, 0-U 6-7)—Though Wazzu has gone 9-4, 8-5 and 9-4 over the past three seasons, we envision the Cougs finishing near the bottom of loaded North Division. After all, there have been massive changes in Pullman. HC Mike Leach's star d.c., Alex Grinch, left to join Urban Meyer (well, we think it's still Meyer) at Ohio State, and five other assistants departed. Moreover, the Cougs' projected starting QB, Tyler Hilinski, shockingly committed suicide in January. That tragic news staggered the program emotionally and it remains to be seen what lingering effect that will have on the upcoming campaign. If Leach can find a suitable pilot, a fourth straight bowl game is in reach.


Only four starters are back in the pass-happy "Air Raid" attack (30.3 ppg; 68 ypg and second-to-last in nation rushing, 369 ypg and 2nd-to-best in nation passing) that is highly unsettled at QB after that position has been a real strength for the past seven years. Six QBs are in the running to succeed Falk, drafted by the Tennesssee Titans, and not one has taken a snap in the Palouse. Trey Tinsley and Anthony Gordon, both RS juniors came out of the spring camp as the frontrunners, along with hyped true frosh Cammon Cooper. And things got more complicated when East Carolina grad transfer Gardner Minshew (2,140 YP LY), who initially committed to Alabama before flipping in late March, joins the mix in August. Shifty, versatile RB James Williams (395 YR, 71 catches) will be pushed by prized frosh Max Borghi, who Leach called a "freak" following his impressive spring performance. Two of the top WRs from last season left prematurely, but Leach still has plenty of options at wide-out, including burgeoning soph Tay Martin (31grabs), who pulled down six TDs in his final six games. The OL needs to be more cohesive after permitting 44 sacks LY, so starting from scratch with 3 new starters and a new position coach is not necessarily a negative.


Seven starters return to a feisty defense (25.8 ppg, 28 takeaways; first in pass defense in Pac-12) undergoing some transition under 1st-year d.c. Tracy Claeys, who had served on the Minnesota staff since 2011 (Gopher HC in 2015 & 2016 before being fired in early 2017). Word is WSU is retaining many of the same concepts that helped them finish in the top 10 nationally in TFL per game and total turnovers in 2017 under Grinch last fall. Hard-charging DE Nnamdi Oguayo could command the double teams that departed All-American DT Hercules Mata'afa (now NFL Vikings IR) had to cope with last year. LB is a rich position with productive Peyton Pelleur back for a sixth season after the defensive captain obtained another year of eligiblity via medical hardship. A wave of young MLBs are capable of shining, while dynamic SS Jalen Thompson becomes the leader of the secondary after leading the Cougs in tackles (74) and interceptions (4).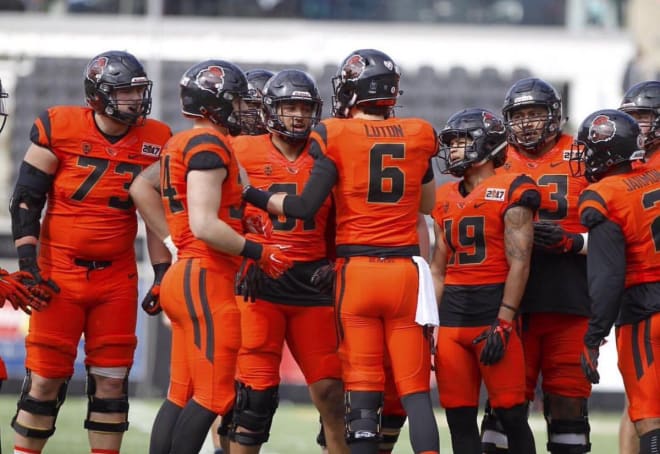 6. OREGON

STATE

(SUR 1-11, PSR 4-8, 0-U 9-3)—The Beavers will have trouble pulling themselves out of the Pac-12 North dungeon on the heels of their 1-11 nosedive last year. OSU, which had the league's worst scoring offense and defense in 2017, had its coach (Gary Andersen) shockingly quit at midseason and watched its starting QB get his back nearly snapped in half. Now, the Beavers are also attracting less than 18,000 season-ticket holders. Nevertheless, first-year HC Jonathan Smith declared himself "at my dream job, in my dream town, at my dream school" upon taking over as head coach in November. Alum Smith, who walked on the Beavers as a freshman QB and left as the school's all-time leader in passing yards and TDs, has worked his way up the coaching ladder to run Washington's powerful "O" last season. So yes, he has equity and credibility and a bit of a honeymoon (which he'll likely need) with the fan base in Corvallis.


Seven starters return to an attack (20.7 ppg) that finished near the bottom nationally in scoring and total yards. But there is reason for optimism from new o.c. Brian Lindgren (recently at Colorado) with the return of strong-armed 6-7 QB Jake Luton, who has recovered from a thoracic spine injury that caused him to miss the final 8 games of last season. Luton, who completed 61.5% and threw for 853 yards with four TDs and four picks in his four games, owns the necessary skill set to be a good fit in Smith's uptempo, pro-style offense. Sophs Conor Blount and fleet-footed Jack Colletto, a JC transfer from Arizona Western, are eager backups but lack any experience. Shifty jr. RB Artavis Pierce (323 YR, 15 grabs) is a capable pass-catcher out of the backfield. Keep an eye on soph Christian Wallace, a former 4-star recruit who moved from CB to RB in the spring. Jr. TE Noah Togiai had a team-high 34 receptions, while WR Trevon Bradford, who averaged 18.5 yds. per catch LY, could emerge as a needed deep threat.

Six starters return to a "D" (43 ppg; Pac-10 low 14 sacks...ouch!) that couldn't stop the wind last year. No doubt, new d.c. Tim Tibesar, who spent the last three years on the Wisconsin staff, has his work cut out for him. Tibesar must find some run stoppers after OSU allowed a whopping 5.5 ypc LY and finishing a woeful 121st in rushing defense in 2017. There isn't much depth defensively, especially on the line, while a LB unit that has already lost leading tackler Manase Hungalu, was without Bright Ugwoebgu in the spring due to an indefinite suspension. Hard-hitting sr. LB Jonathan Willis (68 tackles, team-high 3 sacks) should set a possible example right away, while DE Jeromy Reichner (began career at Temple in 2015 & 2016), the transfer from L.A. Valley College, could be the edge rusher so badly needed in Corvallis. OSU coaches looking for needs big bounce-back years from Jr. CB Xavier Crawford (shoulder) and sr. CB Dwayne Williams (knee), who each missed half the season with injuries. Crawford was a Freshman All-American in 2016.


There will be growing pains—beginning with the season opener at Ohio State—but expect the Beavers to take some incremental steps in 2018 , especially if they can seriously improve on their horrific -14 TO margin LY (tied for 123rd nationally).
Return To Home Page