7889...
TGS 2018 COLLEGE FB PREVIEW
...A LOOK AT THE SUN BELT--PART I

by P. Carl Giordano, Managing Editor

Following is Part I of our TGS Sun Belt preview focusing on the East Division of the conference; we look at the West in our next update. Teams are listed in order of predicted finish, with 2017 straight-up, spread, and "Over/Under" marks included.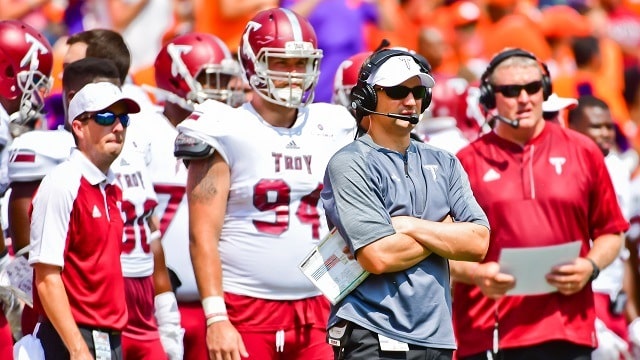 Troy (2017 SUR 11-2; PSR 6-6-1; O-U 4-9)...Troy HC Neal Brown is 14-3 SU in his last 17 SBC games and 21-5 SU in the last two seasons overall, and has 10 returnees who were on the all-Sun Belt team last season, including three of his four returning starters in the offensive line. Jr. backup RB Jamarius Henderson gained 7.9 ypc last season, which makes you wonder if he didn't deserve more than the 45 carries he received in 2017. Brown lost his bet on juco RB Kevin Perkins, a 230-lb. bruiser who washed out academically. Troy filled in the defensive depth chart with other jucos, and went the transfer route to pluck ex-Louisville WR Traveon Samuel, who won a starting spot and caught a 65-yard TD pass in the spring exhibition at newly-renovated Veterans Memorial Stadium. The QB situation is in transition for the Trojans, as soph Sawyer Smith has a narrow edge over jr. Kaleb Barker for the chance to replace four-year starter Brandon Silvers. Both had their ups and downs in the spring, but they'll have the benefit of tossing to a pair of vet senior starters in Deondre Douglas and Damion Willis who combined for 90 catches and 1248 yds. last season. Adding Samuel and the potential emergence of soph Tray Eafford (18.4 ypc LY) makes this one of the better receiving units in the conference.



FOOTBALL COMING SOON...TGS 2018 EARLY DEALS NOW! ...

Click here to order


Troy's defense ranked 7th in the country against the run last year, yielding just 106 ypg and 2.9 ypc. Defensive coordinator Vic Koenning, who returned to Troy for a second tour of duty with the Trojans for the 2015 season, has transformed the stop unit from a bungling, passive crew that gave up 34 ppg and 462 ypg from 2011-2014 to one that's yielded just 20.3 ppg and 352 ypg over the last two seasons. Koenning, who coordinated Clemson to top-16 defensive finishes from 2005-2008, has four first or second-team all-Sun Belt returnees back. Sr. LB Hunter Reese (7½ sacks LY), sr. CB Blace Brown, jr. LB Tron Folsom (team-high 80 tackles) and sr. NG Trevon Sanders are all decorated vets who join S Cedarius Rookard (74 tackles) and soph CB Marcus Jones (49 Ts as a true frosh LY).


Troy has 19 players who were given slots on preseason all-Sun Belt depth charts, and an unanswered question in college football is why Neal Brown and Vic Koenning are still at Troy and not working for one of the 13 Big Five schools that have new coaches this season? If the Trojans win the Sun Belt in 2018, both will likely be on their way up the college football coaching ladder. This season could play out well for Troy, as the Trojans don't have to play Arkansas State and App State does. The crucial Trojan-Mountaineer matchup will be at Kidd Brewer Stadium in Boone, home of ASU, but Troy won at LSU and Arkansas State last season, so an upset at App State wouldn't be out of character. Pointspread angle: The Trojans are 15-5 vs. the points away from home under Brown.



Appalachian State (2017 SUR 9-4; PSR 6-7; O-U 5-7-1)...App State HC Scott Satterfield is in rebuilding mode, as his squad return just 11 starters. The Mounties lost five first-team all-conference selections and must replace four-year starting QB Taylor Lamb as well as their top receiver and top tackler. The cupboard isn't completely bare in Boone, however, as App State welcomes back first-team all SBC players in sr. RB Jalin Moore, jr. left tackle Victor Johnson and jr. CB Clifton Duck, as well as 2nd-team all conference CB Tae Hayes. Moore is the 2nd-leading active FBS rusher with 3170 career YR has been called the top NFL prospect in the conference. The offense has a productive group, including soph WR Thomas Hennigan (45 catches LY), sr. Dominique Heath (grad transfer from Kansas State; 22 recs. LY), Jalen Virgil (20 recs. '17) and 6-3 soph Kansas State transfer Corey Sutton, who will likely start in Virgil's slot this season. The OL has three starters back led by Johnson, so look for the rush game to be even more productive than last season's "off" year (ranked 22nd at 224 ypg).


Defensively, the secondary is probably the strongest area of the team aside from running back. The stop unit has plenty of speed, and CBs Hayes and Duck combined for 10 interceptions and 18 pass breakups. The front seven held foes to 3.6 ypc over the last three seasons and collected an average of 35 sacks per year, allowing fewer than 20 ppg over that span. Bryan Brown was promoted to defensive coordinator earlier this year after Nate Woody, who guided the Mountie defense from 2013-17 took the d.c. job at Georgia Tech. Time will tell if the defense can maintain its toughness without Woody's guidance.


The pivotal issue for App will be how the team rallies behind little-used soph QB Zac Thomas, who just dipped a toe in the water last season (6 of 10 passing for 33 yds.). He separated himself from a pack of 2nd-year QBs in spring ball, but opening at Penn State might be a bit mind-boggling for the kid from Trussville, Alabama. The Mountaineers must go to Arkansas State and play at Georgia Southern on short rest in late October, so the conference schedule is a bit tougher than Troy's. In four years in FBS, Appalachian State is just 9-15 against the points at Kidd Brewer Stadium.


Georgia Southern (2017 SUR 2-10; PSR 4-7-1; O-U 7-5)...Georgia Southern has a ton of experience coming back, so the Eagles have a chance to move up in the SBC standings. Chad Lunsford, who stepped into the interim HC role when Tyson Summers was fired at midseason last year, then was handed the job on a permanent basis, retained most of his staff in the transition. The Eagles were a solid winning proposition prior to a downturn the last two seasons, going 7-17 SU, which led to Summers getting the axe. This season GaSo has 18 returning starters and note that four of the team's 2017 losses last season came by 11 pts. or fewer. The schedule is more favorable than it has been in recent seasons, with just one Power Five team on the slate, three very winnable home games and road games at SBC weaklings Texas State, Coastal Carolina and Georgia State. Four or five wins this fall appears very doable.


The Eagle option offense sank to 21 ppg and just 222 ypg rushing, but a change in offensive coordinators to Bob DeBesse, who has held the same title at TCU, Minnesota and New Mexico in his 30-year career, could help. DeBesse coordinated the New Mexico attack from 2012-2017, and the Lobos scored 30 ppg over the past five seasons, and gained 293 ypg rushing under his watch while mostly working out of the Pistol. In recent memory, GaSo has done its best with some form of the option (think the Paul Johnson and Willie Fritz years), so DeBesse seems a good fit. Sr. RB Wesley Fields and soph QB Shai Werts combined for 1533 rushing yards, not a huge number, but four starting offensive linemen plus sr. TE Ellis Richardson return up front. In total, five of the top six ground-gainers and seven of the top eight pass catchers are back.


The Eagle defense held foes to just 22 ppg in 2012, but successively regressed each of the last five years, leading to an allowance of 32 ppg and 410 ypg last season. The yardage figure is the worst since 2008, when GaSo was a mediocre Southern Conference team under Chris Hatcher. With nine starters and 18 of the top 20 tacklers returning, new coordinator Scot Sloan (d.c. at App State last year) should carve at least a full TD off the Georgia Southern per game point allowance in 2018. The Eagle secondary is the strength of the defense. One question defensively is the return of the team's leading tackler, RS sr. S RJ Murray (60 Ts). Murray missed most of the spring with a knee injury, but sr. S Joshua Moon played in 10 games and had 47 stops of his own in 2017 and has started 18 games in the past two seasons. The trouble defensively is stopping the run. The Eagles ranked 73rd in allowing 230 ypg on the ground last year, and the 5.2 ypc mark has to improve. With all of the top defensive linemen returning, prospects are good this unit will be much tougher than in 2017.


Really, the biggest wild card on the team is Lunsford. He's worked his way from WR coach, to TEs to special teams coach and run coordinator at Statesboro. Now he gets a shot at the big office. Last season Lunsford took over an 0-6 team and engineered a 2-4 SU (3-2-1 vs. the number) finish, and perhaps more importantly, a sharp defensive uptick. The Eagles gave up just 20 ppg in the last five games last season after being blistered for 48 ppg in the first six contests. Pointspread note: GaSo was just 7-16-1 vs. the points in the last two full seasons, but with the Summers mistake in the rear-view mirror, along with an experience edge, that trend should mitigate.



Georgia State (2017 SUR 7-5; PSR 5-6-1; O-U 3-9)...Georgia State's 7-5 SU mark in HC Shawn Elliott's first season in charge was the team's first winning record since it stepped up a class and began playing more than one FBS team each year. Don't get used to it, Panther fans. Elliot lost a lot of talent and experience, including one of the best weapons in the Belt, QB Conner Manning (3146 YP). The offense also lost its top two RBs, and must turn to jr. QB Aaron Winchester or juco all-American Dan Ellington to trigger the attack. Whoever wins the job will have last year's pass-catching leader as his primary target, as 5-8 RS jr. Penny Hart returns. Hart gained 2220 receiving yards and had 145 catches in his two full seasons (2015 and 2017). However, unless Winchester or Ellington can connect early and often with Hart, the Panther attack might die of starvation, as the run game ranked 113th in the country last season. The fact is, even with a tested QB, the Panthers ranked 116th in scoring last year, and 127th in red zone offense (ouch!).


Defensively the news is only marginally better. Five starters return led by 3rd-team all-SBC sr. LB Michael Shaw and sr. LB Chase Middleton. However, the secondary lost its top players from a group that wasn't that strong to begin with. That unit allowed 63% and ranked 101st in passing yardage allowed, yielding 251 ypg in the air.


Last year's performance was a bit of fool's gold for Georgia State. The Panthers didn't have a real "quality" win until upsetting Western Kentucky in the Cure Bowl. Some might argue that even that win over WKU wouldn't qualify as quality. After all, the Hilltoppers finished 6-7 on the year, with the OT victory vs. Middle Tennessee State standing as the only victory against a winning team. Pointspread note: No home edge in the move to the former Turner Field (now GSU Stadium) last year, covering just 1 of 5 as host; the Panthers are now just 11-19-1 vs. the number at home in recent seasons counting the last years at the Georgia Dome. But State is a stellar 20-6 as a road dog the last six seasons!



Coastal

Carolina

(2017 SUR 3-9; PSR 5-7; O-U 7-4-1)...Coastal went 66-15 SU in 2012 through 2016, its first five seasons under HC Joe Moglia. Last year the team moved up from the FCS to the FBS and got a dose of reality, losing 9 of 12 games. Those losses don't go on Moglia's record, as he took a leave of absence in 2017 due to a serious lung infection. Moglia returns to his position this season, but it's dubious if his presence will make much difference to the Chants' fortunes.


CCU had some highs, such as nearly upsetting Arkansas before falling to the Razorbacks 39-38, and scoring season-ending wins at Idaho and at home against Georgia Southern, but the team has work to do before it can be deemed competitive on the FBS level. Moglia will be breaking in a new starter at QB and RB, and the defense lost six starters, including its top tackler and top three sack men.


Sr. Kilton Anderson, who played for Fresno State in 2015 before transferring, was the backup last season and inherited the starting role in spring, but his victory might be short-lived. Anderson completed just 45% of his 109 throws last season, so the final decision will be made in fall work, when five true frosh will be given their chance to win the job. Running back will be a less-difficult fix, as soph Alex James and sr. Marcus Outlow combined for 553 YR, 5 rushing TDs and 4.8 ypc. If the QB can deliver the ball, then the receiving corps will be the strength of the attack, as sr. WRs Malcolm Williams (team-high 43 recs.) and Omar Black (20 recs.) are joined by 5-9 jr. Ky'Jon Tyler (23 catches). The OL returns four starters plus soph LT Steven Bedosky, who made 5 starts after graduated sr. Rodney Mitchell went down for the season. However, four of the five are sophs who were thrown to the FBS wolves as true frosh. The might improve, but remember this is a group that was held to just 307 yds. of total offense and gave up four sacks in a 52-10 home loss to Western Illinois last season.


Defensively, Coastal yielded 34 ppg (10th in the Sun Belt) and 411 ypg (8th) in 2017 and has lost its best LB, and top two defensive linemen. This is a young defense that will have a new coordinator in Marvin Sanders, replacing venerable veteran coach Mickey Matthews, who retired at the end of last season. Although his last job was as a head coach at L.A.'s Loyola High School, Sanders has big-time credentials, having worked for Nebraska, Southern California, Colorado State and North Carolina (where he was d.c. for three seasons). Sanders will be molding a youngish crew and this is obviously a work in progress, and don't expect a huge influx of contributors, as just 11 of the team's 33 recruits were defenders this season.


Moglia's team is in the bottom 5% of the college football ladder. Circling "Ws" on the schedule is tough, and last season's victims could turn things around. Idaho is off the schedule, and CCU must visit UMass. Georgia Southern will be improved. The Chants will likely only be favored against Campbell this season and must play the Sun Belt's "big three" of Arkansas State, App State and Troy. Manufacturing three wins this season will be tough.
Return To Home Page