7862...
TGS 2018 COLLEGE FB PREVIEW
...A LOOK AT THE AMERICAN--PART II

by Gary Olshan, Chief Analyst


Following is Part II of our look at the Amerrican, previewing the West half of the loop. As always, teams are presented in order of predicted finish, with 201 straight-up, spread, and "over/under"(O/U) records included..



1. MEMPHIS (2017 SUR 10-3, PSR 7-5-1, O-U 9-4)... Though record-breaking QB Riley Ferguson is gone, we still pick Memphis to repeat as the West Division champ. We have faith that offensive guru Mike Norvell, who has posted an 18-8 record in his first two years, will keep the Tigers on top. Yes, UM's upward trend continues in 2018, though we expect a tight race in the dangerous West Division. Norvell returns 16 starters and the schedule is conducive to eaking in a new QB, with three sure wins in September (Mercer, Georgia State, South Alabama) sandwiched around a trip to Annapolis. The Tigers also get Central Florida and Houston at home while avoiding South Florida and Temple altogether,


Talented soph dual threat QB David Moore will compete with Arizona State transfer Brady White in the fall. No surprise if Norvell leans heavily on the ground assault early on behind a seasoned OL (4 starters back) and a deep backfield, spearheaded by speedy 1,000 yard rusher RB Darrell Henderson (led the FBS with 8.9 ypc) who returns along with dependable Patrick Taylor (866 YR, 13 TDs). Memphis lost nearly 2,000 receiving yards, but Louisiana natives Damonte Coxie (21 catches) and John "Pop" Williams should step up after showing flashes last season. Scouts say that gifted jr. WR Antonio Gibson could eventually transform into the go-to guy.


While the Tigers were vulnerable on the "D" (32.5 ppg; 102nd; 466.2 ypg; 116th), there is reason to believe that unit will take a huge leap forward this term. That veteran unit returns three LBs, both CBs and the top two tacklers are back in sr. LB Curtis Akins (88 stops) & jr. LB Austin Hall (84). Tight-covering CBs TJ Carter & Tito Windham (combined 105 tackles & 22 passes oken up) will limit big plays downfield, especially if the coaches can uncover a proven sack threat following the departure of Genard Avery. Memphis must continue to win the turnover battle after finishing with an eye-popping +15 TO margin LY (3rd nationally).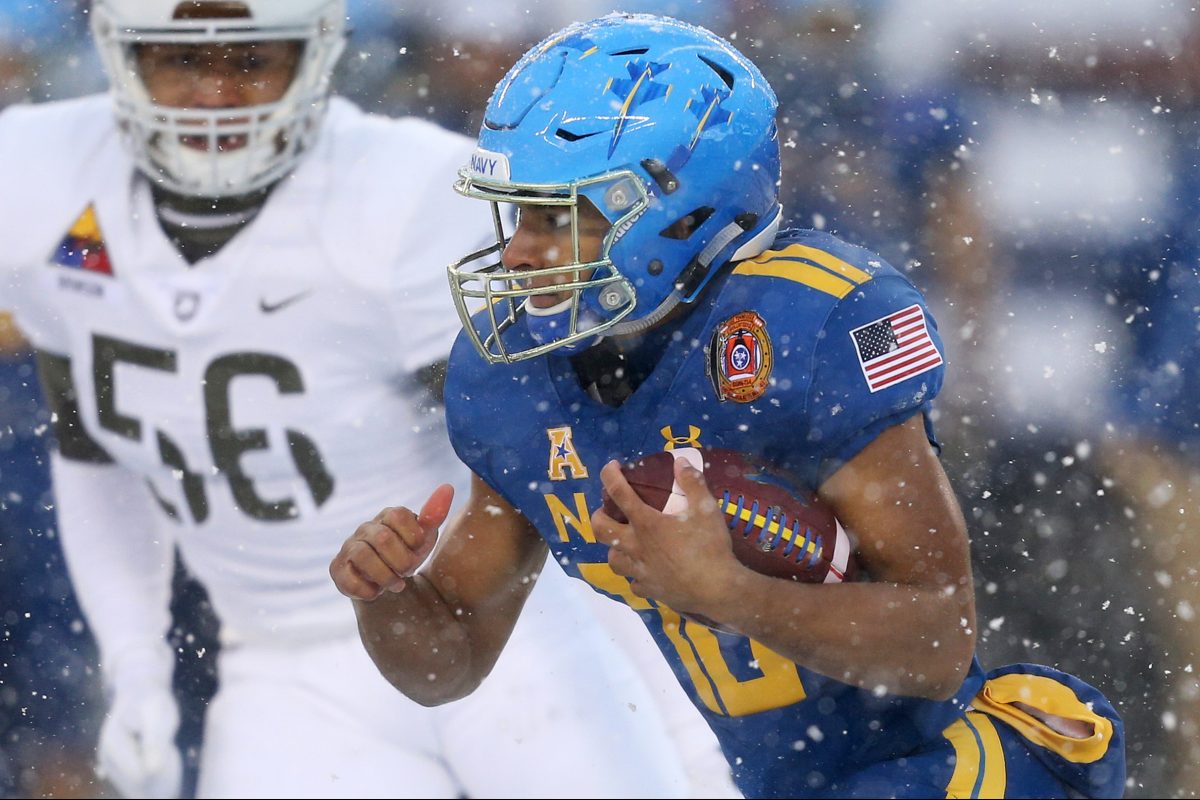 2. NAVY (2017 SUR 7-6, PSR 5-6-2, 0-U 7-8)...Though Navy dropped 6 of its final 7 reg.-season games after a promising 5-0 start, the smartly-coached, disciplined Middies ended the season with a confidence-restoring 49-7 romp over Virginia in the Military Bowl, to post a winning record for the 14th time in the last 15 seasons. So, believe Navy will be in the thick of the West Division race in 2018, despite traveling an incredible 26,496 miles this season due to its six road games and two neutral-site clashes. And we don't envision another rare prolonged offensive malaise, when the Middies surpassed 27 points only once during that aforementioned skid.


Savvy long-time HC Ken Niumatalolo is handing the reins of its patented triple-option to Malcolm Perry, who rushed for 646 yards and 7 TDs in just 3 starts Smallish but ultra-quick & elusive 5-9 Perry, who started the season as the slotback, will share time with former starter and bullish Zach Abey, whose 1,143 YR (19 TDs) in 2017 were the 2nd most in school history!

The coaches plan on having different packages for Abey, since he can "do everything" with the offense, says Niumatalolo. Soph Keoni-Kordell Makekau showed as a frosh, so he can be next in a long line of dynamic slotbacks for the Mids. Navy has a pair of talented tackles, but must rebuild the interior of the line after losing all 3 starters.


Navy returns 5 starters on the "D" (26.3 ppg) tutored by d.c. Dale Pehrson who dialed down the more aggressive approach implemented in 2016. ILB Hudson Sullivan, who recorded 40 tackles in just 6 games a year ago, figures to succeed star Micah Thomas at that spot. FS Sean Williams, an honorable mention All-AAC pick in 2017, is the top returning defender. Middies need to improve their kicking game since Bennett Moehing was only 1 of 5 from 29 yards and beyond.


Navy 17-2 SU in Annapolis L3Ys, and hosts both Memphis and Houston.
Unusually, normally-steady Middies (18-9 vs. number in 2015-16) failed to cover back-to-back games in 2017, which is unlikely to occur this campaign.
3 HOUSTON (2017 SUR 7-5, PSR 6-6, O-U 3-9)...Cougs took a step back in their 7-5 campaign in 2017 under then 1st-year Major Applewhite, who hired ex-Baylor assistant Kendal Briles (o.c.) and Randy Clements (OL coach) in an attempt to ing some explosiveness to a UH offense coming off its lowest point production (28.3 ppg) since 2005. Briles says changes will be minimal, with the goal remaining the same: Throw the ball downfield. Back-to-back non-conference games vs. Arizona (in Houston) and Texas Tech (in Lubbock) in September will help set the tone for the Cougs, who return only 8 starters.


Late-emerging QB D'Eriq King (1260 YP, 7 TDP, 2 ints.; 2-2 as starter), who played mostly WR in his first two seasons, will lead a more uptempo, vertical spread attack under Briles. Quinten Dormady, a grad transfer from Tennessee, should push King in fall camp. The RB corps took a hit with the unexpected departure of leading rusher Duke Catalon, so Mulbah Car (388 YR, 3 TDs) inherits the starting job at RB. WR was hit hard by graduation, so jrs. Keith Corbin and Courtney Larkin (combined 23 catches LY) must elevate their games.


The fortified defense (23.8 ppg) is clearly built around All-American DT Ed Oliver, who'll likely be a top-five selection in the 2019 NFL draft. Oliver, who has 39 TFL in 2 seasons and as a soph became the youngest winner of the Outland Trophy. The three-man front could be the strongest in many years with a healthy DE Jerard Carter and the addition of TCU transfer Isaiah Chambers! Jr. LB Leroy Godfrey (8.5 TFL) is coming off a eakout season, while two other key transfers, LB Darrion Owens (Miami-Florida) and S Deontay Anderson (Ole Miss) immediately strengthen those units. Sr. S Garrett Davis (4 ints.) provides steady leadership.


Spread-wise, UH is 18-7 "under" the last two seasons, and Cougs 10-2-1 as an underdog overall since 2013.


4. TULANE (SUR 5-7, PSR 8-4, O-U 6-6)...Green Wave's no-nonsense third-year HC Willie Fritz has the program moving in the right direction, so anything short of a bowl bid would be a disappointment in 2018. Tulane came within a inch of bowl eligibility when a replay official upheld a call that QB Banks was tackled short of the goal line on the last play of the excruciating 41-38 loss at SMU in the 2017 finale. Green Wave came close a number of times, losing 4 games by a combined 12 points. Tulane will be well-tested going into conference play this season, with an opener vs. improved Wake Forest at Yulman Stadium and a btutal trip to Ohio State on Sept. 22.


After a pair of frustrating building years on offense, look for that attack to make a huge leap forward in 2018 behind nifty, dual-threat QB Jonathan Banks, who threw for 1,797 yards and is the team's top returning rusher with 592 yards. Another plus is the rapport he has with returning WRs Terrance Encalade (39 grabs), Darnell Mooney (34) and Jabril Clewis (16). Four starters return on an OL, which will open up the running lanes for physically-imposing 6-1, 235-pound RB Darius Bradwell (411 YR). Speedy Texas Tech transfer Corey Dauphine is a nice complement to Bradwell.


The revamped Tulane "D" (only 3 starters back) needs to toughen-up vs. the run (allowed 5.6 ypc; 210.4 ypg; 112th), needing more pressure (a paltry 14 sacks) and wanting to infuse more overall speed in the lineup after having been burned for big plays too often a year ago. True frosh Jeffery Johnson, a one-time Alabama and Florida State recruit who enrolled in the spring, will help the rebuilt DL, while sr. LB Zachery Harris (69 stops LY) and DT Cameron Sample are the top playmakers in the front seven, while FS Donnie Lewis, a third-year starter, has the skills to replace key NFL draftee Parry Nickerson, but needs to be more disruptive with the ball in the air.


Tulane posted a 4-1 dog mark when getting 11 points or fewer in 2017.


5.

SMU (SUR 7-6, PSR, 6-6-1, 0-U 7-6)...

The Mustangs, coming of their first bowl appearance in five years, are adjusting to first-year HC Sonny Dykes, who'll incorporate his patented Air Raid scheme. The veteran offensive guru, who left Cal, was named head coach after Chad Morris took the Arkansas job. "Coach Morris did great things here and I am fortunate that I had been selected to take the foundation Chad and his staff put in place and take it to a new level," Dykes says. "And make no mistake, that is what we plan to do." Dykes won't be eased into his new role, with the first six games which include TCU, Michigan, Navy and UCF!


SMU's offensive success will greatly depend on jr. QB Ben Hicks ( 3, 569 YP, 33 TDs with 12 interceptions LY), who must quickly adapt to the nuances of 1st-year o.c. Rhett Lashlee, who moved to Dallas after spending the last 2 years at Auburn and UConn, respectively. Scouts say Hicks must improve his decision-making under pressure. A lack of depth at WR and on the OL will magnify the challenge of the offensive transition. Dykes, however, has moved players around in the hope getting the ball in the hands of the playmakers. Watch for talented RB Braeden West (1036 YR) to be used in multiple roles, while fellow RBs Xavier Jones (1,075 YR, 9 TDs) and jr. Ke'Mon Freeman provide a strong 1-2 punch.


The poor-tackling defense (36.7 ppg; 476.7 ypg) ranked 108th or worse in four major categories, has a long way to go under 1st-year d.c. Kevin Kane (former Northern Illinois d.c.), who has changed to a 4-3-4 scheme after operating in a 4-2-5 last year. Some reasons for optimism, however. LB Richard Moore, a transfer from Texas A&M, has turned heads with his aggressive play during spring, while mettle-tested jr.S Mikial Onu (team-leading 105 tackles) and sr. LB Kyran Mitchell (15.5 TFL; 4.5 sacks) should help to provide key playmaking skills and leadership.


SMU is solid in the kicking game with Josh Williams (14 of 20 FGs), who nailed 6 FGs longer than 40 yards.


New era under Sonny Dykes. But the 'Stangs started 5-0 vs. the spread last fall before plummeting to 1-6-1 over the final 8 tilts.



6.

TULSA (SUR 2-10, PSR 5-7, O-U 5-7)...

Tulsa took quite a fall last year after its memorable 10-win campaign in 2016. The Golden Hurricane precipitously dropped to 2-10 in a season marked by bad luck. In addition to a rash of 16 knee injuries, Tulsa lost five games that came down to the final possession. In what could be a defining fourth year for HC Philip Montgomery, the Hurricane need to show significant progress at QB and on defense to avoid a second straight last-place finish in the West Division. We?re not counting on it.


Soph QB Luke Skipper (1,141 YP, 3 Tds, 4 ints.) will direct an offense (29.3 ppg; 173 ypg passing; 110th) that returns its top two receivers in Justin Hobbs (55 catches) and Keenen Johnson (44), while darting 5-9 RB Shamari Brooks (687 YR) is the heir apparent to all-time leading rusher D?Angelo Brewer after he garnered 10 TDs in 9 games before a season-ending injury. Hopes are high for a eakout year from RB Corey Taylor, who was lost for the season in the second game of 2017. Montgomery wants to be more uptempo and fast on the attack end, and plans on pushing the ball down the field a little bit more this year. That strategy is understandable after Tulsa managed a paltry six TDP LY, which was next to last nationally behind Army West Point, which attempted only 65 passes in 2017.


To quickly try to fix a porous defense (37.5 ppg, 528.9 ypg; 127th), Montgomery added a whopping seven jucos to his stop unit. Three of them will play on the DL that must replace standout Des Jesse Brubaker and Jeremy Smith. When the starting safeties went down with torn ACLs LY, the situation went from bad to nightmarish, as Tulsa led FBS by giving up 31 plays of at least 40 yards. Coming to the aid of a shaky secondary in 2017 was LB McKinley Whitfield (team-high 113 tackles), who moved to safety and will remain there with soph Manny Bunch and Jordan Mitchell, both of whom were sidelined with injuries LY. There is increased depth in the back end due to those injuries, with RS frosh safety Daiquin Jackson making noise in the spring. . Tulsa might get a feel for where they stand in the first five weeks as they travel to Texas, Temple and Houston with a home date vs. Arkansas State also in that span.


Return To Home Page