7837...
TGS 2018 COLLEGE FB PREVIEW
...A LOOK AT THE SEC--PART I

by Gary Olshan, Chief Analyst



We

continue our TGS previews for the 2018 College Football season with a two-part look at the SEC. As usual, teams are listed in their predicted order of finish, with 2017 straight-up, spread, and over/under records included. First up,
the Eastern Division.


1. GEORGIA (SUR 13-2, PSR 11-4, 0-U 7-8)—HC Kirby Smart isn't sure if he will ever be able to get past the pain of losing to Alabama in last season's National Title game on a stunning deep pass in overtime. The good news is that no matter how tough the aftermath has been on Smart and his staff, it seem as if the Bulldog players have been far more capable of embracing 2018 than their elders have. "Kids get past things much quicker than coaches," Smart says. "We have used it as a teaching moment."

We

expect super-loaded Georgia, which brings in the nation's No.1 recruiting class, will take the East Division, once again compete for the SEC title and another possible run to the title game. The Dawgs don't have the experience coming back they had last year, but they may have as much talent. It's just younger and more inexperienced talent.



FOOTBALL COMING SOON...TGS 2018 EARLY DEALS NOW! ...

Click here to order


Even without the all-star RB duo of Nick Chubb and Sony Michel, the high-powered Dawg attack (7 starters back; 35.4 ppg, 5.8 ypc) has the chance to be better balanced behind 6-2 super-soph QB Jake Fromm (62.2%; 2615 YP, 24 TDP, 7 ints.), who's blessed with a marvelous supporting cast, featuring fast & powerful RB D'Andre Swift (618 YR, 3 TDs, 7.6 ypc), sr. WR Terry Godwin (38 grabs, 6 TDs) & soon-to-emerge jr. WR Riley Ridley. Five-star frosh QB Justin Fields, who arrived in Athens in time for spring practice has all the tools. But it's highly unlikely he'll unseat Fromm, who'll be trusted to make for checks at the line of scrimmage this year. The OL should be another strength, with 3 starters back, the developement of RS frosh RT Isaiah Wilson and a highly rated trio of freshmen going through spring practice.


SEC sources tell us that despite the loss of a number of key difference-makers, the nasty Dawg defense (5 starters back; 16.4 ppg; 6th nationally) has a good chance to maintain its high level of play right away. The strength of the "D," especially early, will be the DL, which boasts a rotation of five tried-and-true veterans. Envision a bang-up year for sr. LB Natrez Patrick, who battled off-field problems LY and was suspended for the Rose Bowl and the national title game LY. The secondary might be its best in years, spearheaded by jr. SS J.R. Reed (79 tackles) & sr. shut-down CB Deandre Baker (3 ints.).


Outstanding, clutch jr. kicker Rodrigo Blankenship nailed 20 of 23 FGs LY, including a 51-yarder in OT vs. Bama and career-long 55 yarder in the Rose Bowl. .


Profitable UGA posted an 11-3 spread mark vs. FBS squads in 2018.


2. SOUTH CAROLINA (SUR 9-4, PSR 8-4-1, 0-U 5-8)—Gamecocks' demanding third-year HC Will Muschamp is pleased with the progress of his squad which jumped from 6-7 in 2016 to an unexpected 9-4 finish a year ago. Muschamp says, "We haven't accomplished anything, we talk about winning the state and winning the SEC East, and we haven't done either." He will find out early on if that capturing the East is a realistic goal with a huge showdown in Columbia vs. Georgia on Sept. 8. In any case, second place is surely attainable with both Florida and Tennessee in transition.


We envision a much more potent attack (24.2 ppg) in 2018. Promoted full-time o.c. Bryan McClendon (formerly the co o.c. & WR coach), who replaced fired Kurt Roper, will increase the tempo and add more run-pass option concepts for terrific 6-4 jr. QB Jake Bentley (20 starts; 962.2%; 2794 YP, 18 TDs, 12 ints.), who'll greatly benefit from the healthy return of electric WR/ returner Deebo Samuel, who tied the team with TD catches (6) despite playing in only 3 games due to a season-ending broken leg vs. Kentucky The ground assault (only 3.9 ypc) should have more punch with the return of top RB Rico Dowdle, who was also injured early in 2017. Solid depth will be provided by experienced ball-carriers A.J. Turner and Ty'Son Williams, who combined for 1004 YR and over 5 ypc.


The semi-rebuilding, mistake-forcing "D" (5 starters back; 20.7 ppg; 3.8 ypc 28 takeaways) will be a bit undersized up front but should be quicker and more athletic in 2018. Jr. MLB T.J. Brunson (88 tackles), who'll be asked to fill the big cleats of departed first-team All-SEC Skai Moore, who led the team in tackles the four previous years. The secondary is being retooled after losing 3 starters, but sr. CB Rashad Felton is looking to impress NFL scouts, while RS frosh S Jaylin Dickerson, a promising playmaker who missed LY with a shoulder injury, could emerge along with sr. S Steven Montac.


Kicking game needs help after Parker White converted a weak 14 of 25 FGs and was a lackluster 4 of 14 from beyond 40. He'll receive a challenge from Will Tommie, a Division II transfer.


Gamecocks posted a sparking 7-1 spread mark as an underdog, with its only L coming in 34-10 setback vs. powerful archrival Clemson.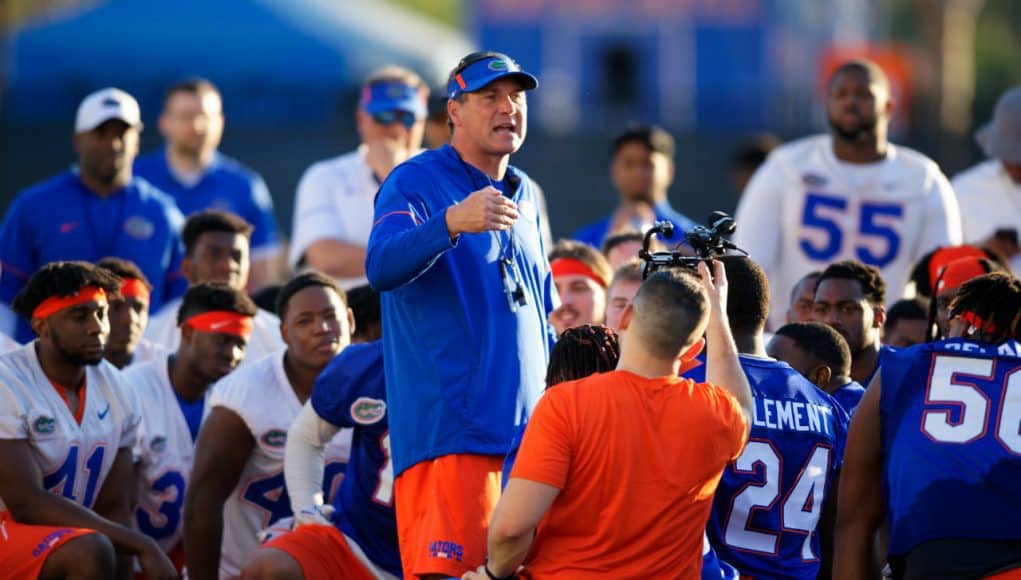 3. FLORIDA (SUR 4-7, PSR 2-7-2, O-U 7-4)—The Gators seemed prime to capture their 3rd straight SEC East title LY, but then unexpectedly lost their starting RB and WR plus 8 others to suspension prior to the year. By November, under-fire HC Jim McElwain was gone. Enter first-year HC Dan Mullen, former Mississippi State mentor for 9 seasons and Florida's o.c. on two national title teams. Mullen plans to return the seasoned Gators (19 starters back!) to their high-scoring ways. "I know how important offense is here," he says. "I know everybody likes to score points. I love to score points." Transitioning UF has a chance to build some early momentum with 3 straight home games vs. Charleston Southern, Kentucky and Colorado State before challenging back-to-back road games vs. Tennessee and an emotionally-charged battle vs. Mullens' former employer in Starkville.


Mullen, who's known for his ability to develope QBs, will choose between a competing trio of soph Feleipe Franks (only 54.6%; took 29 sacks, 9 TDP, 8 ints.), soph Kyle Trask & hotshot true frosh dual-threat Emory Jones. Whoever wins the job should benefit from a fortified WR corps, bolstered by the addition of Ole Miss transfer Van Jefferson (42 catches) & Ohio State transfer Trevon Grimes (check eligibility status) along with speedy 6-2 jr. Tyrie Cleveland (22 grabs). Veteran OL (all 5 starters back) should open up holes for a crowded backfield led by jr. Jordan Scarlett (suspended LY) & jr. Lamical Perine (562 YR, 8 TDs) and highly-promising soph Adarius Lemons.


New d.c. Todd Grantham is switching LY's defense (27.3 ppg; 4.2 ypc only 23 sacks) to a 3-4 alignment, which means sr. aggressive CeCe Jefferson (13.5 TFL) will be turned loose at OLB, while massive 6-4, 358-pound soph Tedarrell Slaton has the skills to dominate inside. The secondary should be tough to dissect, with soph CB tandem of Marco Wilson (11 PBU) and CJ Henderson (4 ints) are among the SEC's top duos. Biggest concern is at LB, where proven David Reese (102 tackles) is seeking steady aid from a group that combined for 125 stops.


New, unproven kicking game in 2018. But with a favorable schedule including home games vs. LSU, Missouri,South Carolina and Idaho, the Gators doubling LY's win total of 4 is within reach, especially if Mullen can work his magic at QB.


Good bet hungry, more offensively-able UF is a dangerous underdog, after going 0-5-1 in that role LY.



4 MISSOURI (SUR 7-6, PSR 7-6, 0-U 7-6)—In late September 2017, HC Barry Odom was the captain of a sinking ship. The Tigers began the season 1-5 and it appeared fair to wonder if Odom would even finish his second season in charge in Columbia. Six games, six wins and a Texas Bowl bid later, Odom's seat went from hot to cool (and a two-year extension), with torrid Mizzou scoring at least 45 points in the final six reg.-season tilts. Plus, the Tigers have a chance to continue that carry-over from LY's reg.-season finish, opening up with Tennessee-Martin, Wyoming (both at home) then traveling to resurgent Purdue before critical clash vs. Georgia in Columbia in late September. Note, Mizzou went 7-0 SU vs. losing teams and 0-6 SU vs. winning squads LY.


Nine starters are back on an explosive attack (37.5 ppg; 308.6 ypg passing) expertly orchestrated by sr. QB Drew Lock (3, 964 YP, 44 TDP, 13 ints.), who wanted to come back in order to improve his "understanding of NFL ball." That's why he liked the hiring of of new o.c. Derek Dooley, who spent the past 5 seasons coaching the Dallas Cowboys receivers following his short stint as the Tennessee head honcho. Even better, Lock is surrounded by seasoned talent, including an intact OL, three receivers with starting experience, two established TEs and two RBs capable of being the team's primary threats out of the backfield, slashing Damarea Crockett (1062 YR in 2016), back from a season-ending shoulder injury, and nifty soph Larry Roundtree III (703 Y$r, 6 TDs, 5.6 ypg).


The penetrable defense (31.8 ppg; a lowly 106th ypg in passing) has a chance to tighten up immediately with a glut of capable DTs, strengthened by the addition of a Texas transfer and former blue chipper Jordan Elliott. NFL prospect DT Terry Beckner Jr. (8.5 TFL) will ably hold down the other DT spot, while the LB corps is stocked, spearheaded by the potent duo of Terez Hall and Cale Garrett (105 stops). Decent improvement is needed in the secondary, with CBs Adam Sparks and Demarkus Acy seeking game-to-game dependability after a down-then-up season a year ago.


Mizzou's special teams are topnotch. Punter Corey Fatony (43.6 career avg.) & accurate Tucker McCann (booted 15 of 17 FGs LY) are superb and returner Richaud Floyd brought back 2 punts for scores and averaged 19.8 yds. per return.


After an 0-4 spread start, Odom's troops ripped off 7 straight spread covers before failing to hurdle 10-point impost in 48-45 win over Arkansas in the reg.-season finale.


5. KENTUCKY (SUR 7-6, PSR 4-9, O-U 6-7)—After back-to-back bowl games, sixth-year mentor Mark Stoops is gunning for the first winning mark in SEC play since 1977. Wildcats came close in 2017 with a 4-4 conference mark. But to break through with a 7-win campaign for the first time under Stoops and a chance to be alive in November for a shot at the SEC East Division title, the coaches must find a highly-productive QB to replaced graduated Stephen Johnson.


There is no FBS experience at the key pilot position between juco transfer Terry Wilson, who began his career at Oregon, and soph Gunnar Hoak, a more traditional pro-style QB having the benefit of two years with the playbook in the Wildcat system. Whoever wins the job can rely on a strong infantry anchored by star jr. Benny Snell (1333 YR, 19 TDs, 5.1 ypc), the first player in program history to rush for at least 1,000 yards in consecutive seasons, and a veteran OL that returns four starters. Hey, Snell is on pace to become the school's career rushing leader in just his third season! An inconsistent group of WRs, however, will need to make major strides. Sr. Dorian Baker, who missed the 2017 campaign with an ankle injury, should help to achieve that goal along with potential All-SEC TE C.J. Conrad (team-high 4 TDC) t& Jr. WR Tavin Richardson (27 grabs).


A veteran stop unit (8 starters back; 28.2 ppg; 4.8 ypc; 102nd in ypg passing allowed), which finished 12th in the SEC in total defense, needs dramatic improvement at CB from a secondary returning all four starters. On the positive side, sr. S Mike Edwards, who's led the SEC DBs in tackles the past two seasons and fellow sr. S Darius West are stout, while the DL is reportedly as deep and athletic as any in Mark Stoops' previous five years as a head coach. But the veteran CBs must finally fulfill the hype that Stoops call "superstars in the making" after their freshman season. There is upside at LB, with the return of sr. Jordan Jones (109 tackles, 15..5 TFL as a soph), who had a tumultuous 2017 season marred by injury and off-field incidents. And there should be more push up front applied with OLB Joshua Pascal moving to DT and blossoming soph NT Quinton Bohanna.


Stoops must hope for a short learning curve at QB, with rock-em-sock-em battles vs. Florida, Mississippi State and South Carolina in month of September.



6 TENNESSEE (SUR 4-8, PSR 2-9-1, O-U 5-7)—After a a string of unsuccessful head coaches, the Vols just might have finally found the right guy in astute Jeremy Pruitt, the former d.c. at Alabama who has never been the top guy in 21 years of coaching. Pruitt, who has been part of national title winning staffs in Tuscaloosa and at Florida State, will try to quickly create a winning culture in Knoxville, especially given his reputation as a great recruiter. "We weren't very good, obviously." Pruitt said after a spring practice. "I think we are trying to stress that with our players."


LY's pedestrian offense (19.8 ppg; 291 ypg; 124th) has a chance to take a big leap forward if a higher level of play can be achieved by competing QBs. Soph Jarrett Guarantano, who showed flashes in 2017, had a productive spring. He'll try to stave off Stanford grad transfer Keller Chryst, who arrives on campus in June, and went 6-0 as a starter in Palo Alto before he lost his job LY. Whoever takes the snaps from under center will work with LY's top receivers, Brandon Johnson and Marquez Callaway. Plus, the return of 6-3 Jauan Jennings, who was dismissed from the team in November, provides a boost to an attack that wants to throw the deep ball under 1st-year o.c. Tyson Helton. OL still a ? And the infantry took a hit with the premature departure of RB John Kelly, but capable Ty Chandler is the heir apparent, while coaches like the bigger backs in Michigan State grad transfer Madre London and incoming frosh Jeremy Banks.


Pruitt ranks among the finest defensive minds in the country, and the first puzzle he'll need to solve on a soft defense (29.1 ppg; 5.4 ypc; 251 ypg rushing; 126th) is repairing a front seven that allowed opposing RBs to run wild. The new 3-4 scheme, a change from the previous 4-3 and 4-2-5 defenses, will be anchored by mammoth 6-6, 308-pound NT Shy Tuttle, while juco All-American DE Jonathan Kongbo could be primed for a breakout season after managing a mere 29 tackles LY. The fortified "D" welcomes back previously-injured MLB Darrin Kirkland Jr. (out most of 2017) and 2016 teams tackle leader FS Todd Kelly Jr., who is back from a knee injury. With more press coverage, rapid maturity is required at CB, with new starters Shawn Shamburger & Baylen Buchanan.


Pruitt's contingent must maintain positive outlook in a front-loaded schedule, with opener vs. West Virginia in Charlotte then five straight battles vs. Florida, Georgia, Auburn, Alabama & South Carolina commencing Sept 22. Vols should at least be 2-1 before that meat grinder with East Tennessee State & UTEP in weeks 2 and 3.
7 VANDERBILT (SUR 5-7, PSR, 4-7-1, 0-U 7-5)—Though the overall win total dropped by only one game from 2016 to 2017, the Commodores took a significant step back in HC Derek Mason's fourth season. To get his team back into the bowl picture—and to stay off the hot seat—Mason needs to solve Vandy's myriad defensive issues. The ground attack must do a better job of moving the chains and maintaining ball control after finishing a woeful 121st nationally in that department despite having the school's all-time leading rusher Ralph Webb. Mason does feel good about his talent level thanks to the 2018 recruiting class, which he considers "the best of my tenure."


The offense (7 starters back; 24.6 ppg) will be directed by sr. QB Kyle Shurmur who set a school record LY with 26 TD passes but completed just 57.9% of his throws. Even sans Webb, Mason says the "the stable of backs we have will shatter some records in terms of running the football." That unit is led by effective Khari Blasingame, speedy Jamauri Wakefield and jr. Ke'Shawn Vaughn, an Illinois transfer who impressed LY on the scout team. After losing the top two receivers, the No. 1 target will be jr. Kalija Lipsscomb (37 grabs, 8 TDs), while talented jr. TE Jared Pinkney (44 catches L2Ys) expected to be an integral part of the aerial game. All five starters return to the OL that must show real growth in run blocking.


After a 3-0 start when the "D" yielded a mere 4.3 ppg, the stop unit (4 starters back; 31.3 ppg; 5.2 ypc) completely fell off the map in SEC play, allowing a conference-record 346 points (43.3 per game) in a disastrous 1-7 run. After calling the defense for the past 3 seasons, Mason ceded control of that job to new d.c. Jason Tarver, a former colleague at Stanford, who spent the last six years in the NFL. Though he inherits a defense with issues on every level, he can build around several genuine playmakers in LB Charles Wright (9 sacks) S LaDarius Wiley (88 tackles) and jr. CB Joejuan Williams, one of the top recruits in school history.


Even if the defense isn't a sieve in 2018 and the ground game can incrementally progress, it's still hard to see Vandy escaping the dungeon in a what looks like an improved East Division .


Commodores have managed to cover the spread in back-to-back SEC games only once since late 2015.
Return To Home Page