7811...
TGS 2018 COLLEGE FB PREVIEW
...A LOOK AT THE BIG TEN--PART II

by P. Carl Giordano, Managing Editor

Following is Part Two of our Big Ten preview, focusing upon the Western half of the loop. Teams are listed in order of predicted finish, with 2017 straight-up, spread, and "Over/Under" marks included.
Wisconsin (2017 SUR 13-1; PSR 9-5; O-U 8-6)...Wisconsin made its third trip in the past four seasons to the Big Ten Championship game last November. While the Badgers are heavy favorites to return as Big Ten West champs, Paul Chryst must retool his defense if Bucky Badger is to challenge the heavyweights from the East. Wiscy's "D" allowed just 14 ppg last season, fewest in the Big Ten by a margin, and good enough to rank 3rd in the nation. That unit was 2nd against the run and yielded just 2.3 ypc at home and 93 ypg rushing in conference play last year. Unfortunately for second-year Wiscy d.c. Jim Leonhard, he must replace 7 starters from that unit, 4 of whom were drafted into the NFL. On the upside, the "spine" of the defense remains in place. RS sr. ILBs Ryan Connelly and T.J. Edwards, the team's top two tacklers in 2017, both return, as do NT Olive Sagapolu and SS D'Cota Dixon. The wings need to fill in, but sr. OLB Andrew Van Ginkel had 39 stops and 6½ sacks while playing as a reserve in all 14 games. Imposing 6-7 soph DE Isaiahh Loudermilk and jr. OLB Tyler Johnson have both been given adequate field time to expect them to contribute at a fairly high level. After all, this has always been a team effort at Wisconsin. The defense will rebuild quickly if the young CB group steps up.


FOOTBALL COMING SOON...TGS 2018 EARLY DEALS NOW! ..

.Click here to order

The Wisconsin offense could be awesome. At least, that's what everyone is saying. Eight offensive starters return, including the entire cast of what is perhaps the best OL in the country. That unit boasts a pair of first team all-Big Ten hogs who opened gaping holes for stud soph RB Jonathan Taylor (1977 YR, 13 TDR; also earned first team honors). QB Alex Hornibrook (2644 YP, 62%, 25 TDs) is back at the controls, so the attack looks as if it could be one of, if not the best in the nation. To play devil's advocate, the Badgers must replace TE Troy Fumagalli, the team's leading receiver, and Hornibrook's 15 interceptions and the total 24 turnovers committed by the Badgers is a sore point that needs to be corrected. Still, Wisconsin recruits plenty of H-back/TE hybrids and the return to health of WR Quintez Cephus (30 recs., 501 yds. 6 TD catches LY despite missing the last 5 games) will help stretch defenses.


Overall, Chryst returns 8 players listed on last season's all-Big Ten team, second only to Ohio State in that department. The schedule is tougher, as the Badgers must visit Michigan, Northwestern, Iowa and Penn State this season, so another 9-0 conference mark might be a bridge too far, and the Buckeyes still rule the roost in the Big Ten. It won't come as easily as last season for the Badgers. Pointspread note: Wisconsin is 13-6 vs. the points off a loss in the last six seasons and 10-2 as a road favorite under Chryst.



Northwestern (2017 SUR 10-3; PSR 9-4; O-U 7-6)...Northwestern has been to three straight bowl games and is 27-12 SU in that span. That positive run might continue, as the Wildcats have 14 starters back and enter 2018 on an 8-game winning streak. Included in that run are two of the team's four 10-win season over the past 100 years. However, reading the tea leaves, the future might not be so rosy for HC Pat Fitzgerald's NU side.


The first issue is the health of incumbent QB Clayton Thorson, who tore his ACL catching a pass in the Music City Bowl against Kentucky Dec. 29. Thorson has thrown for 6026 yds. and 37 TDs over the past two seasons, starting every game over the past three years. If Thorson recovers fully and continues to produce in like fashion, he might be a first round NFL draft pick. But his mobility has been a key to his success, so his health is crucial. The Wildcats return four starting offensive linemen including third-team all-Big Ten G Tommy Doles, plus have WRs Ben Skowronek and Flynn Nagel back. Skowronek and Nagel combined for 93 catches and 1133 yds. in 2017. The bad news is Fitzgerald must find a replacement for the school's all-time leading rusher Justin Jackson. Jackson was drafted by the L.A. Chargers, but RS soph Jeremy Larkin might be ready to step in and produce. Larkin rushed for 503 yds. in 2017 (6.0 ypc) and was rated the fourth-best RB in the Midwest coming out of high school. The return of speedy KR/WR Solomon Vault (four KO return TDs, 31 catches, 266 YR in 31 career games) from injury should be a plus as well.


The defense has seven starters returning from a unit that ranked 9th against the run, held conference foes to just 2.9 ypc and was 20th in the country in scoring defense a year ago. Those returnees include LBs Paddy Fisher (113 stops) and Nate Hall (79 plus a team-high 16½ TFL) , the team's top two tacklers a year ago. However, it will be difficult to replace S Godwin Igwebuike, who was 3rd in tackles and who made up for other players' mistakes with his speed and nose for the ball. Still, with the top tacklers and sackman returning in DE Joe Gaziano (9 sacks, 12½ TFL) and a bit more quality depth than in recent seasons.


Fitzgerald is resourceful, and the schedule is a bit more favorable, as the Wildcats host Wisconsin. If Thorson resembles his former self, NU will give Wiscy a run for the money in the West. Northwestern is 23-9 as a road dog since 2008 and visits Michigan State Oct. 6.



Iowa (2017 SUR 8-5; PSR 6-5-2; O-U 6-7)...It's never good to lose your two best players on both offense and defense in the same cycle, but that is what Iowa HC Kirk Ferentz faces entering his 20th season in Iowa City. The NFL took C James Daniels and CB Josh Jackson (the nation's leader in interceptions) on the second round. Top tackler Josey Jewell (138 stops LY) went on the 4th round to Denver, while leading rusher Akrum Wadley (1109 YR, 10 TDs) went undrafted but has impressed the Tennessee Titan staff.


QB Nate Stanley returns after throwing for 2437 yds. with an impressive 26-6 TD-int. ratio. Hawkeye jr. TE Noah Fant (6-5, 241 lbs.; 30 catches, 11 TDs LY) will provide a big target for Stanley, while top WR Nick Easley (51 recs.) is back as well, but the top two holdover RBs (sophs Toren Young and Ivory Kelly-Martin) combined for just 377 YR LY. Three OL have starting experience, but quality players were lost up front.


Iowa d.c. Phil Parker has to replace LB Jewell and CB Jackson, both unanimous first-team A-A choices in 2017. Jewell, who averaged 128 tackles over the last three seasons, is just one of three starting LBs who must be changed out. That is a tall order. The secondary and defensive line areas are in better shape, as jr. S Amani Hooker might be the next big thing to replace Jackson, who himself was a relative unknown prior to last year's breakout season. DE is a strength position, as returnee Anthony Nelson had a team-high 7½ sacks LY, while soph A.J. Epenesa and sr. Parker Hesse combined to drop opposing QBs 8½ times.


The schedule definitely gives Ferentz and Hawkeye nation reason for optimism, as they avoid OSU, Michigan and Michigan State this year, and they face Big Ten West kingpin Wisconsin at friendly Kinnick Stadium. Certainly there are holes to fill, but the Hawkeye defense has held foes to 20 ppg over the past three seasons under d.c. Phil Parker so they always have a chance. Iowa is 12-2-1 vs. the number as road chalk the last five seasons.



Minnesota (2017 SUR 5-7; PSR 4-7-1; O-U 7-5)...Enthusiastic, flamboyant P.J. Fleck resurrected Western Michigan, which was 1-11 in his first season in charge, transforming the Broncos to 13-1 and a Cotton Bowl appearance in just four years. It appeared an even more rapid turnaround was underway when Minnesota won its first three out of the gate after he took over last season. Alas, reality set in with the start of Big Ten play, and the Gophers finished 5-7. That was a step backward from Tracy Claeys' 9-4 mark in 2016. Fleck will need time to get his own recruits completely ready, but 63 of them are in place, although he does make mistakes in recruiting. The spring washout of highly-rated juco QB Vic Viramontes (he's gone back to JC) and the move of Seth Green to TE leaves frosh Tanner Morgan and Zack Annexstad fighting for the quarterback job.


The Gophers have the bones of an offensive line returning along with productive sr. RBs Rodney Smith (977 YR, LY) and Shannon Brooks (369 YR, 5 TDs in just 6 games), but likely Fleck will be tearing down the foundation and working in his interesting phalanx of recruits. He doesn't care about the record now and is pointing down the road, so true frosh OL standouts Daniel Faalele (6-9, 400) & Curtis Dunlap Jr. and 6-3 WR Rashod Bateman are the building blocks of the blueprinted football skyscraper Fleck is promising the Gopher nation. Ultimately, the future starting QB might be 6-4 Texan commit Jacob Clark, but he won't arrive until 2019.


The good news is that no Minnesota players were selected in the draft. That's also the bad news, indicating the talent level was running low when Fleck took over. He's got dozens of his own recruits in place and will likely be throwing them into the pool to see if they can swim this fall. How quickly the Gophers can improve on their 122nd-ranked offense is up in the air, but the attack can hardly produce fewer than the 308.5 ypg of last season. The defense was a respectable 30th overall last year, thanks to the presence of an effective Minny rush attack which allowed the offense to hold onto possession for more than half of the games. One encouraging sign for Fleck's "culture" change in Minneapolis is that the Gophers made the fewest penalties per game last year, and eliminating mistakes is the first step back to relevance for the program. We'll see if step two might be covering a few more games this fall. Minny is 4-11 as a home favorite over the last three years, and 5-11-2 the last two years against Big Ten foes.


Purdue (2017 SUR 7-6; PSR 9-4; O-U 4-9)...Purdue HC Jeff Brohm didn't take long to turn things around at Purdue. In his first season, Brohm erased the ugly memories of the Darrell Hazell tenure, when the team went 9-39 SU from 2013-2016. Last year the Boilermakers went 7-6, winning a bowl game for the first time since 2011 and breaking a four-year losing streak against rival Indiana to claim the Old Oaken Bucket. Apparently his 30-10 SU mark at Western Kentucky was no accident.


The offense should improve by leaps and bounds after ranking just 92nd in scoring last season, as 13 players with starting experience return. Those returnees include QBs David Blough and Elijah Sindelar, who combined for 3202 YP and 27 TDs. However, both of those players are on the mend and potentially iffy, as Blough had his season cut short due to a dislocated ankle while Sindelar played the last month last year with a torn ACL. The RB trio of Markell Jones, Tario Fuller and D.J. Knox combined for 1388 YR and boasted a 5.6 ypc mark on aggregate. The key area offensively is the receiving corps, which lost two receivers who combined for 84 catches, 1112 yds. and 10 TDs. Brohm is an offensive expert, however, and he squeezed every drop of juice out of 5-11 soph Jackson Anthrop (team-high 47 catches, 5 TDs), and converted QB Jared Sparks caught 19 passes last season. Incoming frosh wideout Rondale Moore was the top player in Kentucky and a highly-prized recruit who Brohm somehow convinced to come to West Lafayette.


The defense was solid in 2017, ranking 24th in the country in points allowed, and made great strides in the run defense, holding foes to just 3.5 ypc, the team's stingiest mark since 2005. But co-defensive coordinators Nick Holt and Anthony Poindexter are rebuilding and must replace seven starters. The major Boiler loss was the New England Patriots' gain, LB Ja'whaun Bentley, who led the team in tackles. However, LB Markus Bailey (top sackman with seven) and S Jacob Thieneman combined for 169 stops, and Navon Mosely had 65, so a solid, if small, group remains.


Brohm's instant success earned him a nice contract extension. He's also rekindled interest in the program, and the crowds are returning. The Boilermaker attendance was up an average of 13,433, which was the largest increase in the country in 2017. The schedule is a bit tougher this season, with Ohio State and Michigan State from the Big Ten East, and they have to go to Bloomington to defend the Bucket against the revenge-minded Hoosiers. A second bowl is still likely in the cards for the Boilers. Pointspread note: Purdue is just 1-11 vs. the number the last three seasons as a home dog but 7-1 as Ross-Ade chalk over the same period. Bonus note: The Boilermakers have covered 14 of 18 as a road dog the last few seasons.


Nebraska (2017 SUR 4-8; PSR 4-8; O-U 8-4)...The hoopla surrounding the appointment of Nebraska alum Scott Frost as head coach replacing Mike Riley has fans in Lincoln positively giddy. After all, Frost took just three seasons to bring UCF back from 0-12 in 2015 to 13-0 last season, the greatest such turnaround in college football history. Frost was also the QB on Nebraska's 13-0, national champion 1997 squad, the Cornhuskers' fifth and last title season. A word of warning...cool your jets Husker fans. Granted, 2017's 4-8 mark interrupted a nine-year run of bowl appearances, and this team was winning and ranked in the top ten as recently as 2016. But turning things around from this point will take more time. And in the collective Cornhusker mind, a sixth national title is ultimately the goal.


Nebraska ranked 115th in scoring defense and 114th against the run last year, yielding 36.4 ppg and 5.6 ypc (6.0 ypc in Big Ten play). New defensive coordinator Erik Chinander was a magician at UCF, turning a team that was minus-20 in turnover ratio during the 0-12 2015 season to plus-17 last year, generating 32 takeaways, second most in the country. Chinander has eight starters back, but with 39 incoming frosh on the roster, half of those defenders, none of the holdover players is guaranteed playing time, much less a starting job. After all, this unit was last in the conference in total defense.


The once-mighty Husker rushing game, which churned out 240 ypg in 2014, Bo Pelini's last season in charge, managed just 107.5 ypg, 119th in the country. That's not a horrible situation. After all, Clemson won a championship rushing for 91 yds. in the title game against Alabama at the end of the 2016 season. Finding a new QB is crucial to straightening out the program. Frosh Adrian Martinez looked like a winner after enrolling early and flashing his talent with an impressive spring game performance (10-of-13 passing for 114 yds. and a score; 60 YR with 3 TDs on the ground). However, Frost, a known QB guru, is reserving his decision for the fall. RS frosh Tristan Gebbia showed he deserves consideration by completing 12 of 17 throws for 125 yds. and 2 TDs. Soph Andrew Bunch will likely carry the clip board again. Whoever eventually wins the job will have a pair of all-Big Ten level receivers to throw to. Sr. Stanley Morgan Jr. (61 recs., 986 yds. 10 TDs; 2nd-team all-Big Ten) and 5-9 soph J.D. Spielman (55/830/2/3rd team) are proven talent. With four starters returning, the OL doesn't need major renovation, as position coach Greg Austin has enough talent to develop.


Six wins and a return to a minor bowl is likely the ceiling this season for Frost and the Cornhuskers. With conference heavyweights Ohio State, Michigan and Michigan State on the schedule from the East coupled with visits to all the top West teams (at Wisconsin, Northwestern and Iowa), the slate can't get much tougher in the Big Ten.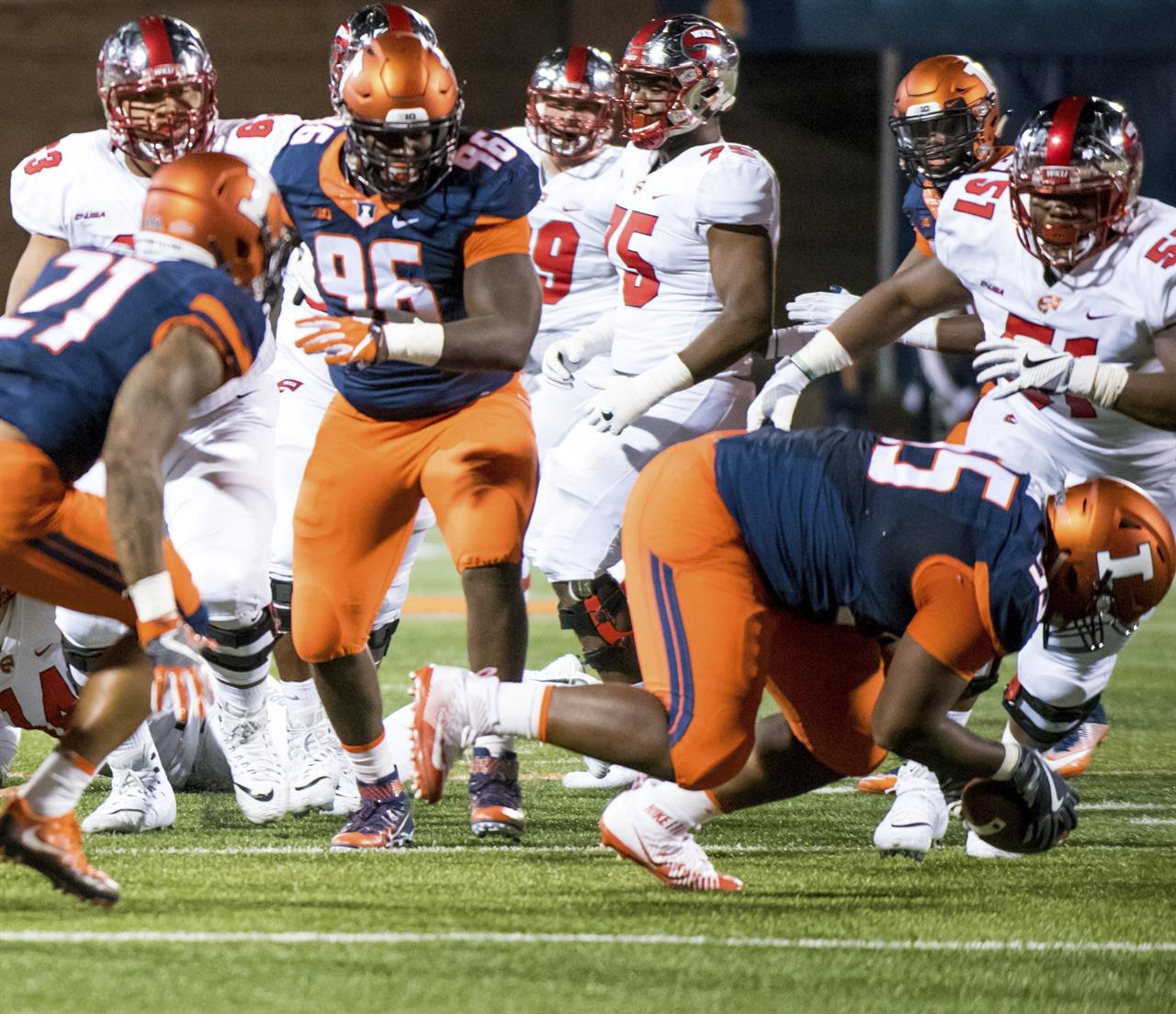 Illinois (2017 SUR 2-10; PSR 4-8; O-U 5-7)...

I

llinois

HC Lovie Smith enters his third season in Champaign-Urbana without much progress to show. He's only approaching about halfway through his six-year, $21 million contract, but the natives are very restless, and in the era of the Big Ten Network and its TV riches, buyouts are not as unreasonable as they used to be. Lovie knows the score; a half-empty Memorial Stadium and a disgruntled alumni base are red flags. He had no problem throwing o.c. Garrick McGee under the bus after the Illini lost 10 straight games to turn their 2-0 start into the first 0-9 Big Ten finish in school history. Just another disaster. Not that McGee didn't deserve a push, mind you, as Illinois ranked 126th in the country offensively, gaining just 280 ypg and scoring only 15.4 ppg. Smith also fired secondary coach Paul Williams after the defense gave up 20 passing TDs, the 2nd-most in the conference.


Rod Smith, who's spent the last six seasons as the o.c. at Arizona, is the new offensive coordinator. His Wildcat squad averaged 41 ppg and 490 ypg last season. Smith's first order of business is to identify a QB. There are three on the roster, all are second-year Lovie recruits, but only Cam Thomas has thrown a pass, or is on scholarship, and off last season's stats, he's iffy at best. Thomas completed just 28 of 66 passes with 5 ints. and no TD passes. Cam Miller and RS frosh Charlie Reinkemeyer are placeholders. Three true frosh and Va. Tech transfer A.J. Bush will be added to the mix in August drills. The 6-4 Bush appears a good fit for Rod Smith's scheme, and he arrives after stops at Nebraska, Iowa Western and Virginia Tech with a year of eligibility remaining. He'll compete with Thomas and the frosh, all of whom are of the dual-threat style along the lines of Arizona's Khalil Tate. Make no mistake, none of these guys is Khalil Tate. The return to health of soph Mike Epstein (team-high 346 YR, 3 TDR in 5 games before injury) will help, as will presence of four holdover starting hogs on the OL, soph TE Dorsey Louis (22 recs.), WR Ricky Smalling (team-high 31 catches) and RS sr. WR Mike Dudek (talented but injury-prone, and hasn't been able to stay on the field).


The defense also has seven starters returning, and there's plenty of room for improvement. Defensive coordinator Hardy Nickerson's platoon yielded 31.5 ppg and ranked 116th vs. the run (219 ypg). Added toughness up front and a better pass rush (Illini had just 19 sacks) will be an imperative. The youngsters will benefit from a season of conditioning and game experience, so it's not out of the question that Nickerson can coach the defense up. Maybe.

Smith has recruited most of the roster, so hopefully for Illini fans he clicks on enough of his recruits to get to the level of Purdue or Indiana, which Lovie could use ASAP to stop the war drums. That's about the best to be hoped for at this stage. First step is to break the 12-game Big Ten losing streak, which might happen at Rutgers Oct. 6. Pointspreade note: The Illini are just 4-10 vs. the spread at Memorial Stadium in two seasons under Smith, but are also 4-3 against ranked opponents in his tenure.
Return To Home Page