7807...
TGS BIG TEN RETROSPECTIVE
... N'WESTERN (AND ARA) AT NO. 1!
by Bruce Marshall, Goldsheet.com Editor
Say "Northwestern" to modern-day college football fans of the ESPN generation and the reaction is likely to be positive. Though not considered alongside Ohio State in the current Big Ten hierarchy, the Wildcats have been more than holding their own for almost a generation, with the past decade of the "Pat Fitzgerald era" featuring numerous contenders and bowl qualifiers. Indeed, for the first time in its history, Northwestern has won bowl games in back-to-back years. Those who recall the mid '90s also remember Gary Barnett's "Miracle Cats" of 1995 who stunned the college football world with their first Rose Bowl (and any type of bowl) visit in 47 years.



FOOTBALL COMING SOON...TGS 2018 EARLY DEALS NOW! ...

Click here to order
But it always wasn't that way in Evanston; indeed, for much of the six-plus decades of

TGS

publishing, Northwestern was one of the laughingstocks of college football. So much so that the Cats at one time posted an NCAA-record 34 straight losses from early in the 1979 season into the 1982 campaign, a streak that finally ended under HC Dennis Green with a 31-6 win over Northern Illinois. The Northwestern QB for that win, and for most of the 1982 season, was Sandy Schwab, whose father might be more recognizable (try stock brokerage magnate Charles Schwab). So regularly outmanned were the Cats of that era that the style of football played by NU was almost unrecognizable in the traditional three-yards-in-a-cloud-of-dust league. Schwab even flung the ball more than 60 times against Michigan in a game the Wolverines won, 49-14, scoring TDs on their first six possessions. Michigan HC Bo Schembechler was his usual irascible self after the game, wondering what on earth it was Northwestern and Schwab were trying to do that afternoon, throwing the ball around then-called Dyche Stadium. "What is this, basketball?," the gruff Schembechler wondered aloud after the game.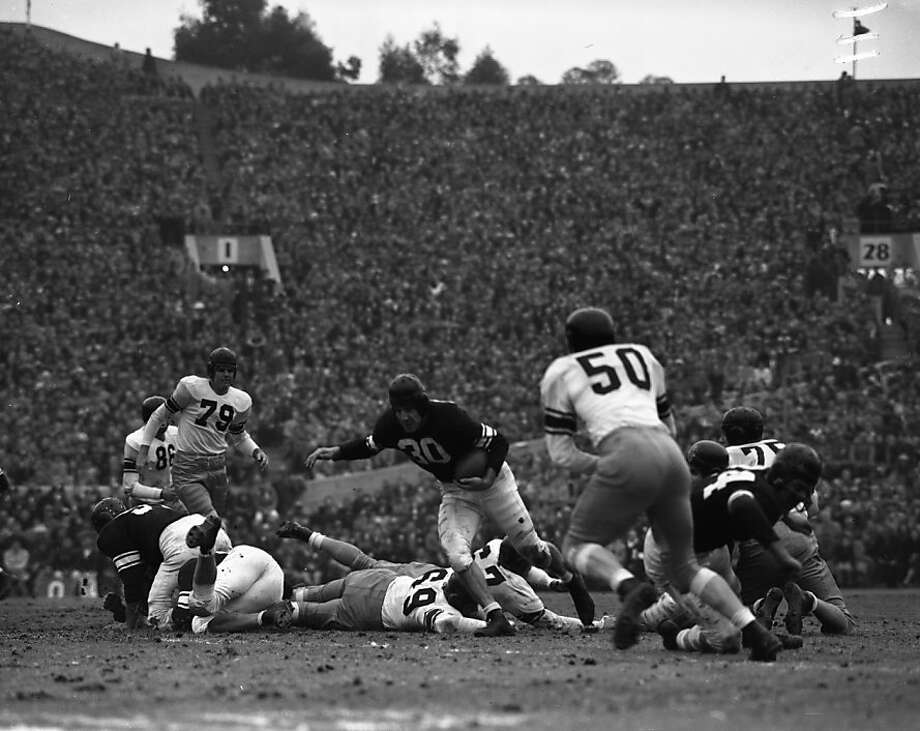 Once upon a time, the Wildcats had some success in the '30s and '40s and during that era would feature an All-American QB, Otto Graham, for teams coached by the legendary Pappy Waldorf, who would eventually move on to greater glories at Cal, taking the Golden Bears to three straight Rose Bowls. One of those came following the '48 regular season, two years after he left Evanston for Berkeley, against none other than his former team from Evanston, then coached by Bob Voigts. It was Northwestern's first Rose Bowl and first bowl visit of any kind, and the Wildcats won, 20-14, though NU qualified for Pasadena only because of the Big Ten's draconian "no repeat rule" of the day that kept Bennie Oosterbaan's first Michigan team, one that was unbeaten and top-ranked, ineligible for a return trip to the "Granddaddy of Them All."
At 8-2 and a winner in the Rose Bowl, NU needn't have made any apologies after the '48 season, though the college athletics dynamics of the late '40s, in the wake of World War II, allowed for a traditional also-ran like the Wildcats to temporarily rise in the ranks. By the time the '50s rolled around, some of the historic athletic disadvantages at Northwestern (limited enrollment, high academic standards, minimal contributions from alumni) once again became harder to camouflage; after a good early start to his career at Evanston, the Voigts regime ended with a whimper following a bumpy 2-7 ride in 1954.
The one and only Lou Saban, with an assistant coach named George Steinbrenner on his staff, gave it a go in 1955 and was rewarded with an 0-8-1 record for his efforts. A low point came midway that winless campaign when Ohio State ran roughshod in 49-0 romp. More bad news came when beloved alum Graham, then playing in the final year of an illustrious career with the Cleveland Browns, publicly announced that he would not pursue a coaching career when he retired at the season's end. Instead he decided to stay in Cleveland and work in the insurance industry. (Note that Graham did an about-face a few years later and indeed entered the coaching ranks with the College All-Stars and at Coast Guard.) Which was a blow to the hardcore Northwestern fans who long had dreamed that former Wildcat hero Otto, who won seven pro football titles in ten years, could bring magic back to Evanston as the head coach.


On November 1, 1955 — less than seven years after the Wildcats won the Rose Bowl — the Daily Northwestern ran a front page editorial recommending that NU withdraw from the Big Ten.
"We have nothing to look forward to but continual defeat in the Big Ten," the editorial declared."Would there be any shame in playing schools such as Stanford, Vanderbilt, Princeton, Marquette, Rice, Holy Cross, Penn, Southern Methodist — all privately endowed institutions such as ourselves?" It was not idle chatter, either; NU sports was having trouble keeping up with the larger state schools that had no scholarship limits. In an era decades before lucrative TV contracts, revenue, for private schools in particular, was almost solely dependent upon attendance and alumni donations.
Moreover, the 1950s were a dangerous time for many college football programs. The growth of pro football made the colleges seem like a farm system for the burgeoning NFL. The college game began to increasingly favor large state institutions with better funding and less restrictive admissions requirements. The NFL was especially dangerous for private colleges in urban areas; within roughly a decade, programs such as San Francisco, Santa Clara, NYU, Detroit and Fordham all dropped the sport, in part due to competition from nearby pro football franchises. No surprise, then, that many around Northwestern in the mid '50s believed that it was time for NU to leave the Big Ten, if not drop football altogether.
After the winless 1955 at debacle, Saban was relieved of his duties by newly-hired AD Stu Holcomb, a former head coach at Purdue who would eventually become the GM of the Chicago White Sox in the early '70s. With Graham having voluntarily withdrawn as a potential coaching candidate, Holcomb effectively had to make a life-and-death hire for the future of the football program in the Big Ten.
Holcomb's answer was a young, 32-year-old coach at Miami-Ohio named...Ara Parseghian.
We have talked at length about Parseghian on these pages, almost entirely in reference to his storied career at Notre Dame between 1964-74. But in retrospect, and taken in context, the work Parseghian did at Northwestern might have been every bit as impressive as the HOF job he would do at South Bend.
Eventually, thanks to down-the-line successors like Barnett, Randy Walker, and Fitzgerald, Northwestern's program would stabilize. But by that point scholarship limits had long since limited the ability of the power programs to stockpile and horde the best available talent, leaving scraps for also-rans like NU. And the Wildcats would eventually somewhat relax their strict academic entrance requirements by allowing their coaches to recruit more "special admits" who would be granted attendance even though their academic profile did not justify normal Evanston admission (a perfectly legal practice featured at the vast majority of schools long before Northwestern joined ranks). Parseghian, however, was working without those advantages that allowed Fitzgerald and other subsequent Cat coaches to compete on a more-level field.
The Northwestern that Parseghian inherited in 1956 offered no such concessions. Increasing regional scuttlebutt, not just from the Daily Northwestern, suggested that if Parseghian couldn't revive Cat fortunes, and soon, a drop out of the Big Ten, and perhaps ending football completely, would be real possibilities.


If any coach seemed up to the challenge, however, it was Ara. Before his coaching career began, Parseghian played on the power Great Lakes teams coached by Paul Brown, became a standout player at Miami-O under Sid Gillman, and later briefly in the pros, again under Paul Brown, for the Browns. A defensive back and halfback, he played alongside future Hall of Famers Graham and Marion Motley in Cleveland in 1948 and 1949, winning two AAFC titles. However, he was seriously injured in the second game of the 1949 season and forced to retire. Parseghian still hoped to remain in football and got his chance at his alma mater, when then-Miami coach Woody Hayes reached out and offered him the job of head coach for the then-called Redskins freshman team. Parseghian's squad went 4-0 in 1950, and he was chosen to lead the varsity program when Hayes took the head coaching job at Ohio State in 1951.
So, at only 27, Parseghian was a head football coach. By the early '50s, Miami already had a reputation as a launching pad for successful head coaches. Before Hayes made the jump to Ohio State, those that had already played or coached at Miami featured the aforementioned Brown, Gillman, and Red Blaik; that list would eventually include Bo Schembechler and a few others (Northwestern AD Holcomb had also been a Miami HC during the war years). Thus was born "The Cradle of Coaches" at Miami, of which Parseghain would be an esteemed member.


Parseghian, however, quickly outgrew Miami-O, especially after his 1955 Redskins finished unbeaten, allowing only 47 points all season, and ending up ranked 15th nationally. So, like Brown, Blaik, Gillman, and Hayes before him, Parseghian would leave "the cradle" to fish in a bigger pond...in his case the Big Ten.
Parseghian relished the challenge. When the Chicago Sun-Times asked him if Northwestern could compete in the Big Ten, Ara didn't flinch. "If I didn't think we can, I wouldn't be here," Parseghian said. Ara immediately showed himself to be a deft recruiter, inking future pro stars such as Fred "Da' Hamma" Williamson (yes, that Fred Williamson!), Irv Cross, and Elbert Kimbrough. Parseghian also recruited his home state of Ohio heavily; among his best finds was HB-DB Ron Burton, who led the team in all-purpose yards in 1957, 1958, and 1959 before becoming the first-ever draft pick of the newly-formed AFL Boston Patriots. (Wonder if Tom Brady knows that bit of trivia about his team?)


The upgrade was immediate at NU in Ara's first year of 1956, as on the heels of the winless campaign for Saban, Parseghian squeezed out a 4-4-1 record. But the cupboard he inherited from Voigts and Saban was relatively bare, and in 1957 (the first year of TGS publishing), with little upperclass manpower, Northwestern regressed back to a Saban-like 0-9 record, with Parseghian sacrificing the season to give seasoning to his first-ever batch of Wildcat recruits, then campaigning as sophomores (remember, frosh were not eligible for varsity play from the early '50s until 1972). Skeptics were once again vocal in unison, but AD Holcomb stayed the course, knowing he had the right man in charge, telling the Daily Northwestern that the team would "come along."


The earliest flowers of the Parseghian era at NU finally began to bloom in 1958, when the Cats shocked the Big Ten with a 4-0 break from the gate that included a 56-24 demolition of Michigan at Evanston in mid-October. The Wolverines had been ranked for the preceding two weeks but got their doors blown off in the first half when Parseghian's Cats roared to a 43-0 (!) lead at the break, causing many p.a. announcers at other stadiums and radio announcers across the country to do double-takes and have to repeat the shock scoreline . In the end it would be the first time a Michigan team had allowed 50+ points since Cornell turned the trick way back in 1891. The Chicago Tribune even blared the result on a front-page banner. The aforementioned Ron Burton was a dynamo, scoring 3 TDs, one on a 37-yard interception return. Cat QB Dick Thornton only completed 5 passes, but they were good for 106 yards worth of gains and a TD. Halfback Willmer Fowler scored twice. The win leapfrogged the Cats into the Top Ten, as they ranked 8th in the following AP poll.


The dream of a return to the Rose Bowl for the first time in a decade effectively ended the next week in a showdown game vs. Forest Evashevski's 7th-ranked Iowa, which won 26-20 at Iowa City despite another 110 YR by Burton. (The Hawkeyes would end up in Pasadena, where they would throttle Cal 38-12 in the Rose Bowl.) Parseghian was far from discouraged ("They fought, they scrapped...you can't ask any more than that," he said of his troops in defeat), and his team rewarded that faith with another big effort the next week when blanking Ara mentor Woody Hayes and fifth-ranked Ohio State, 21-0, moving back up to fourth in the polls. But a pattern would develop for Ara teams at NU, as shallow depth would inevitably be exposed by injuries, and in an era of one-platoon football, the Cats would routinely slow down each November. Limping home, NU didn't win another game and finished 5-4, though Parseghian was well on his way to proving the Cats belonged in the Big Ten.


The best, however, was yet to come.
Parseghian had made such an impression with his '58 team that the subsequent '59 campaign saw Northwestern, unaccustomed to such fuss, ranked in the Top Ten to begin the season. In the opener at Evanston, Parseghian would rout Bud Wilksonson's second-ranked Oklahoma, 45-13, a game that would eventually gain more notoriety for an apparent food poisoning suffered by many Sooners from eating at a Chicago restaurant, a tale made more bizarre by reports that waitresses were asking the OU players their positions played as a fruit cocktail was served. (Chicago-area gamblers perhaps involved?) Nonetheless, it was Wilkinson's worst-ever loss as OU coach until that time. It was also the "tactical Parseghian" at his best. Ara had taught his third-string offense to run the Sonners' vaunted hurry-up so that his first-team defense could learn to stop it in practice. The coach then put his third-string offense in the game once the score was out of hand and used Oklahoma's own patented style against the Sooners, for maximum humiliation.
Sports Illustrated called the upset a "slight case of a murder," but noted Parseghian, characteristically, was relatively subdued after the game. "(Parseghian) looked exactly as he had beforehand — serious, alert, intense," Kenneth Rudeen wrote in that week's SI. "He bit into a big red apple and said, 'This is the type of game you get every so often.'"


The Wildcats immediately reached the dizzying heights of a No. 2 national ranking and stayed there courtesy a clutch 14-10 win at fifth-ranked and defending Big Ten champ Iowa, secured with a 42-yard interception return for a TD by DB Ray Purdin. The win proved costly, however, as QB Thornton was lost for the season with a broken ankle. NU stayed at No. 2 in the polls thru October (indeed, the Cats were sandwiched between No. 1 LSU and No. 3 Ole Miss for the Tigers' memorable 7-3 win on Halloween courtesy Billy Cannon's historic 89-yard punt return TD), but the offense eventually stalled in November minus Thornton and the Cats lost their last three games.
Still, from the depths of the winless program he inherited that was ready to drop from the Big Ten four years earlier, to spending several weeks in the Top Ten and as high as No. 2 in the polls while scoring several wins over high-ranked opponents, these were heady times in Evanston, and Parseghian had proven Stu Holcomb right. Against all odds, the Wildcats were proving they could indeed compete in the Big Ten, as well as nationally!


Parseghian's greatest accomplishment at NU, however, might have come a couple of years later, in the 1962 season. And as we look back at 61 years of publishing TGS, we still believe those two weeks late in the campaign when Ara and his Wildcats ascended to the top spot in the polls might be the most startling feat of the past six-plus decades of college football.
Ara's '62 masterpiece at Evanston was a true Picasso, because, Parseghian, as he was apt to do throughout his career, was not afraid to think outside of the box and get creative, in this case to compensate for the manpower shortages his Wildcat teams were generally forced to overcome vs. Big Ten opposition.
Parseghian, who became especially renown for position switches of players early in his subsequent tenure at Notre Dame, was doing some of the same things at Northwestern before he arrived at South Bend. And there was no better example than his decision in '62 to move Paul Flatley, a FB and HB previously for the Cats, to the flanker spot for his senior season of '62. Mind you, this was an era where one wideout receiver at most would be deployed; flankers of the day were more like third running backs. It was Parseghian, however, who foreshadowed many of the passing game gurus of subsequent decades by opening up the '62 attack offense and lining up Flatley

wide

...effectively as a second wide receiver. That might seem like pretty mundane stuff today with four and five-wideout formations not uncommon, but circa 1962, it was radical ideology. And, for a while, it worked better than Parseghian or anyone at NU could have dreamed.
Last summer, when Parseghian fell ill before passing in August, Flatley, who had a productive NFL career as a WR with the Vikings (including a Pro Bowl appearance) and the Falcons, recalled to the Chicago Tribune some of those developments from prior to the '62 season.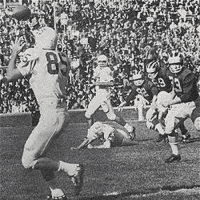 "The Big Ten was three yards and cloud of dust back then," Flatley said, "but we didn't have the depth that was needed to compete for the whole season. Ara said: We're going to open up the offense and let (now soph QB) Tom Myers throw the football. Is there anybody who would like to try to catch it?"


The key ingredient was soph QB Myers, a recruit from Ohio who slipped away from Woody Hayes because the youngster didn't believe a QB who liked to throw would be able to flourish with the Buckeyes. His decision came down to Wisconsin and Northwestern; to Parseghian's delight, Myers opted for Evanston.
With Myers, Parseghian opted for something radical in college football, circa 1962; an aggressive pro-style offense with an aforementioned flanker (Flatley) out wide and used only for pass receiving. The entire offense was geared to Myers' ability to throw the ball. Northwestern still ran more than it went to the air, but the rushing attack was essentially a diversion to set up the pass patterns.
For the first half of 1962, this gamble of Parseghian's paid off handsomely. In '61, Northwestern was ninth in the Big Ten in passing; by midway in '62, it was leading the nation. Total yards gained had gone up from about 280 yards per game to just under 400. After scoring 131 points all of '61, the Wildcats passed that in just their fourth game of 1962.


As for Flatley, down-range from Myers, he had developed into one of the top pass catchers in the country, with deft moves and sure hands. Unlike other flanker-backs of the day, Flatley never carried the ball from scrimmage but was instead the prime target—and sometimes the only target—on most of Myers' passes. After catching all of six passes for 75 yards in '61, Flatley had grabbed 35 passes worth 494 yards and 5 TDs during the first five games of '62. While these numbers seem tame in comparison to modern-day passing stats, in '62 they were granted with the sort of amazement that John Glenn generated that February when becoming the first American to orbit the Earth.


It was that fifth game, a 35-6 mauling of Joe Kuharich's Notre Dame at Evanston on October 27, that vaulted the Cats to the top of the national polls after top-ranked Texas was held to a 14-14 draw by previously-winless Rice. Using a blocked punt, interception, and fumble recovery, the Cats jumped to a 29-0 lead in the 3rd Q. Myers was brilliant, passing twice to Flatley for TDs.
Two Myers-to-Flatley passes against the Irish were true works of art. On a third-and 7 in the 2nd Q from the NU 33,, Flatley went out to the right flank, feinted toward the sideline and came straight back across the field. The pigskin, two defenders and Flatley converged at the same point, the ball somewhat higher than its companions. Flatley sent body and arm aloft, hooked a hand around the ball and fell to the ground with a 10-yard gain and the first down. According to an SI story of the game, a Notre Dame man in the press box said, "Flatley makes Myers a great passer." (More true, perhaps, than people realized at the time). Later, in the 3rd Q, with the Cats on the Irish 7, Flatley went down from the right flank into the end zone, hooked around the Notre Dame secondary and poked himself through a hole at the precise moment when Myers' pass shot down the middle into his arms for a touchdown. So protective was Parseghian of Myers that Ara would often remove his QB early from any one-sided game to prevent the possibility of injury, so valuable was the soph gunslinger to the NU cause.
Wearing a new No. 1 target on their backs and suddenly the talk of the nation, the Cats survived a spirited upset attempt by Indiana the following week before traveling to Madison to face QB Ron VanderKelen and Milt Bruhn's 8th-ranked Wisconsin side in what would be a Rose Bowl decider. By mid-November, however, Northwestern was quickly becoming depleted by its depth issues and resultant lack of manpower. Unable to effectively protect Myers, the Cats would lose touch with the Badgers by the 3rd Q, at which point it was too late for a rally. Wisconsin would roll, 37-6, and go on to win the Big Ten before facing Southern Cal in an epic 1 vs. 2 showdown at the Rose Bowl. A late-season loss to Michigan State would drop Parseghian and Northwestern to 7-2.
(Re: that Notre Dame man who had made the comment about Flatley helping make Myers a great passer...well, it might have been prophetic. Myers' stats dropped considerably after Flatley moved to the NFL in 1963, as yardage dipped along with TD passes, which only totaled 8 combined in '63-64, while interceptions rose to 26 for those last two seasons. Myers would eventually be drafted by the Detroit Lions and threw only 6 passes total in 1965-66 before disappearing from the league.)


By this time, for all of the heroic work done by Parseghian at NU, things had seemed to reach their limit. Recruiting standards and small budgets perpetually limited the size and talent of the roster, making it difficult to sustain a full season of excellence.
Fans and media were speculating that Parseghian would depart for a head coaching job at either a large state school or the professional ranks. Stanford, another private school that had been struggling, offered him its job after the 1962 season. "I told them frankly that I thought I had a better job here at Northwestern," Ara told the media. (In a story that ended well in Palo Alto, Stanford would instead hire Utah State's John Ralston, who would lead the then-called Indians to some dizzying heights before moving to the NFL Denver Broncos in 1972).


Although he was linked to the Cleveland Browns job that offseason (which opened after new owner Art Modell fired Paul Brown, eventually hiring Blanton Collier instead), Parseghian returned to NU in 1963 for what would be his final campaign in Evanston. In a familiar pattern, the team won four of its first five games, then lost three of its final four to finish 5-4. The season included a pair of notable wins for Ara. On October 19, Northwestern defeated Miami, his former team, 37-6 in Evanston. Parseghian's final win as Northwestern coach was against the man who gave him his first coaching job; the Wildcats defeated Woody Hayes' Ohio State team in Columbus on November 16. The season-ending game put both NU's season record and Parseghian's Wildcat career mark over .500, and evened his record against OSU at 3-3. Northwestern has only beaten Ohio State twice since his departure.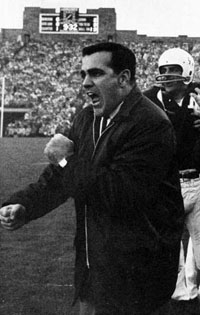 Following the 1963 season, Parseghian and his staff had become increasingly frustrated with the limited budgets at NU. According to the Chicago Tribune's Teddy Greenstein, the staff was forced to pay out of their own pockets to repaint the locker room. "We knew as a team that he and his staff were big time," recalled NU alum Mike Buckner, one of Parseghian's players, in 2014. The news that Wildcat fans were dreading finally came on December 3, 1963--Parseghian took the job at Notre Dame. Which, at that stage, had been in a period of decline, without a winning season in five years. Of course, we know what happened with Ara in South Bend, a decade-long run of glory that covers several chapters of college football history.
Parseghian's accomplishments at Notre Dame deserve all of the accolades they have been afforded. We, too, have joined in the Ara salute to that Fighting Irish glory era, running a couple of "Parseghian specials" to honor him lest season after his passing. In addition, we don't have room to categorize our admiration of Ara for his eventual work in helping find a cure for the Niemann-Pick type C disease that would claim three of his grandchildren.
In the back of our minds, however, we also wanted to pay tribute to the wondrous job Parseghian did at Northwestern more than a half-century ago. Against all odds, that "Era of Ara" in Evanston confirmed Parseghian's brilliance and gave Wildcat fans evidence that the program could compete at the Big Ten level and would help them endure a mostly-dreadful subsequent two-plus decades until structural changes in college football would put schools like NU back on a better footing.


Eventually, the Wildcats were able to parlay those factors into sustained competitiveness and even success, winning Big Ten titles and bowls—-things that Parseghian couldn't at NU in an earlier era. However, neither Gary Barnett, the late Randy Walker, nor Pat Fitzgerald would likely have had their success with the Cats if not for Parseghian's time in Evanston. Which included that hard-to-believe short spell on top of the national rankings in '62...maybe the darnedest accomplishment we at TGS can recall in our long publishing history!
Return To Home Page