7775...
TGS SPECIAL REPORT
...2018 NFL DRAFT PREVIEW--PART I

by Bruce Marshall, Goldsheet.com Editor
T
he NFL Draft always brings back plenty of memories. Especially for this writer, who recalls the days long before the draft became an industry unto itself, and working on rudimentary draft previews for the heck of it. We recall the days when the draft festivities would take place almost at the conclusion of the regular season, and then, when it would be conducted in late January during the years immediately following the 1970 AFL-NFL merger.


Before the advent of ESPN, keeping track of the draft meant waiting for the evening newspaper (remember those?), which would provide info on first-round selections, then waiting for the following day's morning paper to report on subsequent picks. Or, listening to news radio when it was time for the sports reports every half hour, and charting reports of the latest picks. Upon its launching in September of 1979, ESPN thought that providing extensive draft coverage might not be a bad idea for pro football junkies who were looking for their gridiron "fix" in the off-season. Indeed, one of ESPN's first major breakthroughs was its on-site coverage of the 1980 draft, just a few months after the network began its operations. Veteran Jim Simpson, a top announcer at ABC and NBC the previous two decades and ESPN's first "celebrity" hire, would play an integral role in those early coverages of the draft, beginning in 1980.


We can also recall the draft days before Mel Kiper, Jr. became a household name, although we suspect a young Mel was doing some of the same things we were doing, like us, in a low-flying orbit with our draft previews, about the time ESPN began its coverage of the draft.


In those days, there were few media coverage options for hard-core NFL fans and "draftniks" outside of Joel Buchsbaum's mesmerizing reports for Pro Football Weekly. The mysterious Buchsbaum, based in Brooklyn and rarely seen in public, had quickly developed a cult-like following in those days, as he was featured not only in PFW but on various sports talk radio shows (notably in St. Louis, where he cultivated a new legion of fans in the midwest on blowtorch KMOX when preceding the Monday night games). There was also a fellow named Jerry Jones, different from the one who would buy the Cowboys several years later, who would preview the draft with a small, goldenrod-colored booklet called the Drugstore List. Jones' labor of love, which began in 1978, continued thru 2012, with his last edition published shortly before his passing. Back in the late '70s and early '80s, however, the Drugstore List was one of the few reference sources for the draft besides Buchsbaum's material for PFW.


The passing of all-time draft all-stars such as Jones and Buchsbaum, and the demise of PFW (the first publication to set the bar high for draft coverage), are all viewed sadly by draftniks, although there are still numerous draft previews, including Hub Arkush with a reincarnated Pro Football Weekly preview, and countless more options on the Internet.


The draft provided something unique for me, too, as I produced my own version of a preview nearly 40 years ago while I was finishing my college work. Those early draft previews were among the items I first sent along to TGS Founder Mort Olshan when looking for a job outside of the college sports information office sphere in the early 80s. Mort liked what he saw and darned if he didn't hire me, providing my entree into this fascinating business. We even toyed with the idea of producing some serious draft previews at TGS in the early and mid '80s before passing on the idea; among other things, by the time the draft rolled around each spring, we were too exhausted from a season's worth of football and basketball publishing work to so quickly sink our teeth into another project. No Mel Kiper, Jr. for us, though in retrospect perhaps we should have gone for it way back when. We had an idea that the draft held the potential to captivate the NFL audience, as forward-looking thinkers such as Kiper were able to capitalize upon later in the '80s.


Fast forward to 2018, and the NFL Draft remains a pretty big deal. We at TGS will be paying attention as usual, with this year's festivities having the color of the modern-day version of Jerry Jones as the event has been moved to the Cowboys A&T Stadium in Arlington after stops in Philadelphia and Chicago the past two years. All a bit different, locale-wise, than the days at the Marriott Marquis at Times Square. The fun begins with the first round on April 26, with the remainder of the draft conducted over the 27th and 28th. It has become an enjoyable rite of passage for us, and now the conclusion to our publishing season, when we offer our own draft preview, along with updating what each team has been doing in free agency up until this point on the calendar.


For us, this is a treat, and a walk down memory lane when we used to do these draft previews just for fun. After all of these years, we still get the same kick out of previewing the draft as we did back in the early '80s!


Following are our team updates, revolved around offseason developments and first-round draft projections, and our predicted selections, noted in bold italics. As always, trades can alter draft order, but for the moment, this is how we believe things might proceed later this month in Arlington. We'll go in draft order (as of Monday, April 2), covering the first half of Round One in Part I, and following with the rest of the first round in our final issue of the season next Monday.


Remember, the NFL preseason is just over four months away!


1-CLEVELAND BROWNS

..

.If it seems like the Brownies have been "on the clock" for most of the past two years, well, that's because they have, as they get first pick for the second straight April. It's almost a three-peat at the top of the first round, as Cleveland had the second choice in the 2016 draft before flipping around spots with the Eagles, who ended up taking Carson Wentz with their pick from the Browns. Already a busy offseason for the latest Cleveland GM, John Dorsey, who began the recovery out of the rubble from last year's 0-16 by finding a new o.c. (Todd Haley, most recently with the Steelers) to help beleaguered HC Hue Jackson before inking a stop-gap QB at a fair price in trade (Tyrod Taylor from the Bills), with FA and ex-Card Drew Stanton added for depth. Another potentially useful FA addition was ex-49ers RB Carlos Hyde, an Ohio State product who, if healthy, could be the sort of all-weather back to come in handy and deal with the nasty weather conditions of the AFC North, while WR Jarvis Landry arrives via trade from the Dolphins. Now the Brownies sit with two choices in the top four slots (the second choice courtesy of a draft day trade engineered by Dorsey predecessor Sashi Brown last April with Houston that netted QB Deshaun Watson for the Texans), though Dorsey has said he will listen to offers for any of his top-four picks. Since Taylor (signed to only a 2-year deal) was added as a bridge to a new QB, it seems a good bet that Dorsey tabs one of the elite signal-callers early, though at some point Cleveland has to address a 2ndary that never seemed to recover after releasing top cover man Joe Haden, proceeding to allow a league-worst 68.6% completions. After a 1-31 mark the past two years, there are obviously a lot of holes to be filled. Sam Darnold, QB, Southern Cal


2-NEW YORK GIANTS

...

There's no question the G-Men are in transition, with the disastrous Ben McAdoo experiment at head coach having been humanely terminated before the end of last season, and long-serving GM Jerry Reese also walking the plank. The new braintrust of GM Dave Gettleman (most recently Carolina) and HC Pat Shurmur (Vikings o.c. LY; previously Browns HC) will design the makeover that still appears to be in progress, especially with rumors that WR Odell Beckham, Jr. could yet be on the move (though the price of a pair of number-one picks as sought by Gettleman should scare away most suitors). It is obvious, however, that the G-men can wait no longer to find a replacement at QB for an aging Eli Manning who, at 37, is entering the final year of his contract. Second-year Davis Webb, a third-round pick last season, is considered a longshot alternative at best. Though there are plenty of other areas of need (OL, DB, RB, and, if Beckham is indeed dealt, WR), if the G-Men don't take a QB at number 2, it might be the first thing George Stephanopolous brings up on the April 27 edition of Good Morning America...never mind ESPN. Josh Allen, QB, Wyoming


3-NEW YORK JETS

(from Indianapolis)...Rest assured that the Jets did not deal away two second-round selections in this draft and another second-rounder in 2019 to flip first-round places with the Colts and not draft a potential franchise QB with this third pick. New York GM Mike Maccagnan had been hopeful of signing Redskins QB Kirk Cousins in free agency, but when that didn't materialize, was quick to move into position to draft one of the featured QBs that will be available in Arlington. In the meantime, Josh McCown has been brought back and Teddy Bridgewater added from the Vikings on one-year deals to help ease any transition to a new QB, who will likely not be thrown into the fire, at least at the outset. More than keeping McCown, re-signing CB Morris Claiborne was a priority in the early wave of free agency, and Maccagnan was pretty busy overall in the marketplace, also adding one of the premier available corners, ex-Ram Trumaine Johnson, now paired with Claiborne and allowing Buster Skrine to move back into a more-comfy nickel role. Though missing out on Cousins, Maccagnan did land his C from the Skins, Spencer Long, who should replace the departed Wesley Johnson, while ex-Brown Isaiah Crowell will allow HC Todd Bowles to not lean as heavily on RB Bilal Powell. In later rounds the Jets should look to address issues at OT and perhaps add an edge rusher, but if they don't draft a QB off the bat after moving into the 3-hole, you've got a scoop. Josh Rosen, QB, UCLA


4-CLEVELAND BROWNS

...

New Browns GM John Dorsey is currently slated to get a second pick in the top four with this slot courtesy of the aforementioned deal with the Texans (who tabbed Deshaun Watson with the Cleveland pick) at the draft last year. As also mentioned earlier, Dorsey could be severely tempted to trade one of his top two picks. But if the Brownies keep this selection, and if the first three picks of the draft unfold as we suspect, there's a chance they have a clear run at the best of the available non-QBs. There might be real temptation to take NC State DE Bradley Chubb to team with last year's top pick, Texas A&M's Myles Garret, and form a potentially-ferocious edge-rush combo. But we have a hard time envisioning a featured RB like Penn State's Saquon Barkley lasting much beyond this spot in the first round. Whether it's the Browns or some other team trading up for a shot at Barkley will be something we'll be watching closely all of the way up to the fourth selection being on the clock. Saquon Barkley, RB, Penn State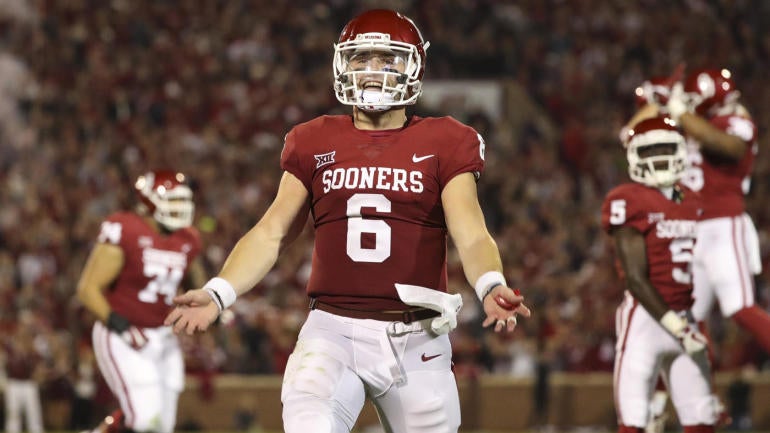 5-DENVER BRONCOS

...

It's been a steep descent in Denver, with John Elway's saint-like status in the Mile High City now under review after a series of puzzling moves that sunk the Broncos to the bottom of the AFC West and their longest losing streak (eight games) since Lou Saban's first season in charge fifty years ago. The decline is on Elway, first for his decision to hire untested HC Vance Joseph, allowing much of the Gary Kubiak staff (including sage d.c. Wade Phillips) to walk, then resisting calls to admit the Joseph error and instead keeping Joseph with a gutted staff, except for coordinators Bill Musgrave (offense; replaced Mike McCoy at midseason) and Joe Woods, who will stay. Got all that? Discerning fans in Broncos Country have already lost faith in Elway, who seems reluctant to admit mistakes (beyond Joseph, keeping former top choice QB Paxton Lynch after being beaten out clearly the past two seasons by Trevor Siemian, who was dealt to the Vikings) and wonder if the Broncos overpaid for QB Case Keenum on a short-term deal when less-expensive "bridge" options like AJ McCarron and Tyrod Taylor were available. Elway's top QB target, Kirk Cousins, had little interest in the Denver situation with what might be a lame-duck coach. Other additions, including RT Jared Veldheer (trade from Arizona) and CB Tramaine Brock (FA from Minnesota, ostensibly as an alternative in case Bradley Roby isn't up to filling the shoes of Aqib Talib, a cap casualty who moved to the Rams), might prove useful, but Elway's abysmal track record since Super Bowl 50 suggests he's likely to get it wrong in the draft and maybe bypass a chance at one of the potential franchise QBs that should still be available here in the first round. Is Elway really this stubborn? Baker Mayfield, QB, Oklahoma


6-INDIANAPOLIS COLTS
(from NY Jets)
...
I
s QB Andrew Luck going to be ready to play this fall after missing all of 2017 due to a shoulder injury? Might that have been one reason that Patriots o.c. Josh McDaniels backed out of a deal to succeed Chuck Pagano as HC at the last second? (Or maybe McDaniels has been assured he will someday succeed Bill Belichick...but we digress.) Whatever, we suspect that Colts GM Chris Ballard was comfy enough with Luck's rehab to move down three spots in the first round in a deal with the Jets to acquire two extra second-round picks and another second-rounder next season, an indicator that the Colts weren't too interested (at least as much as the Jets) in adding one of the featured rookie QBs. Also, so-far top FA addition TE Eric Ebron from the Lions probably wouldn't have inked with the Colts instead of the Panthers (his other top FA suitor) if he thought Luck might not be ready. In the chance Luck isn't ready to go by opening day, Jacoby Brissett is still around as a serviceable alternative for new HC Frank Reich, off the Super Bowl Eagles staff. Beyond Ebron, Ballard added a few depth pieces in a relatively quiet period of early free agency, but now has plenty of extra picks to re-stock some areas of need, especially on a defense that ranked 30th overall a year ago. If NC State DE Bradley Chubb is still on the board, he would prove hard for Ballard to bypass, especially as Indy has lacked that sort of potential impact pass-rusher since the days Robert Mathis was a force, five or so years ago. Bradley Chubb, DE, NC State


7-TAMPA BAY BUCCANEERS

...In the end it was a bit of a surprise that 2nd-year HC Dirk Koetter survived and was retained for 2018, especially after a reported rift with 3rd-year QB Jameis Winston, whose issues seem more complicated than a mere feud with his coach. It is now fair to ask if Winston's 2017 regression (18 turnovers/33 sacks) is the beginning of a downward trend in his career (remember how Josh Freeman, who preceded Winston by a few years with the Bucs, also burned brightly for a short while before fizzling), though Tampa Bay did continue to play hard in December which, in the end, probably spared Koetter. We'll see how Winston responds this fall, but Tampa Bay GM Jason Licht hasn't exactly been standing around idle in postseason, completely re-making a subpar defensive line and its NFL low-sack totals by adding (via trades and FA) Jason Pierre-Paul, Vinny Curry, Beau Allen, and Mitch Unrein, while also inking ex-Ravens C Ryan Jensen to a big-bucks deal. Meanwhile, WR Mike Evans, TE Cameron Brate, and S Brent Grimes were retained before they hit the market. After already addressing the DL, Licht's priority in the draft could be in the secondary, where, if the first round shakes out as we suspect, the Bucs could have their pick of DBs at this 7 spot. In the end, however, we have to wonder if Tampa Bay is going to be able to make any meaningful progress if Winston continues to perform in an uneven manner; Koetter likely sinks or swims with Winston this fall. Minkah Fitzpatrick, CB, Alabama


8-CHICAGO BEARS

.

..The last time the Bears drafted in the top ten for the fourth straight year was in 1976, shortly after Jack Pardee had been enlisted as HC to succeed Abe Gibron's off-course regime. Now we'll see if another new HC, this time Matt Nagy (off a stint as the Chiefs o.c.), can help forge a similar turnaround. At least GM Ryan Pace has been busy in the offseason, upgrading the receiving targets for second-year QB Mitchell Trubisky when signing ex-Jags WR Allen Robinson, ex-Falcons WR Taylor Gabriel, and ex-Eagles TE Trey Burton (best remembered, perhaps, for his TD pass to QB Nick Foles just before halftime in the Super Bowl), the latter a necessary addition with TE Zach Miller's recovery from a serious knee injury no sure thing. Behind the still-learning Trubisky, Chase Daniel (familiar with new HC Nagy from days together in Kansas City) was signed from the Saints as a serviceable backup, but helping out Trubisky in any way possible looks to be a preferred course of action early in the draft. Pace, however, also thought last year's free agent haul (which included QB Mike Glennon) would pay dividends, but almost all have since either been dumped or brought back at a lower salary. Quenton Nelson, G, Notre Dame


9-SAN FRANCISCO 49ERS

...Things are looking considerably up for the 49ers, who won their last five games in December after trade- deadline addition QB Jimmy Garoppolo took over at QB down the stretch. And San Francisco, which until midseason looked to be running neck-and-neck with the Browns for the first pick in the draft, suddenly became a chic pick to make a playoff run in 2018. Perhaps the most significant offseason development was handing Garoppolo a big-bucks extension, but in the near-term, adding ex-Seahawk CB Richard Sherman might make more of an impact. With several holes to fill, Lynch also added versatile ex-Giants OL Weston Richburg, who can play at C or G, and ex-Vikings RB Jerick McKinnon, who will likely be the featured RB for HC Kyle Shanahan now that Carlos Hyde has departed for the Browns. After adding Sherman, Lynch could probably use one more playmaker on the stop-end to help accelerate the 49er ascent. Roquan Smith, OLB, Georgia


10-OAKLAND RAIDERS

.

..There are more than a few AFC observers who wonder about Mark Davis opening up his wallet to lure Jon Gruden, ten years removed from his last stint on an NFL sideline, from the ESPN booth for a second spin as HC of the Raiders. The franchise is also coming closer to a period of limbo with the move to Las Vegas now just two years away. Meanwhile, several defensive starters are testing FA waters, and GM Reggie McKenzie has been concentrating most (but not all) of his offseason additions on the stop unit, especially a 2ndary that added CB Rashaan Melvin from the Colts and S Marcus Gilchrist from the Texans. Though the most attention from the new faces is being saved for ex-Packer WR Jordy Nelson, who effectively takes the place of Michael Crabtree (who was released), and ex-Buc RB Doug Martin, a onetime force whose career has been sidetracked by various issues the past two years, and perhaps a bit of insurance in case Marshawn Lynch does not return. It is also assumed (perhaps wrongly?) that QB Derek Carr will resume his career ascent under Gruden after veering off course in a disappointing 2017. We'll see. With pass coverage supposedly helped in free agency, McKenzie will likely be looking to address the pass rush at some point in the draft and will be seeking to fill the hole created by ILB NaVorro Bowman's departure. Tremaine Edmunds, ILB, Virginia Tech


11-MIAMI DOLPHINS

...There was a jerry-rigged look about the entire Miami operation a year ago after then-new HC Adam Gase steered the Dolphins to a surprise playoff berth in 2016. But Ryan Tannehill's preseason knee injury forced Miami into emergency mode at QB early before pulling Jay Cutler out of his new job in the Fox broadcast booth on a one-year, $10 million deal. Cutler apparently will not return, and Gase has enlisted ex-Bronco Brock Osweiler (a former Gase pupil in Denver) as this season's backstop for the injury-prone Tannehill, admittedly running short on time to retain his featured role. (Longtime reliever Matt Moore could also return but was unsigned as of early April.) But beyond Cutler there have been plenty of other high-profile departures since the end of last season (WR Jarvis Landry, DT Ndamukong Suh, and C Mike Pouncey) and not sure how much tread is left on the tires of some of the replacements, including soon-to-be 35-year-old RB Frank Gore. So things still look a bit jerry-rigged at Hard Rock Stadium, where GM Chris Grier might also consider drafting a QB with no long-term option on the roster besides Tannehill. Mike McGlinchey, OT, Notre Dame


12-BUFFALO BILLS

(from Cincinnati)...The Bills were able to move up into the top half of the first round after a deal with the Bengals in which multiple picks were swapped and OT Cordy Glenn was shipped toCincy. Off its first playoff berth since 1999 (and surrendering its role as North American pro sports' longest playoff drought, a spot now held by the Seattle Mariners), Buffalo is still not to be confused with the Eagles or Patriots after ranking 29th in total offense, which helped prompt sending QB Tyrod Taylor somewhere he is wanted, at least for the moment (that's Cleveland). Ex-Bengal AJ McCarron has been signed as a short-term QB bridge to someone yet to be identified, but unless GM Brandon Beane has another deal in mind to move up, Buffalo probably won't have a shot at one of the top-tier QBs in this draft. Beane probably won't be looking at the DL in the draft after upgrading in free agency with DE Trent Murphy (via the Redskins) and DT Star Lotulelei (via the Panthers), and the CB spot opposite last year's rookie sensation Tre'Davious White might be upgraded by the addition of ex-Colt Vontae Davis. Many AFC insiders expect Beane to look more at offense in the early rounds; will he trade up, or might he gamble on one of the non-"big four" QBs available? Courtland Sutton, WR, SMU


13-WASHINGTON REDSKINS

...The Skins got the ball rolling with all of the offseason moves when acquiring QB Alex Smith from the Chiefs and allowing Kirk Cousins to walk in free agency, and not carrying thru on rumors that the latter was going to be franchise-tagged once again. That was deemed too risky in case Bruce Allen could not find any takers. Washington moved in free agency to help out Smith by finding the sort of deep threat the team has lacked since DeSean Jackson departed, inking ex-Seahawk Paul Richardson to a five-year, $40 million deal. Elsewhere, Allen only added a few depth pieces to the mix, and still needs to find some help for what was the NFL's worst rush defense a year ago. If that doesn't improve and the Skins whiff on the playoffs again, can HC Jay Gruden (who has already lasted longer than any of owner Dan Snyder's other coaching hires) hang on beyond this upcoming season? Vita Vea, DT, Washington


14-GREEN BAY PACKERS

...Unaccustomed to picks in the upper half of the first round, the Pack seems like it might be poised for a rebound in 2018 if it can get a healthy season out of QB Aaron Rodgers, who was seen more often on State Farm commercials than on the field a year ago due to injuries. In fact, Green Bay hasn't had a draft pick within the top 20 since 2009, so new GM Brian Gutekunst has a luxury not afforded to predecessor Ted Thompson in recent years. After Thompson was loathe to do much in free agency during his tenure, Gutekunst has been less afraid to fish in those waters. Adding ex-Jets DE Muhammad Wilkerson on a one-year deal allows Gutekunst to address the pass rush and secondary in the draft. In another un-Thompson-like move, Gutekunst has gambled that TE Jimmy Graham, mostly a bust in Seattle, can re-light some of his old New Orleans flame and emerge as a prime target for Rodgers, now minus recent familiar safety blanket Jordy Nelson. After Brett Hundley struggled in place of Rodgers last season, Gutekunst also added DeShone Kizer from the Browns as another backup QB alternative. But expect the "D" to be targeted early, where there are quality options on the edge and the corners, whereGutekunst could still look to upgrade after adding 35-year old ex-Card Tramon Williams, who returns for a second tour of duty at Lambeau Field. Marcus Davenport, DE, UTSA


15-ARIZONA CARDINALS

...Even though Canton-bound WR Larry Fitzgerald will return for another season, this looks like a transition year in the desert with a new HC, Steve Wilks (recently Carolina's d.c.), and an unsure QB situation with Carson Palmer finally having hung 'em up, and longtime caddy Drew Stanton leaving for the Browns in free agency. The new QB depth chart features Sam Bradford, whose history of injuries makes the retired Palmer seem durable by comparison, and Mike Glennon, a FA bust last fall in Chicago. To protect either Bradford or Glennon, GM Steve Keim added FA G Justin Pugh from the Giants (though T Jared Veldheer has moved to Denver), and do-everything Pro Bowl RB David Johnson should be ready to go in the fall after missing almost all of 2017 due to injury. A cap casualty on the stop-end was S Tyrann Mathieu, but the "D" was better than expected last season...it's on offense where new HC Wilks appears to have the greatest challenge. Calvin Ridley, WR, Alabama


16-BALTIMORE RAVENS

...For the fourth time in five seasons since their Super Bowl win over the 49ers, the Ravens missed the playoffs (this time in especially disturbing fashion when allowing the Bengals to drive the length of the field in the final minute of the regular-season finale), and more than a few AFC observers believe the long-running tandem of HC John Harbaugh and GM Ozzie Newsome might not be together in Baltimore much longer. Newsome has been upgrading an aging roster with as much youth as possible in recent years, and spent part of the offseason looking to help slow-footed QB Joe Flacco, adding WRs Michael Crabtree (via Oakland) and John Brown (via Arizona), though both are off disappointing campaigns. Newsome has also been hampered by limited cap space, and now must continue his attempt at upgrading the offense in the draft, where another wideout, a tight end, a replacement for departed C Ryan Jensen and perhaps an eventual successor to Flacco, might be identified. James Washington, WR, Oklahoma State
Next issue: NFL DRAFT PREVIEW–PART II, plus COLLEGE HOOP SUPERLATIVES
Return To Home Page