7679...
TGS SPECIAL REPORT
...MORE NFL SEASON-END REVIEWS
by Bruce Marshall, Goldsheet.com Editor
Picking up where we left off in TGS Football 20 with our annual season-end NFL reviews, we continue with the first eight teams eliminated from the playoffs. Remember, our reviews of the postseason non-qualifiers can also be found on our homepage at www.goldsheet.com.


Wild Card Round losers are listed first in alphabetical order, then Division Round losers. Straight-up records for 2017 are included.


Buffalo (9-8)... Breaking a playoff drought that had spanned the millennium, the Bills made it back to the postseason for the first time since the 1999 season, which was cause for celebration on the Niagara Frontier and briefly made Cincy QB Andy Dalton a local hero for leading the Bengals to a dramatic last-minute win at Baltimore that knocked the Ravens out...and put Buffalo into the playoffs. The Bills couldn't advance past the Jags in a bruising 10-3 Wild Card Round defeat, but at least the last playoff memory in Buffalo will no longer be the Titans' "Music City Miracle" from 18 years ago. Though there was a wide gap between the top few teams in the AFC and the rest, the Bills still didn't figure as a Wild Card, with the first-year pair of HC Sean McDermott (over from Carolina, where he was Ron Rivera's d.c. with the Panthers) and GM Brandon Beane, and turnover on roughly half of the roster from a year ago. So credit to them, as well as a gritty defense featuring FA safeties Micah Hyde and Jordan Pryor, who combined for ten picks, and first-round LSU CB Tre'Davious White, in the mix for AFC Defensive Rookie of the Year.


But Buffalo is not a serious contender until it can upgrade on the attack end, as the offense scored 20 or fewer points on seven occasions, and couldn't get out of neutral in the playoff loss at Jacksonville. Though QB Tyrod Taylor (14 TDP and only 4 picks) continued to be good at avoiding mistakes, Buffalo finished near the bottom in passing yardage (ranking 31st at a mere 176 ypg). Also no pass plays of more than 50 yards, and victimized by 47 sacks, even though Taylor has mobility. It appears as if Taylor is unlikely to return, and there is speculation the Bills could trade for a vet QB or opt to look for one in the draft, as there is no certainty that this year's rookie QB, Nathan Peterman, is a long-term answer. The Bills also have needs on both lines, as well as at WR and LB spots, but GM Beane has at least stockpiled extra draft picks for spring, including another first-rounder from the Chiefs after KC's draft-day deal last year that allowed it to take Texas Tech QB Patrick Mahomes.


Carolina (11-6)...The Panthers shared first place in the NFC South with the Saints but because of tiebreakers, were knocked down to the Wild Card and fifth seed in the NFC. This meant another game vs. New Orleans in the opening round of the playoffs and another loss; the failure to beat the Saints in three meetings will thus get first mention in any epitaphs of Carolina's 2017 campaign. Still, the Pan-thas displayed resilience as they returned to the playoffs after the injury-filled debacle of 2016. And we should underline resilience as the distractions were numerous. Carolina dealt with Cam Newton's offseason shoulder surgery and playing at less than 100% thru much of the season, as well as the dismissal of GM Dave Gettleman (who has since landed with the Giants) on the eve of training camp, an in-season broken foot suffered by Pro Bowl TE Greg Olsen, the trade of Newton's favorite target WR Kelvin Benjamin to Buffalo at the deadline, and finally allegations of misconduct against team owner Jerry Richardson, who announced in December that he was putting the franchise up for sale. Otherwise, all smooth in Charlotte this past season!


Still, there are some on-field issues that need addressing. A defense that ranked 7th overall was nonetheless strafed for 31 or more points in all three games vs. the Saints, suggesting the ranking was a bit skewed. Newton's form was erratic as he tossed 22 TDP and 16 picks, though by midseason he was again doing damage with his legs (he ended up the leading rusher with 754 yards) after being a bit reluctant to run early in the season. The offseason has more questions with the pending sale of the franchise, and interim GM Marty Hurney, temporarily back on the job he held previously, is possibly out as soon as a sale is consummated. Though Stanford rookie RB Christan McCaffrey had his moments during the season, the Panthers need to acquire more firepower and another big-play wideout opposite Devin Funchess. There are some key players due to leave in free agency, too, including DE Julius Peppers, DT Star Lotulelei, and PK Graham Gano. For the moment, those are Hurney's calls, pending any ownership changes. At least Newton and Rivera remain firmly in the fold, but this could be a turbulent few months in Charlotte as the franchise sale proceeds, and potential front office shuffles likely to soon follow.


Kansas City (10-7)...In the end, the season turned out to be a bitter disappointment for the Chiefs, who looked the NFL's best team in the first month of play when bolting to a 5-0 break from the gate that included a 42-27 spanking of the Patriots in Foxborough in the first Thursday NBC-TV game of the season. While Chris Collinsworth oohed and aahed, KC looked like the most-dynamic team in the league with Toledo rookie RB Kareem Hunt and WR Tyreek Hill burning the Patriots, and QB Alex Smith getting off to a great start. In the end, both Hunt and Hill had 1000-yard seasons and Smith experienced his best-ever campaign while posting a league-leading 104.7 passer rating. But the Chiefs would lost 6 of 7 in the middle of the season before righting just in time to win an unexpectedly soft AFC West, then blew a 21-3 lead in the Wild Card Round vs. Tennessee, the latest discouraging end to an Andy Reid-coached season that so often is filled with promise, but ultimately disappoints.


An injury to key TE Travis Kelce did not help in the playoff loss, but that is not likely enough to grant QB Smith, even off his fine season, another chance at Arrowhead. Most believe Texas Tech rookie Patrick Mahomes, who cost the Chiefs a bundle of draft picks (including a first-rounder this season) to move up last April, gets handed the keys to the offense in 2018 after passing a dress rehearsal in the final reg.-season game at Denver with flying colors. Smith, with another year on his contract, is definite trade material, and there should be no shortage of suitors. But if Mahomes is as good as his performances in preseason and the Denver finale hinted, the Chiefs might not lose a step in 2018, as they did several other things right this past campaign, including a +15 TO margin (2nd best in the NFL) and discovering new weapons like rookie RB Hunt and PK Harrison Butker, who made 38 of 42 FG attempts. Offseason concerns have to do with upgrading an anemic pass rush that generated only 31 sacks, as once-dominant OLB Justin Houston was inconsistent, though key OLB Dee Ford landed on IR with back problems. The secondary also mostly struggled. Beyond deciding what to do with QB Smith, vet LBs Derrick Johnson and Tamba Hali could be deemed surplus. The chance that QB Smith could fetch something valuable in return (perhaps even a high draft pick) will be a storyline to watch leading up to free agency and the draft.


LA Rams (11-6)...When the smoke cleared, though the 26-13 Wild Card Round loss at home to Atlanta was a downer, the season was mostly an unexpected joy ride for the Rams, who returned to relevance under brash, 31-year-old HC Sean McVay, hired off the Redskins staff and immediately forging a turnaround of what might have been the NFL's worst offense in 2016. Not to mention an indictment of predecessor Jeff Fisher, who was effectively stealing money a year ago before his deserved late-season dismissal. McVay shrewdly assembled a quality staff, adding sage d.c. Wade Phillips, allowed to walk by Denver in one of many puzzling moves by John Elway, and adding o.c. Matt LaFleur, who along with McVay, immediately straightened out 2nd-year QB Jared Goff, to the point where LaFleur is now being considered for available HC jobs (the recent Tennessee opening in particular). Along with RB Todd Gurley bouncing back in a big way from a massively disappointing 2016, and veteran FA additions Andrew Whitworth and John Sullivan bolstering the OL, the Rams were the league's surprise team this season. And the arrow seems to be pointing upward; the only pause for the future is the one-year delay of the new stadium at the former Hollywood Park site in Inglewood, pushed back a year to 2020 after an original 2019 target date. This means two more seasons in the venerable Coliseum, which did get to host its first Rams playoff game since the 1978 NFC championship title vs. Dallas.


Though the offense improved more than could have been dreamed, the last taste is a bitter one as the strike force hit a wall at the worst time in the playoffs, suggesting that maybe McVay erred by resting Goff and Gurley and most of the starters for the reg.-season finale vs. the 49ers. Whatever, the Rams seemed to peak a bit early in a 42-7 demolition of the Seahawks at CenturyLink Field on Dec. 17, effectively sewing up the NFC West at the same time. Lessons learned, perhaps, for the future. Moving forward, there is a chance that star DT Aaron Donald could continue as a distraction, though his decision to sit out this past preseason and the first couple of weeks of the regular season didn't end up hurting too much. Entering the final year of his contract, negotiations for an extension will be interesting. In that same cpmtract boat will be Gurley, right now scheduled as an FA after 2018. Shorter term, immediate decisions must be made on pending FAs such as CB Trumain Johnson, S Lamarcus Joyner, LB Connor Barwin, WR Sammy Watkins, and aforementioned C Sullivan. All things considered, however, few teams will be looking ahead with sky-high hopes like the Rams in 2018. What a difference a year can make!

Following are season reviews of the Division Round losers, again presented alphabetically, with straight-up records for 2017 included.
Atlanta (11-7)...The Falcons dealt better with the dreaded "Super Bowl hangover" than most recent title-game losers, a proper christening for their gleaming new Mercedes-Benz Stadium adjacent to the old Georgia Dome, which barely lived to 25 years. Life expectancies for stadiums ain't what they used to be, we suppose, especially in Atlanta, which has already discarded three modern stadiums/arenas in recent memory. That doesn't even count Turner Field, which didn't last 20 years as the MLB Braves' home before being sold to Georgia State for its football team. Whatever, Atlanta forging a return to the playoffs and a road win once there vs. the Rams in the Wild Card Round was a lot better than many recent Super Bowl losers have done. But it was not the season-long feel as a year ago when a swashbuckling offense was posting near record-breaking numbers as the Falcons stormed thru the NFC and into the Super Bowl, where they would amazingly blow a 28-3 lead vs. the Patriots. The offense, QB Matt Ryan in particular, mostly struggled under new o.c Steve Sarkisian after Ryan found the sweet spot the year before for Kyle Shanahan, who moved to the 49ers as head coach. Ryan's TD passes dropped almost in half and his passing yardage by nearly 1000 yards from the Super Bowl season. The defense, however, picked up the pieces for new d.c. Marquand Manuel, leaping from last in red-zone efficiency to fifth, and finished in the top 10 in scoring and total "D" for the first time since Dan Reeves' "Dirty Birds" made the Supe back in 1998.


The hope is that the "O" will begin to look like its 2016 self again next season with Sarkisian and Ryan now having had a year to work together, and most of the weapons still in place. Improvement will be expected after the Falcs were 1 for 3 in the red zone vs. the Eagles in the bitter Division Round loss and failed to score a potential winning TD with a first-and-goal at the nine in the last minute, with Sarkisian's play-calling under question. It is fair to assume that Sarkisian must show improvement next season if he wants to stick on HC Dan Quinn's staff into 2019; some wonder if Quinn could even make a change this offseason, though that appears unlikely. Ryan, due for an extension entering the last year of his contract, is likely to surpass Matthew Stafford as the next highest-paid player in the league (or until the next franchise QB is up for renewal). Draft needs include the guard spot on the OL, DBs and edge pass rushers, and perhaps more depth at RB and WR. Tweaks, mostly, as the core of this roster looks like it can contend for a few more years. At risk to leave as UFAs are DE Adrian Clayborn, DT Dontari Poe, WR Taylor Gabriel, and PK Matt Bryant.


New Orleans (12-6)...We can't even begin to describe the Saints' painful exit from the playoffs in the Division Round at Minnesota except that no NFL team since the '72 Raiders, victim of Franco Harris' Immaculate Reception at Pittsburgh, has seen a playoff run ended in such jarring fashion. All after Drew Brees appeared to author one of the highlight chapters of his storied career with a great second-half rally after New Orleans looked like toast at halftime when down 17-0. Still, it was a serendipitous season for HC Sean Payton, rekindling memories of the 2009 Super Bowl run when few were expecting it. But the Saints were for real, finally hitting paydirt on draft choices to help a long-suffering defense that began to bare its teeth early in the season led by rookies DB Marshon Lattimore and FS Marcus Williams, though it was the latter who shouldered much of the blame for Stephon Diggs' miracle TD on the final play of the playoff loss to the Vikings. Still, along with RB Alvin Kamara and OT Ryan Ramczyk, it was the best draft haul in memory for New Orleans, which wisely did not waste much time trying to fit Adrian Peterson into the offense before realizing "AP" was a poor fit, and instead featuring Kamara and former Bama Heisman winner Mark Ingram. That pair turned into quite a 2-headed monster at RB, gaining nearly 1900 YR combined, and taking some of the offensive burden off of Brees as 'Nawlins made the playoffs for the first time since 2013. Meanwhile, vet DE Cam Jordan enjoyed his best season and emerged as the "D's" inspirational leader.

Brees, however, is the unquestioned focus of the offseason. At 39, Brees, much like Tom Brady, has shown few signs of slowing down late in his career, though his contract has expired and he cannot be franchise-tagged. Most seem to believe that Brees will ink a new deal, likely two years, which he hinted at following the bitter loss to the Vikings, though he could also become very much in-demand in free agency if he chooses to do so. It will be up to GM Mickey Loomis to figure out a way to keep Brees in the fold without destroying the Saints' salary cap. Draft/FA needs would likely be an edge pass rusher, TE, OL depth, WR, and LB, though unlike recent years when defense was in much demand, New Orleans has few acknowledged roster weaknesses entering the offseason (beyond any questions regarding the future of Brees, that is). Some, Brees included, believe his eventual successor at QB is on the roster, BYU rookie Taysom Hill, though few imagine Hill being thrown into the fray next season. Shorter-term, key upcoming FA decisions include S Kenny Vaccaro, DE Alex Okafor, versatile OL Senio Kelemete, and DT Nick Fairly, who might or might not return after missing the entirety of 2017 with heart problems.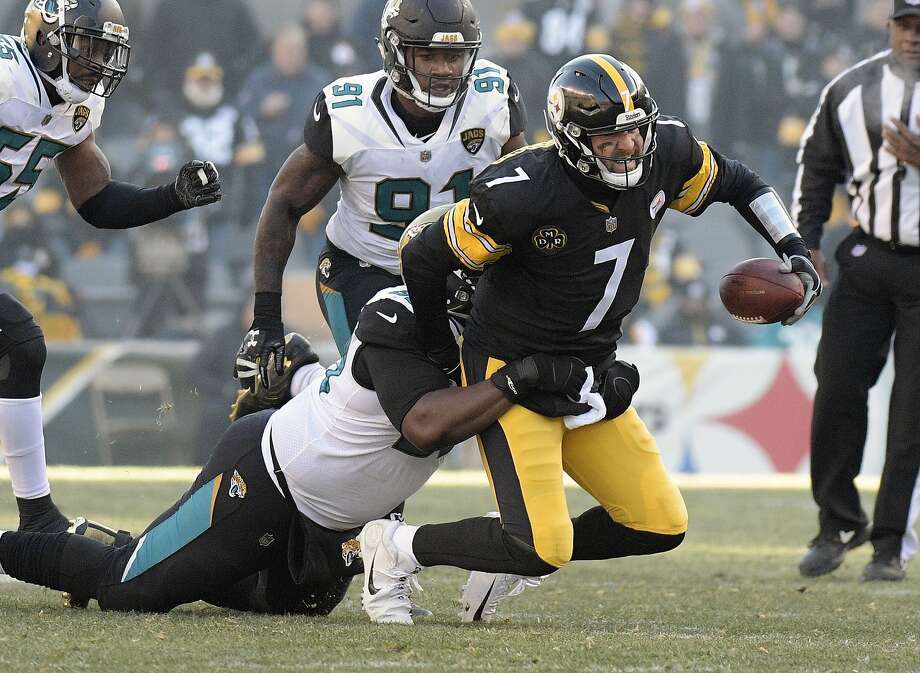 Pittsburgh (13-4)...The season ended a week earlier than most expected for the Steelers, who didn't wait for the Patriots to knock them out of the playoffs in the AFC title game like last season. Instead, it was the upstart Jags who proved the thorn in Pittsburgh's side, beating the men of Steel fairly and squarely twice at Heinz Field, the last time in a 45-42 Division Round decision that wasn't really that close (the Steelers scored their final TD with just one second to play). Actually, there was a feel in the Steel City that the season really ended on Dec. 10 in a controversial last-second home loss to the Patriots that gave New England the inside track on home field in the AFC playoffs. A win over the Belichicks might have changed things, but afterward there was a sense of foreboding in Pittsburgh, and in the end it almost felt appropriate to bow out vs. the Jags instead. The season would be bittersweet regardless of how far the team went in the playoffs due to the serious, potential career-ending neck injury to key LB Ryan Shazier in a brutal late-November win at Cincinnati. Despite the obvious concern for Shazier's future, in practical terms, it also dealt a grievous blow to the defense, which was not the same thereafter. In the end, those shortcomings were too much for another prolific offense featuring QB Big Ben, RB LeVeon Bell, and WR Antonio Brown, the true new "Three Musketeers" of the NFL, to overcome.

Moving forward, the first question has to do with Roethlisberger, who took some time last season before deciding to return and would seem to be a year-to-year proposition as he enters his 15th season in 2018 (where did the years go?). But after the playoff loss, Big Ben suggested he wants to keep playing, so for the moment, the Steelers can apparently continue to kick the can down the road regarding his successor. Bell, however, might be a different matter, already saying he won't play again on the franchise tag, and a protracted contract battle a possibility. If Bell doesn't want to take a hometown discount, he could hit the open market, and the RB spot would quickly become a priority in the draft or free agency. Bell's status, though, is only part of many difficult financial decisions this offseason if Pittsburgh wants to keeps its core intact. Others, including CB Joe Haden and RT Marcus Gilbert, could be asked to take pay cuts, and oft-troubled WR Martavis Bryant is likely to be moved after the emergence of Southern Cal rookie JuJu Smith-Schuster.

Tennessee (10-8)...Even though the Titans advanced to the playoffs for the first time since 2008, and won a game once there for the first time since 2003, it wasn't enough to spare HC Mike Mularkey, who left by "mutual consent" with owner Amy Adams Strunk (daughter of original franchise owner Bud Adams) after the Division Round loss to the Patriots. It appears as if a decision to move on from Mularkey was probably made before the playoffs, which the Titans backed into after a 3-game losing streak in December, only to sneak in by chugging laboriously past the Jags, who had already sewn up the AFC South, in the regular-season finale by a tedious 15-10 count. The highlight of the season would come in the 22-21 Wild Card win at Kansas City after rallying from a 21-3 deficit, and apparently saving Mularkey's job, rumored to be on the line. In fact it still was on the line even after the win, as eventual events seemed to confirm. Not surprisingly, as even though Tennessee made its first playoff appearance in 9 years, it was a more difficult slog than it needed to be, as progress by an offense that appears loaded with potential would instead stagnate, with Mularkey's involvement and tinkering considered one of the problems. Third-year former Heisman QB Marcus Mariota regressed, tossing more picks (15) than TD passes (13), though he redeemed himself somewhat in the Wild Card (when, among other things, he completed a pass to himself for a TD!). RB DeMarco Murray also had a notable production decline. Mostly, however, the Titans didn't have quite the same magic in close games, though they did win the Wild Card game in dramatic fashion; after a 5-0 record in games decided by fewer than seven points in 2016, Tennessee was 5-4 in such games this season.

The immediate concern is how GM Jon Robinson handles the coaching search, and what direction he might go; early favorites seem to be those with an offensive background, including Patriots o.c. Josh McDaniels and Rams o.c. Matt LaFleur. What that all means for sage, but 80-year-old, d.c. Dick LeBeau remains to be seen. But the roster seems in pretty good shape, with a young nucleus. The top FAs of note are vet WRs Eric Decker and Harry Douglas, though both are expendable. With the right coaching hire, the Titans could jump from the Wild Card mix into the legit championship mix, though Mariota's regression has to be halted. As for GM Robinson, early indicators are positive, as his first draft class from two years ago has blossomed well, with RT Jack Conklin, Heisman RB Derrick Henry, and S Kevin Byard all contributors. Though there is plenty of curiosity to what happens next at Toyota Stadium with the coaching search, the immediate future still looks pretty bright for the Titans.
Return To Home Page