7649...
TGS SPECIAL REPORT
...NEW JERSEY'S DAY AT SCOTUS

by Bruce Marshall, Goldsheet.com Editor
Those of you who have been reading TGS in recent years know that we have been keeping a close watch on New Jersey's attempts to legalize sports wagering. On these pages of TGS Hoops last week we re-ran a couple of our more-descriptive editorial pieces on the subject from past years. Then, our most-recent TGS Football issue last weekend offered a preview of the Garden State's day in front of the US Supreme Court on Monday as it challenged PASPA, the 1992 Professional and Amateur Sports Protection Act, when select states (Nevada, Oregon, Delaware, and Montana...but not New Jersey) were "grandfathered" by federal law to accept sports wagers. Only in Nevada's case would it include single-game wagering It was parlay cards only for the other states (Indian casinos were not included).
So, how did New Jersey fare in its day with SCOTUS? State Senator Raymond Lesniak, though admittedly a bit biased since he sponsored the bill in Trenton that would eventually be the basis for this appeal, thought proceedings went so well that he was feeling positively bullish about the Garden State's chances for victory.
Lesniak said after listening to Monday's arguments in Washington that he thinks the court will rule 7-2 or 6-3 in New Jersey's favor. "It's not quite a slam dunk, but it's about Tiger Woods and a 5-foot putt," said Lesniak, careful not to draw an analogy to Tiger's recent track record off of the tee, which has not been as good as his short game.
Lesniak was not the only one who thought things went well for New Jersey on Monday. Following arguments, several sports legal experts said that they expected the court would rule in favor of New Jersey in its bid to allow sports betting at its casinos and horse tracks. The nine justices on the high court appeared split by their questions to lawyers in the case, but a majority seemed skeptical of a federal "commandeering" of state policy on sports wagering.
"That's what this is about, telling states what to do," said Justice Stephen Breyer, who appeared sympathetic to the argument of federal overreach.
The justices gave a mostly-friendly hearing to New Jersey's claim that states are free to control their own laws, including in the area of gambling, unless Congress has adopted a federal regulatory policy to prohibit it.
New Jersey maintains that Congress failed to do that when it passed the 1992 PASPA law. The federal law did not actually ban sports wagering, but instead said states may not "authorize by law" such gaming.
That type of command from Washington violates the Constitution's 10th Amendment, which reserves to the states the power to make and enforce their own laws in areas where the federal government has not exerted authority, said former Solicitor General Ted Olson (right), representing New Jersey.
"This is a direct command to the states," Olson said of PASPA. "Congress said we want to put the burden and the expense and the accountability on the states. The federal government is doing nothing," Olson added.
Justice Breyer picked up on Olson's argument, saying Congress has the right to prohibit state activities that conflict with federal law—such as preventing states from passing rules governing airlines after federal lawmakers deregulated the industry—but not to require states to enact rules to enforce federal law.
"I wish I had said that," Olson said.
"Is that your argument?" Breyer said.
"That is my argument," Olson responded.
In their comments and questions, most of the justices sounded the same states' rights theme. Justice Anthony Kennedy grilled Paul Clement, a former U.S. solicitor general and lawyer for the NCAA and the leagues, about federal laws that appeared to "commandeer" states to act on the federal government's behalf. Clement said the federal government, in laws it passed, did not want states operating gambling schemes over concern of interstate commerce.
Clement claimed that New Jersey is allowed to repeal its prohibitions on sports betting and therefore is not commandeered by the federal government. But Clement's arguments came under scrutiny from not only Kennedy and Breyer, but Chief Justice John Roberts, and Justices Samuel Alito and Neil Gorsuch. (Justice Clarence Thomas, a conservative member on the court, did not speak.)
Clement said the law (PASPA) was clear. "It tells the states they may not operate sports betting," Clement said. Justice Alito, however, asked Clement why the federal government didn't simply ban sports betting itself. Clement responded that the law gives states the flexibility to decide how they want to enforce the ban "rather than a one-size-fits-all federal felony."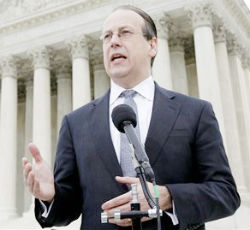 Chief Justice Roberts then asked Clement (left) whether the federal government could tell states they couldn't levy an income tax higher than 6 percent or must limit public employee pensions. Clement said the law was addressed to state and local governments because they were the ones who pass laws that can be rejected because they contradict federal policy. "You're already telling the states they can't do something," he said.
Justices Sonia Sotomayor, Elena Kagen and Ruth Bader Ginsburg quizzed Olson on federal laws on sports wagering and a New Jersey law passed by the state legislature. Sotomayor, to the likely dismay of Lesniak and other Garden State supporters, said there was nothing in federal law that appeared unconstitutional, telling Olson that the federal government has the right to regulate commercial activity. Olson agreed, but noted, "Congress has not chosen to do that in this case."
Justice Kennedy, sounding a sympathetic tone toward New Jersey, added that having the federal government tell states what to do "blurs political accountability," and adding that the existing law "leaves in place a state law that the state does not want."
Geoff Freeman, AGA president, interpreted the high court's questions in the oral arguments as a positive for "millions of Americans seeking to legally wager on sporting events."
Freeman would not predict the Supreme Court's intentions, but he did predict the demise of PASPA. "I heard a court that is suspicious of the federal government's overreach in this case," Freeman said.
Meanwhile, Daniel Wallach, a gaming and sports law attorney with Becker & Poliakoff in Fort Lauderdale, Fla., said the high court clearly questioned the NCAA and sports league's case. He said he could see a 6-3 ruling in favor of New Jersey, even if the court stays away from the constitutionality of the law.
Mark Hichar, a partner at Hinckley Allen, told The New York Post that "what went on today didn't have much to do with gambling. It was more about states' rights.
"The federal government could have had a ban on sports betting. But that's not what the PASPA law does. There's no accountability. You're making the states follow a federal policy contrary to the wishes, perhaps, of the voters in the states," Hichar added.
Justices could also issue a partial ruling that would allow sports gaming in New Jersey without addressing the state's claim that the law is unconstitutional. This possibility was among the many scenarios outlined in our TGS Football cover story in the recent No. 15 issue.
Twenty states have signed on in support of New Jersey in the case, and Connecticut, Mississippi, New York and Pennsylvania have already passed legislation that would allow them to get in the game if the federal ban is lifted.
However, not every state that has enlisted with New Jersey is going to rush into the sports gaming business. Texas, for example, joined the amicus brief siding with the Garden State, even though the Lone Star State's leaders haven't shown much interest in legalizing sports betting.
Instead, Texas Attorney General Ken Paxton signed on to the brief to keep the federal government out of state decisions. "PASPA is unconstitutional and tramples on state sovereignty," Paxton told the American Sports Betting Coalition. "By ending PASPA, states can rightfully decide whether they want regulated sports betting or not."
Still, the count is now up to 13 states that would apparently be willing to follow right behind New Jersey and begin taking sports bets quickly after any PASPA repeal.
On Monday, a packed courtroom watched Olson argue that PASPA commandeers the state to maintain its prohibition on sports betting.
"This is the fear of every governor, that we'll be at the mercy of the federal government and that they'll make us pay for it," outgoing New Jersey Gov. Chris Christie, for whom the New Jersey challenge is named, said after the hearing. "It's not right."
"The idea that the federal government could nullify laws of the state was debated when the Constitution was being debated. It was defeated," Christie continued. "This is not some thing we're unsure of what the founders thought. We know what the founders thought."
Along with Clement, current U.S. Deputy Solicitor General Jeff Wall represented the Department of Justice on the side of the sports leagues and said states could comply with PASPA by complete repeal of their statutes on sports betting.
Chief Justice Roberts asked Wall if, in that scenario, a child could enter a casino and gamble. "Well, is that serious?" Roberts said. "You have no problem if there's no prohibition at all and anybody can engage in any kind of gambling they want, a 12-year-old can come into the casino and — you're not serious about that."
The sports leagues have long maintained that expanding legal sports betting in the U.S. would threaten the integrity of their games. Though, since the initial suit, NBA commissioner Adam Silver has come out in support of regulating sports betting, and the NFL and NHL have approved the relocation of franchises to Las Vegas, where sports betting is legal.
"I've always been willing to talk to the sports leagues [about sports betting]," Christie said. "The sports leagues never have been willing to talk to me. They thought they were going to get rid of us a long time ago. They never met me. They have now."
The New Jersey challenge to PASPA, however, could have implications far beyond being able to place a wager on the Cincinnati Bengals or Cleveland Browns at a local sportsbook. A ruling by the Supreme Court to uphold New Jersey's challenge that the law is unconstitutional could have an impact on other state regulations, "like those on medical marijuana, immigration and gun control and occupational licensing," said Elbert Lin, a former West Virginia solicitor general who is also among those filing a brief supporting New Jersey.
Leave it to Gov. Christie, however, to sum up New Jersey's day in court and what might come next. "We're going to do well," Christie predicted, adding that within two weeks of a favorable ruling, New Jersey would be taking sports bets. "We're like Boy Scouts. We're prepared."
A ruling from SCOTUS is expected before its recess in June. Stay tuned.
Return To Home Page