7632...
TGS SPECIAL REPORT
...NEW JERSEY FORCES OVERTIME

by Bruce Marshall, Goldsheet.com Editor
Readers of these pages know that we at TGS, for the better part of five years, have been keeping a close watch on developments in New Jersey regarding the Garden State's attempt to legalize Las Vegas-style sports betting. Indeed, we've probably published a dozen or so editorials (all still available at www.goldsheet.com) that could make for chapters in an interesting book on the subject. We never, however, seriously thought that we would be talking about the US Supreme Court taking the case on appeal from the Third Circuit, which has proven a blockade for outgoing Gov. Chris Christie and the various pols in the Garden State who have, between rejections in federal court, tried to reinvent their presentation to work around existing laws. All to no avail.
Until now, that is. In late June, SCOTUS announced that it will hear New Jersey's appeal to offer legal sports betting, with a decsion likely rendered by this coming spring (the appeal will be heard on December 4). As far as Christie was concerned, it was about time. "The fact that the Supreme Court granted cert (judicial review) is a very good sign for sports betting having a future in New Jersey. I'm encouraged by it," Christie said after hearing the good news. "We're not declaring victory, but at least we're in the game and that's what we want to be."


Before we attempt to begin connecting the dots from the past five-plus years, let us digress for a moment to put this extremely unlikely development into some perspective.


First and foremost, New Jersey's challenge had previously lost in court every step of the way, and the vast majority of legal experts considered it very remote that the high court would hear the Garden State's case, which it had rejected at earlier stages. Especially since this past May, Solicitor General Jeffrey Wall submitted an opinion advising the SCOTUS to pass on the case. (This had surprised some onlookers, as President Trump, before taking office, was on record saying he was in favor of legalized sports betting, though his Justice Department seemed to be saying otherwise in May.) Since the court normally follows DOJ recommendations, which carry significant weight, the Garden State's latest Hail Mary pass seemed likely to again fall harmlessly incomplete.
New Jersey's chances of a SCOTUS review appeared further hampered by the absence of any "circuit split" on the issue of the constitutionality of PASPA, the 1992 Professional and Amateur Sports Protection Act, when select states (Nevada, Oregon, Delaware, and Montana...but not New Jersey) were "grandfathered" by federal law to accept sports wagers. Only in Nevada's case would it include single-game wagering, it was parlay cards only for the other states. (Indian casinos were not included.) Most cases accepted for review by SCOTUS involve conflicting decisions among the lower federal courts on a particular legal issue. Since the Christie/New Jersey line of cases were only the federal court decisions addressing the constitutionality of PASPA, the all-important "circuit split" was lacking.


On top of all of that, SCOTUS historically grants fewer than two percent of all petitions seeking certiorari review, and had rejected New Jersey's earlier appeals at different stages. The odds were thus stacked enormously against the Garden State.


Before we go any further, in an attempt to refresh memories and re-set the framework of the subject matter, a quick review of the New Jersey storyline, as documented over the past five years by TGS, might be in order. Originally, Gov. Christie and other New Jersey pols decided that they wanted in on full-scale sports betting action that could help prop up its sagging economy (and casino business) within the state. In 2011, Garden State voters approved a referendum to allow sports betting in hopes the state could legitimize what is currently a black market industry, thereby tapping into billions in annual bets to produce a new source of revenue for the state budget, Atlantic City, and the horse racing industry. The State Legislature then passed a law legalizing sports betting, and Christie signed it in January 2012.
Christie went so far as to begin the process of issuing sports gaming licenses and proclaimed the state would begin to accept bets at its various casinos and race tracks. However, he knew he would encounter trouble along the way. Not that Christie wasn't prepared for his legal challenge to PASPA. Still, to no one's surprise, the pro leagues and the NCAA blocked Christie in US District Court ("Christie I"), and when the US Supreme Court denied to hear the original case, New Jersey appeared to hit a roadblock.


Back to the drawing board in 2014, Christie decided to endorse a new measure introduced by State Senator Raymond Lesniak that would circumvent an apparent loophole in federal law and allow the state to repeal its long prohibitions on sports gaming. By removing itself from licensing and regulating the sports wagering activities, New Jersey, according to the Lesniak proposal, would not be in conflict with PASPA, and could allow privately-run sportsbooks to operate in the state.


Of course, the sports leagues challenged once more and in the Federal District Court were awarded an injunction for a second time by the same judge, Michael Shipp. Again, as in its original challenge, New Jersey would appeal to the Third Circuit, and was defeated for a second time by the same 2-1 vote in US Court of Appeals, effectively saying the latest New Jersey attempt ("Christie II") still ran afoul of PASPA. (The two votes against New Jersey were cast, rather surprisingly, by judges Marjorie Rendell, whose husband, former Pennsylvania Governor Ed Rendell, has been a big gaming proponent and brought casino wagering to the Keystone State, and Maryanne Trump Barry, sister of none other than now-President Trump).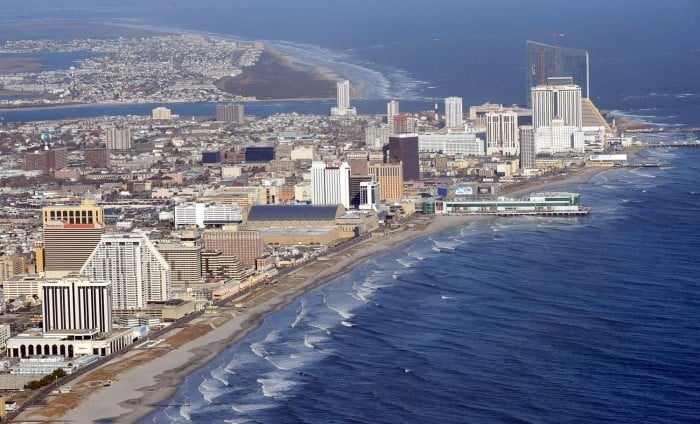 Christie and his cohorts in Trenton were not finished, however, and in October of 2015 scored their first significant court victory. In a rather unexpected move, the same US Court of Appeals for the Third Circuit motioned for a rare "en banc" rehearing, which brings at least 12 of the 23 circuit judges to the panel instead of only three, and is considered a rarity, as it forces a majority of judges to question a legal decision made by their fellow bench mates and ultimately voids earlier interpretations. Thus, while granting the rehearing, the Third Circuit also vacated its August 2015 verdict in favor of the sports leagues and the NCAA.
Though legal observers have noted that New Jersey unquestionably scored a significant procedural victory in getting the court to order rehearing en banc, in the end the status quo remained. The Garden State was rejected for a third time, this time by a 9-3 count en banc, in August of 2016.


Thus, the Third Circuit appeared to be a permanent blockade for New Jersey, unless, by luck of the draw, it could get two of the dissenting justices on a three-person panel. The Third Circuit seemed to make it clear that it was going to move the goal posts as needed and uphold PASPA no matter how convoluted its reasoning might be.


Still, New Jersey never seemed inclined to let the matter go away, though few gave its request for appeal of its latest rejection by the Third Circuit much of a chance. Until June, that is, when SCOTUS finally decided it was time to hear what New Jersey had to say.
The door was left more ajar than most realized, however, as the Jersey case checked many of the correct boxes. In particular, "Christie" represents a perfect vehicle for the conservative wing of the Supreme Court (which now includes recently-appointed Justice Neil Gorsuch) to address the proper balance between federal and state sovereignty (the so-called "federalism" principle).


A key question at play in Christie II was whether a federal statute (PASPA) that prohibits a modification or "repeal" of state law prohibitions on private conduct (i.e., sports betting) impermissibly commandeers the regulatory power of the States, in contravention of the Tenth Amendment of the US Constitution.


The Third Circuit's majority's about-face on the availability of a "partial repeal" — and its refusal to pinpoint the line of demarcation at which a permissible partial repeal becomes an impermissible "authorization" — could have also played a role in SCOTUS deciding to field the appeal.
Some legal scholars believe the Third Circuit's new interpretation of PASPA also presents a much greater threat to state sovereignty (a key federalism notion) than the Christie I decision because it can be seen as preventing a state from repealing its own laws (with myriad examples highlighted in the state's petitions), and, further, leaves the state without any meaningful (or identifiable) choices.


It's worth noting that New Jersey's commandeering argument in "Christie II" found traction with three of the 12 judges on the Third Circuit's en banc panel, with Judge Thomas Vanaskie (right) concluding in his dissent that PASPA violates principles of federalism by "effectively command[ing] the States to maintain and enforce existing gambling prohibitions" and "dictating the manner in which States must enforce a federal law." While Vanaskie's argument was unable to sway a majority of the Third Circuit judges, it could find greater success in the more conservative-leaning Supreme Court.
"This is the closest New Jersey has ever been to legalized sports betting," said Daniel Wallach, a gaming and sports law attorney with Becker & Poliakoff in Fort Lauderdale, Fla., in interviews that appeared on NJ.Com and CNN Money. "This is a sea change in the whole movement surrounding sports betting in the US."


If New Jersey prevails, "it could and will open up the floodgates nationally for sports betting," added Wallach, who also said that at least eight states — Connecticut, Hawaii, Maryland, Michigan, New York, Pennsylvania, South Carolina and West Virginia —have already introduced bills that would legalize sports gambling if PASPA is repealed. Wallach also anticipates that more states will probably prepare bills as the Supreme Court case goes forward.

To be continued...


(The New Jersey appeal in front of SCOTUS will be a major topic addressed at this week's Sports Betting USA 2017 conference in New York City, which TGS will attend. A full report on the New Jersey angle of the conference, and Part II of this story, will appear on these pages in early December.)
Return To Home Page