7599...
TGS HOOPS PREVIEW
...2017-18 NBA WEST "FUTURES" TO WATCH

by Bruce Marshall, Goldsheet.com Editor and P. Carl Girodano, Managing Editor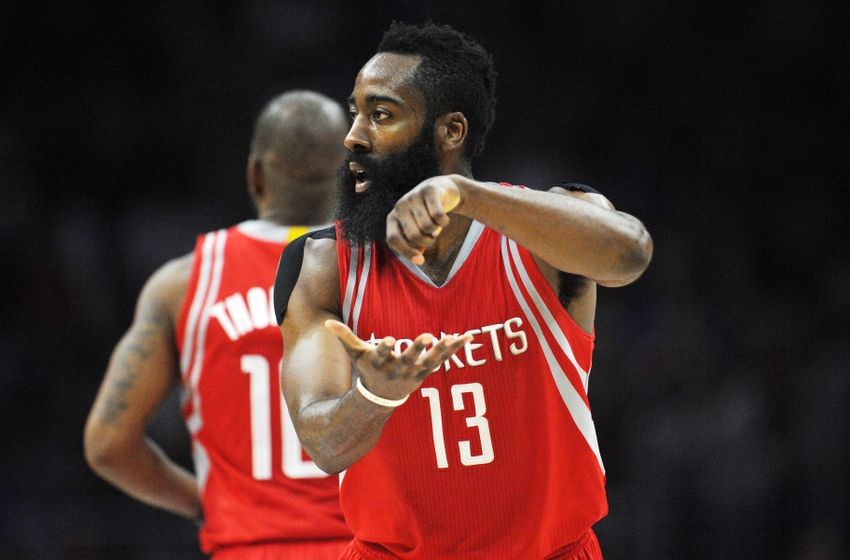 SOUTHWEST DIVISION BEST BETS: It all sounds so good for the Houston Rockets (56) to add Chris Paul from the Clippers. But if the surly Paul couldn't always mesh with Blake Griffin and others surrounding him in LA, however, how is he going to play off of the high-volume James Harden, who relished as the first, and sometimes second and third scoring options simultaneously, for the Rockets last season? Moreover, keep in mind that Paul hasn't been able to stay healthy for a full season in a good while, and his chronic knee problems are not likely to get any better. GM Daryl Morey did well with post-trade moves to get defense and versatility off the bench, signing P.J. Tucker with the mid-level exception and Luc Mbah a Moute at the minimum. But count us among those wondering how Paul and Harden will effectively co-exist; we're glad that's Mike D'Antoni's problem, not ours. "Under" at Toyota Center.
Well, whaddya know, Mark Cuban is talking about a run for the White House in 2020, which along with his Shark Tank TV show will probably generate more headlines than his Dallas Mavericks (33), who have slipped into irrelevance the past few years as Dirk Nowitzki has entered the twilight of his career and others such as Harrison Barnes have yet to effectively take the baton. Still, credit HC Rick Carlisle for keeping the team moderately competitive last season while the roster, mostly due to injuries, resembled a bus depot, with 24 different Mavs on the floor at one time or another. Considering that, it was surprising that Cuban low-keyed it in the offseason, with few upgrades of note outside of first-round draft pick Dennis Smith from NC State, who couldn't shoot the Wolfpack into the Big Dance and helped get his coach fired to boot. Though some suspect Cuban is simply biding his time to make a run at any number of big-name FAs who hit the market in 2018. If he's not too worried about politics, that is. "Under" at AA Center.
Others...

The departures of long-time staples Zach Randolph and Tony Allen means the days of "Grit & Grind" are probably over for the

Memphis Grizzlies (37)

, who will be trying to further up the tempo in the second year of the David Fizdale regime. Fiz is hoping that a healthy Chandler Parsons can be a key cog as a "stretch four" off of the bench, and Memphis is desperate for more dynamism on the wings. But all of this might also be window dressing as the team still revolves around PG Mike Conley and C Marc Gasol, and will continue to play stifling defense. Maybe this is the time to sell on the Griz, but we think they also look underrated as usual and could slip into the low 40s and possibly another playoff appearance (which would be their 8th in a row). So we're going "over" at FedEx Forum.
The clock is ticking for the New

Orleans

Pelicans

(39 ½), who know that Anthony Davis has just three more summers until he can become a free agent, which means the franchise has some urgency to put enough pieces around him to become a playoff and title contender. Getting Boogie Cousins at the All-Star break seemed a move in the right direction, but Cousins remains a dangerous flashpoint internally, and the last things the Pels need as they try to make a move are clubhouse distractions. Moreover, Davis has "poor man's injury version" of Joel Embiid, as the "Unibrow" has continued to be afflicted by a non-stop series of minor aches and pains that have limited his on-court time. What New Orleans lacks is enough shooting around its big beasts, who are both going to have to play more "outside-in" than optimal for two bigs on the floor at the same time; offensive rebounds and slices to the rim figure to be limited. Not sure that HC Alvin Gentry can solve this Rubik's cube; it's an "under" for us at the Smoothie King Center.

Our suggestion to Lewis Johnson, Lisa Salters, or any of those TV sideline reporters for games involving the San

Antonio

Spurs (54 ½) and hoping to get HC Gregg Popovich to give more than one-word answers is to ask him about Trump, then hold on for the response. Fun thoughts aside, we've learned to never underestimate Pop, whose teams have recorded 55 or more wins in 16 of the past 18 seasons. The challenge this year is to squeeze more out of LaMarcus Aldridge and quell the trade speculation surrounding him, and get Kawhi Leonard (dealing with a quad issue at the end of preseason) back on the floor ASAP. The West is all about firepower, however, and we're not sure that adding Rudy Gay is enough for the Spurs, who also have to keep their fingers crossed that Tony Parker doesn't miss too much time due to his usual injuries (quad at moment). We respect Pop's ability to mix and match enough to outfox any save perhaps the Warriors, but in the tough West there will be few nights to take it easy. Still, these are the Spurs; "over" at AT&T Center.
NORTHWEST DIVISION BEST BET: Tom Thibodeau still has to fill in a few more roster pieces with the Minnesota Timberwolves (48). But at this moment we suspect that "Tibs" will be the architect of a T-wolves return to the playoffs that will end the second-longest postseason drought (going on 14 years!) in NBA history. To help with maturity and leadership for a youthful, talent-laden core of the roster (Andrew Wiggins, Karl-Anthony Towns), Thibodeau added some familiar faces from his days with the Bulls, Jimmy Butler and Taj Gibson, who now become elder statesmen, and expected to serve as effective intermediaries between the often-bellowing Tibs and the holdover young stars. In addition, Thibodeau added two more vets, former All-Star PG Jeff Teague and sharpshooter Jamal Crawford. Add it up and it's a fascinating combination, but unless injuries KO Towns and/or Wiggins (and the T-wolves know about bad luck), the playoff drought should end. "Over" at Target Center.
Others...

Lots of mixed reviews on the Denver

Nuggets

(45), who have wowed some with the potential that some others can't seem to identify. Intrigue, indeed! There is now a glut of power forwards with Paul Millsap arriving from Atlanta in free agency, though this likely forces HC Mike Malone to shoehorn either undersized (Will Barton) or oversized (Juancho Hernangomez) components into wing minutes. And when Malone goes small, and without much protection at the rim from Nikola Jokic, the Nuggets can hemorrhage points. But this also has the makings of a top-five offense, with the wondrous 6-10 Jokic effectively running the show that has so much potential firepower than the "Manimal" (PF Kenneth Faried), the key cog not long ago, was out of the rotations late in the preseason. Good offense and bad defense (the basketball opposite of the NFL Broncos) create a high-wire act in Denver, so we're going to pass at Pepsi Center.
Smiles everywhere now for the Oklahoma

City

Thunder

(53), with Russell Westbrook very chummy with new teammates Paul George and Carmelo Anthony, the latter also good friends off of the court. But let's see how these guys behave when the games start and there is only one ball to share among them, in particular how Westbrook deals with 'Melo, who can be most effective when the Thunder slows the pace and hunts mismatches, hardly Westbrook's preference. After all, Westbrook was one of the highest-usage players in NBA history a year ago when he became the first since Oscar Robertson 55 years ago to average a triple-double, and how volume shooters like George and 'Melo fit in and react when they're not the first (or perhaps even second) scoring options suggests that HC Billy Donovan might need to hire Dr. Phil to deal with the interpersonal dynamics that are certain to get strained. If Donovan does figure things out, it might not come until after New Year's, when OKC will have likely given away some games. Plenty of banana peels in the West, too. "Under" at The Peake.
In the East, the Portland

Trailblazers

(42 ½) are a playoff team; in the West, they might have trouble getting above .500. There is hope a defense that upgraded considerably after 7-footer Jusuf Nurkic arrived from Denver at the trade deadline will continue that form from the outset this season, and LY's arrival of Evan Turner provided another reliable scorer outside of the Damian Lillard-CJ McCollum axis. But any combination without either of those three on the floor will feature a bevy of unreliable 3-point shooters. Tough call for us at the Moda Center, where we will pass instead.
The death-knell has been sounded by many for the Utah

Jazz

(41) after Gordon Hayward bolted for Boston in free agency. But discount the Jazz at your own risk. Utah will miss Hayward as a fail-safe option on the attack end, but Quin Snyder's intricate, drawn-out set pieces have carved a unique niche for the Jazz in an era of turbo-powered offenses. Snyder also has 11 rotation pieces, a fierce rim protector in Rudy Gobert, and a top five defense. They do it differently in Utah, but they do it well. "Over" in Salt Lake City.
PACIFIC DIVISION BEST BETS: At $399 a pop, we wonder how sales are going for the "Big Baller" shoe brand. (Give it to LaVar Ball, he's found a way to make some legit money from his kids). But it is asking an awful lot of UCLA rookie Lonzo Ball to almost single-handedly revive the LA Lakers (34), who have seen their local media so over-hype Lonzo that the oddsmakers are fooled into believing the team is ready for an 8-win upgrade. Which would be a neat trick after three of the top four scorers from last season left town. And while Ball is good, we're not sure he's a transcendent player; after all, he only helped pushed UCLA to last year's Sweet 16 and a loss to Kentucky, when Ball wasn't the best player on the floor (that would have rather clearly been now-Sacto rookie De'Aaron Fox). Ex-Nets C Brook Lopez might be a more important piece in a move close to 34 wins, but Lopez has a history of injury problems, and the Lake Show was still one of the worst defensive teams in the league in Luke Walton's HC debut; Ball is not going to help in that regard, either. Jack Nicholson might cancel his TGS subscription, but we're looking "under" with the Lake Show.
At the other end of the Staples Center, most foresee a big dropoff for the LA

Clippers

(44) after Chris Paul's move to Houston. Paul, however, was hurt regularly over the past few seasons, and no one seemed to much enjoy playing with him, so not sure his departure is a death-knell for HC Doc Rivers. Especially since the return on the Paul trade from Houston fortified Doc's bench (Patrick Beverley, Lou Williams, Sam Dekker, and Montrezl Harrell all likely to have nice roles), while Danillo Gallinari (if healthy) can remove some of the scoring burden from Blake Griffin. We're also watching Euro import PG Milos Teodosic, who is wowing 'em in preseason, and even if his defense is suspect, Rivers could mitigate that somewhat by pairing Teodosic with the terrier-like Beverley, one of the NBA peskiest stoppers. After proving a big tease the past few years, Doc might be stewarding one of the league's pleasant surprises this season. "Over" at the Clip Joint.
Others...

While everyone wonders if the Golden

State

Warriors (67 ½) are going to lose a game, it's worth noting (and we're nit-picking a bit here) that Steph Curry & Co. have exceeded this mega-win total just once in the past three Finals seasons, landing right on 67 twice; the year Golden State won a record 73 was also the season in which Steve Kerr's bunch lost in the Finals to the Cavs. The fact the Warriors tapped the brakes down the stretch last season rather than get overly-concerned about a regular-season win mark has to be considered in any win projection. Adding another electric scorer (Nick Young) freshens the roster just enough, though we wonder what might happen to the offense if Curry goes out; with him on the floor, Golden State was a not surprising first in points per 100 possessions, but dropped to 26th in the same category with no Steph. Kevin Durant was the Finals MVP, but an injury to Curry might prove a bigger hurdle to overcome. Not to mention maintaining the energy in a tough West to get to 68 wins. We gulp and say Warriors fall just short, and look "under" in Oakland.
The Phoenix

Suns

(29) are the rare college team developing within an NBA team, featuring a lineup that in past decades would be more worried about March Madness than the NBA Finals. The new one-and-done to watch is Kansas rookie wing Josh Jackson, but the Suns remain more interesting as individuals (Devin Booker, Marquess Chriss, Eric Bledsoe, TJ Warren, and now Jackson) than as a group. If there is an "over" in Phoenix it will likely be calls from potential suitors at the trade deadline; Bledsoe, plus two of the few vets on the roster (Tyson Chandler and Jared Dudley), figure to be on the radar of several teams in February, so expect the Suns to make a deal or two and maybe add another high pick for next year's draft. Still, we're looking "under" at the Talking Stick.
Something funny seemed to happen with the Sacramento

Kings

(27 ½) down the stretch last season after offloading Boogie Cousins to the Pelicans at the deadline. Shed of that powderkeg, Sacto suddenly looked as if it enjoyed playing once more, with another couple of former Kentucky bigs, Skal Labissiere and Willie Cauley-Stein, beginning to look more comfy. This season's adjustment period likely lasts into November, if not beyond, as HC Dave Joerger used five different starting combinations in the preseason, and the current injury list is lengthy (rookies De'Aaron Fox, Harry Giles, and Bogdan Bogdanovic, plus vet G George Hill all hurting, though none seriously so, as exhibition play concluded). But adding vets like Hill, Zach Randolph, and ageless Vince Carter to this young core makes the Kings more intriguing than most of the projected also-rans, with the bountiful rookie class also including North Carolina wing Justin Jackson and Kansas G Frank Mason III, who could turn into the draft bargain of the year. "Over" at the Golden One Center, our vote as the co-best venue in the league (alongside Bankers Life Fieldhouse in Indy).
Return To Home Page