7570...
COLLEGE FB SPECIAL REPORT
...LOOKING FOR AN ANGLE?

by Gary Olshan, Chief Analyst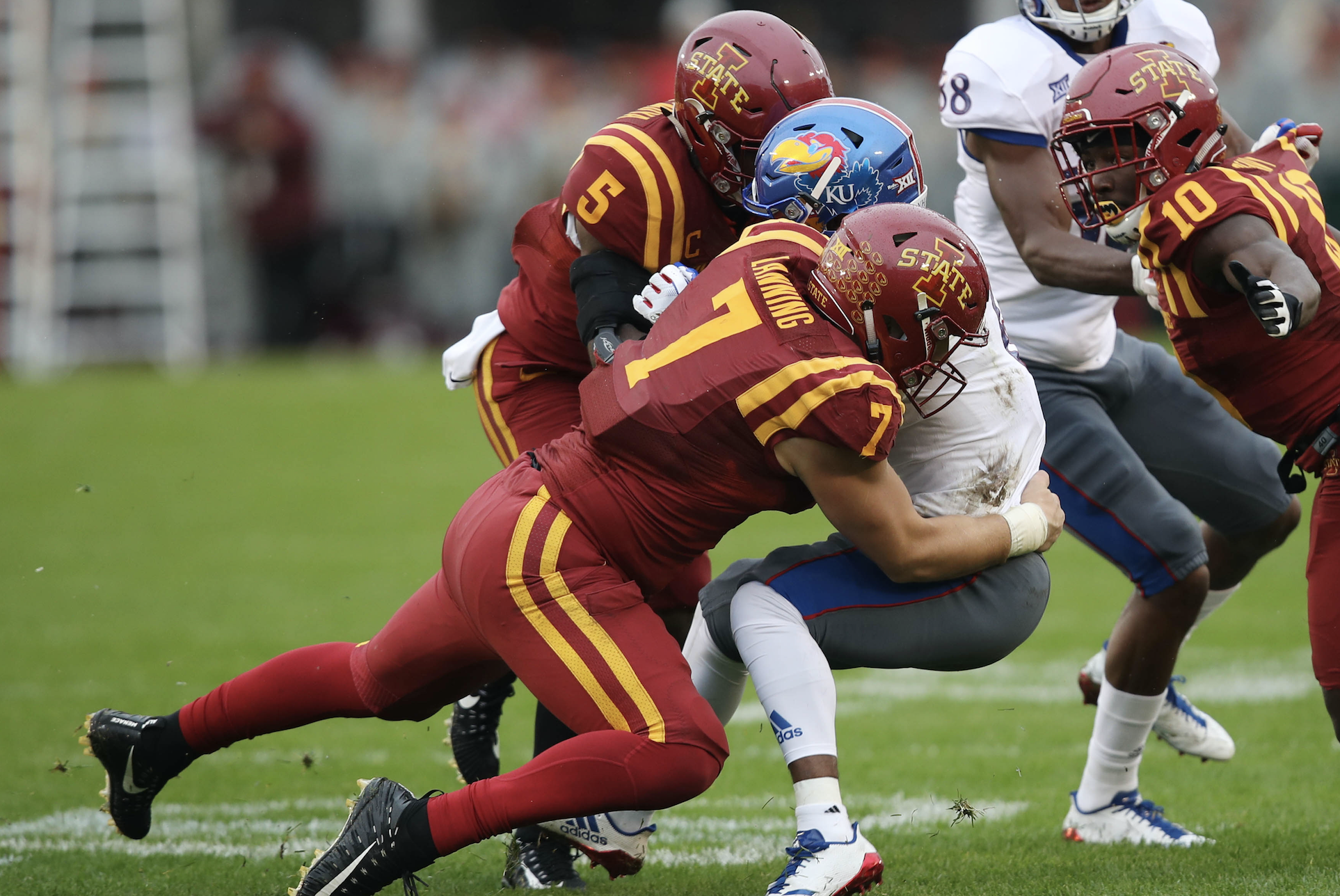 Iowa State at TEXAS TECH...TT out to settle score following LY's nightmarish 66-10 blowout in Ames, Red Raiders' worst loss since 2011. TT 7-2-1 as Lubbock chalk since 2015, including 66-31 battering of ISU 2Ys ago.

Arizona State at UTAH...After dropping 11 straight in series, Utah has turned tables by soundly taking last 2 by winning margins of 16 & 23 points. Utes overcame early 13-0 deficit in 49-26 win in Tempe LY.

Fresno State at SAN DIEGO STATE...FSU 4-1-1 vs. spread vs. MW powerhouse SDS since joining league in 2012.

Smu at CINCINNATI...Postponed payback for ascending SMU, well-reminded of 41-3 home crushing at the hands of Cincy in 2014. Bearcats 0-4 as home dog since 2016

Buffalo at MIAMI-OHIO...UB has circled date following LY's mistake-filled 35-24 home series loss. Bulls outgained M-O 380-209, but RedHawks scored on 20-yd. int. return & 92-yd fumble return in 3rd Q.

Indiana at MICHIGAN STATE...MSU in revenge mode after blowing 14-0 lead in LY's 24-21 OT upset loss in Bloomington. In battle for Old Brass Spittoon, Spartans, who had 11 penalties LY, are seeking to avoid back-to-back series losses for first time since 1993-94.


Pittsburgh at DUKE...Duke in devilish mood following LY's 56-14 trouncing at Pitt; Blue Devils most lopsided loss since 2003 (drubbed by Florida State 56-7). Recall, Duke was coming off big upset over "Tobacco Road" rival North Carolina the week before.

Central Michigan at BALL STATE...Last 3 in tightly-contested series decided by cumulative 8 points. BSU only 1-7 SU as a MAC host since 2015 (only win came vs. UMass, now an Independent).

Wake Forest at GEORGIA TECH...Scheduling dynamics favor Wake. Deacons off much-needed bye (just faced Clemson & Florida State), while GT recouping from bitter last-second loss at Miami-Florida Saturday. WF 8-3 as a visiting dog since 2015.

Michigan at PENN STATE...Triple-revenger PSU in unhappy mood at "Happy Valley" following LY's 49-10 hammering in "The Big House;" Nittany Lions' dynamic duo of QB Trace McSorley & RB Saquon Barkley had only 258 combined yards. UM only 3-9 as visiting underdog vs. nationally-ranked teams since 2008.

Kansas at TCU...Surprisingly, Big 12 doormat KU has covered last 5 vs. TCU. Jayhawks, who outgained TCU 470-366, blew 23-14 4th-Q lead in LY's bitter 24-23 loss at Lawrence. Horned Frog QB Kenny Hill threw season-high 3 picks.


Idaho at MISSOURI...This trip to downtrodden Mizzou is a golden opportunity for Idaho to snap its 32-game losing streak on the road vs. Power 5 foes. Declawed Tigers 4-11 last 15 vs. spread.

Illinois at MINNESOTA...UM's first-year HC PJ Fleck led his former team Western Michigan to 34-10 victory at Illinois in 2016. Gophers converted 3 Illini TOs into 17 pts. in LY's 40-17 pounding in Champaign-Urbana.

Tennessee at ALABAMA...Bama toyed with UT in LY's 49-10 bashing at Knoxville. Tide had season-high 438 YR. Bama, which has won 10 straight in series, 10-5 last 15 vs. spread. Vols only 2-8-1 as visiting underdog vs. Top Ten teams since 2011.

Louisville at FLORIDA STATE...FSU defense on a vendetta after allowing a whopping 530 yards in LY's humiliating 63-20 punishment at Papa John's. Card QB Lamar Jackson (hails from Daytona Beach, FL) accounted for 372 yds. & 5 TDs in his Heisman "coming out" party.

Southern Cal at NOTRE DAME...Host has won/covered 4 straight in rivalry. In USC's 45-27 home triumph a year ago, Trojans—who barely outgained ND 412-408— scored on 34-yd. int. return & 97-yd. KO return.

Return To Home Page