7565...
TGS SPECIAL REPORT
...UPSET LIST UPDATE AND NHL PREVIEW!

by Bruce Marshall, Goldsheet.com Editor
It's been a while since we at TGS had to update the all-time college football "upset" list (with "all-time" in this regard commencing in 1949, the first year of surviving, detailed pointspread records kept by our founder, Mort Olshan). In the past, we have periodically published the list when appropriate, usually when there was a change at the top, which is why we haven't seen fit to update the rankings in print since 2007, when the all-time result would remarkably change twice (!) in a two-week span. Indeed, Syracuse's reign as the "upset king" for its 38-35 win over Louisville, when the Orange were a 37-point dog that year on September 22, would be eclipsed a mere two weeks hence, on October 6, by Jim Harbaugh's first Stanford team that, as a 40½-point dog, shocked Pete Carroll's USC, 24-23, a result that would enjoy a near decade-long run as the all-time upset.
This season, however, the list has been shaking like the active fault lines on the Pacific Rim of Fire. We've already had to make a change at the top when 44½-point favorite UNLV was shocked by FCS Howard, 43-40, in opening week. That same night, 33-point dog Liberty moved into the Top 15 of the all-time list when it dumped Baylor, 48-45. Two weeks later, 34½-point underdog Idaho State would crack the Top 10 all-time list with a 30-28 shocker at Nevada. Thus, by the middle of September, we had already witnessed three of the thirteen all-time pointspread upsets in records that date almost 70 years! A good time, then, to publish the updated list, which appears a bit below.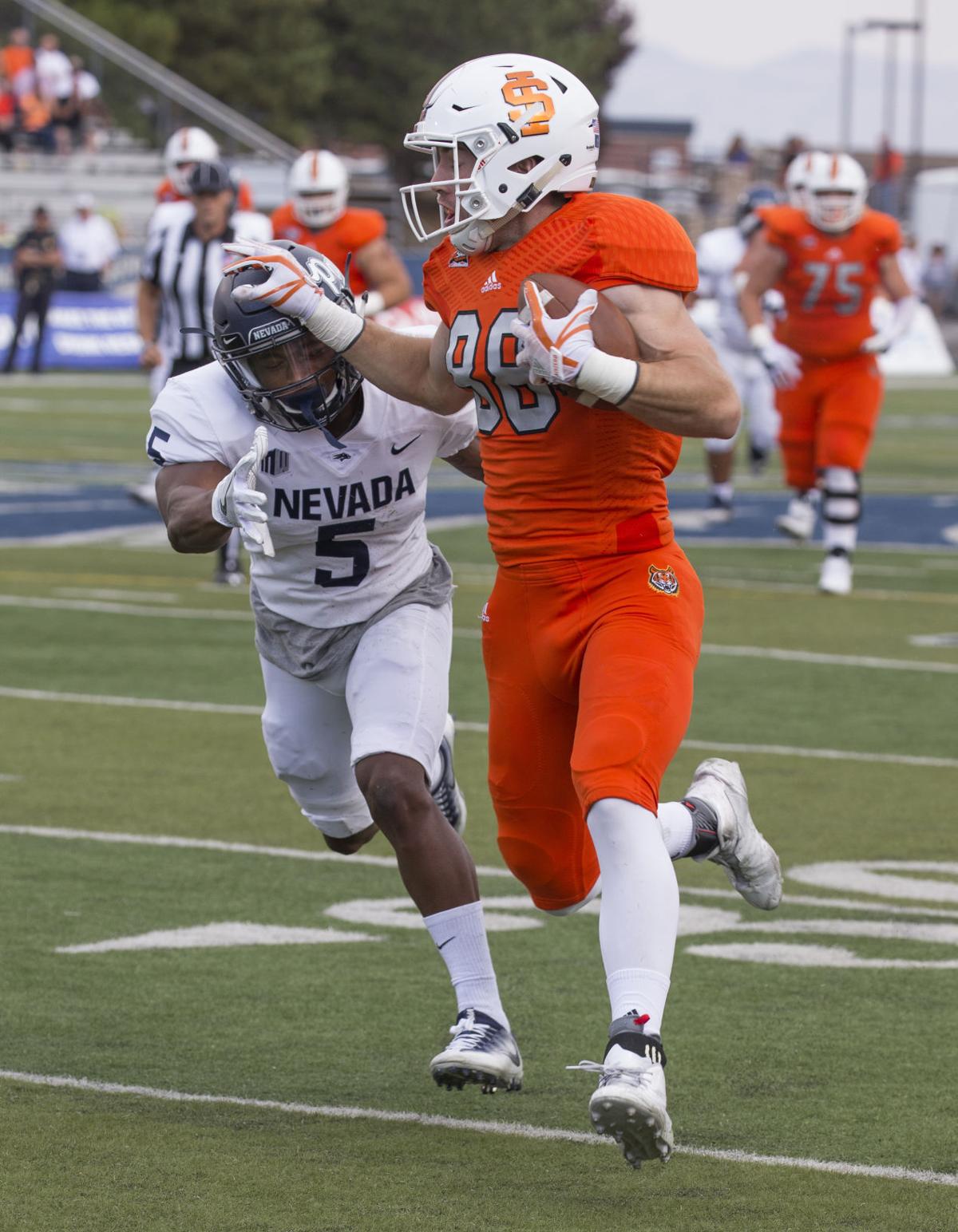 The question we've been asked a lot in the past few weeks is if there is something in the water this year that is causing this spate of shockers, or if they might signal a shift into a new era in which these sorts of results might become commonplace. While outright wins by 30 and 40-point underdogs still figure to be rare, we do suspect we're going to be seeing more of those in coming years because, well, there are simply more games on the weekly board with pointspreads than in years past, and thus more chances. This is especially true in September, when almost all games involving FBS entries, including those vs. FCS-level foes, now have posted numbers, many of the high-spread variety, all available at a variety of Nevada and offshore outlets. While these spreads of these types of games have been posted for the past few years, it's still a fact that there are simply more "bet-able" games these days, and thus more of those 30 and 40+-point underdogs. And more-dubious FBS entries such as UNLV and Nevada laying big prices.
Keep in mind, too, that until fairly recent times, spreads were rarely posted on non-conference games involving FCS, or the former Division I-A, entries. One of the most famous of these early-season shockers, The Citadel's 10-3 win over Arkansas in opening week of 1992 that cost Razorback HC Jack Crowe his job, didn't even have a posted spread. Indeed, as recently as the early '80s the weekly college "big board" might have only 30, or fewer, games, and that would include the Ivy League, whose spreads were regularly posted until the early '90s. By comparison, there were college slates this September with as many as 70 listed pointspreads!
With the bulk of intersectional play almost complete for 2017, we think it is probably remote that the all-time upset list will be breached again this campaign. The most revealing characteristic of the three aforementioned major upsets this September is that all involved FCS entries; most of their games vs. FBS foes for 2017 will have been played by the end of this month. Likely, then, we have seen the last of the all-time stunners for 2017...or maybe not, and there really is something in the water this season!
COLLEGE FOOTBALL'S BIGGEST UPSETS!!
TGS's list of the biggest upsets since we began keeping detailed records in 1950.


The leaders over the last 67 football seasons:
2017.......... Howard (+44½) over UNLV 43-40 at UNLV
2007.......... Stanford (+40½) over Southern California 24-23 at Southern Cal
2007.......... Syracuse (+37) over Louisville 38-35 at Louisville
1985.......... Oregon State (+36) over Washington 21-20 at Washington
1985.......... Texas-El Paso (+36) over BYU 23-16 at Texas-El Paso
1998.......... Temple (+35½) over Virginia Tech 28-24 at Virginia Tech
2012.......... Texas State (+35) over Houston 30-13 at Houston
1972.......... Missouri (+35) over Notre Dame 30-26 at Notre Dame
2017.......... Idaho State (+34½) over Nevada 30-28 at Nevada
2000.......... Central Michigan (+34½) over Western Michigan at W. Michigan
1974.......... Purdue (+34) over Notre Dame 31-20 at Notre Dame
2010.......... James Madison (+33½) over Virginia Tech 21-16 at Va. Tech
2017.......... Liberty (+33) over Baylor 48-40 at Baylor
1982.......... Northwestern (+32) over Minnesota 31-21 at Northwestern
1997.......... North Texas (+32) over Texas Tech 30-27 at Texas Tech
2015.......... Portland State (+31½) over Washington State 24-17 at Wash. St.
1991.......... Cincinnati (+31) over Louisville 30-7 at Louisville
2015.......... New Mexico (+30½) over Boise State 31-24 at Boise State
2012.......... Louisiana-Monroe (+30½) over Arkansas 34-31 in OT at Arkansas
1999.......... Rutgers (+30½) over Syracuse 24-21 at Rutgers
2011.......... Texas Tech (+29½) beat Oklahoma 41-38 at Oklahoma
2010.......... South Dakota (+29) over Minnesota 41-38 at Minnesota
2005.......... Ball State (+29) over Northern Illinois at Northern Illinois
1992.......... Iowa State (+29) over Nebraska 19-10 at Iowa State
1969.......... New Mexico (+29) over Kansas 16-7 at New Mexico
1969.......... San Jose State (+29) over Oregon 36-34 at Oregon
2016.......... South Alabama (+28½) over Mississippi State 21-20 at Miss. State
2013.......... Nicholls State (+28½) over Western Michigan 27-23 at W. Michigan
2010.......... Jacksonville State (+28½) over Mississippi 49-48 in OT at Ole Miss
2007.......... Pittsburgh (+28½) over West Virginia 13-9 at West Virginia
2016.......... Kentucky (+28) over Louisville 41-38 at Louisville
2013.......... Georgia Southern (+28) over Florida 26-20 at Florida
2016.......... Eastern Washington (+27½) over Washington St. 45-42 at Wash. St.
2010.......... North Dakota State (+27½) over Kansas 6-3 at Kansas
1999.......... Cincinnati (+27½) over Wisconsin 17-12 at Cincinnati
1976.......... Purdue (+27½) over Michigan 16-14 at Purdue
2011.......... Iowa State (+27) over Oklahoma State 37-31 in OT at Iowa State
1996.......... UNLV (+27) over San Diego State 44-42 at UNLV
1996.......... Memphis (+27) over Tennessee 21-17 at Memphis
1951.......... Lehigh (+27) over Rutgers 21-6 at Rutgers
...AND ABOUT THAT SECRET?
The best-kept secret in sports gaming? If you ask us, it might be the NHL, a sentiment echoed by several Las Vegas "insiders" as well. Last year our NHL picks, available online, were a big winner, notching a +5000 profit (per $100 wager) from October 28 thru the end of the Stanley Cup playoffs.
The new season begins within two weeks, and once again TGS NHL selections will be available online Monday thru Saturday at 12:15 PM PDT, accessible from our website at www.goldsheet.com.
As we do at the beginning of each season in all the pro sports we cover, we would like to provide some recommended "futures" on the upcoming NHL season. So, on the eve of the 2017-18 NHL term, a few of our best "over/unders" for the new campaign (in this case of pro hockey, it's over/under season points, as opposed to wins in MLB, NBA, and the NFL) are presented below. The following NHL Regular Season Points are provided by the Westgate "Superbook" in Las Vegas. As a reminder, note that our 2017-18 NBA "wins" preview appears in two weeks!
EASTERN CONFERENCE: ATLANTIC DIVISION...Last spring, many thought that had the Tampa Bay Lightning (102½ points) been able to squeeze into the playoffs on the last day that Jon Cooper's bunch could make the same sort of postseason run that Nashville did in the West. The Lightning would fall a point short, but now, with Steven Stamkos and Ryan Callahan healthy again after missing almost the entirety of last season, Tampa Bay should hum, especially with Andrei Vasilevskiy ready to assume his place among the NHL's top netminders. It's an "over" for us at Amalie Arena...Are the Buffalo Sabres (87½) ready to make a move? Perhaps, with the respected Phil Housley over from the Nashville staff to take the reins behind the bench, and young C Jack Eichel on the verge of stardom. But the Sabres would need to make a 10-point jump from last season to clear 87½, and no team allowed more shots per game (34.3), putting enormous pressure on GKs Robin Lehner and Chad Johnson. Look "under" at KeyBank Center. METROPOLITAN DIVISION...It took the eventual champion Penguins to take out the rugged Columbus Blue Jackets (96½) in the first round of the playoffs last April. We don't expect much regression in Ohio, not with an emerging blueline featuring young headliners Seth Jones and Zach Werenski, while winger Artemi Panerin has arrived from the Blackhawks to help drive the power-play traffic. Meanwhile, GK Sergei Bobrovsky is off of a Vezina Trophy-winning season. It's an "over" for us at Nationwide Arena....The Pittsburgh Penguins (104½) attempt to become the first team since the Islanders of the early '80s to win back-to-back-to-back Cups. They could do it, but Mike Sullivan might have to pace a roster that has played so many extra games the past few years. Keep in mind the threat of injury concerns that have limited the contributions of Sidney Crosby and Kris Letang in recent seasons. And Sullivan doesn't have the luxury of Marc-Andre Fleury (to Vegas in the expansion draft) backing up GK Matt Murray any longer. "Under" at PPG Paints Arena...but don't count out another Cup run.
WESTERN CONFERENCE: PACIFIC DIVISION...We're not sure abut any quick recovery by the Los Angeles Kings (89½), who saw fit to run the former Stanley Cup-winning combo of HC Darryl Sutter and GM Dean Lombardi out of town. Then new GM Rob Blake promoted assistant John Stevens to take Sutter's place. So, are they really housecleaning? Stevens hopes to have GK Jonathan Quick for a full season, but many key cogs like Anze Kopitar are off of miserable campaigns, and cap restrictions limited Blake's options in free agency. "Under" at Staples Center... Nowhere to go but up for the Arizona Coyotes (75½), but the roster is bursting with young, raw talent, and newly-added C Derek Stepan from the Rangers should spearhead an electric line flanked by emerging Max Domi and Anthony Duclair, while another ex-Ranger, Antti Raanta, figures an upgrade in goal. "Over" at Gila River Arena. CENTRAL DIVISION...Expected to make a serious Cup run, the Minnesota Wild (96½) instead flopped again in the playoffs, and the locals are worried about a carry-over. Moreover, Zach Parise has never lived up to expectations since his arrival in 2012, and GK Devan Dubnyk wore down due to a heavy workload last March. "Under" at Xcel Energy Center...We project quite an improvement for the Dallas Stars (98½). No team added as many pieces in the offseason, starting with iconic HC Ken Hitchcock, and Ben Bishop solves a recent GK problem in Big D. A variety of other additions (RW Alexander Radulov, C Martin Hanzal, D Marc Methot) also appear considerable upgrades. "Over" at AA Center.
Return To Home Page