7553...
TGS SPECIAL REPORT
...NFL SEASON WINS TO WATCH!

by Bruce Marshall, Goldsheet.com Editor and Chuck Sippl, Senior Editor


AFC

BEST BET...

A return to the Super Bowl for the third time in five seasons might not be in the cards. But the Denver Broncos (8 wins) are being a bit too downgraded after missing the playoffs for the first time since Tim Tebow's rookie year of 2010. There is an electric vibe in the organization provided by new HC Vance Joseph, who immediately made a shrewd move when bringing back o.c. Mike McCoy, most recently the HC of the Chargers, but before that an accomplished coordinator in Denver during John Fox's regime, and having put together the Tebow offense on the fly in 2011 before getting a significant upgrade with Peyton Manning in 2012. Denver still has a Super Bowl-caliber defense, its "No Fly Zone" secondary being as state-of the-art as ever and having led the NFL in pass defense last season. And while OLB Von Miller is likely to fall well short of his stated goal of 30 sacks, he still might be the most-disruptive defensive force in the league. There is pressure on the offense (which sputtered at best, even with Manning, in the past two Gary Kubiak-led seasons). But John Elway resisted the temptation to look elsewhere for a QB and let Trevor Siemian win the job again in training camp. With a re-tooled OL and a healthy RB C.J. Anderson, plus the chance ex-Chief RB Jamaal Charles could be a FA steal if he stays healthy, the new McCoy offense should boogie a lot better than a year ago, when the Broncos still won 9. And if Siemian delivers, no surprise if Denver reclaims the AFC West, especially if the Raiders and Chiefs slip. It's a definite "over" for us in the Mile High City.
NEXT BEST BETS..

.
It was not exactly an uneventful offseason for the Indianapolis Colts (8), who have the look of a team in transition. Two straight non-playoff campaigns are only part of the equation; the Colts also spent their offseason shedding bad contracts, aging vets, and unproductive players. Not to mention GM Ryan Grigson, who got the boot in late January, replaced by Chris Ballard, hired away from the Chiefs' front office. Spared from the purge, at least temporarily, has been HC Chuck Pagano. But with a new GM in tow, Pagano is under heavy pressure. And when he will again have QB Andrew Luck, whose surgically-repaired shoulder (his latest malady) caused him to miss the entirety of the preseason, remains anyone's guess. Now, Pagano might have to rely (at least for a while) on Scott Tolzien saving his job. Not comforting. Meanwhile, new GM Ballard turned over almost half the roster in the offseason, and there might be as many as 15 new starters on the field for this week's opener vs. the Rams. Even Pagano might need a program to figure out who is on his team and who isn't. Complicating things further are apparent upgrades at other AFC South outposts. No surprise, then, that we're looking "under" at Lucas Oil Stadium.
If

we were counting dog years, it would be about 98 of those since the Buffalo Bills (6½) have made the playoffs. It's only 18 human years, but you get the idea...it's been along dry spell on the Niagara Frontier. Buffalo's latest reinvention came in the offseason when yet another new HC, Sean McDermott (most recently the d.c. at Carolina), was enlisted to get the franchise turned in the right direction after the Rex Ryan experiment ran aground. McDermott didn't exactly infuse the operation with new blood, hiring well-traveled sorts such as Rick Dennison (offense) and Leslie Frazier (defense) as his coordinators. Worryingly for Buffalo fans, there is no indication yet that owners Terry and Kim Pegula, even with only a few NFL years under their belts, have the slightest idea about what they are doing (their local NHL property, the Sabres, has also been spinning its wheels lately, much like the Bills). The franchise has also been conducting a recent NBA-like salary-contract dump more befitting the Brooklyn Nets, perhaps in hopes of a high draft pick next spring such as landing a QB like USC's Sam Darnold. Meanwhile, Tyrod Taylor entered the weekend under concussion protocol, and Pitt rookie Nathan Peterman, though promising, was recently the only healthy QB on the roster. Look "under" at Orchard Park.
OTHERS...Without much help from their QBs, the Houston

Texans

(8½) have still won the AFC South, almost by default, the past two seasons. We're not sure Clemson rookie Deshaun Watson is the QB answer quite yet (Tom Savage likely keeps the seat warm until Watson is ready), but the "D" is still one of the AFC's best. And, unlike a year ago, now has a healthy DE J.J. Watt in the fold. The South is also hardly the NFL version of the SEC West. The Texans give their Hurricane Harvey-weary fans something to cheer about with an "over" at NRG Stadium....Last year, plenty of things went right in the first half of the season for the Oakland

Raiders

(9½), including a pair of one-point road wins in September and various other close escapes. All until QB Derek Carr went down in the penultimate week with a broken leg. Carr is back, but maybe a bit worse for wear, and the "D" still has issues. And there are possible looming distractions with the move to Las Vegas in a few years. This time, it's an "under" at the Coliseum....Yes, we expect some improvement from the Jacksonville Jaguars (7) with no-nonsense Tom Coughlin now running the front office of an operation that has been flailing like a hooked marlin off the Florida coast. LSU rookie RB Leonard Fournette should help. Unfortunately, there is still no definitive answer at QB, as the Blake Bortles experiment seems destined for an unhappy ending. Even if the Jags double their win total (3) from a year ago, it won't be enough for "over" bettors to cash their tickets. It's an "under" for us at EverBank Field.
NFC BEST BET...It would be hard for the San Francisco 49ers (5½) to be as bad as they were in last year's 2-14 debacle. The latest house-cleaning in Santa Clara, however, looks as if might stick, as the new braintrust of HC Kyle Shanahan and GM John Lynch made the NFL sit up and take notice on draft night, culling three extra draft picks from the Bears just to move down one spot (from 2 to 3) in the first round so Chicago could take North Carolina QB Mitchell Trubisky, who wasn't on the S.F. radar. Five more trades followed, including one with Seattle so the 49ers could steal Alabama LB Reuben Foster with the 31st pick near the end of the first round. All on top of third overall pick Stanford DT Solomon Thomas, giving the Niners two of the top three names on their team board. All a good bit of business by us. Moreover, among the considerable inflow of free agents was new QB Brian Hoyer, who had some success working with Shanahan a few years ago in Cleveland. Along with the various new faces on defense, the Niners seem poised for a quicker recovery than their old divisional rival in L.A. So, we're going to look "over" at Levi's Stadium.
NEXT BEST BETS...It is wise to acknowledge that no coach of the Washington Redskins (7½) on the watch of owner Dan Snyder has ever lasted beyond four seasons...and that includes past multi-Super Bowl winners Joe Gibbs and Mike Shanahan. Jay Gruden enters his fourth season this fall, but there are indicators that the operation is once again losing direction, with the notoriously meddlesome Snyder perhaps getting more involved after the offseason dismissal of GM Scot McCloughan. Moreover, there is the ongoing soap opera regarding QB Kirk Cousins, working on his second straight franchise-tag deal (though worth about $24 mill this season) and yet to sign a longer-term deal, with rumors that he will test free agency after the season generating more buzz in D.C. than whatever Mitch McConnell is up to in the Senate chamber. With the NFC East no picnic, some regression would come as no surprise with the Skins. Look "under" at FedExField.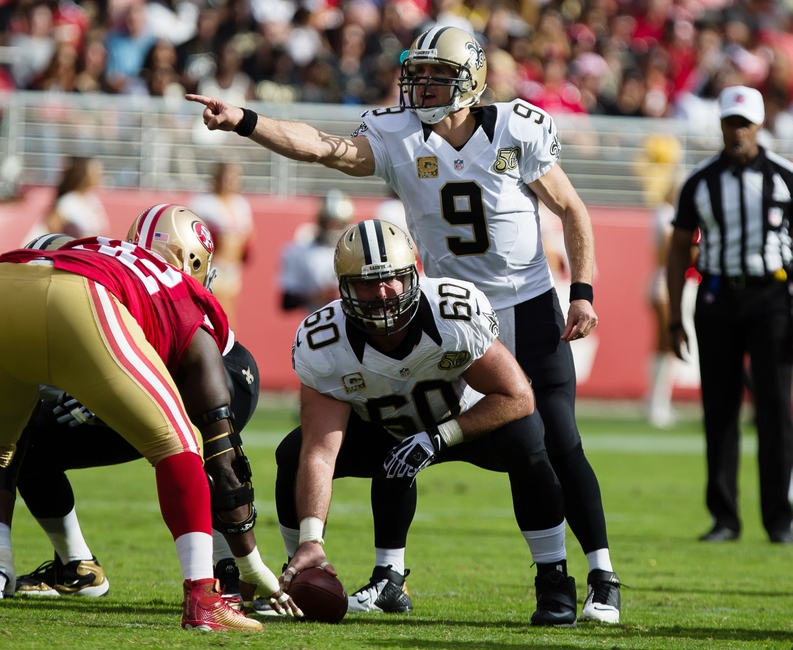 While

many believe Cam Newton and the Carolina Panthers are due for a quick recovery, or that the Atlanta Falcons have too much firepower not to make another Super Bowl run, or that the Tampa Bay Bucs are the new flavor of the NFC South, being overlooked are the New

Orleans

Saints (8), who have continued to lurk on the periphery while stuck on a 7-9 treadmill the past three seasons. But the Saints have been just a few breaks away from the playoffs the last few years, and this might be the last hurrah in the Big Easy for 38-year-old QB Drew Brees, still firing darts, but in the last year of his mega-contract. An intriguing offseason signee was RB Adrian Peterson, though a more useful addition could be preseason sensation Alvin Kamara, the Tennessee RB who wowed 'em in summer. If some of the defensive upgrades in free agency (such as LB Manti Te'o) and the draft (1st-round Ohio State CB Marshon Lattimore) make an impact, the Saints loom as an intriguing NFC darkhorse. It's "over" for us at the Superdome.
OTHERS...The wheels came off for the Minnesota Vikings (8½) down the stretch last season when QB Sam Bradford didn't have time to throw anything other than dink after dink, resulting in an NFL record completion percentage, but not much else, as the Vikes fell hard after a 5-0 start. Unless the OL has upgraded, it could be more of the same this fall, as Bradford might again not have time to look downfield, and Florida State rookie RB Dalvin Cook did nothing in preseason to suggest he's about to become the new a bell cow RB. No worry that the Vikes become the first team to play a Super Bowl in their own facility; we look "under" at US Bank Stadium....Give Philadelphia Eagles (8½) GM Howie Roseman credit for finally completing his offseason mission of upgrading his cornerbacks by finalizing a deal for Buffalo's Ron Darby in early August. After whiffing on several CB targets in free agency, Roseman now has the upgrade he needs, along with other reinforcements to his defense. Meanwhile, ex-Patriot LeGarrette Blount provides the big-back dimension that the offense and 2nd-year QB Carson Wentz badly need. After enduring another year of the Flyers, Sixers, and Phillies, the locals need something to cheer and talk about on WIP; look "over" at the Linc....Though we suppose that QB Aaron Rodgers might have other things on his mind after his recent break-up with actress Olivia Munn, the

Green Bay Packers (10½)

again appear to be the clear class of the NFC North. A healthy Rodgers is always a possible MVP candidate, and he has a big, new target in ex-Chicago/N.E. TE Martellus Bennett. Moreover, a secondary that was decimated by injuries a year ago now has a healthy look, and LB Clay Matthews will want to prove he deserves his new $60 million contract. It should be another North title and an "over" at Lambeau Field.
Return To Home Page