7545...
TGS 2017 PRO FOOTBALL PREVIEW
...A LOOK AT THE AFC WEST

by Chuck Sippl, Senior Editor

Following is our preview of the AFC West, with teams as always listed in order of predicted finish. Last year's straight-up, spread, and "Over/Under" records are included.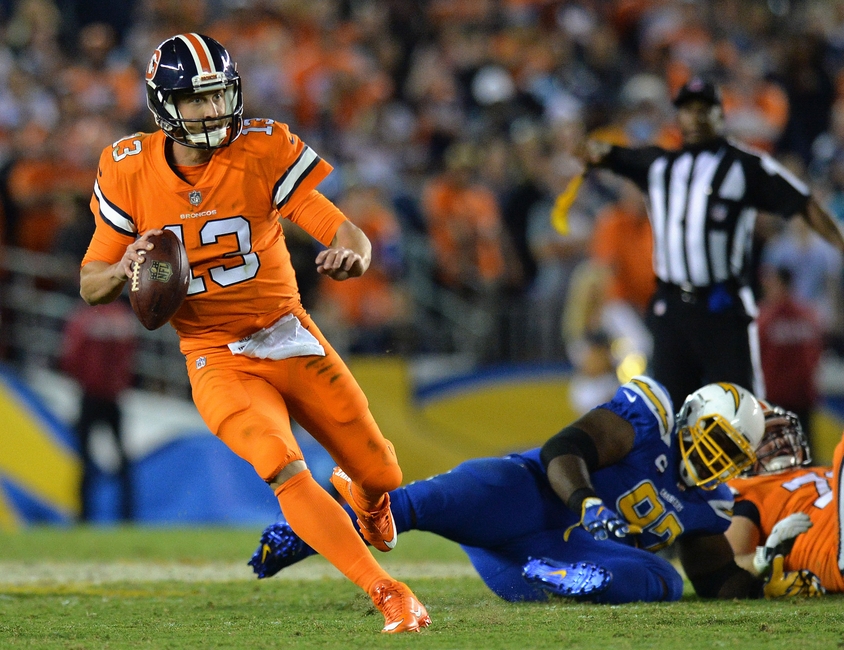 DENVER (SUR 9-7; PSR 9-7; O/U 6-9-1)...After a five-year run as AFC West champions, capped by a victory in Super Bowl 50 over Carolina, Denver fell back a couple of notches in 2016 when adjusting to the loss of future HOF QB Peyton Manning. Former HC Gary Kubiak, struck by migraines (and who can blame him) while breaking in inexperienced QB Trevor Siemian and rookie Paxton Lynch behind a thinned, rebuilding OL, saw his offense stall too often in 2016. That allowed improved Kansas City and offensively-potent Oakland to both roll by.



FOOTBALL IS HERE...STILL TIME FOR TGS 2017 DEALS NOW! ...

Click here to order


More than somewhat surprisingly, Kubiak stepped down after the season finale due to health issues. He later rejoined the team as an advisor to John Elway in the front office. Incoming is former DB and longtime NFL defensive coach Vance Joseph. Needing a little help on offense, Joseph got plenty—and quickly—with the Broncs hiring Mike McCoy, HC of San Diego the L4Ys, who was Denver's o.c. the four years before that, inclduing the surprise "Tim Tebow year" of 2011 and Peyton Manning's Mile High debut in 2012. McCoy comes armed with all the knowledge needed to compete immediately in one of the league's toughest divisions.


In 2016's post-Peyton season, Denver was just 2-4 vs. West foes, including an agonizing 30-27 OT home loss to eventual division champ Kansas City. In addition to inexperience at QB, the Broncs had to deal with a restructured OL and the normal amount of injuries on defense. Team architect Elway has moved definitively to shore up the forward wall, bringing in powerful G Ron Leary from the trumpeted Dallas OL, and adding proven RT Menelik Watson from an Oakland unit that allowed the fewest sacks in the league. Elway completed the task in the first round of the draft, investing the team's top pick in highly-regarded LT Garett Bowles from Utah. That's a lot of added beef on the hoof. Which should help the quick-hitting Denver ground game (which dipped to 27th LY), which in turn should relieve pressure on the Bronco aerial attack.


While QBs Siemian and Lynch have both demonstrated some improvement in the preseason (prior to Lynch's sprained shoulder in Exh. 3), it has been third-year pro Siemian who seems to have developed the most, executing the attack more cleanly and efficiently, showing greater anticipation and understanding of defenses. Of course, the rest of the Denver skill players must help out more than they did last year, when the team scored only 20.8 ppg and was 31st in 3rd-down percentage. The team needs continued high-quality performances from WRs Demaryius Thomas & Emmanuel Sanders (combo 169 recs. LY), but better output at RB and TE. Injury-plagued former K.C. star RB Jamaal Charles will be given in long look in camp as he seeks to approach his former peak, while Denver hopes for better health fortune with C.J. Anderson (only 7 games LY) and development from second-year RB Devontae Booker (612 YR, 3.5 ypc as a rookie). The 30-year-old Charles flashed some of his old speed in the third exhibition.


If the offense gets its act together, the defense (1st vs. the pass, 4th in yards allowed, 4th in points against, but 28th vs. the run) has a good chance to revert to its old Super Bowl self. Super-quick OLB Von Miller (13½ sacks LY) agreed with Oakland DE Khalil Mack that 30 sacks in a season is "doable." [Ed. Note: It's not. Michael Strahan's 22½ is the record.] But promising Shane Ray on the other side is expected to miss about the first month with a wrist injury. The secondary of CB Aqib Talib, CB Chris Harris, S T. J. Ward, S Darian Stewart, and nickel Bradley Roby allowed a league-low 13 TDP and is generally considered to be the best in the business. Twelve-year veteran DT Domata Peko was signed from the Bengals to provide depth, toughness, and leadership up front.


Summary...The Broncs are improved in their OL, more experienced at QB, and just as tough as LY on defense. Not only did Denver add former S.D. HC Mike McCoy as o.c., Elway also inked Bill Musgrave (Oakland o.c. L2Ys) to tutor Bronco QBs. This is a strong division, with three major contenders. Denver hosts Kansas City in the regular-season finale, which might prove to be decisive.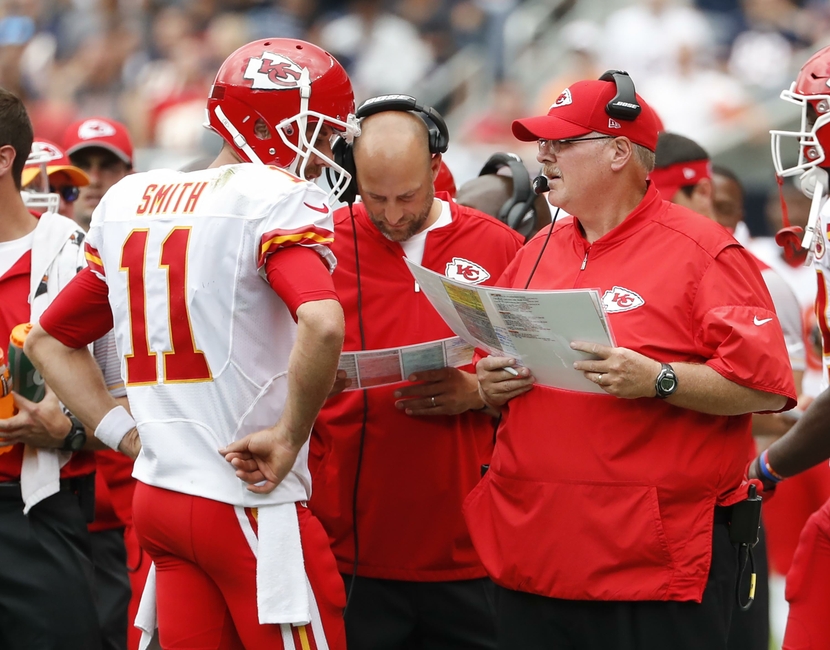 KANSAS CITY (SUR 12-5; PSR 9-8; O/U 6-11)...Credit K.C. for taking full advantage last year. The Chiefs exploited the Broncos' "Super Bowl hangover," beating Denver twice in the last six weeks of the regular season. They held Derek Carr to just 117 YP in a key December matchup in Kansas City, then racing by the Raiders to claim the division tiebreaker when Carr suffered a fibula fracture in Game 15.


Solid coaching, careful QBing (Alex Smith only 8 ints.), superlative TE play (Travis Kelce (85 recs. for 1125 yards), and a fifth-round gamble on troubled WR/KR Tyreek Hill (61 recs.; 3 return TDs) were the keys. The Chiefs won 10 of their last 12 games. But their offense produced only 227 yards in a home division-round game, losing 18-16 loss to the Steelers, even though visiting Pittsburgh was held without a TD.


The breaks might not go K.C.'s way so swimmingly in 2017, even though it would be no surprise if the solid, well-balanced Chiefs were to repeat in the West for the first time in team history! The lightning-quick Hill provides QB Smith with the game-breaking WR K.C. has been seeking for a while. And elusive TE Kelce gives the team valuable mismatches throughout most games. HC Andy Reid is hoping that third-year WR Chris Conley (44 recs. but no TDC LY) can step up now that Jeremy Maclin has departed. But the search goes on for dynamic NFL targets.


The RB combination of Spencer Ware (921 YR) and Charcandrick West (293 YR) was usually good enough LY. But the powerful Ware suffered a knee injury in the third exhibition. But help appears to be on the way for the offense. Third-round RB Kareem Hunt (Toledo) has been oozing NFL talent in the preseason. 6-7 TE Demetrius Harris, a former hoopster from Wis.-Milwaukee, appears to be developing into one of those hoops-power-forward-to-NFL-tight end conversions that's going to work.


And, of course, K.C. made a few waves in the draft, moving up to grab mobile QB Patrick Mahomes II with the 10th overall pick. Mahomes has shown the big arm and fine mobility the Chiefs expected, able to turn some broken plays into key gainers. But the rookie will need more pocket discipline and better accuracy before he beats out Smith, even though the latter can sometimes be criticized for being cautious to a fault in the Andy Reid system, and even though Smith's guidance helped K.C. finish +16 in turnover margin (tied for first with Oakland).


It's on defense where K.C. has some concerns after finishing 24th in yards allowed LY.; 26th in rush yards; 28th in sacks. The Chiefs were an admirable 7th in points against (only 19.4 pg). And the secondary has some proven playmakers in S Eric Berry (77 Ts, 4 ints.) and CB Marcus Peters (14 ints. in his first two season). But K.C. must soon be thinking about retooling its front seven, where ILB Derrick Johnson (Achilles in December LY) turns 35 in November and where OLBs Tamba Hali and Justin Houston have battled knee injuries in recent years. Massive 346-pound DT Dontari Poe has moved on to Atlanta in free agency.


Fourth-year ex[-Auburn OLB Dee Ford has picked up some of the slack with 10 sacks LY. And K.C. has high hopes for No. 2 pick Tanoh Kpassagnon, a 6-7, 280 force from Villanova, whose mother emigrated from Uganda and has a doctorate in food science. Kpassagnon, from Villanova, is a "project" with a massive upside.


Summary...In this highly-competitive division, the defending champs seem sure to be in contention for a first-ever Kansas City repeat. HC Reid has his offense together. But his defense is showing some wear and tear. That fact, combined with this year's regular-season taking place finale in Denver, might give a slight edge to the Broncos.



OAKLAND (SUR 12-5;

PSR 10-7

; O/U 12-5)...The Silver and Black appeared to be on their way to their first AFC West title in 14 seasons until hot young QB Derek Carr suffered a fractured fibula in the 15th game of 2016 vs. the Colts. Matt McGloin then suffered a shoulder injury in Oakland's finale, a 24-6 loss in Denver that gave the West crown to K.C. on tiebreakers. Rookie QB Connor Cook entered and had two turnovers vs. the Bronco defense in that game, then three ints. in the team's ensuing wild card game in Houston, a 27-14 Texans victory. An unfortunate end to an otherwise exciting Raider season.


Along the way, the Pride and Poise Boys were usually willing to roll the dice, with 12 of their victories notched by 3 points of fewer, a couple of those due to gutsy late calls by HC Jack Del Rio. In his third season, Carr matured into a team leader and bonafide bomber that Al Davis would have been proud of, with 28 TDs vs. only 6 ints. in his 15 games. The Raider front office and coaching staff crafted a solid OL for their star, often employing a six-man front to boost the Oakland ground game while allowing the fewest sacks in the league with just 18 (by way of contrast, Cleveland had 66).


Going into 2017, Carr appears to be close to 100%. Star WRs Amari Cooper (83 recs.) and Michael Crabtree (89) are both back, as are quick, second-year, smurf RBs DeAndre Washington & Jalen Richard (combined 958 YR and 46 recs. as rookies). To add power to the offense after big back Latavius Murray (788 YR and 12 TDR LY) moved on to Minnesota, the Raiders have turned to "Beast Mode"—Oakland native Marshawn Lynch, who is now 31 after not playing LY after four in Buffalo and then six in Seattle. Veteran TE Jared Cook arrives from G.B. So the offense appears potent again after finishing 6th in yards, 6th in rushing, and 7th in scoring.


But there are some ominous issues at hand, the biggest, of course, being the team's impending move to Las Vegas three seasons down the road. So far, there seems to be little "fan flight" by the Raider Nation. But there has been some "tackle flight," as 2016 starting RT Menelik Watson has signed with Denver, "extra" tackle Austin Howard has signed with Baltimore, and starting LT Donald Penn (now 34) missed nearly four weeks as a camp holdout before reporting. [How often have veterans returning from a lengthy holdout get injured upon their return? Just asking.] Packers, Giants castoff Marshall Newhouse might end up starting at RT.


However, it appears that the Oakland defense is most likely to be the weak link that is the biggest threat that might keep the team out of the playoffs. The Raider stoppers ranked 26th in yards against, 20th in points allowed, and last in sacks (only 25 for the team; 11 of them by DE Khalil Mack).


Understandably, therefore, GM Reggie McKenzie made a major investment in defense in the offseason. Tough-to-block DE Mack, OLB Bruce Irvin (7 sacks), CB David Amerson, and second-year safety Karl Joseph are the building blocks. But veteran 6-3 CB Sean Smith has fallen out of favor, LBs Malcolm Smith & Ben Heeney are injured, and LB Aldon Smith begins the season on NFL suspension. No. 1 draft pick Gareon Conley from Ohio State might not be ready for the start of the season due to a leg injury.


New blood is coming in the form of second-round safety Obi Melifonwu (UConn), third-round DT Eddie Vanderdoes (UCLA), fifth-round MLB Marquel Lee (Wake Forest), and seventh-round DL Treyvon Hester. Former Dolphin Jelani Jenkins is still only 25 and might be headed for a starting job. 2016 No. 3 Shilique Calhoun, being converted from college DE to NFL LB, is still developing.


Summary...Some observers in Oakland say as many as four rookies might be starting on defense by midseason. That's quite a youth movement by any standard. But unless those rookies are early overachievers, that's not conducive to a playoff run. Defensive issues are likely to put the Raiders third in line in the AFC West queue. Note that Oakland is 22-11 "over" the L2Ys. Also note that Las Vegas oddsmakers are already terming the Raiders as a "public team," due to early heavy betting on the Silver and Black to win the AFC West, the AFC overall, and even the Super Bowl.



LOS

ANGELES

CHARGERS (SUR 5-11; PSR 7-9; O/U 9-6-1)...First of three years for the Chargers back in their original home area, where they will play their games at the tiny StubHub Center (about 30,000 capacity) nigh to the 405 Freeway in Carson. And even with a new head coach (Anthony Lynn, former NFL RB in the 90s and NFL asst. since 2000), a likely future Hall of Fame QB (Philip Rivers), and a reported renewed commitment to the ground game, it's a bit of a stretch to pick the Lightning Bolts ahead of their three challengers in the highly-competitive AFC West.


Yes, the Chargers can beat any other team in the division on any given day. But San Diego's (sic) last division title was in 2009 under Norv Turner during the declining days of LaDainian Tomlinson. Since then, it was either 9-7, 8-8 or 7-9 for five straight years until the collapse to 4-12 in 2015 and 5-11 in 2016, with those last seasons seemingly cursed by OL-RB-WR-DB injuries. So, it was good-by to the competent but tactiturn HC Mke McCoy.


And, when the Spanos family couldn't find either the financial backing or the resolve to invest deeply in San Diego, it was off to L.A. to become the tenant of the Rams at the NFL showplace being built in Inglewood by developer and Rams' owner Stan Kroenke, with the palace not ready to host league games until 2020. Star QB Rivers (the father of eight children) will be 38 by then. In the meantime, he has hired a driver to battle the commute between his home in lovely Rancho Santa Fe and the Chargers' practice facility in Orange County, with plans to study "game film" on the freeway while trying to be the least disruptive on his family life that he can.


Things would go a lot easier for the QB if the Charger front office could provide a solid OL of protectors. Already, projected starting G Forrest Lamp (No. 2 pick TY) has been lost for the season with a torn ACL, and utility interior lineman Mac Tuerk will miss the first four games (PED suspension).


But this year's OL group overall appears to be more physical and athletic than recent Charger OL editions. And the big uglies up front get plenty of help from Rivers (125 TDP the L4Ys) himself, who has grown accustomed to launching passes among crowds of rushers with great anticipation and uncanny accuracy. Rivers admits he lost his discipline a few times LY when he tossed 21 ints., the highest total of his career.


Expect that number to come down TY, with former RB and now HC Lynn believing in a greater commitment to the running game (Lynn, o.c. of the Bills LY, saw his Buffalo team finish first in rushing by a fairly wide margin). L.A. plans to make plenty use of FB Derek Watt (brother of Houston DE J.J. and Pittsburgh OLB T.J.), who blocked for Melvin Gordon at Wisconsin and who helped the Charger RB regain his mojo with 997 YR after an injury and fumble-plagued rookie year. Mini-might RB Branden Oliver is back from LY's injury to spell Gordon.


Also back (and the Chargers are keeping their fingers crossed) is WR Keenan Allen, who had a monstrous 67 recs. in just 8 games of 2015, only to miss the rest of that season and virtually all of 2016 due to injury. Allen has frequently flashed his old form in camp. Not so fluid has been L.A.'s top draft pick, 6-4, 220 Mike Williams, the power wideout from Clemson who had injury problems in college. We'll see about his durability. But QB Rivers now has confidence elsewhere in the receiver platoon, thanks to aging TE Antonio Gates, young TE Hunter Henry, and the many backup wideouts who have gotten playing time due to team injuries in recent years. 5-10 veteran Travis Benjamin has "speed to burn," while 6-4 Tyrell Williams—a project from Western Oregon who had (69 recs. LY)—is paying back the confidence shown in him.


The inability of the Jacksonville Jaguars to escape their malaise of recent years has provided Lynn with a proven defensive coordinator, as former Jags' HC Gus Bradley (also a former Seattle d.c. for Pete Carroll) takes over the defense, which is speedy and talented when healthy. Lynn has thus "babied" many of his top defenders in the preseason. But it looks as if skinny cover CB Jason Verrett (only 4 games LY) will be ready to start the season opposite Casey Hayward, who led the NFL LY with 7 interceptions. Rookie safety/nickel Desmond King of Iowa appears to be a fifth-round "steal."


Up front, L.A. is eager to get a full season out of DE Joey Bosa, a first-round holdout in 2016 who became injured shortly after reporting. Super-quick for 6-5, 277, he still had 10 ½ sacks in just 12 games. Bosa's presence helped free up Melvin Ingram, who had 8 sacks and is the perfect hybrid guy to play the "Leo" DE/OLB spot in Bradley's variable front. A huge bright spot LY was 5-11 ILB Jatavis Brown (79 Ts as a rookie), who took over a starting spot after being a previous fifth-round "steal" from Akron. Veteran DT Brandon Mebane, who played Bradley's scheme when the two were in Seattle, has been brought in to provide help for the overworked Corey Liuget up front.


Many of the Chargers' defensive stats were down LY (i.e., 29th in points allowed) because of injuries, lack of depth, and an unacceptable 35 giveaways (last in the league, even worse than the Browns and Jets). A little change in that balance TY could make a big difference for the stop unit.


Summary...Although they are easy to rank fourth in the AFC West group, a healthy OL to help Philip Rivers do his thing could easily help "Los Angeles" challenge for first. But Anthony Lynn must prove himself as a HC. And the RBs and defense must remain healthy for a change. But one thing is pretty certain. The Charger offense figures to be much more exciting than that of the rival L.A. Rams up the freeway.

NEXT UP: NFC WEST
Return To Home Page