7536...
TGS 2017 PRO FOOTBALL PREVIEW
...A LOOK AT THE AFC SOUTH
by Bruce Marshall, Goldsheet.com Editor

Following is our preview of the AFC South, with teams as always presented in order of predicted finish. Last year's straight-up, spread, and "Over/Under" records are included.
They might have the least convincing case among those teams projected to win their divisions, but the Houston Texans (2016 SUR 10-8; PSR 7-10-1; O/U 8-9-1) have proven pretty resilient the past two years when cobbling together a pair of AFC South titles. Doing so when starting five different QBs might qualify HC Bill O'Brien for some sort of special commendation, especially after last year's big-money FA addition from Denver, Brock Osweiler, bombed so badly that he was offloaded to Cleveland in a "Moneyball" move that would have made Billy Beane proud, with the Texans effectively throwing in a second-round draft choice just to get the "Brock-lobster" and the remainder of his 4-year, $72 mill contract off of their hands.



FOOTBALL COMING SOON...TGS 2017 EARLY DEALS NOW! ...

Click here to order


That QB merry-go-round prompted the Texans to trade up to the 12th spot in the first round of last April's draft in Philadelphia to take Clemson QB Deshaun Watson, fresh off of leading the Tigers to a national title capped by a thrilling upset win over Alabama. Which has presented something of a dilemma for HC O'Brien, who despite his back-to-back playoff appearances is still believed to be on something of a hot seat with owner Bob McNair. Will O'Brien want to entrust a rookie QB, even one as potentially good as Watson, with his coaching fate?


Which is why many observers believe O'Brien might start the campaign with holdover QB Tom Savage, who unseated Osweiler as the starter late last season before a late-December injury forced Osweiler back into the lineup for the playoffs. But the upside is probably limited with Savage, who will be asked to do not much more than manage the games and avoid mistakes. As might the other vet QB option on the roster, Brandon Weeden. There is more upside with Watson, but throwing him into the fire as a rookie comes with various risks. And the stakes are awfully high for O'Brien, who knows that he must solve his QB dilemma quickly if he wants to hang around into 2018.


It will help Watson, Savage, or Weeden because the Texans want to run the ball and play to their defense, which is dominant, and which has provided the recent edge over their division foes. On the attack, the infantry has become extra-important the past couple of years because of the less-than-stellar aerial game. Afraid of wearing down RB Lamar Miller, who carried a career-high 268 times while gaining 1073 YR in 2016, GM Rick Smith drafted Texas banger D'Onta Foreman, last year's Doak Walker Award winner as college football's best back, who has looked good in camp and early preseason work and should relieve some of the burden from Miller. The return of C Nick Martin, who missed last season due to injury, should bolster an OL that struggled at times due to injuries a year ago.


The hope is that a strong 1-2 infantry punch with Miller and Foreman will take some of the pressure off of Savage, Watson, or Weeden and perhaps re-open the passing lanes for an offense that was dormant (ranking 29th) a year ago. Key WR DeAndre Hopkins, nursing a hand injury in August, saw his production drop (from a whopping 111 catches in 2015 to 78 a year ago) with the QB issues, and now other wideouts such as 2nd-year deep threat Will Fuller (collarbone; out for at least two months) and Braxton Miller (ankle; has missed preseason action) are dealing with more significant injuries, which has opened the door for 3rd-year ex-Arizona State wideout Jaelen Strong, who has been a bit of a disappointment but has impressed this preseason, to finally emerge.


Fortunately, the Texans don't need to get much out of their offense because the Romeo Crennel stop unit might be the league's best, ranking on top of NFL defensive stats a year ago despite being without do-everything DE J.J. Watt for much of the season due to back surgery. The irrepressible Watt, however, has returned to active duty, and will help a pass rush that did suffer in his absence (the Texans ranked only 24th with 31 sacks), though former first overall draft pick DE Jadeveon Clowney enjoyed his best pro season in 2016 while recording six sacks. With a healthy Watt, emerging Clowney, plus OLB Whitney Mercilus and ILB Benadrick McKinney, Houston should be able to exceed 40 sacks this fall.


Still, there were some defensive defections of note, with CB AJ Bouye (to the division rival Jags), FS Quinton Demps (to the Bears), LB John Simon (to the Colts), and thick NT Vince Wilfork (retired to the competitive BBQ circuit...really!) all having departed. In Watt's absence last season, the secondary stepped up, ranking behind only Denver in pass defense, though Crennel will be hoping that CB Kevin Johnson, who went on IR last October with foot surgery, has recovered fully, and along with vet Johnathon Joseph can plug the gap left by the departure of CB Bouye to the Jags.


Until knocked from their perch, the Texans remain the team to beat in the South, with the possibility that Watson might have the sort of impact as a rookie QB that Russell Wilson had with the Seahawks five years ago. A little help from the offense can go a long way; the Texans defense was roughing up Tom Brady in the playoffs last January and intercepted him twice, but without help from the offense would fall short vs. the Patriots in Foxborough. Though Houston might not need Watson to emerge immediately to win the South, it needs him to develop soon while the championship window is still open for Watt and the defense. How quickly Watson progresses might also determine the fate of HC O'Brien. Lots going on this fall in Houston, that's for sure.


Spread-wise, note that the Texans are 10-2-1 as home chalk at NRG Stadium the past two years, though Houston was just 2-7 on the road and as an underdog a year ago.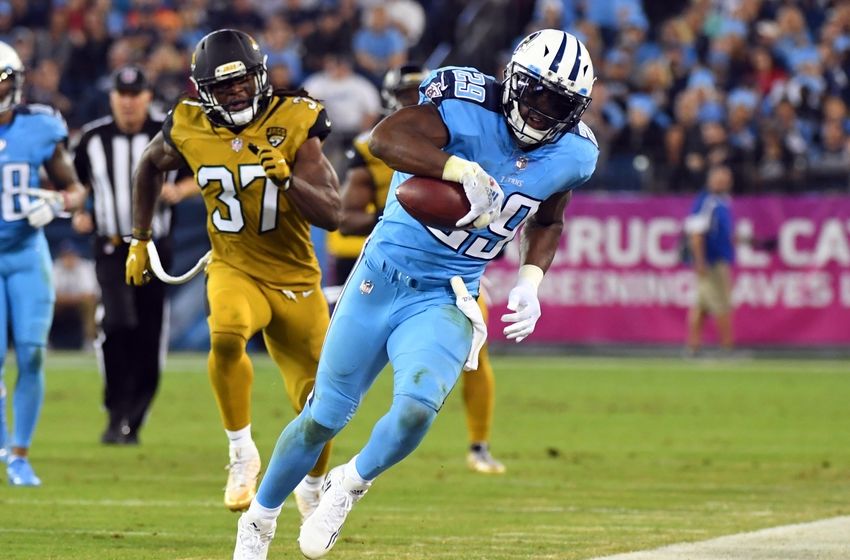 For the first time in quite a while, supporting the Tennessee Titans (2016 SUR 9-7; PSR 8-8; O/U 10-5-1) has become rather chic. So goes the narrative for one of the new "it" teams in the league, now with plenty of supporters after a dramatic turnaround mostly fueled by shrewd GM Jon Robinson, who has worked something akin to a personnel miracle with the Titans while the organization deals with an ongoing ownership vacuum among the heirs of franchise patriarch Bud Adams. Which is a compelling tale in its own right and one we might review down the road when time and space permit.


On the field, however, Tennessee rose from the rubble of the 2014 & '15 seasons when the Titans combined for only five wins by winning nine a year ago and barely missing out on the AFC South title due to a tiebreaker with the Texans. While there were still holes on the roster, GM Robinson went about filling them in the offseason to put the Titans in their best position in a decade.


Forgive us, however, from jumping completely on board the Tennessee bandwagon, as we still have more than a few reservations about HC Mike Mularkey, now in his third NFL head coaching stint and with a 27-46 overall record. Though Mularkey has been placed in some difficult situations in his career, and has proven an upgrade from predecessor Ken Whisenhunt, who lasted only 1 ½ seasons, his teams have still never earned a playoff berth. We simply need a bit more convincing that Mularkey is the guy to take the Titans to the next level.


Credit Mularkey, however, for implementing an old-school, smashmouth-style attack in Nashville spearheaded by two of Robinson's top roster additions, RBs DeMarco Murray (via trade last year with the Eagles) and Heisman RB Derrick Henry (Tennessee's first-round pick in 2016). Murray did the bulk of the damage a year ago when gaining 1287 YR, keying what would be the NFL's third-ranked rushing offense that brought smiles to the faces of plenty of oldtime fans.


Two years ago, Robinson added yet another Heisman winner, Oregon QB Marcus Mariota, who remains ahead of the learning curve and improved dramatically in his second year, doing a better job of finding the balance between making throws when necessary, and being cautious but not reckless. He couldn't avoid a broken leg, however, in a penultimate week loss at Jacksonville that wrecked the Titans' playoff plans, but has recovered fully.

Another Robinson special, Corey Davis from Western Michigan, was regarded as the top deep-threat WR in last April's draft and was nabbed by the Titans with the fifth pick in the first round, perhaps solving the Titans' need for a legit burner on the outside. A couple of other rookie receivers, Western Kentucky's Taywan Taylor (likely to work out of the slot) and FIU's TE Jonnu Smith, are both expected to make contributions and complement holdovers such as WR Rishard Mathews, a capable possession receiver who caught 65 passes last season, and underrated TE Delanie Walker, who has 159 receptions over the past two campaigns. Meanwhile, the OL played its part in the turnaround under first-year line coach Russ Grimm. The forward wall was rated the league's best by Pro Football Focus and features Pro Bowl LT Taylor Lewan and RT Jack Conklin, who made All-Pro in his rookie year out of Michigan State.


Meanwhile, sage 79-year-old d.c. Dick LeBeau must believe sticking around another year is worth it after Robinson went about revamping a secondary that ranked dead last in NFL pass defense a year ago. There might be as many as three new starters in the defensive backfield, with CB Ryan Logan (via the Patriots) and FS Jonathan Cyprien (via the Jags) added in free agency, while Southern Cal CB Adoree' Jackson was added with a second pick in the first round of the draft. All are likely to be in the starting lineup for the opener vs. the Raiders on September 10.


LeBeau's noted zone blitzes began to take hold a year ago, and the aggressive pass rush has been developing under LeBeau's guidance, starting with OLBs Brian Orapko and Derrick Morgan, plus DE Jurrell Casey, who combined for 24.5 sacks. Indeed, the front seven is made of some stern stuff, with a pair of ex-Kentucky ILBs, Avery Williamson (who has led the Titans in tackles the past two years) and former Bronco Wesley Woodyard, adding further steel at the second line of defense.


Indeed, it looks as if all of the pieces are in place for the Titans to make the playoffs for the first time since 2008, late in the Jeff Fisher era. Only we're not so convinced, as at least division rival Houston has gotten to the postseason lately, and note that the Titans must do better vs. their South opponents after recording only a 2-4 mark within the division last fall. Reversing a current

1-16 SU skid

vs. the Colts would certainly help matters. But until Mularkey leads a team to the playoffs, we'll be skeptical.


Spread-wise, keep in mind that the Titans haven't recorded a winning mark at home since that last playoff year of 2008, though they did improve to 4-4 a year ago. Note that Tennessee has also been a strong "over" play (19-11-2) the past two seasons.



It's back to the future this fall for the Jacksonville

Jaguars

(2016 SUR 3-13; PSR 8-8; O/U 10-6). Well, sort of; original HC Tom Coughlin, who twice led the Jags to the AFC title game in their early years, including their second season of existence in 1996, has returned, though instead of reprising his former role as coach is now the VP of football operations. Given that the Jags haven't been to the playoffs or been over .500 for a decade and are working on six straight seasons with double-digit losses, Coughlin cannot be accused of ducking a challenge in this latest assignment.


The old buzzwords such as toughness and accountability that were associated with Couglin in previous stops with the Jags and Giants are prominent again at Alltel Stadium in this latest regime change that also includes a new head coach. Well, again, sort of, as Doug Marron was promoted from o.c. to replace the dismissed Gus Bradley for the final three games last season, and his hiring as Bradley's permanent replacement was Coughlin's first important act in his new supremo role.


For Marrone, Jacksonville represents another chance after his somewhat puzzling break from the Buffalo Bills following an encouraging 9-7 mark in 2014. Not comfy with the new ownership of Terry and Kim Pegula (who are now working on their fourth head coach in three calendar years), Marrone resigned with apparent eyes on the opening with the New York Jets after Rex Ryan's dismissal. But the Jets hired Todd Bowles instead, and Marrone would end up as an assistant with the Jags before his next head coaching chance. (Interestingly, the man Marrone thought he was going to replace with the Jets, Ryan, ended up replacing Marrone in Buffalo...but that's the last we'll be mentioning of Rexy for a while).


Coughlin also inherited a QB dilemma, with former nearby UCF star Blake Bortles not making much progress in his first three seasons in the league and under pressure from Coughlin to produce this season. Bortles' rope, however, might have been shorter than anyone realized, as by the third preseason game, Chad Henne was starting at QB after Bortles struggled in the first two exhibitions. Since Henne didn't impress, Bortles was subsequently named the starter for the opener at Houston, though the preseason rollercoaster confirms Bortles' shaky status. It is also hard to believe J'ville would give up this soon on Bortles, especially after picking up his $19 million option for 2018. (Though that $19 mill is guaranteed only due to injury; it actually represents a potential savings of about $4 mill from the franchise tag the team might have had to slap onto Bortles should he play well this season, and they not opt for a longer-term deal.) Stay tuned for further developments.


While much of the offseason discussion centered on Bortles and the QB situation, not much has been made of the fact the Jags finished a quite respectable sixth in total defense last term, giving Marrone more to work with on the stop end than most of the other first-year coaches in the league. The Jags allowed 30-plus points just three times and held opponents to fewer than 300 yards on eight different occasions. On the other hand, it doesn't say much for the rest of the team that it finished 3-13 with such a representative stop unit.

Still, most of Coughlin and GM Dave Caldwell's FA additions came on the defensive side, with DE Calais Campbell (via the Cards). S Barry Church (via the Cowboys), and CB A.J. Bouye (via the Texans) all added to the mix and expected to contribute immediately. The offensive upgrades came mostly in the draft, especially first-round pick RB Leonard Fournette from LSU and second-round OT Cam Robinson from Alabama. The Jags also rolled the dice on Oklahoma WR Dede Westborrok, a 4th-round pick but a first-round talent whose off-field troubles in Norman scared away many potential suitors.


It is the presence of Fournette, however, which threatens to alter the equation. His violent style might equate to a short shelf life in the NFL, but some believe he is a better prospect than last year's rookie star Ezekiel Elliott in Dallas. The ex-LSU man already flashed plenty of upside in early preseason work, and is likely the centerpiece of the offense. So, the days of Bortles (or Henne) throwing 40 times per game could now be a thing of the past, which might not bode well for fantasy owners of the "Allens" (Robinson and Hurns) at the wideout spots after each having gained better than 1000 receiving yards as recently as 2015.


If Bortles does end up taking snaps, he will have no more excuses, as he is now surrounded by competent skill-position weaponry. Note that while Bortles' pass attempts have increased in each of his first three seasons, his completion percentage has stayed roughly the same (around 59%) as have the high number of interceptions (16 more last season). The hope in Jacksonville is that the presence of Fournette might take some of the pressure off of Bortles, but early indicators have not been promising, and the prospect of a limited Henne at the controls has even less appeal.


The stop unit, however, is capable of fueling at least a modest ascent. Adding Calais to a defensive front already boasting of former Bronco DT Malik Jackson and former first-round pick DE Dante Fowler, Jr. gives d.c. Todd Walsh four pass rushers (along with last year's surprise, DE Yannick Ngakoue) capable of ten or more sacks. The Jags also return two of their top three tacklers including LBs Paul Posluszny (130 tackles LY) and Telvin Smith. Second-year ex-UCLA star Myles Jack also looks like a three-down player this season after being slow to recover from a college knee injury a year ago. Well-regarded free agents such as the aforementioned CB Bouye and SS Church, along with FS Tashaun Gipson, added a year ago from the Browns, join with last year's first-round pick CB Jalen Ramsey to form one of the better secondaries in the AFC.


Thus, there appear to be many of the pieces in place to form an eventual contender in Jacksonville, but with prospects growing dimmer by the day that Bortles will ever emerge as the franchise QB the Jags the need, the most important piece to the Jag puzzle still appears to be missing. With a solid defense, Marrone could improve considerably upon last year's 3-13 mark, and maybe avoiding double-digit losses for the first time since the Jack Del Rio era in 2010 is a possibility, but until the QB dilemma is solved, J'ville is likely at least a year away from serious playoff contention.


Spread-wise, note that the Jags have been favored only eight times the past four seasons, covering three of those, though they haven't recorded a winning mark as an underdog since their last playoff season in 2007. The J'ville trend to note the past couple of years has been "over" (22-11 since late in the 2014 campaign).



The Indianapolis Colts (2016 SUR 8-8; PSR 7-8-1; O/U 9-7) certainly have the look of a team in transition. Two straight non-playoff seasons are only part of the equation; the Colts also spent their offseason shedding bad contracts, aging vets, and unproductive players. Not to mention GM Ryan Grigson, who got the boot in late January, replaced by Chris Ballard, hired away from the Chiefs' front office.


Spared form the purge, at least temporarily, has been HC Chuck Pagano, but with a new GM in tow, Pagano is under pressure, and the thought of bringing in a new coach to take advantage of the prime years of QB Andrew Luck will be a topic of conversation in the Indy Star if the Colts can't do better than another 8-8 mark.


As for Ballard, he was active in free agency, with several defensive pieces added to the mix (DE Jabaal Sheard and LB Barkevious Mingo from the Patriots, DT Al Woods and LB Sean Spence from the Titans, plus DE Margus Hunt from the Bengals and LB John Simon from the Texans) in what is a significant revamp for the stop unit. But most of the questions in Indy surround the multi-talented QB Luck, whose run of three straight playoff appearances out of the chute ended two seasons ago, when a series of injuries and suspect help from former offensive coordinator Pep Hamilton began to curtail his efficiency.


Worryingly for the Colts, Luck has been a bystander during the preseason as rehab continues on his surgically-repaired shoulder. While Luck remains one of the premier forces in the NFL when healthy, the past couple of seasons, which included a lacerated kidney that KO'd him in 2015, have been difficult. Moreover, as of late August, there was still no timetable for Luck's return. If Luck isn't ready for the regular-season opener at the Rams, journeyman Scott Tolzien is at best a serviceable, but certainly not spectacular, replacement, and would represent a serious downgrade at the most important position on the field.


While Luck's status is a main storyline, so is the overhaul implemented by new GM Ballard, who turned over almost half of the roster after his late January hiring. The Colts could feature as many as 15 new starters this fall. The aforementioned defensive changes also mean the stop unit will look almost nothing like the 2016 platoon...but that's the idea after Indy finished a distant 30th in NFL defense last season.


Ballard said goodbye to six defensive starters who were 30 or older, and confirmed his revamp on that side of the ball by making defenders six of his eight draft picks in Philadelphia last April. Key among the newcomers is first-round pick S Malik Hooker from Ohio State, and 2nd round pick CB Quincy Wilson from Florida; Hooker is already listed as a starter, and Wilson could be following him soon. Third-round pick DE Terrell Basham from Ohio U is a likely rotation piece, whose speed and explosiveness off of the edge should provide an extra dimension for 2nd-year d.c. Ted Monachino


Still, among those departed were the top two pass rushers and tacklers on the defense. The aforementioned DE/LB Sheard, signed away from the Patriots, might be the most important of Ballard's FA additions. Indy has also not had a LB excel in pass coverage in a long time; perhaps OLB Mingo, also lured from the Patriots, fills that role.


Thus, it will be up to d.c. Monachino and staff to fit all of these new pieces together to mold a more dependable unit, which Indy has not featured lately on the stop end.


In a best-case scenario on the other side of the ball, Luck enjoys a healthy year, and o.C. Rob Chudzinski is able to squeeze another productive campaign out of 34-year-old RB Frank Gore, who became the first Colts RB since Joseph Addai in 2007 to surpass 1000 YR a season ago. Which was all the more impressive working behind one of the league's most inconsistent OLs. Though the forward wall seemed to coagulate a bit late in the 2016 campaign when allowing just 13 sacks in the final half of the season after conceding 31 of the same in the first eight games. The line has been targeted for five draft picks over the past two years, and Indy is hoping for a payoff this fall.


It would also help if WR Phillip Dorsett more consistently flashes some of the big-play potential he demonstrated at times a year ago; the former first-round pick has been mostly inconsistent to this point in his career. Ex-Ole Miss WR Donte Moncrief has also hinted at a breakthrough but has yet to be fully healthy during his three years in the league. Consistency, however, continues to be the hallmark of T.Y. Hilton, who caught another 91 passes last season and remains Luck's (or Tolzien's) most reliable target. Better depth in the wideout corps should be provided by FA signee Kamar Aiken, over from the Ravens. Ballard also thought enough of the potential of TE Eric Swoope, a former hoopster at U of Miami, to let Dwayne Allen walk to the Patriots in free agency. At least vet PK Adam Vinatieri is still around and productive after connecting on 27 of his 31 FG tries last season.


In conclusion, there appear to be an excess of trip wires laid at Lucas Oil Stadium. Considering the major roster overhaul, Pagano's shaky status, and Luck's unknown health prognosis, a very real scenario exists wherein the bottom drops out of the operation in Indy. A slow start, which would be no surprise, especially if exacerbated by the potential absence of Luck, would put Pagano in serious jeopardy before midseason, and a recovery might not commence until 2018...likely with a new coach.


Spread-wise, Indy had been a solid underdog play in the first four seasons of the Luck era, standing 17-9 as the "short" from 2012-15, though that dropped to 3-4-1 a year ago, one of a series of mostly-middling spread numbers the past two years after lots of success in the first three seasons of Luck's career. The recent "totals" trend to note is a 12-3 "over" mark on the road since early in the 2015 campaign.

UP NEXT WEEK: AFC WEST & NFC WEST
Return To Home Page