7532...
TGS 2017 PRO FOOTBALL PREVIEW
...A LOOK AT THE NFC SOUTH
by Chuck Sippl, Senior Editor


Following is our preview of the NFC South, with teams as always listed in order of predicted finish. Last year's straight-up, spread, and "Over/Under" results are included.


ATLANTA (SUR 13-6; PSR 12-7; O/U 16-3)...For the first 12 years of the NFC South, there was no repeat winner. Then, Carolina captured three straight in the Dixie division and was even favored by 5½ over velocity-limited Peyton Manning and the Broncos in the Super Bowl 50 (but lost 24-10). Now, with self-styled "Superman" Cam Newton trying to rebound from offseason shoulder surgery, the still-ascending Falcons deserve the nod to finish first in this tempestuous division. This even though Super Bowl losers do not have a strong recent history in the ensuing year. (No loser of the title game has made it back to the Super Bowl since Buffalo in 1994).



FOOTBALL COMING SOON...TGS 2017 EARLY DEALS NOW! ...

Click here to order


Even though Atlanta managed to blow a 25-point lead and fall in OT to the Patriots last February, Falcon HC Dan Quinn and QB Matt Ryan have not appeared to be crushed by the defeat. Quinn, after all, was defensive coordinator of the Seahawks when they smashed Denver 43-8 to close the 2013 season. And Ryan (now 32) is coming off a monster season in which he passed for 4944 yards (69.9%) with 38 TDs vs. just 7 ints. and appears to be the consummate, poised, NFL franchise-QB leader. Both appear to have "moved on" from the loss to the Patriots rather than wallow in the agony of defeat.


Yes, the Falcs will have to deal with some key departures, including the loss of offensive coordinator Kyle Shanahan (now HC of the 49ers), who molded the Atlanta offense into the no-huddle, quick-hitting force that led the league in scoring LY with 33.8 ppg. Power receiver Julio Jones piled up 83 recs. for 1409 yards and appeared to be uncoverable when 100% healthy. WR Mohamed Sanu (59 recs.) and 5-8 speed guy Taylor Gabriel (6 TDs on 35 recs.) were excellent complements, while TEs Austin Hooper and Levine Toilolo—both literally from the Stanford school of TEs—still have an upside to be developed. Meanwhile, RB Devonta Freeman (1079 YR)—a fourth-round bargain in 2014—and third-year RB Tevin Coleman (520 YR splitting time with Freeman) are a fierce backfield duo. Former USC HC Steve Sarkisian has been tasked with keeping the attack fresh and effective.


It is on the stop unit (25th in yards allowed; 27th in points allowed) where the defense-oriented Quinn believes his 2017 team can make its biggest strides. The Falcs suffered their share of key injuries LY, including top cover corner Desmond Trufant after nine games due to a shoulder injury. Now he's back, and the secondary appears to have greater depth provided by rookie nickel-back Damontae Kazee, a 5th-round ballhawk from San Diego State who had 15 ints. his L2Ys in college.


Just as important for Quinn, there's help up front for the Falcs. Powerful NT Dontari Poe (6-3, 346) was signed in free agency from K.C. The first round of the draft landed UCLA DE Takk McKinley, noted for his pass rush and non-stop motor while with the Bruins. He might be the answer as the rusher opposite OLB Vic Beasley who "arrived" LY with 15½ sacks.


Three defenders won starting jobs as rookies LY and project to improve in 2017 as "sophs," those being ILB Deion Jones (108 Ts, 3 ints.), OLB DeVondre Campbell (48 Ts in 11 games), and safety Keanu Neal (106 Ts). Quinn, the square-jawed HS and college DLman and long-time DL coach and coordinator, appears to be molding a speedy, attacking young defense similar those he helped construct while in Seattle.


Summary...The Falcons move into their new, fancy, $1.5 billion Mercedes-Benz Stadium, complete with an eight-piece retractable dome and a huge video board that will be tuned to the NFL Network's RedZone Channel to keep fantasy geeks (not to mention sports bettors) satisfied. That's nice. But it's the improving Atlanta defense in combination with the uncertainty in Carolina that calls for the Falcons to be ranked first in the South going into September. Take note that Atlanta went "over" in 16 of 19 games overall LY. Will an improved defense even things out TY?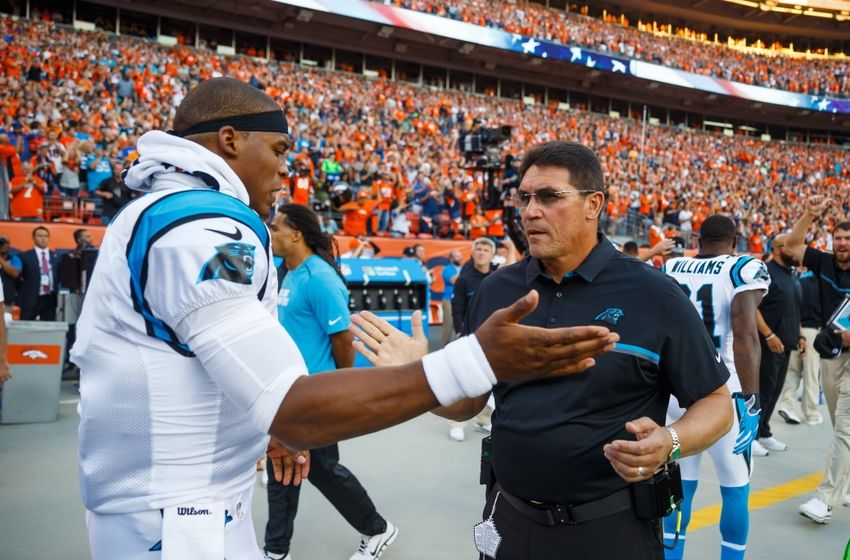 CAROLINA (SUR 6-10; PSR 6-9-1; O/U 6-9-1)...Even if Cam Newton is limited early while he fully recovers from shoulder rotator cuff surgery in late March, the renewed overall team strength of the Panthers warrants the nod slightly ahead of New Orleans and Tampa Bay in the highly-contentious South. Without going into all of the details of last season, the "Super Bowl Loser Syndrome" hit Carolina hard after their 15-1 regular season in 2015 (followed by their eventual loss to Denver in the Super Bowl). After that notable season, there were key free-agent departures (i.e., top CB Josh Norman), early-season injuries, and a dangerous feeling of satiety in Charlotte after three straight South championships.


Five losses in the first six games followed, while the rival Falcons were starting 4-2. Playing from behind all season, the Panthers never made it back to .500, much less to the playoffs. The team declined in just about every area. Fast, powerful QB Newton (bothered by a sore ankle and concussions from dubious hits, dropped from 35 TDP to just 19, hitting only 53%. Overall scoring fell from No. 1 in 2015 to 15th LY. Turnover margin declined from +20 to -2. The rebuilding pass defense sunk to 29th. Defensive leader Luke Kuechly sustained a scary concussion. Not a pretty picture overall. GM Dave Gettleman would eventually walk the plank in a surprise move on the eve of training camp, with Marty Hurney, who preceded Gettleman in the GM chair, returning to his old role in for what the moment is being termed as an interim basis. Stay tuned for further developments.


But 2017 is a new year, and the team seems invigorated on several dimensions. Most importantly, Cam Newton's shoulder surgery has apparently been successful, with the QB beginning to throw with increasing authority as this is written, even with proven backup Derek Anderson running the starters in the preseason. Top draft picks RB Christian McCaffrey of Stanford and WR/RB of Ohio State have enlivened the offense with their speed and versatility, providing o.c. Shula with many new options to complement and alternate with the established power of RB Jonathan Stewart (809, 989, 824 YR the L3Ys).


Management has rolled the dice a bit in the OL, signing former Viking top draft pick Matt Kalil to a five-year deal that could be worth $55.5 million to the LT. The Panthers are gambling that the presence of Carolina stalwart C Ryan Kalil will help younger brother Matt re-establish himself after an often disappointing early-career showing in Minnesota. With young Gs Trai Turner and Andrew Norwell having proven themselves as maulers inside, a solid performance by 6-7 LT Matt Kalil would take a lot of pressure (and many hits) off QB Newton, who now adds shoulder concerns to his previous ankle and concussion issues.


With rookie Samuel ticketed for the slot, and with McCaffrey's proven receiving abilities out of the backfield, Shula believes he has what he needs to help TE supreme Greg Olsen (80 recs. LY) and jumbo wideouts Kelvin Benjamin (63 recs. in his recovery year from a torn ACL), and Devin Funchess (who is feeling the pressure to produce in his third year). The discovery of an effective burner would complete the lineup.


Long-time Panther defensive coordinator Sean McDermott has become the new HC in Buffalo, so Carolina DB coach/asst. HC Steve Wilks was quickly promoted to replace him. Wilks, who has worked with Panther coach Ron Rivera for a decade, intends to make his mark on the team's defense by being more aggressive and better utilizing improved speed. Players such as 11-year DE Charles Johnson, 13-year LB Thomas Davis, and 16th-year DE Julius Peppers (free agency via the Packers) will provide the veteran leadership. Rotating young DTs Kawann Short, Star Lotulelei, and Vernon Butler will provide the inside power.


However, d.c. Wilks hopes to better exploit the speed guys, those being MLB Luke Kuechly, hybrid OLB Shaq Thompson, DE Mario Addison (9½ sacks LY), and S Kurt Coleman (4 ints. LY). Second-year CBs Daryl Worley and James Bradberry were forced to learn on the fly as rookies, but both were holding their own by the end of the season. Panther fans are praying that Thomas' knees hold out and that Kuechly avoids another concussion. If they do, Carolina's defense should be more like that of 2015 than like that of 2016.


Summary...Atlanta appears to be approaching its "prime," while Carolina has its fingers crossed that several of its key players hold up injury-wise. Reclaiming the South crown from the offensively-loaded Falcs seems unlikely. But their defense and running proficiency say the Panthers are likely to hold off potent Tampa Bay and New Orleans in the division and contend all the way for a wild card spot.



TAMPA

BAY

(SUR 9-7; PSR 9-7; O/U 7-8-1)...Are the Bucs ready to seriously contend for the playoffs in Year Three of the Jameis Winston era? Perhaps so, as the former Florida State star has taken a few more steps toward NFL maturity. Now 23, Winston boosted his rookie year stats, his completions from 58.3% to 60.8%, TDs from 22 to 28. But the young QB still had turnover problems in 2016—18 ints. and 6 fumbles. On the plus side, in 2017 camp, Winston has shown greater command of the offense, exhibiting better anticipation, timing and accuracy on quick throws. Now, if he can just eliminate those impulse giveaways.


Expect further improvement this season, the second for the team under offense-oriented HC Dirk Koetter. Last year, the Buccaneers finished 18th in total offense and 18th in scoring defense. Not enough to deal with the established arsenals in Atlanta, New Orleans, and Carolina in the South.


But Koetter has always loved him some offense. And he has provided himself (and, by extension, the still-developing Winston) with several additional interesting "toys" this season. To be more effective, Koetter says, his team needs more "game-wreckers." Free agency and the draft have provided them. The best-known "game-wrecker" arrives from Washington in the person of long-distance WR DeSean Jackson. Although Jackson might be slowing down a bit at age 30, he still distorts defenses and has averaged a lofty 17.7 ypr for his career. Other additions are top draft pick O.J. Howard, the under-utilized 6-6 TE from Alabama, who will allow Tampa Bay to operate from QB-friendly, double-TE sets when paired with third-year Harvard TE Cameron Brate (57 rec s., 8 TDs) on the other side. Plus, there's 6-5 WR Mike Evans (96 recs. and 12 TDs), who is a constant threat (despite the occasional drop) and the favorite of Winston. Third-round pick Chris Godwin from Penn State has a chance to stick as a slot guy or WR backup.


RB Doug Martin, who twice has topped 1400 YR in his career, is suspended for the first three games. But veterans Jacquizz Rodgers and Charles Sims III are dependable backups.


So the Bucs are on the ascent on offense. But it's the defense that must improve if T.B. is to make a serious move toward its first division title in 10 years. There were a few positives LY—17 ints. (tied for fourth), 38 sacks (tied for 9th), and 15th in points allowed. But in yardage, T.B. was 23rd. Rush defense and pass defense, 22nd. Playoff teams usually rank higher on several of those forenamed dimensions.


The draft has brought in a couple of promising, but not premium, defenders in safety Justin Evans (2nd rd., A&M) and LB Kendell Beckwith (3rd rd., LSU), the latter a productive playmaker for the Bayou Bengals until a November knee injury. Thus, without much incoming depth, Tampa Bay can't afford to lose key playmakers such as stalwart DT Gerald McCoy (7 sacks), DEs Roberts Ayers (6½ sacks) & Noah Spence (5½), LBs Kwon Alexander (145 Ts) & Lavonte David (87 Ts), CB Brent Grimes (4 ints.), and S Keith Tandy (4 ints.).


There is another major concern for Tampa Bay, that being on STs, where ill-advised 2016 second-round pick PK Roberto Aguayo (missed 9 FGs LY) cost the Bucs dearly several times in 2016 and has already been released in the 2017 preseason. Former Cowboys-Jets kicker Nick Folk holds the job...for now.


Summary...

Koetter's Buccaneers seem poised to score plenty of points with a deep and versatile attack. They will be tough to beat in any one game. But the Atlanta attack and the Carolina defense place those two teams ahead of Tampa Bay in the early South handicap. Unless the T.B. defense surprises, the Bucs have an "over" look to them.



NEW

ORLEANS

(SUR 7-9; PSR 11-5; O/U 9-7)...What to do about the Saints, one of the better-coached teams in the with one of the more prolific QBs in NFL history. The always-dangerous Drew Brees led last year with 5208 YP. It was the fifth 5,000-yard season for the 17-year veteran with the "pretty" over-the-top delivery. No to mention his 11th straight over 4,000. Quite remarkable for the 6-0 Purdue product who was once shopping for a job after a shoulder injury in San Diego. After hitting 70% with 37 TDs vs. 15 ints. LY, Brees is showing few signs of slowing down. Last year, the Saints were first in the league in total offense, first in passing, and second in points scored (29.3 pg).
However, a mediocre running game (16th LY) and a porous defense (last vs. the pass; 31st in points allowed) have combined to prevent the "Who Dats" from winning the South crown for the last five years. Whether it has been suspensions, busted draft picks, free-agency failures, inordinate injuries, or just improved competition, it's always been something in the Big Easy. So, despite the presence of one of the more dynamic aerial games in NFL history, there's been only one playoff appearance in the last five years.


New Orleans seems right on track to test that recent history, as the Saints' offense seems awesome once again, while the defense still has plenty to prove. Meanwhile, the Dixie Division is loaded explosive attacks directed by dynamic QBs bigger, stronger, and younger than Brees.


It was the thought of more support for the defense that led the Saints to take a chance on 32-year-old RB Adrian Peterson, the physical marvel who was out with injury most of last season in Minnesota. Seven of the Saints' nine victories were by six points or fewer LY, some of them when another first down or two might have put away an opponent.


Yes, returning primary RB Mark Ingram is reliable and fits well in the Saints' 3-WR offense, with 1043 YR, 5.1 ypc, and 46 receptions. But Peterson, at 220 or more, packs a bigger punch, not to mention being faster when at his threatening best. The idea is for New Orleans to better balance its attack and grind out more first downs to support its defense and to protect late leads. Not to be overlooked is promising 3rd-round pick Alvin Kamara from Tennessee, who has impressed early in camp.


HC Sean Payton has assembled/trained another underrated assemblage of receivers, including new No. 1 target Michael Thomas (92 recs. LY) and slippery Willie Snead IV (72), the one-time college free agent from Ball State. It was the rapid emergence of Thomas that allowed N.O. to deal speedy wideout Brandin Cooks to the Patriots for first and third-round picks. However, the OL has some issues to deal with after LT Terron Armstead suffered a shoulder injury in June that could cost him half the season.


And, on defense, it has been another case of "the best laid plans sometimes go awry." DT Nick Fairley, who appeared to have revived his career after being acquired prior to LY from Detroit, is out for at least 2017 with a head injury. CB Delvin Breaux, after limping for several weeks in camp, turned out to have a leg fracture!


There is a core of intrepid defenders that has been trying to "hang in" their while management acquires reinforcements. DE Cameron Jordan had 7½ sacks LY. DT Sheldon Rankins flashed potential with 4 sacks after missing half the season with an ankle injury. Pass rusher Alex Okafor was signed in free agency (via Arizona). Undersized FA LB Craig Robertson from Cleveland hung tough to collect 131 Ts LY. Former top pick S Kenny Vaccaro is a hard hitter with valued coverage skills. The draft has produced CB Marshon Lattimore from Ohio State in the first round, while LB Alex Anzalone (3rd rd, Florida) might start. Carolina Panther backup LB A.J. Klein and the Chargers' Manti Te'o have been added for veteran depth.


There are more quality bodies on the stop unit TY, but not necessarily more speed and impact unless DB Lattimore and LB Anzalone come through immediately.


Summary...For the last three years, the Saints have gone 7-9, 7-9 and 7-9. With Atlanta peaking, Carolina rebounding, and Tampa Bay ascending, the NFC South is one of the league's tougher divisions. A little luck and a heavy load of A.P. might allow New Orleans to flip that mark, allowing Bree' boys to surpass the Panthers and Bucs and makes a run at the playoffs. But not it the defense can't hold at the end of games. The Saints, once a dominant team in the Superdome, are only 11-13 SU the L3Ys (10-13-1 vs. the spread).

NEXT UP: AFC SOUTH
Return To Home Page