7525...
TGS 2017 PRO FOOTBALL PREVIEW
...A LOOK AT THE AFC NORTH
by Bruce Marshall, Goldsheet.com Editor

Following is our preview of the AFC North, with teams presented in order of predicted finish. As always, last year's straight-up, spread, and "Over/Under" results are included. Time went still in the offseason for fans of the Pittsburgh Steelers (2016 SUR 13-6; PRS 11-8; O/U 7-12) when QB Ben Roethlisberger was slow to commit to a return for the 2017 term. Though that potential crisis eventually passed, Big Ben, now entering his 14th campaign and having taken a good deal of punishment in his career, has to be viewed as a year-to-year proposition from this point forward. Though signed thru 2019, has yet to indicate he will be playing beyond this year.


Thus, GM Kevin Colbert now has to start seriously thinking of a future without Roethlisberger and begin to look for an eventual successor. Current backup Landry Jones is not viewed as much more than a short-term stop gap; 4th-round pick Joshua Dobbs from Tennessee, who took the bulk of the snaps in the first two preseason games, might be that guy, but not until sometime down the road.


FOOTBALL COMING SOON...TGS 2017 EARLY DEALS NOW! ...

Click here to order

Fortunately for the Men of Steel, Roethlisberger is still in the fold, and his importance to the operation at Heinz Field cannot be minimized. Perhaps no team in the league is as identified with its signal-caller any stronger that Big Ben is in the Steel City. And none more important; consider that when Roethlisberger rested for the final regular-season game last term, the Steelers, playing at home, nearly lost to the 1-win Browns, who would wait until OT before finally succumbing to a Landry Jones-led Pittsburgh. Many in the league also wonder how effective HC Mike Tomlin, on the job since 2007 and whose contract has been extended, might be without Big Ben as a safety blanket.


Though Colbert was not able to find another QB in free agency, he was active nonetheless in the offseason; Colbert was even a bit out of character in a high-priced pursuit of LB Dont'a Hightower, who instead ended up re-signing with the Patriots. Otherwise, it was mostly business as usual in free agency for Pittsburgh, adding some depth behind the starters, targeting an edge rusher (Wisconsin's J.J. Watt in the first round), and a couple of potential shutdown CBs (Cameron Sutton from Tennessee in the 3rd round, and Brian Allen from Utah in the 5th round), positions that HC Mike Tomlin believes were partly responsible for the AFC title game loss at New England.


Pittsburgh should be in the mix to get at least that far again in the fall, especially with the top contenders in the AFC North going through their own ups-and-downs. The qualifier is that Roethlisberger stays on the field; he hasn't played a complete season since 2014, and has missed six games over the past two terms. Moreover, there is the preseason holdout of top RB Le'Veon Bell, though that seems more like an August distraction; most believe Bell will be in uniform for the opener at Cleveland on September 10. Wideout Martavis Bryant, who missed last season due to suspension, also hadn't practiced by mid-August because he had yet to satisfy certain requirements set forth by the NFL for his conditional reinstatement after a year-long drug suspension.


Still, the Roethlisberger offense remains one of the most-potent in the league. As long as Big Ben and Bell are in the fold, the strike force features an embarrassment of riches, with WR Antonio Brown remaining Big Ben's featured target after catching another 106 passes a year ago. The return of WR Bryant would add even more firepower to the mix that also enlisted extra help in the draft in the form of big, physical wideout JuJu Smith-Schuster from Southern Cal and inspirational RB James Conner, who starred at Heinz Field in college with hometown Pitt and overcame a cancer scare to gain over 1000 YR a year ago. (Though Conner was dealing with a shoulder problem in the early stages of preseason.)

The OL remains one of the most-functional in the AFC, with C Maurkice Pouncey and RD David DeCastro both off of Pro Bowl years. The Steeler forward wall allowed only 21 sacks a year ago, down 12 from 2015 and the team's fewest in 19 years.


Still, o.c. Todd Haley is hoping for a more balanced offensive approach. Pittsburgh passed the ball almost twice as much as it ran it in the first half of last season due to Bell missing the first three games and some other factors. Assuming Bell does not hold out into the regular season and Bryant is cleared, Haley will have his full arsenal of playmakers available for the first time since 2014. In case drives bog down, PK Chris Boswell is a reliable alternative, though Tomlin will not want to lean as much on him this year as he did at times a year ago, when Boswell twice kicked six FGs, including the Division Round win at Kansas City.


For all of the electricity on the offensive side, the defense is a far cry from the old Steel Curtain days, ranking in the middle of the pack a year ago in most stat categories, and the most-likely element to prevent a deep playoff run.


Still, there is hope for improvement even though the ageless OLB James Harrison (now 39) remains in the fold and penciled into the starting lineup. At the other end of the gridiron age spectrum, two of last year's rookies (CB Artie Burns and SS Sean Davis) endured a baptism by fire in the secondary a season ago and have emerged mostly unscathed, and likely to benefit from their experiences. Alongside them in the defensive backfield is vet FS Mike Mitchell, a fixture since arriving from the Panthers in free agency three years ago and still a force, though d.c. Keith Butler would like Mitchell to snag more than the one interception he recorded a year ago.


As for vet LB Harrison, his heir apparent, aforementioned Wisconsin rookie T.J. Watt, is in place, but two of last year's other starters at LB, Lawrence Timmons and Jarvis Jones, left in free agency. Thus, it is time for another former No. 1 pick, Kentucky's Bud DuPree, who missed much of last season after hernia surgery, to emerge and eventually combine with Watt for a revived pass-rush combo. The three-man DL remains robust, led by DEs Cam Heyward and Stephon Tuitt, and depth should be improved with DE Tyson Alualu added from the Jags in free agency.


In the end, as long as Big Ben is available, the Steelers should defend their Central crown, but overtaking the Patriots, who have had their number in recent years, remains as a formidable blockade in front of a Super Bowl return for the first time since 2010. And if Roethlisberger should go down, all bets are off.


Spread-wise, note that the Steelers have been pretty good value in recent years, not having recorded a losing mark vs. the line since 2012. Pittsburgh also enters 2017 "under" 23-12 its last 35 regular-season games.
It could be a fork-in-the-road campaign for the long-serving pair of HC John Harbaugh and GM Ozzie Newsome, as the Baltimore Ravens (2016 SUR 8-8; PSR 7-9; O/U 7-9) have failed to reach the playoffs in three of the past four years. More pressure, perhaps, on Harbaugh, who has hit few crescendos since the Super Bowl win over the 49ers, now almost five years ago. The Ravens are 31-33 in the regular season since after making the postseason in each of Harbaugh's first five years on the job. Though there are other coaches that come to mind on hotter seats than Harbaugh, in the what-have-you-done-for-me-lately world of the NFL, Harbaugh's past glories, and the Super Bowl win, are looking further and further back in the rear-view mirror, and the faint beat of war drums can be heard around M&T Bank Stadium.


Emerging as a lightning-rod of sorts has been QB Joe Flacco, as Baltimore's recent decline has not only coincided with a Super Bowl hangover, but also the big contract Flacco inked a few years ago. To be fair, Flacco has had some excuses; he tore both his ACL and MCL midway thru the 2015 season and missed the rest of that campaign, and was still working his way back toward 100% healthy a year ago when passing for a career-high 4317 yards...but only 20 TDP and 15 picks.


Moreover, since the beginning of the 2012 season, when Cam Cameron was the Baltimore o.c., Flacco has worked for five different coordinators, the latest the well-traveled Marty Mornhinweg after replacing Marc Trestman a year ago. The "O" scored only 22.6 ppg once Mornhinweg took over the play-calling in early October as Baltimore rarely committed to the running game to provide something of a diversion for Flacco. For the Ravens to bounce back into the playoff mix this season, the infantry, which ranked a sickly 28th in the league, must bounce back. Vet utility back Danny Woodhead was signed in free agency, but he's not the sort of heavy-duty banger that Baltimore has lacked since the days of Jamal Lewis. Holdover Terrance West (774 YR LY) is an earnest plugger but backfield mate Kenneth Dixon is out for the season with a knee injury. Woodhead can help, though Baltimore runners are not to be confused with top-tier RBs elsewhere in the league.


We'd also be remiss if not mentioning some concern for Flacco, who missed the first two preseason games due to a back injury and, entering later August, wasn't even practicing. Though Harbaugh believes Flacco should be ready for the September 10 opener at Cincy, there is mounting concern in the Chesapeake region. "I don't think it's going to be a problem because Joe knows the offense," Harbaugh said in mid-August of Flacco's soon-expected return. "But still, there's a rhythm, a chemistry and timing and execution that practice is valuable for. So, the sooner the better, but not before he's ready." At the moment, the next option is Ryan Mallett, who has not been convincing in early preseason work.


A healthy Flacco is also needed because of questions in the wideout corps. With the retirement of Steve Smith Sr. and the departure of Kamar Aiken in free agency to the Colts, the Ravens only have two WRs who caught double-digit passes a year ago, Mike Wallace (72) and the injury-plagued Breshard Perriman (33). Late offseason signee Jeremy Maclin, however, has the potential to be a legit deep threat (important as Flacco can still throw the long ball with the best of them), and the versatile Woodhead could help as a receiver out of the backfield, providing Flacco (or Mallett) another viable target. The OL has a functional look, especially after last year's first-round pick Ronnie Stanley (via Notre Dame) proved he could handle the LT spot, and late offseason signee Austin Howard, with Baltimore earlier in his career before moving to the Jets and Raiders, moves in at RT.


If all else fails offensively, there's always near-automatic PK Justin Tucker, who missed only one of 39 FG attempts last season.


Regardless, this remains a defense-first team under vet coordinator Dean Pees, who fashioned another top ten platoon a year ago. The stop unit got a bit of facelift in the offseason when drafting five defenders after trading DT Timmy Jernigan to the Eagles and releasing pass-rush specialist Elvis Dumervil, while LB Zachary Orr retired due to a spinal condition.


GM Newsome achieved some of his aims in free agency by adding a potential shutdown CB (Brandon Carr from the Cowboys) and safety (Tony Jefferson from the Cards), all to help a suspect secondary that has had to deal with CB Jimmy Smith's various injuries in recent years. The latter prompted the drafting of Alabama CB Marlon Humphrey in the first round. Meanwhile, Orr's retirement at LB could fast-forward the progress of second-year former Boise State LB Kamalei Correa, or provide opportunities for two of Ozzie's draftees, OLBs Tyus Bowser (2nd round Houston) and Tim Williams (4th round Alabama). Finding another pass rusher from the edge is a priority with vet sack-meister Terrell Suggs having turned 34.


Newsome, however, did avoid a potential shortcoming in the defensive interior when re-signing NT Brandon Williams, who will again anchor the line that lost DE Lawrence Guy (to the Patriots) in free agency. Newsome felt Jernigan was expendable with several young DL playmakers, such as DE Michael Pierce, on the roster, and added Michigan DE Chris Wormley in the third round of the draft.


Though the Ravens are no longer mentioned among the top AFC contenders, keep in mind they were a few seconds away from a win last Christmas at Pittsburgh that would have likely given them the North title, and the defense should again be playoff-caliber. A fully healthy Flacco gives Baltimore a realistic shot at a postseason return, but we have a hard time envisioning the Ravens in the mix if Flacco is hurting.


Spread-wise, after plenty of success vs. the line earlier in his career, it's worth noting that Harbaugh has not recorded a winning mark against the number in the regular season since 2011. Though the Ravens recovered from failing to cover in five tries as home chalk in 2015 with a 4-3 mark in that role a year ago, they were only 2-6 vs. the points on the road. Harbaugh was also just 2-4 a year ago in what used to be his profitable underdog role.



It's a familiar story with the Cincinnati Bengals (2016 SUR 6-9-1; PSR 6–9-1; O/U 6-10). Long-serving HC Marvin Lewis not only worked through another year without the franchise's first playoff victory since the 1990 season, but the Bengals fell to under .500 for the first tine since 2010. And while Lewis is the winningest coach (118-110-3) in franchise history, how much longer can he last without a postseason success? No NFL coach has ever hung on so long in a job without as much as one playoff win; none had ever lost as many as five playoff games in a row, either.


Not to disparage Lewis; remember, when the Bengals hired him as their coach way back in 2003, the franchise was struggling through hard times, to say the least. Coming off a 2–14 record in '02, Cincinnati hadn't posted a winning record since the days of Sam Wyche's long-ago regime in 1990 and had finished last in the division six times in that time span, coming nowhere near reaching the playoffs. Over the next 14 years, Lewis reversed the team's fortunes, leading Cincinnati to seven winning seasons, seven playoff berths—the first just three years into his tenure, and the other six in the last eight years—and four division titles. But the big playoff goose-egg continues to stare Lewis in the face, as the Bengals were still playing in old Riverfront Stadium, and George H.W. Bush was still in the White House, when they last won in postseason.


Confirming Lewis' spot on the hot seat is the fact his contract has not been extended beyond 2017. So, after using what has seemed to be a limitless supply of rope, it can be safely said that Lewis almost surely needs an elusive playoff win to survive into 2018.


We are also not sure how far the Bengals can ever get with QB Andy Dalton, who got his first four Cincy teams into the playoffs but has yet to clear the first postseason hurdle. Critics maintain that Dalton has been able to benefit from a top-flight corps of receivers, but has not been able to slide in the pocket and extend plays when things break down (which is what has famously separated division counterpart Ben Roethlisberger from Dalton).

True, "Big Red" was putting up career numbers in the 2015 season when Cincy broke 8-0 from the gate, but would eventually fracture his thumb and miss the rest of that campaign before recovering to pass for over 4200 yards a year ago, and suffering only 8 picks. Yet Dalton also threw only 18 TDP in 2016, not a good rate of return for over 4200 YP, and there are those who believe a better long-term option might be backup AJ McCarron, coveted by various teams and the subject of much trade discussion lately. Dalton's contract specifics are such that a separation after this upcoming season would not cause the sort of salary-cap upheaval that it would have the past couple of years.


No matter, Cincy needs to establish a consistent rushing attack this season to take some pressure off of Dalton, who was sacked 41 times last year. Personnel department honchos Pete Brown and Duke Tobin thus rolled the dice in the draft when selecting controversial RB Joe Mixon from Oklahoma in the second round. Mixon, who gained infamy in his college days when video surfaced of him punching a girl in the face, is admittedly a big-time talent, and thus far has been on good behavior. His presence should push holdover Jeremy Hill, whose production has steadily declined the past three seasons. Gio Bernard remains a nice change-of-pace back but is coming off a torn ACL that shortened his 2016 campaign.


More help for Dalton was added in the first round of the draft with deep-threat WR John Ross from Washington, but what would help the Cincy aerial game the most would be a full season from WR AJ Green, whose 2016 campaign ended after 10 weeks due to a hamstring injury. A healthy Green along with the big-play potential of Ross should give Dalton a chance to stretch the field, and also take advantage of a healthy TE Tyler Eifert, hampered by ankle and back injuries that sidelined him last season.


Still, whatever upgrades at the skill positions could go for naught, as shoddy OL play contributed as much to the 2016 downgrade as anything else. The Bengals now have two new starters up front, including RG Andre Smith from the Titans in free agency, following the departures of vets Andrew Whitworth and Kevin Zeitler.


Cincy also produced nine fewer sacks in 2016 than the year before, so reviving the pass rush is one way for the Bengals to improve upon their middling defensive stats. Last year's top draft pick, DT Andrew Billings from Baylor, is expected to make an impact after missing all of last season with injury, and Domata Peko and Margus Hunt having departed in free agency. Long-serving DT Geno Atkins and DE Carlos Dunlap combined for 17 of the 33 sacks last season and remain the mainstays up front, though Kansas State rookie DE Jordan Willis could prove a useful rotation piece and pass-rush specifalist.


It is also a key autumn for controversial LB Vontaze Burfict, who has missed 17 games the past three seasons and is playing the final year of his contract. Moreover, Ray Maualuga won't be manning the MLB spot for the first time since 2014 after being released, with Kevin Minter added from the Cards to replace him. Cincy has also invested heavily in the secondary the past few seasons, and this might year that controversial CB Adam Jones (suspended for the opener) is moved aside, especially if last year's first-round pick William Jackson II from Houston is all of the way back from the torn pectoral muscle that scrubbed his rookie season.


While similar-looking Cincy teams have made the playoffs in recent years, we wonder if the decline last season can be arrested if the Bengals can't upgrade their infantry. Even if they do find a running game, and they make the playoffs only to be blown out again right off of the bat, will it be enough to keep Marvin Lewis, and perhaps QB Dalton, in the saddle into 2018? We'll see.


Spread-wise, after considerable success in previous campaigns, the Bengals dipped to 6-10 a season ago, including 2-7 on the road (counting a spread loss vs. the Redskins in a 27-27 draw at Wembley Stadium). Cincy also enters 2017 "under" 19-8 since midway in the 2015 season.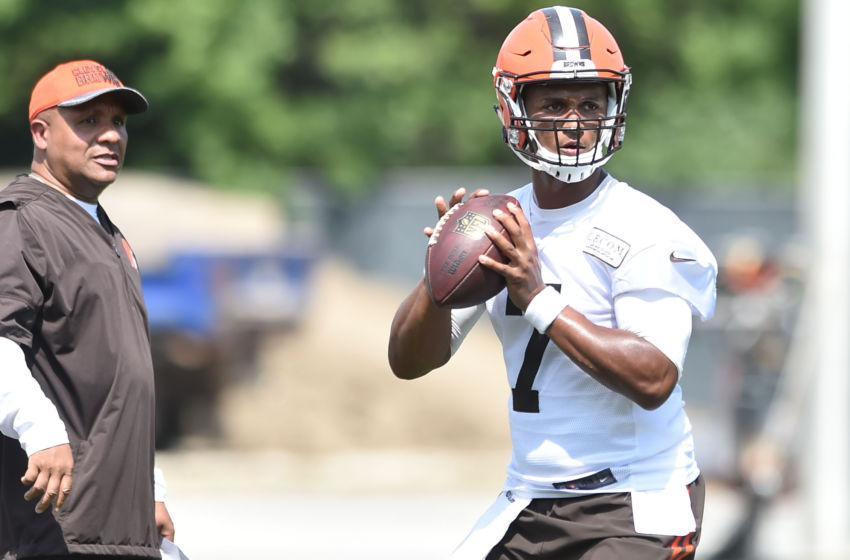 For reasons we cannot identify, the national sports media seems oddly gentle with the Cleveland Browns (2016 SUR 1-5, PSR 5-11; O/U 8-8), who have indeed become the NFL's laughingstock, especially since owner Jimmy Haslam purchased the club back in 2012. Almost annual rotations of head coaches and GMs have continued from the previous Lerner ownership regime and contributed to the instability. Why the national media seems to collectively believe it is important for the Browns to re-emerge escapes us; after all, long-suffering Cleveland fans ended their long (52 years) title drought last year with the NBA Cavaliers. The Indians are also off of their first World Series appearance in 19 years. It's not as if Cleveland has been loser-ville lately.


At least the Brownies have some continuity entering 2017, with HC Hue Jackson and GM Sashi Brown each entering their second years on the job. And it would be hard to be much worse than 2016, when Cleveland would wait until the penultimate week before finally breaking into the win column with a 20-17 win over the Chargers, though no truth to the rumor that the Bolts were so embarrassed by the loss that it played a part in their move from San Diego. But there is truth in the fact that since their resurrection in 1999, the Brownies have made the playoffs just once, in 2002 under Butch Davis, losing to the Steelers in the Wild Card Round. At least Buffalo has a longer playoff drought!


Finally, however, some green shoots on the landscape seemed to sprout in the offseason. A bountiful draft haul featured three first-round picks including top choice Texas A&M DE Myles Garrett, plus Michigan's jack-of-all-trades Jabril Peppers and Miami-Fla. TE David Njoku. All before perhaps identifying the QB of the future (and maybe the present) in the second round when tabbing Notre Dame's DeShone Kizer, who got the locals excited when throwing for the winning TD pass vs. the Saints in Cleveland's preseason debut.


Ah, the QB position, the albatross around the neck of the franchise since it resurfaced in 1999. Cleveland has used multiple QBs in 17 of the last 18 seasons, and nine of the ten QBs they have drafted have started games in their rookie terms when they might have derived more benefit from sitting and learning for a while. That trend likely doesn't break this season, with Kizer likely to be in the lineup perhaps sooner rather than later with ex-Texan and Bronco Brock Osweiler a short-term alternative at best (after an offseason trade that effectively netted Cleveland a 2018 second-round pick just for taking the "Brock-lobster" off of Houston's hands), and second-year holdover Cody Kessler (among those past QB draftees forced into action in their rookie years). Head coach Jackson also doubles as the play-caller, a role he might want to relinquish at some point.


There will be at least five new starters on the attack end from last year's opener vs. the Eagles. It would be hard to regress much from the 30th-ranked offense in the league, but much upgrade is hard to identify, especially with a dubious succession plan for WR Terrelle Pryor, a 1000-yard receiver last season who moved to the Redskins in free agency. Kenny Britt was added from Tennessee in the offseason, but second-year and ex-Baylor WR Corey Coleman has had serious durability issues, which might open the door for FA Jordan Leslie, a BYU product who has created a buzz in camp. A possible sleeper in the RB corps could be NC State rookie Matthew Dayes,a seventh-round pick, though holdover Isaiah Crowell, who just missed 1000 YR a year ago, likely remains a functional if uninspiring feature back. But with Osweiler, Kessler, or the rookie Kizer throwing the darts, it's hard to get too excited about the strike force.


To no one's surprise, Cleveland's defense has also lacked an identity for years, so the Browns have brought in well-traveled d.c. Gregg Williams, of "bounty" fame in days with the Saints and a proponent of 4-3 defenses that reflect his intensity and nasty demeanor. Which Cleveland could use a lot of on the stop end after ranking 31st in total defense a year ago.


Adding top draft pick DE Garrett should provide an instant playmaker on the edge, however, and might preclude Williams from an over-reliance on the blitz, which has been a trademark of his platoons throughout his career. How Williams uses his other first-round defender, the versatile Jabril Peppers, intrigues (Peppers could also see duty on the offensive end). Peppers is most likely to be used at FS, where he can roam the field and provide help for established CB Joe Haden and SS Calvin Pryor.


What will help Williams is the continued improvement of third-year DT Danny Shelton, the former Washington Huskies star who improved markedly after dropping 30 pounds for his second year. Foes, however, rushed for a hefty 4.6 ypc against the league's 31st-ranked rush defense, exploiting a thin LB corps. If Garrett can improve a pass rush that ranked 30th in sacks, it could also help a beleaguered secondary that allowed 36 TD passes a year ago. Peppers' presence and potential playmaking ability should be a benefit, as could a healthy year for once from vet CB Haden, who missed 11 games due to concussions in 2015 and was constantly hampered by groin injuries last season.


While the AFC North might be down a notch from its high-water mark of a couple of years ago when providing both of the AFC Wild Card entries, it is still a tough neighborhood and likely limits the amount of upside in Cleveland. The Brownies should be better in 2017 because it would be hard to be worse than 1-15, but will again take plenty of lumps. At least there might be a light at the end of the long tunnel if the rookie haul provides a foundation that can be built upon in coming years. Unless owner Haslam interferes as he has before, and the rinse cycle continues to repeat.


Spread-wise, the Browns covered more games vs. the line (five) than they won outright (one) a year ago, but they have been a significant go-against the past couple of years, with a 10-21-1 mark vs. the number since 2015. Having Lake Erie and the Rock-and-Roll Hall of Fame nearby has not helped home performance vs. the line, either, as Cleveland is 4-14-1 vs. the spread its last 19 as host.

UP NEXT WEEK: AFC SOUTH & NFC SOUTH
Return To Home Page