7500...
TGS NFL 2018 SPECIAL REPORT
...PRESEASON QB UPDATES
by Bruce Marshall, Goldsheet.com Editor
Following are NFL QB updates as of August 17 with the second full week of preseason action upon us. Ongoing updates thru the weekend. Note: not necessarily in rotation order...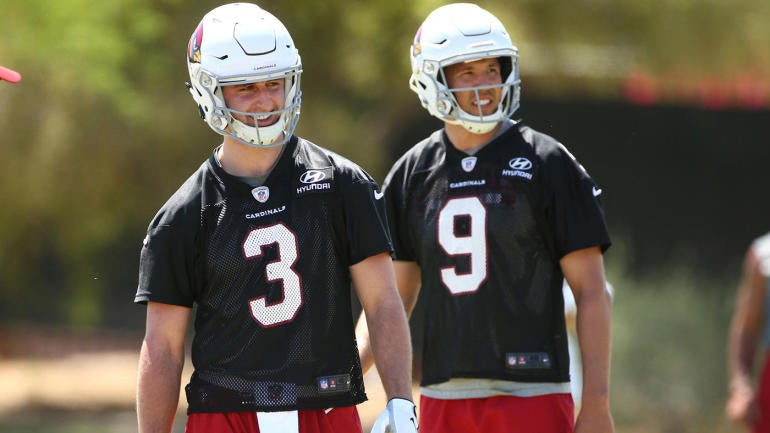 ARIZONA—Sam Bradford (Minn LY; likely to play 1 Q Aug 17 vs NO), Josh Rosen (1st rd, UCLA; will follow Bradford Aug 17 vs NO and will have a chance to work with first string offense), Mike Glennon (Chi LY), Chad Kanoff (rookie FA, Princeton).


ATLANTA—Matt Ryan (expected to play into 2nd Q Aug 17 vs. KC), Matt Schaub, Kurt Benkert (rookie FA, Virginia), Garrett Grayson (NO, Atl LY).


BALTIMORE—Joe Flacco, Robert Griffin III (Cle LY), Lamar Jackson (1st rd, Louisville), Josh Woodrum (6th NFL team).


BUFFALO—AJ McCarron (Cin LY; expected to start Aug 17 vs. Cle), Nathan Peterman; Josh Allen (1st rd, Wyoming).


CAROLINA—Cam Newton, Garrett Gilbert (5th NFL team), Taylor Heinicke (Hou LY), Kyle Allen (rooke FA, Houston). .


CHICAGO—Mitchell Trubisky (only 4 pass attempts in first two preseason games; likely to work into 2nd Q Aug 18 vs. Den), Chase Daniel (N.O. LY), Tyler Bray (K.C. LY).



FOOTBALL COMING SOON...TGS 2018 EARLY DEALS NOW! ...

Click here to order


CINCINNATI—Andy Dalton, Matt Barkley (S.F, Ariz LY), Jeff Driskel (S.F., Cincy LY), Logan Woodside (7th rd, Toledo).


CLEVELAND—Tyrod Taylor (Buff LY; will start and likely play 1 Q vs. Buf Aug 17), Baker Mayfield (1st rd, Oklahoma; will follow Taylor and likely play 2nd & 3rd Qs Aug 17 vs. Buff), Drew Stanton (Az LY), Brogan Roback (rookie FA, Eastern Michigan).


DALLAS—Dak Prescott (expected to play into 2nd Q Aug 18 vs. Cin), Cooper Rush, Mike White (5th rd, Western Ky), Dalton Sturm (rookie FA, UTSA).


DENVER—Case Keenum (Minn LY), Chad Kelly (7th rd 2017 Ole Miss, IR LY; will come in behind Keenum Aug 18 vs Chi), Paxton Lynch (demoted to 3rd string after Aug 11 vs. Minn).


DETROIT—Matthew Stafford (DNP Aug 10 vs. Oak; perhaps 1 or 2 series Aug. 17 vs. NYG), Matt Cassel (Tenn LY), Jake Rudock..


GREEN BAY—Aaron Rodgers (DNP Aug 9 vs. Tenn; played 1 series Aug 16 vs Pitt), Brett Hundley, DeShone Kizer (Cle LY), Tim Boyle (rookie FA, E. Kentucky).


HOUSTON—Deshaun Watson (on field for 5 snaps Aug 9 vs. KC, expected to play only slightly more Aug 18 vs. SF), Brandon Weeden (Hou, Tenn LY), Joe Webb (Buff LY), Stephen Morris (5th yr-Mia Fl, 6th team).


INDIANAPOLIS—Andrew Luck, Jacoby Brissett, Phillip Walker (2017 FA Temple, Indy prac. squad LY), Brad Kaaya (2017 6th rd Mia-Fla, 3rd team).


JACKSONVILLE—Blake Bortles (likely plays into 2nd Q Aug 18 vs. Minn), Cody Kessler (Cle LY), Tanner Lee (6th rd, Nebraska).


KANSAS CITY—Patrick Mahomes (expected to play 1st H Aug 17 vs. Atl), Chad Henne (Jax LY), Matt McGloin (Phil, Hou LY), Chase Litton (rookie FA, Marshall).


L.A. CHARGERS—Philip Rivers (DNP Aug 11 vsA z; will start but appearance likely brief Aug 18 vs Sea), Geno Smith (NYG LY), Cardale Jones, Nic Shimonek (rookie FA, Texas Tech).


L.A. RAMS—Jared Goff (DNP Aug 9 vs. Balt, might be held out Aug 18 vs Oak), Sean Mannion, Brandon Allen (Jax, Rams LY/IR), Luis Perez (rookie FA, Tex A&M-Commerce).


MIAMI—Ryan Tannehill (expected to play at least 1st Q Aug 17 vs Car), Brock Osweiler (Den LY), Daviid Fales (5th year, Mia LY), Bryce Petty (NYJ LY).


MINNESOTA—Kirk Cousins (Wash LY; will likely play into 2nd Q Aug 18 vs. Jax after just one series Aug 11 vs. Den), Trevor Siemian (Den LY), Kyle Sloter (FA 2017 N. Col; Den, Minn LY), Peter Pujals (rookie FA, Holy Cross).


NEW ENGLAND—Tom Brady (DNP Aug. 9 vs. Wash; 1 or 2 series likely Aug. 16 vs. Phil), Brian Hoyer, Danny Etling (7th rd, LSU).


NEW ORLEANS—Drew Brees, Tom Savage (Hou LY), Taysom Hill (FA 2017 BYU; G.B., N.O. LY), J.T. Barrett (rookie FA, Ohio State).


N.Y. GIANTS—Eli Manning (expected to play more Aug 17 vs. Det than the 11 snaps he took Aug 9 vs. Cle), Davis Webb (2017 3rd rd Cal, NYG LY), Kyle Lauletta ((4th rd, Richmond), Alex Tanney (9th team).


N.Y. JETS—Josh McCown, Teddy Bridgewater (Minn LY), Sam Darnold (1st round, USC).


OAKLAND—Derek Carr, Connor Cook, EJ Manuel.


PHILADELPHIA—Carson Wentz (not yet cleared for contact), Nick Foles (suffered trained shoulder Aug 16 vs. NE, status evaluated within week), Nate Sudfeld, Joe Callahan (4th team; G.B. LY), Christian Hackenberg (NYJ LY; signed Aug. 12).


PITTSBURGH—Ben Roethlisberger (DNP Aug 9 vs. Phil; concussion protocol; did not play Aug. 16 vs. GB), Landry Jones (did not play Aug. 16 vs. GB), Joshua Dobbs (2017 4th rd, Tennessee; split time with M. Rudolph Aug. 16 vs. GB). Mason Rudolph (3rd rd, Ok State; split time with J. Dobbs Aug 16 vs. GB).


SAN FRANCISCO—Jimmy Garoppolo (one series Aug 9 vs. Dal; likely at least 1 Q Aug 18 vs Hou), C.J.. Beathard, Nick Mullens (2017 FA So Miss, SF prac. squad LY), Jack Heneghan (rookie FA, Dartmouth).


SEATTLE—Russell Wilson (played one series Aug 9 vs. Indy; likely into 2nd Q Aug 18 vs. LAC), Austin Davis, Alex McGough (7th rd, FIU).


TAMPA BAY—Ryan Fitzpatrick (will start Aug 18 vs. Ten), Jameis Winston (susp 1st 3 games reg seas; avail preseason; will come in behind Fitzpatrick Aug 18 vs. Ten), Ryan Griffin, Austin Allen (rookie FA, Arkansas).

TENNESSEE—Marcus Mariota, Blaine Gabbert (Az LY), Luke Falk (6th rd, Wash State).


WASHINGTON—Alex Smith (K.C. LY; played briefly Aug 16 vs. NYJ), Colt McCoy, Kevin Hogan (Cle LY).
Return To Home Page