7496...
TGS 2017 PRO FOOTBALL PREVIEW
...A LOOK AT THE AFC EAST

by Chuck Sippl, Senior Editor

We kick off our previews of all of the NFL divisions by taking a look at the AFC East. Teams are listed in predicted order of finish, with 2016 straight-up, spread, and "Over/Under" results included...


NEW ENGLAND (SUR 17-2 overall; PSR 16-3; O/U 9-10)...It took a while (3:58 of overtime vs. the Falcons), but the Patriots added a fifth Super Bowl championship in February to their still-ongoing Brady-Belichick dynasty. Clearly, New England is the team of the 21st century, with five rings, not to mention two other Super Bowl losses.


However, it must be pointed out that the Pats' dynasty has not exactly been Vince Lombardi hammering-type stuff. New England's Super Bowl victories have been by 3 points (over St. Louis in the last 5 seconds), 3 points (over Carolina in the last 5 seconds), 3 points (over Philadelphia), 4 points (over Seattle, thanks to a forever-dubious goal-line call by the Seahawks), and by 6 points in OT (vs. Atlanta, which blew a 25-point lead).



FOOTBALL COMING SOON...TGS 2017 EARLY DEALS NOW! .

..Click here to order


Even the Brady-Belichick Super Bowl losses were tense affairs, with the Pats falling in the late, late going by 3 and by 4 points to nemesis Eli Manning and the helmet-catching, sliding-grabbing Giants. Keepin' 'em close, win or lose, the dynastic Patriots have become good at. But five rings they own, not to mention 13 AFC East titles in the last 14 seasons, including eight straight. And, if you remember, the only time N.E. didn't win the East was after Tom Brady suffered a torn ACL in the 2008 season opener vs. Kansas City.


So, while winning the Super Bowl itself might not be so easy for N.E., winning the division has been, such as when the Pats rolled to a 14-2 regular-season mark last year, capturing the East by four games, earning the No. 1 seed in the AFC, then sweeping past Houston and Pittsburgh in the playoffs. Thanks to their semi-miraculous comeback vs. the Falcs in the Super Bowl, the Patriots lost only two games overall (one of them when Brady was suspended), covered 16 of 19 times (1-0 as a dog, behind Jimmy Garoppolo at Arizona in the opener), and forced Commissioner Roger Goodell to hand over the Lombardi Trophy to owner Robert Kraft-Belichick-Brady after the Commish refused to relent on the NFL's season-opening four-game suspension of the league's star QB in the "Deflategate" controversy.


Worse yet for New England's foes, the Patriots appear improved this season, making them (again) the easiest call in the NFL to win their division. N.E. led the AFC in scoring (27.6 ppg), even without Brady for four games and backup Garoppolo for two. Brady had 28 TDs vs. only 2 ints. in his 12 regular-season games (7 and 3 in the postseason). The receiving corps has added more speed by signing WR Brandin Cooks from the Saints. Last year's return of venerable assistant Dante Scarnecchia stabilized the OL in front of Brady.


Yes, LeGarrette Blount has taken his 18 rushing TDs (and character issues) to Philly. But veterans Mike Gillislee from Buffalo and Rex Burkhead from Cincy will join proven speedsters Dion Lewis and James White in the fight for carries. Most importantly, extra-dimension TE Rob Gronkowski (68 TDC in 88 reg.-season NFL games) is back from his late-season 2016 back injury, pronouncing himself "good to go," to help give Brady all the tools needed to operate the Pats' multiple-receiver, no-huddle spread with devastating effect. Gronk now even has committed to Brady's Sports Therapy Center in an effort to improve his nutrition, stay healthy, and extend his career, à la the 40-year-old Brady.


With most of their opponents playing from behind last season after the Patriots struck early, N.E. was eighth in total defense, but first in fewest points allowed (15.6 ppg). However, that stat partly reflects the fact that N.E. benefited from playing six total games against the Jets, Bills and Dolphins in the AFC East. However, when it came time for the ultimate reality check in the Super Bowl vs. explosive Atlanta, that Pats found themselves down 28-3 after 35 minutes. So perfectionist HC Belichick (now seven total rings, including his previous two as defensive coordinator of the Giants) moved to gird his prized platoon in the offseason.


Ever on the lookout for quality help at the right price,
Belichick snapped up cover guy Stephon Gilmore (5 ints. LY) from the Bills and then reliable, versatile LB David Harris from the Jets. And the HC traded for still-developing DE Kony Ealy (5 sacks LY) from the Panthers. Ousted amid the Jets' youth movement, the 33-year-old Harris (1088 career Ts) says he was disrespected and blindsided by his release. Clutch DE/LB Ron Ninkovich has retired from the Pats. But all three of the added veterans above appear to fit perfectly into Belichick's variable, "amoeba" defense that uses several hybrid players in its well-disguised, ever more frequent 4-2-5 base. Few groups in football "just do their damn job" in each week's customized game plan better than the Belichicks
.
Summary...As long as Brady remains healthy, the "East king" Pats are rightfully the overall AFC favorite. If the injury bug hits New England and the Patriots are forced into a road playoff game in Pittsburgh, check back.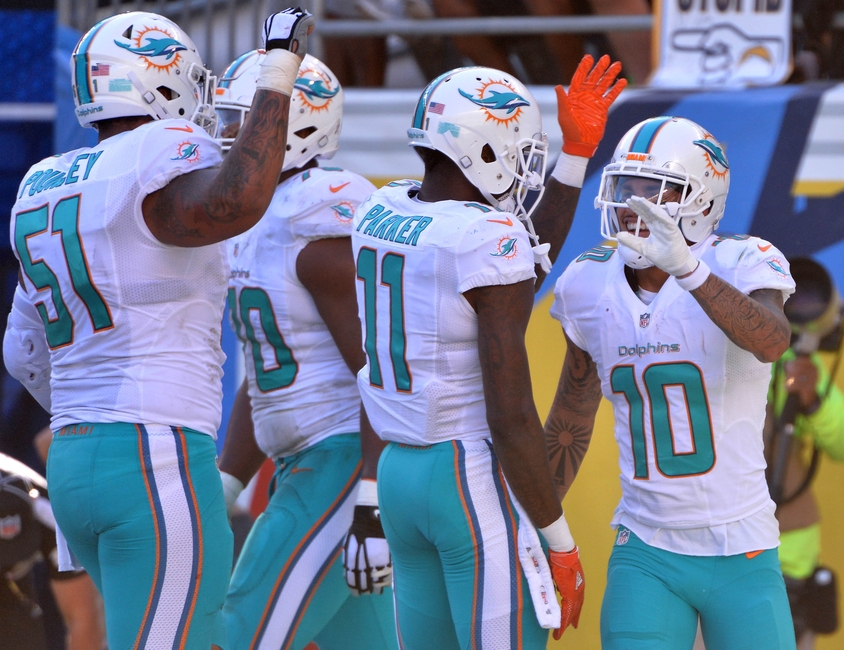 MIAMI (SUR 10-7 overall; PSR 9-8; O/U 12-5)...Jimmy Johnson went 36-28 with Miami in the late 90s. Dave Wannstedt then 42-31. The "Nicktator" Nick Saban just 15-17 in 2005-06. Ever since then, it's been a pretty tough slog for the Dolphins, whose only division title since 2000 came in 2008, when Bill Parcells protégé Tony Sparano took the "Fish" to an 11-5 mark, keeping the Matt Cassel-led Patriots out of the playoffs. Now, in just one season (10-6) under "QB whisperer" Adam Gase, Miami believes it's on the right track to challenge the "Standard Oil of the AFC East"—the five-time Super Bowl champion Patriots.


At least that was the case heading into August camp, when concerns quickly arose for the team's No. 1 QB, RB and WR. Time will tell whether Gase can keep things on track. But Gase has seemed to produce more unity, greater pride, and better team chemistry than seen in several seasons in the land of blue skies, white sand, and (frequent) hard partying. Among other things, Gase restored the confidence of (and in) QB Ryan Tannehill (19 TDs, 12 ints. in 13 games LY), re-established the Miami ground attack (9th in the league; Jay Ajayi 1272 YR), and guided the team to its first playoff appearance in eight years. This after an injury-stalled 1-4 start when the Dolphins had to use four backups at times in their OL and when that only victory came—in overtime—vs. the hapless Cleveland Browns.


Considering Miami's 9-2 finish its last 11 games (prior to its 30-12 Wildcard loss in Pittsburgh), Gase has provided plenty of optimism for the 2017 campaign. Gase has proven his offensive prowess in recent stops at Denver, Chicago and Miami.


But before training camp had barely reached its second week, top RB Ajayi was in concussion protocol, QB Tannehill (13 TDs vs. 5 ints. his last 8 games before LY's knee injury) had re-injured his knee, and top WR Jarvis Landry (988 recs. in just 3 years) was facing possible domestic violence changes in Fort Lauderdale. Gase had spent the offseason designing attack schemes for those three, plus WR Kenny Stills, promising wideout DeVante Parker, and TEs Anthony Fasano and Julius Thomas (the latter re-united with Gase from Denver days after a stint in Jacksonville).


Following Tannehill's knee re-injury, Gase "recruited" strong-armed, 34-year-old Jay Cutler, who played well in Chicago for Gase in 2015 prior to accepting a job with Fox TV after 2016. Cutler had labrum surgery on his shoulder in December. Meanwhile, 32-year-old Dolphin backup Matt Moore held his own as a starter LY, going 2-1 down the stretch (8 TDs, 3 ints.) before the team's 30-12 Wild Card loss at Pittsburgh. Moore has been to "war," with his teammates, so Gase must be careful about a possible divided locker room.


Last year's early problems in the OL could turn out to be a boon TY, as controversial top
2016 draft pick Laremy Tunsil has settled in at LT and former Bear RT Jermon Bushrod at RG. Very valuable but often injured C Mike Pouncey had a stem cell procedure on his balky hip in April and might sit out all of training camp in an attempt to preserve his health.


It's defense where the "Fish" need to step up in order to move up. Miami was 29th in total defense LY, 30th in rush defense, and 18th in scoring defense. The Dolphins were down the list in sacks with 33; only 9 teams had fewer. This despite the presence of the physically-dominating DT Ndamukong Suh and quick-rushing DE Cameron Wake. The pair combined for 16½ sacks LY. DE Andre Branch added 5½ more, while the trade with Philly for Kiko Alonso proved fruitful, with the LB leading the team with 115 Ts (plus two ints.).


But more depth, speed, leadership, and better secondary play are still needed. In that regard, long-in-the tooth but well-proven LB Lawrence Timmons (31 years old to start the season) was added in free agency. The draft produced DE Charles Harris from Missouri in the first found, LB Raekwon McMillan from Ohio State in the second, and CB Cordrea Tankersley from Clemson in the third. Young safety Walt Aikens (6-1, 212) is being given a look at corner in camp to see if he can add to the team's physicality and desired press coverage. Hard-hitting S Reshad Jones (6-1, 223) had 51 Ts in the first 6 games LY before a shoulder injury. His healthy return would help stabilize the newcomers.


Summary...With Brady and Belichick still around in the AFC East, Miami appears headed for another year at runner up. Still, whether it's Cutler or Moore at QB, the Dolphins are still ahead of the Bills and Jets in the East, as Miami seeks another wildcard.



BUFFALO (SUR 7-9; PSR 7-9; O/U 12-4)...It might not be as much fun in Buffalo without the colorful Rex Ryan. But Bills' ownership and most of the Buffalo faithful took only two years to grow weary of Ryan's football-style of bloviation. After LY's 7-9 mark (1-4 last 5 games), it has now been 17 years of playoff drought in one of the NFL's smallest and least-glamorous outposts. It was in the Wild Card playoffs in the 1999 season that Buffalo fell victim to the Titans in the Music City Miracle, losing 22-16 in Nashville. The Bills haven't seen the playoffs since, "building" the league's longest current postseason absence.


The team is beginning its fourth year under the ownership of fracking billionaire and NHL Sabres owner Terry Pegula and his wife Kim. And, in his second chance to pick a head coach, Pegula has selected NFL assistant Sean McDermott, who for the last six years served as defensive coordinator of the Carolina Panthers. Much more low key compared with Ryan's bluster, the square-jawed McDermott is being counted upon to restore discipline to the team and develop its young talent. A defensive coach by trade, McDermott has tabbed long-time NFL offensive assistant Rick Dennison (last two years in Denver) as his offensive coordinator. And, to further demonstrate the lack of continuity in the organization and the desire to go in a different direction, GM Doug Whaley and his scouts were fired the day after the draft.


As an indication that new HC McDermott will be given organizational authority to rebuild the team primarily from within, and primarily with youth, the team's new GM is Brandon Beane, who spent 19 years with the Panthers, the last two as assistant GM. McDermott and Beane were both there in Charlotte as the Panthers were built into three-time NFC South champions, including the Super Bowl visit two years ago. McDermott, a college safety at William & Mary, has been an NFL assistant for 16 years with the Eagles and Panthers, so he should be familiar with building a contender.


The early approach seems to be sound—build around a solid core of mostly young veterans, primarily through the draft. The proven vets include RB LeSean McCoy (1267 YR), WR Sammy Watkins, LT Gordy Glenn, LG Richie Incognito, C Eric Wood, TE Charles Clay, DEs Shaq Lawson & Jerry Hughes, DTs Marcell Dareus & Kyle Williams, LBs Preston Brown, Lorenzo Alexander (12½ sacks LY) & Reggie Ragland, and CB Ronald Darby. Not too many knocks there, although injuries and lack of depth at most of those positions have resulted in problems in the past.


However, the team might have lost more in free agency than it gained. Gone are players such as S Zach Brown (149 Ts LY; now Washington), CB Stephon Gilmore (now N.E), RB Mike Gillislee (now Pats), and WR Robert Woods (51 recs.; now Rams).


Incoming veterans such as S Micah Hyde from Green Bay and short-yardage back Mike Tolbert from Carolina do arrive with good reputations for leadership, and should be solid contributors. Crafty, physical, 36-year-old WR Anquan Boldin (8 TDC LY in Det.) might help in the red zone. But, in truth, the Bills aren't at the stage where signing a few key veteran free agents will put them over the top and into the playoffs.


High draft picks CB Tre'Davious White (first round, LSU), WR Zay Jones (second round, East Carolina), and G/T Dion Dawkins (second round, Temple) will be counted upon to contribute quickly, if not immediately. But there were no picks in rounds 3 and 4, thus, depth issues again. 6-6 Logan Thomas, the one-time Arizona Cardinals backup QB, has flashed extra-dimensions early the Buffalo in camp...not at QB, but at tight end!


Which brings us to Bills' QB Tyrod Taylor (61.7%, 3023 YP, 17 TDs, 6 ints. LY), who has valuable mobility (his 580 YR were second on the team), but is not the perfect QB, and didn't agree to a more-favorable re-structured contract until March. Although Taylor can scramble for key yardage and has a knack for the deep ball at times, his overall accuracy and reading of defenses has often disappointed. Perhaps Buffalo fans have gotten too accustomed to seeing East arch-enemy Tom Brady hit the open receiver in the right time in the right place so often that they think it's normal for all QBs. It didn't help when Taylor was erratic early in camp executing the new offense.


Summary...Rookie HC McDermott has some things in Buffalo that he had while in Carolina—a bristling front seven on defense and a dual-threat QB with "useful wheels" on offense. Catching New England this season seems impossible. Edging Miami, perhaps. Finishing ahead of the rebuilding Jets? If the Bills do not, it will be an even longer, darker winter on the shores of Lake Erie than usual. Team owner Pegula correctly says, "People respect organizations and teams that win. That's where we have to get."



NEW YORK JETS (SUR 5-11; PSR 7-9; O/U 7-9)...NFL commissioner Roger Goodell was already answering questions about "tanking" in the NFL before some teams even began working out in pads in this season's training camps. Big, mobile, squared-away Southern Cal QB Sam Darnold appeared that impressive in leading his team's comeback in the Rose Bowl. Baker Mayfield, Josh Rosen, and other college QBs begin the season not far behind. So who can blame QB-famished Jets fans from thinking big at the beginning of a season in which fewer victories might lead to better opportunities in the 2018 draft?


Surely, there have been some dubious team decisions in the offseason. The flight of WR Brandon Marshall (to the G-Men!). The jettisoning of fellow wideout Eric Decker. LB David Harris (signed with N.E.!). DB Darrelle Revis. QB Ryan Fitzpatrick. Other vets caught in the youth movement have included C Nick Mangold, T Ryan Clady, T Breno Giacomini, TE Kellen Davis, S Marcus Gilchrist, kicker Nick Folk. Plus QB Geno Smith, to the Giants...after the Jets invested four frustrating years in him. Quite a house cleaning, even though most players were past their prime.


The initial reason for skepticism regarding the Jets is that many of those players above do not appear to have been replaced in kind, not to mention that Todd Bowles was retained as head coach after LY's unsightly 2-6 finish.


This year's QB battle in camp involves 38-year-old Josh McCown and second-year Christian Hackenberg getting the first crack at the starting job. Former Baylor passer Bryce Petty, with four starts LY (56%, 3 TDs, 7 ints.), has apparently been shuffled to the back burner initially. McCown (61 career starts) has been a savvy and willing, but injury prone, "caretaker" type. The heavy-legged 6-4, 228 Hackenberg (no NFL action so far) has a decent arm, but was often easily discombobulated while at Penn State when forced to move even a little bit in the pocket. And the Jets' offense overall lacks playmakers in a league that celebrates them.


The NYJ were -20 in turnovers LY. This year's attack will have a tough time cutting into that negative mark. The OL was largely remade LY, with C Wesley Johnson and former Seahawk G James Carpenter impressing, and with long-time backups G Brian Winters and T Ben Ijalana showing starting ability.


The defense—11th in yards allowed, but 28th in points (25.6)—has more teeth, and more promise for 2017. Muhammad Wilkerson, Leonard Williams, and DE/OLB Sheldon Richardson can be fearsome when motivated, and they were helped in the middle LY by the arrival of former Steeler run-stuffer Steve McLendon.


The NYJ back seven is mostly "under construction" following the team's offseason moves, with top pick Jamal Adams of LSU (sixth overall in the draft) penciled in to start. No. 2 pick Marcus Maye (Florida) will likely be force-fed at safety. Free agency landed erratic CB Morris Claiborne, the former No. 1 pick of the Cowboys who has 4 career ints. in his 5 years. If foes can block the Jets' DL attackers, they should do some solid business vs. the secondary.


Summary...By the end of the preseason, the New York lineup might have more than a dozen new starters, most of them in their first or second NFL season. Matching LY's five victories seems to be a long shot early. Last place in the East and high in the April draft are much more likely.

NEXT UP: NFC EAST
Return To Home Page