7492...
TGS 2017 COLLEGE FB PREVIEW
...TGS PRESEASON TOP 40!

by Bruce Marshall, Goldsheet.com Editor

We conclude our College Football 2017 preview with the much-awaited TGS preseason Top 40. NFL division previews begin next week thru the month of August!
1-ALABAMA...Forgive our lack of creativity, but it's hard to not at least put the Crimson Tide into the Final Four after reaching that far the past three years, and coming within a few seconds of a second-straight BCS title last January. The usual outflow of talent to the NFL isn't enough to scare us away, not when nine straight Nick Saban stop units have finished no worse than seventh in scoring defense. Moreover, this Bama edition might go 6-deep at tailback, meaning possible Heisman contender Bo Scarborough has to fight for carries, and QB Jalen Hurts returns from an offense that scored nearly 39 ppg a year ago. There are also not as many banana peels in the SEC as there were a few years ago, though the opener vs. Florida State in Atlanta is a tricky September hurdle. The Tide is also a bit harder to dislike now that o.c. Lane Kiffin has taken his act to Florida Atlantic, where he is the new HC. Now, is Nick Saban ever going to smile?



FOOTBALL COMING SOON...TGS 2017 EARLY DEALS NOW! ...

Click here to order


2-OHIO STATE...Again, we're not reinventing the wheel by putting the Crimson Tide and Buckeyes 1-2. But whereas Urban Meyer entered last season with an inexperienced team, this year he welcomes back 15 starters, including potential Heisman contender sr. QB J.T. Barrett. But what has even the jaded OSU fan base a bit excited is Meyer looking outside the program for a new offensive coordinator instead of his normal promotions from within, and former Indiana HC Kevin Wilson figures to jazz up a strike force that looked stale in the 31-0 Fiesta Bowl loss to Clemson last December 31. As for Barrett, he's only lost three times while starting most of the OSU games since 2014. To stay this high in the polls in September will require a win over Oklahoma on September 9, but the Buckeyes won in Norman 45-24 a year ago, and this year's rematch is in Columbus.


3-WASHINGTON...Among the factors that must be considered in preseason rankings is strength of schedule. And after mostly waltzing through a soft patch a year ago, the Huskies might have it even easier this term, with non-conference foes including Rutgers and Fresno State sides that combined for three wins last season, plus Big Sky Montana. The only game where U-Dub doesn't project to at least a double-digit favorite might be a November 10 game at Stanford, which lost 44-6 in Seattle a year ago. And USC, the only regular-season conqueror of U-Dub a season ago, isn't even on the schedule, so if there's a rematch with the Trojans, it comes in the Pac-12 title game. Thus, the path is paved for a return to the Final Four, even if Chris Petersen has some gaps to fill on defense. But with attack-end stalwarts QB Jake Browning, RB Myles Gaskin, and WR Dante Pettis still in the fold, the Huskies can outscore everybody en route to the playoffs.

4-FLORIDA STATE...While the schedule might help propel our projected No. 3 Washington into the Final Four, it's the slate that could keep Florida State out; the Noles face Alabama, Clemson, and Florida, all away from Tallahassee. On the other hand, a win in the opener at Atlanta vs. the Tide probably puts FSU as the early frontrunner in the polls, and Jimbo Fisher's bunch has the minor luxury of getting a mulligan for a potential loss to Bama, as long as the Noles don't stumble the rest of the way. The talk at Doak Campbell is that frosh comet RB Cam Akers might be the best ever at FSU, and perhaps comparisons to Jameis Winston will begin to reappear for QB Deondre Francois, now with a year as the starter under his belt. And nine starters return for what might be the nation's fastest defense. As long as the Noles get past Deshaun Watson-less Clemson in the ACC Atlantic, the path to the Final Four (and a possible rematch vs. Alabama) should be clear.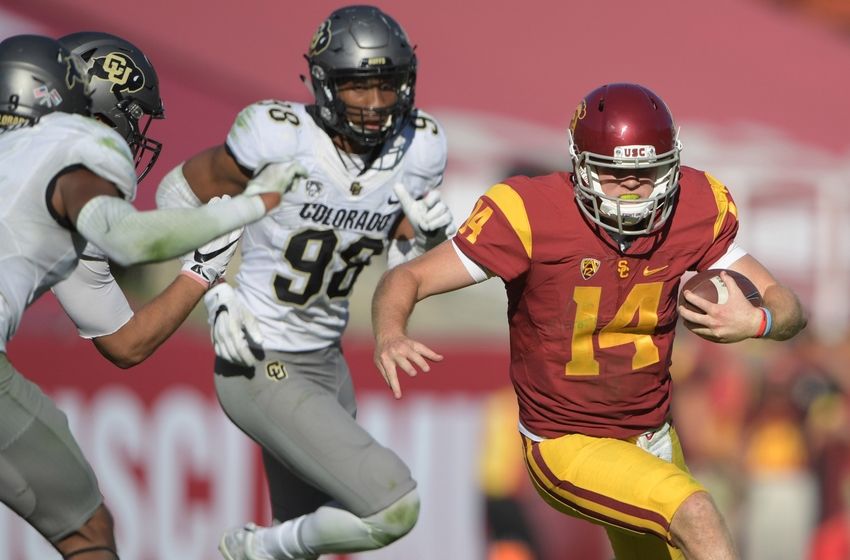 5-SOUTHERN CAL...Maybe HC Clay Helton waited too long to insert Sam Darnold at QB last season after the Trojans started 1-3. Other than that, hard to fault much of anything Helton did in his first full season as a head coach. Darnold might have been the hottest QB in the country at the end of the last campaign, when Troy roared down the stretch to win its last nine games, including a wild Rose Bowl shootout vs. Penn State. Darnold is now on a short list of Heisman favorites for 2017, though we'll see if he misses some of his top weapons who have moved to the NFL. There are also concerns along a mostly-rebuilt OL, and the "D" leaked a bit at times last fall, but playmakers abound, and the Pac-12 might not be as difficult to navigate as past years, especially with no Washington on this year's slate. A potential schedule concern is no "bye" weeks in the regular season, but that appears a minor issue at most.


6-CLEMSON...How do you replace the irreplaceable? We'll find out this fall in "Death Valley" as Clemson proceeds minus QB Deshaun Watson for the first time since the 2013 season. Keep in mind, however, that Dabo Swinney had already turned around the program before Watson set foot on campus, and all "Big Game Dabo" has done the past five seasons is beat Ohio State and Oklahoma twice each, plus LSU and Bama, in bowl/playoff games, winning the national title a year ago. And shrewd d.c. Brent Venables has annually fielded top-flight stop units despite losing considerable talent to the NFL. Still, replacing Watson is a tall order, and true frosh QB Hunter Johnson might be called upon at some point this fall. But if we've learned one thing about Clemson over the past five years, it's to never underestimate Dabo.


7-OKLAHOMA...Coaching changes are seldom seamless transitions, but OU might be testing that theory in the fall, with up-and-comer o.c. Lincoln Riley promoted to HC following Bob Stoops' surprise retirement/resignation in early June. Not much figures to change, however, as the staff remains in pace (save Riley adding former mentor Ruffin McNeill in mid-June) and Riley will continue to call plays and run the offense as last year, when the Sooners scored 44 ppg and QB Baker Mayfield passed for 40 TDs. Mayfield returns as a serious Heisman contender, and though much supporting weaponry departed, the entire OL returns, and since when has OU been without playmakers on offense? There is, however, pressure on d.c. Mike Stoops to upgrade the stop unit, which was shredded early last season by Ohio State and others, effectively eliminating OU as a Final Four threat by October. Unfortunately, the Buckeyes reappear on the schedule Sept. 9 at Columbus.


8-PENN STATE...

Penn State might not have been the best team in the country late last season, but it was the most exciting, roaring from behind to win crucial games down the stretch and nearly doing the same in the Rose Bowl vs. Southern Cal before blowing a late 49-35 lead. There was some real coaching going on in Happy Valley, too, as many longtime Big Ten watchers swore they hadn't seen a team make as many positive in-game adjustments as the Nittany Lions in many years. Credit, then, to HC James Franklin, whose swagger has become infectious in State College. Almost the entire offense returns in tact from last year's thrill ride, including legit Heisman hopefuls QB Trace McSorley & RB Saquon Barkley. The Big Ten schedule-makers, however, have thrown Franklin a curveball, with Michigan and Ohio State back-to-back on the slate in late October. Penn State's conference fate, chance to get to the Final Four, and Heisman candidacies of McSorley & Barkley likely rest on outcomes of those two games. Whatever the specifics, Penn State is "back" after a few wilderness years.


9-LSU...No, Ed Orgeron was not the first choice to be the permanent successor to HC Les Miles. (That would have been Tom Herman). And, no, "Coach O" didn't entertain as much as many of us hoped at the SEC Media Days in July at Hoover. But Tiger AD Joe Alleva might have stumbled into the right full-time hire, as Louisiana native Orgeron, whose Tigers responded to him late last season when burying Texas A&M & Louisville in the bowl game, gets a do-over for a failed run at Ole Miss over a decade ago. "Coach O" seems to have learned his lesson, going out and luring Matt Canada, one of the most in-demand o.c.'s in the country, from Pitt to upgrade the horse-and-buggy offense of the Miles years, while retaining d.c. Dave Aranda, now one of the nation's highest-paid assistants. The Tigers have a chance to work out whatever kinks in a manageable September before getting down to serious business vs. Florida and Auburn in early October.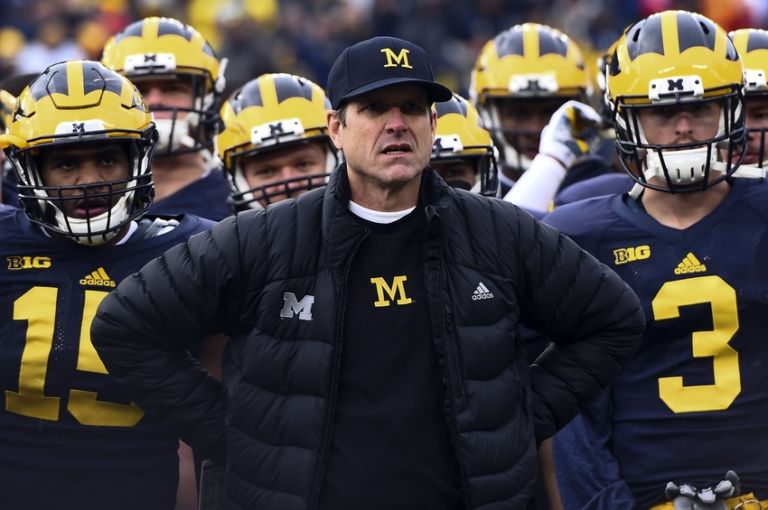 10-MICHIGAN...We didn't really think Jim Harbaugh would wear his trademark khakis and "M" baseball cap to the rather formal Big Ten Media Days in Chicago, but there was Harbuagh at the podium in his familiar garb, looking like he just walked off of the practice field. Yes, the guy marches to a different drummer. But he has made the Wolverines relevant again in just two years on the job, and the recruiting has gone through the roof, which means that Michigan ought to be able to absorb the almost complete departure of last year's top-ranked defense. Meanwhile, the offense returns QB Wilton Speight, who performed better than anticipated last season, though Harbaugh, true to form, wouldn't even confirm Speight as his starter recently in Chicago. The season could come down to another showdown vs. Ohio State on November 25, but Harbaugh is 0-2 vs. Urban Meyer, and results vs. the Buckeyes still remain the ultimate barometer in Ann Arbor.


11-WISCONSIN...The "near men" of college football were knocking on the door again last season before blowing a big lead in the Big Ten title game vs. Penn State. Still, to get that far confirmed that the Badgers were in good hands under 2nd-year HC Paul Chryst, who importantly seems on the good side of AD Barry Alvarez. The Badgers again look the team to beat in the Big Ten West, with 17 starters back in the fold from a year ago, including QB Alex Hornibrook, who should be beyond some of the rough patches from his RS frosh season. Quietly, the Badgers have also emerged as a defensive force, and much of another top ten "D" from last year remains in the fold. The Badgers might even rate a decent longshot bet to make the Final Four, as they figure to be favored in every reg.-season game save perhaps Michigan, which has to visit Camp Randall in mid-November. No Ohio State or Penn State on the schedule, either, until perhaps the Big Ten title game.


12-AUBURN...A hot streak in the middle of last season saved Gus Malzahn's job for another year (remember, this is Auburn, where they not long ago fired HC Gene Chizik just two years after he won a national title). Now they're thinking that Malzahn might be cooking up another surprise akin to his 2013 debut on the Plains thanks in part to Baylor transfer QB Jarrett Stidham, who could post big numbers in what is supposed to be an upgraded attack under new o.c. Chip Lindsey. Top-shelf RB Kamryn Pettway is also back in the fold and generating peripheral Heisman mention. Malzahn did lose some playmakers from last year's "D" but sage d.c. Kevin Steele mixed and matched effectively last fall when Auburn ranked 7th in scoring defense. If Malzahn can go into Clemson and get a win on September 9, momentum could build for an acid test midseason three-game road swing at LSU, Arkansas, and Texas A&M. By the way, does SEC commish Greg Sankey have something against the Tigers, who play a rare three straight league games on the road just past midseason?


13-VIRGINIA TECH...In what has become one of the best jobs in the country, VPI looks like it made a great hire last year when luring up-and-comer Justin Fuente away from Memphis to succeed the long-serving Frank Beamer. An offense that had grown stale in the later Beamer years was immediately transformed, and even though QB Jerod Evans made an ill-advised move into the NFL Draft (where he wasn't picked) last April, Hokie backers are excited about the prospects of true frosh QB Hendon Hooker, who wowed 'em in spring and could be the best at Blacksburg since Michael Vick. And the always-robust Bud Foster defense remains in place from the Beamer glory years. Best of all for VPI, it doesn't play in the ACC Atlantic, and has to worry about only one (Clemson, which visits Lane Stadium on Sept. 30) of the "big three" from that side of the loop in the regular season.


14-OKLAHOMA

STATE...

Unlike the aforementioned Jerod Evans at VPI, Ok State QB Mason Rudolph decided to stay in school for one more year, and it should prove a great benefit for the Cowboys as they mount another challenge to Oklahoma in the Big 12. Rudolph, who could be the top pick in next April's NFL Draft, passed for over 4000 yards with just 4 picks in 2016, and returns key receiving targets James Washington and Jalen McCleskey, plus explosive soph RB Justice Hill. If Mike Gundy can find a bit more defense, OSU rates as an intriguing Final Four darkhorse. By the way, "Bedlam" vs. the Sooners takes place this season at Stillwater, a bit earlier on the slate (Nov. 4) than usual.


15-STANFORD...The Cardinal began to look more like its usual self in the second half of last season after Keller Chryst emerged to provide some stability at QB before suffering a knee injury in the Sun Bowl win vs. North Carolina. As long as Chryst is good to go in the fall (and rehab has reportedly gone well), the "Tree" can expect to chase new league big boy Washington in the Pac-12 North. David Shaw also proceeds without do-everything Christian McCaffrey, who left a year early for the NFL, but Pac-12 sources believe Bryce Love is more than capable of picking up the slack from McCaffrey's departure. Not quite as certain is how the DL replaces NFL first-round pick Solomon Thomas, but eight starters return from another formidable stop unit. We'll find out early if Stanford is ready for a return to the top ten, as the Cardinal looks for a 4th straight win over USC when they meet at the Coliseum on Sept. 9. A revenge match vs. the Huskies, who rolled the Tree 44-6 in Seattle last October, takes place on the Farm Nov. 10.


16-GEORGIA...Kirby Smart's debut at Georgia was a bit bumpier than expected, as the Bulldogs were hampered by injuries and the inevitable ups-and-downs of a true frosh QB (Jacob Eason) for much of last season. Now, the highly-touted Eason has a year of experience under his belt, and for the moment, UGa is healthy, in particular oft-damaged RB Nick Chubb, plus running mate Sony Michel. Best of all, almost everyone returns from a defense (Smart's specialty) that more than held its own in the SEC a year ago. If the Dawgs can get past an early test at Notre Dame on Sept. 9, they have a good chance to stay unbeaten until the annual grudge match vs. Florida in Jackonsville (a matchup that has not recently gone Georgia's way) just before Halloween. With the SEC East in a bit of a downturn, there is some pressure on Smart to net the Dawgs their first title in that half of the loop since 2012.


17-FLORIDA...If it's not Georgia it's probably going to be Florida in the SEC East, which the Gators won almost by default the past two seasons. Most importantly, HC Jim McElwain thinks he has some answers at QB for the first time since early in his Gainesville debut season of 2015, when Will Grier (now at West Virginia) showed much promise before suspension. Now, Notre Dame transfer Malik Zaire and touted RS frosh Feleipe Franks (who physically reminds of Cam Newton) appear to give McElwain the upgrades he needs. Due to off-field issues, the status of big-play WR Antonio Callaway remains up in the air, at least for early-season and the intriguing opener at Arlington vs. Jim Harbaugh's Michigan (which whomped the Gators two years ago in the Citrus Bowl). But the possibility of improved QB play along with another typically hyper-fast stop unit have Gators fans thinking they can do better than rolling over for Bama in the SEC title game, as was the case the past two years.


18-USF...Looking for a sleeper among the non-"Power 5" leagues which might crash the New Year's Six bowl lineup? Check out USF, which seems a much better fit for new HC Charlie Strong than the awkward situation he stepped into at Texas. Best of all for Strong, he inherits the core of an 11-2 squad from Willie Taggart, who moved to Oregon. Among the 16 returning starters is electric sr. QB Quinton Flowers, a dual-threat and the AAC's Player of the year in 2016 when he rushed for 1530 yards and passed for another 2812. While the "D" leaked a bit much last fall, it returns nine almost all-senior starters. Strong not only inherited a full cupboard but a favorable slate in which a trip to Big Ten doormat Illinois mighty be the toughest non-league test. The Bulls could very well run the table into bowl season.


19-MIAMI-FLORIDA...HC Mark Richt seems to have his alma mater poised for at least a return to national relevance after a disappointing decade that included the end of the Larry Coker era, and the subsequent Randy Shannon and Al Golden regimes that never really achieved lift-off. That old Hurricane bugaboo, NCAA violations, and the threats thereof, plagued the program for some of those years, resulting in occasional bowl bans. But Miami is now beyond those latest transgressions and ready to make a move once again if Richt, starting his second year in Coral Gables, can find an able successor to departed QB Brad Kaaya; watch ballyhooed true frosh N'Kosi Perry from upstate Ocala, who can rely upon a returning 1000-yard rusher in RB Mark Walton. And while the secondary is in need of rebuild, the Canes are never short on athletes, and playmakers abound in the defensive front seven. The Florida State test comes a bit earlier than usual (Sept. 16); a first win over the Noles since 2009 could catapult Miami into the top ten and push the Dolphins off of the local front pages.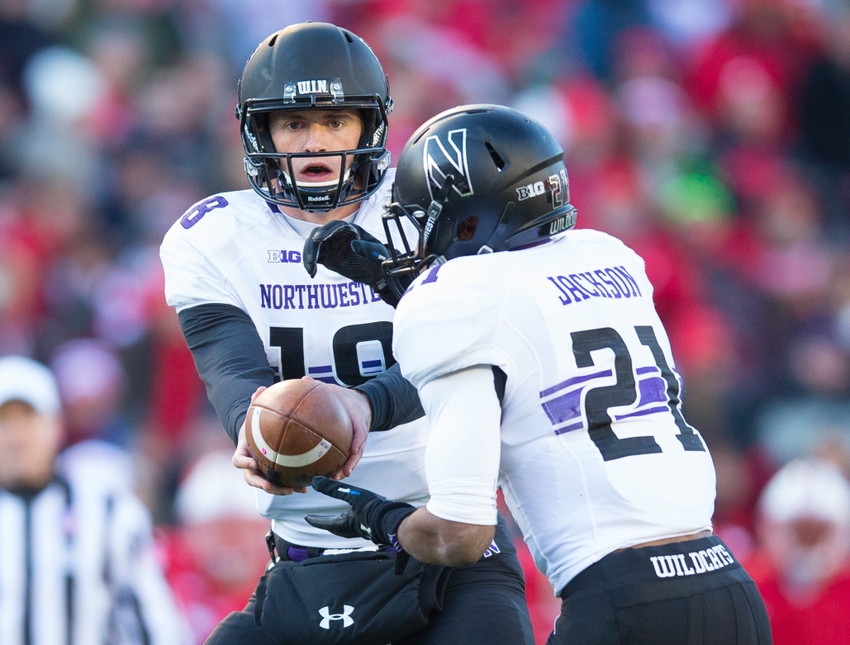 20-NORTHWESTERN...Those in the know recognize how special is HC Pat Fitzgerald, whom many Big Ten insiders believe could succeed at any endeavor he chooses. Fortunately for the Wildcats, he likes coaching as much as he did playing when leading NU to that storybook Rose Bowl season 22 years ago. He's got a real team this season in Evanston, too, with 15 returning starters including playmaking jr. QB Clayton Thorson, beginning his third year as a starter, and slashing RB Justin Jackson, who is generating peripheral Heisman buzz after 1524 YR last fall. Still, the Cats are a defense-driven team, and sources say Fitzgerald's line and secondary are arguably the deepest in his tenure. NU will have a chance to make a move in the national rankings with back-to-back games at Wisconsin and home vs. Penn State before Columbus Day. (Note that Fitzgerald is 3-0 SU vs. Penn State's James Franklin in past matchups.)


21-LOUISVILLE...All of the ballyhoo in the 'Ville, and the intense hype about eventual Heisman-winning QB Lamar Jackson, seemed forgotten by the time the dust cleared last season. It wasn't that the Cards lost their last three games, it's how they did so, in a hail of sloppy mistakes, turnovers, and missed tackles, not to mention Jackson's reduced effectiveness (it was fortunate for Jackson that the Heisman vote was taken before the bowls, when Lamar was desultory in a thumping loss to LSU). Jackson returns but is looking at a mostly-rebuilt cast of complementary weapons, and HC Bobby Petrino brought in a new OL coach (Mike Summers from Florida) after the forward wall faded as 2016 progressed. Petrino and d.c. Todd Grantham also parted ways in what turned out to be a coordinator swap with Mississippi State, which ended up with Grantham while last year's Bulldog d.c., Peter Sirmon, has moved to the 'Ville. The Cards from the first half of last season might be able to deal with the many obstacles on the 2017 slate; not sure, however, about the post-October 'Ville being up to the task. We'll see if Petrino regains control of a team which faded and appeared distracted as last season concluded.


22-GEORGIA TECH...We can now say with some assuredness that 2015 was a blip on the radar screen in Atlanta, and that the Yellow Jackets' slip to 3-9 was likely just a one-off. It was hardly the coaching epitaph for Paul Johnson, whose Tech bounced back to 9-4 a year ago and thumped SEC Kentucky in the Taxslayer (nee Gator) Bowl. Johnson's pet option needs a new pilot after the graduation of longtime starter Justin Thomas, but other pieces are in place for the Jackets to stay among the top rushing teams in the nation once more for Johnson; watch former A-back TaQuon Marshall, who could be a potential dynamic presence at QB. If vet d.c. Ted Roof can find a pass rush, Tech, its confidence buoyed by last November's road wins at Virginia Tech and Georgia, plus the bowl success, has as good a chance as anybody to win the ACC Coastal.


23-NOTRE DAME...It's win or else for HC Brian Kelly, who is feeling real heat in South Bend after last year's 4-8 downturn. Not surprisingly, Kelly reassembled his staff, with six new assistants, including new coordinators on both offense and defense. Another new key cog will be soph QB Brandon Winbush after the Irish failed to take proper advantage of departed DeShone Kizer, who could be starting for the Cleveland Browns this fall. First-year d.c. Mike Elko (who did a superb job at Wake Forest prior to being lured by Kelly) will have to find some playmakers and a pass rush. But after six single-digit losses last season, a quick return to prominence is not out of the question. If not, the posse will be forming quickly beneath Touchdown Jesus, and Kelly might be forced to beat the mob out of town.


24-KANSAS STATE...Vet HC Bill Snyder, now 78, is a year-to-year proposition at this stage, especially after disclosure of his throat cancer treatments. There will be extra intrigue in Manhattan as discussions about Snyder's successor (and his role in the process) will continue thru the fall. But if this is to be the last hurrah for Snyder, he might go out with a bang, without a hint of mystery at QB after Jesse Ertz emerged as an effective on-field leader last fall (and rushing for over 1000 yards in the process). And if Snyder is finally taking the shackles off of his conservative offense, which seems to have more firepower than usual, the arrow definitely points upward for the Wildcats, who should be as ornery as ever on the stop end after ranking in the top 25 in scoring defense a year ago, and many key playmakers still in the mix. The schedule is also made for a move in the rankings, with a road game at Vandy the most-serious non-league test, and Oklahoma visiting Manhattan in mid-October.


25-OREGON...It's re-set time at Oregon, where the train jumped the rails at the end of the Mark Helfrich regime, and the Ducks fell under .500 for the first time since 2004. Enter Willie Taggart, who made lemons from lemonade at outposts such as Western Kentucky and South Florida, which combined have about 5% of the resources available in Eugene at Phil Knight's college wonderland. Taggart's shrewdest offseason move might have been stealing respected d.c. Jim Leavitt (another ex-South Florida HC) from Mike MacIntyre's Colorado staff, hopefully to add some steel to a "D" that ranked as one of the nation's worst a year ago. Pieces are in place from an "O" that still scored 35 ppg despite the drop to a 4-8 SU record, with soph QB Justin Herbert now with some experience under his belt and big-play sr. RB Royce Freeman back and healthy after bypassing a chance to enter the NFL Draft. If Taggart works his magic, no surprise if the Webfoots are undefeated by the time they visit Stanford in a possible mid-October Pac-12 North showdown.


Teams 26 thru 40 are listed in condensed form...
26-NC STATE...ACC sources say the heat is still on Wolfpack HC Dave Doeren. But he has an experienced QB in former Boise State transfer Ryan Finley and one of the best defensive fronts in the nation, led by NFL-bound DE Bradley Chubb. Remember, NCS took Clemson to OT and lost close to Florida State last season. The Wolfpack might be the breakthrough team to watch in the ACC. 27-TEXAS...The Tom Herman era begins, and there is wide disparity among experts as to how much impact Herman might make in the short-term (we've seen the Horns placed as high as 13th in some preseason polls). Herman predecessor Charlie Strong said Texas would be a 10-win team in 2017 for whomever would be coaching. For that to happen, some playmakers must emerge on both sides of the line of scrimmage, and Herman has to work some magic with soph QB Shane Beuchele, who weakened considerably as 2016 progressed. 28-WASHINGTON STATE...Prolific QB Luke Falk resisted the temptation to jump early into the NFL, which means Mike Leach's Cougs have a puncher's chance against every foe on the schedule. Almost all of the key cogs thus return from last year's Holiday Bowl qualifier, though Wazzu lost momentum at the end of 2016, with thumping losses to Colorado and rival U-Dub before a flat effort vs. Minnesota in San Diego. 29-SAN DIEGO STATE...The new flagship program of the Mountain West has upheld the honor of the league with blowout wins over a couple of American foes (Cincy and Houston) in bowls the past two seasons. Record-setting RB Donnel Pumphrey has moved to the NFL, but Rashaad Penny gained 1018 YR of his own in a support role last season, and Rocky Long's defense continues to dominate in the Mountain. Now, do the Aztecs have a place to play after 2018? 30-WEST VIRGINIA...Dana Holgorsen is not feeling as much heat as a year ago, when a 10-win season earned him a contract extension. More good news when Florida transfer QB Will Grier gained eligibility for the fall to succeed Skyler Howard, perhaps giving the Mounties their best QB since the days of Geno Smith. There are questions about a rebuilt "D" that lost 8 starters from a better-than-expected 2016 platoon, probably precluding a serious move in the rankings, but Morgantown remains a hostile venue for those Big 12 foes who have to make a l-o-n-g trip north each fall.


31-UTAH...Kyle Whittingham has stabilized the Utes in the upper-tier of the Pac-12, and problems elsewhere in the Pac-12 South mean the Utes might be the most-serious challenger to USC, which suffered its most recent loss at Salt Lake City last September and has lost two of its last three vs. Utah. Whittingham returns playmaker QB Troy Williams, but there is some rebuilding to be done on both lines and at the other skill positions. The Utes have elevated enough to suggest they won't drop too far from recent 9-win seasons, but Whittingham does have a few more questions to answer this fall. 32-ARKANSAS...Feeling some heat in Fayetteville is HC Bret Bielema, whose 2016 Razorbacks blew almost as many leads as the Cincinnati Reds bullpen. None were worse than coughing up a 24-0 halftime edge vs. Virginia Tech in the Belk Bowl. There is hope that the "D" upgrades under new coordinator Paul Rhoads, the former Iowa State HC and member of the Bielema staff LY when Arkansas allowed a staggering 39 rush TDs. If Rhoads' new 3-4 looks resonate, the Hogs have a chance, as QB Austin Allen & RB Rawleigh Williams return as offensive linchpins. But Razorback fans are getting tired of the .500-type seasons that Bielema keeps delivering. 33-COLORADO...While many Pac-12 sources believe CU is due to for a downgrade after last year's surprise emergence, we're not so sure, as QB Steven Montez was effective in relief of the graduated Sefo Liufau a year ago, and nine starters are back from an "O" that scored better than 31 ppg. There are legit questions on a "D" that lost 8 starters plus coordinator Jim Leavitt (to Oregon), which makes another Pac-12 South crown unlikely. But much regression is unlikely under 5th-year HC Mike MacIntyre, who has to be credited with a Ulysses S. Grant-type reconstruction job in Boulder. 34-BOISE STATE...Maybe the Mountain West has caught up with Bosie State; the Mountain half of the loop certainly has, as those foes have won 5 of the last 9 vs. the Broncos since midway in the 2015 season. For the Broncos to reclaim their accustomed perch on top of the loop will require jr. QB Brett Rypien displaying a bit more consistency and HC Bryan Harsin's defense to absorb the loss of seven starters. 35-UCLA...The party line from Westwood is that injuries along the OL and to QB Jose Rosen wrecked the Bruins' 2016 campaign. That's partly true, but HC Jim Mora had earlier wrecked the offense by trying to turn it into a Pac-12 South version of Stanford, and Mora has hurriedly tried to correct that mistake by hiring new o.c. Jedd Fisch off of Jim Harbaugh's Michigan staff. The Bruins have been recruiting too well to flounder again at a 4-8 record, but the big buyout on Mora's contract will decrease after this season, and the UCLA support base is angered that crosstown USC has once again seized local momentum.


36-NAVY...By now it should be apparent that Ken Niumatalolo is a special coach in Annapolis, having sustained the momentum built during the Paul Johnson years. The recent move to the American has not harmed the Mids, whose option "O" will remain a difficult change-of-pace for conference foes (much as Air Force in the Mountain West). Annual personnel reloads have not been much of a concern, and QB Zach Abey showed promise in the close bowl loss to La Tech after struggling at the outset following an injury to starter Will Worth. The Mids are most concerned about winning back the Commander-in-Chief's Trophy after losing to both Air Force and Army last season. 37-MEMPHIS...The new flavor of the month in coaching circles this December could be Mike Norvell, whose first Tiger side hardly missed departed QB Paxton Lynch, with former juco and Tennessee transfer Riley Ferguson providing a mostly-seamless transition. Much of the "O" that scored almost 39 ppg returns, though the stop unit ranked in the bottom half of most national stat categories. A potential "statement" intersectional looms at the Liberty Bowl on Sept. 16 when UCLA makes a visit. 38-TOLEDO...The MAC usually has one team that threatens a breakthrough into the rankings and this season it might be the Rockets filling that role. With good reason, as Toledo might have the MAC's best QB (Logan Woodside), plus plenty of depth and a stable of established receivers and promising runners. And by MAC standards, a "D" that returns 7 starters is robust. A breakthrough like Western Michigan a year ago might not materialize, but Toledo looks the best of lot in the MAC, with HC Jason Candle perhaps the next league coach to move up the ladder. 39-SOUTH CAROLINA...Will Muschamp still has his detractors, but for the first time might have a legit big-time QB in soph Jake Bentley, who hinted at real upside once he took over the job last fall. The "O" needs to post better numbers, but almost everyone (10 starters) returns on the attack end, and Muschamp's defense has several established playmakers. Any upgrades on offense would make the Gamecocks a darkhorse threat to steal what has been a suspect SEC East in recent years. 40-WESTERN KENTUCKY...A perfect bridge between the regimes of HCs Jeff Brohm (who moved to Purdue) and newly-arrived Mike Sanford, Jr. (most recently o.c. at Boise State and Notre Dame), might be productive sr. QB Mike White, the former USF transfer who passed for 4363 yards and 37 TDs a year ago, often while sitting out the second half off many blowout Hilltopper wins. Sanford will introduce more Boise-like shifts and motion looks to an "O" that led the nation in scoring (45.5 ppg), though most of the extremely-productive skill position weapons from 2016 have graduated. Still, WKU looks the best in C-USA, and running the table is not out of the question with only Illinois and Vandy (which beat the Tops in OT last September) standing in the way outside of C-USA, which WKU has won two years running.

NEXT UP: NFL DIVISION PREVIEWS!
Return To Home Page