7480...
TGS 2017 COLLEGE FB PREVIEW
...A LOOK AT THE INDEPENDENTS

by P. Carl Giordano, Managing Editor

We conclude our college previews for the summer with a look at the Independent entries. Teams are listed by projected power ratings, with last season's straight-up, spread, and "Over/Under" results included.
NOTRE DAME (SUR 4-8; PSR 4-8; O-U 6-6)...It's been a rocky road in recent seasons for Brian Kelly's Fighting Irish. Almost every year has had some sort of off-field problems or key injuries. From 2010 to 2015 there were an assortment of arrests, the Manti Te'o girlfriend hoax, and a half-dozen players declared academically ineligible (including 2013 starting QB Everett Golson). In 2016, six more players were arrested in preseason (including key defender S Max Redfield), and ND lost starting WRs Torii Hunter for three games and Corey Robinson for the season due to concussions. In addition, starting TE Alizé Mack was forced to redshirt due to academic deficiencies. The secondary was similarly ravaged by injuries, losing two of its top three cornerbacks in addition to Redfield's dismissal.



FOOTBALL COMING SOON...TGS 2017 EARLY DEALS NOW! ...

Click here to order


After 55 wins in Kelly's first six seasons, last year's 4-8 record was a disappointment to say the least. It was Notre Dame's first losing mark since the 2007 when the Irish were 3-9 under Charlie Weis (is Weis still getting a check on that horrible contract? If so, is it offset by what Weis might still be getting from Kansas after subsequently being fired by the Jayhawks?). With the heat undoubtedly turned up on Kelly, he did what any self-respecting head coach would do...change his coordinators. Kelly didn't even wait for last season to conclude before ousting d.c. Brian VanGorder, who walked the plank in late September after an embarrassing home loss to Duke, and o.c. Mike Sanford Jr. left for the Western Kentucky HC job in mid-December, before Kelly might have moved to replace him. Enter Chip Long (o.c. at Memphis last season) and Mike Elko (d.c. at Wake Forest the last three years and at Bowling Green the five previous seasons). Those two will have 15 returning starters to work with from a squad that lost just 17 offensive and defensive lettermen. The 2016 stats weren't indicative of a 4-8 season for the Irish in 2016 (other than the win total, that is). ND outscored opponents by 3.1 ppg last year and outgained foes by 39 ypg.


With QB DeShone Kizer now with the Browns and Malik Zaire having transferred to Florida, Long's offense will be in the hands of dual-threat soph Brandon Wimbush. Wimbush barely saw the field in 2015 and redshirted last year, but the feeling is that he is a perfect candidate to execute Long's run-pass option scheme. The New Jersey native was named the state's Gatorade Player of the Year after throwing 37 TD passes against just four ints. in 2014. His speed (10.8 100 meters; 22 flat 200 meters) is exceptional, and, at 226 lbs., he doesn't go down easily. Four returning OL regulars have combined for 75 career starts and include a pair of projected NFL first-round picks. That unit should power last year's top rusher, jr. Josh Adams, to a 1000-yard season. Adams has gained 1768 yds. (6.4 ypc) with 11 TDs in his first two seasons despite dealing with a hamstring injury last year and making just nine starts. Dexter Williams showed promise as a backup, gaining 5.1 ypc and scoring three times. Jr. WR Equanimeous St. Brown had a massive breakout season in 2016 after making just one reception as a true frosh in 2015. St. Brown topped the Irish with 58 catches for 961 yds. and a team-high nine TDs as a soph, and leads a group returning eight of its top nine receiving leaders.


The defense definitely had some issues, as injuries sapped the depth chart last year. The Irish were 72nd against the run at 182 ypg, and 79th in pass efficiency defense. Notre Dame's 14 sacks were its fewest since the NCAA started keeping the stat in 1997. The opponents' completion percentage of 61.7% was the worst mark for the Irish "D" since 2010. The defensive line loses its best player, and attrition has already hurt the depth chart. Jr. 6-7, 308 DT Jerry Tillery must stay healthy, as there ND has no quality backup for him. Jr. DT Jonathan Bonner has made just 14 tackles and only one start in the last two seasons. The DEs are in a bit better shape, as vet sr. starter Andrew Trumbetti had eight starts and 26 Ts LY, but soph Daelin Hayes moves into a starting role on the opposite flank after playing as a reserve as a true frosh LY. The back seven returns five full or part-time starters, led by sr. MLB Nyles Morgan (team-high 94 Ts & 4 sacks LY) and jr. rover Drue Tranquill, who was second on the team with 79 stops. New coordinator Elko was a magician at BG and Wake Forest, and there's certainly more talent on hand in South Bend than he had at those stops.


Summary: If Kelly can shepherd his team through August and into the opener against Temple without arrests, serious injuries, or academic suspensions, it will be a first for him at Notre Dame. If that happens, a major bounce-back season for the Irish and a return to the 10-win level might be in the cards. If not, the war drums, beating loudly after last year's 4-8 mark, might rumble enough to force Kelly to find an escape route out of South Bend.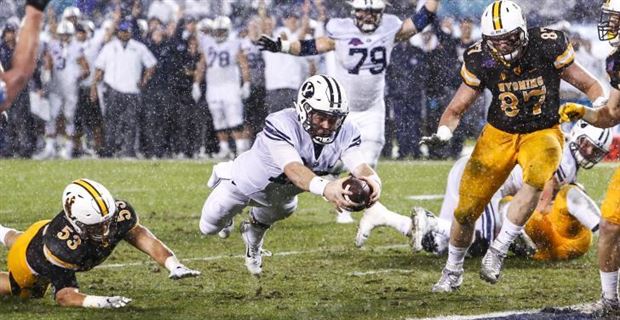 BRIGHAM YOUNG (SUR 9-4; PSR 9-4; O-U 3-10)...BYU HC Kalani Sitake was undoubtedly stressing over his team's poor luck in late September last season. Sitake's agonizing first four weeks as a major college head coach resulted in a 1-3 straight-up start, with the losses coming by a total of seven points. (The fact that BYU covered all four of those games was likely of little solace to him). But Sitake he made adjustments, the ball started bouncing his way, and the team won eight of its last nine games, including a Poinsettia bowl victory over Wyoming.


BYU welcomes back 13 starters and should maintain the form that's carried the Cougars to 12 straight bowl appearances and an average of nine wins a season since 2005. The offense will be triggered by jr. Tanner Mangum, who threw for 3377 yards in 2015 while replacing injured starter Taysom Hill. The latter played most of the way last year, his senior season. Mangum saw action sparingly in 2016, throwing just 33 passes, but he has a 26-11 TD-int. ratio in his career, completing 60% of his passes. The Cougars generated 33.7 ppg with Mangum at the controls in 2015, although they scored just 20 ppg against Power Five teams that season, padding the team average with outbursts against Wagner (70), Fresno St. (52) and Utah St. (51).


Mangum will be protected by a vet OL returning four starters from a year ago. The Cougars had given up an average of 34½ sacks from 2012 to 2015, but they cut that number to 26 last season. There will be new starters at the wide receiver positions, but sr. wideout Jonah Trinnaman had 28 catches last year, and a pair of sophs have shown promise. The H-back/TE position is getting a bit crowded. WR Moroni Laulu-Pututau (27 receptions LY) is making a move to TE, and resident 2016 starter Tanner Balderree had 13 catches. Now, 6-5, 230 "true freshman" Matt Bushman will make his debut for the Cougars. Bushman was the offensive star of the spring game and was one of the top prep TE prospects in 2014 before committing to BYU and then leaving for his Mormon mission to Chile. It won't be easy replacing the top three Cougar pass catchers, but BYU recruits receivers well.


The Cougs lose the team's career rushing leader, Jamaal Williams, and will lean on jr. Squally Canada (315 YR, 4.3 ypc LY). Soph K.J. Hall had 35 carries for 184 yds. (5.3 ypc), but the wildcard in the RB equation is Ula Tolutau, "Mr. Football" in Utah in 2013 when he had 2465 YR and 31 TDs as a senior. Tolutau is another mission-delayed "true freshman," although he originally committed to Wisconsin during the short-lived Gary Andersen regime in Madison. When Andersen skipped to Oregon State, Tolutau re-evaluated his options and decided on BYU.


The Cougars return seven starters from a stubborn defense that ranked 14th at 19.5 ppg and was ninth against the run (3.4 ypc). The strength of the unit is the LB corps of sr. Fred Warner (team-high 86 Ts), jr. Butch Pau'u (83), and jr. Francis Bernard (80). The defensive line will require some rebuilding, but there are several players with starting experience remaining, led by sr. NT Kesni Tausinga. Jr. DE Sione Takitaki returns to the team after taking a year off from football in 2016, and the coaches are very high on soph DE Trajan Pili. Takitaki is a proven pass-rusher, and pressuring QBs is an area of concern and emphasis for d.c. Ilaisa Tuiaki.


The secondary has three solid starters, but will miss ball-hawking S Kai Nacua, the team's biggest defensive playmaker LY with six interceptions. There are a number of candidates for Nacua's job, including transfers from Utah, Washington St., Texas Tech, and true frosh/former prep star Chaz Ah You. BYU allowed 252 ypg passing last year, ranking 96th in the country, and was just 69th in pass efficiency defense, so it's not as if the graduated players keyed a "no-fly" zone in 2016.


Summary: All four of BYU's losses last season came by a field goal or less, so some might call the Cougars unlucky. But they also collected a pair of two-point decisions in their favor, and they were 7th in TO margin last season (+12), so some might say they were lucky. The key question for the Cougars in 2017 involves Mangum's ability to regain the clutch form he exhibited as a "youngster" in 2015 with a rebuilt group of receivers. With LSU, Utah, Wisconsin, and a visit to Mississippi State in the first half of the schedule, cracking double-digits in wins looks like a tough ask, even with a 13th game (at Hawai'i) on the schedule this season.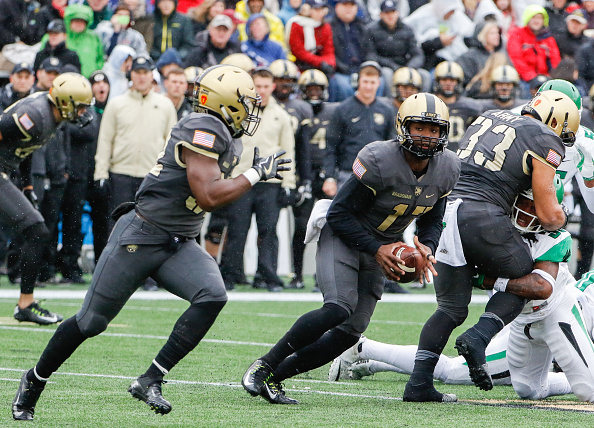 ARMY

WEST POINT

(SUR 8-5; PSR 7-6; O-U 5-8)...Army HC Jeff Monken was just 6-18 in his first two seasons at West Point, but last year the Black Knights posted eight wins, their most since 1996. One of those victories was more important than any of the rest (all of the rest, West Pointers might say), as Army beat hated rival Navy, ending a torturous 14-game losing streak against the Midshipmen.


The Black Knight option offense returns nine starters, including its top five rushers, top three QBs, and three of the top four receivers. The offensive line brings back four starters and will feature four seniors this fall. That group powered a rushing attack that was second in the nation, churning for 340 ypg on the ground. In 2016, Army scored the most points (29.9) it has since 1997. Key option triggerman Ahmad Bradshaw rushed for 824 yds., but it's a good thing the Black Knights don't rely on his passing (703 YP, 44%, 4-9 TD-ints.). He's backed by jr. Chris Carter (263 YR, 6.1 ypc), who's made three starts relieving Bradshaw the last few seasons. Star FB Andy Davidson led the attack with 961 yds. and 12 TDs, grinding for 5.1 ypc. Jr. fireplug (5-9, 225) backup FB Darnell Woolfolk, jr. A-back Jordan Asberry, and soph A-back Kell Walker combined for 1399 YR and 16 TDs. The backfield is very deep, and the option rebounded significantly in 2016 (340 ypg overland vs. 244).


Army's defense ranked fourth in the nation last season, allowing just 292 ypg, albeit the Black Knights' schedule didn't exactly stack up against the likes of Ohio State, which ranked sixth defensively (or even Temple, for tht matter, which was third). Aside from the weak opposition, improved execution had a good deal to do with the West Point's lofty defensive ranking. The Black Knights' option attack continually burned the clock, slowing games to a crawl, effectively playing "keep-away" from opponents, keeping the team's defense fresher while on the field. The 2017 "D" will miss playmaking LBs Jeremy Timpf and Andrew King, who combined for 209 tackles in 2016. The graduation of top pass defender Xavier Moss (4th leading tackler with 57) is another hole to fill.


The top returning defender is sr. LB Alex Aukerman, who was third on the squad with 59 stops last season, while leading the team with 7½ sacks. Timpf and King will be replaced by a pair of seniors who both have a good deal of playing experience. Bayle Wolf (Beowulf? Was his mother an English Lit major?) and Scott Washle have both started at LB for Army in their careers, and each appeared in 12 games last year. Holdover jr. LB Kenneth Brinson started every game in 2016 and had 45 Ts, four sacks, and a pair of interceptions.


The secondary has made major strides the last three seasons under Monken and d.c Jay Bateman. In 2014, opponents threw for 238 ypg and completed 67.4% against Army. In 2015 the defense improved to 210 ypg passing and 60.7%. And last year it was 170 aerial ypg and 56.5%.


The defensive line has two of three starters returning in senior NG Andrew McLean and DE John Voit. Those two helped Army hold foes to 3.9 ypc. Voit had three sacks, contributing to the Black Knights' 26 on the season, the most for West Point since the NCAA began keeping that as an official stat.


Summary:

On paper, Army should continue to turn the corner with its football program. Eight wins and a bowl appearance should be within its grasp again, especially considering how many starts and how much offensive production returns. After all, home games against Fordham, Buffalo (2-10 LY), UTEP (4-8), Duke (4-8), plus visits to Tulane (4-8), Rice (3-9), and North Texas (5-8) are all very winnable contests. A victory over Eastern Michigan or Temple wouldn't be a shocking result. Those are nine potential wins. An upset victory over Navy or Air Force would make ten. On the less-optimistic side, Army hasn't posted back-to-back winning seasons since 1990, and the last time the Black Knights beat Navy, they followed the triumph by going 3-33 in the next three seasons. That being said, with a senior-laden starting lineup, expect Monken to guide Army to at least six or seven wins. These days that's good enough to return the Black Knights to a bowl. Army hasn't gone to back-to-back bowls since the middle of Ronald Reagan's eight-year tenure in the White House (1984-85). Go Army! Beat Navy!



MASSACHUSETTS (SUR 2-10; PSR 7-5; O-U 7-5)...Massachusetts HC Mark Whipple has gone just 8-28 in his first three seasons since his return (following his I-AA tenure with the team, 1998-2003). Interestingly, that represents an improvement over his predecessor, Charley Molnar, who was 2-22 in two seasons before Whipple took over. Whipple has had made a little progress recruiting and has enlisted some impactful transfers. But the few wins UMass has garnered the last two seasons have come against the likes of Wagner, Florida International (twice), and some bad MAC teams.


The key to the UMass attack this season lies in the success or failure of an inexperienced offensive line. Four sophomores are projected as regulars, and holdover jr. G Jake Largay and left tackle Raquan Thomas combined for just six starts last season in the positions in which they'll line up this fall. The Minutemen rushed for just 3.3 ypc last season, and allowed a whopping 45 sacks. Most of the top skill players return, and considering the struggles of last year's OL, it's a wonder their individual stats weren't much worse. Jr. QB Andrew Ford (a Virginia Tech transfer) made nine starts and was hot down the stretch. With the lack of pass protection, his 303 ypg passing and 16-7 TD-int. ratio over the final six games is remarkable. In the team's first three games, the offense gained 3.7 yds. per play. In the last nine games of 2016, after Ford took over the attack, it averaged 5.8.


Ford's top targets return in sr. TE Adam Breneman (Penn State transfer; 70 catches, 8 TDs for the Minutemen LY) and jr. WR Andy Isabella (62 recs., 7 TDs), along with top RB jr. Marquis Young (898 YR, 4.6 ypc). Interestingly, Ford and Breneman were high school teammates. Speedy waterbug (5-9, 174) RS frosh WR Brennon Dingle sat out 2016 for academic reasons, but was impressive in fall camp and dazzled with 100 receiving yards in the first half of the spring game.


The defense, which ranked 108th in points allowed at 35.5 pg and 120th in pass efficiency "D" in 2016, has a new coordinator. Tom Masella was shown the door in January and was replaced by Ed Pinkham, who held the same position at Western Michigan the last four years. In that span, the Broncos went from allowing 35.4 ppg in 2013 to just 19.8 ppg last season. Pinkham was also the d.c. at Rutgers when the Scarlet Knights led the nation in tackles for loss in 2009, so hopefully he can help put some pressure on opposing QBs and improve the pass defense. Pinkham teaches aggressive and disruptive football, and he has some building blocks with whom he can work. Senior MLB Steve Casali (team-high 105 Ts in 2016) and DE Da'Sean Downey combined for 9½ sacks last season. Senior strong safety Jesse Monteiro was second on the team with 73 stops, and sr. LB Colbert Calhoun had 58 tackles (4th on the team). In total, eight projected defensive starters are seniors, so they're experienced. But the experience they've received resulted in yielding 33 ppg and 450 ypg over the last three seasons.


Summary: Whipple was a QB at Ivy rep Brown in the late 1970s and has served as an offensive assistant for three NFL teams. He's done a fair job acquiring and improving skill players at UMass. However, the defense hasn't improved much (if at all) since his return to the Minutemen for a second term. The Minutemen have given up 620 yards or more four times in the three years since Whipple replaced Molnar, three of those games ranking as the bottom-three worst efforts in school history. Clearly he realized he needed additional help on that side of the ball. The problem has been addressed with the hiring of Pinkham and by importing some jucos to shore up the depth chart. With Coastal Carolina, Georgia Southern, and Maine on the schedule, it's possible that UMass will exceed last year's win total (just two), but that's likely the ceiling for Whipple's Minutemen this year. The other nine 2017 opponents were all bowl teams last year, and UMass hasn't beaten a bowl team since moving up to the FBS in 2012.

NEXT UP:

TGS

COLLEGE FB TOP 40
Return To Home Page