7475...
TGS 2017 COLLEGE FB PREVIEW
...A LOOK AT THE SUN BELT--PART II

by Chuck Sippl, Senior Editor

We conclude our preview of the Sun Belt in Part II, with teams once again presented in order of predicted finish (from 7-12). Last year's straight up, spread, and "Over/"Under" records are included.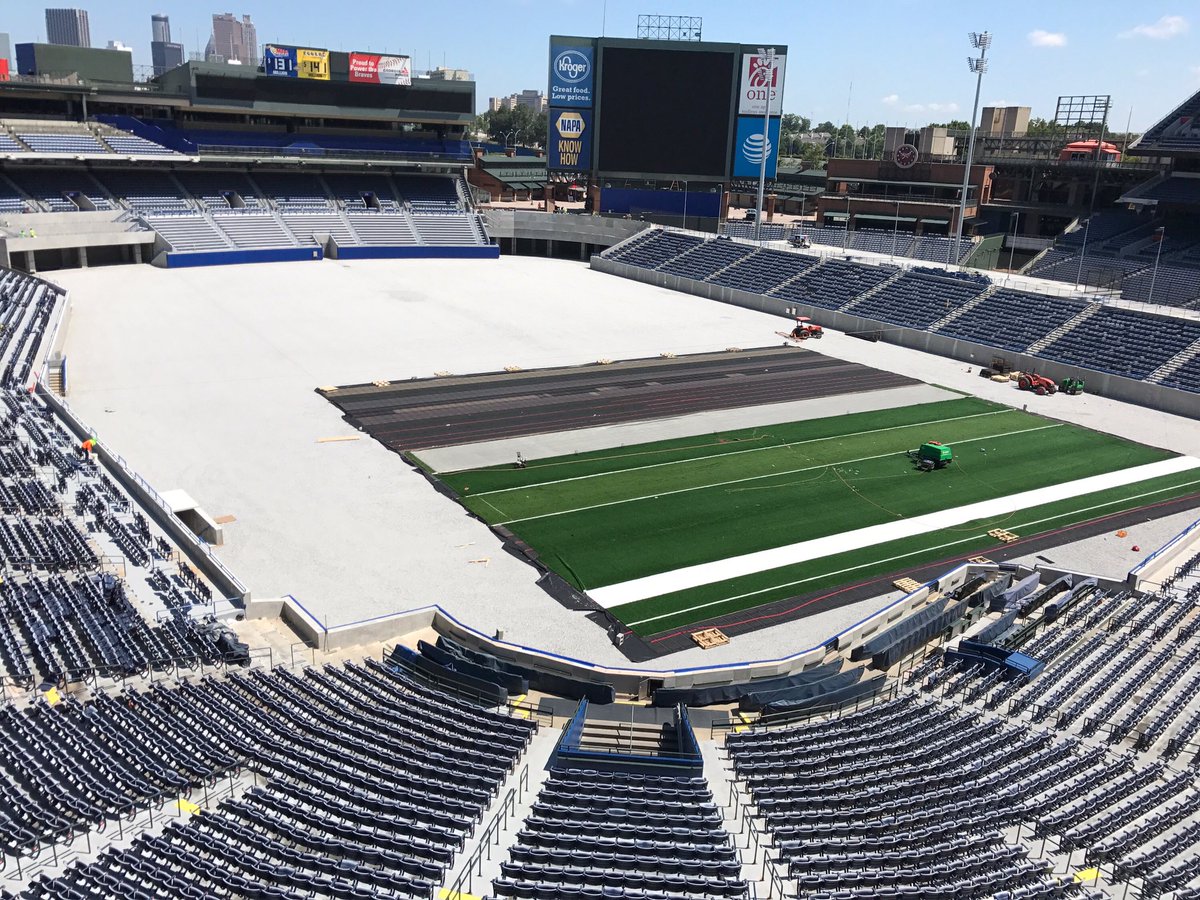 GEORGIA STATE (SUR 3-9; PSR 7-5; O/U 4-7-1)...It's back to the drawing board for Georgia State after (mostly) four years of Trent Miles (who went 9-38). Counting Bill Curry's 1-10 in 2012 and 1-1 late LY under interim HC Tim Lappano, the Panthers are now 11-49 in five years since moving to the FBS level. So the bar remains pretty low in Atlanta at the century-old, mostly-commuter, urban school of nearly 50,000.

But big changes are underway at GSU, which moves this season from its cavernous former home field at the 77,000-seat Georgia Dome (which closed off the upper decks and reduced capcity to about 28,000 for Panther games) to its new cozier stadium of 23,000. The newly-named Georgia State Stadium is the renovated, down-sized former Turner Field, the one-time home of the Braves. With not much more than minimal progress on the gridiron, the GSU "suits" decided to make a change at the head of the football program.



FOOTBALL COMING SOON...TGS 2017 EARLY DEALS NOW! ...

Click here to order

So incoming is Shawn Elliott, the long-time OL coach at South Carolina who went 1-5 as interim HC after Steve Spurrier abruptly retired midway through 2015. Elliott has set out to re-establish balance to Miles' pass-heavy offense. And, showing his believe in the importance of offensive line play, Elliott says he plans to build the Panther progam "from the center out."


GSU's three victories last season were posted vs. defenseless Texas State, FCS member Tennessee-Martin, and vs. Sun Belt rival Georgia Southern. But one thing is certain. The 44-year-old Elliott has inherited a better team than did Miles when Miles took over in 2013.


For one thing, eight starters return on defense, including 6-5, 275 DE Mackendy Cheridor, who has blossomed from a skinny OLB as a freshman to possible having a shot in the NFL. Cheridor should be able to build on his 7½ career sacks this season, as two other starters return in the front three, and three of four in the secondary. Starting CBs Chandon Sullivan and Jerome Smith each nabbed 3 ints. LY, as did top backup corner B.J. Clay. Another veteran, jr. OLB Michael Shaw, recorded 3 sacks and 12 TFL. Overall last season, the Panther defense allowed 26.6 ppg, 54th in the nation, and not that bad in the world of the Sun Belt. First order of business, however, will be to shore up the run defense (207 ypg; 95th in the country).


On offense, the situation for Elliott is not so clear. However, the Panthers start with an experienced nucleus up front, with 4 of 5 OL starters returning. That is good news for Elliott, who has been involved with OL play since 1999 in the early days of his coaching career. Elliott's top priority this season has been to re-establish the RB position on the team in order to balance out the offense, which was 126th in the country at 88 ypg rushing (only two teams were worse). The top RB after spring was sr. Kyle Neal, who scampered for only 314 yards in LY's spread passing game; he's 5-11, 215 sr. who has rushed for 948 yards in four years, and who was awarded a fifth year of eligibility due to an early knee injury in 2014. 5-10, 190 soph Tra Barnett (107 YR LY) and others will also get early carries. Elliott says there is enough talent in the Atlanta/Georgia area to effectively fill the single-RB slot in the new Panther offense.


The starting QB for this season was not clearly established in spring, but pass-oriented QB Conner Manning (2684 YP, but only 55.5%, 16 TDs, 13 ints. LY) and dual-threat soph Aaron Winchester (53%, 271 YP, 1 TD, 2 ints.) both return. Manning, a former transfer from Utah) started 10 games, and Winchester two. Any improvement at QB should boost the team's total offense from its lowly ranking of 119th LY.


One of the bright spots on the team should be its receiving corps, despite the loss of top target Robert Davis (sixth-round pick of Washington). That's because 5-8 big-play type Penny Hart returns after missing all but two games LY due to injury. The 5-8 speedster caught 71 balls for 1099 yards and 8 TDs as a freshman. Also returning are sr. wideouts Glenn Smith (40 recs. LY) and Todd Boyd (33). Jr. TE Ari Werts (21 recs.) is also back.


HC Elliott himself says he will be directly involved in improving GSU's special team's play.


Summary...With a mostly-experienced team, a new coach with a big-program background, and its own "new" stadium, Georgia State should be able to build on its lowly three wins of 2016. The Panthers should be a "tougher out" at the former Braves' home. Whether that gets them to the first winning record in school history remains to be seen.



GEORGIA SOUTHERN (SUR 5-7; PSR 3-9; O/U 5-7)...Just three years ago, in 2014, Georgia Southern stepped up from the FCS to roll through the Sun Belt with an 8-0 record in the Eagles' transition season to the Football Bowl Subdivision. One year later, GaSo dipped to 6-2 in the Sun Belt, but the Eagles rolled to their first bowl victory, 58-27 over Bowling Green in the GoDaddy. Before joining the FBS, Georgia Southern had racked up six Division I-AA titles between 1985-2000. Proud GaSo seemed to be on its way in the FBS.


But, in 2016, with coach Willie Fritz having left for the challenge of trying to resurrect the program at Tulane, the Eagles got a bit of a comeuppance, dropping to 5-7 overall in their first season under Tyson Summers, and just 4-4 in the Sun Belt. Injuries and some disciplinary issues were part of the problem. But so was Summers' decision to alter GaSo's long-established option offense, seeking to balance the attack a bit. It seemed like a good time to do so, as the Eagles were a mostly veteran team with a senior-oriented offense. So much for that idea, as GaSo's quick-striking ground attack fell from No. 1 in the nation in 2015 at 363 ypg to 29th LY at 224 ypg. Worse yet, the aerial game lingered at 117 last season. Scoring fell from 36.5 ppg in 2015 to 26.5 ppg.


The downturn in the attack, and the decline in the record from 9-4 in 2015 to just 5-7 last year, prompted AD Tom Kleinlein to issue a statement of support for his first-year head coach. So, after just one year of seeking to "modernize" and diversify the GaSo offense, it's back to the past for the Eagles. Last year's co-offensive coordinators have been fired, while incoming is former Georgia Tech backfield assistant Bryan Cook, who coached the triple option under former GaSo HC Paul Johnson for the Yellow Jackets and before that coached a similar system at Cal Poly.


Unfortunately for Cook, the triple-option specialist will be working from virtually the ground up, as the Eagles have lost nearly two dozen seniors from last season, including 8 starters on offense and 6 more on defense. Included in that group were GaSo's primary backfield punch of QB Kevin Ellison and big-play RB Matt Breida.


The new starting QB is likely to be either 6-1 soph Seth Shuman , who was forced into action LY due to injury and had one start, or 5-11 redshirt freshman Shai Werts, who appears to be the better ball carrier. In five appearances LY, Shuman was 34 of 72 passing (1 TD, 3 ints.) with 39 YR. There is returning talent at RB in L.A. Ramsby (who had 816 YR in 2015) and jr. Wesley Fields (who had 492 YR in 2016 after 682 the year before). 5-6 sr. WR Myles Campbell (4 TDs on 31 recs.) returns, while graduate Mike Summers Jr. already knows the offense after transferring from Ga. Tech but then missing LY due to injury.


Three of five starters, plus two other experienced OLmen, return up front, so the offensive forward wall has promise if one of the Eagles' triggermen can master the nuances of the quick-hitting triple option, a task that is not so easy. Also expected to help up front are jr. G Jake Edwards, a transfer from Georgia, and T/G Tommy Boynton, a 2015 starter, felled LY by injury.


One great benefit of a resumption of GaSo's dominant ground attack would be help for the rebuilding Eagle defense, which must replace seven starters and lost 7 of its 9 top DLmen from LY. Moreover, the GaSo stoppers collected only 9 ints. and 11 sacks LY, far from enough to win.


There are a few bright spots on defense, those being 340-pound sr. NT Darius Sapp, sr. ILB Chris DeLaRosa (missed half of LY due to a high-ankle sprain), and emerging jr. S Joshua Moon (72 Ts and 2 ints. LY). To boost speed, soph Lane Becton was moved from S to OLB in the spring. Juco OLB Tomarcio Reese is expected to win a starting job in the fall.


The Eagles will also have a new kicker, as Younghoe Kim (19 of 20 FGs LY) has graduated.


Summary...Lots of question marks for the Eagles in 2017, including QB, the passing dimension on offense, the rebuilt defense, kicker, and even the head coach in Tyson Summers. There are a few advantages in the schedule, even considering September "payday" games at Auburn and Indiana. However, this appears to be a rebuilding year for prideful Georgia Southern, which will have to scuffle to make even the most obscure of bowls.



ULM (SUR 4-8; PSR 6-6; O/U 9-3)...
Considering the "overall" in 2016, it was not a terrible season for the Warhawks. It was ULM's first under Mike Viator, who helped build McNeese State of Lake Charles, LA, into a regular FCS playoff contender. It was also the first losing season for Viator in his 11 years as a head coach. Viator, who took over a Monroe team that was 2-11 in 2015, made some progress last season despite the injury absence of scrappy QB Garrett Smith for six games, not to mention missing several other important players up and down the roster.
The result was an ever-changing, too-small, too-thin ULM lineup that was often overwhelmed. The Warhawks were 110th in scoring (23.2 ppg), 122nd in points against (39.1), 125th vs. the run (260 ypg), 119th in total defense, 113th in interceptions, and 109th on third-down defense.


Still, to their hard-trying credit, the Warhawks doubled their win total of 2015, scoring victories over Southern, Texas State, South Alabama, and Georgia State. But Viator knows that in order to move up in the increasingly-competitive Sun Belt, his team needs to get bigger, deeper, and more athletic...and in a hurry. Thus, five juco newcomers were signed in February, those being 6-6, 355 OL Joquavius Savage, TE Sloan Spiller, CB J.J. Dallas, S Collin Turner, and S Rhoy Williams. Plus, a couple of 300-pound freshmen for the OL and one near 300-pounder for the DL. Overall, there is now more speed at WR, LB and DB. It's a start.


QB Garrett Smith (if healthy), now an experienced junior, should have a good chance to improve his two-year frosh/soph numbers of 57%, 3270 YP, 26 TDs and 18 interceptions. If there are early struggles, 6-4 soph Caleb Evans showed development under Viator down the stretch in four starts LY, plus further improvement in spring. The Warhawks' top four RBs return, plus freshman Javin Myers and former Alabama RB/STs player Derrick Gore, who comes aboard with two years of eligibility remaining. Three of five OL starters are back, but the OL platoon still remains youthful overall. An experienced cast of wideouts is back, with juniors Xavier Brown (25 recs., 17 ypr) and RJ Turner (23 recs., 18.8 ypr) demonstrating big-play potential.


Eight starters are back on defense, looking for help after being bowled over for 5.7 ypc LY while collecting only 17 sacks and 6 interceptions. Jr. LB David Tucker is the leader of the stoppers, with 78 tackles and 4 sacks. But at 6-0, 211, he remains undersized. Same for soph LBs Chase Day (70 Ts) and Cortez Sisco (60). Jr. NT Tyler Johnson only goes about 285 in the middle. Hustling sr. DE Caleb Taylor (3 sacks LY) is only about 232. You get the idea. Even so, in his second year of running his 4-2-5 nickel base defense, d.c. Mike Collins should have his charges playing more instinctively and at a faster pace, and he owns a few more bullets in the chamber.


Summary...Viator, an established winner, is out to improve the basics TY. He wants to "run it" better and 'stop it" better. If the HC can keep experienced QB Garrett Smith healthy through the Warhawks' first two games (at Memphis and at Florida State), he's got a chance to throw up a few roadblocks in the Sun Belt race. ULM gets a late-season chance to surprise Auburn, as the Warhawks serve as the Tigers' "tune-up" before Auburn's Nov. 25 battle with some team from Tuscaloosa.
NEW MEXICO STATE (SUR 3-9; PSR 7-5; O/U 6-5-1)...As with Idaho, this is the final season for New Mexico State in the Sun Belt. With Coastal Carolina joining the league this season, the SBC is ending its football relationship with those other two schools, thus dumping those two western outposts, and shrinking into ten teams in two divisions next season, with a December title game. So the Aggies will be shunted to the independent ranks after TY, their fourth in the league.


Also, like Idaho, the pending expulsion provides motivation for N.M. State to go out with a flourish. And there appear to be some reasons for optimism in Las Cruces, as the Aggies return a veteran backfield, their top five pass catchers, a promising OL, and eight starters on an improving defense.


NMS got some good news earlier TY when QB Tyler Rogers (55.5%, 2663 YP, 16 TDs, 12 ints. LY) was granted another year of eligibility due to an injury in 2015. The 6-3 sr. still needs to boost his stats, but there are few coaches in the nation who would turn down a QB with 2½ years of experience and decent running ability (333 yards LY).


But the key player on the attack is elusive Larry Rose III, a third-team A-A in 2015 when he dashed for 1651 yards, caught 30 passes, and totaled 16 TDs. Last season, Rose (865 YR) got off to a slow start, missing the first three games altogether and then taking a while to get up to full speed following hernia surgery. Three starters in the OL (and six OLmen with starting experience) return, including impactful sr. RT Dezman Candelarie (6-3, 315) and still-improving soph LT Sage Doxtater (6-7, 325).


The Aggies (24.8 ppg LY) should be able to score plenty of points, when at their own level. In LY's 3-9 campaign, NMS beat rival New Mexico 32-31, Louisiana 37-31 (2OT), and Sun Belt whipping boy Texas State 50-10. It's a lack of defense that has kept the Aggies down. Last year, it was 38.8 ppg and 497 ppg (both121st in the nation). The allowance included 244 ypg on the ground, 5.3 ypc, and 31 TDR. Sixty-four per cent through the air.


But there are several reasons for hope in 2017, even though the team's top two projected NTs (Kourtland Busby and Darius Anderson) were dismissed from the team following spring. Also, LY's stalwart MLB Rodney Butler has moved on after leading the nation in tackles LY with 165!


Obviously, Butler needed more help in 2016, even though former Boston College coach Frank Spaziani trimmed nearly a TD off 2015's points allowance. Now in his second year, Spaziani has more "beef on the hoof" this season even with the loss of NTs Busby and Anderson. Exhibit A is the current projected Aggie DL of 6-6, 278 graduate transfer Calvin Allen (via Arizona), 310-pound soph Allen Lopez, 310-pound redshirt freshman Myles Vigne, and 6-1, 320 juco DeShaunte Lloyd.


Even with some time needed to jell, such heavy "horses" up front should aid returning OLBs Dalton Harrington (113 Ts LY) and Terrill Hanks (103). And Spaziani has some candidates to start in the middle in 6-1, 230 juco Lui Fa'amasino and 6-1, 225 jr. Javahn Ferguson (who missed last season due to injury after being a contributor in 2015).


The secondary has experience, but the Aggie allowance of 32 big plays of 30 yards or more last season is an indication that coverage remains a concern. However, the Aggies have one proven playmaker in 212-pound senior safety Jaden Wright. Even with LY's defensive shortcomings, Wright nabbed 5 ints. and forced 4 fumbles. Lack of depth of quality defenders LY also partly explains the allowance of 4 punt return TDs in 2016, plus another via kickoff return.


Summary...

In his four years at New Mexico State, Doug Martin's teams have gone 2-10, 2-10, 3-9 and 3-9. While that's in a positive direction by definition, it will take a long time at that rate to top .500. The Aggies' last bowl appearance was the Sun in 1960! On paper, New Mexico State should be improved in 2017, more versatile on offense and bigger up front on defense. But the schedule is quite testing, with road games at Arizona State, New Mexico, and Arkansas. Coincidentally, on their last eight-game Sun Belt slate, the Aggies face all six of the league's 2016 bowl participants.



COASTAL CAROLINA (SUR 10-2 in 2016 vs. an FCS schedule)...Coastal Carolina is in the second year of its transition to the Bowl Subdivision. But the Chanticleers of Conway, South Carolina (outside Myrtle Beach) has something no other Division I coach has—a head coach who is chairman of the board of a major American corporation. Joe Moglia, who was 16 years a football coach and author before leaving to become a Wall Street mogul, is chairman of the board of discount trading firm TD Ameritrade.


Since re-shifting his primary career to an unpaid assistant to Bo Pelini at Nebraska in 2009, later to become the head coach at CCU, the 68-year-old Moglia has excelled once again, posting a 51-15 mark in five years with the Chanticleers. Coastal made the FCS playoffs each of Moglias' first four years, and would have done so again in 2016 if the Chants weren't in the first season of their two-year transition to the Bowl Subdivision. Coastal, which won its last seven games, was ineligible for the postseason LY. The Chants are ineligible for bowl play this season in their first year in the Sun Belt, but they can win the league title.


With only 8 full-time starters back from last season, that might be difficult. But those who have watched Moglia in action say it might be a mistake to "sell him short." CCU's inital FBS schedule is plenty pliable, with the first five games being vs. MAC-jettisoned UMass, re-born UAB, FCS representative Western Illinois, and Sun Belt also-rans ULM and Georgia State. No top 50 foes in that group. So there will be some opportunities for the Chants (37 ppg on offense LY; 19 ppg on defense) is if Moglia's 2017 rebuilding has any success.


But it's first things first for CCU, who must decide on a starting QB. Moglia, who authored Perimeter Attack Offense in 1982 as a Dartmouth's assistant before moving to Wall Street, will have one-time Syracuse QB Austin Wilson (career 1 TDP, 7 ints.) come aboard to battle jr. holdovers 5-9 sr. Tyler Keane (7 starts; 64%, 10 TDs, 2 ints.) and 6-1 jr. Josh Stilley (started first three games LY; knee injury; 33 of 54 LY, 3 TDs, 1 int.).


The Chants will have a new o.c. TY, that being Jamey Chadwell, a spread-option advocate who has been HC the L4Ys at Charleston Southern and now gets a chance at the FBS level. Top RB De'Angelo Henderson (1156 YR in 2016; CCU's career rushing leader) has departed. But sr. Osharmar Abercrombie (1198 career YR) and soph Jah-Maine Martin (171 YR, 6.3 ypc) are back to battle seasoned transfer Marcus Outlow, who saw action in 22 games in two years at Boston College. CCU's attack was run-heavy LY due to multiple QB injuries, but sr. Chris Jones (22 recs.) is a proven WR and also a threat on PRs. The OL returns only 2 of 5 starters, but seems big enough to move up a level.


A step up to a higher level on defense seems a little more dubious for the Chants, as the projected starting DL coming out of spring was undersized, even by Sun Belt standards. Five starters are back from a successful 2016defense that allowed only 3.7 ypc, out-sacked foes 30-12 and collected 21 ints. vs. just six. There appear to be four very key starters for TY's defense, those being sr. DE Marcus Williamson & soph DE Myles White (3½ sacks each LY), 6-1, 240 sr. ILB Shane Johnson (66 Ts), and jr. CB Anthony Chesley (44 Ts and 2 ints. LY).


HC Moglia underwent precautionary minor surgery in July to remove a precancerous nodule from his trachea, but is expected to be ready for camp.


Summary...Coastal Carolina's last game against an FBS team was in 2013 at South Carolina, with in-state "big brother" USC hammering the Chanticleers 70-10. CCU has improved since then, but so has the Sun Belt. Yes, the Chants likely have the wealthiest coach in football (sorry, Nick Saban and Bill Belichick). But you can't buy victories on the football field (can you?). Truly, Joe Moglia has an overall track record of success like few others. But even with a solid FCS mark, FBS fledgling Coastal will have to establish its own level in an improving lower-echelon league that owns several quality programs.



TEXAS

STATE

(SUR 2-10; PSR 5-7; O/U 5-7)...Things have not always been this bad for the Bobcats. In fact, the team (then known as Southwest Texas State) proudly claims a pair of Division II national championships in 1981 and '82 under Jim Wacker. Future successful Division I head coaches Wacker (TCU, Minn.), Dennis Franchione (New Mexico, TCU, Alabama, Texas A&M), and David Bailiff (Rice) all helped build their careers in San Marcos (located between Austin and San Antonio).


But the move up to the FBS in 2012 has not exactly been an easy one for TSU, which has posted only one winning record (7-5 in 2014) and has gone 3-9 and 2-10 the last two seasons. In 2016, the Bobcats' only two victories were 56-54 in triple OT at Ohio and 48-17 over FCS foe Incarnate Word, which began football in 2009.


This will be Everett Withers' second year at the helm, and Withers does have a little pedigree, having led James Madison to records of 9-4 and 9-3 in 2014-15. Before that, he went 7-6 as interim HC at North Carolina, taking over in late July when Butch Davis was dismissed. So even after LY's record, Withers will be given some time to build his program. And, after the Bobcats were 124th in scoring offense (18.6 ppg) and 125th in scoring defense (41.1 ppg), it seems that there is only one direction for Texas State to go.


And, for the first time in four years, their will be a new triggerman for the TSU offense, as Tyler Jones, the Bobcat QB for most of the last four years, has graduated. Often overmatched by opponents, Jones helped gain a few upsets and lots of "hang-in-theres" for TSU, completing 62.6% with 55 TDs and 36 interceptions. Now, the QB at the start of 2017 is expected to be graduate transfer Damien Williams from Mississippi State, who had 23 appearances and one start for the Bulldogs in three seasons, two of them behind current Dallas Cowboys' darling Dak Prescott. While with MSU, Williams hit 68 of 117 (58%) with 5 TDs and 2 interceptions.


While Williams directed the team in spring and will likely get the first crack with the offense, at least one of three incoming freshmen will also get a look. Those three are Jaylon Gipson, a 6-2 dual threat; Kishawn Kelley, a 6-2 do-everyting type; and Willie Jones III, a thin, 6-3 athletic QB. Said HC Withers after spring, "We don't have a starting QB. We will find out what we have in August..."


Jr. Stedman Mayberry (593 YR, 41 recs.) returns, but he was pressed for carries in the spring by soph Anthony D. Taylor and 5-8 redshirt freshman Robert Brown Jr. The strength of the attack will likely be the receiving corps, as the top seven targets return from LY, including 5-8 jr. slot guy Tyler Watts (43 recs.), 5-11 soph Thurman Morbley (35), and sr. TE Gabe Schrade (25).


Only two of five starters return in the OL, but that platoon figured to be a rebuilding project anyway after Texas State yielded 44 sacks and produced only 2.3 ypc. Only 4 teams allowed more QB takedowns.


The DL and secondary are also being rebuilt, but the core of veteran returnees on defense offer the promise of stubbornness vs. foes who might underestimate the Bobcats, who were touched for 40 points or more eight times LY and were bludgeoned 304-93 in the first half. ILBs Bryan London (141 Ts LY) and Gabe Loyd (102) both return and are 6-2, 232. Also returning is 6-4, 240 Easy Anyama, a former Texas transfer who played only three games LY before suffering a season-ending injury.


One of TSU's many defensive problems LY was its depth-shy and undersized DL. HC Withers believes DL help is on the way in the form juco NT recruit Sami Awad (6-1, 300) and true freshman Gjenmar Daniels (5-11, 315). A smaller but more-experienced DL contributor comes on line in the form of 6-4, 270 jr. transfer Grant Lanza from Robert Morris. A little more size and depth up front rarely hurt any team.


The inexperienced secondary will remain a work in progress all season. In spring, jr. WR A.J. Krawczyk was moved to safety and earned a starting job. Last year, the Bobcat defenders notched only 9 sacks and 3 ints., minuscule stats that will be easily topped if there is any improvement at all in 2017.


Summary...Among other statistics reflecting LY's extreme weakness, the Bobcats made just 7 field goals. Only Texas Tech, Cal and Oregon allowed more points, and those three teams play in the "big leagues," regularly facing dynamic opposition, meaning Texas State had the worst defense in the country. The Bobcats have lost eight straight games (3-5 vs. the spread) going into 2017. If Texas State drops its opener to FCS foe Houston Baptist, it could be a l-o-n-g season in San Marcos.

NEXT UP:

INDIES
Return To Home Page