7467...
TGS 2017 COLLEGE FB PREVIEW

...A LOOK AT THE AMERICAN--PART II

by Gary Olshan Chief Analyst

We complete our preview of the American with a look at the West half of the loop. As usual, teams are presented in order of predicted finish, with 2016 straight-up and spread records included.


NAVY (2016 SUR 9-5; PSR 8-4-2)—Navy was surprisingly swept by the service academy rivals Air Force and Army in 2016. But we're still compelled to pick the Middies to win the West Division after sharing it with Houston in 2015 and winning the West outright last year before falling to Temple in the AAC title game. Smartly-coached Navy will reload in 2017 and be a target for fellow West Division schools. And recall, the Middies had to fight through a multitude of injuries last year, with 102 games missed by starters or regular contributors. It all caught up with Navy on its last three games, which resulted in losses to Temple, Army and La. Tech in the Armed Forces Bowl. "All those injuries forced our guys to get closer and continue to work hard, " says 10th-year HC Ken Niumatalolo. "You recognize that injuries are part of the game, but we had way more than our share last year and hopefully that won't happen again."



FOOTBALL COMING SOON...TGS 2017 EARLY DEALS NOW! ...

Click here to order


Four starters are back on the patented triple-option attack (37.9 ppg; 310.1 ypg rushing; 1st nastionally). Zach Abey takes the reins after he was thrust into the spotlight after season-long starter Will Worth went down with a broken foot in the AAC Championship Game. Abey made his first career start in the Army-Navy game and understandably struggled. But the 6-2, 212-pound QB performed much better in the Armed Forces Bowl, with 114 YR and 159 YP. Expect that rapid growth to continue for Abey. Navy does have a proven veteran at FB always the first option in the offense. Powerfully-built 224-pounder Chris High, who figures to be the workhorse, had 546 YR & 7 TDs LY. Diminutive 5-7 178-pound speedster Darryl Bonner became a big-play threat averaging almost 13 yds. per touch! But the Middies must find a go-to WR to replace Jamir Tillman, who finished his career with 91 catches and 10 TDs.


Six starters return to a defense (31.0 ppg; 4.8 ypc) that could be stiffer vs. the run if space-eating 304-pound soph NT Jason Pittman can live up to d.c. Dale Pehrson's expectations by taking on double-teams and hold the point of attack in Navy's system, which counts on the ILBs to make the majority of stops. Micah Thomas (107 tackles LY) was up to the task last season, while rapidly-emerging soph DE Jarvis Polu is on his way to become one of the best at that position in Navy history. Plus, OLB D.J. Palmore, who HC Niumatalolo calls the unit's emotional leader, had 56 tackles LY, including team bests for sacks (6.0) and TFL (11.5).


Run support is further fortified by the seasoned safety duo of Alohi Gilman & Sean Williams, who combined for 150 tackles LY. CB play must display tighter coverage after the Middie pass defense finished 100th nationally LY (254.1 ypg). That stands a good chance to happen if the Navy front seven can apply more pass pressure (only 20 sacks and not many more hurries LY) than it did LY.


Kicking game a positive, with kicker Bennett Moehring nailing 8 of 10 FGs and punter Erik Harris averaging 45.1 yds. on 10 attempts.


MEMPHIS (2016 8-5; PSR 5-8)—Memphis will certainly give Navy a run for the money in the West Division under sharp second-year HC Mike Norvell, who directed the Tigers to their third straight bowl game LY. Norvell, who won the most games (8) by a first-year coach in Memphis history, returns 14 starters and gets to host the Middies in a critical division battle on October 14. Memphis has a good chance for possible 6-0 start before its Navy showdown if it can knock off resurgent UCF in Orlando in Week 2 and Pac-12 contender UCLA in the Liberty Bowl in mid-September. Remember, the Tigers gave the Bruins all they can handle in a tightly-contested 42-35 defeat at the Rose Bowl in 2014.


Eight starters return to a high-powered, uptempo attack (38.8 ppg LY) efficiently orchestrated by sr. QB Riley Ferguson after passing for 3,698 yds. & a program-best 32 TD passes afer being a juco transfer LY. Those numbers could improve in 2017 with Memphis returning record-setting WR Anthony Miller, who came in as a walk-on and led the team in catches (95), receiving yards (1,434) and TDs (14)—all three set school records in 2016! The Tigers will also have a three-headed monster at RB, led by Doroland Dorceus (810 YR, 9 TDs) along with capable Patrick Taylor (5.9 ypc) & Darrell Henderson—the fastest player on squad—who combined for 1,008 yds. & 7 TDs. Four starters return to the OL, bolstered by Harneet Gill, a former Missouri signee slated to take over at LT.


Six starters are back on a defense (28.8 ppg LY) that will undergo some changes after having trouble containing the run (93rd nationally) and pass (89th) in 2016. Coordinator Chris Ball has reduced the defensive package to allow his unit to play at a faster tempo. The Tigers also ranked in the bottom half nationally in sacks and TFL, and Ball desires to correct those shortcomings. The DL needs to be more forceful after accounting for only 11 of the team's 26 sacks in 2016. LB is a team strength, with high-motor sr. Genard Avery (81 stops, 11 TFL, 5 sacks LY), the linchpin of that unit, and blossoming jr. MLB Curtis Akins.


Ball, whose top priority is finding replacements for 6 of his top 8 DBs, has fortunately found immediate help from a pair of Oklahoma transfers—CBs Tito Windham and Marcus Green. Although only 5-9, Windham is a punishing tackler who took first-team reps in the spring and 6-2 Green is the kind of rangy defender to match up against the elite wideouts in the AAC. S Jonathan Cook (88 tackles LY), an ex Alabama-player, will help accelerate the growth in the revamped secondary.


Big void in the kicking game with the graduation of Jake Elliott, one of the most successful kickers in the ptrogram's history. Freshman Riley Patterson, rated among the top 10 kickers by some recruiting experts, is next in line.



TULSA

(2016 SUR 10-3; PSR 8-4-1)—In the wide-open West Division, Tulsa has a chance to be real factor in November under savvy third-year HC Philip Montgomery, who overwhelmingly exceeded expectations in 2016 after winning six games in his debut in 2015. The Golden Hurricane finished 10-3 and a second-place finish in the West, completing the turnaround from the 2-10 season that preceded his hiring. Recall, all that separated Tulsa from the AAC championship game last season was a two-point loss at Navy. The Hurricane should be well-prepared for the conference trail come October, with challenging road trips at Big 12 powerhouse Oklahoma State and MAC contender Toledo in September.


Seven starters return to an offense (42.5 ppg; 527 ypg LY), which has big cleats to fill at QB with the loss of prolific field general Dane Evans, the program's all-time leading passer. Soph Chad President and RS frosh Luke Skipper, who possesses more foot speed but lack arm strength of Evans, continue their competition in the fall for the starting job. Montgomery says, "The next QB has to be the leader of our football team, someone who can get the ball in the hands of guys who make plays for them. Neither has an experience edge, but they've competed well against each other."


Early on, the reformed attack will rely heavily on shifty 5-9 sr. RB D'Angelo Brewer (1,435 YR, 7 TDs), who'll operate behind a seasoned OL (4 starters back), which helped propel the offense to a school-record eight games with at least 300 YR! WR Josh Hobbs (50 catches LY) is the only wideout with significant experience after losing the top two pass-catchers, but there is a stable of young, eager performers ready to contribute, including soph Keenen Johnson, frosh Keylon Stokes and promising 6-3 RS frosh Josh Stewart.
Seven starters are back on a defense (29.8 ppg LY), which lost its top two tacklers from LY. That unit will be anchored by sr. LB Craig Suitts (35 starts; 79 tackles LY) and the sr. DE duo of Jesse Brubaker (team-leading 13.5 TFL, two pick-sixes) and Jeremy Smith (8 TFL & 4 sacks LY). The defensive interior, however, has some serious rebuilding, with the loss of both DTs and the MLB.

Jr. S McKinley Whitfield (2 starts LY), who has star potential, moves into a full-time starting role along side sr. S Jordan Mitchell (61 stops LY), and headlines a secondary attempting to cut down on the explosive plays that have been a recurring issue in recent seasons. Also, to address a lack of speed and depth, six highly-regarded DBs were signed in the offseason and could contribute in the fall. Coaches are hoping the seasoned CB tandem of sr. Kerwin Thomas & soph Reggie Robinson II (combined 16 PBU in LY) elevate their cover skills vs. pass-happy attacks.


Steady, kicker Reford Jones has canned 38 of 51 FGs over last two years, though leg strength is a bit of question, as his long through two seasons is 46 yards.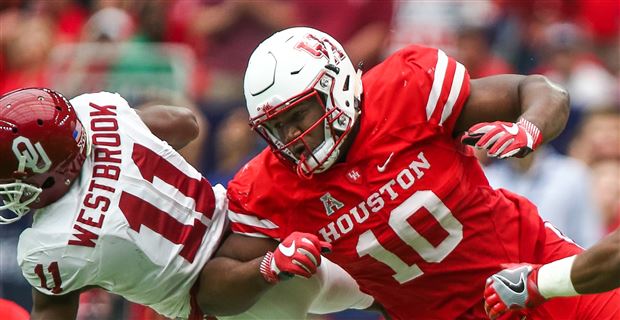 HOUSTON (2016 SUR 9-4 ; PSR 4-8-1)—Though we are picking Houston down the list a bit in the West Division, we won't be shocked to see the Cougs—still loaded with playmakers—end up ahead of both Navy and Tulsa. After all, first-year HC Major Applewhite (signed a five-year deal), who served as former as the o.c. for former HC Tom Herman (who bolted for Texas), and is considered a rising star in the coaching profession, has a history of producing top-shelf offenses as a coordinator. He also lured away respected Brian Johnson from Mississippi State to serve as the o.c. and QBs coach. Additionally, UH, which has recorded a solid 22-5 SU mark over the last two campaigns, gets to host top West Division challengers Navy and Memphis in 2017.


Eight starters return to an offense (38.5 ppg LY) that might not miss departed star QB Greg Ward Jr. as much as expected.. Hey, strong-armed, jr. QB Kyle Allen, a Texas A&M transfer and formerly the nation's top prep QB recruit, threw for 2,210 yds., with 17 TDs & 7 ints. in 2014 in College Station. Plus, Allen, directing a more traditional passing offense, benefits from a well-synchronized OL (returning all five starters) eager to make amends after allowing a season-worst 37 sacks LY.


If healthy, Texas transfer RB Duke Catalon (ankle injury & concussion; 528 YR, 4 TDs LY) and former walk-on Dillon Birden (4 starts; 6 TDs) should provide steady infantry support, but depth is needed in the backfield. Coaches seeking more pop in the Cougs' ground assault after the subpar 3.4 ypc average LY was their worst in 12 years! Allen should also take full advantage of a pair of dangerous WRs in marvelous Linnel Bonner (98 grabs LY) & complementary Steven Dunbar (53 catches LY). To add depth, Kyle Postma is expected to move full-time from QB to WR in his final season.


Eight starters are back on a defense (23.5 ppg; 319.6 ypg LY) looking to return to its havoc-wreaking ways (+54 TO margin from 2013-15) after finishing a lowly -7 in TO margin in 2016 (tied for 107th). New d.c. Mark D'Onofrio, who is planning on keeping the same 3-4 base that features multiple fronts, owns a huge havoc-wreaker up front in soph first-team All-American DE Ed Oliver, who recorded 23 TFL & 5 sacks LY. Holes must be filled at LB and in the secondary where both CBs moved on to the NFL. Fearless sr. LB Matthew Adams (team-leading 82 tackles LY) mitigates the concerns at LB, while the somewhat untested CBs should benefit from the leadership provided by the standout S tandem of Garrett Davis & Khalil Williams.



SMU

(2016 SUR 5-7; PSR 8-4)—Sure, SMU struggled during the first two seasons of the Chad Morris era. After going 2-10 in 2015, the Mustangs made a jump to 5-7 last season, but five of their losses were by 25 pts. or more. Yet Morris and the Mustangs might finally possess the talent and experience level to finally make some noise in the AAC. Morris has made big inroads in changing the program's culture with dramatic leaps in recruiting, depth and overall performance. Moreover, SMU has a good chance for a fast start in a back-loaded slate, with three winnable home games vs. Stephen F. Austin, North Texas and Arkansas State in the month of September. November, however, might not much fun with back-to-back trips to Navy and Memphis.


Eight starters return on an offense (27.7 ppg; 427.3 ypg LY) that was forced to go with untested backup QB Ben Hicks (2,930 YP, 19 TDs, 15 ints. LY) after starter Matt Davis suffered a season-ending injury in the opener. And while Hicks transformed into a leader and took control of an developing attack, he will be forced to fend off heavy competition from transfers Rafe Peavey (heavily-recruited dual threat out of high school in 2014 before signing with Arkansas) & D.J. Gillens (juco after two years at Wisconsin).


The eventual starter will have the luxury of a talented corps of receivers, spearheaded by NFL prospect Courtland Sutton (76 catches & 10 TDs LY). He will be joined by emerging soph WR James Proche (57 grabs & 6 TDs LY) and transfer Trey Quinn, who started 9 games in two years at LSU. To provide run-pass balance is the productive RB duo of Braeden West (1,036 YR LY and Ke'Mon Freeman (651 YR, 4 TDs). Four starters return to the veteran O, anchored by mettle-tested signal-calling sr. C Evan Brown.


Five starters are back on a improving defense (36.3 ppg LY; 45.7 ppg in 2015) that was especially adept at forcing mistakes in 2016. The Mustangs tied for 9th nationally with 18 picks and added 8 fumble recoveries. The inexperienced DL (only 1 starter back) will reform around heat-seeking sr. DE Justin Lawler, who had 15 TFL and 6.0 sacks. But watch for burgeoning soph DT Demerick Gary, who posted 21 stops & 4.0 sacks as a true freshman, to become a steady playmaker.


Much help will be needed from an LB crew that has struggled the last two seasons, being guilty of too many missed tackles and mental errors. Returning LB duo of Kryan Mitchell (67 tackles & 3.5 sacks LY) & Anthony Rhone (47 stops , however, have flashed a strong upside. Two starters return to the secondary that must fill the leadership void created by the graduation of Horace Richardson and Darrion Millines. A real asset in the semi-restructured 2ndary is jr. CB Jordan Wyatt, who was a TO-creating machine in 2016, with four interceptions and causing a league-high four fumbles.


Returning kicker Josh Williams made 17 of 22 FGs (including 14 of 14 inside 30 yds.), but struggled from distance.



TULANE (2016 SUR 4-8;PSR 6-6)—Over the past 14 years, four coaches have been in charge at Tulane, managing only one winning campaign. Second-year HC Willie Fritz—who's won everywhere he has been—could flirt with that rare achievement in New Orleans in 2017. After all, Fritz and his players are now familiar with each other, while improvement at the key QB position could be dramatic. Keep in mind, none of the QBs Fritz inherited last year had thrown a pass in college football while introducing a radically different scheme. The Green Wave, afer a season opener against visiting Grambling, will open up AAC play at powerhouse Navy and follow that up with a trip to Big 12 juggernaut Oklahoma. Avoiding confidence-crushing blowouts and staying healthy, could be critical for the program's chances at a rare winning season.


Seven starters return to a unique offense (24.1 ppg; 228 ypg rushing; fourth in the AAC), which combines the triple option with zone-read, shotgun spread principles. Fritz hopes that well-traveled juco Jonathan Banks (the one-time four star recruit started at two different junior colleges bookending a year on the bench at Kansas State), who won the job in the spring with his impressive run/pass skills, will be the difference-maker and execute the offense with increasing proficiency. His backups will be former starter Glen Cuielette (completed only 101 of 237, 10 TDP, 8 ints. LY), whose aerial game finished a wretched 126th nationally LY, and soph Johnathan Brantley.


The rest of the offense should be improved, going four-deep at RB, with shifty sr. Dontrell Hilliard (1,857 career yds. on 5.4 ypc avg.) leading the pack. Jr. WR Terren Encalade (36 catches, 6 TDs LY) will gain some needed support from skillful 6-2 juco transfer Jabril Lewis, a former San Dieo State signee, who adds the kind of size Fritz wants at wideout. OL boasts five players with starting experience, but needs to better production at LT and both G spots.


Eight starters are back on a defense (27.5 ppg LY) that must replace its top two players, DT Tanzel Smart and LB Nico Marley, a pair of two-time first-team All-AAC selections. Nevertheless, the Green Wave have talent and experience across the stop unit, including imposing 6-6, 270-pound sr. DE Ade Aruna 5.0 sacks) and sr. CB Parry Nickerson, a three-year starter with 10 career interceptions. Plus, Fritz praised the way jr. FS Roderick Teamer (58 tackles LY) and sr. nickel back Jarrod Franklin (78 stops LY) played in the spring.


Fritz inherited an abysmal kicking game LY and made it average, but issues remain. RS frosh kicker Coby Neenan is unproven, but has a stronger leg than predecessor Andrew DiRocco, who opted not to return for his senior year.

NEXT UP: SUN BELT

Return To Home Page