7460...
TGS 2017 COLLEGE FB PREVIEW
...A LOOK AT C-USA--PART II
by Bruce Marshall, Goldsheet.com Editor


After previewing the West half of Conference USA in our previous installment, we focus on the East half of the loop, Once again, teams are presented in order of predicted finish, with 2015 SU, pointspread, and O/U records included.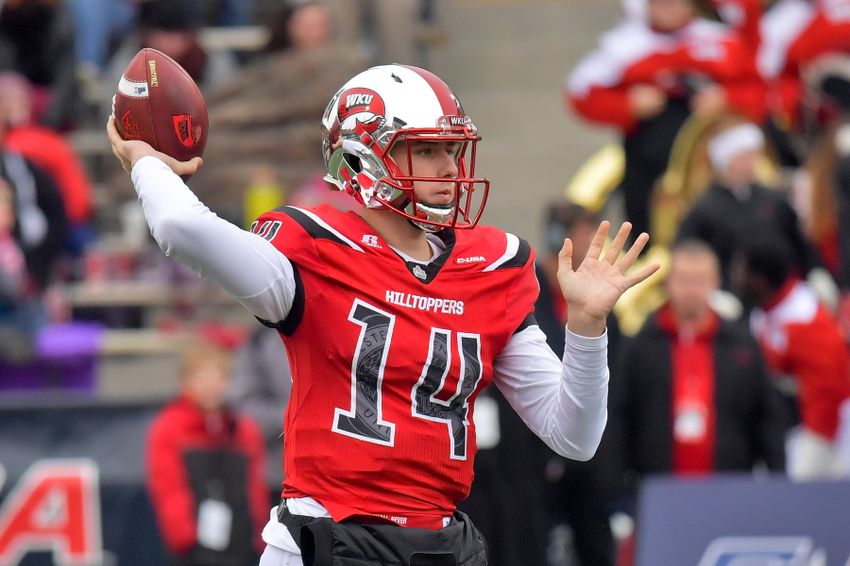 A rival for Miami-Ohio as the new "Cradle of Coaches," perhaps? Well, at least the C-USA version of such would seem to apply these days to Western Kentucky (2016 SUR 11-3; PSR 7-5-2; O/U 8-6), which has sent its last three head coaches up the ladder to bigger jobs. Though Bobby Petrino's quick pit-stop in 2013 between Arkansas and a second stint at Lousiville perhaps shouldn't count, the Hilltopper job did prove a laucnhing pad for Willie Taggart, who parlayed success at WKU to South Florida, from where Taggart would move further up the food chain to Oregon. As would recent Tops HC Jeff Brohm, who moved to Purdue after last season following record-breaking offensive shows at WKU.



FOOTBALL COMING SOON...TGS 2017 EARLY DEALS NOW! ...

Click here to order


Also perhaps destined for a "Power 5" job like the ones his predecessors now hold is the newest flavor with the Hilltoppers, 35-year-old Mike Sanford, Jr., who has been groomed to be a coach his entire life by dad Mike, who served as HC at UNLV and Indiana State and has a long history as an offensive coordinator, including a successful stint as Urban Meyer's d.c. at Utah when the Utes finished unbeaten, with Alex Smith at QB, in 2004. The young Sanford has been moving up the ranks quickly, working in the past for Jim Harbaugh and David Shaw at Stanford, as Bryan Harsin's o.c. at Boise State, and as Brian Kelly's o.c. last year at Notre Dame. He is also familiar to WKU fans after a quick stop with the Hilltoppers as QB coach on Taggart's first staff in 2010.


It does not seem to bother the WKU fan base that Sanford might have a short stay at L.T. Smith Stadium, too, especially if he can continue the prodigious offenses of the Brohm years, including a year ago when the Tops ranked first nationally in scoring at a whopping 45.5 ppg, and fifth in total "O" at 523 ypg. Whew! But slight alterations can be expected from Sanford, who is transitioning the strike force into a Boise State-styled system with more shifts, motions, and option-run looks.


Senior QB Mike White, a former South Florida transfer, is the perfect bridge between the Brohm and Sanford regimes after passing for a staggering 4363 yards and 37 TDs a year ago. And remember, White was often pulled early in the second halves of many big WKU blowout wins. White will need to find new go-to receivers after last year's top targets Taywan Taylor and Nicholas Norris graduated following their combined 74 catches for 2048 yards. Nacraius Fant and Lucky Jackson combined for 55 catches last season and appear ready for more-featured roles, while spring work suggested rangy RS frosh Xavier Lane could become the next big-play threat. The Sanford offense will also make use of touted Mik'Quan Deane, ranked as the 4th-best juco TE in the country last fall.


Taking the place of the productive RB Anthony Wales (1621 YR LY) should be slamming RS soph D'Andre Ferby, who gained 650 YR as a frosh in 2015 before missing almost all of last season with a shoulder injury suffered on his first carry of the season, vs. Rice. Ferby should be a bit quicker now that he is down to 225 lbs. from his former playing weight of 240, but still brings power up the middle. The interior of the OL should remain stout with returning Gs Dennis (Temptations) Edwards and Brandon Ray, though decorated T Forrest Lamp has moved to the NFL, where he was a second-round pick in April by the Chargers.


While Brohm took his d.c. Nick Holt with him to Purdue, Sanford has tabbed NC State DB coach Clayton White to run the stop unit. White must replace last year's top three tacklers, but will retain Holt's flexible alignments that varied between 4-3 and 4-2-5 looks depending upon the situations and resulted in the second-ranked rush defense in the nation, while also allowing just 3 ypc.


Five starters return, including the left side of a robust line featuring DE Derik Overstreet and DT Chris Johnson. The strength of the platoon this fall might be the secondary, where all five projected starters are seniors. The DBs will be augmented by S Marcus Ward, who gained an extra year of eligibility after missing the final 12 games of 2016 due to a knee injury.


The schedule sets up nicely, with a couple of beatable Power 5 non-league foes, Illinois and Vanderbilt, though both will be on the road. The Tops will be looking to avenge a painful 31-30 OT loss last Sept. 24 to the Dores, who tied the game on the last play of regulation, then won when Brohm gambled on a 2-point conversion to win in OT, only to see it fail. WKU does again draw C-USA West favorite La Tech, which split a pair of high-scoring games (including the C-USA title matchup) a year ago, but gets the Bulldogs and top East contender MTSU at home. Young Sanford, however, inherits expectations, as anything less than a third straight C-USA title game appearance will be considered a disappointment.


Spread-wise, WKU enters this fall having dropped just 10 of its last 29 spread decisions. WKU is also 11-3 vs. the spread its last 14 at home vs. FBS foes, and, not surprisingly, is "over" 26-14-1 since the 2014 season.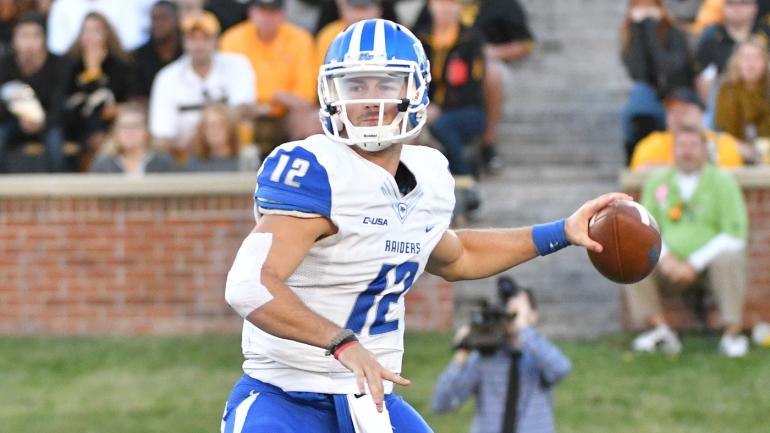 Sometimes the grass isn't always greener on the other side. Take Middle Tennessee (2016 SUR 8-5; PSR 5-6-2; O/U 9-4) and HC Rick Stockstill, for example. There was a time when Stockstill's name was routinely mentioned for higher-profile jobs in other locales; Stockstill was once close to getting the job at East Carolina after Skip Holtz moved to South Florida. But Stockstill, first known as a QB for some of Bobby Bowden's early Florida State powerhouses almost 40 years ago, has been content to stay at Murfreesboro, where his Blue Raiders have been bowl-eligible (though not always bowl-selected) in seven of the past eight seasons.


Murfreesboro has also grown along with the MTSU program, with the area now considered on the periphery of Nashville metro. Less than an hour from a major airport in Music City, the school is also conveniently located, with the ability to draw recruits from the region, and continues to be mentioned as an expansion candidate if more dominoes fall in the conference shuffle. (Nowadays, the next possible stop for the Blue Raiders could be the American, if some of its teams ever move to a "Power 5" league.) The bottom line is that the MTSU gig is now a pretty good one, which Stockstill seems to realize.


Moreover, the Blue Raiders have been fun to watch, and should be again this fall after ranking in the top ten nationally in total offense (518 ypg good for 8th) a season ago thanks mostly to an 8th-ranked passing attack featuring Stockstill's QB son Brent, who is on a record-setting pace at MTSU and has drawn praise from elsewhere on the college football map (Vanderbilt HC Derek Mason, whose Commodores face the Blue Raiders in the opener at Jonny Floyd Stadium on September 2, raved about young Stockstill at the recent SEC Media Days, comparing him favorably to any QB in the SEC or elsewhere in the country). After just two seasons, Stockstill has already passed for 7279 yards and 61 TDs...not too shabby.

Besides Stockstill, five other starters return on offense, including most of the supporting weaponry from last season. Fellow jr. WR Richie James has developed a near telepathic understanding with his QB and enters the fall as the NCAA's active leader in receptions (213) and receiving yards (2971). Ty Lee and Patrick Smith (91 receptions between them last season) are complementary receivers who have also returned to the fold for an "O" that scored nearly 40 ppg and set more than a dozen school records in 2016 for o.c. and spread guru Tony Franklin.


There are some holes to fill on the attack end, including at RB, where I'Tavius Mathers and his school-record 1561 YR from last season must be replaced. Stockstill and Franklin believe that Shane Tucker, who briefly moved to WR before getting injured a year ago, is a better fit at his natural RB position, where he gained 413 YR in 2015 and will get a crack at the featured role in the fall, though juco transfer Maurice Gordon could also be in the mix. Meanwhile, the OL endures a minor rebuild after losing three starters, though on the right side of the line, G Chandler Brewer and T Carlos Johnson are honors candidates.


Unfortunately for HC Stockstill, his "D" has usually lagged considerably behind his offense, and to that end Stockstill has brought in a new coordinator, Scott Shafer, not long ago the HC at Syracuse. Shafer's task, as it is for all coordinators these days, is to dial up the pressure, though a rebuilt DL will be his first order of business after all of last year's starters up front have graduated. Missouri transfer DE Walter Brady could be a key after notching a nation's best sack total (7) for all frosh with the Tigers in 2015.


Everyone returns, however, from the back seven on defense, paced by one of C-USA's top LB corps featuring last year's leading tackler, OLB Chris Melton (102 tackles), and playmaking OLB DJ Sanders, who took two picks back for TDs a year ago. Everyone also returns in a secondary led by S Jovante Moffatt (76 tackles last season), though the DBs were burned a bit too often by last year's bend-but-don't break approach when the "D" allowed nearly 36 ppg, a number Shafer must reduce.


Stockstill the coach does not duck anyone in pre-league play and isn't again this season, with three "Power 5" conference foes (Vanderbilt, d.c. Scott Shafer's former team Syracuse, and Minnesota) out of the gate, but the Blue Raiders will fear none of those after averaging 545 yards in two games vs. SEC foes (Vandy and Mizzou, which MTSU beat at Columbia) a year ago. Stockstill also avoids C-USA West favorite La Tech during the regular season. The final two games, at Western Kentucky and home to Old Dominion, likely decide the East rep in C-USA's title game. Expect the Blue Raiders to again be "bowling" somewhere in December.


Spread-wise, one recent negative for Stockstill has been the bowls; MTSU has lost and failed to cover four straight, including a humbling 52-35 loss in Honolulu vs. Hawaii last Christmas Eve, and hasn't won one since 2009 when topping Southern Miss at the New Orleans Bowl. A good role lately for the Blue Raiders has been as double-digit chalk, one in which MTSU is 6-0-1 the past two seasons.



Since when is Old Dominion (2016 SUR 10-4; PSR 9-4; O/U 8-5) a football school? The same place that gave us basketball names like Nancy Lieberman and Kent Bazemore has been kicking it up on the gridiron lately, achieving success in the FCS ranks and then, a year ago, forging a breakthrough at the BCS level, qualifying for its first bowl and beating Eastern Michigan, 24-20, in the Bahamas.


The first Monarch football team since before the Pearl Harbor attack began play in 2009, 69 years after ODU last competed on the gridiron. Bobby Wilder was hired from the University of Maine to jump-start the program in Norfolk, a city that had played host to lots of college football over the decades, with historic Foreman Field the site of many "Oyster Bowls" featuring regional schools in the regular season. The Monarchs made it their home field and got up to speed quickly, reaching the FCS playoffs in their first years eligible (2011-12), with QB Taylor Heinicke, now with the Minnesota Vikings, winning the Walker Payton Award (the FCS level Heisman) in 2012. Indeed, in the eight seasons since the program resurfaced, Wilder has recorded only one losing mark, and that a respectable 5-7 in 2015, ODU's second year in C-USA and FBS.


Last year's breakthrough, however, was a bit unexpected, especially with ex-WR David Washington turning into a force at QB. All Washington did was make big play after big play, finishing with 31 TD passes and only 5 picks, as the Monarchs roared down the stretch to close the season with wins in their last six and nine of their last ten games. Washington, however, has graduated, and after years of quality play from him and Hienicke, it remains to be seen if Wilder gets the same sort of production at QB this fall.


Soph Blake LaRussa, all 5'10 of him, exited the spring as the likely successor, and is the only player on the Monarch roster to have thrown a college pass (in LaRussa's case, all of 24). LaRussa does have a live arm, but if he is having trouble seeing over oncoming pass rushers, Wilder might be tempted to look at juco Jordan Hoy or true frosh Steven Williams in the fall. Whichever QB takes snaps will have plenty of established firepower to help as eight starters return on the attack end including explosive RB Ray Lawry, who has blasted for almost 2400 YR over the past two seasons combined. Along with electric jr. Jeremy Cox, the Monarchs have C-USA's most potent 1-2 RB combo that combined for 2239 total yards a year ago.


In addition, nine of the Monarchs' top ten receivers from last season return, including prime targets sr. Jonathan Duhart and jr. Travis Fulgham, who combined for 77 catches and 17 TDs in 2016. And by the end of 2016, only one senior was starting on the OL, so there is plenty of maturity along the forward wall anchored by jr. C Nick Clarke. ODU also allowed only 19 sacks a year ago while its runners gained better than 5 ypc. Soph OK Brad Davis also hit 10 of 12 FGs and 45 of 46 PATs a year ago. Though if one of the new QBs can't produce as did Washington a year ago, the Monarchs might have trouble matching their 35 ppg from last season.


Seven starters are also back from a "D" that made a significant jump a year ago, dropping its point allowance by 8.6 pg and yardage allowed by 54.2 pg. The Monarchs enter this fall deep on the DL and in the secondary, though there are questions with a rebuilt LB corps that must find all new starters after the departures of leading tacklers T.J. Ricks and Anthony Wilson. Wilder and d.c Rich Nagy even hinted in spring that they might switch to a 4-2-5 due to the possible shortage of LBs.


There are no questions up front, where ODU returns bookend DEs Bunmi Rotimi and Oshane Xamines, who combined for 14.5 sacks last season. And with four returning starters in the secondary, there is enough depth to contemplate extensive use of nickel packages, especially with touted redshirt frosh CB Joe Joe Haaden already listed as a starter exiting spring.


ODU was hitting on all cylinders as last season progressed, and the arrow definitely points upward in Norfolk. If only QB Washington had stuck around one more year, the Monarchs might be the team to beat in the East, and would have a better shot at ACC foes North Carolina (which treks to Norfolk) and Virginia Tech in pre-league play. But if LaRussa or one of the other QBs delivers, ODU should at least return to a bowl, which looks as if it might become a habit for the Monarchs.


Spread-wise, ODU has been rolling since late in the 2015 season, covering 12 of its last 17 on the board. The Monarchs also enter this season riding an eight-game cover streak at home in Norfolk.
Are they stuck in the '90s at

Florida International (2016 SUR 4-8; PSR 5-7; O/U 7-5)

? That's a fair question to ask of AD Pete Garcia, who after making a questionable hire of Ron Turner as the Golden Panther HC back in 2013, has gone back to that '90s well to pull out Butch Davis as the new Golden Panthers coach.
.
Granted, the Davis hire makes a bit more sense than bringing Turner on board four years ago, when Garcia controversially ousted an up-and-comer, Mario Cristobal, who had taken FIU to bowls in two of the three previous seasons. After losing 30 of 40, Turner was canned after a 53-14 loss to UCF last September 24. But the Golden Panthers did steady somewhat under interim HC Ron Cooper (now on Kevin Sumlin's staff at Texas A&M), providing some hope that Davis, who first gained notice as Jimmy Johnson's d.c. for Dallas Cowboys Super Bowl winners in the early '90s before tackling HC jobs with the Miami Hurricanes, Cleveland Browns, and North Carolina Tar Heels, can gain immediate traction. (Davis remains the only coach to take the reincarnated version of the Browns to the playoffs, which he did in 2002.) The last two jobs did not end nicely for Davis, who at 65 is probably at his last rodeo. Davis, however, does have connections to south Florida after his stint with the Hurricanes.


To fill out his staff, Davis apparently preferred his contemporaries to many of the young whippersnapper coaches popping up around college football these days, with the result one of the oldest staffs in the land. Fifty-two year-old Rich Skrosky, most recently the HC at Elon, will be the o.c. for Davis, while the well-traveled 56-year-old Brent Guy, once the HC at Utah State, will be the d.c. for FIU. If advanced age on the staff is a plus, the Golden Panthers are in good shape this fall.

The Turner offense (which applies to Ron Cooper as well LY) mostly spun its wheels, and ended up a distant 106th in national scoring (24 ppg) a year ago, but Skrosky does inherit a couple of four-year starters in QB Alex McGough and RB Alex Gardner. McGough's progress, however, stalled under Turner, and though he missed the last three games of 2016 due to injury, his stats dropped considerably from a sophomore season in which he passed for 2722 yards and 21 TDs. After tossing just 13 TDs with 11 picks thru nine games a year ago, and watching his accuracy drop from 64% to 58%, Davis might have McGough on a short leash. Livewire soph Maurice Alexander, who admittedly struggled in relief of McGough late in 2016, is ready in the bullpen if needed.

Gardner, however, has some solid credentials at RB after gaining 938 YR a year, and the top receiver from 2016, Thomas Owens (47 catches and 7 TDs), also remains in the fold. The bigger questions on offense have to do with a suspect OL that had trouble protecting McGough and the other QBs a year ago. Skrosky juggled some positions in spring, but there is a good chance some of the depth added in Davis' first recruiting haul could plug many of the gaps on the forward wall before the season is complete.


Defensive numbers tend to be skewed in the high-octane C-USA, so FIU's subpar stop unit stats from 2016 (including a 34.8 ppg allowance, ranking 104th nationally) merely put the Golden Panthers in the middle of the conference pack. New d.c. Guy has nine starters back in the fold, so at least there is plenty of experience on hand.


Guy will feature several C-USA honors candidates, inclduing DE Fermin Solva, LBs Anthony Wint and Treyvon Williams, S Nike Gonzalez, and CB Isaiah Brown. All have been playmakers of various degrees in the past, but depth issues have hampered the Golden Panthers the past few years and remain a concern unless some of the recruits step into the breach. Guy also needs to rev up a pass rush that generated only 17 sacks in 2016, a lethal stat category to be lagging in C-USA, and FIU also needs to force more than the measly 14 takeaways it generated a year ago. Guy has been tasked by Davis to scheme aggressively. But does the new d.c. have enough horses to make his new looks more disruptive?


Two years ago, FIU opened the season with perhaps the biggest win of the Turner years, topping UCF 15-14 (and forewarning of the end of the George O'Leary regime with the Knights), and the Golden Panthers return to Orlando for the opener of the Davis era. (UCF, as mentioned earlier, got its revenge and then some with a 53-14 win last season.). The Golden Panthers also travel to Big Ten Indiana in September, but open C-USA play with winnable games vs. Rice and Charlotte, and could bring some momentum into an October 7 showdown at MTSU, one of the favorites in the East. With plenty of experience on hand, and an expected coaching upgrade, it would be no surprise to see FIU makes a bit of noise this fall and perhaps gets bowl eligible for the first time since 2011.


Spread-wise, the Golden Panthers responded to Turner's early ouster by covering five of their last eight for Ron Cooper a season ago, but enter this season having covered just one of their last 7 vs. non-C-USA foes. Note that the underdog side has covered five straight in "Shula Bowl" showdowns vs. FAU; this fall's local rivalry takes place November 18 at Boca Raton.



"Mark it down!" As the great Cawood Ledford used to say after a Kentucky basket, rest assured the same will some day apply to Florida Atlantic (2016 SUR 3-9; PSR 2-9-1; O/U 8-4) regretting its December hire of HC Lane Kiffin, who has turned burning bridges into an art form.

Even when Kiffin was able to rehabilitate his reputation at Alabama as offensive coordinator the past few years, Nick Saban still provided a personal escort out of Tuscaloosa, as the aloof Kiffin reportedly infuriated his boss by missing meetings and scheduled buses during the playoffs last winter, and a lackluster showing by the offense in the semifinal win over Washington proved the last straw. Kiffin was replaced by, ironically, the man who succeeded him as HC at Southern Cal, Steve Sarkisian, for the title game vs. Clemson. (Sarkisian, whose path has crossed with Kiffin's a couple of times in their careers, would eventually leave for the NFL Falcons, but that's another story.)


Saban put up with Kiffin's sporadic lapses of immaturity during his tenure because Lane was ffor the most part getting the job done, and, not coincidentally, shared Saban's agent, Jimmy Sexton. But like almost every other stop in Kiffin's career, things ended badly, as was the case with the Oakland Raiders, Tennessee, and USC. It is not lost on Kiffin watchers how an aging Al Davis, who had fired plenty of coaches in his career, never went out of his way to justify the dismissal of one of his mentors until Kiffin, when an aging Davis was moved to call a rare special press conference to disparage his deposed coach. And we know the story about Kiffin enraging USC AD Pat Haden so much that Lane was dismissed on the tarmac at LAX in 2013 after arriving home from an early-season beating at Arizona State.


Enough Kiffin bashing for the moment. If the Kiffin track record holds true in Boca Raton, the Owls might actually take flight for a short while before losing altitude. Right off of the bat after his hire, Kiffin confronted controversy again, signing Kendal Briles, son of disgraced ex-Baylor HC Art Briles, as his new o.c to hopefully run the same jet-fueled offense as Briles did in Waco. Then Kiffin signed juco QB De'Andre Johnson, a former Florida State recruit who was dismissed from the Seminoles after video surfaced of him allegedly punching a girl at a Tallahassee bar. Next thing you know, they'll be filming an episode of The Kardashians at FAU Stadium.


Thus, the offense might be expected to improve from a year ago when ranking 72nd nationally. Kiffin and Briles inherit a decent infantry featuring RBs Devin Singletary and Buddy Howell, who combined for 1849 YR in 2016 behind an OL that was decimated by injuries. Nearly all of Singletary's 1021 YR came in the first half of the season. Kiffin was reportedly surprised at the explosiveness of his receivers in spring, and sr. WR Kalib Woods is already an established force, catching 68 passes for 934 yards last season. Last year's starting QB, Jason Driskel, who passed for 2415 yards in 2016 (but with 11 picks and only 9 TDP), remains in the mix, but by all indications out of spring, it will be the controversial Johnson at the tiller for the opener vs. Navy.


Kiffin was not hired for his defensive expertise, but that quality does run in his family, beginning with papa Monte, a decorated NFL assistant and father of the "Tampa 2" schemes who now works as a consultant for son Lane. Brother Chris Kiffin, who learned defense from his dad and recently the DL coach at Ole Miss, was hired by his brother to be the d.c. for the Owls. Faced with a shortage of LBs in spring, Chris K. experimented with 4-2-5 alignments and will probably retain that nickel package into the fall to better deal with the many aerial shows in C-USA that torched last year's Owl defense, which allowed nearly 40 ppg (rankling 123rd) and 514 ypg (ranking 124th).


The Kiffins lost school career sack leader DE Trey Hendrickson to the NFL, but jr. DT Ray Ellis is back after missing last season with a knee injury. At LB, jr. Azeez Al-Shaair sat out spring following shoulder surgery but was a frosh A-A in 2015. There is experience in the secondary with the return of three starters, though the DBs were burned incessantly a year ago.

While FAU is a chic pick to make a move in C-USA, we're not sure the arrivals of the Kiffins, o.c. Briles, and controversial QB Johnson are going to be enough to turn the corner. The Owls still have loads of questions and the defense could be ruthlessly exploited in their first two games vs. Navy and at Wisconsin. Playing in the tougher half of C-USA is not a bonus, either.


Lastly, we'd advise the FAU fan base to enjoy Kiffin while they can. If we are sure about anything regarding this hire, it's that whatever honeymoon period there is will be brief.


Spread-wise, after more than holding their own in the brief Carl Pelini regime and the early stages of Charlie Partridge era, the Owls enter 2016 on the heels of a 7-19-1 spread skid. FAU is also 1-12 vs. the line its last 13 in Boca Raton. As for Kiffin, don't forget he ended his most-recent HC gig at Southern Cal by dropping 14 of his last 18 on the board.



Sure, the bar was set low, but last year's debut of Charlotte (2016 SUR 4-8; PSR 5-7; O/U 6-6) in C-USA was a pleasant surprise nonetheless. The 49ers, in just their fourth season of organized ball, were granted full rights in C-USA, including bowl eligibility, and it looked for a while as if they might earn a postseason bid after back-to-back road wins at Marshall and Southern Miss (results that did not at all figure prior to the season). Close home losses to Rice and Middle Tennessee in November scuttled those longshot bowl hopes, but the 49ers were not roadkill as many suspected they might be a year ago.


Now, however, comes a bit of a challenge for HC Brad Lambert, a Jim Grobe disciple and program architect who built the team from scratch in 2013. Much like C-USA counterpart UTSA in its ramp-up period under HC Larry Coker, Charlotte had been pointing toward its fourth season (2016) with the hopes of being competitive when making the jump to full FBS competition. In the case of UTSA, losing the core members of the program at the same stage the 49ers are entering this season caused a brief pause in the ascent after the first batch of seniors had graduated. Now, Lambert looks at much of the same after 19 players who made it through the program's first recruiting class, and many playing key roles in getting the 49ers competitive a year ago, have departed.


Not everyone who played a part in last year's surprising performance has left town, however. At QB, former North Carolina A&T transfer Hasaan Klugh is now firmly entrenched after taking over the pilot's chair midway thru last season and accounting for 15 TDs over the last seven games. Junior Brooks Barden, who saw considerable action in 2015 before missing last year with a back injury, provides seasoned QB depth. There is some experience at the wideout spots, too, with sr. T.I. Ford II (36 receptions LY, tops among returnees) and jr. Workpeh Kofa back in starting roles, though a deep threat needs to be identified after neither Ford nor Kofa gained better than 12 yards per catch a year ago.


Meanwhile, three starters are back along the offensive line, but there was much lineup juggling last season and in spring, and juco additions are already into the rotation mix. Slashing RB Kalif Phillips, and All-C-USA pick who gained over 1800 YR the past two seasons and was Charlotte's bread-and-butter back, is in the Green Bay Packers camp this summer and must be replaced. Juco Cameron Duncan is a candidate to get the bulk of the carries, though bouncy holdover sophs Robert Washington (489 YR LY) and Benny LeMay will also be in the RB mix.


The "D" was also better than expected last season and went one five-game midseason stretch not allowing more than 27 points. Six starters return, though one of them will not be decorated DE Larry Ogunjobi, the 49ers' first-ever NFL draftee, picked at the top of the third round by the Browns. True frosh DE Chrishawn Wilson, a 6'6 pterodactyl from Florence, SC who was courted by several ACC schools, is highly touted and arrives just in time to likely fill Ogunjobi's pass-rush role. The LBs are athletic in d.c. Matt Wallerstedt's 3-4; sr. ILB Karrington King is destined to leave as Charlotte's all-time leading tackler.


While the pass defense leaked a bit much last season (310 ypg allowed ranked a poor 124th nationally), Wallerstedt is nonetheless high on his youthful secondary, though a new pair of CBs, soph Marquavis Gibbs & RS frosh Robert Cheatem, have to hit the ground running. The best help for the pass defense will come from an improved pass rush that generated only 14 sacks a year ago, and that was with NFL draftee Ogunjobi on the field.


What might have impressed most about the 49ers a year ago were the little things, such as limiting mistakes (only 15 giveaways, ranking a very respectable 17th nationally), and Lambert and his staff seem to be able to coach up their troops. Thus, we're hardly convinced the 49ers are about to slide back after their competitive C-USA debut a season ago. There is a chance Charlotte could go 3-1 in non-league play, and with some winnable dates in conference action, bowl eligibility, while unlikely, is not a remote idea, either.


Spread-wise, Charlotte bunched most of its covers vs. the line in that 4-game midseason stretch in which the 49ers won three games outright and covered them all. When the dust cleared a year ago, Charlotte was also 3-1 SU and vs. the line on the C-USA road. The 49ers, however, are still looking to develop a home edge at cozy Jerry Richardson Stadium, where they're just 3-7-1 vs. the number since 2015.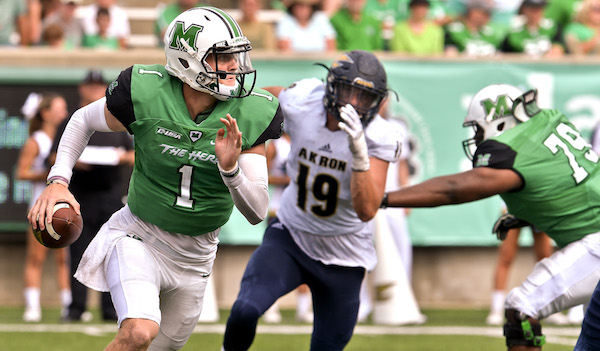 That thudding sound you might have heard in the distance last fall could have been the collapse of the program at Marshall (2016 SUR 3-9; PSR 4-8; O/U 5-7), which after a long run of excellence slid to its worst record since 2007. The downdraft didn't figure, as the Thundering Herd had won 10 or more games in each of the preceding three seasons. Moreover, Marshall had mostly won big for over two decades, including great success in the days of I-AA when winning national titles under Jim Donnan (in 92) and Bob Pruett (in '96), the latter preceding a move into then-called Division I. Which proved duck soup for the Herd, featuring Randy Moss in those days; Marshall would thus win the MAC and qualify for the Motor City Bowl at the old Pontiac Silverdome four years running.


The recent downturn caught everyone by surprise, especially opponents in C-USA. "There was something going on there, some issues that I wouldn't know behind closed doors," said one anonymous C-USA assistant coach. "They've been too good in this league to look that bad." It all reached a humiliating conclusion in the finale when Western Kentucky dropped a 60-6 bomb on the Herd, in Huntington, no less. When the mushroom cloud finally lifted after last season, Marshall had allowed 59 or more points on three different occasions, and ranked a poor 107th in both scoring and total defense. That sort of stop unit ineptness was matched on the attack end where the Herd ranked 114th in total offense.


So, what happened in 2016? A simple explanation would be to blame injuries and perhaps some overrated talent, but regarding the latter, we're talking about a team that won 10 games the previous season. Still, some C-USA observers believe HC Doc Holliday's noted recruiting pipeline to Florida has dried up (only one of the top ten Herd recruits for 2017 came from the Sunshine State). Other regional sources believe internal problems consumed Marshall a year ago, though no word (yet) if Holliday is planning to bring in Dr. Phil for some team-wide counseling this fall.


Holliday also juggled his staff in the offseason, especially on the offensive side, where WR coach Todd Goebbel was shifted to QB coach to help tutor jr. Chase Litton, whose 2016 stats (2612 YP, 24 TDP and only 9 picks) look better on paper than they did in person. But the hardscrabble Litton, a starter since his frosh year, must regain the trust of teammates after his suspension while injured during the last week of the season (coinciding with the WKU debacle), and sources have indicated that Litton might have been a central part of last fall's internal distractions.


The supporting cast which failed a year ago will have nowhere to go but up in 2017. Holliday redshirted most of his frosh offensive lineman last fall, and their presence ought to help with depth this term and hopefully fortify a forward wall that was disappointing at best a year ago. The wideouts were also slowish by Marshall standards, though the arrival of Miami Hurricane transfer WR Tyre Brady might change that dynamic. Redshirt frosh WR Willie Johnson is a speedburner who sat out last season with a broken leg, but only TE Ryan Yurachek (28 catches last season) from among last year's top six receivers remains in the fold.


Also among the many things that also did not work for the Herd a year ago was the infantry, which sagged to an un-Marshall-like 122nd national ranking, also at the bottom of C-USA stats. Potential help could come from former FAU signee and juco RB Trey Rodriguez. Holliday also has serious concerns about his special teams, especially at PK where the Herd has made just 10 of 25 FG attempts the past two seasons, and where touted frosh Cole Phillips is expected to take over. The return units should get a boost from aforementioned WR Willie Johnson, a speedball now returned from injury and eager to field punts and kickoffs this fall.


Though vet d.c. Chuck Heater (a hard-nosed RB for some of Bo Schembechler's best Michigan teams in the early 70s) is well-regarded, his "D" also dropped noticeably a year ago, when ten opposing runners topped 100 YR. To address some of last year's problems, Heater began to shift positions for some of his defenders in spring, notably Damian Dozier and Davon Durant moving from LB to DE. A couple of juco LB additions, ILB Donyae Moody and OLB Artis Johnson, are already in the LB mix, as is Jaquan Yulee, a top recruit in 2016 who was a non-qualifier a year ago.

For what it's worth, Heater believes his secondary ought to improve with the return of three starters, including both corners, sr. Rodney Allen and soph Chris Jackson, the latter having taken his lumps as a true frosh a year ago. Safety C. J. Reavis also returns after a pair of shoulder surgeries.


A normal past Marshall team might not have been spooked by a non-conference slate that included two MAC foes (Miami-O and Kent State), plus NC State and Cincinnati, but if the Herd looks like it did for much of last season, nothing will come easy, nor will it in C-USA, where five of the six losses were by double-digits last season. As for Holliday, he's won enough to not be in any trouble quite yet, though that could change. The Herd dropped so fast, so quickly, a year ago, and bore no resemblance to recent contenders, that a recovery is likely beyond a minor tune-up, and a complete overhaul might be required. Not to mention the leadership (or lack thereof) of QB Litton. Stay tuned.


Spread-wise, Marshall also disappointed last season, especially at home where covering just 2 of 7 (one of those vs. FCS Morgan State) after making Joan C. Edwards Stadium a fortress from 2013-15, when the Herd was 13-5-1 vs. the spread as host. Marshall also wasn't within single digits in any road game, though managed to squeeze inside of two of those inflated spreads.

NEXT UP: AMERICAN
Return To Home Page