7435...
TGS 2017 COLLEGE FB PREVIEW
...A LOOK AT THE BIG 12--PART I

by Chuck Sippl, Senior Editor

Following is Part I of our preview of the Big 12, with teams as always listed in order of predicted finish. The upcoming Part II will feature teams forecast 6-10 in the league. Last season's straight-up, spread, and "Over/Under" records are included.
OKLAHOMA (SUR 11-2; PSR 7-6; O/U 8-5)...Few knew that retirement was on the mind of Bob Stoops heading into the offseason. Eighteen years at Oklahoma, with 10 conference championships, one national title (2000), and three BCS game "runners-up." Stoops posted 10 or more victories 14 times, 11 or more 12 times, and 12 or more 6 times. Eighteen bowl games in 18 years. Two Heisman-winning QBs (Jason White, Sam Bradford). Stoops deserves credit for reviving the Oklahoma program from a dark place when he took over in 1999 from John Blake (12-22 in three seasons).



FOOTBALL COMING SOON...TGS 2017 EARLY DEALS NOW! ...

Click here to order

Stoops was only 56 when he abruptly handed over the reins in early June to offensive coordinator Lincoln Riley, who will be just 34 in September. While Stoops denied that any health issue was a factor, reporters noted that Ron Stoops, the patriarch of the Stoops family coaching clan, was coaching in high school the night he died at age 54 in Youngstown, OH.

Riley has been one of the nation's hottest assistants for the past few years. He's a former walk-on QB at Texas Tech for former Sooner assistant Mike Leach, who later wasted little time in hiring Riley as an assistant. Seven years at TT, five years at East Carolina, and two more in Norman, and Riley inherits one of the more successful programs in the country with one of the more powerful offenses. Riley, who won the Broyles Award in 2015 as the nation's top assistant, had previously been given a new contract with a bump to lofty assistant's pay of $1.3 million per annum.


Riley knows he's taking over at a good time, as just about everyone in the Sooner Nation believes Oklahoma's chance of making the college football Final Four has increased substantially. That's because of the return this season of the Big XII championship game, following a ruling by the NCAA. The league's title game disappeared after the 2010 season, when Nebraska and Colorado split for other leagues, reducing the number of teams in the Big 12 to just ten. After several considerations of possible schools to join the Big 12 to fill it out, the league decided to stick with ten.


However, NCAA "legislation" passed in 2016 allows for a title game between the top two teams in leagues with fewer than 12 teams as long as those leagues play a round-robin schedule. Thus, the Big 12 this season will pit the conference's top two teams against each other on "Championship Weekend."


Only once in the last seven years has a Big 12 team made it the college playoffs (BCS and CFP). That was Oklahoma (a 37-17 loser to Clemson in the 2015 season). Without a championship game, the Big 12 felt that the profile of its top teams had dropped a bit in the ratings of the BCS system and then, later, in the eyes of the College Football Playoff selectors. Now, with exposure on Championship Weekend, with the league title game going big-time at Jerry Jones AT&T palace, the Big 12 expects its champion to get better consideration in the Final Four process.


The last national championship victor from the league was the Mack Brown/Vince Young Texas team that edged Southern Cal in the 2010 Rose Bowl to win the BCS title for the 2009 season. Now, with Heisman candidate Baker Mayfield back in Norman following one of the better QB seasons in college history, the talented Sooners are thinking big...BIG...with a likely chance to redeem themselves in the Big 12 title game, even should they perhaps suffer a loss in the Big 12 regular season. Yet, dwarfing even all of that thinking going into the 2017 season is a Week Two trip to Columbus, OH, for a key meeting with Ohio State. Oklahoma has plenty to prove after the 45-24 humiliation absorbed by the Sooners at the hands of the Buckeyes in Norman.


Riley's first team will have to replace dynamic offensive performers such as RBs Samaje Perine and Joe Mixon, plus game-breaking go-to receiver Dede Westbrook. Perine and Mixon combined for 2334 YR and 22 TDs on the ground last season, plus 47 recs. and 6 more TDs through the air. The elusive Westbrook caught 80 balls for 1524 yards (19.1 ypr) and 17 TDs. That's a lot of production. But triggerman Mayfield returns after setting a new NCAA record for pass efficiency, hitting 71% for 3965 YP, with 40 TDs vs. just 8 interceptions.


Few rookie head coaches have ever inherited a more-established trigger man! Mayfield gives OU the extremely rare senior college QB with nearly three full years of starting experience and a career mark of 88 TDP vs. only 24 interceptions. He will be protected by what projects to be one of the better OLs in recent Sooner history, featuring 6-8, 360 jr. LT Orlando Brown, one of the highest-rated linemen for the 2018 NFL draft after being tabbed responsible for only one sack LY in 659 snaps. Athletic RS soph Bobby Evans returns at RT and should improve further.


Moreover, Oklahoma has apparent uncommon OL depth for a college team. Soph behemoth Cody Ford (6-4, 363) returns at LG after suffering a leg fracture in Game Three LY, while jr. replacement 2016 Ben Powers is also back to battle for the starting gig at LG. Jr. Dru Samia is the returning starter at RG. And at C, 6-1, 329 sr. Erick Wren is the returning starter, while 6-4, 312 early enrollee Creed Humphrey was previously called by Stoops the most impressive freshman C he's landed in Norman. Look for many in that impressive group to be cross-trained to rotate and/or to fill in at other OL positions.


The Sooners were third in the nation in scoring LY at 43.9 ppg, due in large part to Perine/Mixon and long-distance WR Westbrook. That trio of HR hitters will be hard to replace. But when was the last time a Bob Stoops-built team lacked for speed and talent? Not recently. And Riley has shown the last two years he knows what to do with it.


6-5 sr. string bean WR Jeffery Mead had 10 catches and 3 TDs and is expected to see greater action TY now that Westbrook is gone. Jeffery doesn't have Westbrook's speed, but help is on the way in that department. Grad transfer Jeff Badet had 13 starts, 31 recs., and 21.6 ypr LY playing for younger Stoops brother Mark at Kentucky. Providing more speed will be juco waterbug Marquise Brown, although there was concern when his weight reportedly dipped below 150 in spring. Fortunately for the Sooners' versatile spread attack, jr. TE type Mark Andrews (31 recs., 7 TDC LY) and FB Dmitri Flowers (11 & 4) are both excellent receivers, allowing Riley to match them up vs. weak-covering LB types or smaller DBs.


Perhaps most under pressure to perform TY is 6-2, 223, RS soph RB Rodney Anderson, a workout warrior who has only one carry in his first two years due to injuries. Scouts in Norman say Anderson can do Perine/Mixon stuff when healthy. Abdul Adams (283 YR as a reserve RB LY) returns as well. And, for insurance, shifty juco Marcelias Sutton and four-star early enrollee.
Trey Sermon will be waiting in the wings. There's RB talent in quantity, although of unproven on the field.


Perhaps partly because of LY's Norman shellacking by Ohio State, d.c. Mike Stoops has decided to change OU's 3-4 of 2016 defense to a 4-3 TY, with sr. Ogbonnia Okoronkwo (9 sacks at OLB LY) taking over the featured pass-rushing hybrid "Jack" position in the front four. Sr. DE D.J. Ward, sr. DT Matthew Romar, and soph DT Neville Gallimore all have good seasoning at the other DL spots, although none is of fabled Tommie Harris or Gerald McCoy talent. Ruffin McNeill, Riley's former boss at ECU, has been hired to tutor the DTs.


The emergence of soph OLB Caleb Kelly (12 Ts as a frosh in the Sugar Bowl win over Auburn) has allowed the move of the disruptive Okoronkwo into the front four. Sr. Emmanuel Beal (81 Ts LY) patrols the middle, while spring work showed that 6-2, 232 early enrollee Kenneth Murray and RS freshman Jon-Michael Terry will be fighting for early playing time in the second line of defense. The LB and DB groups as a whole need to generate more impact plays if OU is to survive that Sept. 9 trip to OSU vs. J.T. Barrett & Co. Oklahoma defenders totaled only 25 sacks and 9 ints. LY. Not exactly "Steel Curtain" stuff.


Bob and Mike Stoops liked to use a lot of nickel defense (as do many teams these days), and there was hope in spring for improvement upon 2016's too-generous allowance of 28.8 ppg. Sr. Steven Parker (66 Ts, 2 ints. LY) is set at one safety, while jr. backup Will Sunderland was the favorite at the other S spot until a June burglary charge, resulting in suspension.


Sr. Jordan Thomas (5 ints. in 2015, but only 2 LY) has fought inconsistency throughout his career, but is among the best corners in the Big 12 when focused. Soph CB Parnell Motley was a pleasant surprise in spring when getting lots of reps as soph returning starter Jordan Parker babied a stress fracture. But it's not a stretch to say that one or two times every season in recent campaigns the Oklahoma secondary has become discombobulated at key junctures. 29 TDP allowed in 2016 is way too many for a serious title contender.


There are a couple of other players on the Sooners worth a mention, considering the pointspreads Oklahoma might be dealing with in 2017. PK Austin Seibert is 29 of 39 in FGs his first two years and should improve his accuracy and maybe distance as a junior. Also, this year's backup QB is likely to be former national high school POY Kyler Murray, the quick-as-a-cat one-time Texas A&M starter who transferred to Norman after not being the best fit in the Aggie attack early in 2015. The 5-10 Murray could be tough for tired defenders to corral should Murray take over for Mayfield in the late going vs. overmatched foes.


Summary...

Oklahoma has won a nation-leading 10 straight since LY's loss to the Buckeyes. The Sooners will need a supreme effort from the defense in order to return the favor TY in Ohio. Regardless of that outcome, the Sooner Nation will be greatly disappointed in Riley if OU isn't one of the two teams in Arlington next December battling for the Big 12 title and a spot in the hearts and minds of the College Football Playoff voters.



OKLAHOMA

STATE

(SUR 10-3; PSR 8-5; O/U 6-6-1)...Bob Stoops is gone in Norman. Still, considering that Baker Mayfield is in his fourth year overall as a starter and is 17-1 in conference the L2Ys, it's not too much of a stretch to assume that the Sooners will land one of the two spots in this year's return of the Big 12 championship game. If that presumption proves true, then the other nine teams in the league are fighting for one opening. Of course, teams and coaches don't think that way (only the talking heads and OU fans do), but such a concept puts lots of pressure on other top contenders, such as OSU.


Expect the high-scoring Cowboys, with their own prolific QB hero in senior Mason Rudolph (63.4%, 4091 YP, 28 TDs, 4 ints. LY), to be in the midst of what figures to be a furious fight. Ok. State produced 38.6 ppg LY on offense, 17th in the country. And HC Mike Gundy believes the Cowboys can improve on that average in 2017, with the school mounting a Heisman campaign for Rudolph. Gundy is somewhat familiar with such a situation, as the HC spent part of his playing career handing off to OSU's only Heisman winner, Barry Sanders (in 1988).


Rudolph will be employing his talented arm to hurl to one of the better receiving groups in the country, headlined by big-play target James Washington, the explosive 6-0 wideout who seems to play bigger, with 1380 yards and 10 TDs on just 71 recs. LY (19.4 ypr). With Washington usually commanding extra attention, 5-10 possession type Jalen McCleskey led the team in recs. with 73. Re-joining those two TY will be 6-4, 220 jumbo target Marcell Ateman, who had 45 recs. and 5 TDs in 2015 but then missed all of last year with a foot injury. Also available are 6-3 sr. Chris Lacy (31 recs. LY) and 6-1 soph Tyron Johnson, a former five-star recruit who is now eligible after transferring from LSU. WRs OSU has.


It's the balancing ground game where Gundy is seeking improvement TY. The Cowboys were a middling 68th with 171 ypg on the ground LY. So the HC is seeking more ball-control in crunch time of big games, more big gainers over the season, more crucial first downs, and less pressure on non-elusive, 6-5, 230 QB Rudolph. OSU gave up 32 sacks LY.


Gundy believes his RB group is improved over LY, thanks mainly to the maturation of soph Justice Hill, the Big 12 Offensive Freshman of the Year who emerged rapidly in 2016 with 1142 YR, 5.5 ypc, and 6 TDs. However, at just 5-10, 185, Hill comes with some durability concerns, especially with three bigger seniors (Chris Carson, Rennie Childs, Barry Sanders Jr.) all having departed after combining for 18 rushing TDs LY. 5-7, 190 jr. Jeff Carr does returns. But Gundy has high hopes for 6-1, 190 speedster Chuba Hubbard from Canada and 5-11, 205 freshman J.D. King from Georgia, who will have to earn their spurs when they report in August. There has also reportedly been given some thought to employing 6-7, 230 true frosh, dual-threat QB Jelani Woods as an extra goal-line weapon, although Woods has plenty of learning to do.


Three of five return in a veteran OL, led by T Zachary Crabtree with 34 career starts. Plus, OSU has benefited from the graduate transfer rule, as 6-8, 350 T Aaron
Cochran says he will play his final season of eligibility in Stillwater. He started at LT last season in the highly-productive spread passing attack at Cal.


In order to grab one of the spots in the Big 12 title game, OSU is likely going to have to improve on defense, which gave up 26.5 ppg, 4.6 ypc, 193.5 ypg rushing, and 39% on third down. Decent, but not great. The unit did collect 32 sacks and 14 picks. Acceptable, but with room to improve. Only five well-established defensive starters return from a unit that gave up 30 or more points eight times, six times in the potent Big 12, and 629 total yards in the Cowboy season finale at Oklahoma with the league title on the line.


The OSU defense was best LY at rushing the passer and grabbing 25 takeaways. And HC Gundy was very pleased with the depth of his DL rotation (Cole Walterscheid, Jarrell Owens, Tralund Webber, Jordan Brailford, Vili Leveni). There appears to be enough size and depth—if not dynamism—at DT in the Cowboy 3-4.


The biggest concern going into the season is at DB, where 3 of LY's top 4 CBs have graduated. Moreover, Ramon Richards, the fourth CB in LY's top-four group, has been moved to safety, where his coverage skills will be well-needed in the aerial-minded Big 12. Much like the fictional Blanche DuBois in A Streetcar Named Desire, OSU is depending once again on "the kahnd-ness of stran-jahs," as graduate Adrian Baker, a one-time starter at CB with Clemson who missed all of LY due to a torn ACL, is set to join the team and has been penciled in at one side. Promising soph A.J. Green is likely at the other. But TY's secondary will remain an issue in Stillwater until proven otherwise.


An experienced LB crew of sr. MLB Chad Whitener, jr. OLB Justin Phillips, and jr. OLB Kenneth Edison-McGruder returns after combining for 153 Ts and 6½ sacks LY. But the LB group as a whole would benefit by being more impactful in a volatile, spread 'em out league.


Summary...Gundy (recently got a new 5-year deal with automatic rollovers) is still bummed by LY's defeat to Central Michigan, when the Chippewas scored on a Hail Mary/lateral after being improperly awarded an untimed down at the end of the game following a mistaken ruling by the officials (who called intentional grounding on a fourth-down OSU heave to burn off the last four seconds). Despite the 30-27 officially-recorded loss, Gundy had the Cowboys' season-ending Alamo Bowl rings designed with "11-2" (not 11-3) on the side. While that's no big deal, a September visit to revenge-minded Pitt, followed by the conference opener vs. TCU, then a trip to potent Texas Tech might be. This year's Bedlam game vs. Oklahoma will be OSU's Game 9, not Game 12, partly to prevent a possible back-to-back situation should both the Sooners and Cowboys gain the two spots in the renewed Big 12 title game.



TEXAS (SUR 5-7; PSR 6-6; O/U 4-7-1)...Many believe Charlie Strong didn't get enough time to fully establish his program in Austin. Yes, there were some inspiring wins. But there were also too many disappointing losses. And negative season records of 6-7, 5-7 and 5-7. Not good enough; not soon enough in Longhorn country.


Now, the next hotshot coach from non-Power Five league gets his chance. Tom Herman was 13-1 and 9-3 in two seasons at Houston, including victories over Navy, Florida State, and Oklahoma. A one-time graduate assistant in Austin (1999-2000), Herman (a WR in his playing days at Cal Lutheran) has developed a solid reputation as a QB tutor in his stops the past decade at Rice (Chase Clement), Iowa State (Austen Arnaud), Ohio State (Braxton Miller, J.T. Barrett, Cardale Jones) and in his two years as head of the UH Cougars (Greg Ward, Jr.).


Herman inherits what appears to be an improving situation at UT, as Strong's recent recruiting laid a pretty good foundation of young players. Seventeen starters return from LY, although Herman opened all jobs in the spring. Says the new HC, "I think a healthy fear of losing your job is just that: healthy." Strong had sought to change the culture on a Longhorn team that had become a bit complacent and somewhat entitled at the end of the Mack Brown era. Lots of the "dead weight" had been shipped out by Strong, replaced by eager, but often mistake-prone younger players who were learning on the job. The cupboard in Austin might not be full. But neither is it bare.


Herman now seeks to accelerate the progress, whipping the Longhorns back into a top contender, which he believes should be their status every year. Although Texas had its issues in spring—QB inexperience, RB injuries, major concerns at TE, questionable OL depth, reliance on youth in the secondary in a league famous for offensive pyrotechnics—the Horns also showed enough strengths to predict they will be a factor in the race to the two-team Big 12 top.


While UT fans were bummed by the late-season struggles LY of then-true frosh QB Shane Buechele (60.4%, 2958 YP, 21 TDs, 11 ints.), let's remember that Buechele was forced into the starting role prematurely because of the erratic passing of predecessors such as 6-3 Jerrod Heard (now a Longhorn WR after 10 starts at QB) and 249-pound Tyrone Swoopes (a hammering runner who's getting a shot in the NFL as a TE). Buechele did enliven the Longhorn aerial game, but his 3 ints. in a shocking Game 11 loss at Kansas and a 16-of-39 performance a week later vs. TCU had the nattering nabobs in Austin full of negativism.


It's not much of a stretch to predict an improvement for the soph QB after a full 12 starts LY. Plus, HC Herman made sure that Buechele was challenged in spring by true frosh early enrollee Sam Ehlinger, a 6-2, 225 Texas HS POY from football power Westlake. The battle will resume in August, with Buechele holding a slight lead after a strong spring game, with the younger Ehlinger offering "healthy" competition. An experienced but inconsistent WR group returns, with 6-6, 215 soph Collin Johnson (28 recs. LY) giving signs in spring he might emerge as the lead Longhorn.


Smashmouth RB D'Onta Foreman (2028 YR in 2106; now NFL Texans) has moved on, with 6-2, 250 jr. Chris Warren III (366 YR first four games LY before knee injury) expected to step forward. Warren was limited by hamstring woes in spring, with faster early enrollee Tonell Carter and others getting a long look. Four of five return in the starting OL, which features 6-6, 320 jr. LT Connor Williams, one of the better players at his position in the country.


The front seven in UT's multiple 3-4 defense is expected to be a strength, even though the Longhorns gave up 448 ypg LY (94th in the nation) and failed to score a defensive TD. New d.c. Todd Orlando has followed Herman from Houston, where the Cougars had developed a knack for being opportunistic. Texas was fifth in sacks per game LY with 3.42 (41 for the year), but still suffered five losses by 7 points or fewer.


So there will be changes on a defensive unit with 10 returning starters, as Herman seeks greater impact. Burly sr. Poona Ford will still hold down the middle. But Malcolm Roach (3 sacks LY), a promising hybrid OLB as a freshman, moves up to the DL at end, where he hopefully will prove more disruptive. Meanwhile, former OLB/DE Brecklyn Hager (6-4, 245; 6 sacks LY) has been moved to MLB. That frees LY's man in the middle, jr. Malik Jefferson, to move to the outside, where his speed will be more impactful. 2016 top tackler Anthony Wheeler (65 Ts) will also be in the mix, while speedy juco LB Gary Johnson is also expected to get early playing time.


Three starting DBs, plus jr. nickel P.J. Locke return from LY, but some might not keep their jobs. True soph Brandon Jones has grown to a 6-0, 215 heavy hitter at safety and appears ready to start. Same for true jr. DeShone Elliott. Both are Charlie Strong recruits benefiting from early playing time to now give UT some coveted size, depth and experience in the back line. Look for the Horns to improve upon their low total of 10 ints. LY.


Summary...If "QB whisperer" Herman is able to work his magic with Buechele/Ehlinger, and if UT's RBs can stay healthy, the demanding but personable head coach should restore confidence and consistency to the Longhorn offense. And d.c. Orlando inherited an enviable core left by Strong. Herman appears to be accelerating some improvements made recently by Strong on the recruiting trail. It will be a surprise and disappointment if UT isn't a major factor in the Big 12 race. Herman's team gets a chance to "shock the football world" Sept. 16 when Texas plays at Southern Cal for the first time since 1967 (Trojans won 17-13 behind O.J. Simpson and QB Steve Sogge).



TCU (SUR 6-7; PSR 3-10; O/U 5-7-1)...HC Gary Patterson, now in his 17th season at TCU, is seeking to get his Horned Frogs back into contention in the Big 12 after suffering his second losing season in the last 12 years. But the close to last season seems to indicate that his task this year will not be easy, even with two berths available in the 2017 reincarnation of the league title game in nearby Arlington.


The Purple finished 6-7 overall, 4-5 in league play, and lost 5 of their last 7 games, including their last four at home, where the eight-foot bronze statue of a menacing giant horned frog has been reported to scare some young children entering Amon G. Carter Stadium with their parents. Apparently, last year's foes used a side entrance, as the last four visitors outscored TCU 140-82.


Feeling the pressure along with Patterson TY will be QB sr. QB Kenny Hill, in his second year in Fort Worth after transferring from A&M, and o.c. Sonny Cumbie, who moves into the playcaller role after former co-o.c Doug Meacham took the o.c. job at Kansas. The popular Patterson, is 149-54 during his tenure at TCU, but just 25-20 in Big 12 conference games, but is likely to be given plenty of rope after restoring the Horned Frog program to a position of prominence.


Not so for QB Hill, who fell out of favor midway in LY with the Aggies after 10 ints. in a five-game stretch, and who led the Big 12 in ints. with 13. There is still hope that his senior season might be the best one for the 6-1, 212-pound dual threat, who ran for 609 yards and 10 TDs in addition to hitting 61.1% through the air for 3208 yards and 17 TDs to go with those 13 picks. Hill is an obvious dual talent. With some obvious flaws, which Patterson believes are correctable. One thing, says the HC, his emotional QB must improve his body language and swagger for the benefit of the team, shaking off interceptions and bad plays as if they don't matter.


Another thing, Patterson has asked o.c. Cumbie to tailor the attack to help produce quick game-starts by Hill, because Patterson says the excitable Hill plays better when things go well early. That could mean more quick throws and scripted run plays to get Hill some momentum and in the proper frame of mind. Even though the talent is there, Hill did not excel in the spring, indicating there might be an opening as the season progresses for true-frosh, blue-chip early enrollee Shawn Robinson. Robinson was also slow to progress in spring, but his 47 TDP as a high school senior helped make him the Texas POY and indicate he could be given a look if Hill falters. One-time bright prospect Foster Sawyer has transferred to Stephen F. Austin.


Patterson says it would also help if the Horned Frogs develop a true No. 1 WR, such as Josh Doctson in the final season of Trevon Boykin in 2015, when Doctson had 79 recs. and 14 TDC. 6-4 sr. Taj Williams might be able to fill that bill. He's 6-3 and had 39 recs. LY, but only one TDC in the last eight games. Evasive 5-9 jr. KaVontae Turpin can be a big-play threat at WR and on returns, but he is only 5-9, 153 and played in only 8 games LY due to injuries and academic issues. There is hope that incoming blue-chip WR recruit Jalen Reagor (son of TT and former NFL DT Montae Reagor), the Texas HS state long jump champ, will make an early impact.


One thing the Frogs do not have to worry about is their starting RB, as sr. Kyle Hicks blossomed into one ot the better all-around backs in the country LY, with 1042 YR and 12 TDs on the ground, plus 47 recs. and 2 TDs through the air. In all, 10 starters return on the Frog offense, although considering LY's weak finish and inconsistency, some of those will not retain their jobs. Still, a returnee group that big portends good competition and decent depth on the attack.


Seven are back on the defensive unit, including decorated LBs sr. Travin Howard (130 Ts; all-conf.) on the outside and jr. Ty Summers (121 Ts; 2nd all-Big 12) in the middle. Plus, emerging young depth at the key LB position in Patterson's patented 4-2-5 base has coaches thinking of moving Summer to DE, which lost both starters LY, including top sacker Josh Carraway (8 sacks). Sr. Mat Boesen (6 sacks LY) holds down one DE TY. And 6-4, 240 transfer Ben Banogu (5 sacks as a RS freshman at La.-Monroe in 2015) has the makings of a quick rusher at the other. Consistent pressure from the front four is a key to making the rest of the 4-2-5 work at its maximum in dealing with the multitude of spread attacks these days.


Last year's Frogs collected 43 sacks, but grabbed only 8 ints. and forced only 8 fumbles. Two few for Patterson, who saw his unit give up 28 ppg and finish -4 in TOs. Three quick CBs return in sr. Ranthony Texada, soph Jeff Gladney, and jr. Julius Lewis (back from an Achilles injury). And sr. S Nick Orr showed a nose for the ball LY with 4 interceptions. A sign that the Frogs might be ready to move up in the standings TY will be whether the seasoned defense can generate more useful takeaways than LY.


Summary...The proud Frogs suffered a comeuppance last year after Trevone Boykin had led the team to 12-1 and 11-2 seasons. With so many returnees, however, TCU seems poised for a comeback. But it won't be easy, with games at Arkansas, Oklahoma State and Kansas State in the first six weeks, and at Norman Nov. 11. The Purple should be back in the bowls. But without a surprise or two in league play, the Big 12 championship game in Arlington seems like a longshot.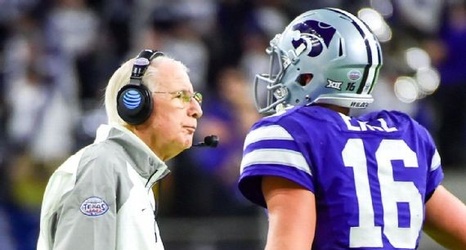 KANSAS STATE (SUR 9-4; PSR 7-5; 0/U 7-5)...

J

ust about any preview of K-State football must begin with Bill Snyder, the beloved 77-year-old patriarch of the Wildcat family, set to turn 78 in October and now in his 26th season as the head of the program. He has begun his ninth season in his return following a three-year "retirement" that turned out to be far from permanent. And this offseason the maestro of Manhattan had to deal with treatment for throat cancer. The prognosis reportedly appears good. Still, it still causes one to pause.


Some in the Purple Nation were surprised to see Snyder return after last year's 9-4 campaign. Others believe he's doing so because the perfectionist mentor didn't want that four-loss season to be his swan song. He's the oldest current FBS head coach. Joe Paterno passed away at 85. Bobby Bowden is 87 and retired 7 years ago. Bob Stoops called it quits at Oklahoma a few months ago at 56 and was a Snyder assistant in Manhattan for seven years until 1995! Considering that Kansas State was one of the most forlorn outposts in college football before Snyder took over in 1989, the fact that he has since posted 202 victories (vs. 105 losses and a tie) is rather remarkable.


Which brings us to this year's team, which returns 13 starters—7 on offense and 6 on defense. The key player is dual-threat sr. QB Jesse Ertz, who was the team's leading rusher LY (1012 yards) in addition to completing 57.6% for 1755 yards with 9 TDs and 4 interceptions. Without great help from his RBs (then-sr. Charles Jones was second in team rushing with only 596 yards), Ertz—who missed all but one series in 2015 due to a knee injury—often took quite a licking. But, in true Timex fashion, the 6-2, 212-pounder kept on ticking, starting every game despite a "minor" injury in Game Six and grinding out clutch play after clutch play despite getting extra attention from opposing defenses. Ertz did, however, undergo shoulder surgery after the season and missed spring ball, a health situation that must be monitored closely in August. Promising soph Alex Delton (3 of 6 LY) is the backup.


Thus, a top priority in the Little Apple has been to provide Ertz with far more support in 2017. And, while K-State can't produce offensive forces such as Oklahoma's Perine-Mixon-Westrook stars of LY, more help for their leader on the field appears to be on the way for the Wildcats.


Three of five starters return from one of the better-schooled OLs in the country, one led by jr. RT Dalton Risner that misses few assignments and has become one of the "stickiest" at holding its blocks under Snyder. Recall the many late-developing key gainers by lanky, slowish 6-5 KSU QB Collin Klein a few years ago behind a resolute front wall. Well, Mr. Klein is now the Wildcats' QB coach, replacing Snyder friend and long-time asst. Del Miller, who retired TY at 66 to spend more time with his grandchildren!


In addition to the very capable Ertz, K-State is excited about soph RB Alex Barnes, a 6-1, 221 bruiser with some speed. Now a RS soph, Barnes (442 YR, 7.9 ypc) began to develop rapidly toward the end of 2016 and gives the Wildcats the most punch they've had at RB in several seasons. Jr. Justin Silmon (454 YR LY) is a solid veteran to rotate in. And 235-pound jr. FB Winston Dimel (only 30 carries, but 12 TDR) returns as a successful short-yardage smashmouth guy.


A priority this season has been to develop the K-State aerial game, giving the team more big-play ability and relieve some of the pressure on key-player Ertz. After a slow start, 6-2 juco WR/KR Byron Pringle finished with 39 recs. for 16.2 ypr and 4 TDs LY. The Wildcats scored 32.2 ppg in 2016. But the K-State passing attack has not been able in the L2Ys to match the dynamism of the 2014 Wildcats, who produced a pair of 1000-yard WRs in Tyler Lockett (106 recs. for 1515 yards; Curry Sexton (79 recs. for 1059 yards). With Ertz now in his second year as a starter, expect to see more of Pringle, plus 5-9 jr. Dominique Heath (45 recs. LY). The WR corps is expected to get a boost from 6-4 soph transfer Carlos Strickland, a Dallas product who began his college career in Sonny Dykes' "Bear Raid" at Cal. If Ertz stays healthy, look for K-State's passing yards and point production to increase.


What's more, a little more offense would help a defense that was already pretty stubborn LY, allowing only 115 ypg rushing (11th in the nation) and just 3.7 ypc. Plus, the disciplined Wildcats turned the ball over only 12 times in 13 games and thus finished +13 in TO margin (only four teams were better).


With a little help from some new starting LBs, this year's 4-2-5 defense of KSU could be even better. Three of four return up front, led by active soph DE Reggie Walker, who collected 6½ sacks as a redshirt freshman LY (being named the Big 12 def. FOY). Fifth-year sr. LB Trent Tanking, a hard-hosed former walk-on and two-time all-Big 12 academic honoree, was a standout as a backup LY and is expected to move into the starting lineup. However, the LB positions have been further beefed up, with juco Da'Quan Patton and true freshman Daniel Green joining the competition.


Due to LY's experience, this year's secondary should be even tougher. Sticky CBs D.J. Reed and Duke Shelley each had 3 ints. LY. Kendall Adams is a hard-hitting 217-pound safety who had 62 Ts and 2 more picks. Coveted 6-3, 210 juco S Elijah Walker is expected to take over at nickel-back and also make an impact. Needless to say, KSU's talent and coverage ability at DB are big pluses in the Big 12. If the Wildcats develop a quality pass rush, their ability at DB could make the secondary even tougher.


PK Matthew McCrane (11 of 14 FGs LY) returns, along with return men WR Pringle (kickoffs) and WR Heath (punts) to give K-State valuable experience on STs, coached by Snyder's son Sean.


Summary...The venerable Snyder would like to see son Sean (Associate HC/STs coord.) replace him as head of the Kansas State "family." And micro-manager Bill reportedly has been willing to delegate more responsibility in the program in recent seasons. His system of recruiting and "coaching up" quality players with a flaw or two has helped produce seven straight bowl appearances. While few four and five-star recruits show up in Manhattan, there are also few player departures after just three years (as at Bama, Ohio State, Oklahoma, etc.). Snyder (6-1 as a dog LY) has carved his niche. And, if Ertz is healthy, K-State just might carve its way into a berth in the Big 12 title game.

NEXT UP: BIG 12--PART II
Return To Home Page