7422...
TGS 2017 COLLEGE FB PREVIEW
...A LOOK AT THE SEC--PART I

by Gary Olshan, Chief Analyst

Following is our preview of the SEC, beginning with the East Division; the West will be covered in our subsequent update. As always, teams are listed in order of predected finish, with 2016 straight-up and spread marks included.


GEORGIA (2016 SUR 8-5: PSR 6-7)—If the veteran defense plays up to its potential, and the offense and special teams make incremental improvement, Georgia has a very good chance to win its first SEC East title in five years. We tend to bet that way in what shapes up as a three-team race with Florida and Tennessee. Bulldogs' second-year mentor Kirby Smart, who brought in a killer recruiting class (ranking third nationally!), is a big believer in the value of momentum from one season to the next. But even though he is happy UGA finished LY by winning four of five including a 31-23 win over TCU in the Liberty Bowl, Smart can't stop fretting about the one loss during that stretch, a 28-27 crusher vs.hated rival Georgia Tech. "I'm so sick about that one we lost," Smart says. Dawgs must wait until the season finale on Nov. 25 to exact some revenge vs. GT. Georgia has a good shot at a fast start before the crucial West Division showdown at Tennessee on Sept. 30, with home games vs. Appalachian State, Samford & Mississippi State along with a tilt at suddenly-vulnerable Notre Dame (5-7 LY; starting an inexperienced QB to boot) in Week 2.



FOOTBALL COMING SOON...TGS 2017 EARLY DEALS NOW! ...

Click here to order


Five starters return to an offense (24.5 ppg; 102nd nationally LY), which surpassed 28 points only 4 times and never exceeded 35 a year ago. According to Smart, 6-5 soph QB Jacob Eason (only 55.6%, 2,430 YP, 16 TDs, 8 ints. LY) has demonstrated increased confidence and is more vocal in the huddle. But Eason is facing stiff competition from remarkably-poised, five-star 6-2 frosh passer Jake Fromm, while the decision of sr. Brice Ramsey not to transfer adds depth and security at that position.


Dawgs will own one of the nation's premier RB tandem, with the surprising return of star sr. ball-carriers Nick Chubb (1,130 YR, 8 TDs) .and Sony Michel (840, 4). But Georgia needs to be more effective running the ball (only 4.7 ypc LY) behind an unsettled and somewhat proven OL, returning only two starters. UGA's downfield passing is seeking improvement despite the early departure of dynamic WR Isaiah McKenzie. Jr. WR Terry Godwin (38 catches LY), who leads the receiving corps. needs to find a GPS device to the endzone this season after failing to score in 2016.


With 10 starters back on the defense (24.0 ppg LY), that unit has a chance to be one the nation's top stop units. The Dawgs are deeper and more talented up front than they've been in years, headed by Trenton Thompson and Jonathan Ledbetter, though coaches still looking for an elite pass rusher. High-energy jr. Roquan Smith (team-high 95 tackles LY) paces another top-shelf LB corps, while Smart likes the leadership of starting sr. safeties Dominick Sanders (first-team All-SEC pick in 2015) and Aaron Davis. "Dom is an emotional, vocal leader, while Aaron leads by example and makes all the calls," he says.


Soph kicker Rodrigo Blankenship nailed 14 of 18 FGs LY, but he didn't kick one longer than 46 yards, and his kickoffs need to improve.



FLORIDA (

2016 SUR 9-4

; PSR 6-7)—UF's third-year HC Jim McElwain impressively has made two trips to Atlanta for the SEC title game. But capturing the SEC East for the third straight time will be a challenging assignment, with McElwain probably breaking in a new QB and reloading on a defense that lost a number of key playmakers soon to be earning a living in the NFL. Tough opener for UF, which faces Michigan in Jerry's World on September 2. UF, however, does get to host important encounters with Tennessee and LSU, and Gators have a good opportunity to sweep as a visitor in SEC play, with trips to Kentucky, Missouri and South Carolina.


Nine starters return on an attack (23.9 ppg; 107th nationally LY) that returns its best group at the skill positions since 2009 when Tim Tebow had a talented supporting cast to work with. Potent jr. RB Jordan Scarlett (889 YR LY) will be the No. 1 guy on the infantry. Big-play jr. WR Antonio Callaway (54 grabs LY) is ready for a big jump after putting his off-season issues behind him, while 6-2 soph Tyrie Cleveland has reportedly as much potential as anyone in Gainesville. After having only four scholarship players on the OL prior to his arrival in 2015, McElwain believes that the previously underperforming unit will be the driving force for the offense. But he is naturally less certain about his QB position. Strong-armed, remarkably-poised 6-6 frosh triggerman Feleipe Franks ended the spring as the frontrunner, while former starter Luke Del Rio (56.7%; 1,358 YP, 8 TDP, 8 ints. LY) returns from shoulder surgery. But the summer addition of Notre Dame grad transfer Malik Zaire could completely change the equation. Whatever, McElwain looks in better shape at QB than he has sicne moving to Gainesville in 2015.


Only three starters are back on a defense (16.8 ppg) under the tutelage of first-year d.c. Randy Shannon, who played on and coached national championship teams at Miami-Florida. He was an easy choice to replace Geoff Collins, who left to become Temple's head honcho. Shannon looks to uphold a high standard on a defense that has ranked among the nation's top-15 the past nine seasons. Jr. DE Cece Jefferson owns the tools to become a fierce pass rusher, while RS soph DE Jabari Zuniga (8.5 TFL & 5 sacks in 2016) is primed for a breakout campaign. Soph MLB David Reese (Frosh All-American LY) will anchor a young LB unit alongside fellow soph Vosean Joseph, who is a vicious hitter.


CB is clearly the biggest question mark after finishing second nationally in pass defense LY. The SEC's best tandem—Teez Tabor and Quincy Wilson—left early for the NFL. The Gators signed six DBs, so expect some youngsters to work into the rotation, while soph Chauncey Gardner moves to CB from safety, where he earned Outback Bowl MVP honors. Safeties Marcell Harris (team-leading 76 tackles LY) and Nick Washington should provide good communication and leadership.


UF arguably own the nation's premier kicking game. Strong-legged sr. punter Johnny Townsend led the nation with a 47.9-yd. average, while jr. Eddy Pineiro nailed 21 of 25 FGs, including three from 50-plus yards!



TENNESSEE (2016 SUR 9-4; PSR 5-7-1)—UT's fifth-year HC Butch Jones has led his team to three straight bowl wins and a 4-1 close to the 2016 season, a growing collection of upperclass talent throughout the roster and back-to-back nine win campaigns. But Volunteer Nation still a bit restless since Jones has yet to capture the East Division title. And we don't expect it to happen in 2017, since Jones must replace a record-breaking QB, two key pass rushers and a big-play receiver.
Plus, there are plenty of new staff members, most notably o.c. Larry Scott (and old TEs coach), QBs coach Mike Canales and former Michigan HC Brady Hoke, the new DL tutor. Scott's promotion drew some displeasure from Tennessee loyalists because he has never called plays during a college game, although Scott was the interim HC at Miami-Florida at the end of the 2015 campaign. Plus, the schedule is unforgiving, with road trips to Georgia Tech, Florida in September and Alabama in October. And powerhouse LSU is on the slate for the first time since 2011!


Five starters return to an offense (36.4 ppg LY) that will tweak its modified spread attack to cater to new personnel, specifically competing QBs Quinten Dormady and Jarrett Guarantano, who have huge cleats to fill with the departure of Josh Dobbs. In the fall, Scott will chose between 6-4 jr. Dormady (11 of 17 LY), who has a big arm and strong pocket presence or 6-4 RS frosh dual-threat Guarantano, with dazzling mobility and an electric arm. Coaches are desperately looking for needed help behind RB John Kelly (630 YR, 5 TDs LY; 6.4 ypc ) and WR Jauan Jennings (40 catches, 7 TDs LY). The OL has improved greatly in the offseason, thanks in large part to new strength coach Rock Gullickson, formerly of the Los Angeles Rams. That unit is heavily fortified with the big addition of already-starting true frosh Trey Smith, ESPN.com's No. 1-rated prospect in the 2017 class.


Six starters are welcomed back on a defense (28.8 ppg 5.0 ypc LY) that needs to shore up its run defense after yielding 218.5 ypg rushing (104th) LY. Coaches also need to uncover pass rushers to replace a pair of bookend DEs, who combined for 20.0 sacks LY. On the positive side, jr. LB Darrin Kirkland is back to anchor the defense after missing much of last season with a high ankle sprain, while the Vols boast two of the more dynamic DBs in the SEC with Todd Kelly Jr. (team-leading 71 stops LY; 2 ints.) and Nigel Warrior—both the sons of former Vols first-round NFL Draft picks.


Kicker Aaron Medley is 43 of 48 on FG attempts inside 40 yds. for his career, but is only 9 of 25 from beyond. If Evan Berry returns from an injury that sidelined him in November, he might lead the nation in kick returns and earn A-A honors as he did in 2015.



SOUTH

CAROLINA

(2016 SUR 6-7; PSR 6-7)—Though South Carolina will have trouble cracking the top three in the West Division, the Gamecocks could certainly surprise if they can morph into a more physical, gritty unit in 2017. South Carolina's 2nd-year mentor Will Muschamp says, "It goes back to the core values of our program, and we want to be a more physically tough football team. We weren't. We were a soft organization and it was disappointing." But the Gamecocks should have an offense that ranks among the best in the SEC, while the defense could make tough-minded Muschamp rejoice if some imported juco talent and highly-regarded freshman from his solid recruiting class can live up to the hype right away. South Carolina has a plethora of toss-up games on the slate, and never have to play back-to-back true road games TY (face NC State in Charlotte in opener).


Ten starters return to an attack (20.8 ppg; 116th nationally), which should display immediate growth under quick-learning, poised, accurate, soph QB Jake Bentley (7 starts; 65.8%; 1,420 YP; 9 TDP, 4 ints. LY), who's surrounded by a fully-capable supporting cast. The soph RB trio of Rico Dowdle (764 YR, 6 TDs LY), A.J. Turner (497 YR) & North Carolina transfer Ty'son Williams should provide a formidable ground assault, while the proven, swift WR duo of jr. Deebo Samuel (59 grabs LY) and Bryan Edwards (44) can stretch opposing defenses. So, if the somewhat maligned OL (41 sacks allowed LY; four starters back) can become more cohesive and physical, Bentley will be afforded sufficient time to scan downfield and the RBs will improve upon their lowly 3.2 ypc average of a year ago. Look out for highly-touteed RS frosh Sadarius Hutchinson, who could take over at LT.


Six starters are back on a defense (26.5 ppg; only 21 sacks LY) that was fairly consistent LY until permitting a combined 102 pts. in back-to-back losses to national champs Clemson and South Florida in the Birmingham Bowl. Athleticism, depth and speed are all issues on a unit depending on incoming recruits in 2017, especially along a thin DL that needs to improve its quickness and ability to pressure a QB.


A BIG plus, however, is the return of speedy, three-time leading tackler LB sr. Skai Moore (missed LY due to neck injury), who'll work well alongside sr. Bryosn Allen-Williams, who had 8.5 TFL LY. The veteran secondary, spearheaded by SS D.J. Smith (team-leading 80 tackles LY) & strengthened by four-star frosh Jamyest Williams, still a work in progress (a steady pass rush would help).


Major concerns with the special teams following the graduation of the school's all-time leading scorer, Elliot Fry, who'll be replaced by homegrown RS frosh Alexander Wozniak.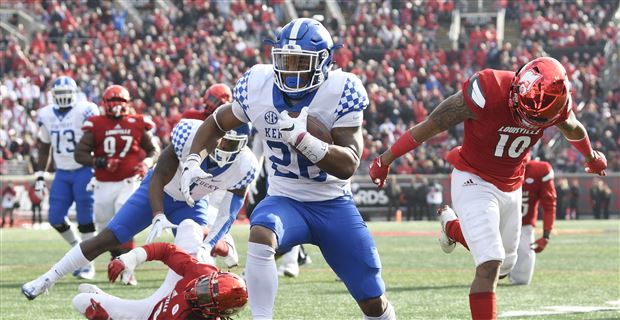 KENTUCKY (2016 SUR 7-6; PSR 7-6)—Though UK started 2-3 and appeared destined for a fourth consecutive losing season, the Wildcats rebounded to finish with a 5-3 mark over their final 8 games and tied for second in the SEC East. With the bulk of the squad returning in 2017, there is now a sense of anticipation rather then a boatload of questions on both sides of the ball. "I feel much better about our team, in particular the second half of the year," HC Mark Stoops says. "I think we finall turned the corner and started showing signs of being the team we can be. We feel good because our positive momentum carried us into a better offseason that we have had." If the Wildcats are going to actually be a factor in the SEC East race, serious improvement must come from a defense that still hasn't shown the toughness and grit needed to cope with the powerful infantries in the SEC.


Eight starters return to an run-heavy attack (30.0 ppg; 234.2 ypc rushing; 3rd in SEC LY) featuring 2016 Freshman All-American RB Benny Snell (1,091 YR. 13 TDs; no carries in first two games!), who'll navigate behind a veteran, well-coordinated OL (4 starters back). Coaches are hoping for a more balanced attack, probably directed by sr. QB Stephen Johnson (54.7%; 2,037 YP, 13 TDP, 6 ints. LY) after leading the team to 7 wins in 11 games as the No. 1 guy. Johnson does need to improve his ball security (lost six fumbles in 2016) and intermediate passing game. Former starter Drew Barker, who missed the last 10 games with a back injury, is a solid backup if he doesn't win back his job in the fall. That's unlikely. Though big-play WR Jefft Badet transferred to Oklahoma, Stoops feels good about his wide-outs, especially the sr. duo of Dorian Baker and Garrett Johnson (39 catches LY).


Similar to the offense, eight starters are back on a defense (31.3 ppg LY) undergoing some change under promoted, first-year d.c. Matt House (LB coach LY; former d.c. at Pitt & Florida International). House is looking for aggressiveness on the DL, ranked a putrid 110th vs. the run LY. Expect jr. second-team All-SEC LB Jordan Jones (109 tackles, 15.5 TFL LY) to make an even.greater impact TY, while fellow LBs Josh Allen (7.0 sacks LY) & Denzil Ware provide a steady pass rush. The seasoned, jr.-laden secondary is highlighted by CB Derrick Baity (3 ints. LY) and SS Mike Edwards (3 picks LY).


After battling injuries as a soph, former All-SEC kicker Austin MacGinnis, who returned to form in 2016 (hit 16 of 19 FGs), is on pace to become the program's all-time leading scorer TY.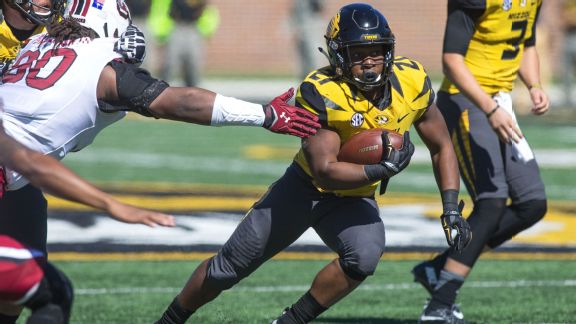 MISSOURI (

2016 SUR 4-8

; PSR 4-7)—For the first time since 2001-02, Mizzou is coming off consecutive losing seasons. As a result, second-year HB Barry Odom has reshuffled his defensive staff. The Tigers dropped from 15th in total defense in 2015 to 118th LY. But we won't be surprised to see prideful Missouri bounce back this season since the tackle-whiffing defense figures to show noticeable progress after having its worst year since 2000 in 2016. Odom says, "If you are true and honest with yourself, you can get it figured out." Odom says he's certain that his players are understanding the concepts better and the coaching staff's approach to teaching them has improved. "Guys are embracing things" he asserts. And to their benefit, the Tigers open up the season with four consecutive home games.


Ten starters are back on an highly-effective, uptempo spread offense (31.4 ppg; nation-leading 500.5 ypg) directed by jr. QB Drew Lock (3,399 YP; 23 TDP, 10 ints. LY), who should exploit a variety of prime-time weapons asd he continues to grow in his second year under o.c. Josh Heupel. Soph RB Damarea Crockett, who has terriffic vision, didn't take over as MU's primary back until midseason but finished with a 1,062 YR (Tiger freshman record) despite serving a suspension for the final game. Rangy (6-3) sr. WR J'Mon Moore (62 catches LY; SEC's only returning 1,000 yd. receiver!) and soph wideout Dimetrios Mason (47 LY) gives the balanced attack size and speed on the outside, while prized, in-state frosh WR Da'Ron Davis could make an early impact. Plus, the Tigers return seven OL who started games LY after that unit was essentially starting from scratch to commence the 2016 campaign.


Only three starters return to a defense (31.5 ppg LY) that struggled mightily early on in 2016 trying to execute Odom's freshly--installed read-and-react style over the first part of the season. Wisely, Odom scrapped the complicated pre-snap reads that reportedly created tension between some players and coaches. The Tigers produced a more potent pass rush in the second half of the season and plan to stick to that approach TY.


Coaches are hoping a host of juco signees—featuring Rashad Brandon, a 305-pound wrecking ball at DT—help provide a transformation up front and alleviate some of the burden from hard-nosed sr. DE Marcell Frazier (7.5 sacks LY). Odom must replace both CBs, but sophs DeMarkus Acy, Christian Holmes & sr. Logan Cheadle looked ready to step in during the spring. There are a plenty of athletic candidates at LB, and LY's starting safety tandemof Thomas Wilson & Anthony Sherrills are being seriously pushed by jr. Cam Hilton & soph Ronnell Perkins, who're listed as starters on several early two-deeps.


Corey Fatony booms punts and kickoffs, but the placekicking is shaky with Tucker McCann, who hit only 6 of 12 FGs and shanked four extra points LY.



VANDERBILT (

2016 SUR 6-7

; PSR 7-6)—Despite its lopsided 41-17 loss to NC State in LY's Independence Bowl, over the final two reg.-season games, the Vandy attack scored a total of 83 pts. in wins over Ole Miss and Tennessee, the most by the program in consecutive games since scoring 95 in victories over Auburn and LSU way back in 1948! Those DD triumphs seem to show tangible signs that the program is headed in the right direction under fourth-year HC Derek Mason, who has seen his squad improve in each of his three years in Nashville. Continuing that pattern won't be easy, not with a four-game run that includes Kansas Sttate, Alabama, Florida and Georgia between Sept. 16 and Oct. 7. Ouch!


Mason, however, believes that his team's increased experience (20 of the projected 22 starters are in at least their third year in program!) will allow the Commodores to handle the early gauntlet and the rest of the schedule. "We do feel good about what we are building," Mason says. "Every year stands on its own merit, though."


Eight starters return to an offense (23.0 ppg LY), which should continue to progress under now-confident jr. QB Kyle Shurmur (54.4%; 2,409 YP; 9 TDP, 10 ints. LY), whose flourishing late-season production was aided by improved play of the WRs. There is a solid four-man wideout rotation in 2017, featuring Caleb Scott (10 grabs over final 3 reg.-season games) and C.J. Duncan (44 catches LY), so look for that unit to make a decent climb after finishing 100th in passing LY (191.2 ypg).


After depth issues LY, RB is now arguably the deepest position on the roster. Elusive, tackle-busting sr. RB Ralph Webb (school-record 1,283 YR LY) is the main man, Khari Blasingame was a pleasant surprise after switching from LB, and the staff raves about RS frosh Jamauri Wakefield. The OL should be solid despite the departure of NFL-bound LT Will Holden, thanks in part to highly-touted, 6-7, 305-pound RS frosh LT Devin Cochran, who appears ready to make an early impact.


Seven starters are back on a defense (24.0 ppg LY; 21 ppg in 2015) that took a small step backward in 2016, but still finished in the top half of the SEC in both yards (sixth) and points (tied for fifth). That unit excelled in red zone defense and big-play prevention, but the staff must find a replacement for the early NFL departure of LB Zach Cunningham, arguably the best defensive player in school history. Mason says its will be "LB by committee," but seasoned sr. players like Oren Burks and Emmanuel Smith bring athleticism, while former four-star recruit is primed for a breakout season on the outside.


Mason has his best secondary in 2017, and his senior-laden unit figures to be more of a ball-hawking bunch after picking off only five passes TY. The deep DL, should be stingier vs. the run TY (yielding 4.7 ypc in 2016) and muster more of a pass rush (only 15 sacks LY). That unit will be anchored by DT Nifae Lealao, a former top 150 recruit, who Mason claims is as good as any nose tackle in the SEC, but wants him to be more consistent.


The special teams were improved across the board, led by sr. kicker Tommy Openshaw, who booted 15 of 19, with three of the four misses from 45 yds. or longer.

NEXT UP: SEC WEST
Return To Home Page