7419...
TGS 2017 COLLEGE FB PREVIEW
...A LOOK AT THE ACC--PART II
by Bruce Marshall, Goldsheet.com Editor


After looking at the Coastal half of the ACC in our previous installment, we preview the Atlantic half of the loop. As always, teams are presented in order of predicted finish, with 2016 straight-up, spread, and "Over/Under" records included.



It's hard to look at

Florida State (2016 SUR 10-3; PSR 8-5; O/U 6-5-1)

and not notice the Seminoles' schedule for 2017. Games vs. Alabama, Clemson, and Florida, all away from Tallahassee, provide quite a gauntlet to run. The opener vs. the Crimson Tide, the college christening of the spectacular new Mercedes-Benz Stadium, across the street from the old Georgia Dome in Atlanta, might be the best opening-weekend match we can recall. Add in Miami and Louisville, and the schedule begins to look like some of those that Bobby Bowden used to put together early in his tenure with the Noles (then in their independent days) to get national notice, in particular a five-game stretch in 1981 at Nebraska, followed by an "Octoberfest" at Ohio State, Notre Dame, Pitt with Dan Marino, and LSU. Whew!



FOOTBALL COMING SOON...TGS 2017 EARLY DEALS NOW! ...

Click here to order

Bowden's FSU lived to tell about such adventures and we suspect Jimbo Fisher will be able to do the same this fall. Whether the Noles can emerge relatively unscathed and stay in the national title hunt into November likely depends upon RS soph QB Deondre Francois taking the next steps after passing for 3350 yards and 20 TDs in his debut season.

Impressive as those stats look in retrospect, however, they were a bit of a letdown after Francois debuted like gangbusters in the opener at Orlando vs. Ole Miss, throwing for 419 yards and a couple of TDs and running for another 59 yards in a wild 45-34 comeback win on Labor Day night. At that moment, Francois appeared to be the early Heisman frontrunner, ready to provide the Noles with their second winner of the award in three years after Jameis Winston won it in his RS frosh campaign of 2013. But Francois never got close to 400 yards passing in another game last season, and by the middle of September had become a Heisman afterthought following a 63-20 loss vs. Louisville and QB Lamar Jackson, who effectively sewed up the Heisman then and there. And only against one FBS defense (Boston College) did Francois throw 3 TDs all season. The natural comparisons to Winston, which were running rampant over the Ole Miss win, quieted considerably as the season progressed.


Still, Francois is regarded as a livewire, and Fisher, a noted QB tutor, continues to work with Francois to process reads quicker and get the ball out of his hands earlier. And when Jimbo talks to his QBs, they listen...after all, Christian Ponder, EJ Manuel, and Winston are past Fisher students who went on to become NFL first-round picks.


Though only five starters return on offense, ACC sources insist that star potential is everywhere. As usual, there is speed galore, especially on the edges, where jr. WR Nyqwan Murray looks on the verge of a breakout after scoring twice against Michigan in a thrilling Orange Bowl win. Ballyhooed frosh RB Cam Akers enrolled early and was the star of the spring game. Punishing 231-lb. RB Jacques Patrick has gained better than 5 ypc in his career and has been awaiting his chance behind Dalvin Cook, who gained 1765 YR in 2016 but left a year early for the NFL and was drafted by the Vikings.


There are some questions on a rebuilt OL that allowed 36 sacks a season ago, though better pocket awareness by Francois should alleviate some of that concern. A rising star could be LT Josh Bell, but LT Roderick Johnson left early for the NFL and was drafted by the Browns, and G Wilson Bell transferred to Auburn. Fisher could have used both this season. Meanwhile, PK Ricky Aguayo tried not be distracted by brother Roberto's kicking troubles as a rookie with the NFL Bucs and hit all 12 of his FG tries inside of 40 yards, but was only 7 of 14 from beyond.


Whatever questions on the offensive side are negated by what might be a top five defense that returns nine starters. That doesn't include star FS Darwin Jones, who went down with a knee injury in Week 2 vs. Charleston Southern and didn't return. But like they used to say long ago with the Winston cigarette commercials on TV, it's what's up front that counts. And the Noles might have one of the nation's most-robust DLs and certainly one of its deepest rotations. FSU's 51 sacks ranked second nationally a year ago, and while there is a void left by graduated DE DeMarcus Walker (Broncos' 2nd-round pick) and his 16 sacks, this year's bookend DEs Josh Sweat and Brian Burns combined for 16.5 sacks of their own last season when Walker usually just beat them to the opposing QBs. Jimbo and d.c Charles Kelly also believe the Noles go three deep at all four spots along the line and can wear out the opposition. Meanwhile, all starters return at the LB spots.


The Noles play with five DBs in their base formation, and the return of the aforementioned FS Darwin James from injury adds a playmaker deluxe to the mix. At CB, jr. Tavarus McFadden developed into an A-A last season with eight picks.


As mentioned, the schedule is daunting to say the least, and the Noles won't necessarily be out of the Final Four picture if they lose the opener to Bama. But FSU probably becomes number one and the team to beat in the nation if it can beat the Tide, as Jimbo matches wits with former mentor Nick Saban. Another circled game on the calendar will be the October 21 revenge battle vs. Louisville, this year played in Tallahassee. Tough schedules, however, have always been part of the fabric of the Seminoles, and they have often been up to the challenge.


Spread-wise, the Noles have been mostly overpriced since the national title team of 2013 covered almost every number, no matter how high the oddsmakers priced the games. But Jimbo has recorded 8-5 spread marks each of the past two seasons and has covered 9 of the past 12 at Doak Campbell Stadium, often carrying some hefty numbers in the process.



How do you replace the irreplaceable? We'll find out this fall at Clemson (2016 SUR 14-1; PSR 7-7; O/U 8-6), which attempts an encore after a couple of glorious seasons that resulted in a pair of title game classics vs. Alabama and a last-second win over the Crimson Tide last January in Tampa. All engineered by QB Deshaun Watson, who did everything humanly possible for the Tigers except win a Heisman Trophy, which he probably would have won, too, had the vote been held after the pulsating win over Bama that gave Clemson its first national title since the Danny Ford team of 1981.


That 35-31 success vs. the Tide was merely the latest in a series of big-game wins by HC Dabo Swnney, who started recording some of those well before Watson set foot on campus in 2014. "Big Game Dabo" has now beaten LSU, Oklahoma (twice), Ohio State (twice), and Bama in bowl/playoff games the past five seasons. Not to mention winning the last three ACC title games in which the Tigers have participated. Those who wonder if Clemson will suddenly stop winning because of Watson's departure have not been paying attention to what Swinney has built in "Death Valley."


No matter, it is fair to ask if the Tigers can continue to play at a championship level post-Watson, especially since Deshaun made the difference in almost every close Clemson win over the past two seasons. Watson, however, will be taking snaps for the Houston Texans this fall, and he wasn't the only key Tiger to move into the NFL after last season, with record-setting WR Mike Williams a first-round pick of the Chargers, 1000-yard rusher Wayne Gallman taken by the Giants, and key TE Jordan Leggett tabbed by the Jets.


That's a lot of firepower to replace, though filling the gap created by Watson's departure is something different entirely. Especially considering that he passed for more than 4000 yards each of the past two seasons and tossed a total of 76 TD passes, while rushing for 1734 yards and accounting for another 21 TDs on the ground.


Junior Kelly Bryant isn't expected to be the next Watson, but Swinney moved quickly to position him as the likely heir apparent early in the post-Deshaun process. That is unless true frosh QB Hunter Johnson, who enrolled early and impressed in spring, proves too good to redshirt or keep on the bench this fall. Eventually, Johnson might win the job, though for the time being Bryant is expected to get the snaps in the opener vs. Kent State and thereafter in 2017. Both Bryant and Johnson are mobile passers in the Watson mold, but we'll have to see about their intangibles. The fact both can run is important, as QBs on the move is part of the design of the Clemson attack as directed by co o.c.'s Tony Elliott and Jeff Scott.


To replace Gallman, Clemson likely uses a RB-by-committee approach at the outset until one runner emerges; at the start, it's likely sturdy jr. C.J. Fuller, though soph Tavien Feaster ran with considerable flair in spot duty as a frosh when gaining a healthy 6 ypc. Meanwhile, junior wideouts Ray-Ray McCloud (49 catches LY) and Deon Cain (another 38 receptions in 2016) have been patiently awaiting their chances to become featured post-Williams targets and could provide dangerous downfield options for Bryant, Johnson, or whomever is throwing passes. Former walk-on Hunter Renfrow is also back after catching 44 LY including the last-second game-winner vs. Bama.


Fortunately, a veteran OL that returns four starters looks like the cornerstone of the platoon, led by All-ACC LT Mitch Hyatt and All-ACC RG Tyrone Crowder. Swinney is also well set at PK with jr. Greg Heugel one of the ACC's most reliable after hitting 14 of 19 FG tries last season.


A bit unsung in the recent success has been the stellar work of Brent Venables' defense, which has ranked among the nation's leaders the past three seasons despite annually losing an assembly-line of talent to the NFL. The Tigers were a top ten scoring and total "D" stop unit a year ago and could do the same this season, anchored by seven returning starters and a nasty defensive line as the foundation.


It will be tough to move the middle of the Clemson "D" with tackles jr. Christian Williams and soph Dexter Lawrence, the latter looking ready for the NFL as a frosh last season. Meanwhile, soph Clelin Ferrell looks to be the Tigers' next great DE after chasing Alabama QB Jalen Hurts all night in the title game last January.


What might be hard to replace is the emotional leadership of voacl LB Ben Boulware, spending this summer in the training camp of the Carolina Panthers, but jr. Kendall Joseph, off of a 124-tackle season, looks a capable replacement in the middle. The secondary has leadership at the corners with srs. Ryan Carter and Marcus Edmond, though soph Trayvon Mullen moved ahead of Edmond on the post-spring depth chart.


We'll get an idea early on if Clemson is up for another title run, as by mid-September the Tigers will have already hosted Auburn and traveled to Louisville, games that Swinney might wish were a bit later in the schedule, given all of the personnel changes on offense. A tough trip to Virginia Tech also awaits at the end of the month. If Clemson remains unscathed, it will likely be full steam ahead to a showdown vs. Florida State on November 11, this time at Death Valley. No surprise if major playoff implications rest on that outcome.


Spread-wise, what immediately jumps out from recent years is Dabo's aforementioned success in the postseason; Clemson is 7-0 vs. the line in bowl/playoff games since 2012. Dabo is also 7-1 in rare underdog roles over the past three seasons. But the Tigers have not routinely handled the biggest of spreads, only 3-8 their last 11 laying 20 or more.



We haven't had a repeat Heisman Trophy winner in 42 years; indeed, when Ohio State's Archie Griffin turned the trick in 1974 & '75, he was the only player ever to do so. But we get another chance this season with Louisville (2016 SUR 9-4; PSR 6-7; O/U 8-4-1) jr. QB Lamar Jackson, who might have sewn up the Heisman earlier than any winner in recent memory after the Cards dismembered Florida State, 63-20, last September 17. Jackson's four rush TDs and 363 yards of total offense vs. the Noles left a nation breathless. By the end of September, Jackson was the toast of college football and the 'Ville had scored a staggering 59 points or more in each of its four opening wins. Thereafter, Jackson was in control of the Heisman race, though a win akin to Seretariat's romp in the 1973 Belmont never quite materialized as Jackson endured a rough November, his stats declining noticeably as he completed barely 50% of his passes in those games, which narrowed his eventual win margin over Clemson's Deshaun Watson.


It's also a good thing for Jackson that the Heisman vote came before the bowls, and prior to the Cards' one-sided Citrus Bowl loss to Ed Orgeron's LSU, when Jackson completed an un-Heisman-like 10 of 27 throws and was held to 1.3 ypc on 26 rush attempts. Meanwhile, all Watson did was steer Clemson to the national title. Recent precedent suggests the odds are against a repeat; the last to try was FSU's Jameis Winston in 2014, and he fell considerably short, finishing sixth, far behind winner Marcus Mariota.


When the dust settled last season, the long-legged speedster Jackson had passed for 3543 yards and 30 TDs and rushed for another 1571 yards and a whopping 21 TDs, but there was nonetheless a hollow feeling after the Cards lost their last three games, blasted by Houston and LSU (in the bowl) in games where Jackson was neutralized, sandwiched around a painful 41-38 loss at Papa John's Stadium vs. in-state Kentucky, the 'Ville's first loss to the Cats since 2010. In that game, Jackson tossed three picks and coughed up a fumble that UK would convert into a game-winning FG in the final seconds. The Cards had risen as high as fifth in the College Football Playoff poll before the Houston loss and still had realistic hopes of making the Final Four. Instead, three losses in a row would ensue, taking much of the luster off of what had once looked like a brilliant campaign for HC Bobby Petrino.


It wasn't that the Cards lost those last three games, it's how they did so, in a hail of sloppy mistakes, turnovers, and missed tackles, not to mention Jackson's reduced effectiveness. After the season, Petrino and d.c. Todd Grantham parted ways in what turned out to be a coordinator swap with Mississippi State, which ended up with Grantham while last year's Bulldog d.c., Peter Sirmon, has moved to the 'Ville. More on the "D" in a moment.


In the meantime, Jackson begins the defense of his Heisman without his top three receiving targets from last season, though there is hope that former QB Reggie Bonnafon might emerge as a dangerous downfield target after further adjusting to his new position and catching 13 passes a year ago. There is still some experience in the wideout ranks, with jr. Jaylen Smith gaining better than 22 yards per catch on his 27 receptions last season, and soph Seth Dawkins was one of the breakout performers of spring.


Though Jackson is a unique running threat, it will be up to bruising jr. RB Jeremy Smith (282 YR LY) to handle the traditional carries after the graduation of Brandon Radcliff (903 YR LY).


Petrino was also so concerned about his OL that allowed a staggering 47 sacks (more staggering considering how well QB Jackson usually escapes tackles) that he made another staff switch, hiring former Florida asst. Mike Summers to oversee an OL that returns only two starters.


Oh, yes, about the defense with new coordinator Sirmon, who has spent only one season as a d.c. in his career and will be assisted by secondary coach Lorenzo Ward, who first worked with Petrino at Arkansas. Seven starters return, but the platoon has lost a lot of front-line talent to the NFL in recent years. The next draftee might be sr. OLB James Hearnes (8 sacks LY) or sr. DE Drew Bailey. Hearnes, however, missed the bowl game vs. LSU along with LB Henry Famurewa after suffering gunshot wounds at an off-campus party. The Louisville season really did end about a month too late last year.


The strength of the stop unit should be in the secondary, where all four starters return, though the Cards did allow an ACC-high 29 TD passes a year ago. That can partly be attributed to the big leads the Cards piled up in many games and foes throwing incessantly in order to play catch-up. The best of the bunch is probably jr. CB Jaire Alexander, with five picks last season.


As a year ago, the 'Ville is going to get tested in September, this time at North Carolina and then home to defending national champ Clemson. If the Cards exit unscathed, the stage could be set for a big year and another Heisman run by Jackson. A mid-October date at revenge-minded Florida State looks like the only game beyond September when the Cards might be an underdog. The Louisville from the first half of last season might be able to deal with these obstacles; the post-October version, however, probably not. We'll see if Petrino regains control of a team which faded badly as the last campaign concluded.


The tale of two seasons at the 'Ville in 2016 can also be summed up by the spread performance, which declined sharply after those four ultra-impressive wins and covers out of the chute. Thereafter, the Cards were just 2-7 vs. the line. Not surprisingly, the 'Ville is "over" 12-5-1 its last 18 dating to mid 2015. The Cards also have covers in their last five openers, back to the Charlie Strong years, but will be laying a mountain of points to Purdue and its new HC, former Petrino disciple Jeff Brohm, at Lucas Oil Stadium in Indianapolis on September 2.



We're usually on top of coaching hot seat news, but were a bit surprised when our ACC sources let us know, after the fact, that NC State (2016 SUR 7-6; PSR 9-4; O/U 6-7) AD Debbie Yow might have pulled the plug on HC Dave Doeren had the Wolfpack not won its regular-season finale vs. Tobacco Road rival North Carolina last November. A win was far from assured vs. the Tar Heels; NCS was a 10-point underdog. But the Wolfpack was up to the task in Chapel Hill and pulled a 28-21 upset, climbing to 6-6 and bowl eligibility. Missing out on the postseason would have given Yow and NCS administrators a better excuse to hit the eject button on their coach, who proceeded to temporarily solidify his position a bit more in a 41-17 Independence Bowl romp past Vanderbilt.


Anyone who doubted Yow had an itchy trigger finger need only to recall what happened last March, when long-serving hoops HC Mark Gottfried walked the plank. Yow, who has an announced retirement date of 2019, would like her legacy set in Raleigh for at least a few years beyond her bon voyage, and whether Doeren is part of that legacy remains to be seen. Doeren can thus consider himself on notice again this fall, and another 6-6 regular-season mark might not be enough. Even though the Wolfpack isn't expecting to compete for a national title every year, it would like to fare better than the 25-26 SU mark Doeren has recorded since hired away from Northern Illinois after the 2012 season.


Doeren, however, might have a chance to take off some of the pressure this season with a squad that returns 16 starters from a year ago, with several honors candidates on both sides of the line of scrimmage. The schedule, while challenging, provides an opportunity for Doeren to secure his footing a bit more...or slip off of the ledge entirely.


Eight starters are back on offense led by former Boise State transfer QB Ryan Finley, who proved a godsend last season following the graduation of the previous Wolfpack transfer QB, Jacoby Brissett (via Florida), who ended up starting a couple of games for the Super Bowl champion Patriots a year ago. Finley had familiarity with first-year o.c. Eliah Drinkwitz from days together at Boise, though Finley was a bit cautious with his downfield throws for much of the season. Finely did, however, save one of his best efforts for the bowl win over Vandy, firing a sesson-best 3 TDP. If he stays healthy this fall, he ought to improve upon the 3059 YP and 18 TDP he recorded in 2016.


Experienced weaponry is at his disposal, including the unique threat of slotback Jaylen Samuels, the leading returning receiver after catching 55 passes a year ago for 7 TDs as well as carrying the ball 33 times on a variety of reverses and jet sweeps. Samuels has scored 29 TDs via pass and run the past two years, or one score every 7.2 times he touches the ball.


Samuels might be in the backfield more this fall as Doeren looks to replace graduated 1000-yard rusher Matt Dayes, a draft pick of the Cleveland Browns. Drinkwitz believes a pair of juniors who have been patiently waiting for their shots, Reggie Gallaspy and Nyheim Hines, could effectively fill Dayes' shoes by committee. Finley's top four receiving targets are also back from last season, including Samuels and deep threat Stephen Louis, who gained almost 20 yards per catch on his 35 receptions. The vet OL returns four starters, including sr. RG Tony Adams, a three-year starter and potential honors candidate.


Like offensive counterpart Drinkwitz, Pack d.c. Dave Huxtable also returns eight starters in his 4-2-5 alignment, including the entirety of a robust defensive front that ranked eighth nationally in rush defense and allowed only 3.3 ypc. The DL might be one of the best in the ACC, if not the country, with four senior starters in the fold including All-ACC DE Bradley Chubb, who racked up 21.5 tackles for loss and 10.5 sacks last fall. Because of the strength of the interior of the line, foes usually can't double-up on Chubb, a projected first-round NFL pick who dominates most man-to-man situations. The LBs are all seniors as well, with Jerod Fernandez and Airius Moore having essentially started together since their frosh years.


If there is a concern on the stop end, it's in the secondary, where three starters need to be replaced, and filling the shoes of S Josh Jones, who led the team with 109 tackles a year ago before being taken in the second round of the NFL Draft by the Green Bay Packers, might be a chore. Projected starters soph CB Nick McCloud and jr. nickel back Freddie Phillips have played little in the past and must grow up quickly.


All of the games this season loom as pivotal ones for Doeren, especially the opener vs. South Carolina in Charlotte. A win there, and the Pack can expect to be 3-0 for the trip to Florida State on September 23. Keep in mind that NCS almost beat the Noles (a 24-20 nailbiter) and eventual national title winner Clemson (which survived an OT scare) a season ago, but also lost to a subpar East Carolina and Boston College. A bit more consistency, along with another win or two, will go a long way to helping Doeren's job security. We know he's working for an impatient and impulsive AD.


Spread-wise, Doeren has become a pretty good bully the past couple of years, with NCS 6-2 as chalk each of the last two seasons. The Pack is also 11-2 vs. the line its last 13 vs. non-ACC foes. Doeren also recovered to a 3-2 mark as a dog last season after dropping all five getting points in 2015.



Just about when the fan base at

Wake Forest (2016 SUR 7-6; PSR 8-5; O/U 6-6-1)

was wondering if HC Dave Clawson was ever going to forge a turnaround at Winston-Salem, the Deacs displayd a pulse for the first time in several years. On the grand scale, it wasn't much, barely getting postseason eligible and qualifying for the Military Bowl. But once there, Wake, as an 11 1/2-point dog, did knock off a well-regarded Temple, and it all signaled real progress that was hard to identify in the first two years of the regime of Clawson, who in the past had experienced success in his head coaching stints at I-AA (Richmond) and the MAC (Bowling Green).


After all, Wake supporters don't have to have an especially long memory to know of the good times. Remember, the Deacs actually won the ACC in 2006 and qualified for the BCS Orange Bowl under Clawson predecessor Jim Grobe, who took Wake to bowls four times in a six-season span between 2006-11. Though Clawson does not have to get to the Orange Bowl to keep the Wake fan base from beating the war drums, he needs the occasional bowl visit, which the Deacs recorded for the first time since 2011 a year ago, and a somewhat entertaining product (which Wake might not have been last season) to reach a rather low bar of keeping the supporters satisfied.


Unfortunately for the Deacs, a return to 2006 seems unlikely, with the old order in the ACC restored the past few years, augmented by brash newcomer Louisville, which happens to play in Wake's divison. So Deac upside is probably limited in the short-term, though Clawson can keep the customers satisfied by winning just enough....which should be within reach again this fall.


Clawson got bowl-eligible by the first week of November last fall even without the luxury of his first-string QB for most of the campaign. Shortly after wresting the job from jr. John Wolford in early September, and winning at Duke, soph Kendall Hinton went down with a knee injury in Game Three vs. Delaware. More mobile than Wolford, Hinton is the favorite to win the job before the August 31 opener vs. the Presbyterian Blue Hose, but Clawson has uncommon depth at the QB spot with a pair of pilots who have starting experience. Now he has to worry about keeping Hinton and Wolford upright after both have also dealt with injuries the past two seasons (Wolford also missing portions of 2015); Wake has allowed at least 39 sacks in each of the last three seasons, and ranked a poor 113th in that category a year ago.


Not counting the QBs, eight other starters are back on offense for Clawson, including three rising juniors along the OL with a combined 62 career starts. "Those guys (T Justin Herron, G Paul Haynes, & C Ryan Anderson) are now legitimate ACC offensive linemen," says Clawson, though the Deacs barely gained 3.5 ypc in 2016, and QBs Wolford and Hinton (when healthy early in the season) were often running for their lives. Wake did have three different 500-yard rushers last season for the first time since Cal Stoll's 6-5 team in 1971, and top rushers Matt Colburn (626 YR LY) and Cade Carney (589 YR in 2016) both return. But Deac backs were stopped at or behind the line fo scrimmage on 21% of their carries last season, and less than 9% of their runs carried 10 yards or more. It is safe to wonder if the same collection of runners and blockers can improve much this season, though, perhaps, a livewire such as Hinton at QB could change the dynamics. We'll see.


Unfortunately, the wideout corps failed to produce many explosive plays last season, either, as Wake scored only 9 TDs via the air, though every Deac who caught a pass in 2016 returns, including slotback Tabari Hines (team-best 38 receptions). Senior TE Cam Seigne battled injuries last season but did catch a combined 100 passes in 2014-15; keeping him healthy would be a plus. A couple of RS frosh, Arkeem Byrd and Greg Dortch, could provide the deep threats that Hinton needs.


With an offense ranking in triple digits nationally in almost every meaningful stat category, it might seem a surprise that Wake could win 7 games last fall, but credit has to go to a much-upgraded defense that finished a highly-respectable 23rd in scoring (22.2 ppg) and 40th overall, impressive considering the various big-time arsenals the Deacs faced last fall. That success, however, got d.c. Mike Elko noticed, and he was snatched up by Brian Kelly at Notre Dame in the offseason. Clawson, however, caught a break when former Minnesota d.c. Jay Sawvel was looking for work after the Gophers made a late coaching change to Western Michigan's P.J. Fleck. Now Sawvel is Wake's d.c. after his Minnesota "D" ranked 21st in the nation a year ago.


Sawvel must replace four of the top six tacklers from a year ago, but does retain sr. DE Duke Ejiofor, whose 10.5 sacks last fall keyed a a Wake pass rush that ranked 11th nationally with 41 sacks. He also welcomes back sr. OLB Jaboree Williams from a very opportunistic platoon that forced 27 TOs, ranking 10th nationally. Depth is a bit of a issue in the secondary, but the arrival of grad transfer CB Cedric Jiles from Mississippi State, where he started eight games last fall, alleviates some of those concerns.


Clawson is also looking for improvements from his return units that ranked at the bottom of the ACC, prompting a change of his special teams coach. But nothing to worry about with sr. PK Mike Weaver, whose namesake was once Heavyweight Champion of the World; the PK Weaver made 21 of 27 FGs last season to earn All-ACC honors.


Wake started fast last season with four wins out of the chute and the schedule sets up favorably again in the first month, though the Deacs will have to avenge a close loss to Boston College if they want to be 4-0 again when entertaining Florida State on September 30. That begins a difficult middle-of-the-season stretch that also includes Clemson, Georgia Tech, Louisville and Notre Dame before the load lightens in November. It might take Wake a while longer to get bowl eligible this fall, but we suspect the Deacs get there, keeping the fan base satisfied and Clawson safe until further notice.


Spread-wise, what jumps out is Clawson's recent success as a double-digit dog, a role in which Wake was 4-0 last season and now 13-4 its last 17 for Clawson. Refining that further, getting 19 points or more, the Deacs have covered 8 of their last 9. Wake has also covered 8 of its last 9 away from BB&T Field.



Not all 7-6 records and bowl successes are alike. Take Boston College (2016 SUR 7-6; PSR 7-6; O/U 5-8), which managed enough wins to qualify for the postseason in 2016 by beating the likes of UMass, Wagner, Buffalo, and a wretched UConn to reach the mandatory six wins for bowl eligibility, then gifted a suspect Maryland in the Quick Lane Bowl, for which the Terps became eligible only because of their own win over a downtrodden Rutgers in their regular-season finale. BC then beat the Big Ten version of itself in Detroit to finish above .500, and anyone who recalls the days when the Big Ten and old Pac-8/10 would deny several high-quality non-champions to play in bowls, or legendary postseason sides like a 9-1, Top Ten LSU in 1969, simply had to shake their heads.


It was a narrow escape for HC Steve Addazio, who might not have been invited back for 2017 had the Eagles not beaten aforementioned UConn, and then a modest Wake Forest by a narrow 17-14 margin, in the last two games of the regular season to get to 6-6, plus drawing a weak bowl foe in Maryland. ACC sources suggest Addazio enters this fall very much in the gunsight of new AD Martin Jarmond, who can be expected to conduct a full review of the football program after this season. Never mind that Addazio has squeezed into minor bowls in three of his four campaigns at Chestnut Hill; with an offense that has arguably been the worst in the country over the past two seasons (BC ranking 125th and 127th, respectively, the last two years), Addazio is not scoring any style points, and has little room for error this fall.


Perhaps that 36-30 bowl win over Maryland offered some encouragement, however, when o.c. Scott Loeffler showed some uptempo looks and creativity, both about as scarce in recent years as Republicans members of Congress from the Bay State. Last year's catalyst, however, has departed, as grad transfer QB Patrick Towles (via Kentucky) was merely a one-season stop-gap. As was Tyler Murphy (via Florida), the QB for Addazio's preceding bowl entry in 2014.


Hoping to finally lend some stability to the QB position this fall will be RS frosh Anthony Brown, a dual-threat who looked better than Towles at times in practices last season and whose spring work suggested he will beat out jr. holdover Darius Wade (who has started a handful of games the past two seasons). Still, we're not sure how dynamic the Eagles can be after scoring just 20 ppg (ranking 118th a year ago) and with plays being called by Loeffler, whose last real success as a coordinator came with Addazio at Temple back in 2011. Since then, Loeffler helped get Gene Chizik fired at Auburn and might have hastened the retirement of Frank Beamer at Virginia Tech with dull-edged play-calling. Let's just say we'll believe it when we see it regarding any BC offensive upgrades.


The Loeffler/Addazio offense still figures to be run-first, but the Eagles are a ways off from gaining better than 5 yards per pop as they did in the year Murphy was at QB in 2014; last season, BC gained just 3.4 ypc, which makes it hard to play ball control. When healthy, punishing RB Jon Hilliman has been relatively effective, but gained only 2.9 ypc in 2016. A couple of true frosh, AJ Dillon (who de-committed from Michigan to ink with BC) from nearby New London, CT, and Travis Levy from Olney, MD could take carries away from Hilliman. Four starters return along on OL that was subpar a year ago. A former QB, jr. Jeff Smith, has emerged as a potential downfield threat at WR after gaining nearly 15 yp catch in 2016. The top four pass-catchers return from a year ago, including Smith and fellow wideout Michael Walker, who caught 33 passes last term.


That BC has been able to win ten games over the past two seasons can be mostly attributed to a rock-ribbed defense that ranked first nationally in 2015 and maintained its top ten status a year ago. Addazio lost d.c Don Brown to Michigan after 2015, but vet Jim Reid, hired off of the staff of Kirk Ferentz at Iowa, retained much of the scheme and mixed-and-matched his personnel effectively.


As in recent years, BC finished among the nation's leaders in rush defense (108 ypg was best in the ACC and 7th nationally), and the front seven should again be ornery, especially with sr. DE Harold Landry having skipped a chance to leave early for the NFL (where he might have been a first-round pick last April) after leading the nation with 16.5 sacks a year ago. Another sr., MLB Connor Strachan, was a terror both against the run and as a blitzer a year ago when he led BC in tackles.


Three starters are also back in the secondary, though the Eagles were a bit leakier than usual vs. the pass a year ago, often having trouble matching up with the top-level speed in the ACC. Seniors Isaac Yiadom and Kamrin Moore are back at the corners, but the best friend of the DBs will likely once again be one of the top pass rushes in the ACC.


Unfortunately for Addazio, the schedule does not look as if it will provide as many gimmes this season, especially in September, when the Eagles will have to face both Notre Dame and Clemson. Though BC's rugged defense kept many of the lesser foes in check a year ago, the Eagles were outscored a combined 202-24 by Louisville, Virginia Tech, Florida State, and Clemson, and they're all on the slate again this season. Thus, with a new AD on the scene, Addazio is advised to find some offense in a hurry before his seat gets really, really warm by November.


Spread-wise, Addazio has lately not been able to parlay home edge into much of an advantage; the Eagles are 3-10 vs. the line at Alumni Stadium the past two seasons. BC is, however, 8-3-1 vs. the line away from Chestnut Hill the past two years. And, as might be expected with such a suspect offense and bruising defense, the Eagles are "under" 18-6 since 2015.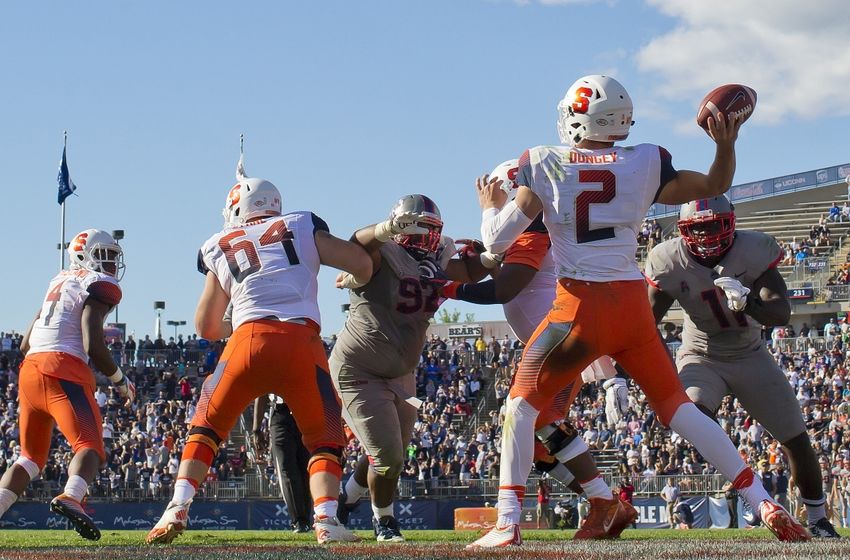 It

was a bit hard to tell when football season ended and basketball season began last November for Syracuse (2016 SUR 4-8; PSR 5-7; O/U 5-7). Four times the Orange conceded 50 points or more, and the season concluded with a ridiculous 76-61 loss at Pitt...the most points ever allowed by a Syracuse team!.


At times, that sure didn't look like football that the 'Cuse was playing last year under first-year HC Dino Babers, whose extreme, uptempo, hurry-up, spread often plays at a faster pace than Jim Boeheim's hoopsters. To think this was the same school that mastered the art of overpowering the opposition in the '50s and '60s under revered HC Ben Schwartzwalder, when the then-called Orangemen would instead physically punish foes and incessantly slam the center of the line with fullbacks like Jim Brown, Jim Nance, or Larry Csonka, and disdained the forward pass more than CNN does Donald Trump. On

five

different occasions last season, Cuse QBs completed

more

passes than Schwartzwalder's starting QBs Dave Sarette in 1960, and Wally Mahle in 1962 and '64, did in their

entire

seasons. In

every

Cuse game last season, the Orange completed more passes than QB Chuck Zimmerman did for the

entirety

of Jim Brown's senior year in 1956 (Zimmerman completed 16 passes!).


The ghost of Schwartzwalder would also not be able to recognize the sort of defense played last term by the 'Cuse, which was constantly overpowered at the point of attack and ranked among the nation's worst in almost every relevant stat category, including scoring (38.6 ppg ranked 120th) and total defense (501 ypg ranked 122nd). This from the same Syracuse that allowed 193 yards rushing for an entire season in Schwartzwalder's national title year of 1959!


While Babers was able to succeed at the FCS level at Eastern Illinois, and in the MAC at Bowling Green with the same sort of volleyball offense, it was only scoring 16 ppg in the ACC until that wild finale vs. Pitt. Note too that the Cuse's average loss margin in league play last season was a whopping 28 ppg. All suggesting that this style of extreme video football is not going to work to any great effect in the ACC until Babers either substantially upgrades the Orange recruiting or makes some adjustments, particularly on the offensive end. But Boeheim is more likely to junk his zone defense than Babers is planning on doing things much differently on the attack end this fall.


In all, no team in the country is returning more than 19 starters as is the Cuse, but we're not convinced an upgrade is imminent. Expect more pitch-and-catch with the strike force featuring jr. QB Eric Dungey, who is a prototypical spread pilot and passed for 2679 yards a season ago while battling through injuries and conceding significant snaps to backup Zack Mahoney, who was the one firing all of those missiles in the season-ending shootout at Pitt and passed for 943 yards of his own last fall.


Always from the spread, Dungey (or Mahoney) constantly look to exploit one-on-one situations on the edges, often with quick, short throws, many of those last season to sr. WR Ervin Phillips (90 catches last year from his inside slot but only for 822 yards, highlighting the dink nature of the offense). The deep threat provided last year by the graduated Amba Etta-Tawo (who gained better than 16 yards per catch on his 94 receptions) is likely to be assumed by sr. Steve Ishmael, who caught 48 passes in 2016. There is also a thought among some ACC insiders that the Cuse is also set up to run better than it did last season, almost always on draws or counters, and that RS frosh Markenzy Pierre might be the best back to enroll at Cuse in years, and could be doing a lot of downhill running in this offense. Five starters also return along the OL, and Babers might be willing to use a TE on occasion (as opposed to his normal four wideouts) with juco A-A Ravian Pierce one of this year's top recruits.


The "D" is back almost en masse with ten returning starters, but we're not sure that is a good thing after the platoon was ravaged a year ago. One of the problems was getting back on the field too quickly after so many quick-three-and-outs by the offense, so, in a sense, the offense could help the defense greatly by just maintaining a bit better ball possession (the Cuse ranked third from bottom in ACC time of possession last season).


The Orange, however, struggled so badly in pass coverage in 2016 that Babers and d.c. Brian Ward had to ditch man coverage entirely in their Tampa 2 scheme. Perhaps the return of sr. FS Antwan Cordy from a broken arm that kept him out of nearly every game a year ago will help. So might grad transfer CBs Devin Butler (via Notre Dame) and Jordan Martin (Toledo), plus juco safety Mykelti Williams.


The front seven has plenty of experience, though the status of jr. DT Steven Clark is up in the air due to a blood clotting issue discovered in the offseason. The all-senior LB corps featured the first 100-tackle pair at the school in over a decade last fall in MLB Zaire Franklin and weakside backer Paris Bennett. But this is basically the same platoon that also allowed over 5.4 ypc last season. Questions abound.


Fortunately for Babers, he has once again been gifted three straight games at the Carrier Dome to open the season. More fortunately, Louisville and South Florida (which combined to outscore the Orange 107-48) aren't among them as last year. Since Central Connecticut. Middle Tennessee, and Central Michigan all appear beatable, it's possible the Cuse be 3-0 heading into LSU on Sept. 23. That's when the going could get bumpy, with ACC action following. A three-game stretch vs. Clemson, Miami, and Florida State at midseason might smash whatever is left of the Orange's bowl hopes. But the occasional high-profile foes could certainly find the Babers style confounding, as was the case last season with Virginia Tech, which never could figure out what the Cuse was trying to do, losing outright as a 21-point favorite!


Spread-wise, Babers found the ACC a lot tougher than the MAC, where he recorded a 9-3-1 spread mark at Bowling Green in 2015; the Cuse was only 4-7 vs. the line against FBS opposition last season. The only game in which the Orange was favored in 2016 was the opener vs. FCS Colgate. Curiously, the Cuse was "under" 9-3 last season, partly because "totals" were adjusted sky-high following an early 62-28 loss to Louisville.
NEXT UP: SEC
Return To Home Page