7411...
TGS 2017 COLLEGE FB PREVIEW
...A LOOK AT THE ACC--PART I

by Bruce Marshall, Goldsheet.com Editor


Following is our preview of the ACC, beginning with a look at the Coastal half of the loop; the Atlantic Division will be covered in our next update. As always, teams are listed in order of predicted finish, with 2016 straight-up, spread, and "Over/Under" results included.



Talk

about finishing a year on a high note! Meet Virginia

Tech

(2016 SUR 10-4; PSR 8-6; O/U 8-6), which appeared to be left for dead when spotting Arkansas a 24-0 halftime lead in the Belk Bowl last December 29. But in a second-half surge that reminded some of USC's long-ago comeback in 1974 vs. Notre Dame, the Hokies proceeded to score 35 unanswered points to win going away in Charlotte. Now, that's how to hit an offseason!




FOOTBALL COMING SOON...TGS 2017 EARLY DEALS NOW! ...

Click here to order


The apparent revival of the VPI program has thus coincided with last year's hire of HC Justin Fuente, which came just in time in Blacksburg after the end of the Frank Beamer era was more drawn out than decline in health of Generalissimo Francisco Franco four decades earlier. Though Beamer's marks in Hokie history, and college football, were safe long before VPI lost momentum in recent years, it was time for change when Beamer finally hung 'em up after 29 seasons in charge following the 2015 campaign. Indeed, the Hokies hit some heretofore unthinkable heights at the peak of the Beamer era, but after recording double-digit wins in eight straight seasons, Beamer's last four teams ended 7-6, 8-5, 7-6, and 7-6, barely keeping alive a bowl streak that reached 23 straight at the end of his tenure. Still, things had obviously gone stale, and no one bothered to talk Beamer out of retirement, which at least he entered in style in a wild Independence Bowl win over Tulsa.


Hired away from Memphis, where he resurrected a long-dormant Tiger program, Fuente, who first came to prominence as o.c. on Gary Patterson's TCU staff, immediate proved the shot of adrenaline that the Hokies needed. Discarding the out-of-date Beamer offense, while keeping Beamer's longtime d.c. Bud Foster, the Hokies would record their best record in five years and allayed the fears of many of the VPI faithful who didn't know of a world in which Beamer was not their coach. Fuente, however, seems ready for a long and prosperous run in Blacksburg, now one of the better jobs in the country with a rabid regional fan base and easy access to fertile recruiting grounds such as the Tidewater area (spawning ground of Michael Vick and various other Hokie stars), which Beamer mined to great benefit over the course of his career.


Fuente quickly put his stamp on the program last year by implementing the sort of uptempo spread that had made QB Paxton Lynch a first-round NFL draft pick out of Memphis the previous year. The Fuente offense proved a perfect fit for livewire juco QB Jerod Evans, who put together a school record-setting season when passing for 3552 yards and 29 TDs while rushing for another 846 yards and 12 TDs. Unfortunately, Evans received some of the worst advice since Hillary Clinton on her presidential campaign when deciding to leave early for last April's NFL Draft. Evans would go undrafted before signing a FA deal with the Eagles, leaving behind what would seem a crater to fill at QB in Blacksburg.


But, as Lee Corso might say, not so fast, my friend, as Fuente believes he has ample talent ready to step into the breach. There is palpable excitement in Blacksburg about true frosh Hendon Hooker, who enrolled early to participate in spring drills and wowed observers enough to believe he might get the start when the Hokies open the season at the Redskins' FedEx Field on September 3 vs. West Virginia. Hooker has Evans' dual-threat skill set and then some, but at 6'4 and a spindly 190 pounds, durability could be an issue. Which is why Fuente has yet to name a starter into fall camp, where RS frosh Josh Jackson, another livewire, will continue to compete for the job along with juco A.J. Bush, who started his career at Nebraska. We'll take Fuente at his word that there is nothing to worry about at the QB position for VPI, while expecting Hooker to be the man sooner rather than later, though he'll have to hit the ground running for the Hokies to come close to the 35 ppg they scored last season.


The QB Evans was not the only Hokie to leave early for the NFL, as key targets WR Isaiah Ford (drafted by the Dolphins) and TE Bucky Hodges (drafted by the Vikings), who combined for 127 catches and 14 TDs in 2016, also left a year early. Again, Fuente will be relying upon talented youngsters, such as soph Eric Kumah and RS frosh Phil Patterson and Kalil Pimpleton, emerging as complementary targets to supplement sr. Cam Phillips, who caught 76 passes as a junior and will likely leave VPI as the school's all-time leading receiver.


Fuente would rather not one of his QBs lead the team in rushing again, however, and jr. Travon McMillian, whose yardage dropped from 1042 in 2015 to 671 last year because Evans kept the ball so often for himself, likely reassumes a featured role in the fall, though he will be pushed by several frisky runners. The right side of the OL is looking for a couple of new starters, but the left side looks rock solid with sr. G Wyatt Teller already on Mel Kiper, Jr.'s radar for next April's NFL Draft.


Maybe Fuente's best move when hired was deciding to keep d.c. Foster, Beaner's longtime sidekick, in the same role. One of the nation's most accomplished defensive strategists, Foster's past defenses have thrived with the sort of experience at his disposal this fall. Seven starters return from a platoon that again ranked in the top 20% of all relevant defensive stats a year ago.


Foster is replacing three starters along his line, but his platoons have always had an abundance of speed and playmakers, and several past rotation pieces have always been itching at their chance to shine, such as jr. DT Ricky Walker, who moves into a starting role this fall. Soph Trevon Hill looks like another Foster playmaker and is a potential breakout candidate at DE. The LBs loom as the strength of the platoon, as all starters return, led by ILB Andrew Motopuaka (114 tackles LY, 5th in ACC), a favorite Hokie of retired Hawaii play-by-play man Jim Leahey, and hybrid Mook Reynolds, with superb pass cover abilities, on the outside.


Foster's defense also intercepted 16 passes in 2016, second in the ACC, and returns three starters, with last year's rover back Terrell Edmunds, off of a breakout year, sliding over to the vacated FS spot in spring. The secondary is stacked, with srs. Brandon Facyson and Greg Stroman back as starters at the corners, but Foster is going to find some place to stick decorated true frosh Devon Hunter, VPI's top recruit this year who has drawn comparisons to a young Kam Chancellor.


There is already rumbling in Blacksburg about the visit of defending national champ Clemson on September 30; remember, the Hokies gave the Tigers a run in last December's ACC title game, and Dabo Swinney no longer has QB Deshaun Watson to save the day. If VPI can get past West Virginia in the aforementioned opener, it should hit the Clemson game unbeaten, and with one of the new QBs having had a month to work out some of the kinks. The fate of the Coastal Division is likely decided by back-to-back November road games at Miami and Georgia Tech, but by that time, the Gobblers might resemble a very well-oiled machine.


Spread-wise, the Hokies recorded their first winning mark a year ago since 2010, a further reminder of how stale things had become toward the end of the Beamer era. Lane Stadium once again became something of a fortress, where the Hokies covered 4 of their 5 ACC games. Dating back to his Memphis years, Fuente is also now 7-2 his last 9 as a dog, and he continued VPI's dominance over Virginia, as the Hokies beat the Cavs for a 13th straight time last fall.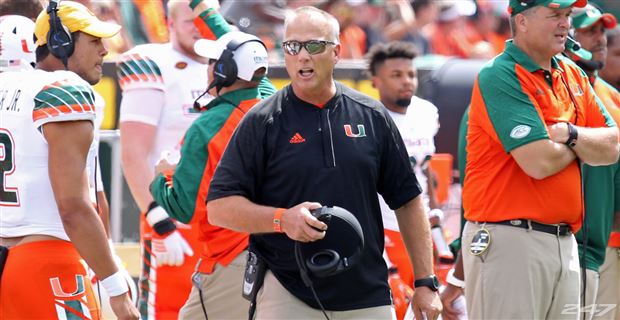 They haven't been this excited in South Beach since before LeBron James left the Heat. That's because HC Mark Richt seems to have his alma mater Miami (2016 SUR 9-4; PSR 9-4; O/U 6-7) poised for at least a return to national relevance after a disappointing decade that included the end of the Larry Coker era, and the subsequent Randy Shannon and Al Golden regimes that never really achieved lift-off. That old Hurricane bugaboo, NCAA violations, and the threats thereof, plagued the program for some of those years, resulting in occasional bowl bans. But Miami is now beyond those latest transgressions and ready to scale the heights once again under its second-year coach.


Easier said than done, perhaps, as approaching the successes of the Howard Schnellenberger, Jimmy Johnson, Dennis Erickson, and even the early Coker years is going to be a difficult slog. But in Richt, the Canes seem to have their best chance to make some noise, at least since Coker's first couple of seasons. Especially since Richt is very familiar with the region in which he was raised and went to college as a QB for Schnellenberger in the early '80s.


As for Richt, his hire last year is looking like something of a coup for the Canes, who would be thrilled if Richt delivered the consistent stream of contenders as he did at Georgia. For some reason, that wasn't enough in Athens, where the power brokers decided that Alabama d.c. Kirby Smart would be a better choice moving forward. After Smart's first UGa team had to scramble to merely get bowl-eligible, however, plenty of Bulldog backers are now wondering if their program really is any better off with Smart than with Richt, who was 145-51 in 15 seasons 'tween the hedges. Georgia's loss really does look as if it is Miami's gain.


The pieces seem in place for Richt to improve upon last year's 9-4 mark that included a 31-14 Russell Athletic Bowl cruise past West Virginia in Orlando. Richt returns 7 starters on both sides of the line of scrimmage, and the schedule is favorable. Richt, however, will be breaking in a new QB this fall, though it depends upon the source how much the Canes might miss the departed Brad Kaaya, who left early for the NFL and was drafted by the Lions in the sixth round.


While Kaaya did post good stats last season, including 3532 YP, 27 TDs and only seven picks, in his career he tended to pile up a lot of big numbers vs. lesser foes and was seldom at his best when Miami needed him to be in the big games. For example, another play or two by Kaaya and the Canes might have beaten Florida State in early October instead of a bitter loss that began a 4-game skid. Kaaya was also 0-4 vs. the Noles and Clemson. By us, we suspect replacing Kaaya might not be all that difficult, though we admit to perhaps being in the minority with that viewpoint.


Richt is delaying a decision on who will start the opener vs. Bethune-Cookman until fall camp, though his options might not be as limited as some believe. Junior Malik Rosier is a dual-threat who started a game in 2015 when Kaaya was hurt and appeared to be slightly in the lead coming out of spring. Redshirt soph Evan Shirreffs was a top recruit in the last Al Golden crop of newcomers in 2015. But ballyhooed true frosh N'Kosi Perry, from upstate in Ocala, is regarded as an elite talent and is expected to be the next big thing at what was once called "Quarterback U" when the likes of Jim Kelly, Bernie Kosar, and Vinny Testaverde were local rock stars in the '80s.


Making things easier for Rosier or Perry or whichever QB Richt chooses will be slashing TB Mark Walton, who gained 1117 YR and scored 15 TDs in 2016. Soph wideout Ahmmon Richards (49 catches for 934 yards LY) is off a season in which he broke Michael Irvin's 31-year-old- program record for receiving yards by a frosh. Like fellow frosh QB N'Kosi Perry, WR Jeff Thomas enters with much hype and is expected to make immediate contributions. Four starters are back along the OL paced by RG Kc (you're reading that right, a big "K" and a little "c") McDermott, a potential All-America candidate.


Richt's first defense a year ago looked as good as any under his watch in previous years at Georgia. Credit goes to d.c. Manny Diaz., himself with an SEC background and whose schemes resonated a year ago when the Canes' national rankings improved from 106th to fifth in tackles for loss (8.5 pg), 115th in yards per rush to 17th (3.4 ypc), and 77th in points allowed to 12th (18.5 ppg).


There's good news, too, as every major contributor from a physical front seven returns, including bookend DEs Chad Thomas and Joe (Joseph!) Jackson, who combined for 22.5 TFL and 12.5 sacks in 2016. Meanwhile, sophs Zach McCloud, Shaq Quarterman, and Michael Pinckney were also the only trio of true frosh in the country to start at LB last season (and the first in Miami history).


But of the seven returning starters on the stop end, none is a DB, and Diaz will be rebuilding his entire secondary this fall. An FCS A-A transfer from The Citadel, Dee Delaney, brings some experience to one of the corners, and among Richt's top recruits is touted DB Trajan Bundy, a local product. All-name true frosh DB DeeJay Dallas is a highlight reel two-way threat who could play any position in the secondary or take snaps at WR the other way. Whatever, given the high-caliber recruits and transfers in the fold, most ACC sources do not expect the secondary to be a significant issue in the fall.


Oh yes, about that schedule. It's made for Miami to contend in the Coastal and maybe make a move in the national rankings. Top Coastal contenders Georgia Tech and Virginia Tech both visit Hard Rock Stadium, as does Notre Dame in November, and only Florida State among the "big three" from the Atlantic half of the loop is on the slate (though that one is in Tallahassee). Arkansas State and Toledo are the most-challenging non-ACC dates. If Richt finds his answer at QB, the Canes are going to make plenty of noise this fall.


Spread-wise under Richt, the "U" continued its recent successes at Hard Rock, whe the Canes are 8-3-1 vs. the line the past two seasons. With Richt covering 9 of 13 last season, Miami also enters 2017 on a 17-8-1 spread uptick. But the Canes, who once upon a time owned Florida State, haven't beaten the Noles since 2009. Richt, who at Georgia had several run-ins with Georgia Tech, did continue the Canes' recent ownership of that series with a 35-21 win at Atlanta last October 1, Miami's seventh win and cover in its last eight vs. the Yellow Jackets.



Okay, breathe easier, Yellow Jackets everywhere, as now we can say with some assuredness that 2015 was a one-off. We're talking about the slip of Georgia Tech (2016 SUR 9-4; PSR 7-5; O/U 7-5) to a 3-9 mark two years ago, prompting many in the ACC to begin writing the coaching epitaph of HC Paul Johnson. Which of course proved premature. Last year's quick recovery suggested that the 2015 Ramblin' Wreck was merely victimized by the new reality of college football, in which perennial contenders can experience quick drop-offs without really dropping off much at all. Last season, sorts such as Oregon, Ole Miss, Notre Dame, Michigan State, and UCLA all fell beneath .500, and quick recoveries by any of those this fall, as did Tech a year ago, would come as no surprise.


After all, this the same Johnson-coached Georgia Tech that finished in the Top Ten in 2014 and concluded that season with a rousing Orange Bowl romp past Dak Prescott and Mississippi State. It's also the same Johnson who has taken eight of his first nine Jacket entries to bowls, and put Navy back on the map prior, taking his last five Midshipmen editions to bowls. Johnson is a proven commodity and remains one of the shrewdest game managers in the land, as he reminded all a year ago.


Perhaps the fact Johnson's teams still utilize an option offense is another reason why much of the media was quick to bury the Jackets after 2015. The thought among many ACC observers was that the conference had finally figured out how to defend the Johnson offense, which appears archaic in this age of Air Raids and Pistols. But Johnson has won for years with the option, and a quick look at ACC coaching ranks suggests that maybe it's the others around the league who should be drawing such scrutiny. Along with David Cutcliffe at Duke, Johnson is now the loop's longest serving coach.


Johnson reminded all not to write him off too soon when something clicked midway through last season, as Tech would close with six wins in its last seven, including a 33-18 romp past SEC Kentucky in the Taxslayer (nee Gator) Bowl. The Jackets' confidence was fully restored before then with nervy road wins at Virginia Tech and Georgia in November. And with several Coastal reps all losing key players after last season, Johnson looks in good shape to capitalize.


No ACC Coastal team will return as many starters as the 17 that are back this fall at Tech. Now all Johnson has to do is find a QB with longtime option pilot Justin Thomas having finally graduated after serving as starter for most of the past four seasons. The top candidate is Thomas' recent caddy, jr. Matthew Jordan, who often handled short-yardage situations a year ago and is well-versed in the nuances of the triple-option. But Jordan suffered a foot injury in spring, allowing jr. Taquon Marshall, a more explosive runner who started his career on the "flats" as an A-back, to move into the picture. Redshirt frosh Lucas Johnson and Jay Jones also impressed enough in spring to keep the QB derby open entering fall camp.


Aside from the graduated Thomas, most everyone else is back on the offensive side from a year ago when the Jackets once again would field a top ten rushing team (258 ypg good for 9th nationally). The OL jelled as last season progressed and returns four starters. B-back Dedrick Mills is a straight-ahead blaster who ran for a team-best 771 yards in just nine games last fall. All of the three key A-backs, or slot backs, from 2016 return, led by homerun threat Clinton Lynch (11.2 ypc last season!). Senior Ricky Jeune could be the next in a line of NFL receivers (including Calvin Johnson and Demayius Thomas) from Tech after gaining better than 17 yards per catch on his 25 receptions last season.


Johnson's defense has usually ranged from average to good during his tenure in Atlanta and was more toward the latter a year ago under vet d.c. Ted Roof, a onetime Duke HC. Last season, Roof achieved better results by simplifying the number of calls and schemes that allowed his unit to play faster. Eight starers return to the platoon including the entirety of the secondary.


Still, improvements up front, specifically generating a better pass rush, will be crucial this fall if Tech is to really forge another 2014-like breakthrough. The Jackets recorded only 18 sacks last season, ranking a poor 114th nationally, and last year's leading sacker, DE Pat Gamble, has graduated. Roof is hellbent to get sr. DE KeShun Freeman to harness the pass-rush ability that he has flashed on occasion in the past. One of the stars of spring was jr. MLB Brant Mitchell, a returning starter who appears ready to assume a leadership role in the platoon.


The recipe for a Johnson defense has always been to force just enough negative plays and turnovers to get the ball back into the hands of the clock-gobbling option, and Tech did a decent job of that last season, such as the Virginia Tech game when nickel back Lawrence Austin recorded two picks and a fumble recovery, keying a 30-20 upset at Blacksburg in mid-November. Austin is one of aforementioned returnees in a secondary that returns intact and that also includes his twin brother Lance at one of the corners.


A pivotal game looms in the opener about a mile or so from campus at the hometown Falcons' new Mercedes-Benz Stadium on Labor Day night against Tennessee, which appears in semi-rebuild mode. Win that one and the September 16 game at UCF and Tech should hit the ACC part of the schedule at 3-0 (Jacksonville State is sandwiched between the Vols and Knights). Tough dates await at Miami and Clemson in October, and while some Jacket backers might still be spooked by what happened in 2015, we suspect Tech looks more like it did a year ago and stays in the Coastal mix all of the way, especially if one of the new QBs can emerge. Which almost all of Johnson's QBs have done since his days at Annapolis.


Spread-wise, remember that Johnson has often delivered big success in the past, with 10-4 and 9-4 efforts vs. the number in two of the last three seasons. A recurring problem has been Miami, which has won and covered seven of the past eight. No series spread trend, however, has been more curious than the one vs. rival Georgia in the annual reg.-season ender, as the road team is a staggering 16-2-1 vs. the line in those games since 1998. Unfortunately for Tech, it hosts the Bulldogs on November 25, and hasn't covered a spread at home vs. Georgia since...1997!



It wasn't quite the joy ride of 1976, when Johnny Majors' troops won the national title and Tony Dorsett claimed the Heisman Trophy, but 2016 was nonetheless pretty thrill-packed for

Pittsburgh (2016 SUR 8-5; PSR 5-8; O/U 11-2)

. All a bit unexpectedly so for the Panthers, who would claim the scalps of eventual national title winner Clemson (in a 43-42 thriller) and Big Ten champ Penn State (in a 42-39 shootout) in the regular season while scoring almost as many points as Kevin Stallings' Panther hoopsters down the stretch when tallying nearly a point-per-minute to close the regular season vs. Dabo Swinney's Tigers, Duke, and Syracuse, the latter in a 76-61 shootout that even made Jim Boeheim take notice.


Though the 31-24 bowl loss vs. Northwestern at cold Yankee Stadium was a bit of a downer, the Panthers authored one of the more intriguing storylines in the nation last fall under second-year HC Pat Narduzzi, previously a longtime sidekick to Mark Dantonio at both Michigan State and Cincinnati.


Still, Narduzzi would probably rather not have to go the video football route again this fall as Panther games in 2016 often had more back-and-forth than a Rafa Nadal match at Wimbledon. Especially that aforementioned regular-season ender vs. the 'Cuse, when the proceedings really did more resemble basketball, with the ghosts of Jock Sutherland and Ben Schwartzwalder hardly able to recognize what was transpiring on the field. "I've never been in a game like that," Narduzzi said. "I don't ever want to be in a game like that again. But I'll go back and say there's no such thing as a bad win." The 76 points were an all-time record allowed by the Orangemen.


If it were up to Narduzzi, improvement from his defense (a speciality from his years alongside Dantonio) would preclude those sorts of shenanigans recurring this fall, though in truth it is going to be asking a lot of the offense to put up the same sorts of numbers and score another 41 ppg as it did a year ago. First, offensive architect Matt Canada, who had become a hot commodity by the end of last season, moved to LSU in a similar role. Second, former Tennessee transfer QB Nathan Peterman, who emerged as the ACC pass-efficiency leader last season (nothing to sneeze at, considering NFL first-round picks Mitch Trubisky and Deshaun Watson played in the same league), is now with the Buffalo Bills, who tabbed him in last spring's NFL Draft. Third, while inspirational RB James Conner will still be playing at Heinz Field this fall, he'll be doing so as a member of the NFL Steelers, who made him a third-round draft pick in spring. After recovering from his cancer scare, Conner rushed for 1092 yards and 16 TDs in 2016, and provided an emotional lift for the program.


Pitt shouldn't regress back to its offensive eclipse of the mid-to-late '60s, when the Panthers were once shut out in three consecutive games in 1966, and scored in double digits just three times in the entirety of the '67 season. But the Panthers will need some new faces to deliver. One of those is Southern Cal grad transfer QB Max Browne, once considered the highest-rated QB in the country when coming out of high school in 2013, but now down to his last chance after sitting for a couple of seasons behind Cody Kessler and then being beaten out by Sam Darnold a year ago. Not that playing second-string behind Darnold, one of this year's Heisman favorites, is a negative, but Browne did not exactly light it up when finally getting his chance to pilot the Trojans last season, looking overwhelmed in losses to Alabama and Stanford before Clay Helton made the switch to Darnold.


Veteran aide Shawn Watson becomes Narduzzi's third o.c. in as many seasons and will not alter much of the scheme from Matt Canada's pro-style looks. Hired from Indiana, Watson has a long pedigree as a QB coach and o.c., including stops at Colorado, Nebraska, and Louisville, plus the Hoosiers, as well as three years as HC at Southern Illinois. It would help Watson if Browne is as successful on first downs as was Peterman a year ago, when the Panthers would gain a whopping 7.4 yards per play, ranking 7th nationally.


Conner's departure might be more of a psychological blow since jr. RB Qadree Ollison has already stepped in for Conner once in his career and gained 1221 YR doing so in 2015. The wideouts are electric; sr. Jester Weah gained over 24 yards per catch (ranking second nationally) on his 36 receptions last season, 10 of those for TDs while Quadree Henderson (yes, Pitt features both a Qadree and a Quadree on its offense) caught 60 passes in 2016 while gaining better than 160 all-purpose yards pg, helped by his liberal use on reverses and jet sweeps that accounted for 631 rush yards. Quadree also returned four kicks for scores and pinch-hit for the Pirates last year (we're just joking on the latter, but you get the idea...the kid is versatile!). Three starters return along a big line that goes 300-lbs.-plus all the way across the front, though two All-ACC performers must be replaced.


Narduzzi's defense was a bit schizophrenic last season, ranking tied for 8th nationally in sacks and 16th against the run, but was porous nonetheless, allowing more than 35 ppg (ranking 106th) and over 333 ypg in the air (whew!), ranking 127th, or second-to-last nationally. Thus the departure of seven starters from that platoon might be a bit of addition by subtraction.


The leaky pass defense, however, should get an immediate boost from the return of jr. SS Jordan Whitehead, who was the 2015 ACC Rookie of the Year before missing a good part of last season with a broken arm. Look for the instinctive Whitehead to be used occasionally on the offensive side as well. Narduzzi, who has recruited heavily on defense in his first three classes, might see one of those challenge sr. boundary corner Avonte Maddox. True frosh CB Paris Ford, a local product, was Pitt's top-rated recruit.


Narduzzi and d.c. Josh Conklin will also have to replace the disruptive DE Ejuan Price, who recorded 13 sacks and 23 tackles for loss last season before being taken by the Rams in the draft. Indeed, five new starters must be plugged in across the front seven. Price's role could be filled by Tennessee transfer Dewayne Hendrix, expected to bookend the lone returning starter on the line, sr. DE Ron Blair.


Overall, the loss of 12 starters, including key cogs Peterman and Conner, plus o.c. Matt Canada, will make it a challenge for Pitt to match last year's 8 wins, especially considering a tough September slate beyond the Youngstown State opener, which precedes a trip to revenge-minded Penn State, a Heinz Field date with Big 12 contender Oklahoma State, and the ACC opener at Georgia Tech, off of a 9-4 season. Narduzzi and Pitt fans will also be hoping QB Browne takes better advantage of his last college opportunity than he did a year ago at SC. Stay tuned for further developments.


Understandably, the Panthers' many ping-pong matches a year ago made them one of the nation's premier "over" teams in 2016 (11-1 "over" in the regular season before the frigid bowl "under" vs. Northwestern). Meanwhile, for all of the excitement last season, Pitt was only 5-8 vs. the line, and hasn't recorded a winning spread mark since 2012. Narduzzi is also just 2-8 vs. the number as Heinz Field chalk the past two years. The Panthers haven't won or covered in their last three bowl trips, either.



To the casual observer, things might look as if they are going swimmingly at North Carolina (2016 SUR 8-5; PSR 8-5; O/U 4-8-1)

.

After all, HC Larry Fedora has propped up what was a slumbering program before his arrival from Southern Miss in 2012. The Heels produced the second overall pick in the most-recent NFL Draft in QB Mitch Trubisky, so coveted by the Bears that they traded up to select him. And no talk about the Tar Heels would be complete without mentioning Roy Williams' ever-powerful men's hoop program, off of back-to-back Final Four visits and another national championship in April.


Don't be fooled by all of the confetti in Chapel Hill, however, as UNC's highest-profile programs (read football and basketball) also might be whistling past the graveyard. The NCAA has reopened an investigation into academic fraud, a matter (as former AG Loretta Lynch might refer to it) many felt was behind the Tar Heels' big sports when the NCAA had earlier levied some minor penalties against lower-profile programs at the school. That "ruling" by the NCAA, however, was condemned as much as some of former FBI Director James Comey's investigations over the past few years. The tail, it seemed, was once again wagging the dog at the NCAA offices.


Since the allegations were first made public, UNC's athletic department has maintained this was an academic matter and out of its purview, but inquiring minds have always known better. After all, an independent investigator appointed by North Carolina found that, for 18 years, more than 3,000 students, almost half of whom were athletes, got bogus grades for classes that didn't exist. Some of those grades allowed athletes to stay eligible. Some helped them graduate.


This was largely the work of two former employees, but it was hardly a covert operation. Academic advisers steered athletes to the fraudulent classes, and "this steering was most prevalent among the counselors for the revenue sports of football and men's basketball." That quote is from none other than Kenneth Wainstein, the former U.S. assistant attorney general asked by North Carolina to investigate the fraud.


What makes the Tar Heel scandal so egregious, so infuriating, is the lengths to which the school has gone to excuse it and avoid responsibility for it. Had North Carolina accepted the NCAA's second Notice of Allegations, a watered-down version that didn't mention football or men's basketball, all of this probably would have been resolved already. But the Tar Heel administration had to fight it, claiming that the NCAA had already adjudicated the violations and, besides, it wasn't its business, anyway.


To its credit, the NCAA didn't take kindly to that and responded by slapping North Carolina with a third NOA (Notice of Allegations) in December. This one restored the references to football and men's basketball, and still includes the dreaded "lack of institutional control." Because it was a new notice, however, it reset the clock, and guaranteed that the Tar Heels would be able to play in the NCAA tournament again this year. All the while, those at UNC and many of their sycophants in the national media continue to try and pass the violations off as much ado about nothing.


We're going to pick this up in greater detail at the start of our TGS publishing season, with more in-depth commentary in one of our earlier issues. Before we depart the topic, however, the one coach at Chapel Hill who appears in the clear is probably Fedora, as these alleged infractions took place before he arrived. (The same might not apply to Roy Williams.) Stay tuned.


But since we're talking about football in this space, we might as well get around to what might be expected at Kenan Stadium this fall, where Fedora and his high-powered offense seek a fifth straight bowl visit. Fedora's progressive attacks have been producing yards and points in bunches for years, but to do so again this fall requires significant personnel changes; the Heels lost 99% of their rushing yards, 98% of their passing yards, 71% of their receiving yards, and 86% of their scoring from last season.


Fedora's offense, which scored better than 32 ppg with the departed Trubisky at the helm a year ago, is not without experience however, with a veteran OL and a QB who has been through the wars...in the SEC. That would be Brandon Harris, a grad transfer from LSU who started most of the 2015 season in Baton Rouge and is the only player on the roster who has thrown a college pass. Harris' skill set seems well suited for Fedora's spread attack, and expect him to provide a stop-gap for Fedora while a new QB is developed to take over in 2018.


Another transfer, RB Stanton Truitt, arrives from Auburn and likely gets the bulk of the carries along with highly-touted true frosh Michael Carter after the Heel infantry bogged down (ranked 100th) a year ago. Senior WR Austin Proehl (43 catches LY) is the lone accomplished returnee at the receiver spots, where Fedora will lean heavily upon newcomers to replace departed Ryan Switzer and Bug Howard, who combined for 149 catches and nearly 2000 yards a year ago. (Switzer's considerable prowess as a kick returner will also be missed.) Three starters do return along an OL that has been able to add a couple of other grad transfers, C Cam Dillard (via Florida) and G Khaliel Rodgers (via Southern Cal), both likely in the lineup for the opener vs. Cal.


Meanwhile, the UNC defense hopes to take a few more steps forward this fall after it showed improvement the past two seasons under then-d.c. Gene Chizik, who has moved on from Chapel Hill to spend more time with his family. The stop unit scheme will remain the same under new d.c. John Papuchis, promoted from LB coach. The first task of Papuchis is to improve performance against the run, where the Heels were lacking a season ago when allowing an ACC-worst 227 ypg (ranking 109th). The top five LBs from last season return, including LY's top tacklers Cole Holcomb and Andre Smith, which should help, and 11 of the top 13 rotation pieces along the DL are back for 2017, including sack leader DE Malik Carney.


There is experience in the secondary, where S Donnie Miles and CB M.J. Stewart are All-ACC candidates, but the Heels only recorded a hard-to-believe one interception last season, a mark that must improve. Four DBs who played extensively as frosh are expected to be in the rotation, including projected starters CB Patrice Rene and FS Myles Dorn, a pair of sophs with playmaking bents.


Many in the ACC inner-circle believe that Fedora has recruited at a higher level than the preceding Butch Davis/Everett Withers regime, but that will be tested this season with so many main contributors having departed. The schedule is manageable, but only a Nov. 18 date vs. Western Carolina looks like a sure win, with no other gimmes on the slate. Fedora will be doing well to reach last year's 8 wins, but the Heels should at least do enough to reach a fifth straight bowl. The worrying about any pending NCAA penalties can probably wait until 2018, or 2019. As we know, the NCAA often takes its time in such matters.


Spread-wise, Fedora's best role the past couple of seasons has been on the ACC road, where the Heels stand 6-2 vs. the line their last eight. In openers, however, UNC has failed to cover its last four. Within the ACC Coastal, note covers in 6 of the last 7 vs. Virginia, which the road team has covered four straight vs. nearby Tobacco Road rival NC State.



You know that old saying about the "grass always being greener on the other side?" And of course that it always doesn't turn out to be so. Which is what Virginia (2016 SUR 2-10; PSR 5-7; O/U 4-7-1) HC Bronco Mendenhall found out a year ago in his first trip around the track at Charlottesville, when expectations were realistically low (last summer, Mendenhall advised supporters everywhere not to make bowl plans).


But no one in Cavalier Nation was expecting a fall to 2-10; the Wahoos had not had a worse mark since 1981, when a 1-10 finish got HC Dick Bestwick fired (and preceded the inspired hire of George Welsh from Navy). Mendenhall predecessor Mike London never recovered from his own 2-10 mark in 2013, but at least UVa was covering pointspreads consistently (16-7-1) in his last two years before getting the boot. Mendenhall couldn't even achieve much spread success in a season that started with some promise but would end with seven straight defeats. Welcome, Bronco, to the ACC, a lot tougher neighborhood than it used to be, and much more of a challenge that the Indie slates Mendenhall was dealing with in his last few years at BYU.


Still, no outward signs of regret from the ultra-organized Mendenhall, a class act whose corporate demeanor has played well with Brit Hume, Fred Barnes, and various other Cav alumni. Bronco had called BYU's bluff after the 2015 campaign when the Cougar administrators were playing hardball on a new contract, and parlayed BYU's dawdling into a hefty pay raise in Charlottesville. Still, 2016 was a cold dose of the reality for Mendenhall, who took all eleven of his BYU teams to bowl games.


It looked for a while as if Bronco might continue that streak with his first Cav edition, especially after impressive back-to-back wins over Central Michigan and Duke, when UVa scored 83 points in the process, into early October. But the offense gradually lost traction as work along the line began to deteriorate, with nagging injuries and lack of depth the main culprits, and the 'Hoos didn't win another game. Mendenhall sought a quick fix in the offseason with the addition of three grad transfers to provide immediate relief; ex-Oklahoma State G Brandon Pertile looks the best of that bunch and could become the new anchor of the OL that returns only two starters.


Given a bit more time to throw, and with a proper infantry diversion, former East Carolina transfer QB Kurt Benkert could flourish, as he did early last season when passing for 5 TDs and a school-record 421 yards in the win over the Chippewas. Like the rest of the offense, Benkert's effectiveness waned down the stretch, when he was also slowed by a nagging knee injury dating to 2015. This past spring, however, Benkert was finally able to shed his knee brace, and, 15 pounds lighter, looked more mobile. Just in case Benkert falters, another of Mendenhall's transfers, dual-threat Marvin Zanders from Missouri, looms as an alternative.


Corresponding to the OL and pass-protection issues (the Cavs ranked a way-too-high 113th in sacks allowed with 36), the ground game was suspect last season, ranking a distant 121st in national rush starts at a disappointing 114 ypg, and must replace top two runners Taquan Mizzell (who ran with some flair when gaining 940 YR) and Albert Reid. A couple of understudies from last season, jr. Jordan Eliis and sr. Daniel Hamm (also Mendenhall's best kick return threat), impressed in spring, so there is some hope the infantry could revive with better work up front. Starting wideouts Olamiode Zaccheaus and Doni Dowling both return after combining for 101 catches last season. An X-factor is RS frosh Da'Vante Cross, a potential "slash" contributor at WR and with direct snaps in possible Wildcat sets. There is also hope the place-kicking improves with frosh Brian Delaney, a Parade All-American, after Cav PKs could make only 5 of 10 FG tries in 2016.


Given the defensive credentials of Mendenhall (a Rocky Long disciple who was a respected "D" tactician well before he became BYU's HC), the 'Hoos should weather the very recent defection of d.c Ruffin McNeill, who moved in mid-June to Oklahoma after Lincoln Riley was promoted to HC in Norman (Riley was McNeiil's o.c. at East Carolina) and improve upon last year's allowance of nearly 34 ppg, ranking 99th in the country. The adjustment to Mendenhall's 3-4 looks, however, should be in the rear-view mirror, and eight starters return to the platoon led by the top tackling tandem in the ACC, LB Micah Kiser (team-best 134 tackles LY; 4th nationally) and FS Quin Blanding (another 120 tackles in 2016; 10th nationally). Both flirted with making themselves available for last April's NFL Draft before deciding to return for their senior seasons, and they provide leadership for a platoon that also has a potential elite pass rusher in sr. DE Andrew Brown, who record 6.5 sacks last season. Pass coverage should tighten with the return of three starters in the secondary, and CBs Myles Robinson (only 4 games LY) and Darius Latimore (out all of 2016) returning from injuries. The Cavs could also help themselves by forcing more than the 17 TOs they recorded a year ago.


Mendenhall ought to be able to improve upon last year's two wins, especially with seven games at home this fall, and could break 3-0 from the gate with winnable dates vs. William & Mary, Indiana, and UConn all at Scott Stadium before a trip to Boise State in territory familiar to Mendenhall. Things get tougher afterward in the ACC, but only Louisville among the "big three" (including Clemson & Florida State) from the Atlantic side appears on the 2017 slate. Still, November looks especially ominous, as Mendenhall gets Georgia Tech-Louisivlle-Miami-Virginia Tech down the stretch, likely keeping UVa out of a bowl for the sixth straight season.


Spread-wise, Cav fortunes also plummeted as 2016 progressed, but worth noting that Mendenhall was 12-7 his last 19 as a dog at BYU, and covered his first four in that role a year ago before UVa dipped to a 1-6 mark vs. the line (all as a dog) to close the season. The infuriating drought vs. Virginia Tech also continues, as the 'Hoos haven't beaten the Hokies in 13 straight (dating to 2004) after getting blasted 52-10 in Blacksburg last November.



Before dumping too much on Duke (2016 SUR 4-8; PSR 7-5; O/IU 4-8) for its lackluster showing a year ago, a bit of perspective is suggested. Unlike on the hoops side, Durham has never been a destination for gridiron recruits, and the program David Cutcliffe inherited from Ted Roof in 2008 had endured four winless campaigns in the preceding dozen years, and had won all of ten games in the new millennium in the eight seasons prior to his arrival.


In that context, maybe Cutcliffe deserves to be canonized alongside the Jimbo Fishers and Dabo Swinneys of the ACC after steering the Blue Devils to four straight bowl visits from 2012-15. Perhaps even more so after so many Duke backers felt disappointment last term when Blue Devils didn't go bowling. Imagine that a decade ago, when Duke supporters weren't sure their team would even win a game, much less qualify for a bowl? Suddenly, a sub-.500 season felt out of character at Duke.


All of that a credit to Cutcliffe, who has not only steered the Blue Devils to respectability over the past decade, but whose success made some overdue facility upgrades possible. Duke now has a legit, modern football training center and has expanded and renovated historic Wallace Wade Stadium, which once upon a time hosted a Rose Bowl (1942) that required a temporary home away from Pasadena due to fears after the Pearl Harbor attack. True story and one we might expand upon at some other time on these pages.


After the injuries, bad breaks, and head-scratching losses of 2016, a bounce-back to bowl eligibility is certainly possible at Duke, though a tough non-league slate and the tricky ACC Coastal might make that easier said than done.


Cutcliffe's considerable offensive nous (honed in the past as a decorated o.c. at Tennessee and HC at Ole Miss, while mentoring both Peyton and Eli Manning) and reputation as a QB guru was tested a year when 6'5 RS frosh Daniel Jones was force-fed into the lineup after projected starter Thomas Sirk tore an Achilles tendon in fall practice. In a necessary sink-or-swim move, Cutcliffe threw the entire playbook at the multi-talented Jones, who became more comfy as the season progressed and ended with no picks in his last 173 pass attempts, while also running for 486 yards, and engineered an upset win over down-the-street Tobacco Road rival North Carolina in November. Thanks to roster moves elsewhere, the RS soph Jones enters 2017 as the most experienced signal-caller in the Coastal half of the ACC.


(After the emergence of Jones, Sirk has moved as a grad transfer to East Carolina, where he is the projected starter this fall.)


While Cutcliffe's Duke has never run the ball like Air Force or Navy, it had usually fared better than a year ago when the Devil runners gained fewer than 4 ypc for the first time since 2012. Up front, Ohio State grad transfer RT Evan Lisle has already moved into the starting unit alongside three other returning starters, who will try to open holes for top returning rusher Shaun Wilson (623 YR LY), who split time as the featured back with now-graduated Jela Duncan in 2016. Wilson, however, does not have a durable look at a mere 185 pounds, so expect Cutcliffe and o.c. Zac Roper to make use of promising RS frosh Brittain Brown, who opened some eyes in spring. Three of the top four receivers are back, led by the 70 catches of jr. T.J. Rahmin.


Under Cutcliffe, Duke has also upgraded its recruiting on the defensive side, with better athletes in the mix since the Roof years, all reflective in the Blue Devils' move toward the middle of national stats (66th in points allowed and 67th in total "D" a year ago) after a succession of triple-digit rankings. Still, there is some concern up front with only one starter (sr. DT Mike Ramsay) back in the fold, and sophs Tre Hornbuckle and Terrell Lucas are now being tasked with first-string roles at the DE spots after being thrown into the fire as true frosh a year ago.


The strength of the platoon is probably at the LB spots in Duke's 4-2-5, where soph Joe Giles-Harris and jr. Ben Humphreys led the team in tackles a year (as the defensive design would encourage). During spring, co-d.c.'s Ben Albert and Jim Knowles juggled the secondary, moving jr. Jeremy McDuffie from a corner to a safety spot. Missed could be graduated CB Devon Edwards, who also took six kicks back for TDs in his college career.


Oh yes, about that schedule. Though NC Central should once again be a lay-up in the opener, Northwestern and Baylor the next two weeks certainly aren't, though both will have to travel to Durham. If the Devils can come out of their non-league portion at 3-1 (including a mid-November date at Army, which is no gimme anymore, either), they ought to have a shot at a bowl return. The ACC, however, is a tougher neighborhood these days, and while Cutcliffe had QB Jones waiting in the wings after Sirk went down last August, he does not appear to have that same sort of cover behind Jones. Keeping his QB healthy will be crucial for Cutcliffe this fall.


Spread-wise, Cutcliffe has been a featured performer in recent years and enters with a 33-18-1 spread mark since 2013, though the numbers are not quite as impressive (14-11) the past two seasons. Cutcliffe is also 17-8 as an underdog since 2013.

NEXT UP-ACC ATLANTIC
Return To Home Page