7377...
TGS 2017 COLLEGE FB PREVIEW
...A LOOK AT THE MTN WEST--PART I
by Bruce Marshall, Goldsheet.com Editor
We kick off our TGS previews for the 2017 college football season with a look at the Mountain West. As usual, teams are listed in their predicted order of finish, with 2016 straight-up, spread, and "over/under" records included. We begin with the West half of the MW before taking a look at the Mountain Division in our next installment.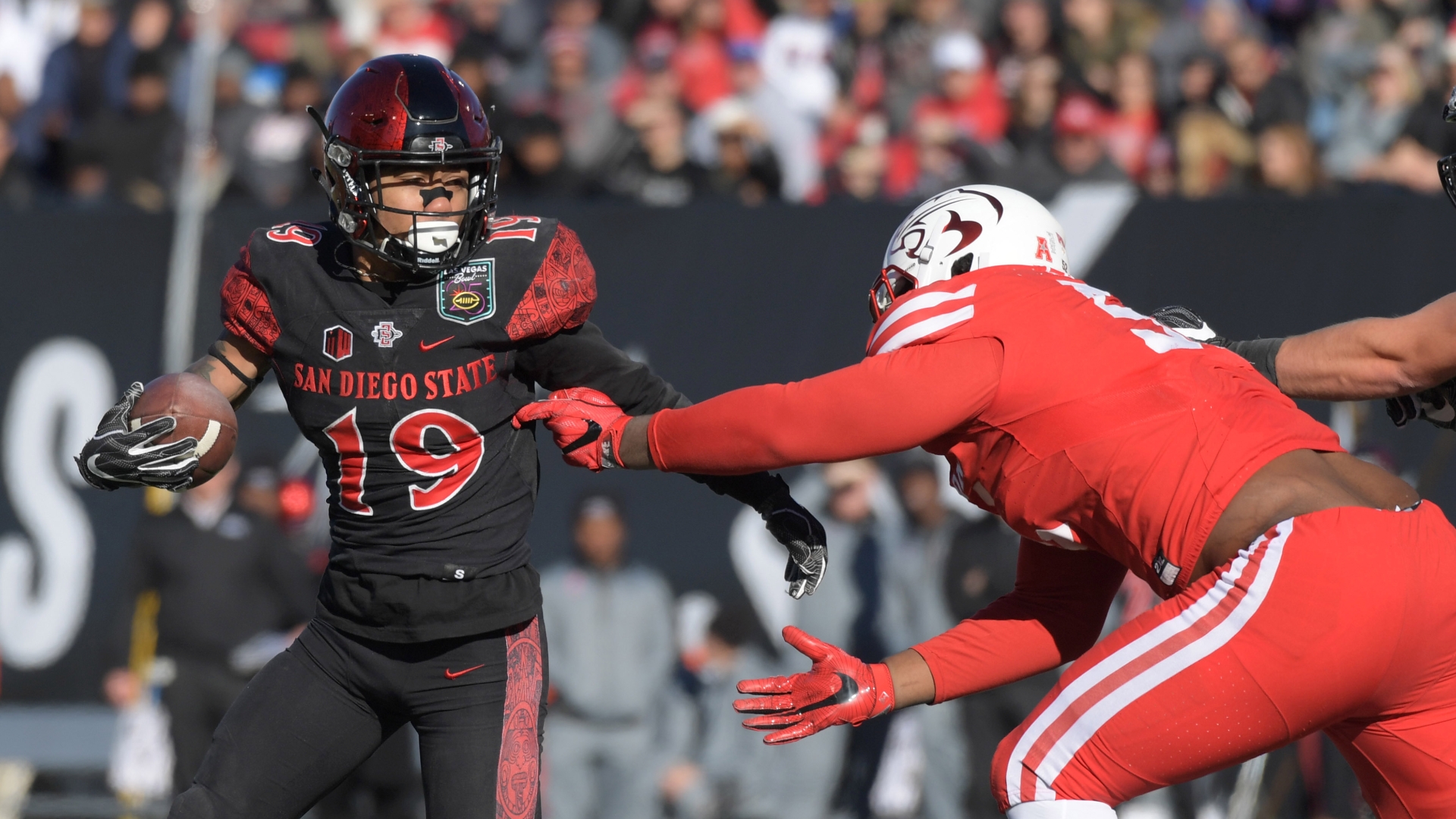 We're not sure that most of the country has noticed that San Diego State (2016 SUR 11-3; PSR 8-6; O/U 8-6) has supplanted Boise State as the flagship entry of the Mountain West. The Aztecs have not only won back-to-back MW titles, but they have absolutely manhandled opposition from the American in their past two bowls, routing Cincinnati and Houston by a combined 76-17 scoreline. Over the course of those big seasons, RB Donnel Pumphrey became the NCAA's all-time leading rusher (6405 yards!) before becoming a draft choice of the NFL Philadelphia Eagles last April. With seven straight bowl visits, SDSU is in its best stretch since a half-century ago when the legendary Don Coryell was posting several unblemished marks on Montezuma Mesa.



FOOTBALL COMING SOON...TGS 2017 EARLY DEALS NOW! ...

Click here to order


But there is some concern in America's Finest City regarding the Aztecs, who have become collateral damage to the San Diego Chargers' move to Los Angeles. When the Bolts bolted (no pun intended) in January, it also doomed the fate of Qualcomm Stadium, home to both the Chargers and Aztecs since it was built in 1967. Sitting on prime real estate in Mission Valley, the site is no longer viable as stadium-only without at NFL tenant. SDSU can only count upon two more seasons of its use, as beyond 2018 will need another home.


For a while it seemed as if the perfect solution lied within the "Soccer City" proposal with a group of local investors who would be partnering on a redevelopment of the 166-acre site as mixed-use commercial, retail, and residential plus a 30,000-seat stadium to be used for an MLS expansion franchise and Aztec football. But SDSU's involvement with the partnership ended in May when the school backed away from the deal. And the San Diego City Council subsequently rejected a plan to put Soccer City on the ballot for a special election in 2017. To be put in front of the voters would have to wait until the normal election cycle in 2018.

In the meantime, a serious question has arisen in San Diego about what might happen to the Aztec football program. The impacted campus, not far from the Qualcomm site, needs room to expand and would like to annex more acreage, and has targeted up to 50 acres at Qualcomm for expansion and a new stadium, but anything involving the Qualcomm site might have to wait. The school would like the city to scrap the Soccer City plan and open a transparent RFP (request for proposal) process with the city council. Even in a best-case scenario, however, it still leaves the seasons immediately beyond 2018 as primary concerns for Aztec football.


A short-term solution might be the San Diego Padres' Petco Park, for at least 2019 and maybe a bit beyond, though the Padres have yet to commit on any arrangement. A redevelopment of Balboa Stadium, on the campus of San Diego City College and once home to the Chargers and Aztecs in the 1960s, is a remote possibility (Balboa has been scaled down to a 5000-seat stadium since the '70s). At some point most in San Diego believe that the Aztecs will have their own place to call home early in the next decade, but Petco might be the only nearby alternative in the intervening years after Qualcomm shutters following 2018. Stay tuned.


(Note also that the Poinsettia Bowl, held at Qualcomm since 2005, has also been cancelled, and the fate of the Holiday Bowl beyond 2018 is also up in the air. The Chargers really did mess up a lot of things when they left town.)


In the meantime, some SDSU backers are also a bit concerned about how much longer highly-successful HC Rocky Long wants to stay on the job. Though Long has not indicated he's considering retirement, he'll be 70 in three years, and not long after hitting that magic number, Aztec hoop coach Steve Fisher called it quits. No wonder SDSU fans are gearing up to enjoy this season and maybe next, while bracing themselves for what might come after 2018.


The Aztecs have so outpaced the rest of the MW while recording a 16-2 league mark the past two seasons that they would seem able to withstand some of the departures from a year ago and not worry. Pumphrey and his staggering 2133 YR in 2016 might not even be missed as much as expected with sr. Rashaad Penny stepping into the featured RB role after gaining 1018 YR of his own in 2016, while netting a whopping 7.1 ypc. (Penny, for good measure, also has five kick return TDs in his career.) Christian Chapman also returns at QB after tossing 20 TDP and only 6 picks last season. But Long and vet o.c. Jeff Horton (a former HC at MW rivals Nevada and UNLV) must replace 130 starts due to graduation along their OL. Only one OL starter, RG Antonio Rosales, returns this fall, with former backups and RS frosh expected to fill the gaps.

Thus, Chapman might be tasked with throwing the ball a bit more than his modest 20-or-so attempts pg last year. Senior WR Mikah Holden averaged better than 21 yards on his 27 receptions last season, and another sr., TE David Wells, also figures to get more work in the fall. Chapman, who had surgery on his right thumb after the bowl win over Houston, could even be pushed by Rutgers transfer Chris Laviano, who took most of the snaps while Chapman recovered in spring.


Still, it's the physical nature of the Aztec offense, different from that of most MW entries, that has given SDSU an advantage over the rest of the league, and figures to do so again, at least vs. the lesser West half of the loop.


Even if the offense hiccups a bit this fall, Long's defense, out of his pet 3-3-5 alignments, again figures as one of the MW"s best. A spate of injuries last season forced Long to play more youngsters than he would have liked, but has added more experienced depth to this year's stop unit, and the platoon has more seasoning than its six returning starters would suggest.


Once again in 2016, SDSU was among the nation's TO margin leaders (+14) thanks to an opportunistic defense that has intercepted the most passes in the nation (49) over the past two seasons. Senior Kameron Kelly (five picks in 2016) has moved to CB from safety to replace ballhawk Damontae Kazee (17 career picks), who was drafted by the Atlanta Falcons in April. Soph CB Ron Smith returned two of his three picks for TDs last season. Junior Parker Baldwin appears well-suited to play the "Aztec" role that Brian Urlacher once performed so well as the "Lobo" for Long's New Mexico defenses in the late 90s. A few holes are needed to be filled up front, but DEs Dakota Turner & Noble Hall have been productive in their careers, and jr. OLB Rodney Lakalaka emerged as a playmaker when forced into service last season.


The Aztecs figure again as one of the better "Group of Five" entries for a possible New Year's Six invitation this fall, but will have to fare well in featured non-MW games vs. Pac-12 Arizona State and Stanford in September to be a serious contender. (At least South Alabama, an upset winner over SDSU the past two years, is off of the 2017 slate). Boise State also returns to the schedule for the first time since 2014 in what might prove as a MW title game preview. We're pretty sure the Aztecs get there again.


Spread-wise, note SDSU has covered 16 of its last 24 entering 2017, and is 14-6 its last 20 vs. the line in the MW. Despite its bowl success, however, SDSU is only 2-8 vs. the line its last ten regular-season non-MW battles.


For almost a decade, they've been trying to recreate the June Jones era at Hawaii (2-16 SUR 7-7; PSR 6-7; O/U 9-4). The Rainbow Warriors kept afloat for a while under Greg McMackin, promoted in 2008 from his d.c. role on the Jones staff but keeping in place the "Red Gun" offense that Jones had so popularized in Honolulu. Hawaii would eventually lose steam under McMackin, however, and in 2012 turned the reins over to Norm Chow, a decorated play-caller and o.c. throughout his career but past his sell-by date when called home in 2012. Moreover, Chow junked the Red Gun, and never quite recovered from that tactical error in a desultory stint that ended midway in the 2015 season.


It might surprise some that the Hawaii job is one of the highest-pressure assignments in college football. With no other sports distractions on the islands, Honolulu can become quite a fishbowl in football season, with nowhere for a failing Hawaii coach like Chow to hide. 'Ol Norm couldn't escape back to the mainland fast enough.


It seems, however, as if Hawaii might have hit paydirt, and the blessing of iconic longtime and retured play-by-play man Jim Leahey, when finding Chow's successor. Better yet, they've been able to go back to the glory era of June Jones by hiring one of his former QBs, Nick Rolovich, who knows the territory on the islands and burnished his coaching credentials in the intervening years, including a stint at Nevada learning the "Pistol" offense from its innovator Chris Ault. That graduate course in Reno helped the personable Rolovich way overshoot expectations in his first season, when, with help of an NCAA waiver for playing an extra regular-season game, the Rainbows were able to get back to their hometown Hawaii Bowl, their first postseason date since 2010, where they buried Middle Tennessee to finsh the season square at 7-7. Quite an achievement for a program that won only 11 games over the previous four seasons and had to travel a staggering 46,000 miles (more than double for most NFL teams!) for games in 2016.


It's worth noting that Rolovich did not go fully back to the Red Gun a year ago, instead re-introducing elements of the old Jones offense in an offense that blended Pistol, Red Gun, and Run-and-Shoot elements. Plus the Rolovich imagination that created offensive packages involving speed (double slot-backs), power (tight ends and H-backs), height (6-4 wideouts), and tricks (the OLT often lined up as an eligible receiver). The payoff came in the bowl win vs. the Blue Raiders when Hawaii scored 52 points.


Eight starters return on offense this fall including jr. QB Dru Brown, who took over the starting job in October and enters the season as the first clear-cut starting QB in Honolulu since 2011. In just a bit over half a season's worth of work last year, Brown passed for almost 2500 yards and 19 TDs. In the spring, Rolovich and o.c. Brian Smith opened up the playbook a bit more for Brown, and while we don't think the Wishbone is going to be included in the expanded mix, it's clear that Brown will have more options at his disposal this fall.


Importantly, Hawaii kept slashing RB Diocemy Saint Juste healthy enough to gain 1006 YR a year ago. Saint Juste, who averaged better than 6 ypc, remains the "lightning" component in the RB corps, though Rolovich needs to find a new "thunder" alternative after the blasting short-yardage specialist Steven Lakalaka graduated following his 13 TD effort last season. An experienced OL adds former UCLA transfer Fred Ulu-Perry, who returns after sitting out 2016 with a medical condition but can play all five positions on the line. Active LT Dejon Allen is regarded as one of the MW's best and a possible NFL draftee next April.


The concern on offense involves replacing all-time school receiving leader Marcus Kemp, who is spending this summer in the camp of the Kansas City Chiefs. Returning slot-backs John Ursua and Dylan Collie combined for 86 catches last season, while sr. Keelan Ewaliko, after playing five different positions in his UH career, appears poised to pick up much of the slack from Kemp's departure. If there is a real concern on offense, it's replacing four-year PK Rigo Sanchez, who for good measure also handled punt and kickoff duties. Rolovich likely splits up those assignments among newcomers this fall.


All of that creativity on offense will probably still be necessary in 2017 thanks to a defense that ranked in triple digits in most categories. Moreover, thanks to the high cost of living on the islands, it has been hard for recent HCs Chow or Rolovich to keep assistants in Honolulu, and the Rainbows will have their fifth different d.c. in as many years this fall after Kevin Lempa left for Michigan in the offseason. But the transition appeared smooth in spring to new d.c. Legi Suiaunoa, who was promoted from DL coach and will retain much of the terminology and schemes from Lempa's 4-3 looks last season.


A key development this fall will be the possible reinstatement of juco DE Jamie Tago, the highest-rated recruit for this year who was suspended in spring for a violation of team rules. Tago's presence would add another needed playmaker to the platoon that already boasts of impact LB Jahlani Tavai, who can also line up as an edge rusher or drop into coverage and had 19/.5 tackles for loss a year ago. Because of the depth at the LB spots, and Tavai's versatility, Hawaii can often switch to odd-man defensive fronts. There are new CBs in the Rainbow defensive mix, but there is an intriguing addition to the secondary in safety Jay Dominique, a Canadian import used to playing on a wider field north of the border.


If there is another area of concern for Rolovich, it's getting his team to play with a bit more discipline, though some MW observers believe the recurring penalty spate endured by the Rainbow Warriors a year ago had as much to do with over-stimulation. Whatever, UH was the second-most penalized ream in the land a year ago, not a category in which any team wants to be among the nation's leaders.


Though Hawaii has one of the longest-possible FBS road trips (was that why this game was scheduled?) in its opener at UMass, the schedule is not going to be as sadistic as a year ago, when Hawaii opneed its season in Sydney, Australia vs. Cal and had to play at Michigan the following week. This year, the Rainbow Warriors don't have to play back-to-back weeks away all season, and their other non-MW road trip is at one of the closest-possible mainland locations, and not requiring of a connecting flight, at the Pasadena Rose Bowl against UCLA on September 9. A possible MW West showdown vs. San Diego State will take place at Aloha Stadium on October 28. It would be a disappointment if Rolovich's team can't get back to the hometown Hawaii Bowl, which reserves a spot for the Rainbow Warriors if they're bowl-eligible.


Spread-wise, Rolovich still has to some work to do to make Aloha Stadium the fortress it once was in the June Jones years; last season, UH was just 2-4 vs. the line at home after the Chow regime had dropped 8 of its last 9 vs. the number in Honolulu. Note that the Rainbow Warriors also dropped their last five regular-season games vs. the line (including SU wins to close the campaign vs. Fresno and UMass) before that rousing 52-35 bowl win over MTSU. Hawaii, however, has covered 7 openers in a row dating to the McMackin years; UMass is thus forewarned for its August 26 date.



There was always a shotgun-like feel to the marriage between Brian Polian and Nevada (2016 SUR 5-7, PSR 4-8, O/U 5-7). Perhaps it was an impulsive hire by outgoing AD Cary Groth following the 2012 season. After all, Polian's football pedigree had always been enhanced by his papa Bill, a longtime high-profile NFL exec. The younger Polian, however, had never been as much as a platoon coordinator when hired to replace iconic HC Chris Ault, who retired shortly after the 2012 New Mexico Bowl vs. Arizona. Polian even admitted to applying for the job on a whim, never having even been to Reno prior to the interview process.


Four years later, the Wolf Pack starts over again in its search for the next Ault. As it worked out, Polian might have been on borrowed time shortly after his hire when Doug Knuth was hired from Utah as AD to replace Groth. A succession of up-and-down seasons would eventually doom Polian, who never got to coach in Reno under the AD that hired him, though the timing of his dismissal was still a bit curious, less than 24 hours after Nevada's best effort on his watch, a vicious 45-10 dismemberment of rival UNLV in the Fremont Cannon game at Las Vegas. But not even a rousing win over the Wolf Pack's biggest rival was enough to save Polian, who eventually found his way back to a spot on the staff at Notre Dame, where he had earlier served as an assistant. Maybe there's a happy ending in there for Polian after all.


It also offered something of a sobering reminder to the fan base in Reno, now realizing that another reincarnation of Ault is unlikely to walk through the decorative gates of Mackay Stadium anytime soon. Ault's three different terms as coach, sandwiched around a stint as the school's AD, were good enough to land him in the College Football Hall of Fame (now based in Atlanta and very much worth the visit). It is hard to envision any coach succeeding in such a manner in Reno and sticking around, but Ault was more than a coach and AD, he was an institution in Washoe County and never had any desire to leave his alma mater. That combination will be hard to find again in the future.


Giving it a shot this fall, however, will be an eager Jay Norvell, a longtime assistant at a variety of locales in both college and the NFL for the past 30 years, including offensive coordinator stints at Nebraska, UCLA, and Oklahoma, and most recently the passing game coordinator at Arizona State. Proving that Nevada is not trying to field a poor imitation of the Ault years as it did under Polian, Norvell will be transitioning away from the "Pistol" offense that Ault introduced back in 2005 and became quite the rage in the decade since, and once popularized in Reno by none other than Colin Kaepernick. Norvell, however, is altering the recipe, going full-bore with an uptempo, pass-happy spread to inject some life into a Nevada "O" that gradually ran out of ammunition on Polian's watch. Confirming the switch in styles was Norvell's o.c. hire of Matt Mumme, son of "Air Raid" pioneer Hal Mumme and practicing his craft at a variety of locales in recent years, including the last four as HC at LaGrange College in Georgia.


It's not often that Alabama transfers end up in Reno, but the new Wolf Pack QB has Crimson Tide roots, as jr. David Cornwell has arrived from Tuscaloosa and appears the favorite to be taking snaps when Nevada opens its season at Northwestern on September 2. Unless, that is, holdover and former juco Ty Gangi ends up winning the starting job that Norvell says will still be up for grabs when practice resumes in August. Gangi flashed more than a bit of upside when taking over the starting role last November from the injured Tyler Stewart, passing for 1301 yards and 8 TDs, and improved by leaps and bounds in the process. Included were a pair of 300-yard passing games and wins in his last two starts, one of those a dramatic rally to beat Utah State in the penultimate game, when Gangi used his instincts to score on a 5-yard scramble on the final play of regulation that set up the winning PAT, before a near-flawless performance in the rout of UNLV. At 6'5 and able to see over opposing defenders, and with rather nimble feet that resulted in 99 YR in the rout vs. the Rebels, Gangi provides a nice option for Norvell if Bama transfer Cornwell can't win the job.


Though the pass will now set up the run in Reno, don't expect the Norvell offense to completely abandon the infantry, a category in which the Wolf Pack consistently appeared in the national top ten during the Ault years. Senior slasher James Butler rushed for 1336 yards in 2016 and might be doing more downhill running in the new offense. The traditionally big and mobile "Union" Wolf Pack OL in the Ault years has been less imposing in recent seasons, however, and only returns two starters, with JC reinforcements likely asked to step into the breach immediately.


Providing the Cornwell and/or Gangi get ample time to throw, the Nevada receivers figure to get plenty of work this season. Senior Wyatt Demps, who hauled in 53 catches last year, is the only returnee among the wideouts who nabbed more than six receptions last season, but MW observers believe newcomers might make an immediate impact, including RS frosh Trevion Armstrong, who starred in spring work, and WRs dominated Norvell's first recruting class, with out-of-state recruits Tyson Williams (via Alabama) and McLane Mannix (via Texas) capable of creating early spalshes.


Though the offense bogged down as the Polian regime progressed, it wasn't on the attack end where Nevada has had its biggest problems in recent years. The "D" has been consistently leaky, and last season was the worst in the nation vs. the run, allowing a ghastly near-300 ypg on the ground. Foes were so busy running the ball down the throat of the Wolf Pack that they mostly eschewed the pass, partially explaining Nevada's deceiving fourth ranking in national pass defense stats. When the dust cleared the Pack had "only" allowed 29 ppg, far from the worst Nevada defensive effort in recent memory but still nothing to write home about.


Still, Nevada has lacked size and talent up front in recent seasons, and changed the alignment in spring, transitioning from recent 4-3 looks into a 3-3-5 stack under new d.c. Jeff Casteel, who ran those schemes in recent stints at Arizona and West Virginia.


The strength, such as it is, of the platoon seems to be in the secondary, where Casteel might have enough depth and athleticism to fit the new schemes. Safeties Asauni Rusus and Dameon Baber are regarded as two of the better DBs in the Mountain West, and the secondary has an upperclass composition. The bigger questions are up front, where soph NT Hausia Sekona is a bit undersized, and sr. DE Patrick Choudja has never quite played up to expectations, which has made it easier for foes to double-team explosive jr. DE Malik Reed. MW sources say to watch a pair of LBs, soph LB Gabriel Sowell and RS frosh Kameron Toomer, who opened some eyes in spring.


Norvell is not being gifted with a soft schedule to begin his Reno tenure, as three bowl teams await in non-conference play, with only one of those (Toledo) visiting Mackay Stadium, and road tilts in the opener at Northwestern and later September at Washington State. The MW slate gets tougher as the season progresses, too, with road games at Colorado State, Boise State, and San Diego State in the second half of the campaign. Norvell might have to pull an upset or two to get the Pack bowl-eligible, but we nonetheless view Nevada as an intriguing darkhorse in the MW if the new Pack HC takes advantage of this long-awaited opportunity.


Spread-wise, it has been a while since Nevada made a fortress out of Mackay Stadium as it routinely did in Ault's last stint as HC; under Polian, the Pack was only 8-10 vs. the line as host. Nevada was also a consistent "under" play (33-17) during the Polian era, something we suspect might change under Norvell.



We can excuse those who might be wondering what has happened the past couple of years to Fresno State (2016 SUR 1-11; PSR 7-4; O/U 5-6), or if the Bulldogs are still playing football at all. Regarding the latter, they definitely are, just not too well the past few seasons, all a far cry from the many years when Pat Hill-coached Fresno teams often crashed the national rankings. Or even the early years of the recently ill-fated Tim DeRuyter regime, including 2013, when the Dawgs, led by QB Derek Carr, went undefeated deep into November and looked to have a shot at a then-BCS bowl "at-large" slot (in the last season before the College Football Playoff). But by the middle of last season, all of that seemed decades ago as the program endured a steep decline post-Carr. DeRuyter's once-shining star become significantly dulled in the process, and he was relieved of duties last October. When the dust cleared, the Bulldogs had recorded their worst season since World War II, when the 1944 FSU edition finished 0-6. A winless Mountain West record added further ignominy to the proceedings.


There is some hope, however, as the Bulldogs eschewed the progressive hiring rage (both on and off the field) around the Mountain West and reached back to the program's glory days to find the successor to DeRuyter. Enter Jeff Tedford, a one-time QB in the early '80s for some memorable Fresno sides, and later a Bulldog assistant under the legendary Jim Sweeney. Most probably recall Redford's highly decorated work as HC at Cal, where he would become the school's all-time winning-est coach before things would eventually go stale in Berkeley. After a stab in the NFL, a health scare, and a season as HC of the CFL B.C. Lions, Tedford returned to the college ranks on Chris Petersen's Washington staff last season before moving to his alma mater, which seems a potential perfect match on many levels, especially with Tedford likely viewing this as his last coaching stop. They're going to be patient in Fresno, too, as Tedford starts off on a five-year contract loaded with performance bonuses and incentives.


This sort of challenge is nothing new for Tedford, a high-level QB guru as an assistant at Fresno and Oregon before his Golden Bear days, and with Trent Dilfer, David Carr, Akili Smith, Joey Harrington, Kyle Boller, and Aaron Rodgers all past pupils taken in the first rounds of NFL drafts. (Tedford also tutored another future NFL QB, Billy Volek, at Fresno.) Remember, too, that Tedford also inherited a 1-10 mess from Tom Holmoe at Cal in 2002 and immediately forged a turnaround to 7 wins in his Berkeley debut, bowl success by his second year, and a top ten team by his third season. It would be quite a neat trick to do the same in short order at Fresno, but at least the recently-suffering Bulldogs "Red Wave" fan base knows that this is the sort of reconstruction task that their new HC has dealt with before.


Tedford's re-boot of the program began in spring when he junked DeRuyter's pass-happy spread that had abandoned the run, a longtime Fresno staple, a year ago when the Dawgs ranked a sickly 119th in national rush stats. Indeed, the entire offense was in bad need of medication last season when generating barely 17 ppg, and almost off of the radar entirely in national scoring (ranking 125th). "In" is now a multiple pro-set similar in design to Tedford's many potent Berkeley offenses of the past. Though there's no Aaron Rodgers to pilot the attack, soph Chason Virgil flashed some upside when passing for over 2000 yards while under siege last fall. In spring, Virgil repelled the challenges of touted juco Jorge Reyna and RS frosh James Quentin Davis and will enter fall camp as the presumptive starter. Helping tutor Virgil is new o.c. Kalen DeBoer, hired away from Eastern Michigan after doing the near-impossible when helping the win-starved Eagles look like a real college team and get to a bowl last fall.


There are some intriguing weapons on hand at the skill positions. Glue-fingered jr. WR KeeSean Johnson caught 66 passes a year ago, while fellow jr. wideout Jamire Jordan has displayed big-play potential in the past. Physical slot man Da'Mari Scott also returns after being ineligible in 2016. The Bulldogs didn't have a runner in top ten of MW stats last season but several candidates emerged in spring in a likely RB-by-committee approach for the fall that includes leading returning rusher sr. Dontel James (697 YR in 2016) and touted frosh Ronnie Rivers, whose dad Ron was a star FSU RB in the early '90s, including the '92 Freedom Bowl team that upset USC. Four starters also return along the OL, though it was RS frosh G Netane Muti who opened eyes in the spring.


Tedford also cast a wide net looking for a new defensive coordinator and, calling upon his recent experience with the B.C. Lions, ended up crossing the border into Canada to lure Orlondo (with an "o") Steinhauer from the CFL's Hamilton Tiger-Cats. Steinhauer immediately junked DeRuyter's 3-4 looks for a more-traditional 4-3 that could better take advantage of three returning starters along what will likely be an all-senior line. But four of last season's top seven tacklers graduated, and the secondary might have a completely new look since the only returning starter, jr. SS DeShawn Potts, was having trouble fending off challenges in the spring from what appears to be a more-athletic 2ndary featuring some redshirts and JC additions.


Unfortunately for Tedford, a rebuilding season is not the time to be playing a traditionally tough Fresno schedule, but the Bulldogs are stuck with back-to-back road games at two of last year's Final Four teams (Washington and Alabama) in September before league play begins. Still, we suspect the talent cupboard at Fresno might not be as bare as many suspect when the program lost direction under DeRuyter. And while expecting Tedford to forge an immediate turnaround as he did once upon a time at Cal might be asking a bit much, we do think the Bulldogs will be upgraded this fall with a proven head coach now at the controls.


Here's also hoping that the Tedford Dawgs will scrap some of the recent hideous uniform combos, including the base-less all-black outfits and the drab all-white ones. The classic red and white FSU look was a good and identifiable one that will hopefully be prominent again for the Central Valley's team.


Spread-wise, Fresno didn't fare too badly last season, covering 7 of 11 on the board (all as an underdog), though the Bulldogs were being routinely overlooked by foes as the season progressed. FSU covered six of its last seven despite losing SU in all of those games. Note that Tedford's Cal teams covered in 23 of their first 32 outings (including 8-4 in his 2002 debut at Berkeley) and were 11-3-1 their first 15 as an underdog before the spread marks began to flatten somewhat later in his Golden Bear tenure.



We haven't heard this much turner-corning talk since long ago, when FBI Director J. Edgar Hoover had his drivers follow routes that only made right-hand turns. When it comes to UNLV (2016 SUR 4-8; PSR 6-6; O/U 9-3) football, it's a different sort of turn that keeps being discussed. But for the past generation, the Rebels have mostly been making wrong-way turns down one-way streets. To wit: UNLV has had just four winning seasons since 1986, and just one since 2000. The last Rebel HC to leave the school with a winning record was Harvey Hyde way back in 1982-85.


There seems to be a bit of light at the end of the UNLV tunnel these days, however, prompting more of the annual about-to-turn-the-corner talk. A facility upgrade funded by the Fertitta family (owners of the Station Casinos and previously the UFC, the latter being recently sold for a tidy ten-figure sum) will soon house the football program in palatial on-campus digs. Even bigger news came in January with the announcement of the move to Vegas of the NFL Raiders, whose state-of-the-art new stadium is also going to be the home field of the Rebels beginning in 2020. Interestingly, just as the MW's new flagship program at San Diego State will be losing its NFL stadium in a couple of years, UNLV will suddenly step into its own NFL stadium to hands-down win the league's best facility award, something no one has dared say about wind-swept, out-of-the-way Sam Boyd Stadium, on the way out of town to Hoover Dam on Boulder Highway.

It looks like there's a good chance that third-year HC Tony Sanchez will stick around for the new stadium, as he was given a three-year extension in winter, a gift from outgoing AD Tina Kunzer-Murphy, on her way to a fund-raising job at the school. Sanchez now works for a new AD, Desiree Reed-Francois, hired from Virginia Tech, but he's at least doing so with a bit more job security than most envisioned the last time we saw UNLV on the field, when the Rebs got blasted 45-10 in last season's finale at home against blood rival Nevada in the annual Fremont Cannon grudge match.


Sanchez, who had an 85-5 record while molding nearby Bishop Gorman High into a prep powerhouse before undertaking the UNLV challenge in 2015, has in fact overseen win increases in each of his first two years on the job. Before getting too excited, note that the win totals have been a modest 3 and 4, respectively, but it's not the fault of Sanchez that the bar was set so low by immediate predecessor Bobby Hauck, and those before Hauck like Mike Sanford, John Robinson, Jeff Horton, Jim Strong, and Wayne Nunnelly. Hauck's teams won exactly two games four times in his five seasons in charge, including his final campaign in 2014.


The Sanchez Rebels have made incremental progress, and in the spirit of the preceding Hauck, Sanford, et al regimes have hinted on occasion at breakthroughs. Indeed, a couple of big Rebel efforts each season have become standard fare in the desert, fueling optimism. But so have eventual late-season fades, porous defenses, and lack of depth being brutally exposed. So we're not sure how much progress the Sanchez Rebels are really making; the 7-17 mark the first two years is only encouraging because expectations have been so low. And if that inexplicable, lopsided loss to hated Wolf Pack at the end of 2016 was a barometer of where the program stands after two seasons under Sanchez, we're not sure it's much further along than the mostly-desultory Hauck years.


If there is some encouragement for the fall, it's with an offense that returns 8 starters and scored better than 31 ppg a year ago, the latter a high point in recent UNLV annals. But what has vet o.c. Barney Cotton (a one-time Nebraska coordinator) really excited is someone who didn't even play in 2016, touted frosh QB Armani Rogers, an L.A. area product who originally committed to Cal but redshirted last season at UNLV before taking the majority of snaps in spring and entering the fall as the clear favorite to win the starting job. At a big 6'5, Rogers reminds physically of Jason Thomas, the multi-threat QB of the John Robinson years who led the Rebs to their last bowl win in 2000 against Arkansas in the local Las Vegas Bowl. If nothing else, the Rebs enter the fall with plenty of depth at QB, with holdovers Johnny Stanton and Kurt Palandech also still in the fold after having each started a number of games over the past two seasons.


A deep RB corps returns most of its weapons (soph Charles Williams and jrs. Lexington Thomas & Xavier Campbell) that helped UNLV to pile up over 241 ypg on the ground and rank 15th in national rush stats last season. Four starters also return up front, though Sanchez has a bit of concern about the center position after the graduation of anchor Will Kreiter, and expected replacement, juco Sid Acosta, now out for the season after tearing an ACL in spring.


The passing game bogged down last season (ranking 114th nationally) partly because of injuries, but now-healthy sr. WR Devonte Boyd has 164 career receptions, while soph Brandon Pressly was the star of the spring game. Pressly is also expected to inject some life into the return units that ranked in triple digits nationally both on punts and kickoffs. Junior PK Evan Pantels is a reliable weapon to salvage something from drives that bog down, connecting on 13 of 14 FG tries last fall.


While there is some realistic hope for the offense, there is only wishful thinking for a defense that returns just two starters from a platoon that surrendered almost 37 ppg a year ago (ranking a woeful 112th) and allowed 42 or more in four of the last five games. The aforementioned depth concerns, a recurring theme at UNLV, really surfaced down the stretch a year ago, especially on the DL, which wore down noticeably in November.


Among the many concerns for vet coordinator Kent Baer (who in the past held the same position at places such as Washington, Stanford, Colorado, and Notre Dame, even serving as the interim HC for the latter in the 2004 Insight Bowl in Phoenix after Ty Willingham's dismissal) is a defensive backfield that allowed 23 TD passes a year ago. No starters return in the secondary after CB Darius Mouton left after spring practice, though a clean slate might not be a bad thing after UNLV intercepted just 5 passes a year ago, not to mention getting burned for so many TD tosses.


Schedule-wise, the Rebs trade out Boise State and Colorado State, both easy winners over UNLV a year ago, for Air Force and New Mexico from the Mountain side of the loop, though that might not be a net plus for the Rebs. A late-September trip to Ohio State is also on the slate. If UNLV is not beaten up too badly after visiting Columbus, it will have a chance to generate some momentum with three of the next four foes all visiting Sam Boyd Stadium as MW play commences. It's been in the second halves of the past two campaigns, and many preceding years, however, when UNLV has faded away. Until the depth concerns abate, the Sanchez Rebels will be at risk of a recurrence.


Spread-wise, while the Ohio State trip seems daunting, note that the Sanchez UNLV has scored easy spread covers as heavy dogs at both Michigan and UCLA since 2015. The Rebs also scored a combined 143 points while blowing out FCS foes Idaho State and Jackson State the past two seasons, so this year's FCS visitor, the Howard Buffs, have been forewarned. But Sanchez has not been able to bully many Rebel opponents as he did when his Bishop Gorman teams routinely trounced outmanned foes; UNLV failed to cover its last four as chalk in 2016.



The rollercoaster ride continues at

San Jose State (2016 SUR 4-8, PSR 5-6; O/U 5-6),

where the Spartans have hit the occasional crescendo over the past few decades between extended periods of despair. Not much of the former under the personable and well-intended, but eventually unsuccessful, HC Ron Caragher, who was dismissed last December after four consecutive non-winning seasons. (SJSU did make it to one bowl, the inaugural 2015 Orlando Cure Bowl, for Caragher, beating Georgia State, but even that could only up the Spartan SU mark to 6-7). All of this after Caragher inherited an 11-2 team from Mike MacIntyre in 2013. But before the program drifted too far in the wrong direction, AD Gene Bleymaier hit the eject button on Caragher.


What followed was an odd twist even for a traditionally off-beat SJSU program. Bleymaier, reckoning that the challenges (low budget, subpar facilities, etc.) at the school might be too much to swallow for anyone without prior connections to the Spartan program, bypassed many interested and qualified candidates and instead focused the search for a new coach on those with past links to SJSU. Thus, with alums such as Dick Vermeil and John Carlos apparently unavailable or uninterested, Bleymaier came down to a former Spartan QB and longtime college and NFL assistant, Marcus Arroyo, and former SJSU aide and Oregon State WR coach Brent Brennan, as his final candidates. The winner was Brennan, though history suggests that eventually it might be Arroyo who got the better end of the deal.


Not to disparage Brennan, whose past pupils included NFL WRs Markus Wheaton and Brandin Cooks in Corvallis, but he had not been a candidate for other HC jobs, and he has never been a head coach. As mentioned, however, he did assist at San Jose in the Dick Tomey (2005-09) and early MacIntyre (2010) regimes before moving to Oregon State, and grew up in nearby Redwood City. His dad, Steve, also was an end for the Spartans in the late '60s. So if familiarity with the territory was the main prerequisite for the job, Brennan seems to qualify.


Ahhhh, but the odd twists did not end with the rather unorthodox hiring process. The AD Bleymaier, who had earlier held the same position at Boise State when the Broncos were emerging as a powerhouse, would leave his position in February to take a new job as a special assistant to school president Mary Papazian. After filling the AD job on an interim basis for a few months, former asst. AD Marie Tuite was promoted to Bleymaier's old position in May. Though she had been part of the athletic administration prior to her promotion, she did not hire Brennan, who immediately finds himself working for an AD that did not sign him. That's never an optimal situation for a new coach.


Whereas the Caragher offenses of the past few years paid a bit more than lip service to balancing the attack, and made a sincere attempt to run the football, it looks as if Brennan is going all in with video football, hiring 28-year old Dino Babers disciple Andrew Sowder as the new offensive coordinator. Sowder, whose exposure to Babers came at Bowling Green, spent last year at Texas, and while an offensive assistant throughout his brief career, has never held an o.c. position or called plays. But if the new San Jose spread is as pass-happy as the Babers offenses, as spring work suggested, the Spartans might look more like they're playing basketball than football this fall. Especially if Brennan can find a QB; soph Josh Love, forced into emergency action in two games last season, exited spring with tenuous hold on the job. One of three redshirts from last season, Montel Aaron, impressed enough in spring to be given a shot at winning the starting spot in the fall.


The most-experienced position group on offense is along the line, where five starters return, but the Spartans allowed a nation's-worst 50 sacks and 101 tackles for loss a year ago; no other FBS entry has allowed as many sacks since 2013. Holdover RB Malik Roberson averaged a bit better than 5 ypc on 99 totes last season, but one wonders if he'll touch the ball even that much in the expected pass-happy look this fall. Junior wideouts Justin Holmes and Tre Hartley combined for 72 catches a year ago; expect them to get much more work in the upcoming term.


On the other side of the ball, as is often the case in the Mountain West, one defensive deficiency creates a mirage of strength in another area. That was San Jose a season ago, ranking a respectable 19th nationally in pass defense, mostly because opponents simply decided to run the ball down the Spartans' throats instead. SJSU ranked a sorry 122nd vs. the rush and conceded a whopping 35 ppg in 2016, so we're hardly convinced the return of eight stop unit starters is such a good thing.


Those problems vs. the run, however, might be acute, as SJSU has allowed 200 yards or more on the ground a whopping 22 times the past three seasons. New d.c. Derrick Odum, over from Oregon State with Brennan, switched in spring to a base 3-4 after predecessor Ron English was running a 4-3 last year. Will it make a difference? Though we suspect the pass defense numbers were a bit misleading in 2016, the secondary does appear to be the strength of the platoon, with all four starters returning. The best of those is sr. CB Andrew (Tony?) Chachere, considered by regional sources as a potential NFL draftee next spring.


SJSU will be a decided underdog when starting its season a week earlier than most, hosting South Florida in Charlie Strong's debut as HC for the Bulls, on August 26, though Spartan watchers are also keeping their eyes on the game vs. dangerous option-centric FCS rep Cal Poly the following week. If SJSU can't beat the Mustangs, it risks an 0-4 break from the gate with following games at Texas and Utah, and the already-remote minor bowl hopes could be effectively dashed before the MLB regular season concludes. Though Brennan is under no immediate pressure, he can get off on a better foot with his new AD by at least stopping the slide that began in the Caragher years. We're not sure that's going to be easy.


Spread-wise, with the Spartans expected to be an underdog often in Brennan's first season, it's worth noting that Caragher's last three SJSU teams were just 6-16 receiving points, a mark that looked even worse before three straight covers as a dog late last season.

NEXT UP: MOUNTAIN WEST--PART II
Return To Home Page