7369...
SPECIAL REPORT
...TGS 2016-17 COLLEGE HOOPS SUPERLATIVES
by Bruce Marshall, Goldsheet.com Editor and TGS Staff
FRANK MASON III, 5-11 Sr., Kansas
MONTE MORRIS, 6-3 Sr., Iowa State
NIGEL WILLIAMS-GOSS, 6-3 Jr., Gonzaga
JOSH HART, 6-5 Sr., Villanova
SINDARIUS THORNWELL, 6-5 Sr., South Carolina
LONZO BALL, 6-6 Fr., UCLA
JOHNATHAN MOTLEY, 6-10 Jr., Baylor
KENNEDY MEEKS, 6-10 Sr., North Carolina
JOHN COLLINS, 6-10 Soph, Wake Forest
CALEB SWANIGAN, 6-9 Soph, Purdue
JUSTIN JACKSON, 6-8 Jr., North Carolina
DILLON BROOKS, 6-7 Jr., Oregon


Due to popular demand, for the second straight year we have expanded our A-A team to a "full roster" of twelve players for this season!


TGS PLAYERS OF THE YEAR: Normally we do not like to name co-anythings when it comes to MVP-like honors. In fact, we loathe to do so. But the 2016-17 College Hoops season was a unique campaign, without any truly dominating player or team. As a confirmation of those developments, our three-man panel came up with three different Player of the Year nominees. So, consistent with the character of the just-completed season, we split the award...three ways! (A one-off development...at least we think.)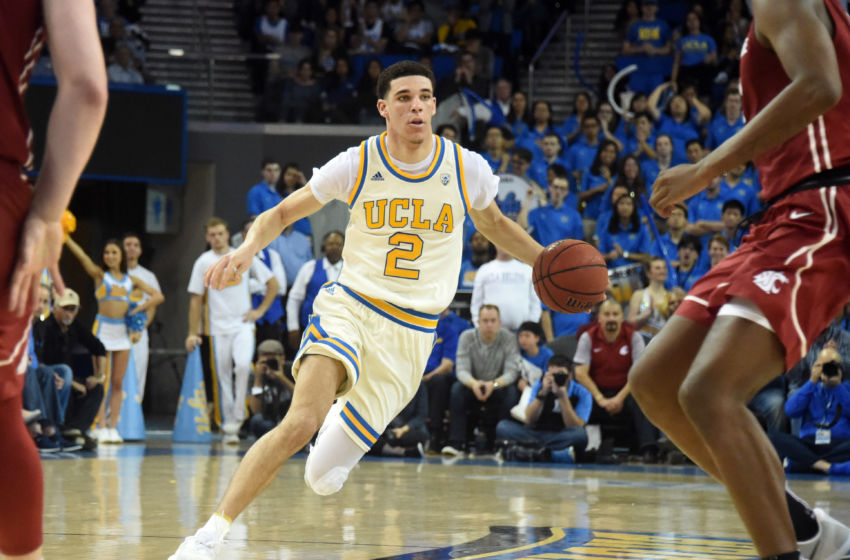 Lonzo Ball, 6-6 Fr., UCLA...Already awarded with our TGS Newcomer of the Year honor, Ball's case for national MVP is as solid as anyone's, likely to be confirmed by the upcoming NBA Draft, when most projections have Lonzo taken with the first or second pick. As noted in our Newcomer feature two weeks ago, Ball was a transcendent figure, almost single-handedly reviving one of the nation's storied programs, his presence elevating the Bruins from sub-.500 status to one of a national contender, and likely helping save the job of Bruin HC Steve Alford in the process. While Ball had a talented supporting cast, he turned it into the country's most efficient offense, one marked by a lightning-quick transition game and how-in-the-world-did-he-do-that (!) passes. Sure, we had to endure his boisterous dad LaVar, whom UCLA fans have to get used to with two of Lonzo's brothers already ticketed for Westwood (the next, Melo, arrives in the fall). Though part of us finds entertainment value, as much as annoyance, with LaVar. Many sources, however, report that Lonzo was a consummate teammate and a dream for Alford and the Bruin staff to coach. And for that, maybe a very quick tip o' the TGS cap to papa LaVar.


Frank Mason III, 5-11 Sr., Kansas...Mason has as much claim as anyone to the honor for this season, confirmed by his recent selection as the 2016-17 John Wooden Award winner. We also like to salute seniors whenever possible, especially those with a college career like Mason's, which at the outset hardly seemed destined for greatness...especially as he originally committed to Towson. As his career ends, however, none other than Kansas HC Bill Self regards Mason as one of the all-time greats of the storied Jayhawk program, completing a career that will likely be capped by Mason's jersey being hung in the pantheon also known as the rafters at Phog Allen Fieldhouse. Along the way Mason was amazingly consistent and reliable, not to mention durable, playing in roughly 90% of the minutes in KU games this season, and ranking among the nation's leaders in scoring (20.9 ppg) and three-point shooting (47.1%). Mason was the driving force behind a Jayhawk squad that ran away with another title (KU's 13th straight) in the Big 12, arguably the nation's toughest conference, and all of the way to the Elite Eight. Mason's season began with a 30-point effort vs. Indiana and a buzzer-beater vs. Duke and never slowed down, as he scored 20 points or more in an impressive 23 games, including the last seven of the campaign.


Sindarius Thornwell, 6-5 Sr., South Carolina...In the end, South Carolina didn't win the national title. And shame on those who didn't vote Thornwell onto the NCAA All-Tournament team. But the Gamecock senior was the driving force behind USC's first-ever advance to the Final Four and was arguably the star of the Big Dance into the final weekend, before Thornwell was slowed by the flu in the 77-73 national semifinal loss to Gonzaga. Still, Thornwell revived in the later stages of that game vs. the Zags and fueled a dramatic Gamecock rally from a 65-51 deficit into a brief lead deep into the second half en route to scoring 15 points, not too shabby after tallying 26 ppg in the Dance into the Final Four. And while several other marquee performers did not bring their "A" games to the Dance, Thornwell certainly did and helped carry South Carolina into uncharted territory. As a four-year starter, Thornwell was the linchpin to the revival of the Gamecock program, increasing his scoring from 13.4 ppg last year to 21.4 ppg this season. When HC Frank Martin was shedding a few tears for his departing seniors after the narrow Final Four loss to the Zags, Thornwell was obviously one of those on his mind.


TGS COACH OF THE YEAR: Frank Martin, South Carolina...Again, an extremely close call this season, though unlike our Player of the Year voting, there was consensus on Martin winning the coaching honor. No mentor this season whipped his team into contention quite like Martin, whose Gamecocks caught fire in the Big Dance from a No. 7 seed in the East Regional, pulling upsets over Duke, Baylor, and Florida to reach the Final Four. While noted for stifling defense, Martin's team also proved it could play uptempo as the season progressed and confirmed as much by scoring 91 ppg in the sub-regionals against Marquette and Duke. By the end of the season, Martin's young frontliners, 6-9 soph Chris Silva and 6-10 frosh Maik Kotsar, had developed into valuable complementary pieces for a unit led by senior perimeter weapons such as the aforementioned Sindarius Thornwell, plus Thornwell's fellow sr. Duane Notice and soph wing P.J. Dozier. All serving as a validation of Martin as one of the nation's top coaches after taking a historically underachieving program almost to the pinnacle of the sport in just five seasons. Thanks to Martin, South Carolina provided the most compelling storyline of the season and the Big Dance. Though in a proper fairytale, the Gamecocks would have gone all of the way to the title.


Honorable mention (in no particular order): Gregg Marshall, Wichita State; John Dunne, Saint Peter's; Scott Drew, Baylor; Michael White, Florida; Josh Pastner, Georgia Tech; Rod Barnes, CS Bakersfield; Jay Wright, Villanova; Dan Hurley, Rhode Island; Jamie Dixon, TCU; Tim Jankovich, SMU; Allen Edwards, Wyoming; John Beilein, Michigan; Mike Brey, Notre Dame; Brian Jones, North Dakota; Dana Altman, Oregon; Chris Mack, Xavier; Mark Few, Gonzaga; Danny Kaspar, Texas State; Roy Williams, North Carolina; Larry Eustachy, Colorado State; Buzz Williams, Virginia Tech; Tim Floyd, UTEP; Craig Smith, South Dakota; Archie Miller, Dayton; Tim Cluess, Iona; Randy Bennett, Saint Mary's; John Brannen, Northern Kentucky; Rodney Terry, Fresno State; Matt Painter, Purdue; Ed Cooley, Providence; Greg Gard, Wisconsin; Andy Enfield, Southern Cal; Johnny Dawkins, UCF; Dan D'Antoni, Marshalll; Mike Anderson, Arkansas; John Becker, Vermont; King Rice, Monmouth; Bruce Weber, Kansas State; Chris Collins, Northwestern; Rick Byrd, Belmont; Kermit Davis, Middle Tennessee; Dan Muller, Illinois State; Bryce Drew, Vanderbilt; Herb Sendek, Santa Clara; Kevin Willard, Seton Hall; Steve Alford, UCLA; John Calipari, Kentucky; Steve Prohm, Iowa State; Eric Musselman, Nevada; Ray Harper, Jacksonville State; Kevin Keatts, UNC-Wilmington; Mike Rhoades, Rice; Mitch Henderson, Princeton; Greg Kampe, Oakland; Brad Underwood, Oklahoma State; Jim Les, UC Davis; Scott Cross, UT-Arlington; Mick Cronin, Cincinnati; Bill Self, Kansas; Chris Holtmann, Butler; Steve Wojciechowski, Marquette; Richard Pitino, Minnesota; Danny Manning, Wake Forest.


TGS

MID-MAJOR ALL-AMERICAN TEAM
Another overlooked collection that we at TGS believe warrants some extra attention, hence another expanded grouping... a full 24 honorees!


KEON JOHNSON, 5-7 Sr., Winthrop
MARCUS KEENE, 5-9 Jr., Central Michigan
JACK GIBBS, 6-0 Sr., Davidson
QUINTON HOOKER, 6-0 Sr., North Dakota
JAYLEN ADAMS, 6-1 Jr., St. Bonaventure
MARCUS EVANS, 6-2 Soph, Rice
JARED BROWNRIDGE, 6-3 Jr., Santa Clara
NIGEL WILLIAMS-GOSS, 6-3 Jr., Gonzaga
MARCUS MARSHALL, 6-3 Sr., Nevada
GIAN CLAVELL, 6-4 Sr., Colorado State
CHARLES COOKE, 6-5 Sr., Dayton
CHRIS FLEMMINGS, 6-5 Sr., UNC-Wilmington
VICTOR SANDERS, 6-5 Jr. Idaho
PRZEMEK KARNOWSKI, 7-0 Sr., Gonzaga
JOCK LANDALE, 6-11 Jr., Saint Mary's
MIKE DAUM, 6-9 Soph, South Dakota State
ALEC PETERS, 6-9 Sr., Valparaiso
CAMERON OLIVER, 6-8 Soph, Nevada
REGGIE UPSHAW, 6-8 Sr., Middle Tennessee
MARKIS McDUFFIE, 6-8 Soph, Wichita State
JORDAN WASHINGTON, 6-8 Sr., Iona
BRANDON CLARKE, 6-8 Soph, San Jose State
HASSAN MARTIN, 6-7 Sr., Rhode Island
CHIMA MANEKE, 6-6 Jr., UC Davis


MID-MAJOR PLAYER OF THE YEAR: Alec Peters, Valparaiso...It is often said that a player's worth can be measured by his absence. If that were the sole criteria for determining a national MVP this season, Valpo's Peters (who bypassed the NBA draft last June to return for his senior campaign) would be in contention, because no team felt an absence any more than did the Crusaders once Peters went down with a stress fracture in his right leg in late February. After chugging past Wright State, Peters-less Valpo lost vs. Northern Kentucky to blow the outright regular-season title in the Horizon. Then, in their first conference tourney game in Detroit, the Crusaders were dumped by 8½-point underdog Milwaukee, in a slow-paced 43-41 verdict. Peters' 23 ppg and 10.1 rpg were obviously sorely missed against the Panthers. Offered a consolation spot in the NIT, Valpo, still minus Peters, was smashed 82-57 at Illinois. The Crusaders, however, were 24-6 with Peters available as he mostly dominated the Horizon and was an easy choice as league MVP as he displayed remarkable consistency, ranking among the nation's leading scorers despite exceeding 30 points only twice, scoring between 20-30 points a staggering 21 times, with 16 double-double (points & rebounds) efforts. Most hoop insiders expect Peters to be a high-to-mid 2nd-round selection in the upcoming NBA draft.


DISAPPOINTING TEAMS OF THE SEASON: Georgetown, San Diego State, and UConn...For the first time since we began to "honor" (or is it dis-honor?) the underachieving teams of the year, we have a repeater from the previous season. That would be Georgetown, which never ignited and stayed beneath .500 for the second straight year (not to mention 10-20 vs. the number, one of the nation's worst pointspread marks). If not for surprising contributions from 6-5 Robert Morris transfer Rodney Pryor (18 ppg), things could have been even worse. It was bad enough, however, for HC John Thompson III to lose his job in what sources are saying was a furious and fascinating internal battle between various factions that finally concluded a couple of weeks after the Hoya season ended. Georgetown's roundabout coaching search then landed upon former Hoya great Patrick Ewing, who has been itching for a head coaching job somewhere after toiling as an NBA assistant for the past 15 years. Which has apparently gotten the old man himself, former HC John Thompson, Jr., back on board, though it is fair to ask how much sway "Big Jawn" still has beyond the school's old-line Jesuits (who no longer pull the levers at the university) after the Wall Street collection of Hoya alums reportedly won the power struggle to replace his son as coach. Rest assured we'll be following the Ewing tale and Thompson-related intrigue very closely next season.


Meanwhile, San Diego State's days as a Mountain West power are now a memory as the Aztecs fell to the middle of the pack in a down year for the league. Offensive issues became more of a problem this season as the offense barely shot 41% from the floor and 31% beyond the arc. Which for the last half of the season cast doubts upon how long vet HC Steve Fisher might want to continue on the job...doubts confirmed on Monday when Fisher stepped down, handing the reins to assistant Brian Dutcher, who has been the Aztec coach-in-waiting the past few seasons.


Finally, the biggest false alarm of all this season might have been UConn, ranked in the Top 25 in many preseason polls but never coming close to igniting after opening the season with home losses vs. Wagner and Northeastern. By the end of November, HC Kevin Ollie was already minus three touted newcomers, including ballyhooed frosh G Alterique Gilbert (shoulder injury) and F Mamadou Diarra (chronic knee condition) and 6-8 VCU transfer wing Terry Larrier (torn ACL suffered in the Maui Classic). Still, with holdover Gs Jalen Adams and Rodney Purvis and C Amida Brimah, the latter a link back to 2014 national title winners, UConn shouldn't have fallen too far from last year's 25-11 team that made it to the second round of the Dance. But aside from a few bright moments, the season continued in an uneven pattern, as last spring's ill-advised early departure of G Daniel Hamilton to the NBA created more of a void than most envisioned. When the dust cleared the Huskies were 16-17 SU (and an even worse 11-19 vs. the line) and couldn't even make it into a minor tournament. Which has somewhat damaged the reputation of Ollie, widely regarded as a miracle worker for his championship job in 2014.


POINTSPREAD CHAMP: SMU (22-8). Other spread champs...Harvard 15-6, Fresno State 19-8, Northern Kentucky 21-10, Gonzaga 23-11, Wyoming 24-12, Nevada 23-12, Dayton 19-10, Iowa State 20-11, Colorado State 19-11, Saint Louis 19-11, Northwestern 21-12, Georgia Tech 20-12, Notre Dame 18-11.


POINTSPREAD CHUMP: Washington (9-20). Other spread chumps... UALR 9-18, CS Northridge 9-18, Cleveland State 9-18, Georgetown 10-20, Pepperdine 10-20, Colroado 11-21, Miami-Florida 11-20, Northern Iowa 10-19, UCSB 8-15, Drexel 10-18, UConn 11-19, LSU 11-19, Ohio State 11-19, UC Riverside 9-16, NC State 11-18, St. Bonaventure 11-18.


STREAKY TEAM OF THE SEASON: UTEP...Tim Floyd's team ran off a breathtaking 14-game spread win streak (12-2 straight up) from Jan. 21 thru March 9, which finally ended with a loss to eventual champ Middle Tennessee in the C-USA Tournament on March 10. That late spread surge, however, was without warning and totally unexpected, as prior to Jan. 21, the Miners had been one of the nation's most disappointing teams and had dropped eight spread decisions in a row!


THE "SAY WHAT???" QUOTE OF THE YEAR:
"The ceiling is the roof."
Whatever Michael Jordan actually meant when he said it after UNC defeated Duke in March is still unknown and has architects shaking their heads across the nation. But the Tar Heels eventually won another NCAA crown, so His Airness' malapropism/blunderism will likely be a rallying cry at Chapel Hill for years to come!
Return To Home Page