7365...
NEW COVER STORY
...TGS NFL DRAFT PREVIEW--PART II
by Bruce Marshall, Goldsheet.com Editor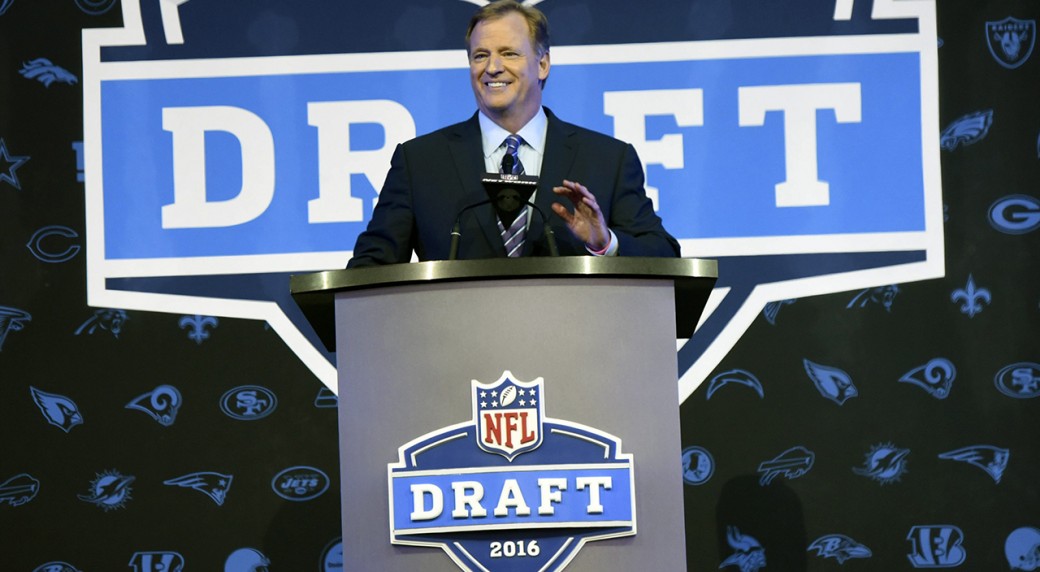 We complete our first-round preview and team updates in this issue. Remember, inevitable trades are almost certainly going to alter the proceedings and draft order, but for the moment (as of Monday, April 10), here's how we see the remainder of the first round progressing, beginning with Washington's pick in the 17th slot.


17-WASHINGTON REDSKINS...

The offseason has been full of chaos in Washington far beyond the machinations involved with the contract situation of QB Kirk Cousins (franchise-tagged for the second straight year). And most of it has not had to do with notoriously impulsive owner Dan Snyder. More specifically, the Redskins ended their working relationship with GM Scot McCloughan on March 9 after anonymous leaks (standard operating procedure everywhere in D.C. these days, it would seem) within the organization claimed abuse of alcohol. All after McCloughan had set both the draft and free-agent boards for the Redskins. Team prexy Bruce Allen has since said no new GM would be hired before the draft...stay tuned. Earlier, HC Jay Gruden was signed, a bit unexpectedly, to a two-year extension, as o.c. Sean McVay was hired as the new HC of the Rams and d.c. Joe Barry was fired. Gruden subsequently promoted from within (Matt Cavanaugh for offense, Greg Manusky for defense) to fill the coordinator roles. Most of the FA headlines involved losing a pair of 1000-yard receivers (DeSean Jackson to the Bucs and Pierre Garcon to the 49ers), the first time that has ever happened in an offseason to a team in NFL history, though Terrelle Pryor, a 1000-yard wideout LY for Cleveland, was signed. Manusky's defense also added a couple of DTs (Terrell McClain from the Cowboys and Stacy McGee from the Raiders) but still could be in the market for a pass-rusher after DE Chris Baker left for the Bucs. Let's also not forget about the plight of Cousins, still looking for a long-term deal and the subject of recurring trade rumors. Just another peaceful offseason at Redskin Park. Any move involving Cousins before the draft could completely change the dynamics, though many suspect the Skins need their most immediate help in the 2ndary, safety spots in particular, even after adding D.J. Swearinger from the Cards, as DeAngelo Hall is off a torn ACL, and he and converted CB Will Blackmon are both over 30. Malik Hooker, S, Ohio State


18-TENNESSEE TITANS...Having already been gifted the fifth overall pick from the Rams thanks to last year's trade that allowed LA to tab QB Jared Goff with the top selection, the Titans are in an enviable position and have plenty of flexibility to trade down for more picks if they wish. (We projected Clemson WR Mike Williams to Nashville with the earlier pick from the Rams). If Tennessee does stay put with this pick at 18, GM Jon Robinson will be tempted to give o.c. Terry Robiskie another toy for his offense, perhaps a do-it-all tight end to pair with Delanie Walker in double TE sets. If Robinson goes that direction, it might be above objections from vet d.c. Dick LeBeau, who would probably prefer a coverage LB, though the "D" has already gotten plenty of attention in free agency. If Alabama TE O.J. Howard is still on the board, he might prove too tempting for the Titans to bypass. O.J. Howard, TE, Alabama


19-TAMPA BAY BUCS...The Bucs came surprisingly close to ending their nine-year postseason drought by staying in the playoff picture until the final week of last season. The next step, however, might be more difficult, especially in a division that has produced the past two NFC Super Bowl reps (Panthers and Falcons). Coach Dirk Koetter believes QB Jameis Winston is ready to make the jump to the elite level, and signing WR DeSean Jackson away from the Redskins seems to provide the deep threat the aerial game has lacked (glue-fingered Mike Evans remains a top-end intermediate target). With Jackson in the fold, the main offensive issue is now at RB, where the Bucs have yet to commit in 2017 to Doug Martin, who will be suspended for the first three games. There is the possibility an all-terrain runner might be targeted early with re-signed Jacquizz Rdogers and injury-prone holdover Charles Sims not considered especially durable. But help on the OL and in the 2ndary are likely to be the primary concerns in the draft unless Koetter convinces GM Jason Licht that a replacement for Martin at RB is the top priority. Jabril Peppers, S, Michigan


20-DENVER

B

RONCOS...Though some of the fun speculation the past few months in Broncos Country was the possibility that John Elway might try to lure QB Tony Romo as he did Peyton Manning five years ago, Denver's underlying issue for the offseason has always been upgrading the OL, which was a mess in 2016 and might have scared away Romo anyway had he not instead decided to hang up his pads and join Jim Nantz as the top CBS analyst for this coming season. Hoping to help preserve holdover QBs Trevor Siemian & Paxton Lynch, Elway plucked ex-Cowboy G Ronald Leary in free agency but still figures to address OT spots that were a particular problem a year ago (Elway did not block the door on the disappointing Russell Okung departing for the Chargers). Donald Stephenson remains after enduring a brutal campaign, but Denver also enlisted ex-Raiders FA Menelik Watson, currently penciled in at RT, and Elway might still look at a tackle off of the bat in the first round, which would please new/old o.c. Mike McCoy, the former Chargers HC but having worked some magic in his previous stint as Broncos o.c. under John Fox in the Tim Tebow year (2011) and Manning's first season (2012) in Denver. After Gary Kubiak's surprise retirement, there's a new HC as well, Vance Joseph, a regional favorite from college days as a Colorado Buff and most recently d.c. for the Dolphins. Joseph is also a disciple of Wade Phillips, as is new d.c. Joe Woods, Denver's recent DB coach under Phillips, who has moved to the Rams. After springing too many leaks vs. the run last year, Elway added some bulky reinforcements in free agency with DTs Domate Peko (Bengals) and Zach Kerr (Colts), so expect the offense to get early draft attention. Would Elway consider another former Stanford man and a Denver product, RB Christian McCaffrey, with an early pick? Garett Bolles, OT, Utah


21-DETROIT LIONS...The Lions still haven't won a road playoff game since 1957, but did make it to the postseason a year ago, validating the decision to retain HC Jim Caldwell after a rough 2015. As well as validating GM Bob Quinn's focus on OL upgrades since his tenure began a year ago, a trend that continued in the offseason when inking FAs G T.J. Lang (from the Packers) and T Rick Warner (from the Ravens) as reinforcements in front of QB Matthew Stafford, a top priority after G Larry Warford (to the Saints) and OT Riley Rieff (to the Vikings) departed in free agency. Quinn also addressed some defensive needs (DT Akeem Springs from the Bucs, DE Cornelius Washington from the Bears, LB Paul Worrilow from the Falcons, and CB DJ Hayden from the Raiders) in free agency and could go in a variety of directions in the draft. Though the consensus among most insiders is that Quinn would like to add another playmaker or two to the middle of the defense with the pending release (post-June 1 designation) of LB DeAndre Levy, and will likely be looking to add depth at the WR spots behind Golden Tate and Marvin Jones. Hasson Reddick, OLB, Temple


22-

MIAMI

DOLPHINS...The Dolphins are a lot further along than most people expected at this time a year ago, when young Adam Gase was preparing for his first HC job. Gase, however, made a smooth transition and got Miami to punch above its weight and squeeze into the playoffs with a week to spare, though the Dolphins were never expected to get far in the postseason with backup QB Matt Moore at the controls. Entering his second season, as is HC Gase, GM Chris Grier has succeeded in keeping most of the key Dolphin potential FAs in-house, with LB Kiko Alonso, DE Andre Branch, WR Kenny Stills, and versatile OL Jermon Bushrod re-signed, while adding some potential useful pieces such as ex-Steeler LB Lawrence Timmons and ex-Bears G/C Ted Larsen as FAs and ex-Jags and Broncos TE Julius Thomas in a trade (with OT Branden Albert sent to J'ville). Ex-Rams S TJ McDonald, who will be on suspension for the first eight games, was another addition. Now Grier focuses on locking up WR Jarvis Landry, into his contract year, for the longer term. As for the QB position, Ryan Tannehill is reportedly beyond the knee injury that KO'd him last December and should be available for upcoming OTAs. Priorities at the draft are likely a pass-rusher from the edge (especially after the release of DE Mario Williams) and more reinforcements along the OL. Taco Charlton, DE, Michigan

23-NEW YORK GIANTS...After returning to the playoffs for the first time since the 2011 Super Bowl season for new HC Ben McAdoo, the Giants were looking in free agency to keep the core of their 10th-ranked defense intact while finding some upgrades for a 25th-ranked offense. Regarding the latter, longtime GM Jerry Reese was not able to quite match the splashes he made on the defensive side in the last offseason, but did add vet WR Brandon Marshall, still with plenty of gas left in his tank and most importantly a possible mentor for WR Odell Beckham, Jr., whose maturity issues are still a concern. Reese did keep most of his defenders in the fold, though still unresolved is the status of DT Johnathan Hankins. If Hankins isn't re-signed before the draft, it could influence the thinking of Reese, who might be forced to go with a DT sooner than he would have preferred. Otherwise expect the offense to get the bulk of the attention in Philly at the end of the month, and already there are rumors that Reese might want to trade up for a shot at Alabama TE O.J. Howard. It also might be the time to identify a successor at QB to Eli Manning, entering his 14th season. Ex-Jet Geno Smith was added in free agency, but is viewed strictly as an upgrade behind Eli and not considered a long-term answer at the position. Cam Robinson, OT, Alabama

24-

OAKLAND

RAIDERS...Never a dull moment with the Raiders, whose much-discussed move to Las Vegas was approved by owners on April 3, though the new stadium won't be ready until 2020. With lease options for 2017 & 2018 at the Coliseum, the franchise likely remains based in Oakland for at least the next two years, while any number of possibilities (Berkeley, Santa Clara, San Diego, San Antonio...London?) are being floated as a home base for 2019, or earlier if things become untenable in Oakland. A temporary move into UNLV's current, spartan 36,000-seat Sam Boyd Stadium appears unlikely. Stay tuned for further developments. Still, Raider Nation hasn't had this much excitement in years, with a 14-year playoff drought ended last season, when Oakland appeared a legit Super Bowl threat before QB Derek Carr's broken leg suffered in the penultimate regular-season game vs. the Colts. The good news is that Carr is now healthy and will be ready for offseason OTAs. But GM Reggie McKenzie did not do much upgrading of a 26th-ranked "D" in free agency, instead adding new pieces for an already-explosive "O" with WR-KR Cordarrelle Patterson (via Vikings), TE Jared Cook (via Packers), QB EJ Manuel (via Bills and likely to be an upgrade behind Carr), and OT Marshall Newhouse (via Giants). Moreover, there have been talks with RBs Adrian Peterson and with ex-Seahawk Marshawn Lynch, recently retired but reportedly serious about a return to his hometown team, as possible replacements for Latavius Murray (who moved to the Vikings in free agency). Since there was so much outflow from the defense in the offseason (LB Malcolm Smith to the 49ers, DT Stacy McGee to the Redskins, S Nate Allen to the Dolphins, CB DJ Hayden to the Lions, LB Darren Bates and S Brynden Trawick both to the Titans, and LB Perry Riley out of contract), the stop unit would seem an early priority in the draft, especially with Cory Jones the only LB currently on the roster who played significant snaps last season. Zach Cunningham, ILB, Vanderbilt


25-

HOUSTON

TEXANS...The offseason dispatch of underachieving QB Brock Osweiler was no surprise; the Texans were even glad to throw in a second-round pick next year to the Browns for the favor of taking the "Brock-lobster" off of Houston's hands. But the plan in the offseason seemed to be to go after Tony Romo after his anticipated release from Dallas. Only Romo has instead decided to retire and take a TV job with CBS, which for moment leaves Tom Savage and Brandon Weeden as HC Bill O'Brien's only QB options. So, expect some movement at the position with the Texans, who as of early April had yet to spend any money on new FAs and still had $30 million or so of cap space that could be used on available vets such as Jay Cutler or Colin Kaepernick. Or GM Rick Smith could go for a QB early in the draft. Either way, Houston has to do something with its QB question and the offense in general while the defense remains title-caliber, even when do-everything DE J.J. Watt missed action last season. Smith might be looking at the secondary at some point in the draft after losing CB AJ Bouye (to the Jags) and safeties Quintin Demps (to the Bears) and Don Jones (to the 49ers) in free agency, and likely addresses issues on OL, the tackle spots in particular, as Smith looks to add bigger, more physical lineman for O'Brien's gap schemes as opposed to zone-blocking schemes of the previous Gary Kubiak regime. But it's the QB position that everyone is talking about in Houston. Patrick Mahomes, QB, Texas Tech

26-SEATTLE SEAHAWKS...Has the title window closed in Seattle? Maybe not, but the thought of a dynasty in the Northwest has mostly dissipated after the Seahawks have failed to progress past the Divisional Round the past two years following their back-to-back Super Bowl visits. While the defense (ranked 5th overall a year ago) remains formidable, the "O" is in need of repair, especially along an OL that underachieved a year ago and was the emphasis in free agency for GM John Schneider and HC Pete Carroll, not to mention QB Russell Wilson, who was on the run more than he would have liked a season ago, especially as he dealt with leg and ankle injuries. Seattle signed former Jags No. 2 overall pick Luke Joeckel (projected to start at the LT spot) and former Texans G Oday Aboushi to infuse their young forward wall with a bit more experience and add to competition, but Seattle also looked to upgrade an infantry that has not been the same since Marshawn Lynch left the scene, signing ex-Packer Eddie Lacy after 11 different backs carried the ball a year ago. A slightly-lesser priority in the draft is likely to be the WR spots with both Paul Richardson and Jermaine Kearse potential FAs after 2017. Meanwhile, rumors continue to surface about CB Richard Sherman on the trading block, with depth an issue even if Sherman stays in the fold after Carroll's "D" was left thin at CB following DeShawn Shead's torn ACL in the playoffs. Kevin King, CB, Washington

27-KANSAS CITY CHIEFS...The Andy Reid era in KC is taking on a similar look to the Reid years in Philadelphia, where the Eagles were a perennial playoff team but only once made it to the Super Bowl (and lost there to the Patriots). Chiefs fans are wondering if Reid's KC has reached its ceiling with Alex Smith at QB, especially after Smith's struggles in the Divisional Round loss to the Steelers. Now there are some other concerns at the position after salary-cap considerations forced Reid and GM John Dorsey to let loose of capable backup QB Nick Foles (who re-signed with his former Eagles team), leaving the Chiefs dangerously thin behind Smith. Into the draft, Tyler Bray (yet to take a regular-season snap) remains the only other QB on the roster. And while RB Tyreek Hill and TE Travis Kelce have emerged as dangerous weapons, the Chiefs could use an upgrade at WR, especially after Jeremy Maclin's production took a nose-dive last season. How quickly Derrick Johnson is healing from last December's Achilles tear might also prompt Dorsey to look at the LB spot earlier than he might normally, and added depth at the CB positions is likely to be addressed as well. The Chiefs have a bit of flexibility with four picks in tow for Day Two thanks to a compensatory selection at the end of Round 3. John Ross, WR, Washington

28-DALLAS COWBOYS...The Tony Romo storyline drew much more attention in the offseason than it deserved in Dallas, with the only real intrigue whether Jerry Jones could pry loose a draft pick from some team in trade, or when Romo would be released to reduce some of the Cowboys cap hit. The latter will now indeed be reduced after Romo's decision to retire and pursue a TV career with CBS. The QB duties had already been turned over to Dak Prescott, part of Jones' draft bonanza last spring when first-round pick RB Ezekiel Elliott would eventually end up leading all NFL rushers and DT Maliek Collins and CB Anthony Brown would combine for 23 starts, all on top of Prescott's emergence. Not to sound snarky, but let's see Jones pull those sorts of rabbits out of his hat again, especially from the 28th slot in Round One after last season's improbable surge to a 13-3 mark and the NFC East crown. Jones already has had a difficult offseason, with a boatload of starters and contributors walking out of door, including CBs Brandon Carr (Ravens) and Morris Claiborne (Jets), safeties Barry Church (Jags) and J.J. Wilcox (Bucs), DE Jack Crawford (Falcons), DT Terrell McClain (Redskins) and G Ron Leary (Broncos) all bolting in free agency, with OT Doug Free expected to join Romo in retirement, with only modest reinforcements added. Jones is on record saying that Dallas needs a "war daddy" pass rusher (can he find one this late in Round One?), and will be looking to improve depth in his depleted secondary. Though we can never be sure about Jones, it would be a surprise if he doesn't go heavy "D" in the draft, considering all of the stop unit outflow in free agency. Adoree Jackson, CB, Southern Cal


29-GREEN BAY PACKERS...Though the Packers rallied down the stretch behind QB Aaron Rodgers and advanced all the way to the NFC title game, a blowout loss once there vs. the Falcons laid bare some of the problem areas (mostly on defense, and especially on the corners) that longtime GM Ted Thompson had to address in the offseason. As usual, Thompson, a reluctant participant in free agency, will wait until the draft to begin filling the gaps, which are several after a mass exodus. Thompson has some work to do as RB, G, CB, and OLB positions have all been depleted the past two months after the Pack released the vet duo of Pro Bowl CB Sam Shields and seasoned RB James Starks in February. Following Shields and Starks out of Lambeau were RB Eddie Lacy (Seahawks), G T.J. Lang (Lions), C/G JC Tretter (Browns), TE Jared Cook (Raiders), S Micah Hyde (Bills), DE/LB Julius Peppers (Panthers) and OLB Datone Jones (Vikings). While TEs Martellus Bennett (Patriots) and Lance Kendricks (Rams) were added as replacements for Cook, the only other additions of note were DE Ricky-Jean Francois (via Redskins) and CB Davin House (via Jags) as lower-priced recruits. Thompson is probably not done with his rebuild of the corner spots, and will surely be looking for some help at RB after the departures of Lacy and Starks. Christian McCaffrey, RB, Stanford

30-PITTSBURGH STEELERS...Time went still in the Steel City for a while when QB Ben Roethlisberger was slow to commit to a return for the 2017 season. Though that potential crisis seems to have passed, GM Kevin Colbert now has to start seriously thinking of a future without Big Ben, who has taken a lot of punishment as he enters his 14th season, and is now apparently a year-to-year proposition. At some point in the draft, maybe sooner than later, Colbert might try to identify a potential successor, as current backup Landry Jones is not considered a long-term alternative. Colbert was a bit out of character in free agency when involved in a high-priced pursuit of LB Dont'a Hightower, who instead ended up re-signing with the Patriots. Otherwise, it was mostly business as usual in free agency for Pittsburgh, adding some depth behind the starters, with an edge rusher (either at DE or OLB) and a shutdown CB (shortcomings that HC Mike Tomlin believes were partly responsible for the AFC title game loss at New England) likely to be targeted in the draft, even after DE Tyson Alualu (from the Jags) and CB Coty Sensabaugh (from the Giants) were added. As well, perhaps, as a future QB. Takkarist McKinley, OLB, UCLA

31-ATLANTA FALCONS...To combat the dreaded "Super Bowl hangover" after letting loose of a 25-point lead against the Patriots in LI, the Falcons will be moving into their sparkling new Mercedes-Benz Stadium, with its unfurling, bird wing-like roof, across the street from the Georgia Dome, deemed past its sell-by date after a mere 25-year existence. Leaving nothing to chance, HC Dan Quinn also spent time conferring with other recent title-losing coaches Steve Kerr and Terry Francona after the epic Supe collapse vs. New England. (No truth to the rumor that Dr. Phil has also been consulting with the Falcs.) The Falcs also enter 2017 with their third o.c. in four years, as former Washington Huskies and USC HC (and recent Bama o.c.) Steve Sarkisian replaces Kyle Shanahan, hired as the new 49ers HC after finding the sweep spot with QB Matt Ryan and a bevy of offensive weapons last season. GM Thomas Dimitroff mostly limited the outflow in free agency and was able to add a couple of potentially useful pieces (DT Dontari Poe from the Chiefs and DE/DT Jack Crawford from the Cowboys) to the defensive front. Even with last year's record-setting offense, Dimitroff might look for OL help early in the draft after the retirement of G Chris Chester and advancing age of 30-plus sorts such as C Alex Mack and LG Andy Levitre. The pass rush also improved last season with 2nd-year LB Vic Beasley coming alive and vet DE Dwight Freeney providing an upgrade, though Quinn and Dimitroff might be looking for another pressure addition on the edge. Carl Lawson, DE Auburn

32-NEW

ORLEANS

SAINTS (from New England)...The Saints get another crack in the first round (plus an extra third-rounder) thanks to the trade that sent WR Brandin Cooks and a fourth-round pick to the Patriots. We already talked at length about the annual upgrades needed by the New Orleans defense when projecting LSU CB Tre'Davious White as the pick at the No. 12 slot. Saints GM Mickey Loomis could certainly go defense again, but as mentioned in our earlier discussion in Part One, Loomis could also be looking at an eventual successor to Drew Brees at QB if not convinced holdover Garrett Grayson is that guy. With the extra pick in the first round, the Saints are thus a candidate to trade up if they see a QB they really like. Could they find one at the end of the first round as well, or does Loomis simply keep adding defenders in hopes of an eventual upgrade to his stop unit? DeMarcus Walker, DE, Florida State

The following teams do not have first-round picks and will be getting "on the clock" a bit later in Philly...

LOS

ANGELES

RAMS...Thanks to last year's deal with the Titans that allowed the Rams to move up to the top overall spot and pick Cal QB Jared Goff, the horned-helmets will have to wait until the second round, and 37th pick overall, to make their first choice. Which is a shame because the Rams need a lot of help after their 4-12 mess of a year ago when Goff posted the worst-ever stats for a rookie QB with at least seven starts and LA had the league's worst offense. There is still commitment to Goff, but a new HC, young Sean McVay, recently o.c. for the Skins, looks to revitalize the attack, while vet d.c. Wade Phillips has been added from Denver. In free agency, GM Les Snead did not sit still, adding OT Andrew Whitworth (from the Bengals), WR Robert Woods (from the Bills), and RB Lance Dunbar (from the Cowboys), while enlisting pass-rush specialist Connor Barwin (from the Eagles) and CB Kayvon Wester (from the Broncos). The thought persists that the Rams already had a near-playoff quality "D" that could be even better with Phillips calling the shots, but Rams fans need to be patient as Snead and McVay sift through the rubble of their broken offense, and try to get Goff and third-year RB Todd Gurley (who endured a brutal sophomore campaign in 2016) moving in the right direction.



MINNESOTA VIKINGS...

Forced to relinquish their first-round pick in an emergency move at the end of preseason to acquire QB Sam Bradford from the Eagles after Teddy Bridgewater suffered a devastating knee injury, the Vikes will have to wait until midway in the second round (48th pick overall) to make their first selection. As for Bridgewater, there is no timetable for his return, which many expect will not happen until 2018. In the meantime, GM Rick Spielman and HC Mike Zimmer transition the offense into more of a West Coast-style with shorter passes and a lot of shotgun looks that are a better fit for Bradford and for new featured RB Latavius Murray, signed from the Raiders after Adrian Peterson's release. Spielman also moved quickly in free agency to bolster the OL by adding LT Riley Rieff from the Lions and RT Mike Zemmers from the Panthers. There was still some outflow (LT Matt Kalil and CB Captain Munnerlyn to the Panthers, P Jeff Locke to the Colts, WR/KR Cordarrelle Patterson to the Raiders) in free agency, while the status of DT Sharrif Floyd remains up in the air as he attempts recovery from a serious knee injury and nerve damage. The pressure might also be ramping up slightly on Zimmer, whose early successes disappeared in a brutal 3-8 close to last season after the Vikes looked set for a return to the playoffs following a 5-0 break from the gate. Spielman likely looks offense in the early rounds, perhaps focusing upon the G and RB spots.

NEW ENGLAND PATRIOTS...Unless they trade up, the Patriots don't even have to show up for opening night at the draft, at the moment not due to pick until the third round and 72nd pick overall with a selection originally belonging to the Panthers. Bill Belichick had earlier traded a second-round pick to Carolina to get the Panthers' third pick and DE Kony Ealy. The Pats hardly rested on their SB LI laurels, signing CB Stephon Gilmore from the Bills in the largest free-agent deal in franchise history, while also trading for speedy Saints WR Brandin Cooks (which cost Belichick his first-round pick) and re-signing Pro Bowl LB Dont'a Hightower. Plus dealing for TE Dwayne Allen (Colts; possible cover for injury-prone Rob Gronkowski), while landing DE Lawrence Guy (Ravens), and RB Rex Burkhead (Bengals) in other FA moves. As usual, Belichick also lost some prime cuts in free agency, this year hitting the defense harder (DEs Chris Long to the Eagles, CB Logan Ryan to the Titans, and DE Jabaal Sheard & Barkevious Mingo to the Colts), but when has the outflow slowed the Belichick machine in the past decade? Looking to successfully defend their title for the first time since 2003-04, the Patriots and Belichick could still be looking to target a DE after the Long and Sheard departures, and might want to identify a new OT as vet Nate Solder enters the final year of his contract. As usual, however, these appear just "minor" issues in Foxborough.

Return To Home Page