7332...
TGS MLB PREVIEW
...PLAY BALL! 2017 NL "FUTURES" TO WATCH!

by Bruce Marshall, Goldsheet.com Editor

Believe it or not, baseball season is just around the corner!


As we like to do at this time each spring, we're offering our previews of both the American and National Leagues, focusing upon the "futures" (over/under wins) recommendations. And remember that beginning April 3, TGS will provide featured MLB releases (Monday thru Saturday at 10:15 AM PDT) on Top Choice and Top Choice Plus (+), the latter featuring the daily TC plus two other featured releases, available online at www.goldsheet.com.


As always, thanks to TGS Baseball Consultants Daniel M. Gray and Dr. Paul DiGiovanni for their contributions. Now, a look at the National League.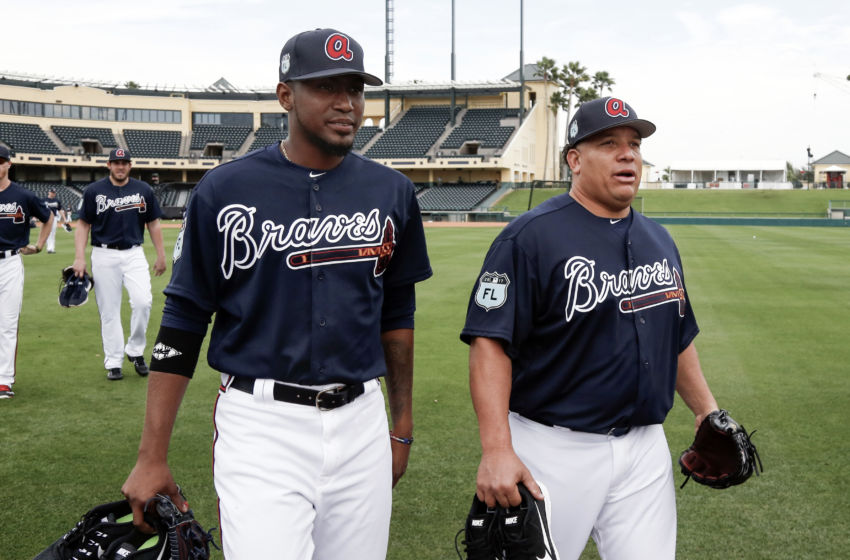 NL EAST: BEST BET...Here's a shocker for those who tuned out the Atlanta

Braves

(73.5) after their painfully slow start last April. In their play following the All-Star break, the Brav-os were above .500 (really!), which earned interim manager Brian Snitker the job on a full-time basis after Fredi Gonzalez had been humanely relieved of duties early last season. Now things are looking up considerably in the Showcase City of the South as the Braves move into their new SunTrust Park out on the I-285 perimeter, with a new adjacent retail/dining/entertainment area (The Battery) and much better access and convenience for their majority of fans who reside north of downtown, no longer having to make the awkward trek to Turner Field (soon to become the new home of Georgia State's football team) in a less-desirable part of town. For the first time in a while, there is now some real protection in the lineup for 1B Freddie Freeman, with ex-Reds vet 2B Brandon Phillips a handy addition to the batting order and one-time near MVP Matt Kemp still with enough fuel in his tank to be a force. How much progress the Braves make will also depend on 23-year-old SS Dansby Swanson, the top draft pick by the D-backs two years ago, and a veteran staff with several new stop-gaps (40-somethings R.A. Dickey & Bartolo Colon, plus ex-Cardinal Jaime Garcia). Whatever, Atlanta no longer has the look of a pushover, and should avoid a third straight 90-loss season. It's an "over" for us at the sparkling new SunTrust Park.


OTHERS:

Sadly, the Miami

Marlins

(76.5) might take a while longer to recover from the shocking passing last September of star pitcher Jose Fernandez, who perished in a late-night boating accident after having become the face of the franchise and an iconic presence, especially with his ties to the local Cuban community. Now void of a true ace on the staff, the Marlins scrambled in the offseason to add journeymen arms such as Edinson Volquez, Jeff Locke, and Dan Straily, who might be able to fill rotation spots, but none being close to what Fernandez once provided. On the plus side, getting catalyst 2B Dee Gordon for a full season after he was suspended for 80 games a year ago figures to be a plus, while the outfield of Marcell Ozuna, Christian Yelich, and Giancarlo Stanton is All-Star caliber. Stanton and his enormous power, however, have been prone to injury, and neither he nor Gordon were particularly productive last season. We almost feel bad to be projecting an "under" with the Marlins, but that's how we see it in Miami.


Last year the Philadelphia Phillies (73.5) made the jump to 71 wins, good enough for an easy "over" in 2016 and perhaps a sign of better things to come at Citizens Bank Park after the bottom had dropped out of the operation in the previous few seasons. It took a while, but the Phils have finally moved on from the World Series years, letting go of 1B Ryan Howard, the last link after Chase Utley and Jimmy Rollins had similarly departed. There are still questions about the offense, which scored the fewest runs (610) in the bigs last season, not being near playoff-caliber. But it should be more productive this season after adding vet Howie Kendrick (penciled into LF) from the Dodgers and All-Star RF Michael Saunders from the Blue Jays. With up-and-comers such as CF Odubel Herrera, 3B Makiel Franco, and 1B Tommy Joseph all posting career-best numbers a year ago, the arrow still points upward in Philly. How close the Phils might get to .500 this season probably relies on a pitching staff that will need new addition Clay Buchholz to resemble his best days in Boston and not his rather ineffective form (4.63 ERA) of last season. We'll also see if manager Pete Mackanin can squeeze a few more innings out of potential dominator Vince Velasquez (likely on another innings count). The NL East is a tough neighborhood, but we expect the Phils to continue their recent upward trajectory and get "over" while we plot our next visit to CBP and debate whether we go for the "Schmitter" down the left-field line or a spicy turkey leg from Greg Luzinski's "Bull's BBQ" in Ashburn Alley.


The New

York

Mets (88.5) scrambled their way back into the playoffs last season after looking hopelessly out of contention into August, sparking new speculation over manager Terry Collins' future. Unfortunately, after that whirlwind run down the stretch, New York ran into the Giants and Madison Bumgarner in the Wild Card game, but the optimism remains. Collins has a nice problem with a potential logjam of outfielders due in part to re-signing Yoenis Cespedes after adding Jay Bruce from the Reds midway thru last season. While there are plenty of options in the outfield, the infield is a concern if 1B Lucas Duda, 2B Neil Walker, and 3B David Wright once again succumb to injuries, as a year ago. Injuries were also a factor with a pitching staff full of live arms but with Jacob deGrom, Matt Harvey, and Steven Matz all finishing 2016 on the shelf with season-ending surgeries. They're penciled into the rotation for the new season, but there are durability concerns, and who knows when hard-throwing Noah "Thor" Syndergaard and his violent delivery might be the next to experience similar arm problems. With all hands (and arms) on deck, the Mets can get back to the playoffs. But there are a lot of trip wires by La Guardia, and winning 89 gets very iffy if more injuries arise. We're reluctantly looking "under" at Citi Field, though planning a visit (and a trip to the Shake Shack in right field) sometime this summer.


Fans of the Washington

Nationals

(90.5) are still mostly happy just to have a team and a nice ballpark in D.C., and have not yet gotten to the point where they are furious over a playoff exit. That might change soon, however, as the Nats have yet to win a postseason series after a bitter loss to the Dodgers in last October's NLDS, the third such playoff whiff by Washington since 2012. Hellbent to finally take the next step while the core of the team remains together, the Nats added some interesting pieces in the offseason, getting CF Adam Eaton in a trade with the Chisox (allowing last year's discovery Trea Turner to move to his more-normal SS position) and signing FA C Matt Wieters, who, if healthy, gives Dusty Baker a potential All-Star behind the plate. There is so much depth in the rotation featuring Max Scherzer and Stephen Strasburg that GM Mike Rizzo could afford to offload top pitching prospect Lucas Giolito in the Eaton trade, though there are some concerns about 1B Ryan Zimmerman and RF Bryce Harper, who both endured down seasons a year ago. If the East is tougher, as we expect, with the Braves and Phils continuing to improve, getting over 90 wins might be a struggle. The Nats can do it, but we'd rather take a pass in D.C. and get ready for our annual visit in June, where we can look forward to a chili half-smoke from the famous Ben's Chili Bowl down the third base line.


NL CENTRAL: BEST BET... We usually don't like to stick our necks out too far and go "under" with teams that appear undervalued and "over" with overvalued teams. We make an exception, however, with the Cincinnati Reds (69.5), whose Big Red Machine days must seem like ancient history to any longtime fans in the tri-state area. While there are things to like in the everyday lineup, where CF Billy Hamilton is the most devastating base-stealer in the game and the consistent excellence of 1B Joey Votto was complemented by the emergence of LF Adam Duvall (and his 33 homers) last season, there are serious concerns elsewhere. Especially a pitching staff that looks better suited to AAA (AA?), more so with ace Anthony DeSclafani, perhaps the only legit MLB rotation piece on the team, hurting this March in Goodyear and possibly opening the season on the DL. Curiously, manager Brian Price, 70 games under .500 the past three seasons, remains on the job despite not being able to get the team to punch above its weight. Expect vet play-by-play man Marty Brennaman to become even more acerbic than usual this summer as the Reds endure another "under" at Great American Ballpark, where the food (and the Skyline Chili coneys) at least remains good.


OTHERS:

For the first time in a while, the

St. Louis Cardinals (84.5)

missed the playoffs last season. Indeed, the dropoff of the Redbirds and Pirates effectively cleared the way for the Cubs to run away with the Central. But the Cards stole a valuable piece from the Cubbies when signing CF Dexter Fowler away from Wrigley Field in free agency, giving St. Louis the legit leadoff man it lacked a season ago. Hurting the Cubs while helping themselves in one single deal appears a good bit of business for the Cards. To contend again, Mike Matheny will need a bounce-back season from 2B Kolten Wong, and for LF Randal Grichuk to develop a bit more consistency after twice being demoted to AAA a year ago. It will also help if SS Aledmys Diaz proves his early success last season (.433 batting his first month) was no mirage. Meanwhile, with Alex Reyes already on the shelf for the season after undergoing Tommy John surgery, the rotation desperately needs more durability from Michael Wacha, who looked to be a budding star when first called up in 2013 but has been limited by recurring shoulder problems the past few years. The addition of Fowler, however, should be enough in itself to at least help match last year's 86 wins, and, with a few breaks, the Redbirds do a bit better and perhaps get back to the playoffs. It's an "over" for us at Busch Stadium.


The Milwaukee

Brewers

(69.5) have endured a painful descent into irrelevance the past couple of years, and we're not sure the decline has bottomed out. Not enough pitching at the disposal of skipper Craig Counsell, who will be hoping for no regression from starters Junior Guerra and Zach Davies, who became staff aces as rookies a year ago. We've seen the sophomore slump before from many pitchers, and the back end of the rotation is filled with a lot of mediocrity (Wily Peralta, Matt Garza, Jimmy Nelson). The Brewers are also gambling that 1B Eric Thames, signed to a significant FA deal after blasting the pitchers in the South Korean league the past couple of years, translates some of those power numbers to MLB, but we're not convinced. There is hope in the pipeline of the farm system, though most project the best of those to be a year or two away from making any significant contributions (keep an eye on OFs Lewis Brinson an Brett Phillips). Another long year at Miller Park, so we're looking "under" with the Brew Crew, while advising fans everywhere to get Sirius radio to at least listen to vet play-by-play man Bob Uecker while we still can.


We admit to missing the mark by a wide margin last season with the Chicago Cubs (95.5), who broke fast and galloped all the way to their first World Series win in over 100 years. Though we like to remind their fans, many of whom apparently believing that baseball time began in 2016, that World Series winners are crowned every year. It will again help the Cubs to play a full load of division games vs. the Brewers and Reds, though to get to 100 wins again might be tougher if the Pirates, who played a pigeon for Joe Maddon's team a year ago, and Cardinals bounce back with more-respectable seasons, as many expect. We admit to nit-picking a bit, but the exchange of Dexter Fowler (to St. Louis as a FA) for Jon Jay in CF might be a net minus, RF Jason Heyward looks like he could continue to be a bust (especially at the plate), and putting the barreling Kyle Schwarber in LF is a potential danger to other outfielders and any infielders who venture too far out onto the grass. We don't think the bullpen suffers from Aroldis Chapman's FA move back to the Yankees with Koji Uehara over as a FA from the Bosox and fireballer Wade Davis acquired from the Royals via trade. And the rotation remains deep with three legit Cy Young candidates (Jake Arrieta, Jon Lester, and Kyle Hendricks). If the Central is a bit tougher this season, however, the Cubs will likely drop from last year's 103 wins, but not enough to get us to project another "under" at Wrigley Field. This time, we're just going to pass with the Cubs and their MLB-highest win hurdle.


It was a big letdown in 2016 for the Pittsburgh

Pirates

(82.5), who fell hard from playoff berths the previous three seasons. A dropoff in the production of Andrew McCutchen was one reason; Clint Hurdle is hoping a move from CF to RF will reduce a bit of the wear-and-tear on McCutch, whose defense suffered last year. But McCutchen is only 30, so we're willing to give him a mulligan for 2016, especially as he dealt with nagging injuries that might have also caused some of the dramatic decline in his offensive numbers. More of a concern are the off-field problems for 3B Jung Ho Kang, recently denied a Visa due to legal troubles in native South Korea, which could potentially keep him out the entirety of 2017. The latter is a blow the Bucs might not be able to afford, as it potentially stretches their depth from the outset. There is also going to be a close watch on staff ace Gerrit Cole, limited to 21 starts because of elbow problems last season, while young arms like Chad Kuhl and Tyler Glasnow are being counted upon to fill back-of-the-rotation slots. If McCutchen bounces back, he is part of an OF that still might be the NL's best with Starling Marte and Gregory Polanco, but the Kang situation and pitching questions create a lot of ifs at PNC Park. We'd rather pass on the Bucs and simply sit back and wait for Steve Blass and Bob Walk to analyze the action in the TV booth alongside Greg Brown to keep abreast of developments.


NL WEST: BEST BET... We have watched a lot of baseball over the past half-century and can say that any team that could hit like last year's Arizona

Diamondbacks

(77.5) should not have endured such a difficult slog to reach a mere 69 wins. Losing slugging 1B Paul Goldschmidt late in the season to injury didn't help, but the rot had already set in by that point in one of the most complete and absolute fundamental MLB breakdowns we can recall. Which is staining the rep of team supremo Tony LaRussa, who has made changes with his GM (Mike Hazen in from the Bosox, and Dave Stewart out) and manager (Torey Lovullo in from Boston along with Hazen, replacing Chip Hale). All after a major remake of the pitching rotation backfired last season, partly because high-priced Zack Greinke failed to justify such a big-bucks expenditure, with other starters also failing to plug leaks in the dike as the rotation ERA was an NL-worst 5.19. The bullpen wasn't much better, and we doubt 40-year-old Fernando Rodney, a high-wire act throughout his career and expected to be the closer after being signed from the Marlins as a FA, is an answer to relief corps woes, either. The apparent culture change is a plus, and Arizona still has some very live bats (Goldschmidt, 3B Jake Lamb, LF Yasmany Tomas, and a now-healthy CF A.J. Pollock), but the D-backs did so much wrong last season that a jump of nine wins seems a bit much. It's an "under" for us at Chase Field.


OTHERS:

Is any team among the "little three" of the NL West about to rise and challenge the Dodgers and Giants? Obviously, we don't think it is going to be the D-backs, but it might be the Colorado

Rockies

(80.5), who are even dreaming about making their first playoff run since 2009. This might be the breakout year in Denver, as the long-time Colorado staple of offense appears to finally be complemented by a serviceable pitching staff. Young starters Jon Gray, Chad Bettis, Tyler Chatwood, and Tyler Anderson could be anchors of the rotation well into the next decade, and bullpen depth ought to be improved if ex-Royals closer Greg Holland has recovered from a recent series of injuries. If the pitching falters, the Rocks can still take their chances in slugfests with a loaded lineup that has added Ian Desmond (penciled in at 1B once beyond the hand injury that has limited him this March at Talking Stick) to go along with boppers like 3B Nolan Arenado (41 HR in 2016, and not all of those in the Denver altitude) and OFs Charlie Blackmon and Carlos Gonzalez. Expect Colorado to leave the D-backs and Padres in the dust and instead keep company with the Dodgers and Giants in the top half of the NL West, so we look "over" at Coors Field.


With the Chargers abandoning town for L.A. (or Carson, to be more exact, for the next two years), the San

Diego

Padres (66.5) remain as the lone big-league team in America's Finest City. But that big-league label is being stretched a bit, as a long slide into mediocrity and even worse shows no sign of abating at Petco Park. To address the myriad of problems from last year's 68-94 mess, San Diego went out and signed a collection of past-sell-by-date pitchers such as Jered Weaver, Jhoulys Chacin, and Trevor Cahill, all of whom expected to be featured in a rotation that lists well-traveled Clayton Richard as its ace after one half-season of effective work. Meanwhile, the offense is excited about rookie RF Hunter Renfroe, being promoted like he's a budding All-Star after impressing in a short 11-game MLB stint last September. Renfroe is a vet, however, compared to touted new CF Manuel Margot, who played all of 10 games last season. Though the future looks bright for each, expecting them to carry an offensive load so early in their careers could easily backfire. This looks like the NL team most likely to lose 100 games, so we look "under" at Petco, saddened that we no longer get to hear vet play-by-play man Dick Enberg, who retired after last season.


The San

Francisco

Giants (87.5) seemed poised to make a dramatic rally in the NLDS vs. the Cubs before their bullpen, a season-long issue, imploded in the 9th inning of Game Four, allowing Chicago to steal a win and the series. In response, GM Brian Sabean predictably went shopping for the best-available closer in the FA market and found Mark Melancon, recently of the Nats and previously the Bucs, who should be an upgrade after the relief corps blew a staggering 30 of 73 save opportunities last season. Youngsters, however, are initially being tasked with set-up roles, which also often betrayed Bruce Bochy's bullpen last season. What the Giants lacked in their relievers they made up on defense in 2016, leading the bigs with a near-perfect .988 fielding percentage. And the rotation, potentially dominant at the top with "Mad Bum" and Johnny Cueto, and functional in the 3 and 4 spots with Matt Moore and Jeff Samardzija, can match the Dodgers, Cubs, or any NL team. To wrest the NL West away from the Dodgers for the first time since 2012 might require RF Hunter Pence to stay healthy for something approaching a full season. Keeping vet CF Denard Span off of the DL is key as well, but SF does have perhaps the best DP combo in the NL with Joe Panik and Brandon Crawford, while C Buster Posey, though off a down 2016, is still a four-time All-Star. As long as key injuries are avoided, there is still enough juice on this roster to make another title run, so we look "over" at AT&T Park, as we get ready to enjoy another season of the incomparable play-by-play work of Jon Miller on blowtorch flagship KNBR 680, and the entertaining Duane Kuiper and Mike Krukow on the Giants' CSN Bay Area telecasts.


Referring back to the Padres and Dick Enberg's retirement, the sounds out of Chavez Ravine aren't going to be the same anymore, either, with forever play-by-play man Vin Scully finally hanging 'em up after last season for the Los Angeles Dodgers (93.5). You've probably heard replacement Joe Davis on Fox Sports telecasts in a variety of sports the past few years. Talk about big shoes to fill! On the field, the Blue pattern of regular-season dominance (four straight NL West titles) and playoff failures could easily continue this season. After all, even if Colorado improves, as we envision, the Dodgers still have a load of games vs. NL West lightweights Arizona and San Diego to pad their win totals. Last season the Dodgers got to 91 wins even with Clayton Kershaw limited to just 21 starts due to injuries. A full season from Kershaw should add a few more wins, and there is plenty of depth in the rotation that will nonetheless have to deal with an innings limit for promising Julio Urias, who flashed lots of upside a year ago. Importantly, GM Andrew Friedman was able to re-sign key cogs 3B Justin Turner and closer Kenley Jansen, while it is hoped that FA addition 2B Logan Forsythe adds important right-handed power against lefties, an area in which the Blue continued to struggle last season, with mercurial RF Yasiel Puig still dogged by inconsistency. Still, getting to 94 wins will be a bit of a chore, and, while LA could do it, it could also fall short, too. We'd rather pass at Dodger Stadium, while we urge fans of the Blue to give new team voice Joe Davis a chance.
Return To Home Page