7323...
COLLEGE HOOPS REPORT
...TGS 2016-17 ALL-NEWCOMER TEAM
by Bruce Marshall, Goldsheet.com Editor
MALIK MONK, 6-3 Fr., Kentucky
MARKELLE FULTZ, 6-4 Fr., Washington
LONZO BALL, 6-6 Fr., UCLA
LAURI MARKKANEN, 7-0 Fr., Arizona
T.J. LEAF, 6-10 Fr., UCLA
JOSH JACKSON, 6-8 Fr., Kansas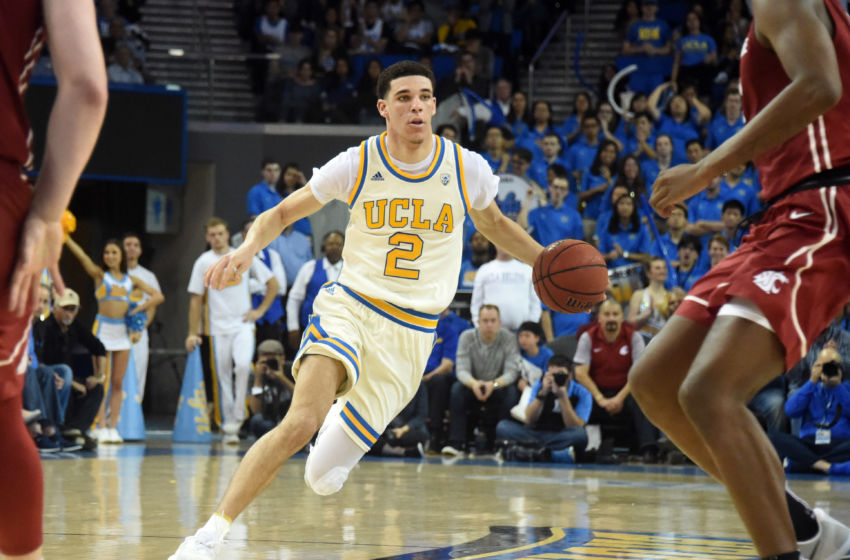 NEWCOMER OF THE YEAR: Lonzo Ball, UCLA...Not an easy call this year, with several worthy candidates. Moreover, it was a logjam just to make our 2017 All-Newcomer team as the cut line was very crowded. In the end, however, we're quite comfortable with our choice of Ball as our Newcomer of the Year...and we swear Lonzo's dad LaVar did not pressure us into making this decision!. (More on LaVar Ball in a moment.)


If there is something a bit troubling about the above-listed team, however, it's that all of these newcomer stars (each a frosh this season) will likely be "one and done" with their college careers. We'd be stunned if any of the above aren't in June's NBA Draft. Which is not earth-shaking news, as college stars have regularly been jumping early to the NBA for many years. For most, the temptation of instant riches is too much to bypass. Especially those who see college as nothing more than a necessary nuisance for one year before becoming eligible for the draft.


While the quick jump to the pros might work out just swell for those listed above, there will inevitably be several college players coming out too early for their own good. Unfortunately, those sorts are reminded constantly on ESPN Sports Center and various news outlets how the "one and done" for the top stars is de rigueur these days. "Advisors" looking to make a quick buck as part of an entourage of a potential high draft pick will add further pressure to jump ASAP into the NBA.


Meanwhile, the national media and the basketball community in general overlook examples the other way, of players taking advantage of their college career to not only earn their degrees but also to further hone their games at an important developmental stage of their careers, while maturing physically along the way. Thus entering the NBA as a more-finished product and with a better chance at a productive career...even if it means bypassing guaranteed money for a couple of years. The instance of Milwaukee Bucks rookie Malcolm Brogdon, our TGS Player of the year last season, should be held up as an example for the majority of college stars who instead will want to emulate Lonzo Ball or Josh Jackson and make a quick impact while pocketing lots of green.


Brogdon's plan, however, should serve as the template for the majority of college stars. While some hyped hoopsters of his same age jumped early into the pro ranks and immediately sat on the bench, hardly developing their games, Brogdon stuck around for a full four years at Virginia. The experience he gained while leading the Cavaliers to national prominence and deep into the Big Dance was a lot more valuable than sitting on an NBA bench during what still are formative hoop years for 19-and-20-year olds. Brogdon was able to compete at the highest college level, further refining his game and leadership skills. When it came time to leave the college ranks, Brogdon was a lot closer to a finished product than the vast majority of those who leave early for the NBA. With valuable experience and the ability to further hone his game, Brogdon hit the NBA ready to compete off of the bat, which he has been doing quite nicely in his rookie season with the Milwaukee Bucks. Brogdon will likely be getting some Rookie of the Year votes while positioning himself for what appears to be a long and successful pro career...the chances of which having been greatly improved simply because he had honed his basketball skills much better at Virginia than he could have by sitting on an NBA bench, while also entering the league having matured physically over the past couple of years. With a few exceptions, 19-and-20-year-old "one and dones" are not as physically ready to compete with men as they might be had they waited a couple of years to jump into the NBA...as did Malcolm Brogdon.


Odds are, however, that most of the young hotshots on our list above, and those inevitably to follow them in the next few years, might not even know of Brogdon's tale and how he waited a bit longer to enter the NBA on his road to stardom. Rest assured most of the "advisors" to the young stars are not going to bring up Brogdon, even as the NBA has instituted more lenient policies for its entry procedures, and a "camp" to evaluate the players takes much of the eligibility risk away from underclassmen, who can now try out in supervised competition with others before deciding whether to withdraw their names from consideration for the draft. As always, only when hiring an agent beforehand does a player forfeit a return to college.


Whatever. Had to get that off of our chest.


Meanwhile, our 2017 All-Newcomer group is a bit more colorful than most of its predecessor teams from recent years, helped in no small part by the irrepressible LaVar Ball, papa of Lonzo and two other highly decorated recruits already lined up to attend UCLA in the near future. The elder Ball has made quite a name for himself with his audacious boasts that have become as much of the UCLA narrative this season as the dramatic revival of the program, thanks in large part to his son. Who, if a consensus of insiders were consulted, will probably have an extra bulls-eye painted on his back when he gets to the NBA thanks to his boisterous dad, who makes past notable "stage parents" like Joe Jackson seem downright docile.


While we bounce between being mildly entertained and somewhat annoyed by LaVar Ball, Lonzo's dad would be wise to take a cue from another famous sports parent, Richard Williams, who for years seemed to be getting in the way whenever his tennis-playing daughters were winning tournaments. It is no coincidence that Venus and especially Serena Williams became more marketable once their dad ceded the limelight and fell into the background. Now the Williams girls are more renowned for their many tennis championships and fashion styles and have been rewarded richly...with a little help from their dad finally peeling away from the cameras. Something LaVar Ball might soon be wise to emulate.


As for his son Lonzo, in the end, his choice for our Newcomer of the Year was a sensible one, given that his impact on the Bruin program has been almost transcendent. He's not the only star frosh on Steve Alford's roster (indeed, teammate TJ Leaf is also included in our All-Newcomer team), but it has been Ball as the catalyst for a remarkable turnaround in Westwood after UCLA sunk to a rare (for it) sub-.500 mark a year ago. Ball's game is so refined it sometimes appears as if he can score whenever he wishes, except that he finds such delight in setting up teammates to score, contributing to assist numbers that have ranked among the nation's leaders all season. Sure, his defense needs some work, but we have not seen a player in several years who has had as much to do with a revival of a once-storied program as has Ball. Who will likely not have to worry about an analogy to Malcolm Brogdon, as he almost surely prepares to leave the college ranks for the NBA in June. And Ball is good enough to likely make an immediate impact on the next level. Whether his dad LaVar takes a page from Richard Williams and begins to fade into the background to let his son(s) shine without his Don King-style promotion remains to be seen.


Following is another TGS tradition, our additional "newcomer" teams divided by region for the season.


BIG EAST/IVY


JUSTIN PATTON, 7-0 Fr., Creighton
SHAMORIE PONDS, 6-1 Fr., St. John's
KAMAR BALDWIN, 6-0 Fr., Butler
MARCUS LOVETT, 6-0 Fr., St. John's
BRYCE AIKEN, 6-0 Fr., Harvard
MARKUS HOWARD, 5-11 Fr., Marquette


ATLANTIC 10/CAA/A-EAST


CHARLIE BROWN, 6-6 Fr., Saint Joseph's
ANTHONY LAMB, 6-6 Fr., Vermont
ISIAHA MIKE, 6-8 Fr., Duquesne
RYAN DALY, 6-4 Fr., Delaware
MIKE LEWIS II, 6-2 Fr., Duquesne
KURK LEE, 5-10 Fr., Drexel


ACC/BIG SOUTH


JOSH OKOGIE, 6-5 Fr., Georgia Tech
JAYSON TATUM, 6-8 Fr., Duke
JONATHAN ISAAC, 6-10 Fr., Florida State
BRUCE BROWN, 6-5 Fr., Miami-Fla.
MACIO TEAGUE, 6-3 Fr., UNC-Asheville
DENNIS SMITH, 6-3 Fr., NC State


AAC/SUN BELT/OVC


NIJAL PEARSON, 6-5 Fr., Texas State
KJ LAWSON, 6-7 Fr., Memphis
QUINTON ROSE, 6-8 Fr., Temple
DENZEL MAHONEY, 6-4 Fr., SE Missouri State
D'MARCUS SANDS, 6-3 Fr., Georgia State
ASANTE GIST, 5-11 Fr., Eastern Kentucky


SEC/SOCON


MUSTAPHA HERON, 6-5 Fr., Auburn
ROBERT WILLIAMS, 6-9 Fr., Texas A&M
BAM ADEBAYO, 6-10 Fr., Kentucky
MALIK MONK, 6-3 Fr., Kentucky
D'AARON FOX, 6-3 Fr., Kentucky
PRESTON PARKS, 6-1 Fr., The Citadel


BIG TEN/MAC


MILES BRIDGES, 6-7 Fr., Michigan State
AMIR COFFEY, 6-8 Fr., Minnesota
NICK WARD, 6-8 Fr., Michigan State
TONY CARR, 6-3 Fr., Penn State
MICHAEL WEATHERS, 6-2 Fr., Miami-Ohio
JORDAN BOHANNON, 6-0 Fr., Iowa


MISSOURI VALLEY/HORIZON/SUMMIT


AUNDRE JACKSON, 6-5 Jr., Loyola-Chicago
TREY BURCH-MANNING, 6-6 Fr., South Dakota
DARRAL WILLIS, 6-9 Jr., Wichita State
ALIZE JOHNSON, 6-9 Jr., Missouri State
LANDRY SHAMET, 6-4 Fr., Wichita State
COREY ALLEN, 6-3 Fr., Detroit


BIG 12/C-USA

JOSH JACKSON, 6-8 Fr., Kansas
JARRETT ALLEN, 6-11 Fr., Texas
JO LUAL-ACUIL, 7-0 Jr., Baylor
AJ LAWSON, 6-5 Fr., North Texas
KAMERON McGUSTY, 6-5 Fr., Oklahoma
DAQUAN BRACEY, 5-10 Fr., La Tech


MOUNTAIN WEST/BIG SKY


JOSH HALL, 6-6 Fr., Nevada
BRYCE CANDA, 6-4 Jr., Portland State
KOBY McEWEN, 6-4 Fr., Utah State
SAM MERRILL, 6-4 Fr., Utah State
HARALD FREY, 6-2 Fr., Montana State
JOVAN MOORING, 6-2 Jr., UNLV


PAC-12/WAC


TJ LEAF, 6-10 Fr., UCLA
LAURI MARKKANEN, 7-0 Fr., Arizona
LONZO BALL, 6-6 Fr. UCLA
RAWLE ALKINS, 6-5 Fr., Arizona
MARKELLE FULTZ, 6-4 Fr, Washington
PAYTON PRITCHARD, 6-2 Fr., Oregon


WCC/BIG WEST


CHIMA MONEKE, 6-6 Jr., UC Davis
JACKSON ROWE, 6-7 Fr., CS Fullerton
ZACH COLLINS, 7-0 Fr., Gonzaga
TJ HAWS, 6-4 Fr., BYU
CHARLES MINLEND, 6-4 Fr, San Francisco
DIKYMBE MARTIN, 6-1 Fr., UC Riverside
Return To Home Page