7254...
TGS SPECIAL REPORT
...NFL SEASON REVIEWS & DIVISION ROUND NOTES
by Bruce Marshall, Goldsheet.com Editor


The NFL regular season concluded last week, but even for teams that don't make the playoffs, it can be a newsworthy time. Especially for franchises looking for new head coaches (at the moment there are six...Buffalo, Denver, Jacksonville, Los Angeles, San Diego, and San Francisco).


Thus, the NFL version of the "coaching carousel" figures to continue spinning up to (and perhaps slightly after) the Super Bowl, with many assistant coaches involved with the playoffs in high demand. Of those, keep an eye on Atlanta o.c. Kyle Shanahan, Detroit d.c. Teryl Austin, Miami d.c. Vance Joseph, and the New England pair of o.c. Josh McDaniels and d.c. Matt Patricia. Among others reportedly in the mix are Tampa Bay d.c. Mike Smith, Jacksonville interim HC Doug Marrone, former Jags and Giants HC Tom Coughlin, and perhaps a few college coaches (Stanford's David Shaw one of those likely to be contacted by a few suitors). Stay tuned for further developments.


Meanwhile, speculation also centers upon all of those teams that didn't qualify for the postseason, and what changes might be in the offing in the coming months. As we usually like to do at this time of January, a quick review of the past campaign is in order for the non-playoff qualifiers, especially those teams in the market for new head coaches.


First, a quick look at the offseason prospects for those teams that did not qualify for the playoffs, listed in alphabetical order by conference. Straight-up records for 2016 are included. Further season-end reviews for playoff teams can be found in upcoming issues of

TGS

Basketball, and we will revisit the NFL again at the end of the publishing season in April for

TGS

Hoops with our annual draft preview.


Baltimore (8-8)...In the end, a bitter, last-second, Christmas Day loss at Pittsburgh would consign the Ravens to their third postseason miss in four years since their Super Bowl XLVII win over the 49ers. Still, Baltimore has the look of a potential contender after QB Joe Flacco rebounded from last year's torn ACL, plus the emergence of LB C.J. Mosley as a defensive centerpiece, though Mosley's platoon couldn't get the big stops needed in December that would have put the team in the playoffs. Rest assured GM Ozzie Newsome will be looking to add depth to a secondary whose production dropped noticeably when CB Jimmy Smith went down late in the season, while Newsome and HC John Harbaugh must also decide if Breshad Perriman is ready for a featured WR role now that Steve Smith has retired. Vet LB Terrell Suggs says he is coming back, but Newsome will need to make decisions on several other vets, including OLB Elvis Dumervil.


Buffalo (7-9)...The Rex Ryan experiment was not going to last long if the Bills couldn't break their 0-for-the-millennium playoff drought, and in the end did not even make it as far as two full seasons as the blustery one (and brother Rob) would be dismissed before the regular-season finale vs. the Jets. The pressure is now on beleaguered GM Doug Whaley, who might decide to remove the interim tag from Anthony Lynn, promoted twice this season (from RB coach to o.c., after Rexy hit the eject button on Greg Roman, then to interim HC after Ryan walked the plank) while overseeing what was again the NFL's top rushing offense. But the offseason is full of other questions, such as what Buffalo might do at QB with Tyrod Taylor, likely to be released before the Bills are on the hook for another $30 million on Taylor's contract, and whether Whaley is going to shop for a vet QB or is serious about handing the reins to ex-Ohio State Buckeye Cardale Jones, who looked shaky in his only appearance. The defense also underachieved for a second straight year and needs attention, as the wheels continue to spin in Orchard Park. Ed note: Buffalo hired Carolina d.c. Sean McDermott as its new HC on Jan. 11.


Cincinnati (6-9-1)...It's been a while since we included the Bengals in our initial batch of season reviews, as Cincy would miss the playoffs for the first time since 2010. There were some injury excuses, as the Bengals were rarely healthy, with several key offensive cogs (WR A.J. Green, TE Tyler Eifert & RB Gio Bernard) having their seasons shortened, but Cincy still couldn't finish in many big games and gave away a few others, often losing composure at key moments. All of which might suggest at least a partial housecleaning. But these are the Bengals, who seem to have given endless rope to HC Marvin Lewis, hired in 2003 and still looking for his initial playoff win. There is still commitment to QB Andy Dalton, who had one of his better statistical years. Sources believe Mike and Pete Brown likely opt for some roster clean-up, the degree of which depending on decisions Cincy makes with LB Vontaze Burfict & CB Adam Jones, plus FAs LT Andrew Whitworth and CB Dre Kirkpatrick.


Cleveland (1-15)...Thanks to the Chargers in the penultimate week, the Browns at least avoided the ignominy of matching the 0-16 Detroit Lions of 2008 as the losingest-ever NFL team. Unlike some recent years in Cleveland, HC Hue Jackson will be given a second season to begin forging a turnaround, but a young roster that lacked the talent and poise to finish games still needs considerable upgrading. Though some youngsters were able to gain valuable experience, the Brownies have yet to establish any area of strength. Fortunately, they will have plenty of options in free agency (where Cleveland projects to have more cap space than any team) and in the draft, where the Browns not only have the top pick overall, but also several others from the Eagles (part of the deal that eventually landed Carson Wentz in Philly), including the Birds' first-round selection, which will make it tempting to trade down for more volume. There are many needs (especially fortifying both lines, and upgrading the pass rush and secondary), though most of the attention will be at QB, where RG III appears too fragile to be a long-term answer. We'll see if Cleveland goes for a QB with a premium pick, or perhaps trades some of its draft choices for a vet (a popular rumor has New England's Jimmy Garoppolo as a target).


Denver (9-7)...Like the Bengals, we haven't run our Broncos season review with other non-playoff teams since 2010, either. Unlike the Bengals, Denver is looking for a new coach after Gary Kubiak stepped down for health and stress reasons, so things are on hold for a while in Broncos Country as John Elway goes about hiring Kubiak's successor, which will also impact a veteran staff (and d.c. Wade Phillips, who is currently out of contract). While the defense leaked more than a bit vs. the run (the loss of DT Malik Jackson in free agency turned out to be more impactful than many expected), the stop unit was still among the league's best. The offense, however, was not, grinding to a halt in a brutal 3-game stretch in December when Denver scored only 23 total points and kicked away a playoff berth. Fixing the strike force will be an offseason priority, with extra attention likely paid to an OL that badly underachieved. The organization is said to still be high on young QBs Trevor Siemian and Paxton Lynch, but whether Elway and the new coach want to entrust either with getting the Broncos immediately back into the Super Bowl discussion remains to be seen. Ed note: Denver hired Miami d.c. Vance Joseph as its new HC on Jan. 11.


Indianapolis (8-8)...After owner Jim Irsay surprisingly gave contract extensions to both HC Chuck Pagano and GM Ryan Grigson a year ago, the Colts finished just where they did (8-8) in 2015. Both are slated to return in 2017, though sources say Irsay wavered before inviting Pagano back and is likely to give Grigson only one more draft to justify his continued employment. The offseason priority should be to surround QB Andrew Luck with more talent after the OL was especially bad (allowing nearly four sacks per game), but Grigson has plenty of other issues, as four defensive starters over 30 are in line to become free agents. The secondary is of particular concern after being ravaged by injuries, contributing to bottom ten pass defense numbers across the board. An inability to close out games within the weak AFC South, where Indy recorded only a 3-3 record, is what will be most remembered about 2016, and Pagano (and Grigson) will be unlikely to survive another playoff miss next year. Ed. Note: Indy fired GM Ryan Grigson on Jan. 20.


Jacksonville (3-13)...After progress stalled on his watch, fourth-year HC Gus Bradley was canned with two weeks remaining in the season, though a couple of spirited efforts by the Jags to close the campaign have given interim HC Doug Marrone a chance to land the gig on a full-time basis. Original Jags expansion HC Tom Coughlin, now 71, has also interviewed for the job...stay tuned. Meanwhile, after Bradley's downfall could at least partially be attributed to his allegiance to QB Blake Bortles, it remains to be seen what the new coach will do with the QB situation, as Bortles continued to struggle with accuracy and turnovers (he tossed another 16 picks in 2016). Most observers believe there is still a promising core of talent on the roster, which is why GM Dave Caldwell is being given a bit more rope than was afforded Bradley. J'ville again has a top five pick in the draft and has various roster needs, though a headline of the offseason will be how much commitment the new HC will have to Bortles. Ed. note: J'ville hired Doug Marrone as HC and Tom Coughlin as VP/Football Operations on Jan. 10.


New York Jets (5-11)...While the AFC East rival Bills seem to draw more ridicule because of their 17-year playoff drought, we suggest the Jets are the real hapless entry in the division, with their last title appearance in Super Bowl III with Joe Namath 48 years ago. Now that is a drought! And Jets fans are understandably irked at owner Woody Johnson for bringing back both HC Todd Bowles and GM Mike Maccagnan in 2017 after a brutal campaign in which the team absorbed several wicked beatings (five losses by 21 or more!) and the clubhouse appeared to fracture. In the end, the fact Bowles had to use an NFL-record 75 players (largely due to injury) might have given him a reprieve, but 2016 was a mess from the outset with the botched offseason negotiations with QB Ryan Fitzpatrick presaging the debacle. Maccagnan now must re-make an old roster that has problems beyond the QB spot (where Fitzpatrick and Geno Smith aren't likely to return). Even former All-Pro CB Darrelle Revis has slowed to an extent that he might be moved to safety. The Jets have the 6th pick in the first round, and needs are many, especially on the OL and at CB. Will Maccagnan look for a vet QB (Tony Romo? Jay Cutler?) rather than again taking one in the draft after recent picks Bryce Petty and Christian Hackenberg have failed to excite the past two years?


San Diego (5-11)...Lots of moving parts with the Chargers, who first must decide where they will play in the future. Though it is possible the NFL could grant the Spanos clan an extension on the Jan. 15 deadline to decide if the Bolts are going to join the Rams in Stan Kroenke's new stadium (due to open in 2019 on the old Hollywood Park racetrack site in Inglewood). With the Raiders perhaps poised to request relocation to Las Vegas, there are different elements involved in these franchise transfer talks than a year ago. Once that decision is made, San Diego can go about hiring a new coach after Mike McCoy's frustrating four-year tenure was terminated. The roster is hardly barren, with QB Philip Rivers (despite his 21 picks) still formidable, RB Melvin Gordon an emerging star, and this season's top rookies, DE Joey Bosa and TE Hunter Henry, creating excitement. Though injuries were an issue, the culture needs to change after the Bolts conspired to blow several games and continue to struggle in the AFC West, losing 13 of their last 14 division battles. Ed. Note: Chargers announced move to L.A. for 2017 on Jan. 13; hired Buffalo o.c. Anthony Lynn as HC on Jan. 17.


Tennessee (9-7)...A bit more positive than some of the recent season-ending reviews for the Titans, who looked poised for an AFC South showdown vs. Houston in the final week before stumbling badly at Jacksonville in a game in which starting QB Marcus Mariota was lost due to a broken leg. Still, the campaign was uplifting in Nashville and a rehabilitation of sorts for Mike Mularkey, who had failed in earlier HC gigs, but whose commitment to an old-school power running game would pay unexpected dividends. A revamped OL and new RBs DeMarco Murray (via trade) and Heisman winner Derrick Henry (via draft) brought a thunderous combination to the offense that helped Mariota flourish as a playmaker. The defense, under sage coordinator Dick LeBeau, also improved, especially vs. the run, helping to lay a strong foundation for the future. Tennessee is again a desirable destination for free agents, and the Titans also have extra draft picks (including the fifth in the first round) after the heist from the Rams for last year's top pick, used by L.A. for QB Jared Goff.


Arizona (7-8-1)...Though the Big Red closed with a rush, knocking the Seahawks out of a first-round bye in the playoffs and destroying the Rams in L.A., the championship window might have closed in the desert after a steep decline to under .500 after recent playoff editions. Though he played better late in the season, QB Carson Palmer, now 37, appears past his sell-by date, with the possibility a new pilot might have to be found. Moreover, GM Steve Keim has to deal with a long list of potential free agents on the roster, including five of the six leading tacklers and three starters on the OL. The WR spot, once a strength, is also a concern after Michael Floyd's late-season release and questions about Larry Fitzgerald's future. The one beacon from 2016 was the emergence of RB David Johnson into an MVP-caliber performer. But things became so frustrating in Glendale that sources say HC Bruce Arians was mulling whether to even return in 2017 (he announced recently that he'll be back). Whatever, there should be plenty of shuffling on Cardinals roster in the offseason.


Carolina (6-10)...The "Super Bowl hangover" hit the Panthers hard in 2016, with Carolina rarely displaying the panache and swagger it did when almost running the table in 2015 and winning the NFC. Not this season, however, with all facets of the team (offense, defense, special teams) enduring subpar years as HC Ron Rivera's bunch missed the playoffs for the first time since 2012. Off of his MVP campaign, QB Cam Newton labored as he wore a bulls-eye from the outset, while the OL struggled to protect Cam or open holes for RB Jonathan Stewart. Some, however, believe the first crack in the foundation came in the offseason when key CB Josh Norman was surprisingly released and signed with Washington. The secondary never seemed to recover. Both lines need to be addressed in the coming months, and upgrades in the post-Norman secondary are essential. At least GM Dave Gettleman is flush with salary cap room (projected at $62 million) entering the offseason.


Chicago (3-13)...In the end, HC John Fox would barely hang onto his job, as the Bears stayed mostly competitive until the final two weeks. Fox probably deserved a mulligan after a league-leading 20 players went on injured reserve, including three QBs (Jay Cutler, Brian Hoyer, and Connor Shaw). Not to mention WR Alshon Jeffery and ILB Jerrell Freeman each receiving four-game suspensions. Fox gets one more chance to forge a turnaround next fall. But several questions need answering, including whether o.c. Dowell Loggains (who appears a major downgrade from predecessor Adam Gase) is up to revamping the passing game and developing a franchise QB. Who that might be is also a question, with Cutler unlikely to return and no other QBs under contract (late-season starter Matt Barkley might be asked back, but his ten picks over the last three games have quashed any talk of him as an eventual answer). The defense also needs playmakers after forcing an NFL-low 11 turnovers. If looking for bright spots, GM Ryan Pace's second draft class appears to have uncovered some nuggets, including 5th-round RB Jordan Howard (Indiana), who finished second in league rushing. The Bears should be able to land another impact performer with the third pick in the draft.


Los Angeles (4-12)...By the end of their roundabout season following the move from St. Louis, the Rams were more unwatchable than even some of Harland Svare's most-wretched L.A. teams of the early '60s. Which prompted HC Jeff Fisher's dismissal in December. All after a 3-1 start that had Angelenos excited as late as Columbus Day! The offense was brutal, with the line never opening enough holes for RB Todd Gurley (only 3.2 ypc) to gain as many as 100 yards in a game. Meanwhile, after journeyman Case Keenum provided a stop-gap solution at QB in the first half of the season, the Rams would lose all seven games started by Cal rookie and top draft pick Jared Goff, who struggled under adverse conditions but still posted some of the worst QB numbers in the league since the 1970 merger. Goff also cost the Rams their top choice (fifth in Round One) in the upcoming draft, and the ex-Golden Bear needs to get up to speed in a hurry under the new coach, who will at least inherit the core of a solid defense. Talk of luring HC Sean Payton from the Saints has quickly dissipated, but the Rams' mindset will likely be to find a coach who can immediately oversee a complete overhaul of the stagnant offense. Ed. Note: Rams hired Washington o.c. Sean McVay as new HC on Jan. 18.


Minnesota (8-8)...A tale of two seasons, as the Vikings were the talk of the league after their 5-0 break from the gate achieved despite QB Teddy Bridgewater's devastating knee injury late in the preseason and Adrian Peterson's meniscus tear. The emergency acquisition of QB Sam Bradford from the Eagles provided some stability, but the Vikes had little pop on offense and were reduced to Bradford's dinks, which resulted in an NFL completion percentage record (71.6%!) but belied the struggles of the strike force. Storm signals formed at midseason when o.c. Norv Turner abruptly resigned, with unrest then morphing into a mutiny by the DBs who ditched HC Mike Zimmer's pass defense gameplan (whether for one series, one quarter, or one half still a question) for the Dec. 24 loss at Green Bay, all part of a 3-8 fade to close the season. Though the "D" did mostly perform at a high level for Zimmer in 2016. With Bridgewater's recovery perhaps lasting into 2018, the team likely moves ahead with Bradford as the presumed starter for next season, though GM Rick Spielman has several other FA questions on the current roster, including what to do with Peterson's big contract and how to fix an inadequate O-line.


New Orleans (7-9)...Despite missing the playoffs for the third straight year, and the fact the title window might have long since closed on the Saints in the Drew Brees era, it looks like HC Sean Payton (who is now annually rumored to be headed for other NFL jobs) is game for another go in the Superdome in 2017. An improved defense and a bank account flush with salary cap room suggest that maybe the Brees-Payton combo has one more playoff run in its fuel tank. Though off very slightly from his record-breaking years, Brees (35 TDP) remains a force and still passed for another 5000 yards, while the offense has a 1000-yard rusher in Brandon Ingram and a pair of 1000-yard receivers (Brandin Cooks and Michael Thomas). The "D" was decimated by injuries early in the season but played better for coordinator Dennis Allen in the second half of the campaign, and figures to be the offseason emphasis of GM Mickey Loomis, looking for a couple of impact performers, especially a pass rusher and another CB. With Brees not showing appreciable signs of slowing down at age 38, the offense doesn't need much work.


Philadelphia (7-9)...Though rookie Carson Wentz had an up-and-down season, the Eagles still appear to have landed their QB of the future thanks to the big trade swung with Cleveland to get the Browns' second overall pick in last April's draft. The Birds surely feel a lot better about Wentz than the Rams do about Jared Goff, picked right before Wentz at the top of the last draft. The 610 WIP crowd has also yet to turn on Doug Pederson, who showed promise in his first HC gig but will be expected to get the Eagles to the playoffs soon. Now Philly has to go about getting Wentz some weapons, with WRs tops on the list after Jordan Matthews proved not to be a No. 1 receiver. The stop unit would also crumble, as the Eagles closed 4-9 after their surprising 3-0 break from the gate, with pass defense especially suspect. Upgrades at WR and in the secondary are imperative, but not sure they will come in free agency, where the Birds don't have much cap room. Philly, which moved its upcoming No.1 draft pick to Cleveland in last year's deal that eventually landed Wentz, at least recaptured another first-round pick from the Vikings in the Sam Bradford trade.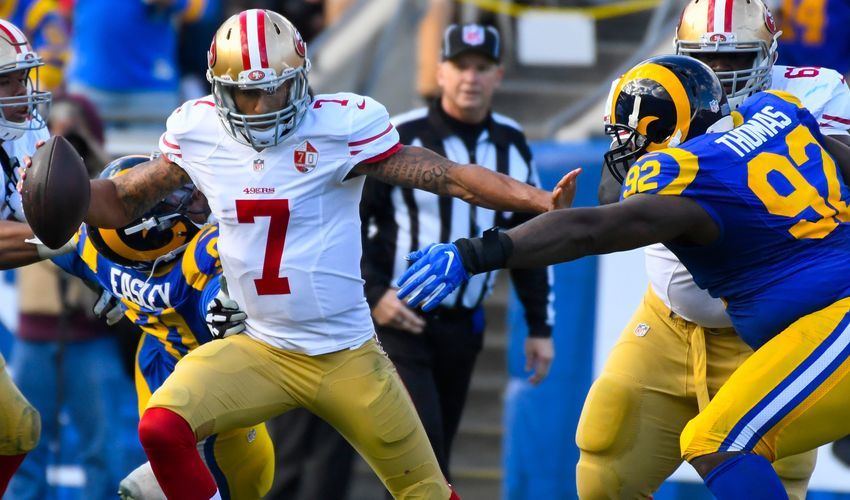 San Francisco (2-14)...The demolition job to this franchise has been something to behold in one of the steepest NFL descents we can ever recall. Now the Niners prepare for their fourth HC in as many years after making Chip Kelly walk the plank, following Jim Harbaugh and Jim Tomsula. Though this isn't a record for the franchise, which actually had six coaches (!) between 1975-79-Dick Nolan, Monte Clark, Ken Meyer, Pete McCulley, and Fred O'Connor before hitting the jackpot with Bill Walsh. Is there another Walsh waiting to ride to the rescue? At least GM Trent Baalke, whose moves have mostly backfired since the Super Bowl four years ago, is also finally out the door, and Jed York will be hiring Baalke's replacement before getting around to naming a new coach. The new braintrust will be inheriting a threadbare roster, one that was further depleted by key injuries that contributed to a 13-game losing streak. By season's end, it was apparent that neither the controversial Colin Kaepernick nor Blaine Gabbert will be the QB of the future, but the struggles on defense were even more glaring. Lots of work to do in Santa Clara.


Tampa Bay (9-7)...Much like Tennessee in the AFC, the arrows are pointing up for the Bucs, whose decision to can Lovie Smith and promote o.c. Dirk Koetter to HC after 2015 turned out to be a shrewd one. With little warning, Tampa Bay caught fire at midseason and made a legitimate run at a playoff berth with a five-game win streak before late-December road losses at Dallas and New Orleans ended the fun. No matter, in the end, the Bucs still had their first winning season since 2010. In his second year, Jameis Winston continued to progress on the NFL QB learning curve and has developed a great rapport with WR Mike Evans, the other half of what is now one of the league's most dangerous pass-catch combos. There are concerns going forward re: RB Doug Martin, whose season-ending suspension carries into 2017. But with Winston, Evans, and a defense that improved as the season progressed, Tampa Bay likely enters 2017 regarded as contender for the first time in a decade.


Washington (8-7-1)...There was a very bittersweet taste to 2016 for the Skins, who had a golden opportunity to make it back to the playoffs for a second straight year before kicking away late-season home games vs. the going-nowhere Panthers and the nothing-to-play-for Giants, scoring a grand total of 26 points combined in the losses. Which puzzled, because Washington ranked third in NFL total offense and second in passing yards. But the late flameout cast doubts upon Kirk Cousins as a potential top-tier QB despite his gaudy stats. Cousins is again a free agent, though the Skins might franchise tag him once more (Cousins didn't mind that after last season when he received a salary bump of close to $20 million). There will need to be improvement in the red zone and in goal-to-go-situations, categories in which Washington ranked very low. The "D" also faltered in 2016, all of the way to 28th, and HC Jay Gruden responded by jettisoning d.c. Joe Barry after the loss to the Giants. Meanwhile, GM Scot McCloughan is going to have to decide what to do with FA WRs Pierre Garcon and DeSean Jackson, now both into their 30s.



NFL DIVISIONAL ROUND TRENDS
While Division Round games have historically been fertile territory for home teams and favorites (almost always one and the same), their dominance has not been especially pronounced in recent years. Indeed, since the 2004 postseason, road dogs stand 28-20-2 against the number in these playoff games, though home chalk was 2-1-1 last season.


Remember some dynamics that are unique to this round. Since 1990, when the playoffs expanded from 10 teams to 12, all Division Round hosts are off a "bye" and a week of rest. And almost all of the "powerhouse" NFL teams in recent memory are from that first-round "bye" group, including 59 of the last 74 Super Bowl participants since '78 (when the first-round "bye" was introduced). At least one top conference seed has also met defeat in six of the past nine seasons, though top seeds Denver (AFC) & Carolina (NFC) won all of the way thru their respective conference playoffs a year ago.


Also identifiable in the past in this round are one-sided results, which have recurred with regularity over the decades (though not a year ago, when all of the four Division Round games were played within 7 points). In fact, since 1975, more than half of these games have been decided by double-digit margins. Favored teams laying a TD or more (usually representing the cream of the NFL crop) have covered at a 54% clip in (44-37-3) in the Division Round since '75, though have only covered one of five chances the past two seasons. A recent Division Round trend to note has been on the "totals" side, in particular "overs," now 16-8 since the 2010 playoffs despite posting only a 5-7 mark the past three years.


Following are the pointspread results in various spread categories of NFL Division Round playoff games since 1975. Our "charting" begins with the '75 season because, prior to then, playoff home teams were predetermined in a divisional rotation, as opposed to the better won-loss record. A "margin of victory" chart for the games since 1975 is included as well.
CATEGORY... RESULT
Favorites vs. line... 81-77-5 (1 pick)
Favorites straight up... 115-48
Favored by 0-3 points... 11-15-1
Favored by 3 1/2-6 1/2 points... 27-24-1
Favored by 7-9 1/2 points... 28-26-2
Favored by 10-13 1/2 points... 13-8
Favored by 14 points or more... 3-3-1
Home teams straight up... 117-47
Home teams vs. spread... 83-76-5
Home favorites vs. spread 78-73-5
Home underdogs vs. spread... 4-3
Home picks vs. spread... 1-0
Over/under (since 1986)... 65-55
MARGINS OF VICTORY
1-3 points... 36
4-6 points... 15
7-10 points... 31
11-13 points... 14
14 points or more... 68
Return To Home Page